Modulating voice changing and recording can be a great way to have fun on social media.
However, the maximum duration of voice recording, the number of audio files you can upload to the voice changer recorder, or the selection of voice effects can help you in voice recording if you have chosen the right tool.
In this blog, we are going to introduce the best online audio recorder and voice changer that you can use to modulate voices in simple steps.
Part 1: Best Voice Changer Recorder for PC - iMyFone Filme:
iMyFone Filme is the best voice recorder and voice changer software. This tool is also one of the ideal screen recorders for desktops. The application has an extremely user-friendly interface that reduces the effort of audio processing. So if you are about to try a new voice-changing tool, then iMyFone Filme is the best choice. The great thing is it allows users to handle every editing part from start to end. So it's ideal for both ambitious experts and beginners.
Features:
1. Voice Changing Tools:
iMyFone Filme includes a wide range of voices to make your content more engaging. It also enables users to change voice while recording.
2. Audio Editing:
Users can add dialogue and fine-tune audio in their videos to make them memorable.
3. Text Formatting Setting:
You can design spectacular typography and headers with different color schemes.
4. Beautiful Effects:
There are different effects available in Filme that you can use to add filters and transitions in your sophisticated interactive media.
5. Transitions:
You can impress customers by using different transitions in your content.
6. Voice Selection:
There are more than ten voices available in Filme that users can use to record and change the voice.
Pros:

Easy to use user interface

Budget-friendly

Diversity and richness of features

Lack of complications for task

Exclusive layout and UI

Fast and easy slideshow creation

High-quality outputs
Part 2:How to Use iMyFone Filme as the Best Voice Changer Recorder
iMyFone Filme is a Here are two methods that will guide you step by step about voice recording and editing using this exclusive tool.
Change Voice While Recording:
Open Filme on your computer and go to the new project. Choose aspect ratio according to your choice.
Go to the media and import the audio file that you need.

After importing the audio, the next step is to change your voice recording online. You will find the voice changer option, select voice, and tap on "ok".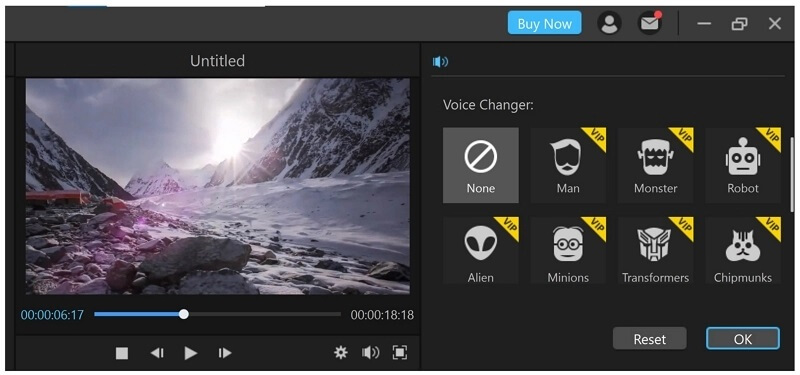 If you want to change voice while recording, move the play head to an empty area and click on the microphone icon over the timeline.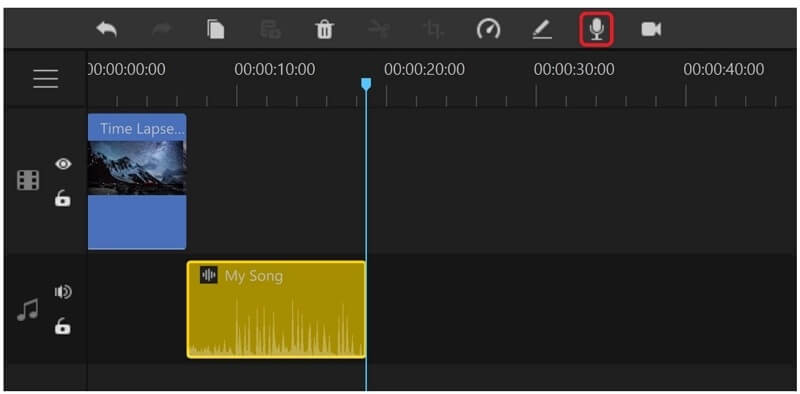 Select the voice changer and tap on the record button to start recording. When you finish your recording, tap on the stop button.

Users can also trim audio to make changes. Now click on the export button to save your audio file.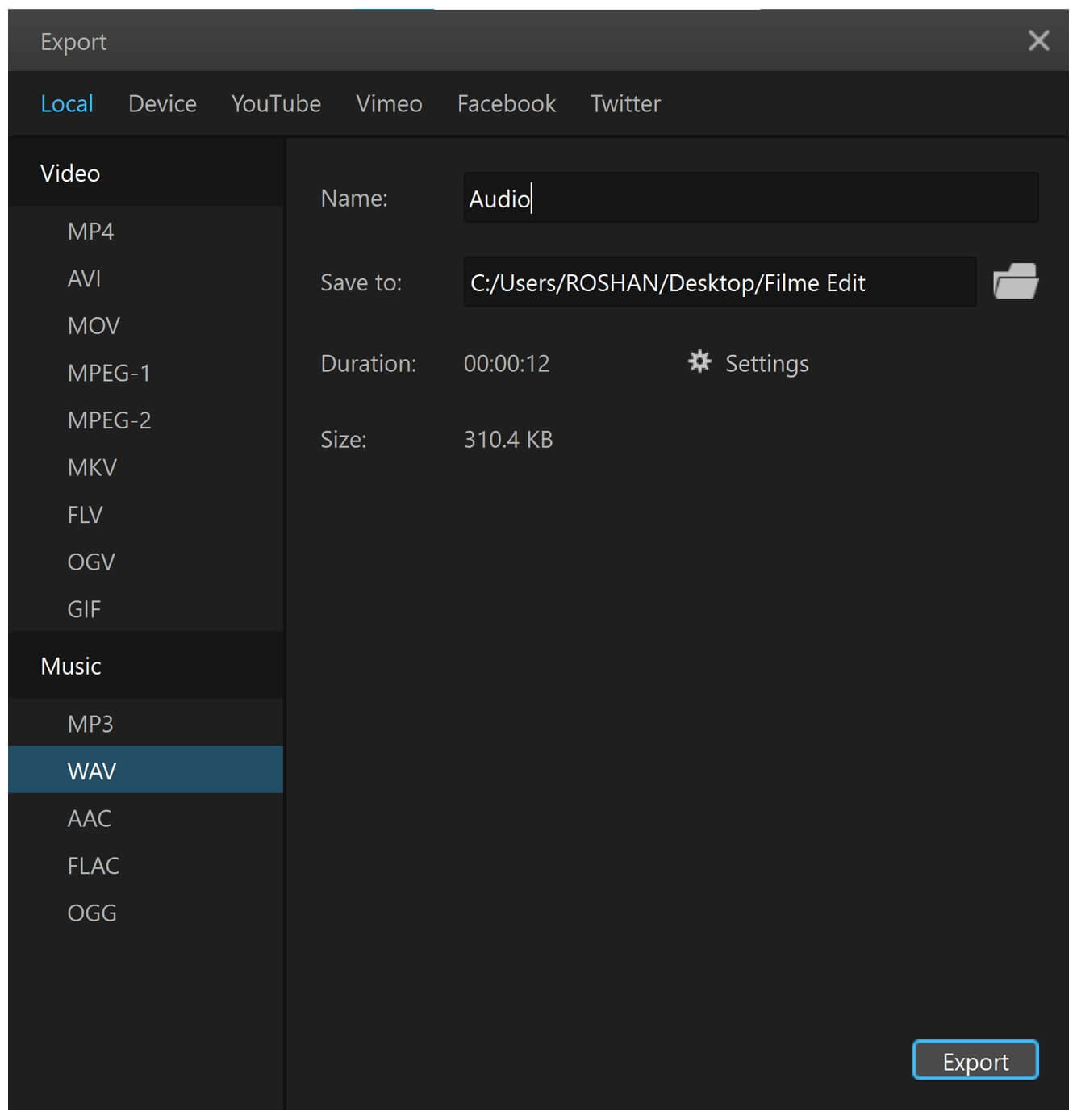 Change Pre-Recorded Voice:
Here is a complete guide on how to change pre-recorded voice using iMyFone Filme.
iMyFoneFilme provides a voice changer recorder free download to its users. So download the software and launch the interface.

After importing the video and adding it to the timeline, tap on "detach audio" to remove pre-recorded audio from the video.

When you have detached audio, you can right-click on "edit" to change your voice recording online. You will find numerous voice changer voice recorderstools in Filme. Choose the one that you want to apply to your video.

The last step is to change your recording of a specific video clip. You can also change voice during recording, and it is a beneficial thing for YouTubers.
Also Read:
How to Change Your Voice for Free >>
Part 3: How to Record and Change Your Voice Online
If you are looking for an advanced online voice changer voice recorder, you can use a streaming audio recorder. It is an online voice changer recorder that can duplicate audio streaming.
So streaming audio recorder is an exclusive voice changer recorder that permits users to record audio streaming and change recording of capture sound effortlessly. In addition, this tool offers lots of output audio formats such as WMA, AAC, MP3, and FLAC.
Steps to Record Voice Online:
If you want to record or change your voice from the internet, you can follow the steps given below:
Step 1: Download and installed streaming audio recorder into your PC.
Step 2: Enter the setting by clicking the gear icon.
Step 3: Set the output format as "MP3", and it will be a helpful step for you to know how to change the voice recorder to MP3. If you want to record online audio and vocal together, you can also choose an audio source.
Step 4: Tap on the red round icon on the recorder's interface. The tool will smoothly record your audio. If you want to end the recording, tap on the same red icon.
Step 5: To access the more extensional function of this voice changer recorder, you can click on "library" from the left panel.
Step 6: After changing the voice and recording it according to your requirements, you can save it by clicking the export button.
Tips: The Way to Change Your Voice in Real-Time:
Now that you know about the best voice recorder apps.
Yet, if you need a comprehensive voice changer like iMyFone MagicMic. Here are more details about the key features of this tool:
Here are more details about the key features of this tool:
Key Features of MagicMic
Change your voice in real-rime, you can also set the keybind and switch your voice with 1 click.

Can be used on Discord, Skype, Zoom,PUBG, LOL, CF, WOW, Second Life, Fortnite, CSGO, Overwatch,Twitch, Xsplit, Streamlabs and many other platforms.

A huge collection of voice-changing effects, such as: Woman to Man, Monster, Minions, Devil, Chipmunks,Robot, Alien, etc.

Affordable price: This application is available for free! Pro version: $4.95/1 Month;$19.9/1 Year; $39.95/Life Time
FAQs
How to Remove Background Noise from Video on Online/Mac/Win?
The most usual thing is to remove the annoying voice from the video. In most cases, recording high-quality audio is difficult because of the background noise of the environment. The background noise can be removed by using a voice changer recorder. You can eliminate the noise by adding background music with some video or audio editing tool. These recorder and voice changer can work for Mac, Online, and Windows in paid and free methods.
What Makes up the Texture and Sound of a Voice from a Voice Changer?
You can determine the texture and sound of the audio in multiple ways. The voice changer and voice recorder are specially designed to record and change the voice pitch. These voice changers have different tools that users can use according to their needs. Furthermore, these tools can make vocal cords with high-quality voice effects.
Conclusion:
Changing the voice in an online voice changer recorder is a simple process that takes minimum effort and time. Therefore, it's about changing your voice or recording audio, and voice modification in a digital invention.
The iMyFone Filme and MagicMic is the exclusive voice changers that modify voice for different voiceover. So if you are looking for some effective digital means to change and record and change your voice, you can choose these two amazing tool.