Many times we're trying to add images to our projects or use them for different purposes. But there is one hurdle that comes our way: watermarked photos. Besides, many photo editors also add a default watermark to captured photos. Getting rid of watermarks is quite a job and doing it flawlessly is yet another struggle.
Photoshop is a professional tool for doing image editing. But if you're not a professional photo editor,you need an easy-to-follow method of removing watermark from your photos. This article is all about equipping you with the right tools to remove watermarks without Photoshop. So let's get into it.
AI Method - Remove Watermark without Photoshop
iMyFone MarkGo is a complete watermark solution. It helps the user to add and remove watermarks from any kind of pictures and video. With the help of MarkGo, anyone can remove or add a watermark with just one click.
Tips
Hunting for a tool to remove watermark on video in batch efficiently? Why not try
iMyFone MarkGo
, a professional watermark tool that helps you remove watermark seamlessly within 5 secs in 1 click.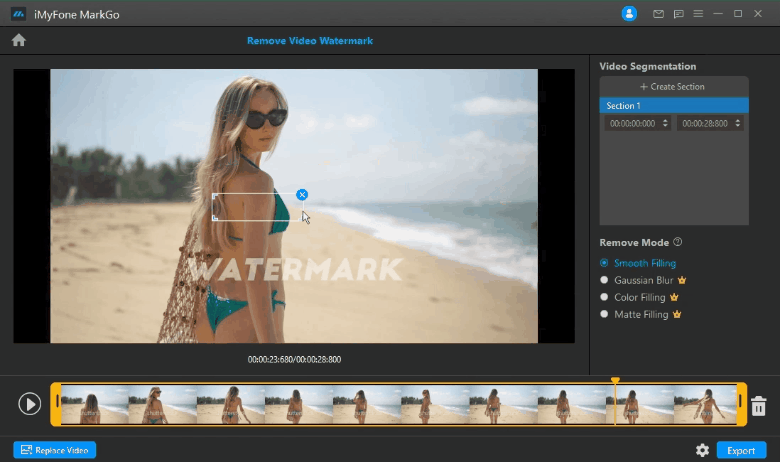 Watch the video tutorial to learn more about MarkGo.
iMyFone MarkGo is an AI-powered tool used for editing photos and videos. The AI-powered tool can do most of the editing work you can think of. You can remove watermarks/unwanted objects/image backgrounds, add watermarks, and do a lot more editing of photos and videos.
There are many free and paid features within the app. You can enjoy this amazing software on your Mac devices and Windows devices alike. The most lovable highlights of MarkGo are as follows:
User-friendly interface

Easy to remove background and watermarks

The free version lets you remove the objects and watermarks

You can also remove objects, watermarks, and backgrounds from videos
Step 1: Install and Launch MarkGo
Download iMyFone MarkGo , install the app and launch it on your desktop. Select 'Remove Image Watermark' to enter the app's interface for further editing of the images you want.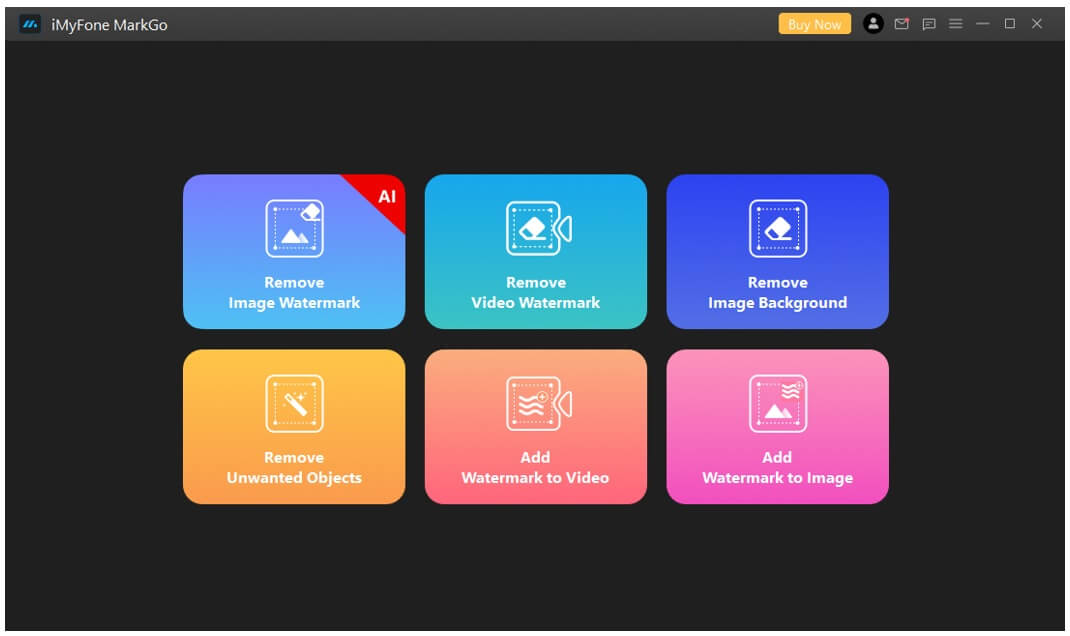 Step 2: Add the Image or Video You Plan to Remove Watermark from
When you enter the interface of the app, it will tell you to add images or multiple images to remove the watermark. You can remove watermark from multiple images at a time using the 'Apply to All' feature of MarkGo.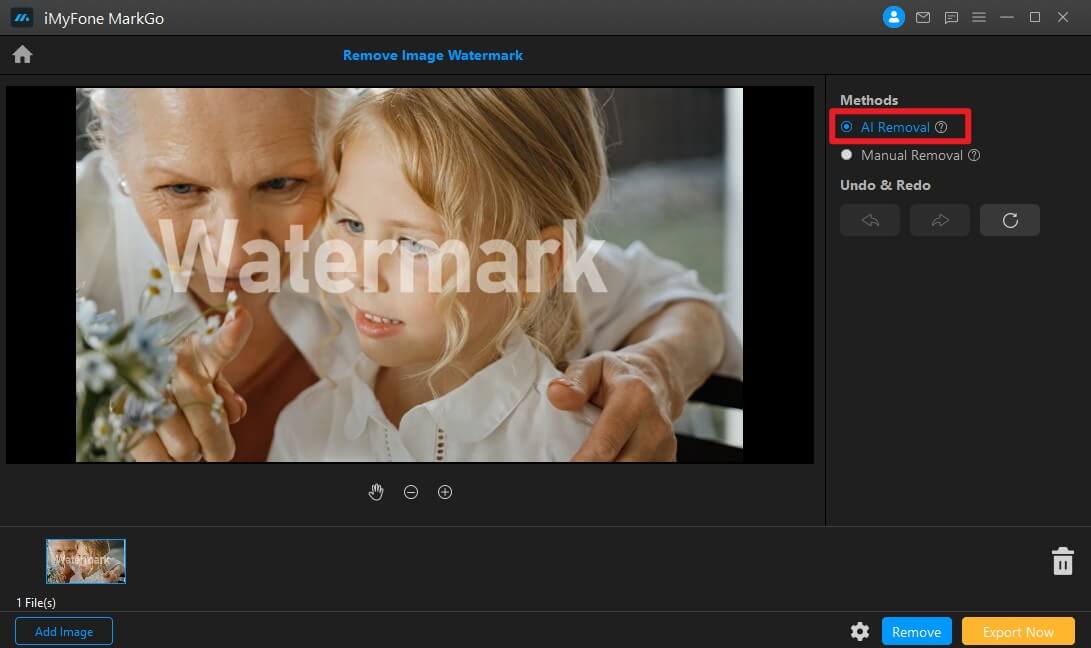 Step 3: Mark the Area for Removing Watermark
The next thing you've to do is to select the watermark on the photo. There are two modes for selecting the watermark area. You can trust the AI removal that detects and remove the watermark efficiently. Besides, you can also do manual removal if AI removal doesn't satisfy you. In manual removal, you can adjust the brush size, mark area or shapes, and also erase any selection.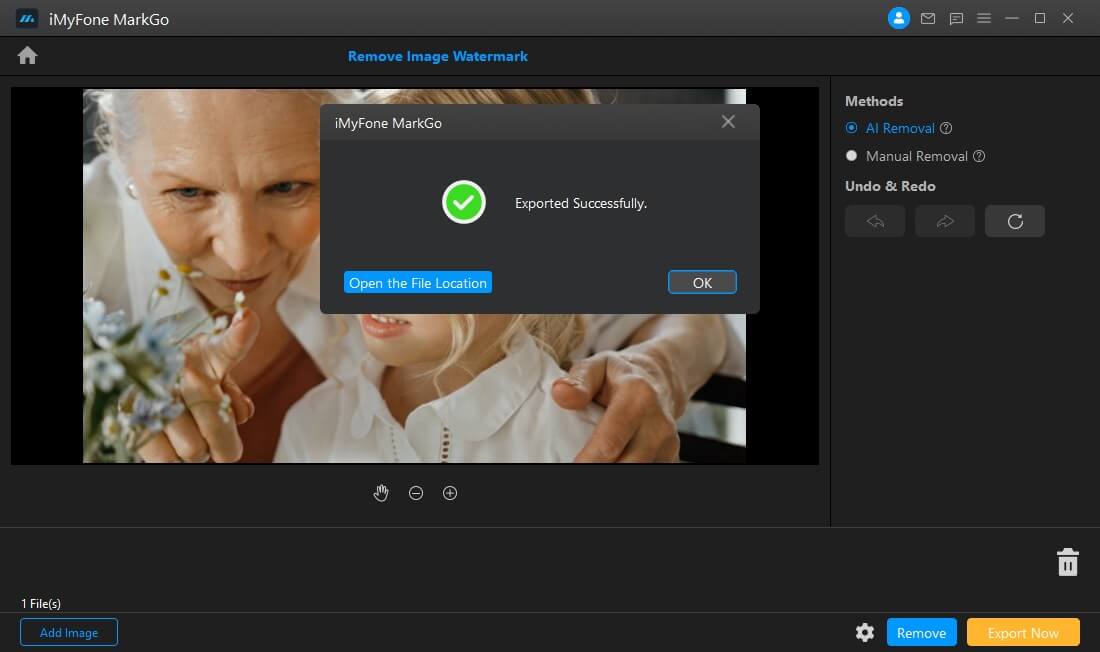 Step 4: Remove the Watermark by Choosing Suitable Modes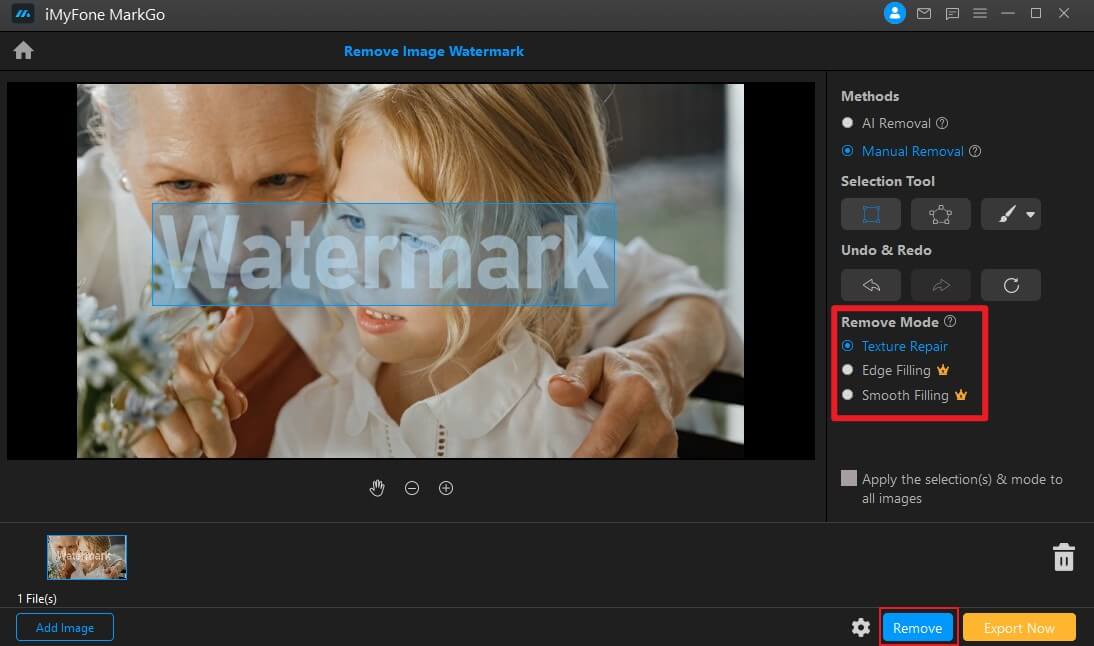 Hit the remove button to remove the watermark from the image. The AI-powered tool of the program will detect the surrounding areas and fill the area where the watermark was located previously.
Step 5: Save the File
Once you've removed the watermark from your desired image, you can export the file to your device in the desired location.
Conclusion
We have discussed different methods on how to remove watermark from photos without Photoshop. Among all the tools, the most efficient tool with numerous options was MarkGo. It doesn't only lets you remove the watermark professionally but also give options for the fill. You can also choose the AI removal that automatically detects and erase the watermark. In short, MarkGo is the best tool for removing watermarks from your photos.
You can download the software on Windows or Mac from the following links: