Here in this informative and helpful article, we are going to discuss how to remove the Lumion watermark.
A large number of websites, software, and applications have made it easy to get rid of unwanted logos or watermarks of Lumion from projects without any license.
Lumion is an architect software whose development finds basis in visualization. It is for telling you how your future project, e.g., your dream home, hospital, school, or any building, will look like in the real-life.
You can create a 3D view using this powerful and effective architectural tool. You simply have to imagine something for your project, and Lumion will turn your imagination into 3D graphics.
Part 1. How to Remove Lumion Watermark FREE without License - Unlicensed Users
iMyFone MarkGo is a complete watermark solution. It helps the user to add and remove watermarks from any kind of pictures and video. With the help of MarkGo, anyone can remove or add a watermark with just one click.
Tips
Hunting for a tool to get rid of Lumion watermark efficiently? Why not try
iMyFone MarkGo
, a professional watermark remover that helps you remove watermark 100% clearly with AI-powered Technology within 5 secs in 1 click.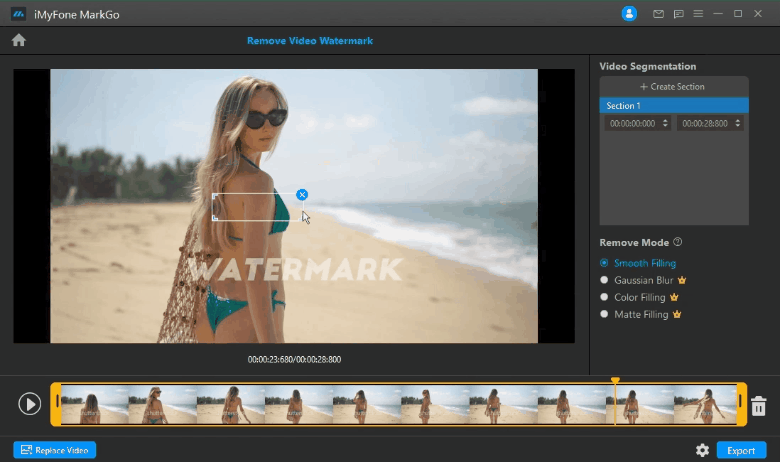 Watch the video tutorial to learn more about MarkGo.
Wonderful Features of iMyFone MarkGo
User-friendly, without any technical knowledge required to erase watermark in just one single click.

Easy to get rid of and add watermark for videos and pics, with no traces at all.

Free to try the remover, during which you can check the compatibility.

Able to add watermark for up tp 100 pics in batch for copyright considerations.
You are doing a college project, and you have a student Limion license or a commercial project, but you don't have a licensed Lumion.
You have to face the issue of rendering a watermark or logo. In the case of student licenses, the watermark size will be smaller than the free version of Lumion.
Now you just want to get rid of that logo; then, a well-known tool works smoothly. You can remove any watermark and logo, even the floating one, with its help.
This fascinating tool is iMyFone MarkGo. The guide below will give you complete step-by-step information about removing the Lumion watermark.
Step 1.Create your project from Lumion and save the file on your device.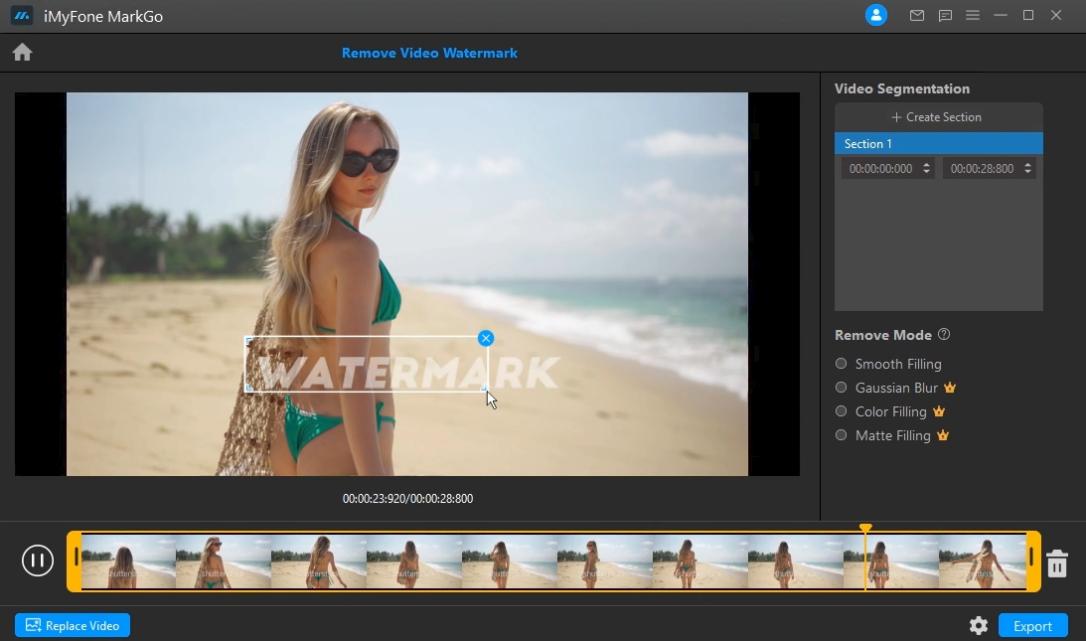 Step 2. Install the iMyFone MarkGo easily from its official website and launch it.
Step 3. Open the tool. You will see four features on the main page.
Step 4. Click on the remove video mark option if your project is a video. While if your project is a picture, click on the remove image watermark.
Step 5. In the case of video, click on the add video option, and then you can import the desired video from your device storage.
In the case of an image, click on the add image, and your device images will get opened. Select the desired image. You can select 100 images also once a time.
Step 6. Select the portion of the video that contains a watermark using the option found at the bottom of the screen.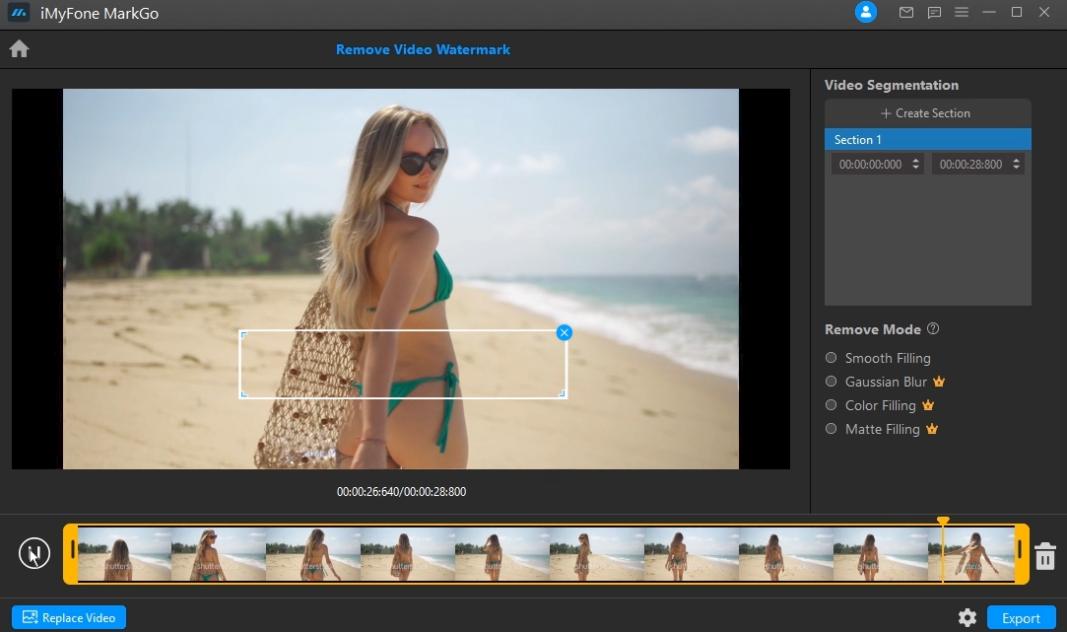 Step 7. Click on the "selection tool" and select the watermark portion from the video screen. Adjust the size of the selection tool according to the size of your watermark. You can preview the result using the play button. Your watermark has gotten removed like magic.
Similarly, in the case of the image, click on the selection tool. Select the watermark portion and adjust the selection tool size. Now click on the "remove now" option. You will see the image without rendering the watermark.
Step 8.Click on the Export option in both image and video cases, and you will be able to export and save it on the desired location in your device.
Part 2. FAQs- How to Remove Lumion Watermark Free
1. Does Lumion student have a watermark?
Yes, Lumion student has a watermark. But this one watermark is small in size. It is for preventing the tool from commercial use.
2. How do I remove a render watermark?
You can remove a render watermark using a variety of methods and tools. But if you are looking for the best tool with a complete guide, you are on the right platform.
iMyFone MarkGo is the number one choice of the users. You can use the steps mentioned above to delete a Lumion watermark from the images and videos.
3. Is Lumion a yearly license?
No, Lumion is not a yearly license. In fact, it offers a perpetual license. That's means you have to pay once to get your subscription or license.
There are weekly, monthly or yearly fees to renew your license. The updates in the current version of Lumion you have paid for are also free of cost. Moreover, you get free support also.
While if you want an upgrade from your version to a much-updated version, you have to pay some fee. This fee is much less than the previous fee you have paid for getting a Lumion license.
4. How do I get a Lumion license?
You can get a Lumion license by simply going to the official website of the Lumion. Here, you can see two options for getting a license.
Make your selection according to your need. Tap on the "add to cart" option. Keep following the next options smoothly, and you will succeed in getting a Lumion license.
5. How do I remove a Lumion trial watermark?
Using a watermark remover tool or application, you can remove a Lumion trial watermark. iMyFone MarkGo can aid you in this regard.
You don't even need to be an expert for using this convenient-working tool. Moreover, as we have mentioned above, the ultimate guide, along with steps, will help you get rid of both the Lumion student watermark and Lumion trial watermark.
Conclusion
In this article or guide, we have discussed how to remove Lumion watermark-free. FAQs portion will surely answer a number of your queries and confusions.
You can delete an irritating Lumion watermark gorgeously with iMyFone MarkGo. This bug-free tool is the number one choice of a huge population and editors. Its reviews also tell how much people enjoy its magical features.