Do you find yourself communicating frequently in Portuguese, either for business or personal reasons? Are you looking for innovative ways to enhance your language learning experience or create engaging content in Portuguese? The Portuguese language holds significance not only as the official language of Portugal but also as one of the major languages spoken in several countries, including Brazil, Mozambique, and Angola.
As a global language with over 260 million speakers, the demand for effective language tools is ever-increasing. In this digital age, where effective communication and captivating content are paramount, the importance of a Portuguese text-to-speech voice generator become evident.
Listen to the Portuguese Brazil voice generated by VoxBox.

Part 1: Benefits for Using Portuguese Brazil Text to Speech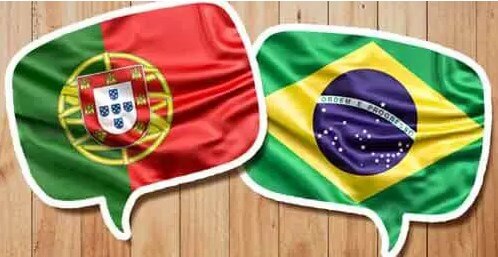 Firstly, it enables accessibility for individuals with visual impairments, making information more inclusive and readily available.
Additionally, Portuguese Brazil TTS can significantly improve language learning experiences by providing learners with native-like pronunciation and intonation, aiding in better comprehension and fluency.
For content creators, TTS expedites the production of audio materials such as audiobooks, podcasts, and video voiceovers, saving time and resources.
The technology also facilitates multilingual communication, allowing businesses to engage with a wider audience and create a more personalized user experience.
With its versatility, ease of use, and natural-sounding output, Portuguese Brazil text-to-speech opens a world of possibilities for enriching communication and education in both professional and personal contexts.
Part 2: AI Portuguese Voice Generator Text to Speech
Today, the market is full of tools that provide text to speech feature but all are not created equal. Some are better than others. Below are some of the potent text to speech Portuguese Brazil generators for interested people to have a look:
1. VoxBox - Best Portuguese Text to Speech Software
iMyFone VoxBox is one of the leading text to speech software in the industry. It provides natural-sounding text-to-speech outputs, with the ability to generate rich text and audio files in a variety of languages. Its text to speech Portuguese Brazil voice is exceptionally realistic, giving you the best text-to-speech output possible.

Key Features:
Support with 3200 plus voices.

Create voiceovers in 77+ languages with the best text to speech Portuguese Brazil generator.

More than 100 accents lke South Afican, Irish for global audience.

Powered by advanced AI technology for natural sounding and accurate human-like voices.

Save and share your output with ease.

Offer over 10 male and 20 female real voices for free text to speech Portuguese.

Easily customize pitch, speed, and volume directly from the intuitive interface.
How to Use Portuguese Brazil Text to Speech Generator:
Step #1: First of all, download VoxBox and go to text to speech option from the home interface.
Step #2: Select Portuguese (Brazil) under the language option and select voice of artist of your liking then enter your text in the given space.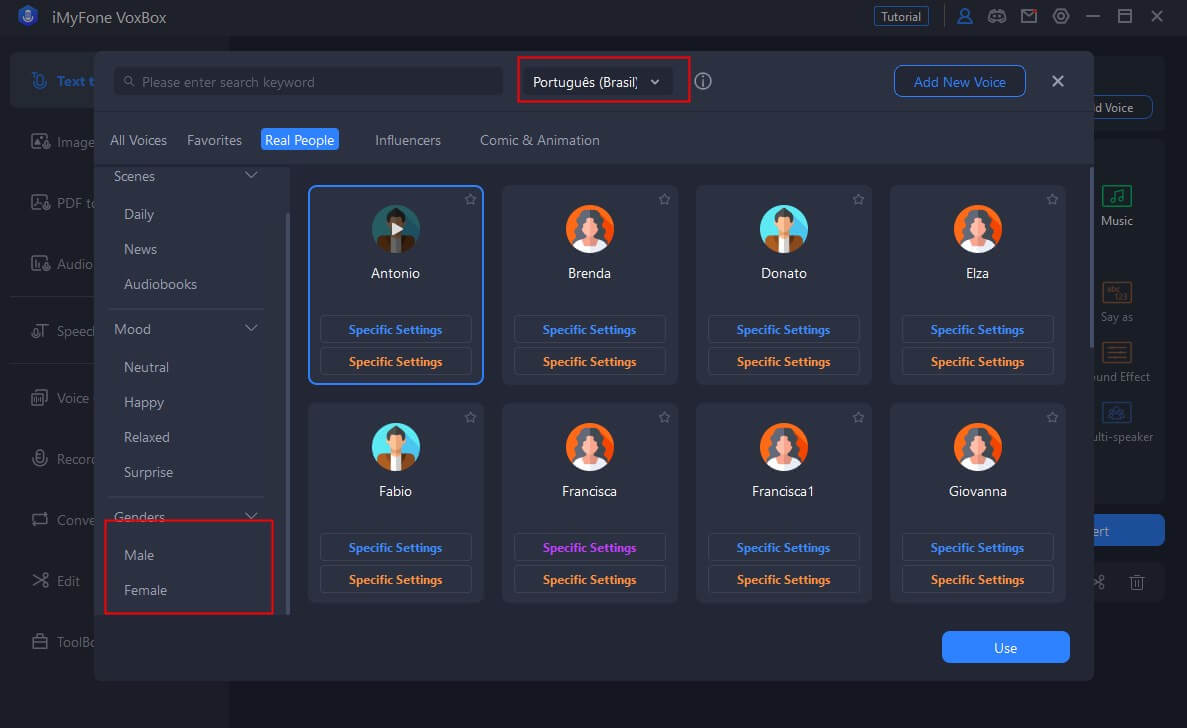 Step #3: Finally, click on the Convert option and VoxBox will work as your text to speech Portuguese Brazil generator.
Pros:

Smart Portuguese voice generator powered by AI.

A text to speech convertor and editor at the same time.

Easy to use.
Cons:

iOS and Android are not available.
2. Play.ht
Play.ht is an online AI powered Portuguese TTS converter that you can use to transform any text into life-like audio with. You also get access to high quality voice synthesis and natural sounding voices in multiple languages for the ultimate listening experience.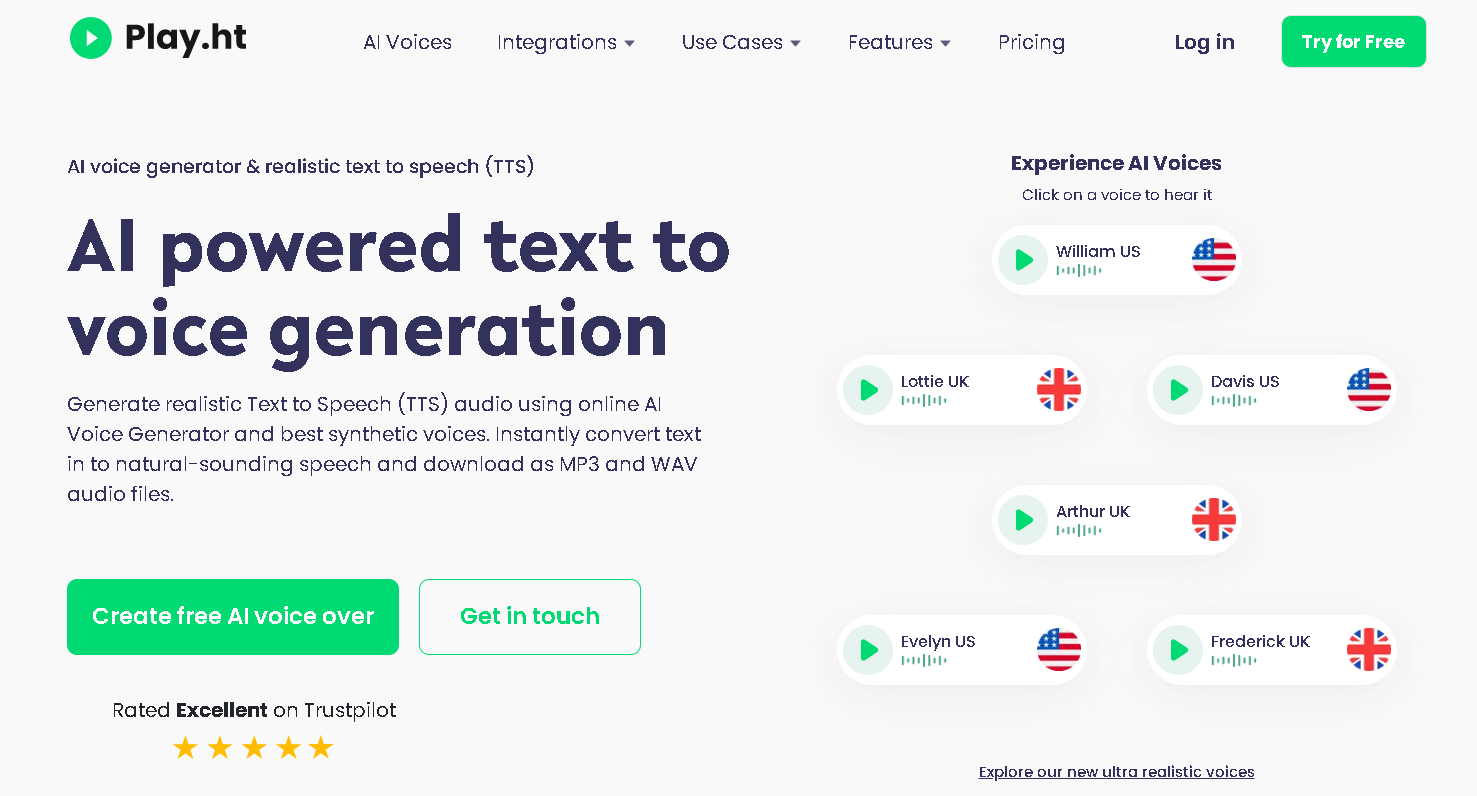 Key Features:
Export audio in MP3 and WAV formats.

Support for 132 languages including Spanish, British and more.

Commercial usage of Portuguese text to speech generator supported.

Full support for Speech Synthesis Markup Language (SSML).
Pros:

High-quality voice synthesis with natural-sounding voices.

Wide range of languages.
Cons:

Can be quite expensive for commercial use.

The voice quality seems compromised.

Not always compatible with certain hardware or software systems.
3. TTSMP3
TTSMP3.com is the ultimate destination for anyone looking for top-quality, royalty-free text-to-speech Portuguese audio files. With a wide selection of voices and languages, its library is sure to meet all your needs.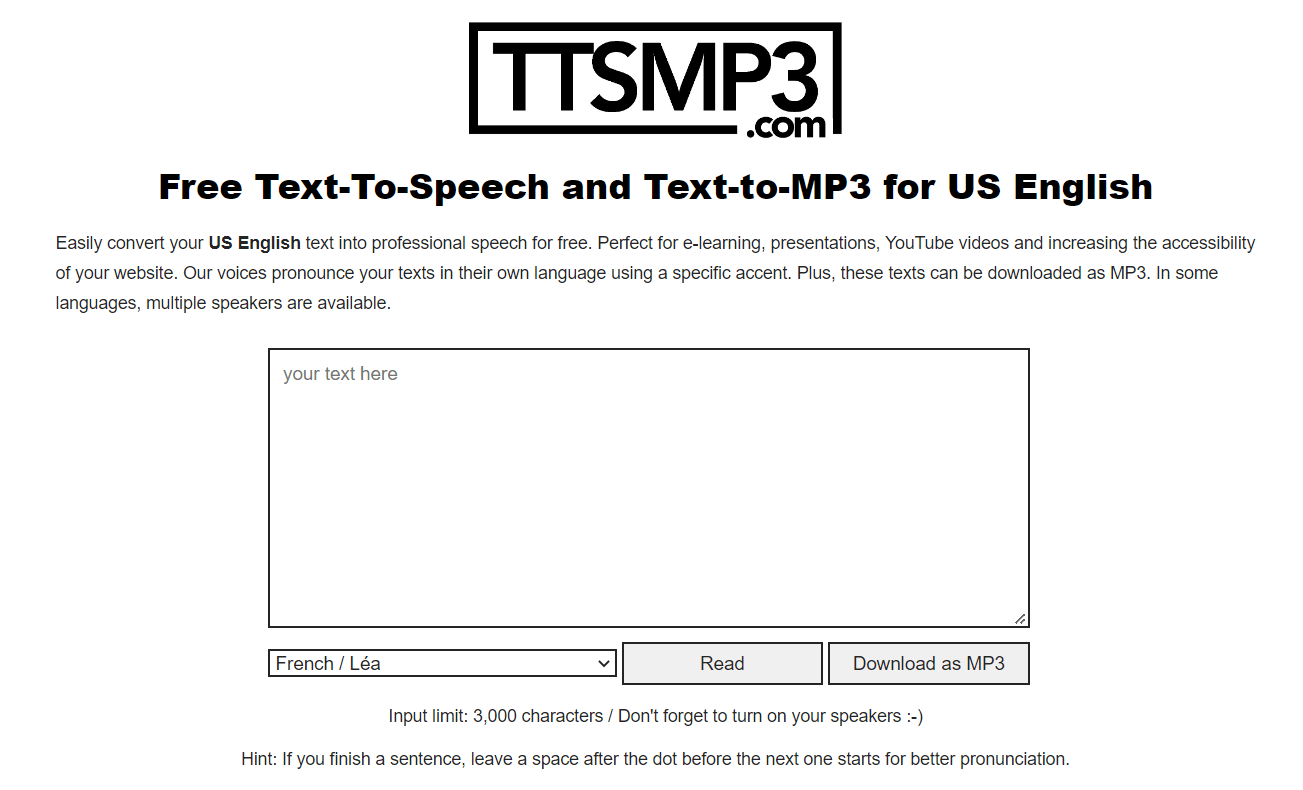 Key Features:
Royalty-free audio files.

Flexible licensing options.

Easy download process.
Pros:

High-quality Portuguese voiceover.

Flexible licensing options.
Cons:

Limited selection of voices and languages.

Difficult to work on large projects.
Part 3: How to Achieve Speech to Text Portuguese?
VoxBox transcends the boundaries of a typical text-to-speech voice generator, boasting an additional feature as an Portuguese speech-to-text tool. This powerful combination empowers users to not only convert text into expressive Portuguese Brazil voices but also effortlessly transcribe spoken words into written text.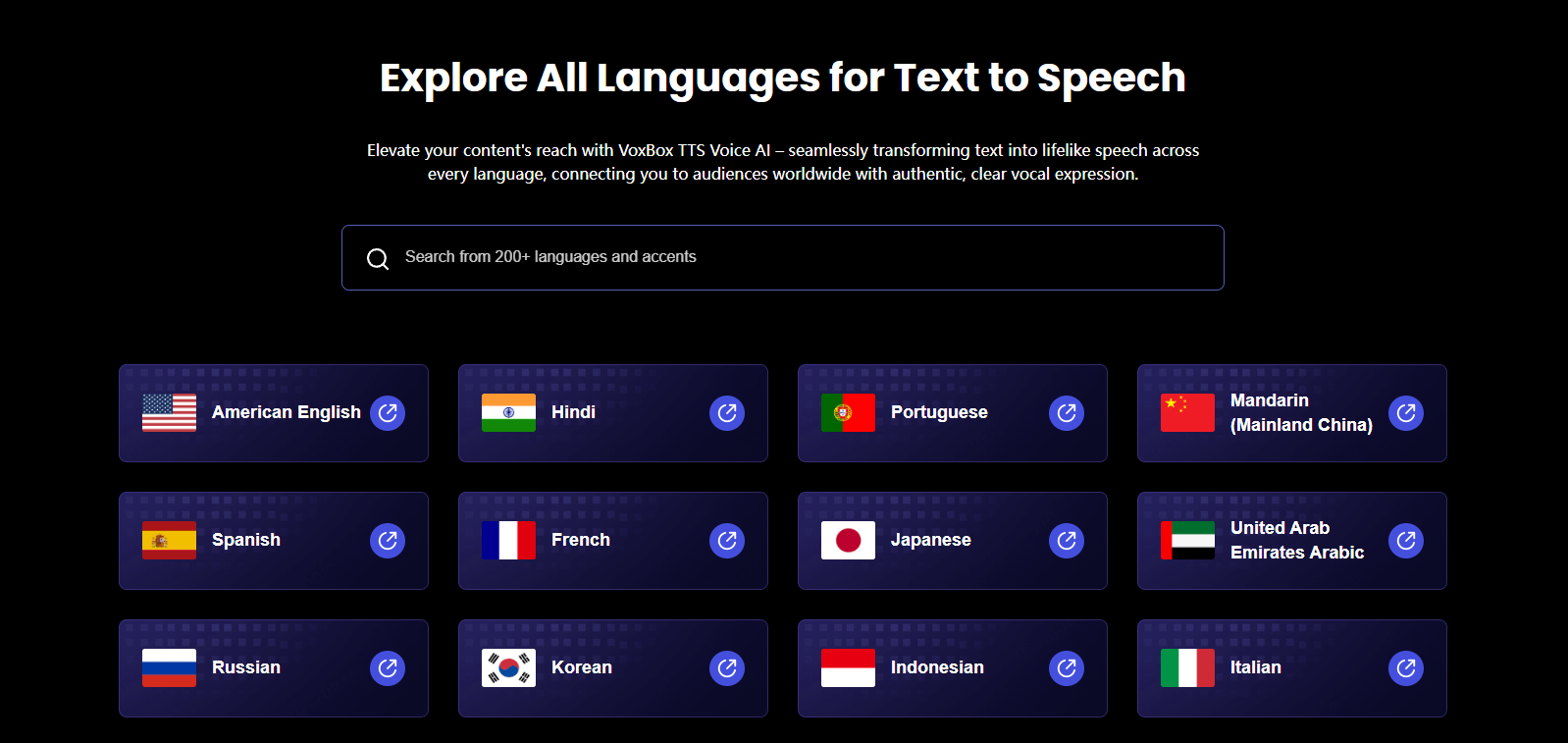 How to Transform Portuguese Brazil Speech into Text:
Step 1: Download and install VoxBox.
Step 2: Negivate to "Speech to Text" and upload your file, choose Portuguese(Brazil) and voice.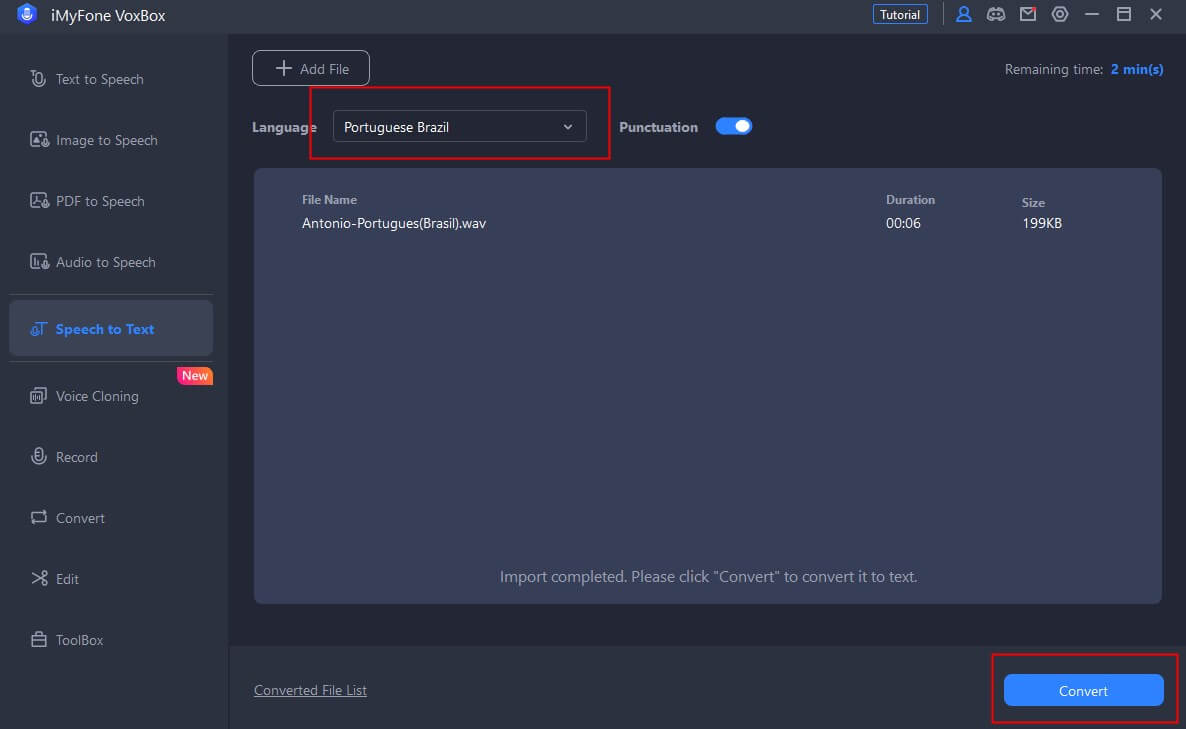 Step 3: Click on "Convert" and it will generate text according to your audio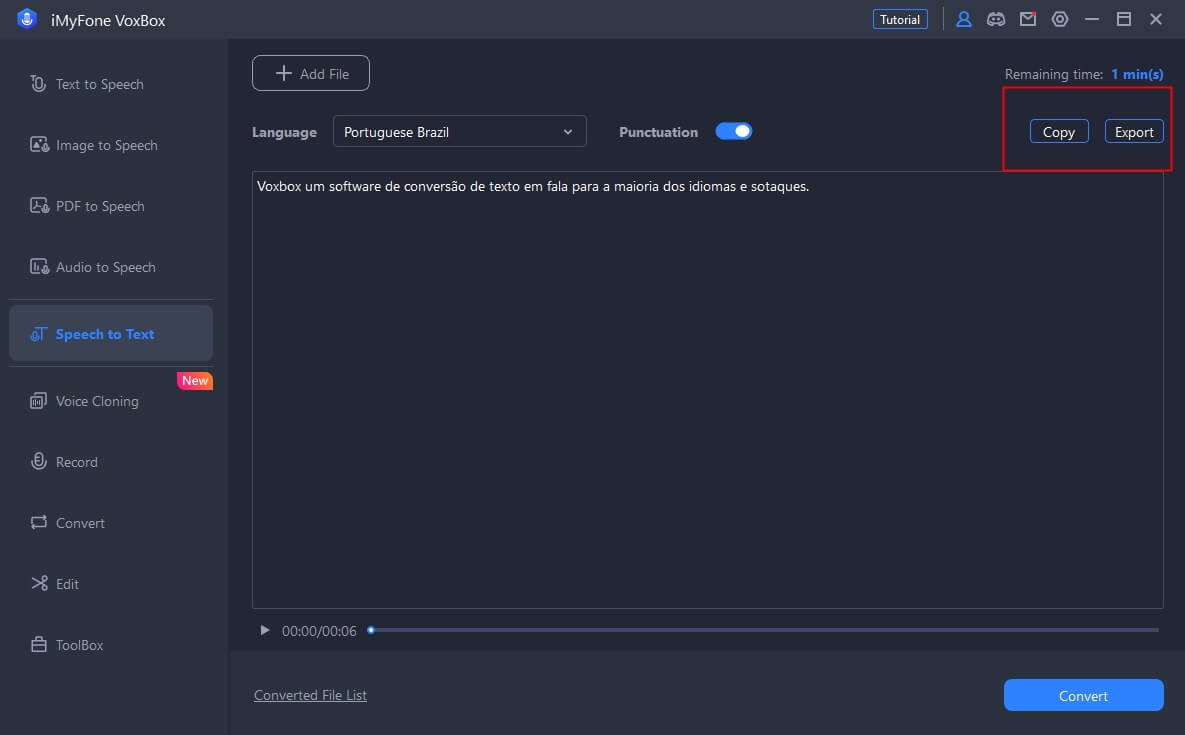 Part 4: FAQs about Text to Speech Portuguese Brazil
1. Can you do text to speech in Portuguese?
Yes, one can convert text to speech in Portuguese Brazil! You can try out VoxBox for the best-quality audio solution.
2. How can I make text to speech Portuguese brazil on PC?
It is fairly easy to make text to speech Portuguese Brazil on PC with the help of VoxBox. You can download VoxBox on your PC for free and convert text to speech within seconds.
3. Which is the best Portuguese (brazil) text to speech voice generator?
While there are a lot of options available in the market, VoxBox is the best. It has the most advanced AI and language catalog that helps users to get realistic results.
Conclusion
In conclusion, the need for a reliable and accurate text-to-speech Portuguese Brazil voice generator is evident across various domains and industries. Even though there are many text to speech tools available, only VoxBox has all the features that users need. It is easy to use, has advanced AI, and supports77+ major languages including Cantonese , Japanese , and Portuguese and so on.
So anyone who needs a text to speech tool should definitely try out VoxBox and see its amazing results for themselves.