The inception of AI voice technology has paved the way for the emergence of the AI rapper voice generator. In this piece, we'll delve into the genesis of the AI rapper voice generator. Whether you're a fan of hip-hop, someone seeking to create AI-powered cover rap content, or simply aiming to effortlessly emulate the vocal style of your favorite rap artist, these top-tier AI rapper voice generators are poised to provide you with the assistance you need.
Listen to AI rapper voice for free using iMyFone Voxbox down below!

Part 1: Facts About The AI Rapper-FN Meka
Are you familiar with the AI rapper - FN Meka? This virtual artificial intelligence musician embodies the appearance of a black male robot. Currently boasting over 500,000 monthly Spotify subscribers, FN Meka's TikTok account amasses more than 1 billion views, while its Instagram presence boasts a substantial fan base exceeding 220,000.
However, the decision to sign this rapper with Capitol Music Group (CMG) was not without controversy (since released). Industry Blackout, a black activist collective, addressed an open letter to CMG, denouncing FN Meka as "offensive" and a "direct affront to the black community and our culture."
So, what lies at the core of FN Meka's essence? Anthony Martini, co-founder of Factory New, the entity overseeing the AI, disclosed that FN Meka's vocals were sourced from an anonymous black male, harnessed through cloning technology and AI-driven voice synthesis.
The emergence of AI rapper FN Meka underscores the nascent era of AI-driven rap. In the following segment, we'll delve into the premier AI rapper voice generator, offering you the means to craft your very own AI-generated rap compositions.
Part 2: Best AI Rapper Voice Generator Get Own AI Rapper
1. VoxBox -AI Rapper Voice Generator
VoxBox is an AI rapper voice generator. You only need to download and install it from the official website, turn on the "text-to-speech" function, select the corresponding rapper's voice, and type the text you want, and you can easily get the AI rapper's voice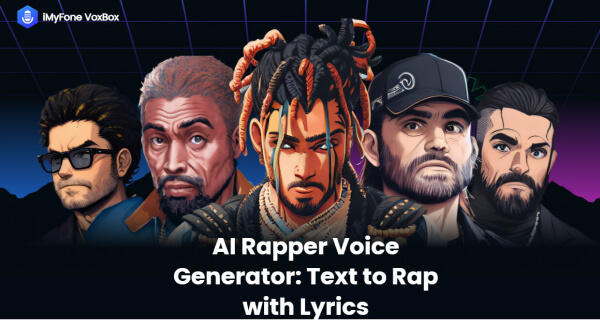 The main features of VoxBox are as follows:
Key Features:
Free to access 3200+ voices with 2000 characters.

100+ languages and accents for text to speech.

Allow user custom voice clone for AI rapper.

Provides sample listening and custom settings.

The interface is friendly and easy to operate, and the generated audio is natural and lifelike.
Typecast is an excellent voice generator for rappers, and once you have the app up and running, the next step is to choose a voice actor who looks like your favorite rapper. You can also experiment with different shades and styles to see what you like best.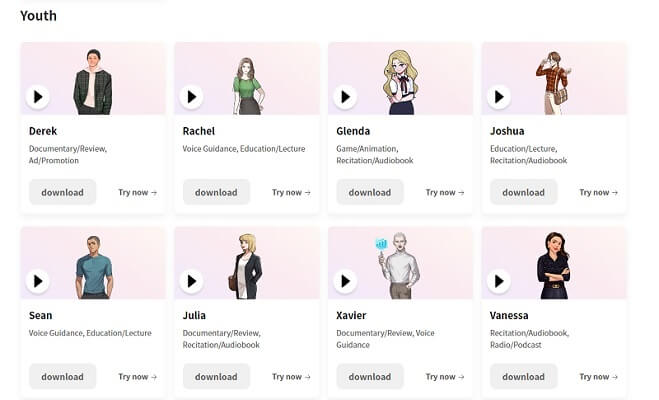 The main features of Typecast AI are as follows:
Key Features:
Realistic rap text to speech with over 120+ voices of different characters.

Text-to-speech generation for video voiceovers.

Use video transcripts to create A.I. videos besides voice generation.

Multiple language support for creating rapper text to speech with freedom.

Create content for educational purposes, sales, documentaries, audiobooks, etc.

Set different voice styles to control voice expressions and tone of narratives.
3. Melobytes - Text To Rap Song
Melobytes is also AI-powered tex to rap song generator for hobbyists and hip-hop lovers. If we talk about Melobytes themselves, it is more than just a text-to-speech generator. Instead, it is a complete solution based on A.I.
From voice recognition to image recognition, image to sound, image to the song, A.I. music, and A.I. songs, you can do a lot with Melobytes. Besides A.I. tools, you can capitalize on the platform's music composition, voice composition, etc., features as a professional singer and music composer.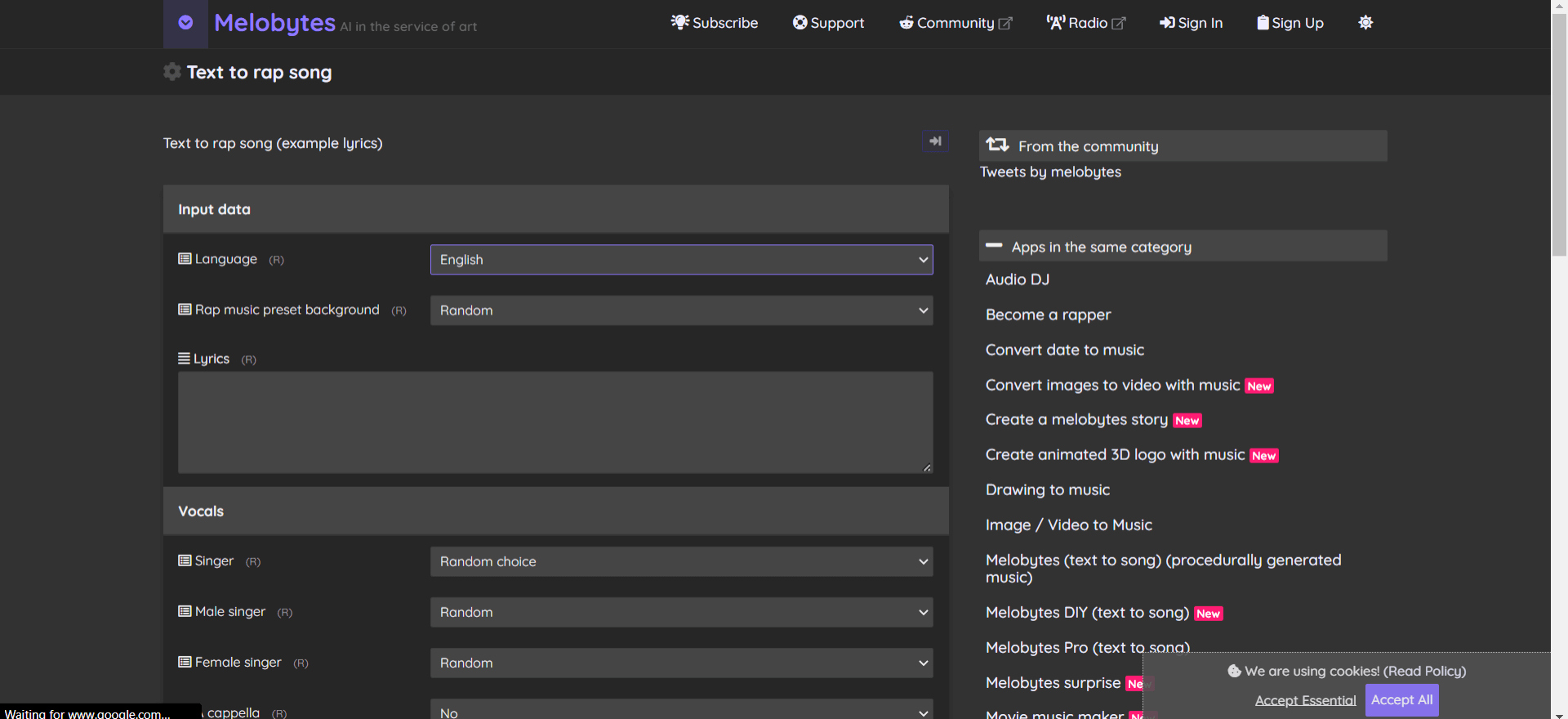 The main features of Melobytes around rapper text-to-speech generation are as follows:
Key Features:
Choose from 30+ languages, rap music background, rapper, male/female voice, etc.

Freedom to create videos along with rap text-to-speech generation.

Easy-to-use platform.

Available on the web and doesn't require any technical knowledge to make music like a pro.

All-in-one solution for musicians, singers, and rappers.
Uberduck has become popular as an AI rapper voice generator on TikTok. Therefore, we will start by guiding you on how to capitalize on the tool and make your own rap in your favorite singer's voice.
Uberduck uses artificial intelligence to replicate the voices of different characters, be it singers, rappers, cartoons, superheroes, or generic male/female voices.
The main features of Uberduck.ai are as follows:
Key Features:
Over 5000+ voiceover filters and voice effects.

Open-source, free platform as a rapper voice generator.

Realistic voice generation in several languages.
How to use AI Rapper Voice Generator?
Here is the complete step-by-step guide to using Uberduck as a rap voice generator:
Step 1: Visit the official website of Uberduck.ai, and create or log in to your Discord account.

Step 2: Since you want to do rapper text-to-speech generation, tap on rapper> Rapper Name from the categories section.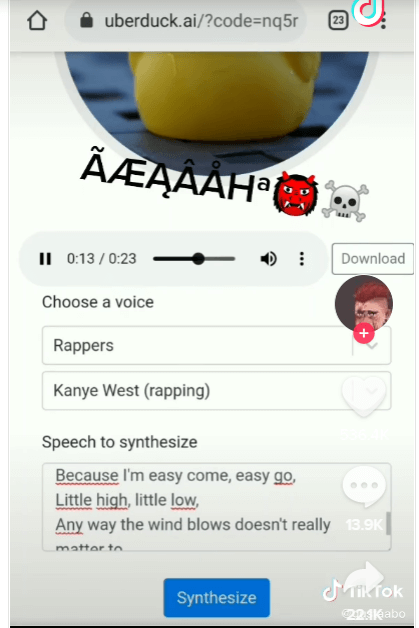 Step 3: Now, it's show time. Paste or type the text you want for voice generation. Hit the Synthesize button.
Step 4: Listen to the rap; you can use it on TikTok behind your videos.
Part 2: The Popular AI Rapper Voice from Voice Generator
Here are some of the popular rapper voices you can generate when leveraging the iMyFone VoxBox Rapper Text-to-Speech Generator: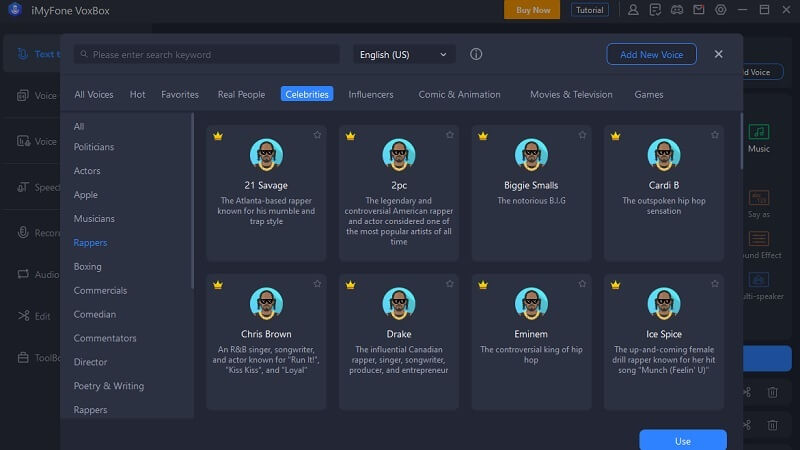 Popular Rapper Voice:
Nicki Minaj – a popular Trinidadian rapper with many hits.

21 Savage – an Atlanta, Georgia-based rapper.

Travis Scott - an American rapper, singer, songwriter, and record producer.

Tupac Shakur – A popular American rapper.

Eminem – Pioneer of American hip-hop culture.

Jay-Z - American rapper, entrepreneur, and record producer.

Q-Tip - Kamaal Ibn John Fareed, known by his stage name Q-Tip is an American rapper, singer, and producer.

Lil Jon - American rapper, producer, and member of The East Side Boyz.
Besides these names, you can also choose from many other rappers or singers.
Part 4: FAQs About AI Rapper Voice Generator
1. How can I make rapper voice for text to speech online?
Uberduck.ai is an open-source, online free rapper TTS generator you can capitalize on. You can choose from hundreds of voices and rappers to replicate.
2. What is the best rapper ai voice generator software?
iMyFone VoxBox is the best rapper voice generator software as it has many features and capabilities besides TTS. You can save your files in different formats, edit audio files, and a lot more.
Final Words
In this article, we share the origin of the AI rapper voice generator and introduce related rapper generators to obtain popular AI rapper voices. I highly recommend VoxBox , because it is not only an AI rapper generator for entertainment, but also a professional voiceover generator. Download voxbox for free now and make your own text-to-speech raps.