Indian Prime Minister Narendra Modi's speech is usually confident and calm, which is related to his dignified voice. Now with the development of artificial intelligence, you can generate Narendra Modi AI voice at no cost through an advanced voice generator, and apply his voice to various speeches, announcements and messaging to make people more convincing.
In this article, here we will introduce the best voice generator and voice changer to help you access Narendra Modi realistic voice.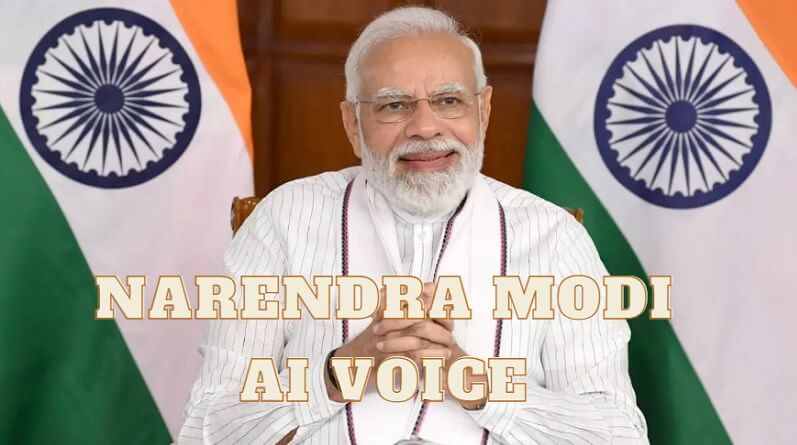 Free listen to Narendra Modi AI voice generated by VoxBox below, and you also utilize the clone feature to custom his voice.


Part 1: Narendra Modi: A Visionary Leader Guiding India's Destiny
Narendra Damodardas Modi, born on September 17, 1950, is an Indian politician who assumed the role of the 14th Prime Minister of India in May 2014. With a political career that includes serving as the Chief Minister of Gujarat from 2001 to 2014, Modi has been an influential figure in the Bharatiya Janata Party (BJP) and the Rashtriya Swayamsevak Sangh (RSS), a right-wing Hindu nationalist paramilitary volunteer organization.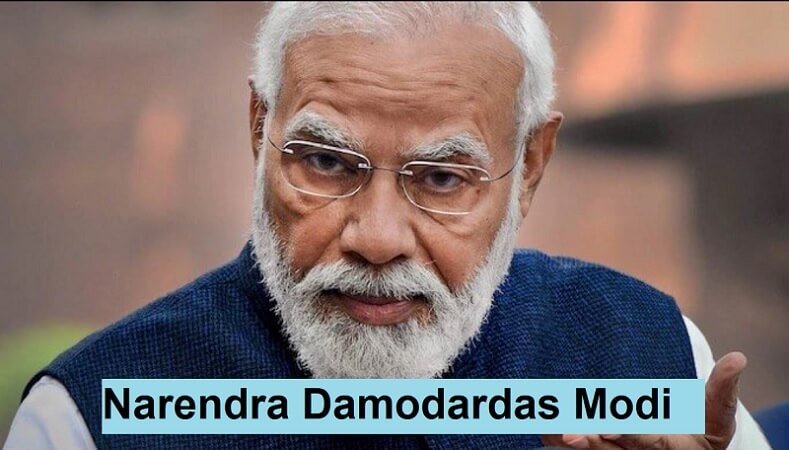 He holds the distinction of being the longest-serving prime minister from outside the Indian National Congress. Modi's leadership has been marked by both high approval ratings and controversy. He has been credited with a political shift toward right-wing ideologies, while also facing scrutiny for his Hindu nationalist beliefs and the handling of the 2002 Gujarat riots.
Part 2: Effective Way to Generate Narendra Nodi AI Voice Through Voice Generator
Narendra Modi's voice is characterized by its distinct tone and delivery. He often speaks with a clear and assertive manner, using a measured pace and deliberate enunciation. If you're looking to replicate the composed speaking style of Prime Minister Narendra Modi, continue reading to discover the powerful voice generator!
VoxBox offers a solution for generating the distinctive Narendra Modi AI voice through its advanced voice cloner and text-to-speech voice generator. With just a few simple steps, you can get Prime Minister Narendra Modi's speaking style and bring his authoritative voice for video dubbing, audiobooks, podcasts, announcements and more.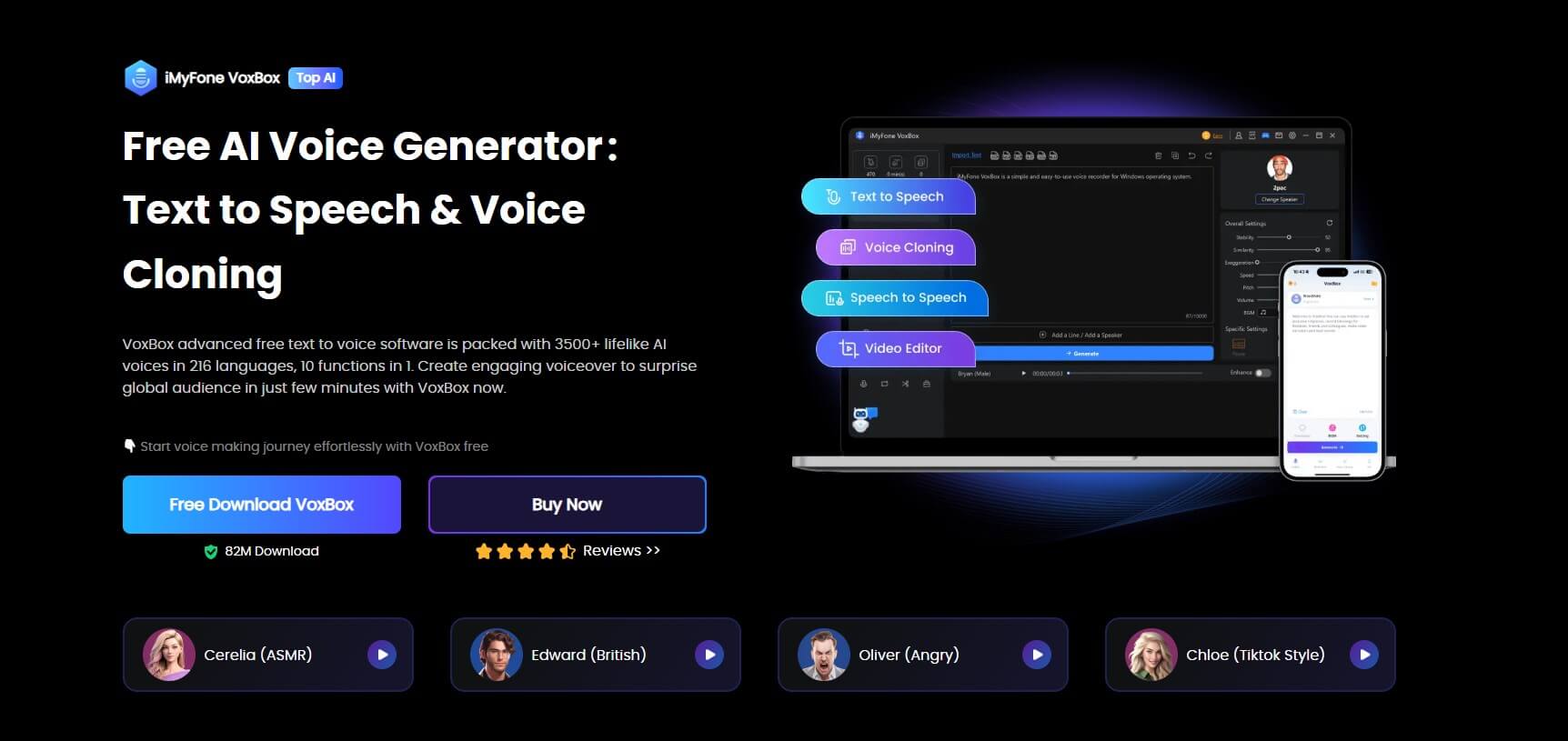 Free To Get Prime Minister Narendra Modi AI Voice:
#Step 1: Begin by downloading and installing VoxBox.
#Step 2: Navigate to the "Text to Speech" bar, tab "change voice" and type "Narendra Modi", choose his voice and type the text you wish to make speech.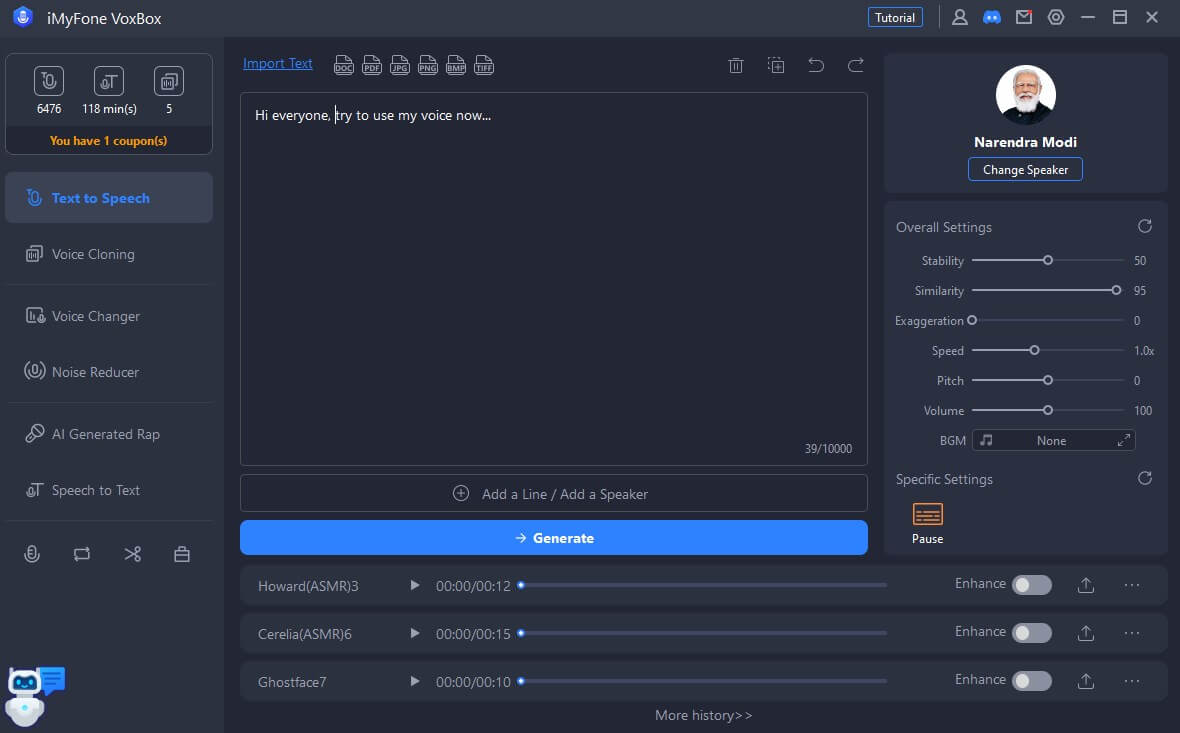 #Step 3: Click "Convert" to initiate the generating process and preview the voiceover.
Key Features:
Select from a wide range of voice presets, featuring renowned figures like Narendra Modi.

Enjoy up to 2000 free letters to make extensive speeches in the Narendra Modi voice.

Politician voices of different countries including Obama, Elon Musk, etc.

Wide selection of 3200+ voices in 77+ languages.

The web for you to try the president Joe Biden AI voice online.
Part 3: Voice Changer to Transform Your Voice into Narendra Nodi AI Voice
MagicMic stands as an exceptional Narendra Modi AI voice changer software compatible with Mac and Windows platforms. Effortlessly transforming voices in real-time, it offers a plethora of sound effects to choose from, ensuring an immersive experience.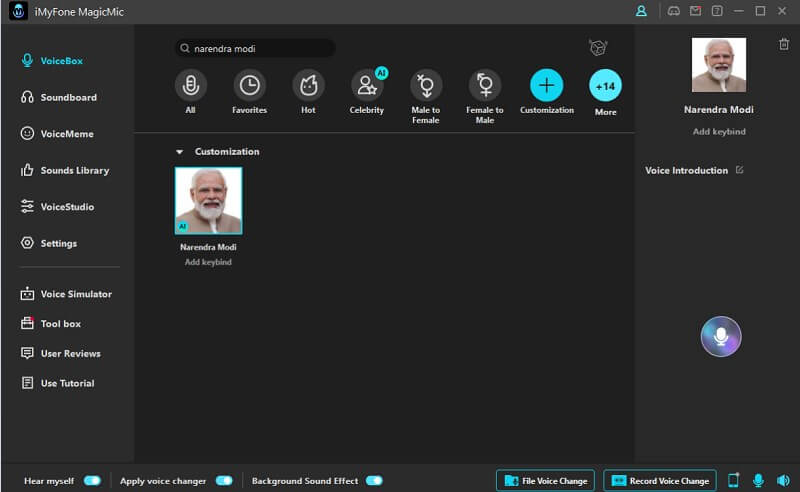 How To Use MagicMic Narendra Modi Voice Changer:
#Step 1: Install the MagicMic software and log in to your account.
#Step 2: Set your primary microphone as input, activate "Apply Voice Changer," and enable "Hear Myself."
#Step 3: Choose the Virtual Audio Device as input in your chosen application for smooth voice alteration.
#Step 4: Discover various effects, assign custom keybinds, and even create personalized AI voices.
Key Features:
Over 400 sound effects, 150 voice memes, and 120 voice filters for hilarious pranks.

Record or upload audio, then effortlessly add effects.

Easily customize president AI voice using the user-friendly keyboard.

Control sound effects in real-time via mobile device while gaming or watching videos.

Integrate with chat apps like Zoom and Discord.
Bouns: Latest News - Narendra Modi US Visit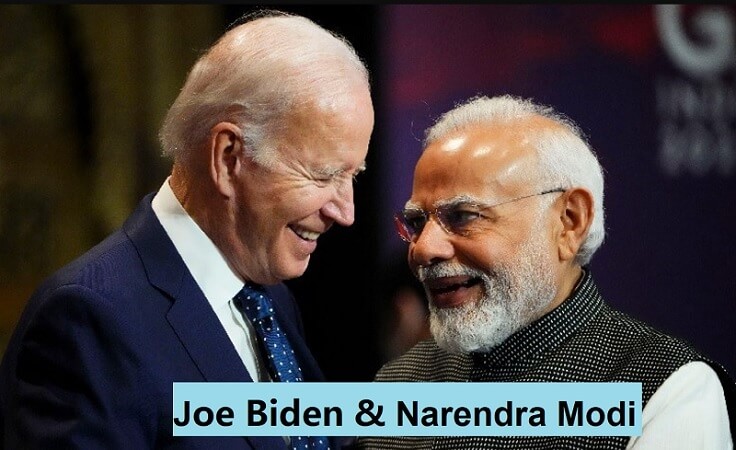 The United States is actively pursuing closer relations with India, recognizing it as a crucial partner in the efforts to counter the rise of China. President Joe Biden's administration is gearing up to welcome Indian Prime Minister Narendra Modi on an official visit this week, as the two nations come together in their shared concerns about China's increasing influence.
This strengthening bond is underscored by a state dinner hosted by the White House in honor of Modi on June 22, underscoring the deepening ties in trade and defense collaboration. In the span of his four-day visit, Prime Minister Modi's trip to the United States has showcased the growing importance of the partnership between India and the United States.
Part 4: Part 4: Hot FAQs about Narendra Nodi AI Voice Generator 2023
1. Can I adjust the language or accent of the Narendra Modi AI voice?
Some AI voice generators might offer options to adjust the accent or language to a certain extent, allowing you to tailor the voice to your needs.
2. Can I generate a Narendra Modi AI voice on different platforms or software?
Different AI voice generator platforms may offer their own versions of the Narendra Modi AI voice, so you may have options to choose from.
3. What did Narendra Modi do for India?
Initiated on October 2, 2014, the Swachh Bharat Abhiyan ("Clean India") campaign was launched by Narendra Modi. This endeavor aimed to tackle issues such as open defecation, manual scavenging, and waste management practices to create a cleaner and healthier environment.
4. How about Narendra Modi height?
Narendra Modi's height is approximately 5 feet 7 inches (170 cm).
Conclusion
In conclusion, the capabilities of AI voice generation allow us to replicate the confident and dignified voice of Indian Prime Minister Narendra Modi. If you're interested in utilizing this remarkable tool, VoxBox is an excellent choice. With its advanced features, including voice cloning and text-to-speech capabilities, VoxBox empowers you to adopt the Narendra Modi AI voice for various purposes and make your communication truly compelling.