Boost your YouTube vlog or animation with cartoon character voice generators!
Learn how cartoon character voice generators can mimic beloved characters like SpongeBob SquarePants for content storytelling apps, kids' audiobooks, and dubbing corrections. We'll give the top 8 virtual cartoon character voices and the best 4 cartoon voice generators for converting text to speech.

Watch The Video to Learn More about Cartoon Voice Generator
Part 1: Best Cartoon Character Voice Generator for Text to Speech
iMyFone VoxBox is your go-to cartoon voice generator featuring voice cloning custom lifelike cartoon AI voices. With a vast library of 3200+ text-to-speech voices. Whether you're crafting engaging voiceovers for children's e-learning modules, online courses, or simply for your own amusement, VoxBox has you covered.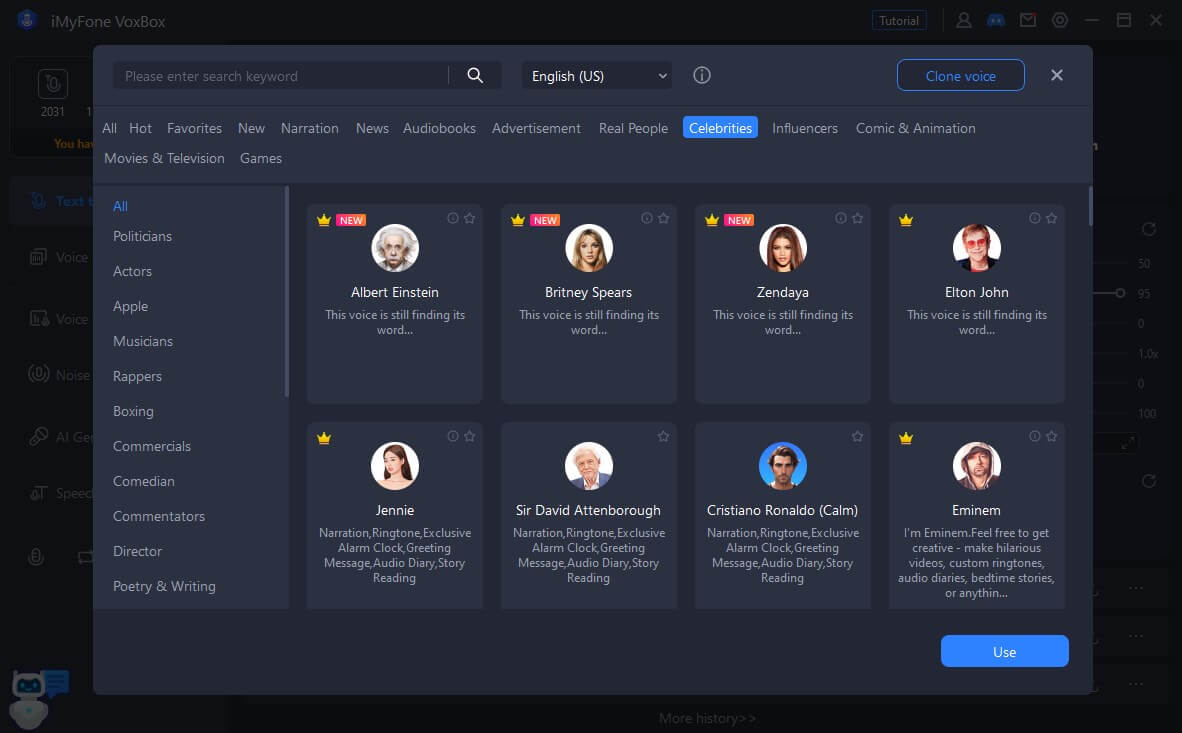 How Easily Get Cartoon AI Voice:
Step 1: Downlaod VoxBox and install it, then open it, and click on "text-to-speech".

Step 2: Select the "Change Speaker", then choose "fictional character".

Step 3: Type or paste your "text", and then "convert", wait a moment, you can generate the voiceover.
Features:
Access 3200+ text-to-speech voices like Rappers, YouTubers, Celebrities, etc.

Custom fictional cartoon character AI voices with voice cloning.

46+ global languages like Spanish, Japanese, and French.

100+ realistic AI accent voices to choose like British accent, and Hindi accent.

Multiple built-in features like voice recording, transcription, converting, and editing.

Different output formats when importing and exporting the audio file.
Pros:

Simple and easy to use.

Interactive user interface.

High-quality voiceover provide.
Cons:

Requires you to download and install on your computer.

Voice Cloning has no free trial.
Price:
| Plan | Price |
| --- | --- |
| 1-month Plan | $14.95 |
| 1-year Plan | $44.95 |
| Lifetime Plan | $89.95 |
2) VoiceTooner
VoiceTooner is cartoon voice changer app, is now available on the Google Play Store. Whether you're celebrating a friend's birthday, sending holiday greetings, or just having a good time, share these entertaining videos with your friends, featuring amusing voices like robots, squirrels, and more.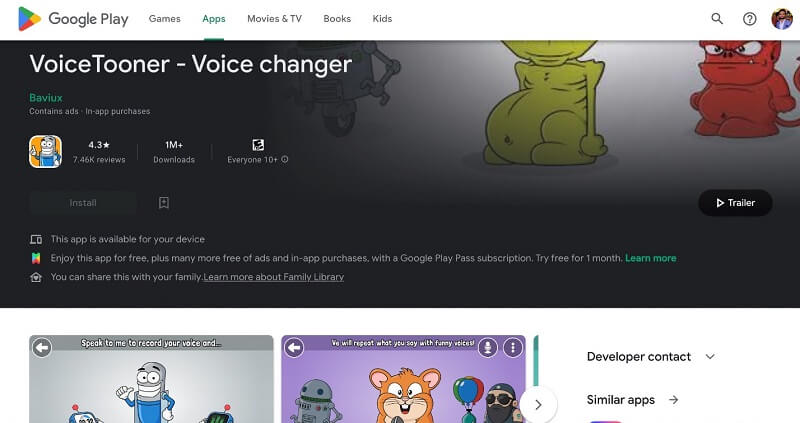 Features:
VoiceTooner is very easy to use.

It has a wide library of cartoon characters to choose from.

It has text-to-speech and also repeats after-me features.

Simply touch the cartoon character, and you will hear its voice.
Pros:

Provides 1 month of a free trial.

You can also record the voice and listen to different cartoon characters' voices.

It allows you to share the video on different platforms.

You can also create videos using this tool.

Due to its efficiency, it has a rating of 4.3/5.
Cons:

Only available on Android.

Includes in-app purchases.

Includes ads.
Price:
| Plan | Price |
| --- | --- |
| Free Plan | $0 / month |
3) RoboVox Voice Changer Pro
RoboVox Voice Changer Pro is another voice-changing Android application that works. It also supports generating fictional character's voice with text-to-speech voices.
RoboVox is a great app when it comes to editing. It is because it has X-Y control fields at the tip of your fingers.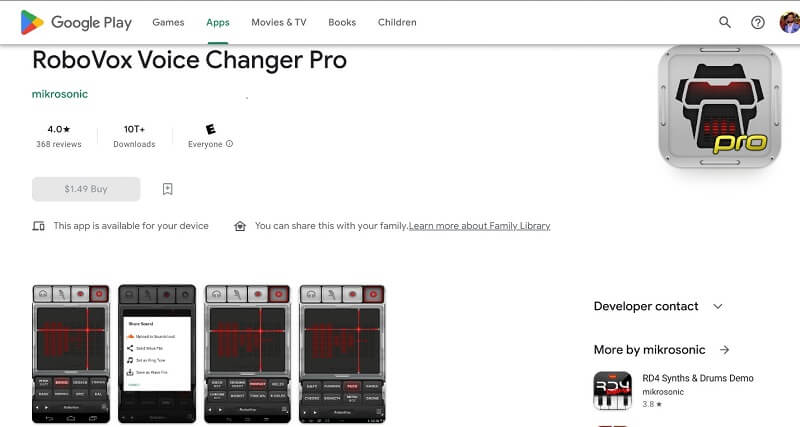 Features:
RoboVox is not only a voice-changing application, but it also allows you to record your voice.

It has 32 different voice styles from which you can choose.

You can adjust the pitch and modulation with X-Y control fields.

It changes the voice to different characters and processes the audio very fast.
Pros:

Allows you to transform your voice into different characters easily.

It is completely secure to use this tool.

Ease of editing the audio.

Users are pretty much satisfied with this app and have rated it a solid 4/5.
Cons:

It is only available for Android users.
Price:
| Plan | Price |
| --- | --- |
| Pro Plan | $1.49 |
4) Skype Voice Changer
Skype Voice Changer is a desktop tool that helps you to transform your sound with different effects. These effects include cartoon characters and other voices as well. It is very easy to use, and you can download it easily as it is compatible with Windows.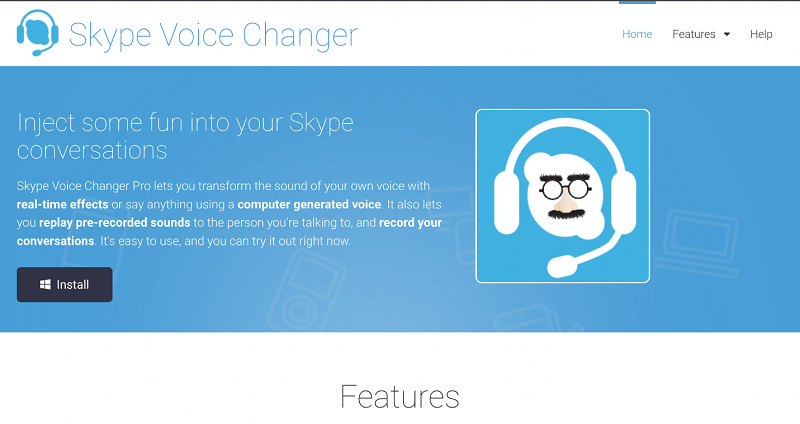 Features:
Multiple tools are available to transform the voice.

It has different fun effects along with voice modification features

If you have recorded a sound previously, then you can also listen to it afterward.

Record your conversation using this tool and use it during your Skype call.

You can also use the text-to-speech feature of this tool and speak with a computer-generated voice.
Pros:

Listen to the sound before you can use it.

The user can record the voice of every individual in case of making a podcast or recording separate conversations.

It has a trial version that works for 14 days and can record up to 30 seconds of conversation.
Cons:

Skype Voice Changer is only compatible with Windows.
Price:
| Plan | Price |
| --- | --- |
| Pro Plan | $29.95 |
Part 2:How about the Top 8 Cartoon Characters Voice Line?
Voiced by Tom Kenny, SpongeBob's high-pitched and energetic voice has become instantly recognizable. From his infectious laughter to his iconic catchphrases like "I'm ready!" and "I'm ready, I'm ready," SpongeBob's voice embodies the joy and enthusiasm of the character.
2) Squidward
Rodger Bumpass brings Squidward Tentacles from SpongeBob SquarePants to life with his irritable and snobbish voice. Bumpass skillfully portrays Squidward's perpetual frustration and dry humor.
3) Bugs Bunny
Created by Mel Blanc, Bugs Bunny's voice is a perfect blend of a Brooklyn accent and a mischievous tone. His famous catchphrase, "Eh...What's up, doc?" has become synonymous with the character's witty and clever personality. Blanc's exceptional voice acting brought Bugs Bunny to life and contributed to his enduring popularity.
4) Aladdin
Scott Weinger voiced the character Aladdin, infusing the street-smart and charming character with warmth and wit. Aladdin's voice reflects his adventurous spirit.
5) Popeye
Voiced by William Costello and later by Jack Mercer, Popeye's gruff yet endearing voice adds to his charm and resilience. With his famous phrase, "I yam what I yam," Popeye's voice reflects his determination, love for spinach, and unwavering sense of justice.
6) Homer Simpson
Portrayed by Dan Castellaneta, Homer Simpson's distinct voice has become iconic in the realm of animated sitcoms. From his exasperated "D'oh!" to his hilarious exclamations and humorous antics, Homer's voice perfectly captures the lovable yet bumbling nature of the character.
7) Optimus Prime
Peter Cullen's deep and authoritative voice defines Optimus Prime, the heroic leader of the Autobots from the Transformers franchise. Cullen's voice captures the wisdom, strength, making Optimus Prime an enduring symbol of heroism.
8) Winnie the Pooh
Voiced by Sterling Holloway and later by Jim Cummings, Winnie-the-Pooh's gentle and whimsical voice has enchanted audiences for generations. Holloway's initial portrayal and Cummings' subsequent performance bring the beloved teddy bear to life, capturing Pooh's innocence, curiosity, and love for honey.

Conclusion
In this article, we have introduced the top 8 cartoon character voices. Additionally, we introduce how to use AI generate to cartoon voices.
When in search of AI cartoon character voices for your animated projects, please choose iMyFone VoxBox. Don't wait download and install iMyFone VoxBox today.