Are you a cartoon fan?or maybe you like SpongeBob, Peter griffin, Optimus Prime and so character? or maybe you are a vlogger or Youtuber who needs some voiceover? or you need to make voiceovers for content like storytelling apps and voiceovers for audiobooks for kids.
In this article, we will discuss some efficient and simple text-to-speech voice generators that you can use without any trouble creating a cartoon voice. Plus, I'd introduce the voices of the top 8 popular cartoon characters.
Tips
Watch this video to learn more about the Best Character Voice Generator get more cartoon voice:
Part 1:Detailed Intro of Top 8 Unique Cartoon Character's Voices
1) Spongebob
The voice of Spongebob Squarepants is quite famous . His voice has a high pitch with a touch of an animated character.
2) Squidward
Squidward is a character from Spongebob Squarepants. he remains calm but is short-tempered, so most of the time, his voice is loud.
3) Bugs Bunny
We all know how funny and confident Bugs Bunny is. The accent of Bug Bunny is quite Brooklyn-style and has a touch of manipulation towards it. The original voice of Bugs Bunny was dubbed by Blanc Snark
4) Aladdin
Aladdin comes from a poor background with a brown touch on his character. We can sense a little Asian touch in his accent. He has humbleness and sadness in his voice.
5) Popeye
Popeye is one of the most iconic cartoon characters there ever. His voice is extremely distinct and different from others. It is because Popeye is strong, and his voice depicts it perfectly.
6) Homer Simpson
Homer Simpson has become famous due to the sarcastic and comical touch of his voice. It has an American accent which is an iconic part of his voice.
7) Optimus Prime
Optimus Prime is a prominent character in Transformers. We all know that it's robots. So, the voice of Optimus Prime is robotic as well as deep.
8) Winnie the Pooh
Winnie the Pooh is one of the saddest cartoon characters that we have ever come across during our childhood. The voice of Winnie the Pooh has an iconic accent, and we can sense it easily.

Part 2: Generate Cartoon's Voice Through AI Text-to-Speech [Latest Tip]
1) iMyFone VoxBox-One Stop Character Voice Generator
iMyFone VoxBox which not only contains cartoon character voices but also supported 100+ accents. If you want to engage audience interest to use cartoon text-to-speech to make a voiceover for E-learning modules for kids or storytelling apps, or online courses for kids, it is a good choice. Or just for your entertainment.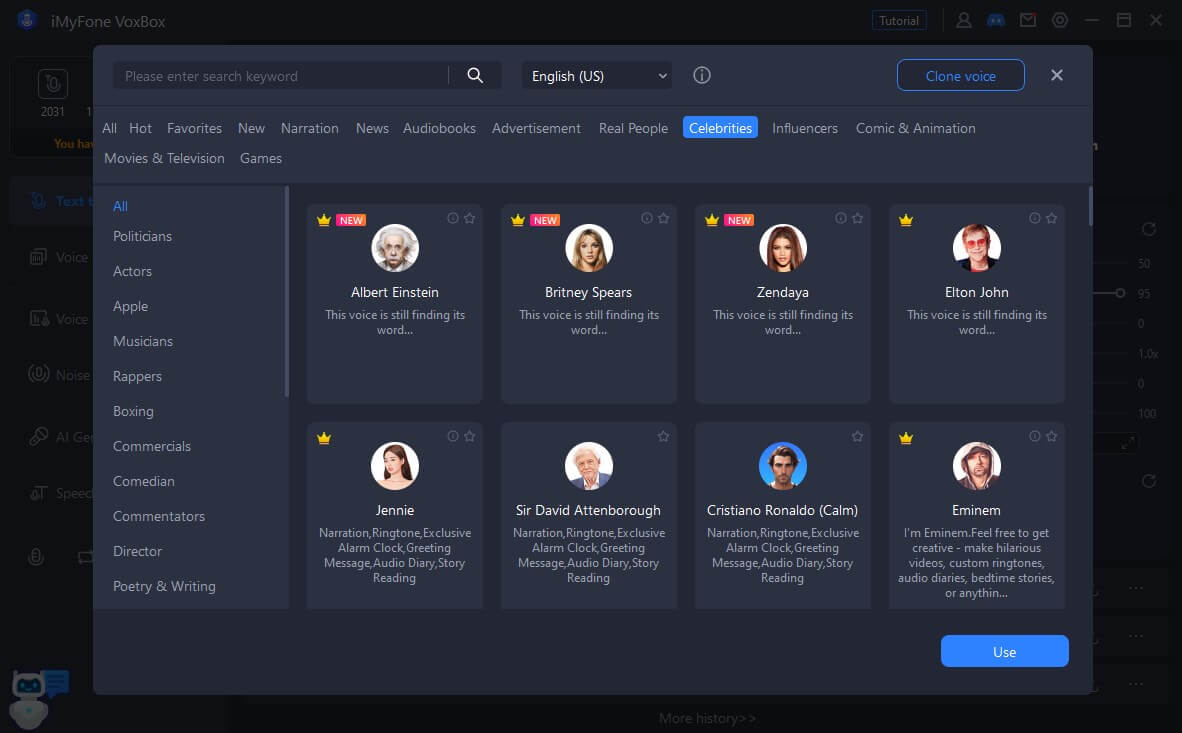 Features:
VoxBox included 3200+ voices like Rappers, YouTubers, Celebrities, etc.

VoxBox also allows you to clone cartoon characters' voices.(one clone, use forever)

Provide 46+ global languages like Spanish, Japanese, and French.

100+ realistic Ai accent voice to choose like British accent, and Hindi accent.

Mutiple bulit-in features like voice record, generate, convert, and edit.

You can use Pause, Speed, Pitch,Emphasis, Say as, Volume to adjust your audio

Supports different formats when importing and exporting the audio file.

You can clip, trim, delete and cut the audio file with this tool.

Privacy and security are two key features of this tool.
Spongebob
Pros:

Simple and easy to use.

Interactive user interface.

High-quality voiceover provide.

Also supported the free trial(limited).

Fast speed of TTS process.

Suopported Windows & MAC & iOS & Android.
Cons:

Requires you to download and install on your computer.

Voice Cloning has no free trial.
Price:
| Plan | Price |
| --- | --- |
| 1-month Plan | $14.95 |
| 1-year Plan | $39.95 |
| Lifetime Plan | $79.95 |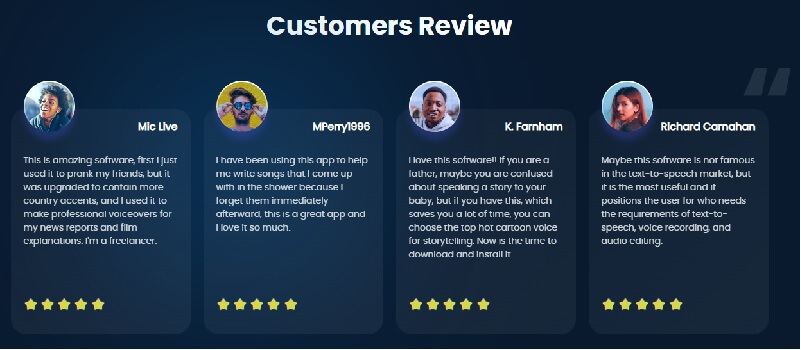 Watch this Video to learn More about iMyFone VoxBox-AI Character Voice Generator
2) VoiceTooner
VoiceTooner is a voice-generating application available on the Play Store. Android users can download this tool for free, but it includes in-app purchases. It specializes in cartoon character voices and will repeat everything you say in the voice you select.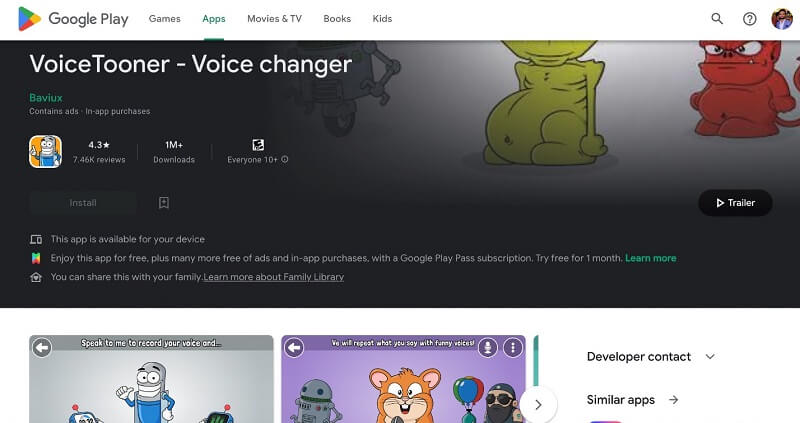 Features:
VoiceTooner is very easy to use.

It has a wide library of cartoon characters to choose from.

It has text-to-speech and also repeats after-me features.

Simply touch the cartoon character, and you will hear its voice.
Pros:

Provides 1 month of a free trial.

You can also record the voice and listen to different cartoon characters' voices.

It allows you to share the video on different platforms.

You can also create videos using this tool.

Due to its efficiency, it has a rating of 4.3/5.
Cons:

Only available on Android.

Includes in-app purchases.

Includes ads.
Price:
| Plan | Price |
| --- | --- |
| Free Plan | $0 / month |
3) RoboVox Voice Changer Pro
RoboVox Voice Changer Pro is another voice-changing Android application that works seamlessly. It has both voice recording and text-to-speech features.
RoboVox is a great app when it comes to editing. It is because it has X-Y control fields at the tip of your fingers. There are very rare TTS voice generators that have audio editing features as well.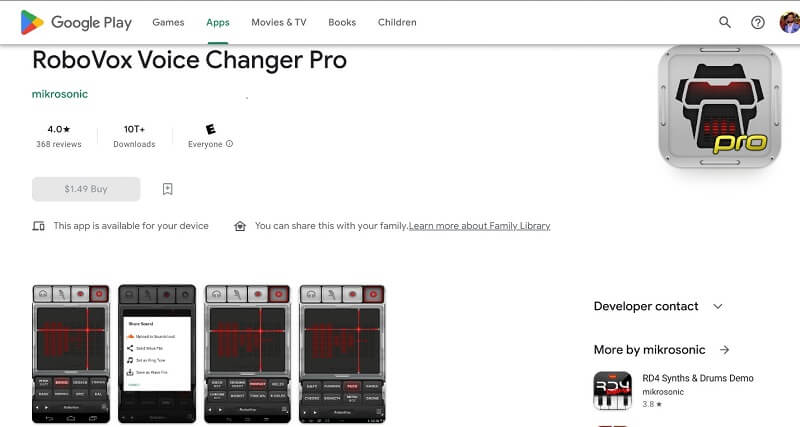 Features:
RoboVox is not only a voice-changing application, but it also allows you to record your voice.

It has 32 different voice styles from which you can choose.

You can adjust the pitch and modulation with X-Y control fields.

It changes the voice to different characters and processes the audio very fast.
Pros:

Allows you to transform your voice into different characters easily.

It is completely secure to use this tool.

Ease of editing the audio.

Users are pretty much satisfied with this app and have rated it a solid 4/5.
Cons:

It is only available for Android users.
Price:
| Plan | Price |
| --- | --- |
| Pro Plan | $1.49 |
4) Skype Voice Changer
Skype Voice Changer is a desktop tool that helps you to transform your sound with different effects. These effects include cartoon characters and other voices as well. It is very easy to use, and you can download it easily as it is compatible with Windows.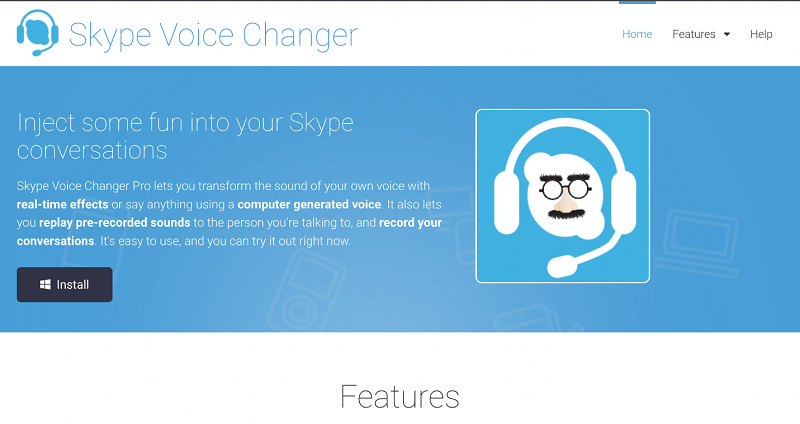 Features:
Multiple tools are available to transform the voice.

It has different fun effects along with voice modification features

If you have recorded a sound previously, then you can also listen to it afterward.

Record your conversation using this tool and use it during your Skype call.

You can also use the text-to-speech feature of this tool and speak with a computer-generated voice.
Pros:

Listen to the sound before you can use it.

The user can record the voice of every individual in case of making a podcast or recording separate conversations.

It has a trial version that works for 14 days and can record up to 30 seconds of conversation.
Cons:

Skype Voice Changer is only compatible with Windows.
Price:
| Plan | Price |
| --- | --- |
| Pro Plan | $29.95 |
Conclusion
In this article, we have summarized a few of the best character text-to-speech generators that you can choose to make cartoon voices. Out of these voice generators, you can choose the suit one for your needs.
If you are still confused about choosing, I would recommend iMyFone VoxBox. It is cheaper than others and has plenty of features that other tools don't. Plus, whether for your business purpose or your entertainment purpose, which can meet your requirement. So download and install VoxBox and start to generate your voice.