Creating a celebrity's or famous politician's voice is not difficult at all in this modern world. Many AI voice generators allow you to create different voices.
Let us say that we want to recreate Donald Trump's voice for entertainment purposes; then how can we do it? In this article, we will discuss a few of the most effective tools that you can use to create Donald Trump's voice via an AI voice generator to say whatever you want.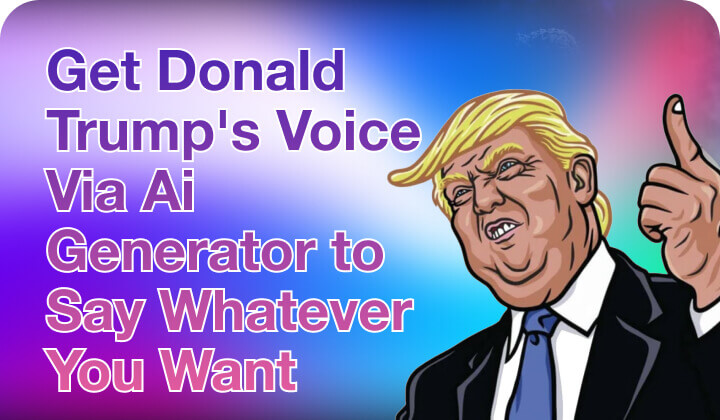 Try it Free
Part 1: How About Donald Trump's Voice?
Donald Trump is a prominent businessman and a former president of the United States. He is among the most famous personalities in the world, not only because he is a US president but also runs a very successful business.
Donald Trump's voice is a mixture of scream and squawk. He has a very native New York accent which is commonly found. He seems to repeat some of his words that are mostly nouns.
Some people and critics think that his way of speaking makes him sound humble. It seems that Donald Trump's accent is perfect for someone that needs to address people for different causes.
Now that Donal Trump is not the president of the United States, he is still being judged on his style and way of speaking because it relates to the upper-class British accent.
Tips
Listen to the
Donald Trump'Voice
Generated by VoxBox.

Part 2: The Ultimate AI Voice Generator To Create Donald Trump's Voice
Voxbox is a Ai voice generator supported convert text into Trump's voice Natural.
It has different categories of voices, among which is the voice of president like Obama, Joe Biden.
Most importantly, the voice quality and resemblance of VoxBox are commendable. It creates perfect voices using AI and gives you outstanding results.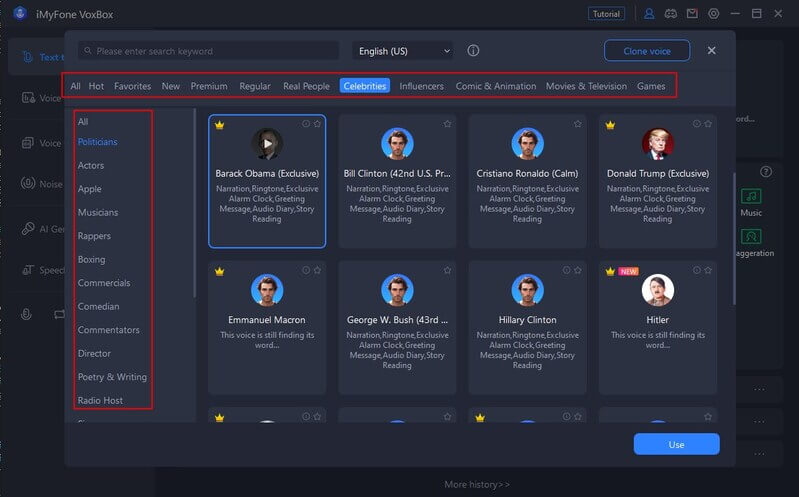 Features:
3200+ voices like Rappers, YouTubers, Cartoons, Celebrities, etc.

46+ global languages like Spanish, Japanese, French.

You can clip, delete, cut, and trim any audio clip.

5-in-1 software like tts, stt, voice record, video convert, audio edit.

Supported Pause, Pitch Emphasisc Volume, Speed, etc.

You can not only generate TTS but can also edit audio tracks using VoxBox.

Privacy and security are guaranteed.
Pros:

Safe and reliable to use..

Easy to record the voice.

Processes TTS very fast.
Cons:

Compatible only with Windows.

Features are restricted for trial version users.
Try it Free
Part 3: Other Best 3 Donald Trump AI Voice Generator Recommend
1) Clash.me/trump
It is the first tool on our list that allows you to generate Donald Trump's voice using AI. It is an online tool that focuses on developing different types of voices, out of which one voice is Donald Trump's. It is an online tool, so you can access it from wherever you want. However, despite being a very effective tool, it is not perfect and may work in most cases where precision is not required.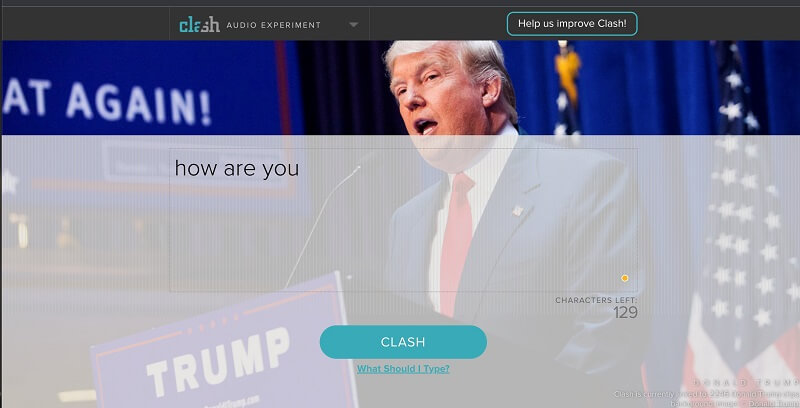 Features:
You can simply write the text that you want to convert, and it will generate the voice of Donald trump.

It is very easy to operate.

Very fast in processing text to speech

You can also play the voice to check if it matches the real celebrity or not.

It allows you to save or share the audio that you created.
2) Fakeyou.com
Fakeyou is a very famous online tool that helps you to generate different types of voices. It has a wide library of voices from which you can choose the voice.
Fakeyou has different categories in which you can specify your requirement for the voice, and it will narrow down the search for you. For example, if you want to select the voice of Donald Trump, then you can select the category of "Real People" and then go into "Politics" and choose "US Presidents" to be exact. Then you can select Donald Trump among the 17 options it shows.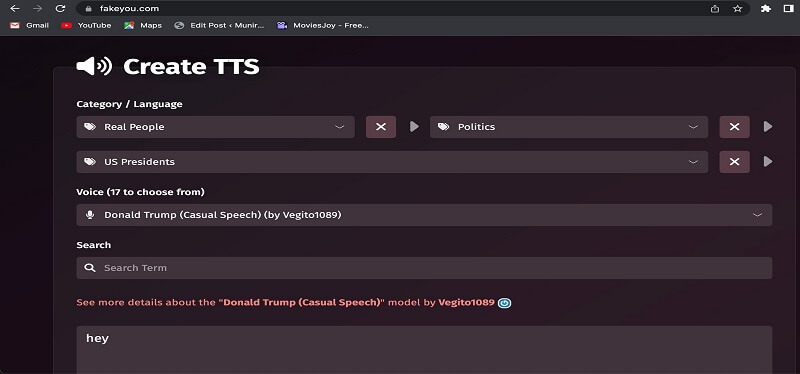 Features:
It has a very wide library to search for specific voices or sounds.

Categories are available to narrow down the voice search.

Takes less time to process text to speech.

You can listen to the output of TTS.

It also has a search bar for terms that varies to different voices.

You can also download the voice after processing.
3) Voicemod.net
We have talked about online voice generators and how they are very effective. Let us look at the desktop application and how it is different from online tools.
Voicemod is a desktop application that helps you to create any voice effect using TTS (text-to-speech). It has a separate soundboard for Donald Trump's voice. Moreover, it gives you instant buttons for effects. With just three simple steps, you can easily generate Donald Trump's voice. You can also modify the voice according to your liking.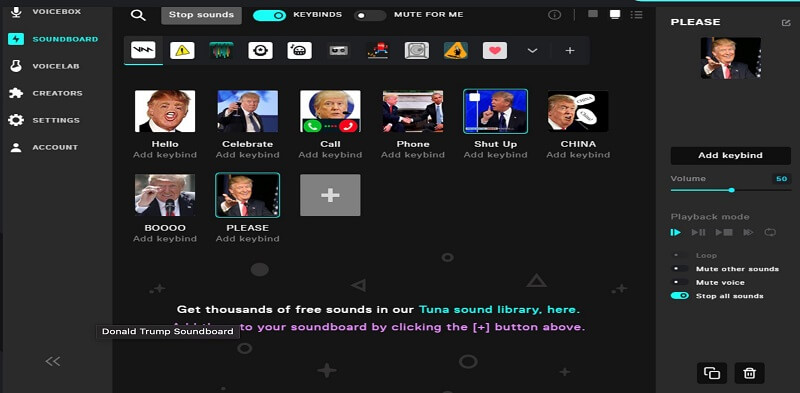 Features:
Voicemod Soundboard works in real-time, so you can use it with Discord, Zoom, and other online platforms.

It is mostly used for entertainment purposes as it processes voice with ultra-fast speed.

Simply download the Donald Trump soundboard to generate TTS.

You can select Voicemod as the default microphone and enjoy talking with friends with different voices.
Conclusion
In this article, we have specifically talked about the voice of Donald Trump. and also discuss some Ai voice generators to make Trump's voice, the most effective text-to-speech(TTS) generator is iMyFone VoxBox. which has more voices to choose from, and the voices are realistic and natural. It does not require any technical expertise, and you can select any voice from its library.
As we mentioned before, you could make voiceover via VoxBox for your video content, podcast, audiobooks, etc.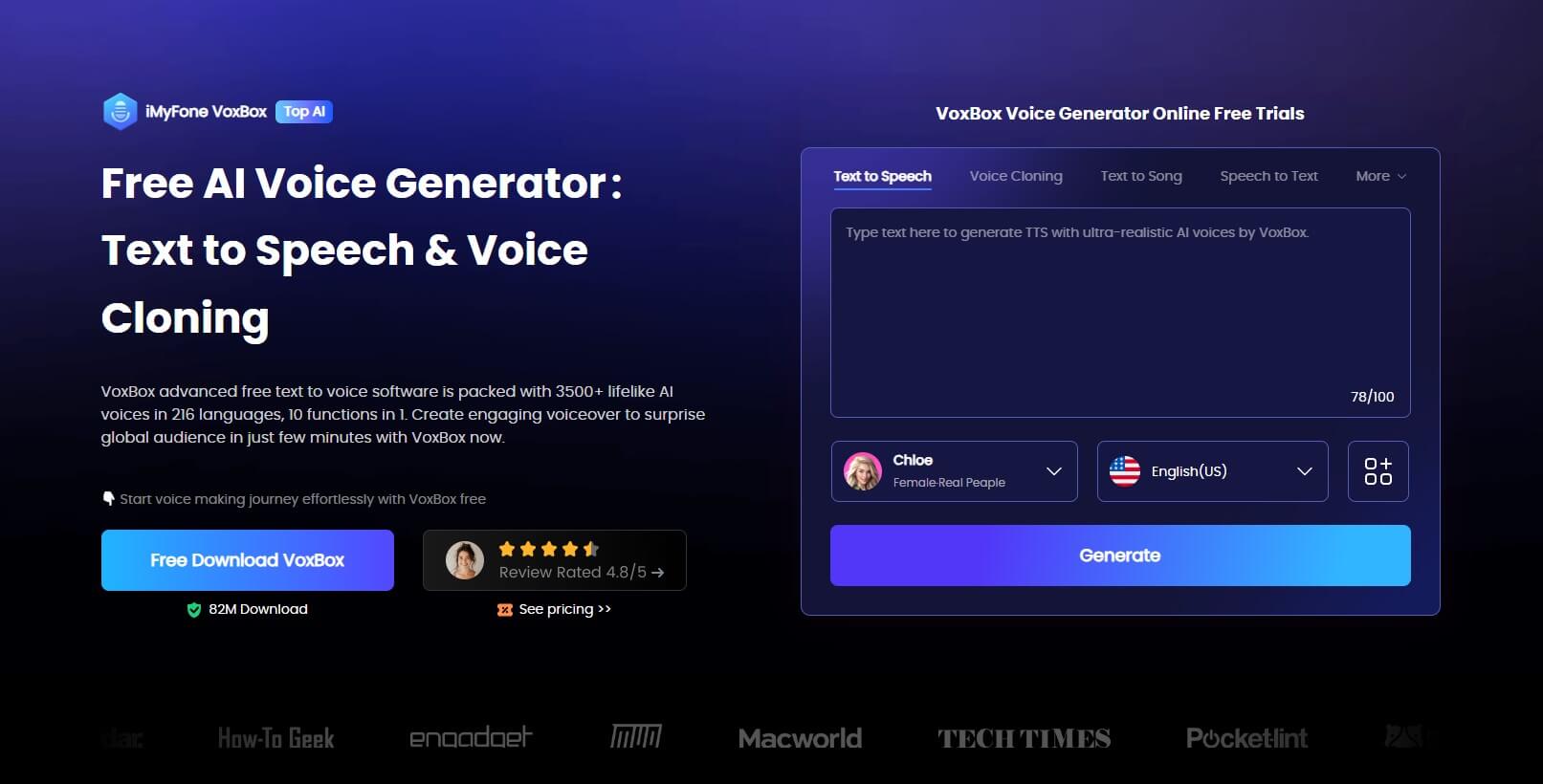 Try it Free