In recent years, anime has become popular due to its storyline and action-based animation. The voices of anime characters are distinct and highly pitched. They sound innocent, squeaky, and happy in their tone. After watching anime, many people want to generate anime girl voice. In most text-to-speech generators, you can easily find anime characters.
In this article, we will discuss text-to-speech generators you can use to generate anime girl voices. We will share various anime voice genartors along with their features, pros, and cons, so you can easily pick the best one for your needs.


Part 1:Best 2 Anime Voice Generators with Text-to-Speech
The first anime voice generator we are going to discuss is iMyFone VoxBox. it has anime characters that will allow you to create an anime girl voice easily. It gives you three options: language, voice type, and voice, to select the voice of your text-to-speech voice generator output.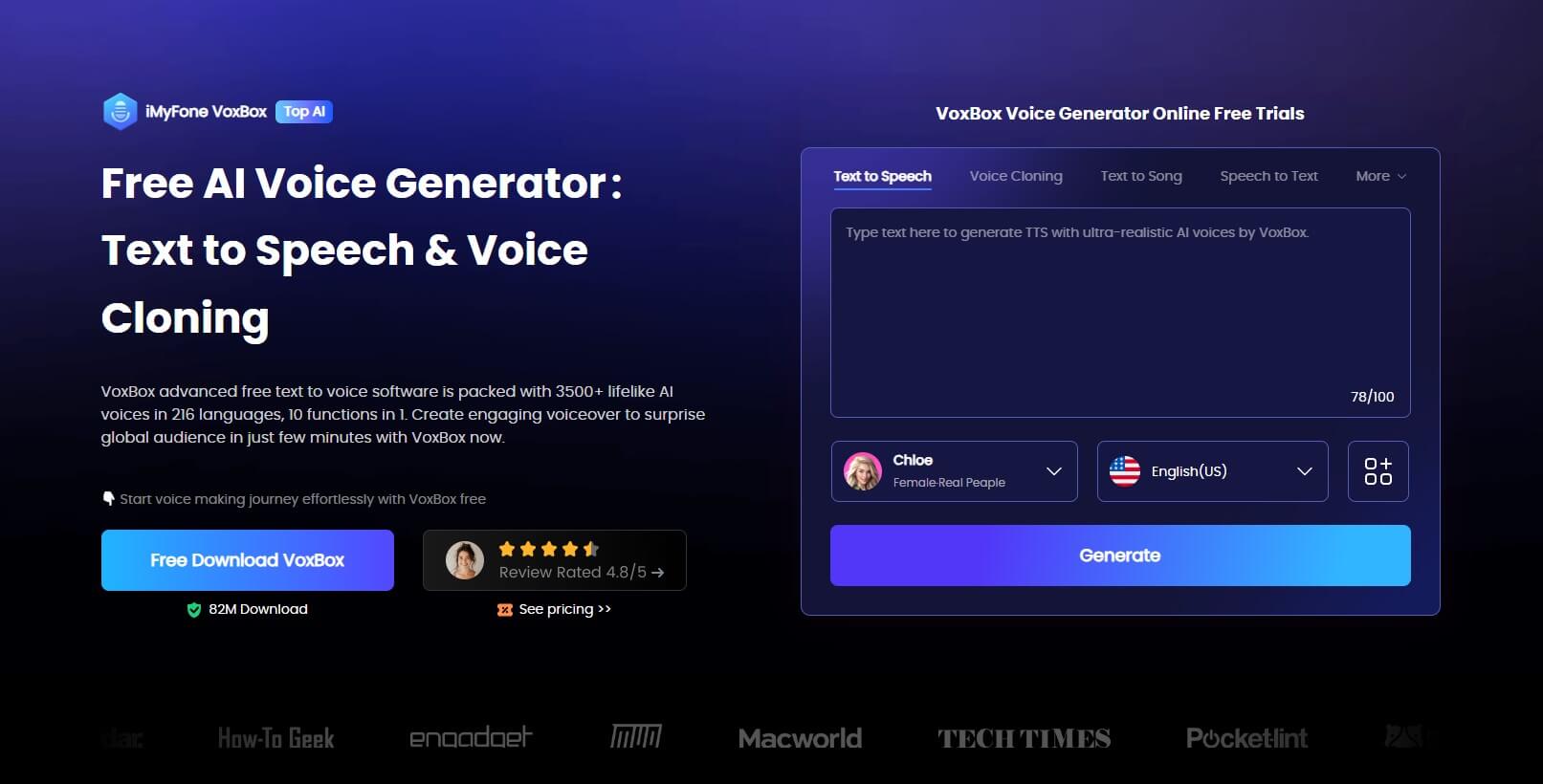 Features:
Supported 3200+ voices like Miku, Spongebob, other characters' Ai voices.

100+ accents like a British accent and a Hindin accent, etc.

Supported 46+ languages like Spanish, Indian, Japanese,etc.

4-in-1 software of voice record, generate, convert, and edit.

It has multiple output formats like MP4, WAV, and AAC.

User-friendly interface.

Supported Pause, Pitch, Speed, Pitch and Emphasis.

You can import, convert, edit,record.
Pros:

It has a user-friendly interface.

Easy to use.

The trial version is available for free.

It can also record and edit audio files.
Cons:

You need to download and install this tool to be able to use it.

Not available on macOS.
How to use:
Step 1: Downlaod Voxbox and install it, then open it, and click on "text-to-speech".

Step 2: Select the language, voice type, and voice for the output of your text-to-speech. Then click on "Convert".

Step 3: After seconds get audio. Click on the "Play" button to hear what it sounds like. Then "Export" the audio to your computer.
Tips
Listen to the Anime Voice Generated by VoxBox.

2) MagicVox
If you want to change your voice to anime voice, then MagicVox is a great tool for you. It can transform your voice into different effects in real-time. You can use it for live chatting, gaming streams, and other purposes.
Features:
It provides you with more than 100 voice filters.

MagicVox changes your voice in real-time, enabling you to use it during any live stream or gaming.

MagicVox has over 200 voice effects with filters that you can use in real-time.

It has a voice emulator that you can use directly in chatting, games, and live.

These voice filters also have background effects, making your voice change a bit realistic.

Voice memes are also available to meet certain requirements.
Pros:

You can use the hotkeys to control different effects, including playback, replay, stop, and cycle.

It allows you to import files in MP3 as well as WAV format.

It gives users the freedom to adjust the parameters of sound.

You can also customize voices with a few clicks.
Cons:

Currently, it is only available for Windows users.

Moreover, you need to download this tool and install it on your PC.
How to use:
Step 1: Downlaod Voxbox and install it, then open it. choose soundboard.

Step 2: You can also use key binds to quickly access your favorite sound effects. Adjust the volume, cycle, and other options.
Part 2: Top 2 Anime Voice Text-to-Speech Online Generators
1) Narakeet
Narakeet are online tools that you can use to generate text-to-speech in different voices. Just go to the website, type in your script, choose the voice and convert it into speech.
Features:
Narakeet provides you with eight different voices of Japanese males and females.

It can convert Japanese text to speech easily.

Besides creating an MP3 audio file, you can also create MP4 videos easily.

You can click on "More Options" to adjust the volume and speed of the audio output.
Pros:

No registration is required to use this online tool.

Simple and easy user interface.

You can upload up to 10 MB of files and up to 1 KB of narration text.

You can choose different languages with Narakeet.
Cons:

You require a stable internet connection to use this tool.

It has limited voices from which you can choose.
How to use:
Step 1: Go to the Narakeet website.

Step 2: Choose text to speech, select the format and then type in the script. Click on "Convert Audio".

Step 3: After convert, click on "Download" to save it or click on "Improve" to make some adjustments.
2) Typecast
Typecast is another online text-to-speech voice generator. It has different and unique features that you can use. It also has AI-generated videos, so you can create videos with this tool.
Features:
You can create not only AI-generated voiceovers but also videos with this tool.

Typecast allows you to set your voice styles.

You can control the emotions and tones of your narrative.

Typecast also has subtitle, transition, custom virtual human, and custom background features.
Pros:

You can type, paste or even import your content.

It allows you to create realistic facial expressions as well.

This tool allows you to create quick videos without expensive equipment.
Cons:

As it uses AI, you don't have many options to alter the changes.

You need to sign up before using the tool.
How to use:
Step 1: Go to the Typecast website. Click on the option of "Create Now".

Step 2: Type or paste the text then convert. also support set the speech pace, intonation, tempo, and style tone.

Step 3: Click on the 'Play" button to hear the sound. also directly click on "Download" to save it.
Conclusion
In this article, we have discussed different Voice generators that you can use text-to-speech generate anime voice. There are both desktop apps and online tools when it comes to text-to-speech voice generators. However, the best tool that you can use is iMyFone VoxBox.
It is a simple and effective tool that has hundreds of voices in different languages. It has a free trial version; download it and create your own
anime girl voice text to speech
.
Watch this video to learn more about the Anime Voice Generator-iMyFone VoxBox: