AI voice generators are becoming increasingly popular among people that cause which can improve accessibility, reduce costs, increase efficiency, and offer personalization options.
If we want to use text-to-speech to generate Joe Biden's voice for entertainment like comedic skits or parodies, or to support their candidate in some Political campaigns, in this article, we'll introduce 3 text-to-speech generators to create Joe Biden's voice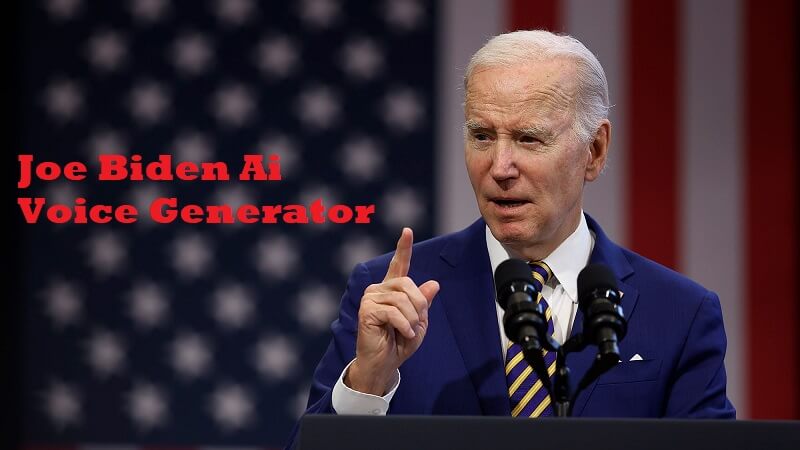 Try it Free
Part 1: Information of Joe Biden
Joe Biden is the 46th President of the United States, who was inaugurated on January 20, 2021. He has served as a U.S. Senator from Delaware for 36 years and was also the Vice President of the United States under Barack Obama from 2009 to 2017. Joe Biden's distinctive voice and speech patterns have made him a household name and inspired many to seek out ways to replicate his voice.

Part 2: How to Use Text-to-Speech to Generate Joe Biden's Voice
VoxBox is known for its vast library of over 3,200 voices in more than 46 languages, including British English, Spanish, Italian, and many other characters' Ai voice.
VoxBox uses advanced TTS technology to produce natural-sounding voices that are designed to sound like real human speakers. and you can choose Joe Biden's voice to make voiceovers for your purpose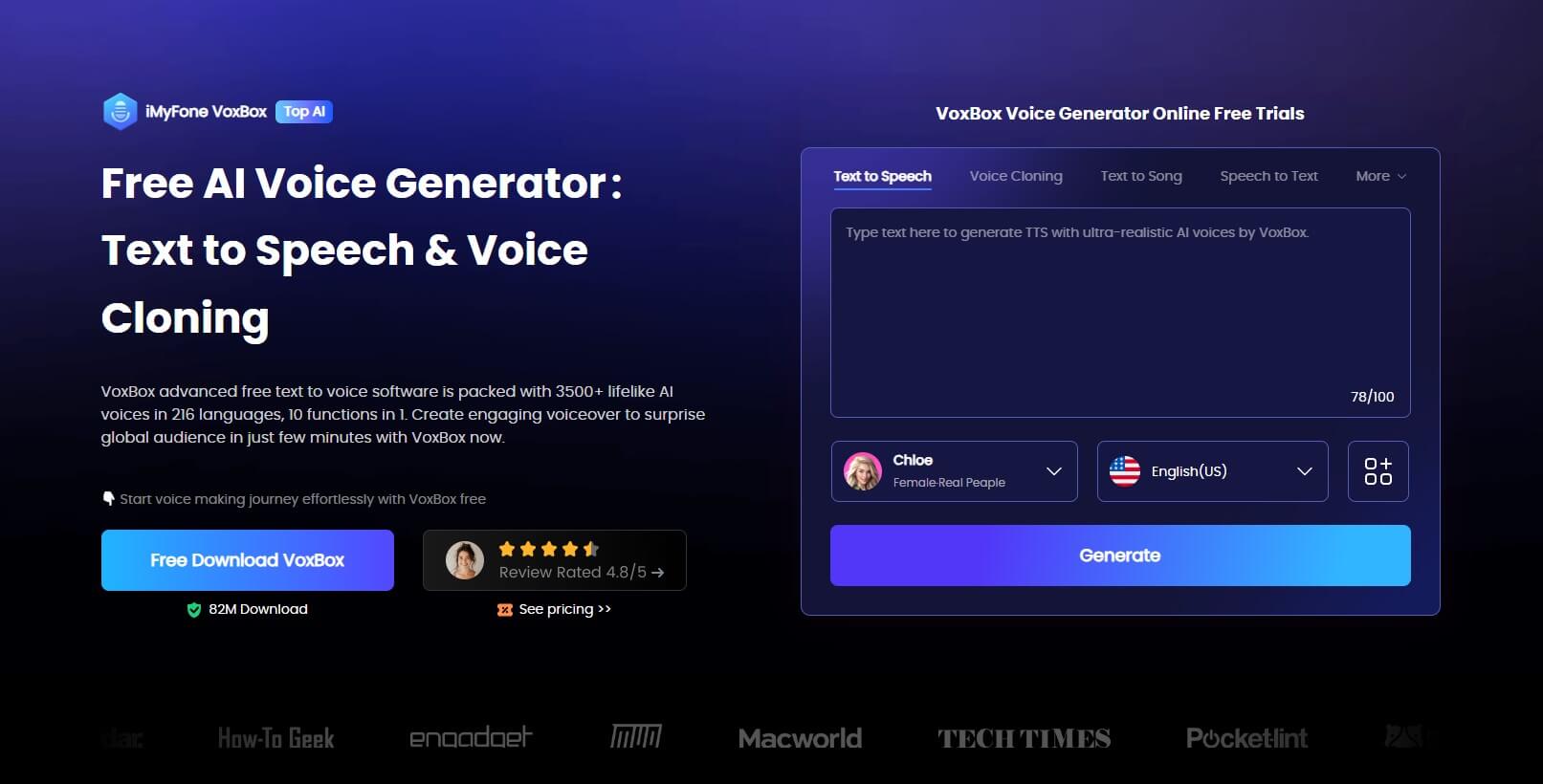 How To Use:
Step 1: Download and install the iMyFone VoxBox

Try it Free

Step 2: Open the software and select the Text-to-Speech option from the left sidebar of the main interface. then choose voice with "Joe Biden"

Step 3:Type your content or paste, (you also could adjust parameters) then convert.
Listen to the (Young)Joe Biden's Voice generated by VoxBox

Features:
3200+ voices like Rappers, YouTubers, Cartoons, celebrity, etc.

46+ global languages like Spanish, Japanese, French.

100+ accents like British, Aussie accent, etc.

You can clip, delete, cut, and trim any audio clip.

5-in-1 software like text-to-speech, speech-to-text, voice record, video convert, audio edit.

Supported Pause, Pitch Emphasisc Volume, Speed, etc.

Privacy and security are guaranteed.
Pros:

Safe and reliable to use..

Easy to record the voice.

Processes TTS very fast.
Cons:

Compatible only with Windows.

Features are restricted for trial version users.
Try it Free
Part 3: Other Recommended AI Voice Generators to Create Joe Biden's Voice
If you're looking for alternative AI voice generators to create Joe Biden's voice, two other excellent options are uberduck.ai and Murf.ai.
1) Uberduck.Ai
Uberduck.Ai is an AI voice generator that uses machine learning to create natural-sounding voices that are customizable and versatile. Its key feature is that it can learn and adapt to the user's voice over time, making it more accurate and personalized.

Features:
4000+ voices like Spongebob.

AI-generated raps like kanye, eminem, etc and singing

Support audio clips saving

Besides Text to Speech, it also has Reference Audio and API documentation.
2) Murf.Ai
Murf.ai is another popular AI voice generator that uses deep learning algorithms to create human-like voices with remarkable accuracy. Its key feature is that it can generate multiple voices from a single model, which makes it ideal for creating different variations of Joe Biden's voice.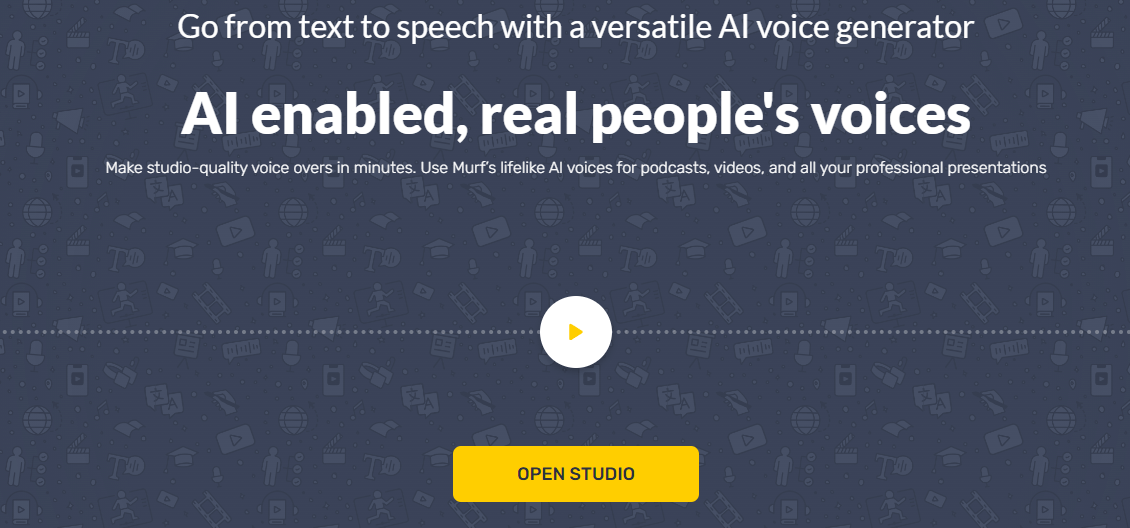 Features:
Many voice filters and effects available in Chinese speech to text generator.

Polish your script with grammar and editing tools.

Supports more than 15 languages.

Sync the time of voiceovers with visuals.

Voice editing features like phasing, chorusing, reverberation, etc.
Part 4: Hot FAQs About Joe Biden 2023
What are Joe Biden's plans for the future?
Joe Biden has outlined several plans for his presidency, including addressing climate change, improving healthcare, and tackling racial inequality.
How old is Joe Biden?
Joe Biden was born on November 20, 1942, which makes him 80 years old as of 2022.
Does Joe Biden have any pets?
Yes, Joe Biden has two German Shepherds named Champ and Major, who have become popular pets in the White House.
What is Joe Biden's stance on gun control?
Joe Biden has been a vocal supporter of gun control measures, including background checks and bans on assault weapons.
Conclusion
As we mentioned before if you want to generate Job Biden's voice for your entertainment like funny video content, or for your business content like podcasts, online courses, etc. I'd like to suggest iMyFone VoxBox, which uses Ai tech to generate human-like voices. Download and install it, which not make you disappointed
Try it Free