AI voice generators with tts and voice cloning are becoming increasingly popular among people that cause which can improve accessibility, reduce costs, increase efficiency, and offer personalization options.
If we want to use text-to-speech or voice cloning to generate Joe Biden's voice for entertainment like comedic skits or parodies, or to support their candidate in some Political campaigns, in this article, we'll introduce 3 text-to-speech generators to create Joe Biden AI voice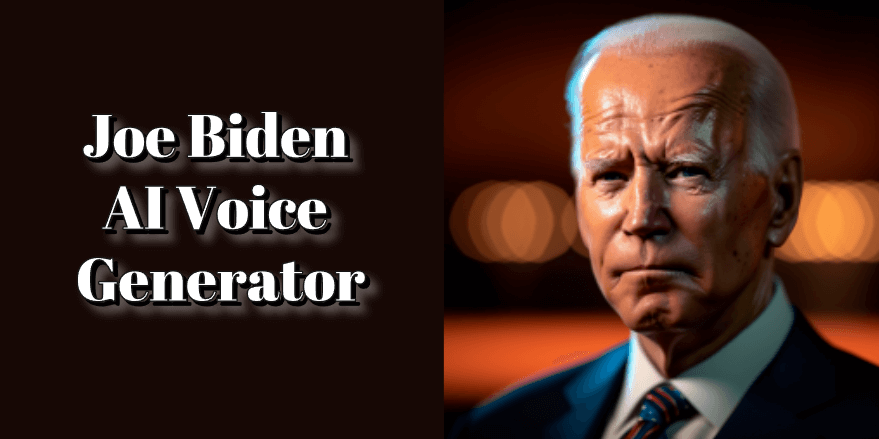 Listen to the Joe Biden AI Voice generated by VoxBox

Part 1: Information of Joe Biden
Joe Biden is the 46th President of the United States, who was inaugurated on January 20, 2021. He has served as a U.S. Senator from Delaware for 36 years and was also the Vice President of the United States under Barack Obama from 2009 to 2017. Joe Biden's distinctive voice and speech patterns have made him a household name and inspired many to seek out ways to replicate his voice.

Part 2: How Text-to-Speech Generate Joe Biden AI Voice?
VoxBox is known for its vast AI voice library of over 3,200 voices in more than 46 languages, including British, Spanish, Italian, and many other characters' Ai voice.
1) VoxBox-Best Biden Voice Genrator
VoxBox is a cutting-edge AI Joe Biden voice text-to-speech generator, which uses advanced TTS & Voice cloning technology to produce natural-sounding AI voices that are designed to sound like real humans. and there are steps for free to get Joe Biden's voice to make voiceovers for your purpose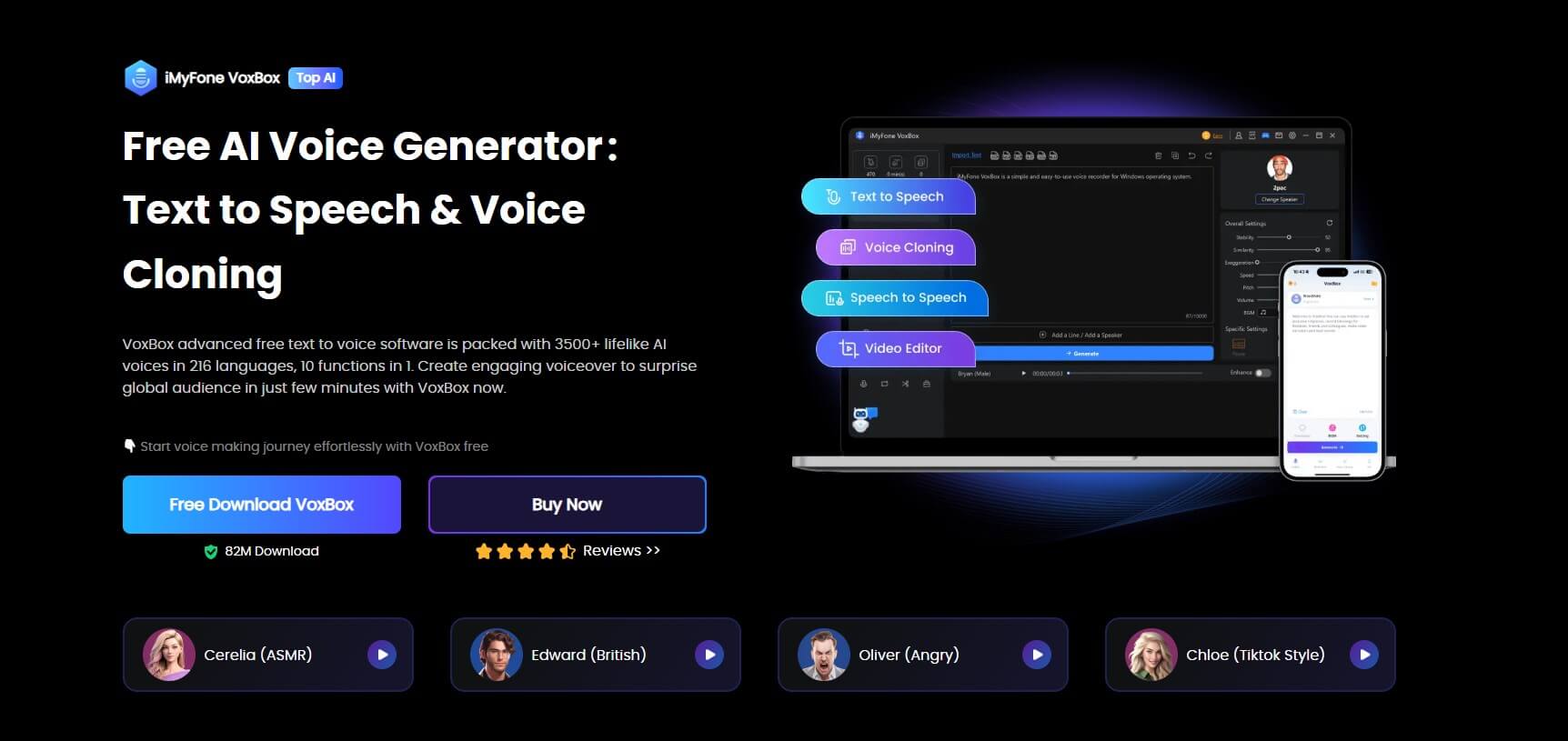 How To Use Biden Text to Speech Voice Generator?:
Step 1: Download and install the iMyFone VoxBox

Step 2: Open the software and select the Text-to-Speech option from the left sidebar of the main interface. then choose voice with "Joe Biden"

Step 3:Type your content or paste, (you also could adjust parameters) then convert.
Features:
3200+ voices like Rappers, YouTubers, Cartoons, celebrity, etc.

46+ languages like Spanish, Japanese, French.

100+ accents like British, Aussie accent, etc.

Not only generate dubbing, but also support edit the AI speech,and convert the formats you want.

Multiple functions like text transcribtion, voice clone, voice record, video convert, audio edit.

Customize like Pause, Pitch Emphasis Volume, Speed, etc

You can clip, delete, cut, and trim any audio clip.
Pros:

Safe and reliable to use..

Processes TTS very fast.
Cons:

Supported PC & Mobile, but voice cloning has no trial

Features are restricted for trial version users.
Watch this video to learn more about the Best Joe Biden AI Voice Generator-VoxBox:
Part 3: Top Joe Biden AI Voice Generators with TTS Recommend
If you're looking for other Joe bieden AI voice generators with TTS to create Joe Biden's voice, two other excellent options are uberduck.ai and Murf.ai.
1) Uberduck.ai
Uberduck.ai is an AI voice generator that could do an AI Joe Biden voice that uses machine learning to create natural-sounding voices that are customizable and versatile. Its key feature is that it can learn and adapt to the user's voice over time, making it more accurate and personalized.

Features:
4000+ voices like Spongebob.

AI-generated raps like kanye, eminem, etc and singing

Support audio clips saving

Besides Text to Speech, it also has Reference Audio and API documentation.
2) Murf.ai
Murf.ai is another popular AI voice generator that uses deep learning algorithms to create human-like voices with remarkable accuracy. Its key feature is that it can generate multiple voices from a single model, which makes it ideal for creating different variations of Joe Biden's voice.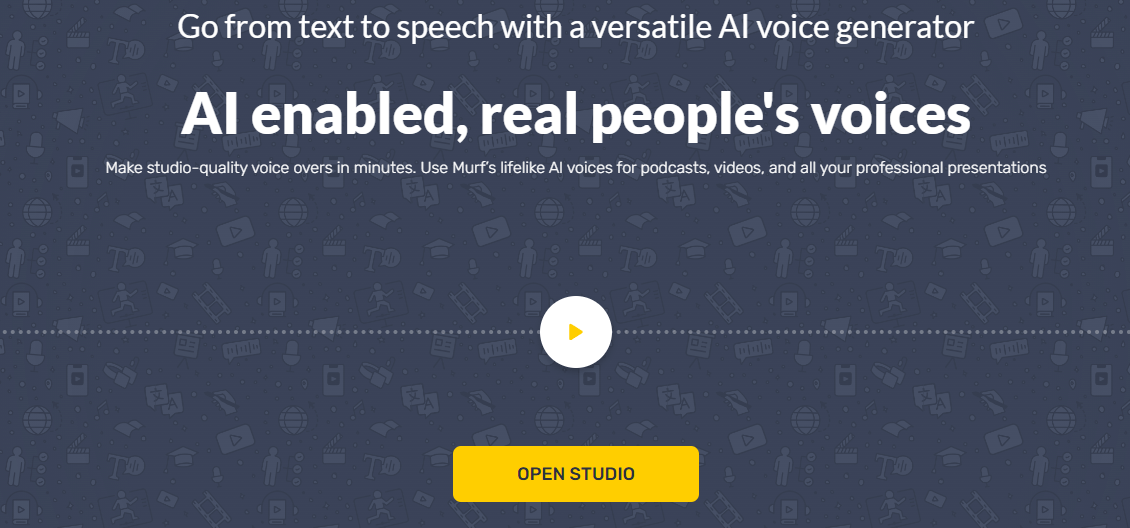 Features:
Many voice filters and effects available in Chinese speech to text generator.

Polish your script with grammar and editing tools.

Supports more than 15 languages.

Sync the time of voiceovers with visuals.

Voice editing features like phasing, chorusing, reverberation, etc.
Part 4: Hot FAQs About AI Voice 2023
Is voice cloning to get voice ethical?
The ethics of voice cloning are a matter of debate. While the technology has potential benefits, such as aiding communication for those with disabilities or allowing for posthumous conversations, there are concerns around consent, accuracy, and potential misuse. Regulations and guidelines should be established to ensure the ethical use of the technology.
How old is Joe Biden?
Joe Biden was born on November 20, 1942, which makes him 80 years old as of 2022.
How to use joe Biden's text-to-speech?
As we mentioned before, you can download and install VoxBox, and then choose "text to speech", choose "president" voice - Biden's Voice.
Who is the AI voice in TikTok?
Kat Callaghan, a radio host and voice-over artist, is the real person behind TikTok's text-to-speech voice, "Jessie." Callaghan discusses what it's like to have her voice associated with numerous viral videos and explains how "Jessie" distinguishes itself from other A.I. voice technologies.
Conclusion
As we mentioned before if you want to generate a Joe Biden AI voice for your entertainment like funny video content, or for your business content like podcasts, online courses, etc. I'd like to suggest iMyFone VoxBox, which uses AI tech to generate human-like voices. Download and install it, which not make you disappointed
Bonus Tips
Watch this video to learn more about using
Text-to-Speech
to create human voice.