Spongebob is a very famous cartoon character. Its voice is heard all over the world and can be recognized by almost anyone.
There are different AI voice generators and text-to-speech that allow the user to make Spongebob ai voice. In this article, we will discuss a few online tools that can do the job and change voice effectively. Moreover, we will discuss apps that can do the same.
Tips
Watch this video to learn more about using
AI voice generators
to make realistic & natural SpongeBob's Voice.
Part 1: Top 3 AI Voice Generators Get Spongebob AI Voice
VoxBox is AI voice generator which not only easily get Spongebob ai voice but also has 77+ global languages, 100+ accents, and more than 100+ AI character voices. you can use VoxBox for any purpose.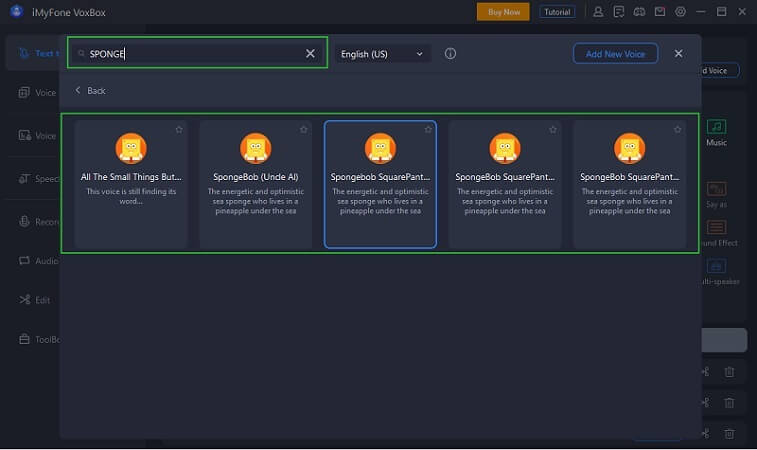 Free Get SpongeBob AI Voice :
Step 1: Download and install VoxBox, and open it.

Step 2: Choose Text-to-Speech from the left side bar, select "Spongebob" voice you prefer.

Step 3: Click on "Convert" , and then you can export the speech into different formats.

Features:
A wide AI voice ranges for business, entertainment, study, and working.

Customized voice settings like pitch, pause, speed, volume, etc.

Not only a text-to-speech for SpongeBob voiceover but also text transcription to make notes.

Multiple popular output formats for streaming.

The super faster voice cloning process.

Realistic and natural-sounding audio.

Free start 2000 characters for text to speech
Baviux is a smartphone application that can change the voice of the user into different voices by modifying it. It has different effects that can be added to the voice. The user can record these modified voices and then share them on social media platforms with friends and family. If you are looking for an application, then it is a very effective and feasible tool that anyone can go for.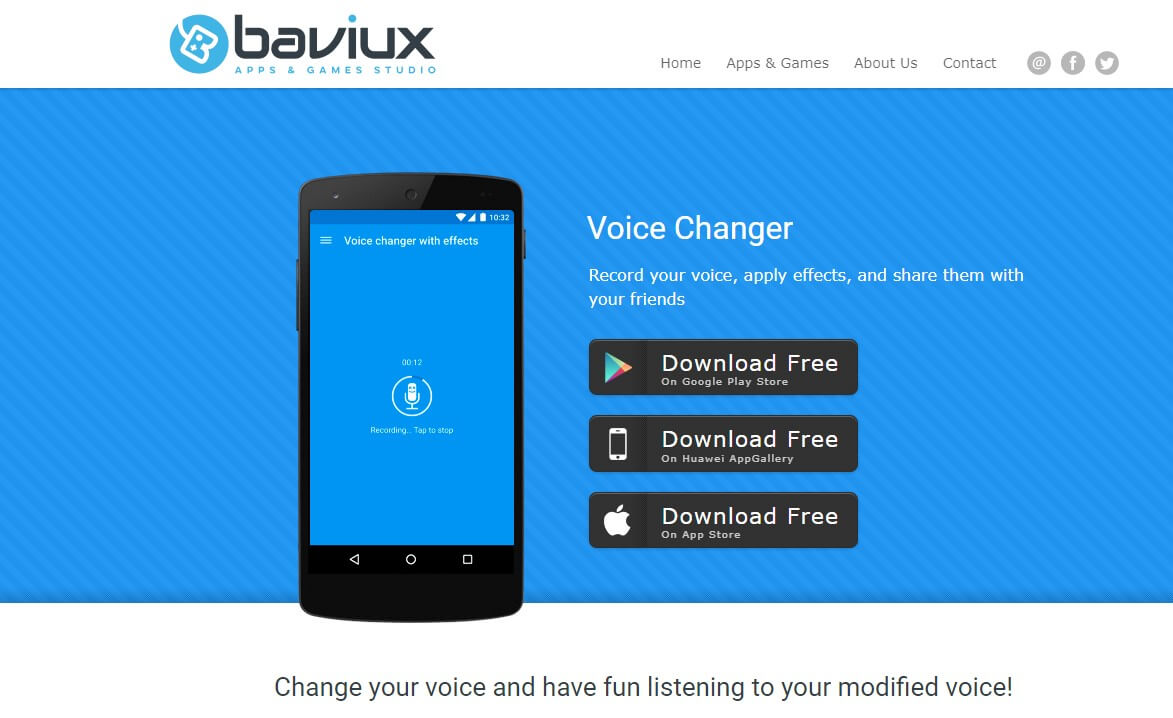 Features:
It is available on Android and iOS. The user can download it for free from the App Store and Play Store.

It not only allows the user to change the voice but also works as a voice recorder.

The user can share the modified voice with friends and family.

Baviux has 40 effects that users can add to the voice.

It has millions of users, so it is safe to say that this tool is reliable and secure.
Google Text to Speech is another way in which the user can get Spongebob's voice. It is easily available on every Android device, and there is no need to download it. The user can simply go to "Settings" Accessibility "> "Installed Services". Click on "Select to Speak" and confirm your selection. The user can then open any app and choose the option of selecting to speak, and it will speak for the user. To get Spongebob's voice, the user can go to "Settings" >"General Management" >"Language and Input". Here, under the option of Text to Speech, the user can choose Google TTS and scroll down to find Spongebob. It will appear with a little yellow icon. It will be installed and it will be selected as default.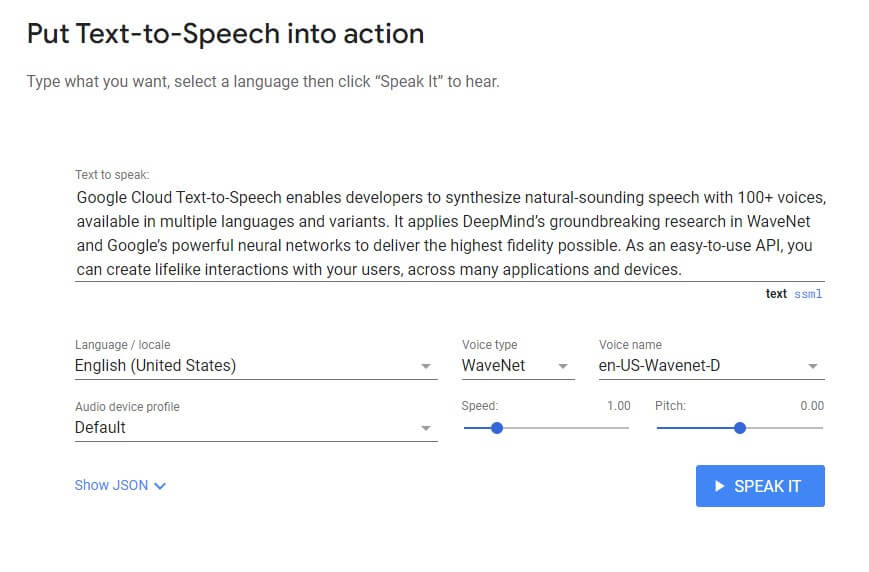 Features:
Doesn't need any downloading.

Already available on all Android devices, the user just needs to enable it.

Multiple voices to choose from.
Part 2: Top 3 Text-to-Speech Online Toolbox for Spongebob AI Voices
Fake you is an online text to speech to make spongebob ai voice, which has a list of categories and voices from which the user can choose to clone the voice. The user can type in the box the lines or dialogues and click on "Speak". The tool takes a few seconds to generate the voice, and it is displayed. you can use it to make SpongeBob's voice. ( even though which is not the best one)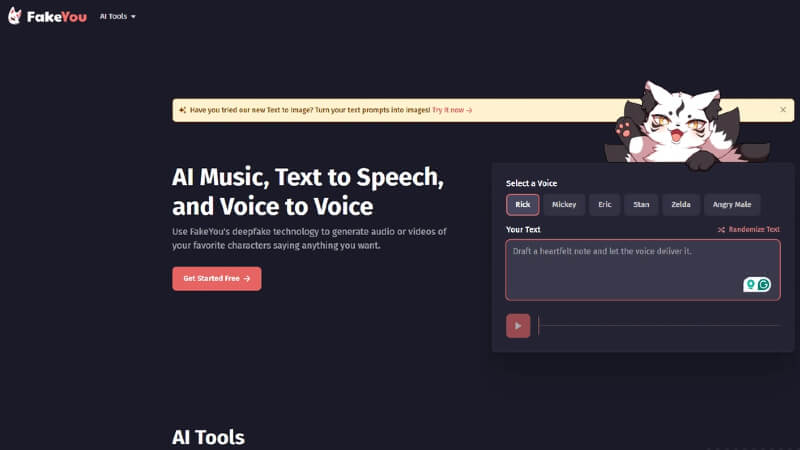 Features:
The list of categories to choose from includes anime, cartoons, games, movies, and more.

Moreover, it has different characters from the categories to be specific with the voice.

Works and generates text-to-speech in a few seconds.

Does not require signing up, and the user can download the audio for free.
Uberduck is another famous online text-to-speech for making AI spongebob voice that can help the user to synthesize text. There are different categories and characters available by default that users can choose. The user just needs to choose the voice and the character and click on synthesize to generate the audio. However, Uberduck requires the user to sign up before the audio can be generated. The user can sign up with a Google account, Discord, or any email.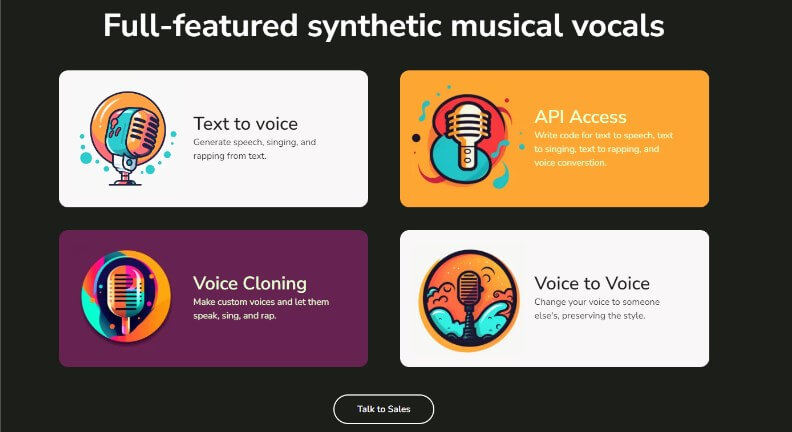 Features:
Gives the user freedom to choose from 5000+ voices. like Quandale Dingle, Celibrity etc

If you are a developer, then Uberduck provides the user APIs that can be used to build apps.

The user can create a custom voice clone.

Besides Text to Speech, it also has Reference Audio and API documentation.

It has a Discord group that users can join to learn creative machine learning.
15.ai is the easiest text-to-speech website. It has a very simple user interface. The user enters the text and simply presses "Enter" or clicks "Generate" to convert text into speech. It will be converted in seconds. but now it stops running to prepare to fix up some bugs. so we would not discuss it in the last part.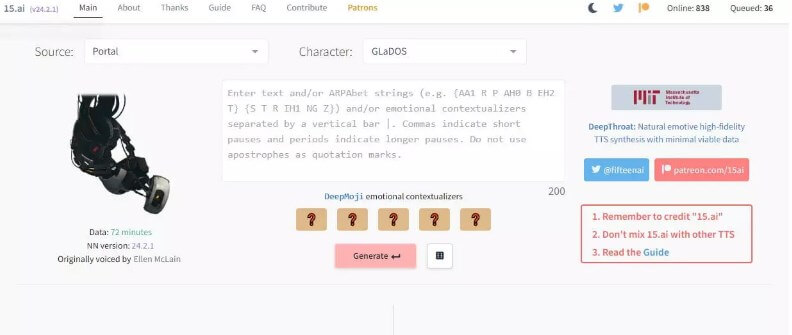 Features:
It does not require any kind of sign-up.

It has the simplest user interface among all the online tools.

The user can select from thousands of voices and then convert text to speech easily.

There are no conditions attached as this tool is free and does not contain ads.

It also shows graph analytics that users can process and examine.

It is ultra-fast in processing text-to-speech.
Part 3: Latest Trends of AI Voice:Let AI Spongebob Cover
AI-powered technology is proving to be more than just a passing trend, unlike the uncomfortable skinny jeans and heat-damaged straight bangs. Although many remain cautious about artificial intelligence, there are instances where this technology can be harnessed for positive purposes. One such example is TikToker Adam Fneiche, who goes by the handle @skapresident of the USA. He has skillfully utilized AI to train familiar voices from SpongeBob SquarePants and transformed them into captivating singers performing iconic hits from the early 2000s, This is just one instance of the increasing number of individuals employing AI to create remarkable cover songs.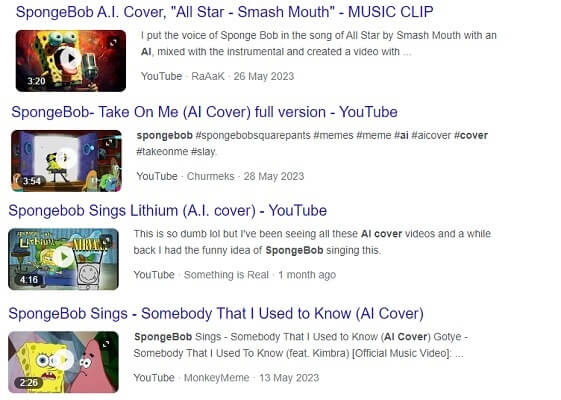 How to do an A.I. Cover :
There have a new AI music generator from iMyFone-Musicai, which supported ai covers and also has the latest popular singer cover model to make songs
Step 1: Go to the Musicai landing page to download this software
Step 2: Choose the feature"AI Cover", then choose spongebob AI cover
Step 3: Drag or export the sing file, wait a minute, you can get Spongebob cover song
Conclusion
There are many AI voice generator tools available on the internet that can easily convert text to Spongebob's voice. and when you read this article. you could choose the suit one, but if you are confused about it, I would recommend iMyFone VoxBox. It is a user-friendly tool and also supported voice records. Do not wait for more, Download it to make natural SpongeBob ai voice.