A part of great storytelling depends upon the narrator and how well he tells the story. If you have a tale to narrate or share with your friends, stick to the guide because this article will tell you about a fantastic tool for creating a real-time narrator voice and how you can use it.
Part 1: What is Narrative Voice and Narrator Voice Generator?
We often run into stories in real life, and it's easy to tell who the narrator is. Maybe your friend is telling a story to explain why she got grounded. Now your friend is the narrator because she is the one who is telling you or narrating the story.
The person who describes the situation, story, or anything using their voice in real-time is known as the narrator. The narrator is always a storyteller, so make sure to distinguish the book author from what is narrator voice.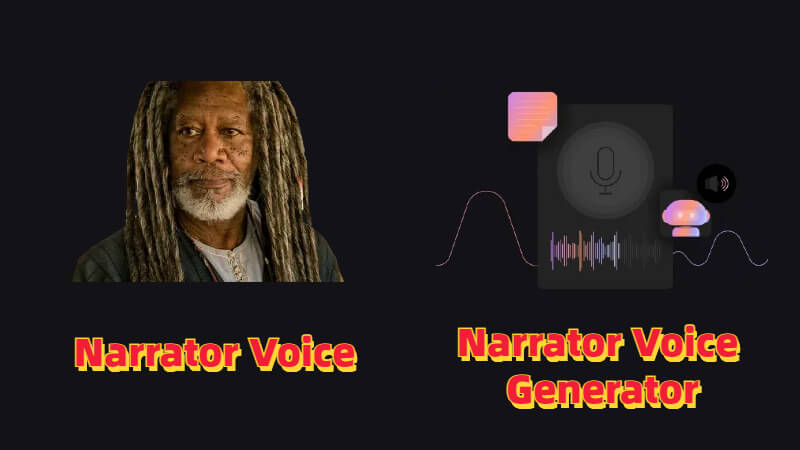 A narrator voice generator is a software or tool that lets you create dramatic sound according to the story and its situation. Using a narrator voice generator will customize your sound with different effects.
You can create a comic effect and voice like the best narrator, Morgan Freeman, by creating a customized sound that feels natural to the listeners.
Part 2: The Difference Between Voice-Over and Narration
The person who tells you the story in a natural voice over generation but adds some effect to make the scene feel real is called the narrator.
Even if you are telling someone a story or any hearable stuff, you will be called the narrator, and the way of telling the story will be narration. On the other hand, the voice over narration is totally different thing from the narration. Voice-over is used in production houses.
Like any animated film, a voice is required to give the character a sound. Or sometimes, the person has to speak precisely what's written in the script without adding special sound effects.
Part 3: How to Make Narrative Voice with VoxBox?
You can use VoxBox to create and customize your voice to make a narrative voice.
VoxBox can be a tremendous real-time narrator voice generator. You can create a voice over narration or a different narrator voice to tell a story or any other audible stuff you want to share with your online friends.
Tips
No voice artists are needed, and no recording equipment is needed. You can easily convert your text to speech and voice using the
Best Narrator Voice Gnerator
iMyFone VoxBox
! Download it and try it out for free now!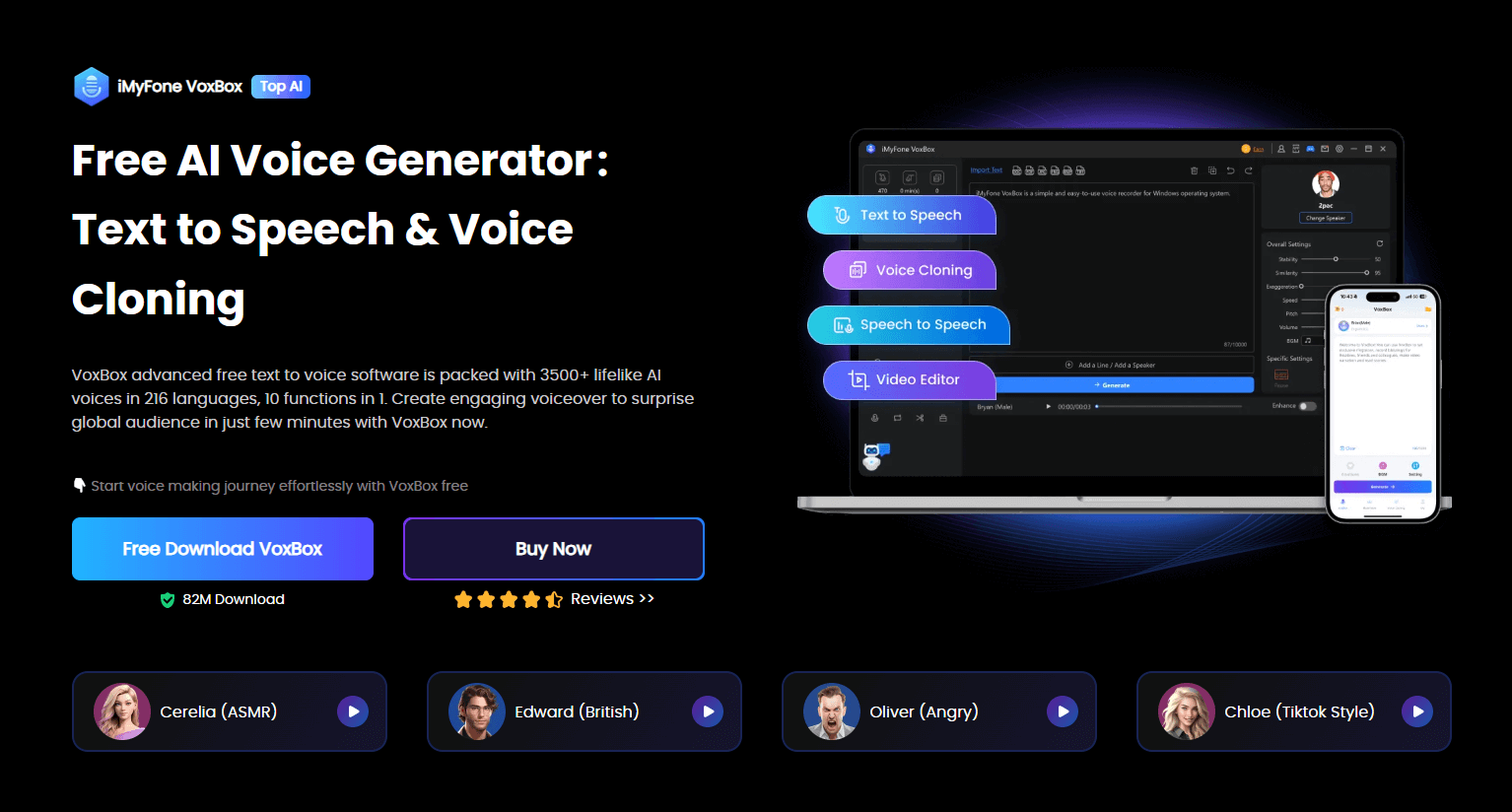 Key Features:
It is a widely used voice over narration changer among many stream gamers, which helps them to auto-enhance and modify their sound, tone, and pitch.

Manually modify your audio track or use the most advanced AI tools for auto enhancement.

VoxBox can be a tremendous real-time narrator voice generator.

Create a voice over narration by adding different sounds effects.
How to Steps:
Step #1: Download and open the Voxbox and go to the "Text to speech.
Step #2: Now record your live sound or upload any pre-recorded file.
Step #3: Select the type of effect you want to add as a narrator by clicking "Voice type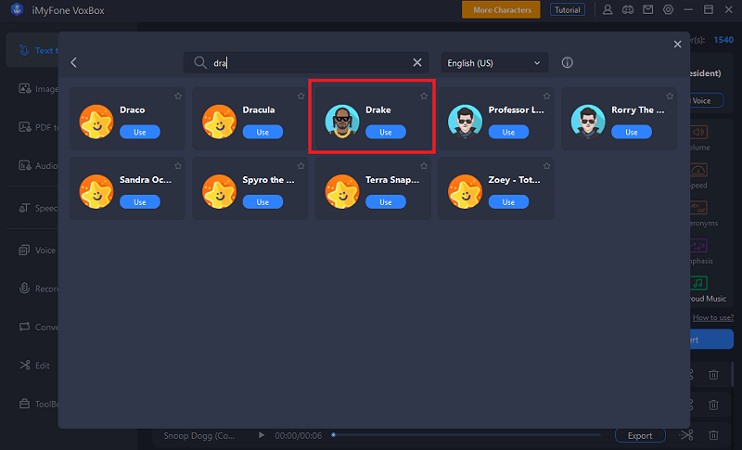 Step #4: Now from the "Voice" section, you will need to select the voice you want to add as the narrator.
Step #5: Edit the audio file and export it.
Pros:

Opens up communication around the world using VoxBox's simple and fantastic assortment of generated voice languages.

VoxBox doesn't share data, so it is perfectly secure to use for generating voices.

It offers different perks and features for business purposes.
Cons:

Window version only, unfortunately.
Watch this video to learn more about Best Narrative Voice Generator VoxBox:
Part 4: FAQs about Narrator Voice Generator
1. How Do You Narrate a Voice-over?
There are a few other best software you can use to narrate your voice, but VoxBox is one the best we found for you. It allows you to customize your narrator voice deeply and adds a different effect to make it sound natural.
2. How Do You Get a Good Narrator Voice?
If you want an excellent narrator voice, here are two things you need to remember.
· Sound Engaged
· To Sound Credible
To be engaged means that you are interested in telling a story and making you feel like you live in a moment. If you make it feel real, then your listeners will automatically imagine the story in their minds. Sound credible means adding some effects in your voice, like high & low pitch, according to the story's scene.
3. Which is the Best Narrative Voice-over Generator on PC?
There are many software and different tool available in the market which you can choose from. To choose the best one for yourself, you have to dig deep. But gladly, we have already done all the challenging work for you.
We found VoxBox is one the best narrative voice over generator, which is super easy to use. If it offers its user many different sound effects and real-time voiceovers with different tones.
Conclusion
In this guide, we have talked about narration and different voices over. If you are looking for a narrator voice generator, iMyFone VoxBox is the best option. VoxBox offers many different narrator voices and sound effects which you can use in your storytelling.
Come and have a free trial using Voxbox!