Among the many languages that hold rich cultural significance, Lao stands as a shining gem, reflecting the heritage and traditions of Laos. However, learning Lao and preserving its unique sounds and nuances can be a challenging endeavor, especially for non-native speakers.
The powerful Lao text to speech ultilize artificial intelligence to convert written Lao text into natural, authentic speech. From educational institutions to cultural preservation organizations and beyond, Lao text-to-speech voice generators become more impactful, they shapw language education, promote cultural awareness, and even aid individuals with visual impairments.
In this article, we will introduce top Lao text to speech generators and compare with their prices for the readers.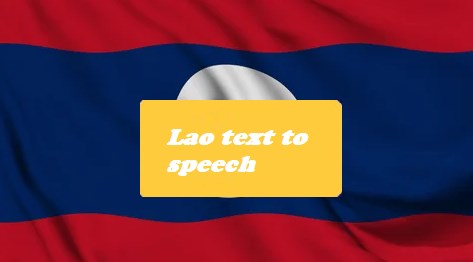 Tips
Listen to the
Lao Voice
generated by VoxBox.

Part 1: Best 4 Lao Text-to-Speech Voice Generators Recommend
iMyFone VoxBox is one of the most accurate software for Lao text-to-speech because of its creative interface and multiple features. You can edit your speech, or you can record it by yourself. This software requires no expertise to use because of its user-friendly interface.

How To Use Lao Voice Generator:
Step 1: First download and install VoxBox.
Step 2: Next click on the "Text to Speech", choose Lao in the language bar and select voice you want.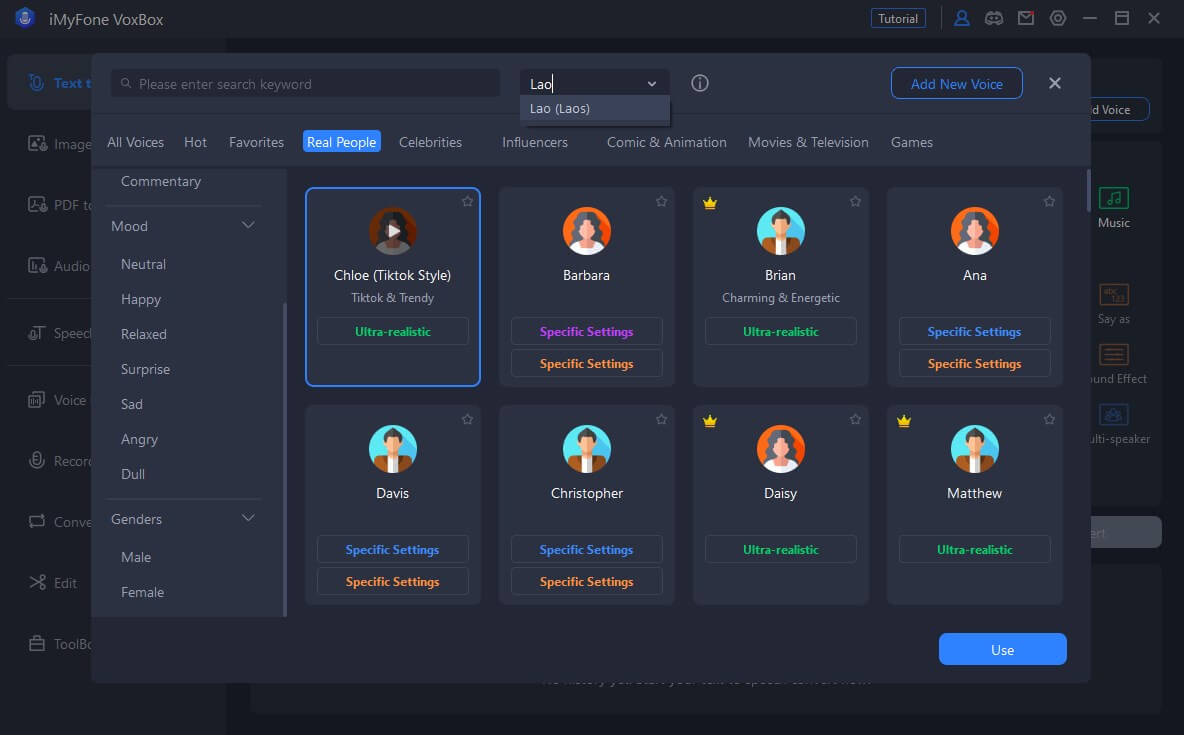 Step 3: Input the text and click on "Convert" to transform it into Lao speech, then export it.
Key Features:
It has 3200+ realistic voices stored that you can use for free.

77+ languages provided including Korean, Japanese & 100+ accents like Italian, New Zealand stored in it.

10+ male voices and 20+ female voices for lao tts generation.

It also support speech to text in most languages and accents.

After creating Lao text-to-speech, you can edit them, such as trimming.

2000 letters are offered for free Lao text to speech feature.
Review:
It has complimentary reviews as compared to the other software. The clients are happy to use it without hassle because it does not interrupt you with multiple ads or crashing issues. You can generate the best AI voices for your YouTube projects. It will help you to make professional news reports and film explanations.
Price:
| Plan | Price |
| --- | --- |
| 1-month Plan | $14.95 |
| 1-year Plan | $44.95 |
| Lifetime Plan | $89.95 |
2. Narakeet
Narakeet is an online tool to convert your Lao text-to-speech for a video. It is one of the best platforms that allows you to convert your PowerPoint presentation into a video with read-aloud text. You can convert your pre-written lectures into a video for better understanding.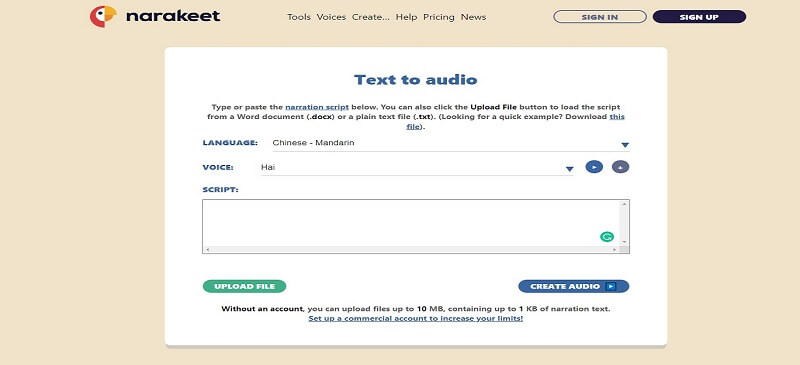 Key Features:
It has natural sounding 80+ languages including British stored.

You can use 500+ voices from this software for Lao tts conversion.

You can create videos from images in HD quality.

It has a continuous video automation feature.

Narakeet has an excellent short video maker for promotion and marketing purposes.

Narakeet creates text scripts for a video as a guideline.
Review:
It has all positive user reviews because it is an online platform with quick outputs.
3. NoteVibes
Notevibes is a realistic AI generator for your important projects. This online Lao text to speech generator is highly trusted by 25,000+ customers from 150+ countries around the globe. You can save your time and money without hiring an official voiceover artist. It has natural-sounding voices that look real when you put them on a video.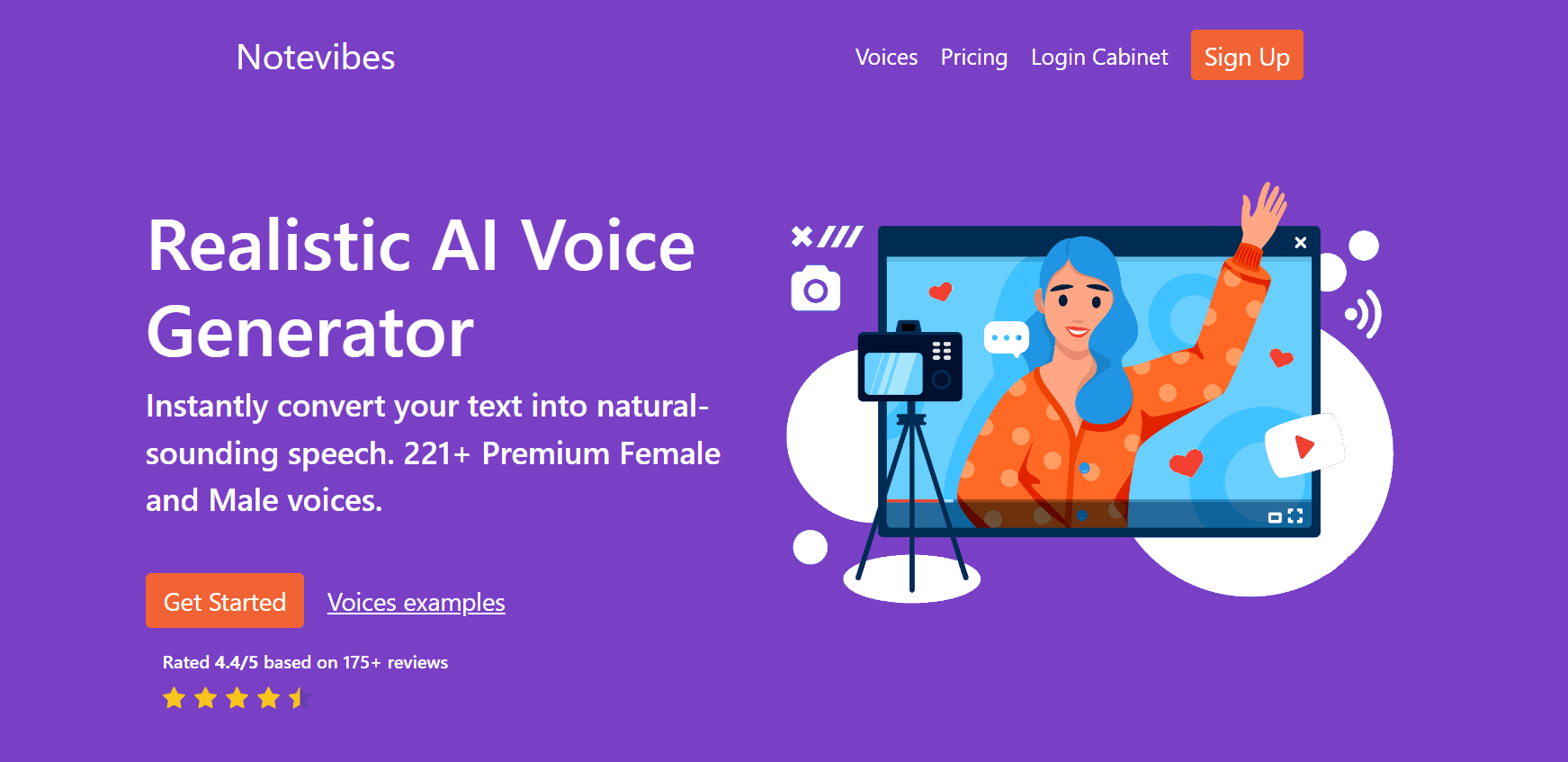 Key Features:
It has 225+ natural-sounding voices with 25+ languages.

You can change speed, pitch, emphasis, and voice control simultaneously to make smooth Lao dubbing.

You can add multiple pauses in your Lao text-to-voice process within a click.

Notevibes save the audio outputs in MP3 and WAV files.
Review:
It has almost 175+ positive reviews from users, making it more dependable for Text-to-speech purposes.
4. Azure Text to Speech
Azure is the official text-to-speech from Microsoft. It is the speech service provider that converts your text effortlessly. Azure gives users twelve months of free service including free Lao text to speech. It gives each user a unique experience because of its elevated level. Azure is a cloud platform with a massive library of options where text-to-speech is also available.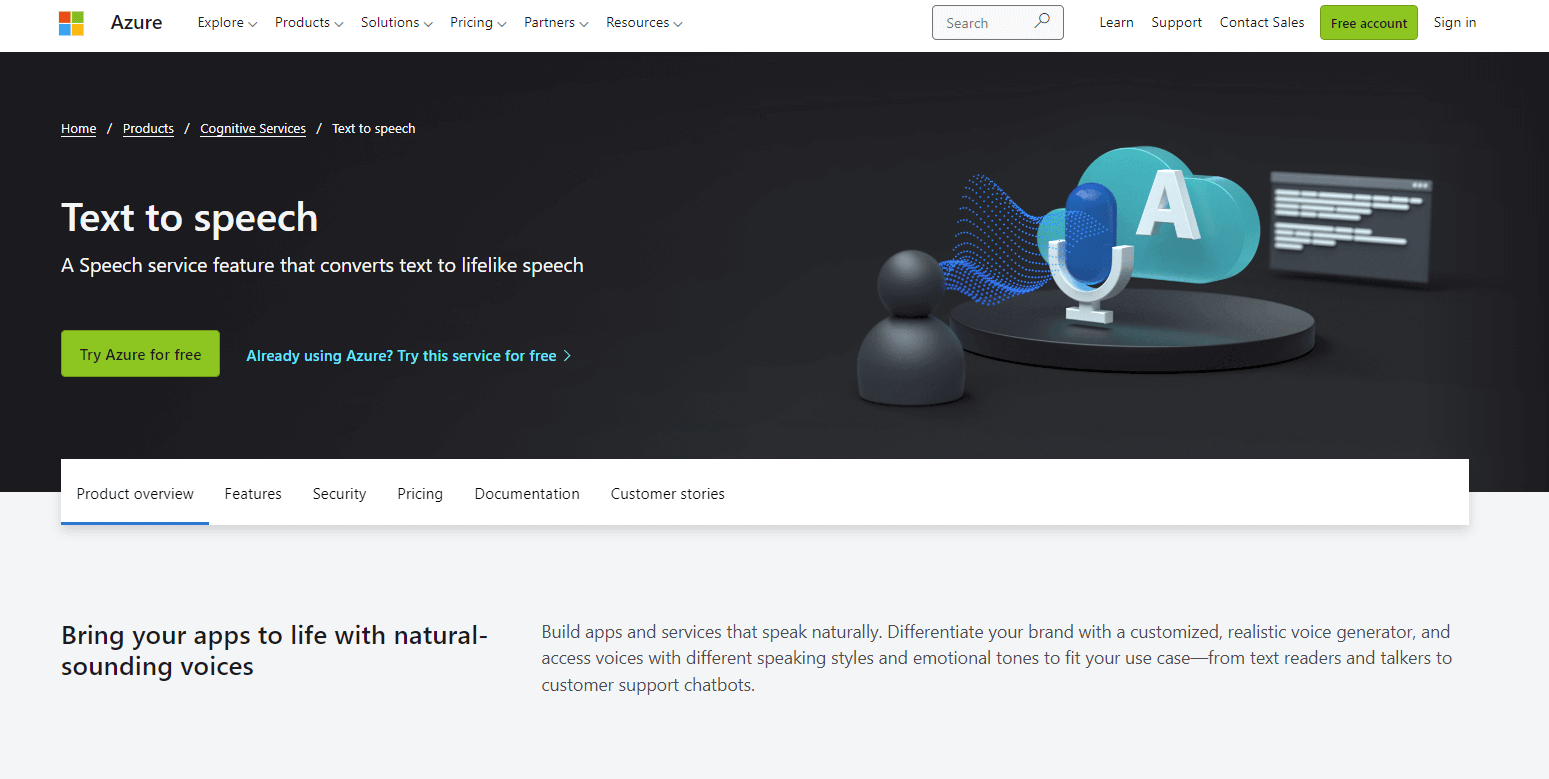 Key Features:
It produces human-like voices that sound natural to convert your essential texts.

You can create the best AI voices that grow your brand identity.

It auto-tones the voice with the finest quality without any grains.

Azure has 250+ voices with 70 languages and variants.

You can also input the text as SSML.
Review:
Azure has been reviewed as the best because it is a scalable and flexible cloud platform. It has high-level security with multiple features besides TTS.
Part 2: Comparison of Top 4 Korean Text-to-Speech
Tool's Name
Best Feature
Price
User Rating
iMyFone Voxbox

3200+ voices & 46+languages,4 functions like TTS, voice record, video convert, audio edit.

$14.95/monthly

$44.95/yearly

$89.95/lifetime

4.7*
Narakeet

500+ Voices & 80 languages

30 minutes @ $0.20 per minute

300 minutes @ $0.15 per minute

1000 minutes @ $0.10 per minute

2500 minutes @ $0.08 per minute

10000 minutes @ $0.05 per minute

4.8*
Notevibes

225+ Voices & 25+ languages

Personal Pack: $8/m

Commercial Pack:$90/m

Corporate Pack:$4000/yeraly

4.7*
Azure

250+ Voices & 70+ languages

Pay only for what you use, with no upfront costs. With Text to Speech, you pay as you go based on the number of characters you convert to audio.

4.6*
Part 3: FAQs about Lao Text-to-Speech Voice Generator
1. Can Lao text-to-speech accurately pronounce complex or technical terms commonly used in specialized fields?
Lao text-to-speech technology has made significant advancements in recent years, allowing it to handle more complex and technical terms commonly used in specialized fields. However, the accuracy and pronunciation of such terms may vary depending on the specific text-to-speech system used and the quality of the voice database.
2. Is Lao text-to-speech voice generator suitable for language learning and educational purposes?
Yes, Lao text-to-speech generator can be highly beneficial for language learning and educational purposes. It provides a valuable tool for students and learners to improve their Lao language skills by hearing correct pronunciations of words and phrases.
3. How reliable and accurate is Lao text-to-speech voice in comparison to human speech?
The reliability and accuracy of Lao text-to-speech voice have significantly improved over the years, thanks to advancements in artificial intelligence and natural language processing technologies. While it may not be identical to human speech, modern Lao text-to-speech systems can produce fairly natural and intelligible speech, making them suitable for various applications.
Conclusion
In conclusion, the need for Lao text-to-speech voice generators has never been more apparent, with their ability to help language learning, promote cultural preservation, and facilitate communication across diverse communities. As we navigate a globalized world, these innovative tools play a pivotal role in breaking down language barriers, enabling individuals to embrace Lao language and culture with ease and authenticity.
iMyFone VoxBox, with its comprehensive features and wide language support, stands out as a recommended choice among Lao text-to-speech generators. Its user-friendly interface, lifelike voice generation, and customizable options make it an indispensable companion for language enthusiasts, educators, and cultural enthusiasts alike.