Companies have been outsourcing sales force and Customer Sales Representatives to 3rd world countries to save costs. These outsourced agents take care of all the marketing and inbound service requests outside the mainland.
IBM has done something different. It used its IBM text to speech technology, implemented its proprietary AI to serve customers, and made a CSR tool.
So how good is this text to speech IBM AI, and is it that good? We have great alternatives for you if you want to use IBM Watson text to speech or some other TTS software.
Part 1: Overview: What is IBM Watson Text to Speech?
IBM Watson text to speech was a humble beginning, and they evolved it to something more when they implemented AI machine learning technology with Watson. They combined speech to text with text to speech IBM to improve their TTS and now use it for CSR.
You can still use their proprietary IBM text to speech tool and its APIs to enhance your apps and tools to serve you better.
Let's look at some of its great features and why it is so good.
Feature Highlights:
You can interact with the powerful IBM Watson text to speech and see what all the commotion is about.

Text to speech IBM with Watson, you can analyze the call pattern of all your customers and give them the best experience.

Enhances other TTS functionalities for better content creation than other apps.

Pros:

IBM text to speech is part of the Watson Discovery library that can help you resolve your audio generation issues.

Boost the resolution of your customers faster.

It easily supports a lot of global languages so that users can use it anywhere in the world.
Cons:

Power users and companies can benefit from it a lot more than regular users.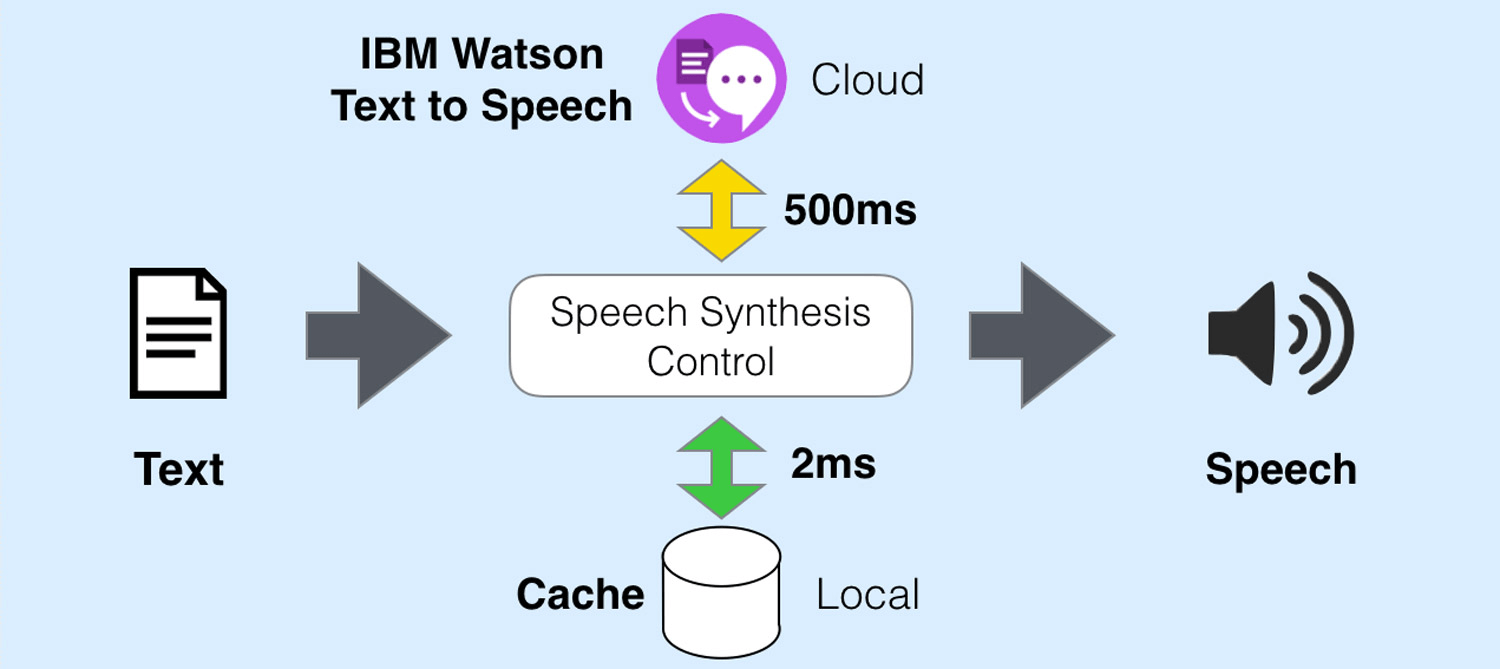 Pricing:
Standard – $0.02/1,000 characters.

Premium – Contact IBM for pricing.

Deploy Anywhere – Contact IBM for pricing.
Review:
Though light users can still use the functionality with limited characters, you are better off using more straightforward tools for TTS.
Part 2: Best Alternative to IBM Text to Speech
Following are some excellent IBM text to speech alternatives that both light and heavy users can use depending on their functionalities.
If you are not looking for a corporate grade like IBM Watson text to speech tool, then iMyFone VoxBox is there for you. It has a wide range of languages in which you can use the text to generate over 3200+ voiceovers in over 22 languages that are both fun, imitating, and professional.
Tips
No voice artists are needed, and no recording equipment is needed. You can easily convert your text to speech and voice using the
best IBM Text to Speech Alternative
iMyFone VoxBox
! Download it and try it out for free now!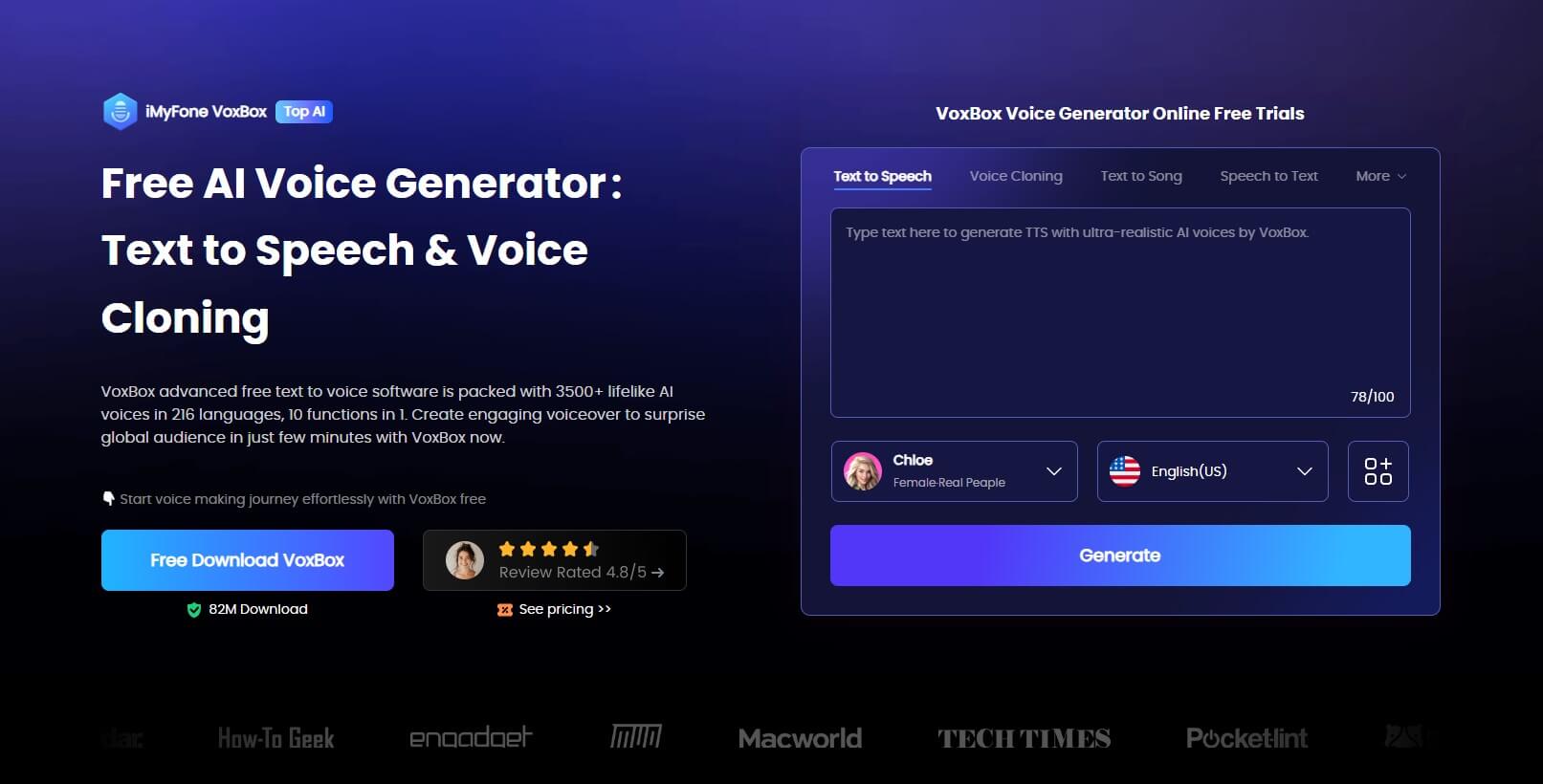 Key Features:
It a simple to use with intuitive UI like the text to speech IBM software.

You can write text while the app can convert it into 22 languages with the click of a button.

If you are a content creator and need an excellent voiceover, you can choose from over 3,200 voice options.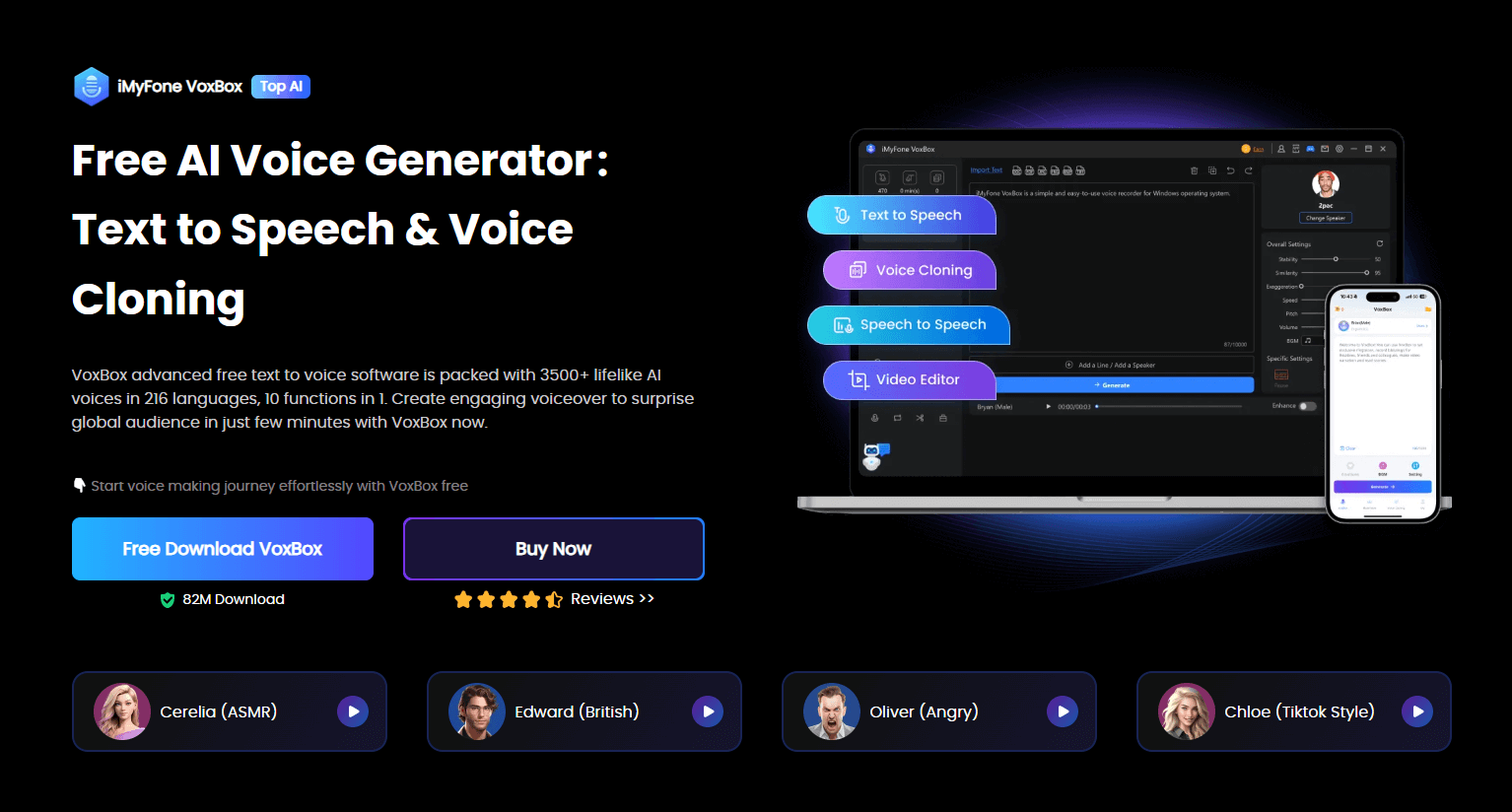 Pros:

Did we say it supports 22+ languages?

It doesn't share your data and has no ads.

Top quality and crystal-clear voiceovers.
Cons:

If you are a heavy mobile user who loves to do things on the go, then it doesn't have an android app yet.
Review:
Though light users can still use the functionality with limited characters, you are better off using more straightforward tools for TTS.
Watch this video to learn more about the Best IBM Text To Speech Alternative VoxBox:
Amazon Polly also uses Deep machine learning technology to expand its horizons, like IBM text to speech with Watson. It creates amazingly crystal clear, authentic lifelike voices.
Their experience in TTS allows them to give companies Enterprise Solutions so they can integrate all of their functionalities with local apps and tools.

Key Features:
You can use the Lexicon functionality of Polly and generate amazing something better than IBM Watson text to speech.

Polly uses SSML tags to make better communication decisions.

The tool gives the option to save all the audio files to MP3 and other compatible formats, which you can share to make an analysis.
Pros:

You can use the AWS free tier and convert 5M characters TTS for up to 12 months.

High-fidelity CSR, natural voices.

Communication supported up to 12 languages.

Improved AI because machine learning learns from it.

Interacts with customers in AI voice learning from other TTS usage scenarios.
Cons:

Translation unsupported.
Google is also using its cloud functionality just like the text to speech IBM does and generates voiceovers with the help of its AI-powered API. Google uses Cloud TTS AI technology, while you get to spend $300 when users sign up for the first time.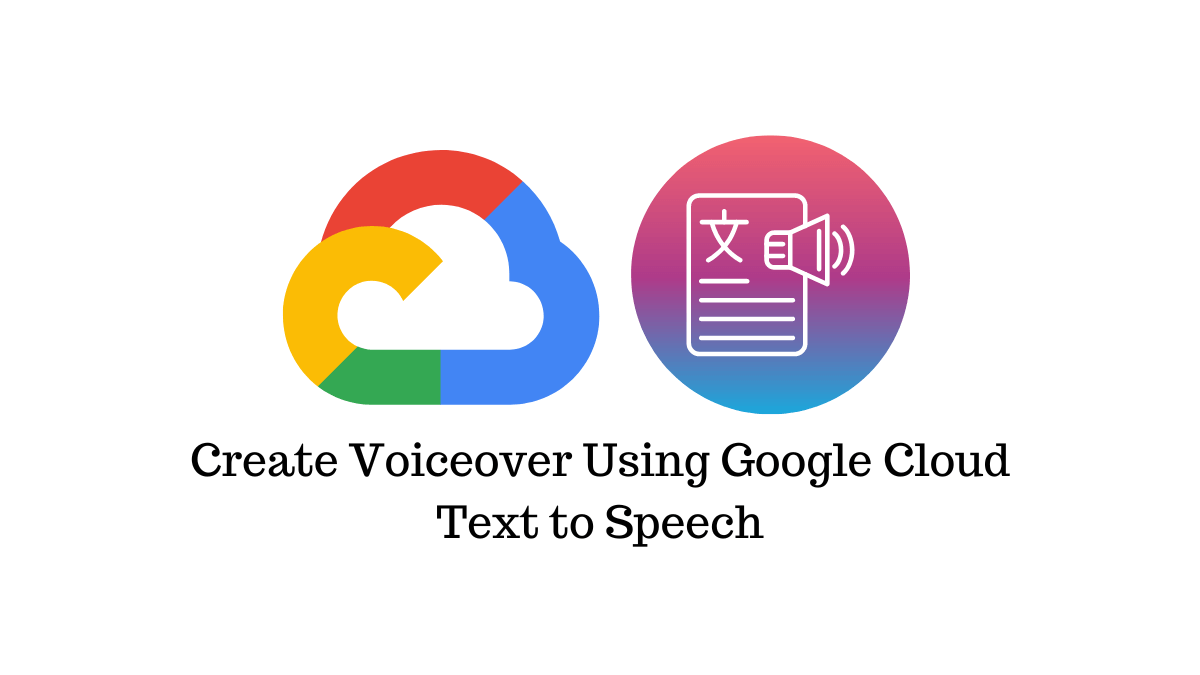 Key Features:
Google Cloud TTS will enrich your foreign interaction if you use their API to convert to lifelike responses.

High fidelity-based communications, based on DeepMind's speech synthesis expertise, is Google's in-house tool.

Create your own brand with the best voiceovers generated from Google TTS
Pros:

You can now use over 100 voices with the voice synthesizer.

Allows you to create custom voices and train with amazing tweak tools.

TTS voices that speak like normal human beings take advantage of WaveNet Cons and is possible with the help of DeepMind and its groundbreaking research.
Cons:

A new player on the block but growing fast.
Azure text to speech is a potent TTS tool competing with IBM text to speech, giving users freedom with various features. Many pro features aren't just for premium versions but for too. Azure and its superb cloud compatibility make TTS and going back to STT seem too easy, with high accuracy in more than a few languages.
Key Features:
Coders can use the intelligent TTS tools from Azure to create their powerful apps.

They are not just good at TTS like IBM Watson text to speech but can also compete with them in a speech to text with exceptional accuracy.

Easily customize TTS voices.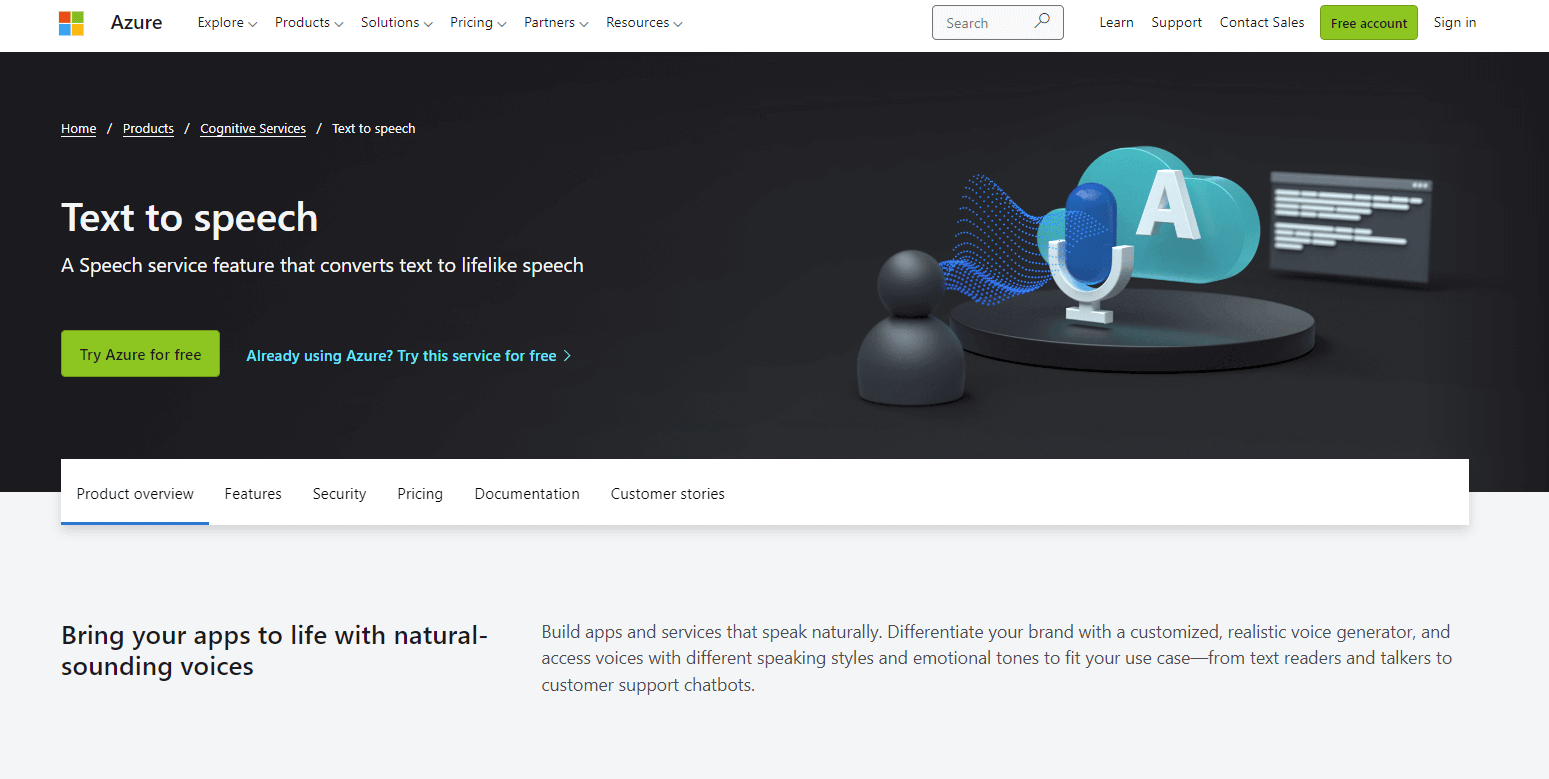 Pros:

Excellent flexibility allows for On-prem and online functionality.

Adjustment and tweaking of controls.

Intelligent API is used with apps to enhance them.

Azure has many certified tools, such as ISO, SOC, HIPAA, etc.
Cons:

Some languages still need patches to enhance translation and TTS.
You only need a Synthesia account and a fantastic video script to create a lifelike AI avatar that can perform and speak what you want. You can do all this within the browser with Studio.
Key Features:
Amazing AI technology to convert text to speech into a live AI.

You can create videos from the text that you enter.

Premade avatars will replicate what you enter in the text box.

A great feature for creating videos for presentations and classes.

60+ languages and avatars to choose from.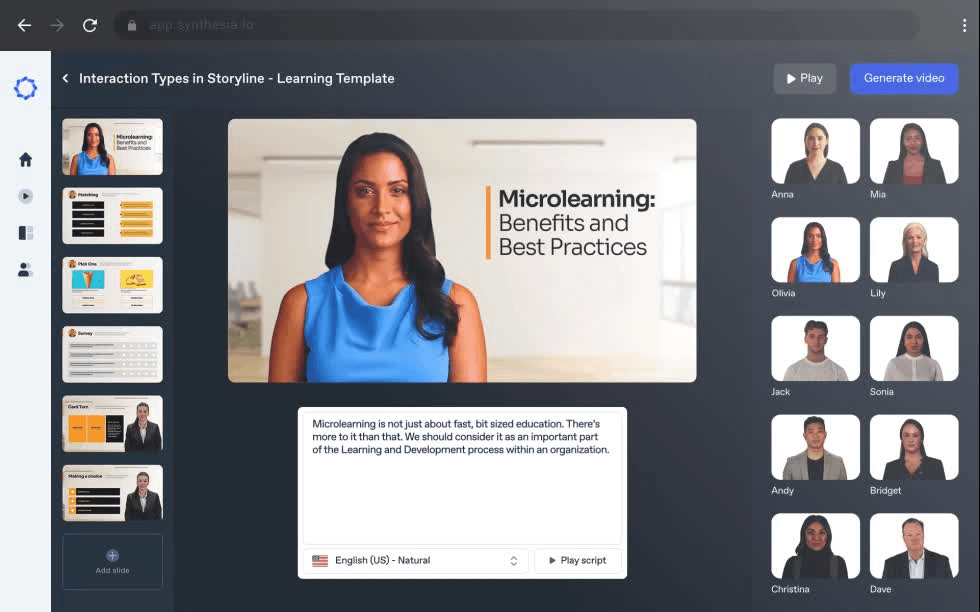 Pros:

Over 60 presenters can be your TTS avatars.

Natural-sounding voices are not limited and can be done in 70+ languages.

Easy editing that doesn't require tons of experience.

A revolutionary idea that is relatively new in the market might change how education is presented in schools and universities.
Cons:

Not as many options as other apps in this list.
Part 3: Price Comparison of IBM Alternatives Text to Speech Alternatives
IBM Alternatives
Operating System
Price
Voices & Languages
Formats of Download
iMyFone VoxBox

· Windows

· Online Based

· Quarterly $14.95

· Yearly $39.95

· Lifetime $79.95

· 3,200+ voices and 22+ languages

Multi output formats like MP3, WAV, AAC.

Amazon Polly

Cloud-Based

· Price as you go

· Custom estimation

Voices of all supported regions and 5 native languages

MP3 and other formats

Google Cloud TTS

Cloud Based

· Standard – $4/M characters

· Wave Net – $16.00/M characters

· Neural 2 – $16.00/M characters

3 main types of voices and all the major languages

MP3 and other formats

Azure Text to Speech

· Windows

· Mac

· Cloud-based

· The cost varies depending on the amount of work done

45 voices and 100 languages

MP3 and other formats

Synthesia

Online

· Single User – $30/mo.

· Corporate – On talking with sales

60 voices and 60 languages

· MP4 and video formats

· MP3 and other audio formats
Part 4: FAQs About IBM Text to Speech
1. Is IBM Text to Speech Free and Safe?
IBM is an amazing software that not only does IBM text to speech but can also use speech to text to enhance the speed of TTS. It can also talk to customers using AI machine learning technology. The thing is that it is free for limited characters, but after that, you have to purchase more.
It has one of the most robust security protocols since the blackberry days, so yes, your data is entirely safe.
2. Are There any Text to Speech Software Alternatives to IBM TTS?
There are many TTS software and tools, some of which we have mentioned in this list as competitors or alternatives to IBM Watson text to speech. We have mentioned Google Cloud, Azure TTS, Synthesia, etc. you can read in detail about these alternatives in this article just above.
Conclusion
This article is mainly about what text to speech IBM is and if some other alternatives can do similar to what IBM text to speech tool does. There is more to IBM TTS as it uses AI technology to talk to customers in Real-time, which there are some options in this article.
But if you are looking for something similar to IBM Watson text to speech only, VoxBox is the best option because of how many voiceover options and languages it gives.Try our for free down below!