Google cloud text-to-speech is indeed an excellent Text-to-Speech converter, but people often complain about the limited voice choices and the complicated procedure to use it. That is why most of them want to know whether there is any easier alternative to this text to a speech generator that offers the same features.
In this guide, I will be discussing a Google Text to Speech alternative that offers more choices and benefits for everyone.
Part 1: What Is Google Text to Speech?
Full Info of Google Text-to-Speech
There is no denying that Google Text-to-speech is one of the best online AI voice generators despite all the problems it has. You can try it for free for a limited number of characters, and then it charges a small amount after it.

Key Features of Google Text to speech:
It is an API-powered tool that generates human-like voices fluently.

More than 200 voices in 40 different languages are listed there.

Google TTS also allows users to create their own unique custom voice.

You can also adjust the voice tone by changing pitch, speed, etc.

It also supports SSML tags that let you add pauses, emotions, focus, etc., more smoothly.
Benefits of Google Text to Speech
Multilingual Support:Google TTS supports a wide range of languages, allowing users to convert text into spoken words in various linguistic contexts. This feature enables users to consume content or communicate in their preferred language, promoting inclusivity and reaching a diverse audience.
Natural and Expressive Speech: Google TTS utilizes advanced algorithms and machine learning techniques to produce natural and expressive speech. The generated voices exhibit intonation, rhythm, and articulation, closely resembling human speech patterns. This enhances the overall listening experience and makes the content more engaging.
Boosting Daily Productivity with Google Workspace: With Google TTS, users can listen to text-based content instead of reading it manually. This saves time, especially when consuming lengthy articles, documents, or e-books. It enables users to multitask, as they can listen to the content while performing other activities.
How To Use Google Text to Speech for Google AI Voice?
Enable Cloud to speech API by going into the Library and choosing the Services option in the Console.
Then, set up your service account and download the credential key.
Next, go to the Products option and choose Text to speech.
Scroll, and you will see a section where you can put the text. Add text there.
After that, adjust the settings. Choose the AI voice type, name, speed, and pitch.
Click on Speak, and that's it.
Price:
| Plan | Price |
| --- | --- |
| Standard voices | $4/one million characters. |
| WaveNet and Neutral 2 voices | $16/one million characters. |
Part 2: Top Google Text-to-Speech Alternative Recommend
While Google Text-to-Speech is a powerful text-to-speech tool, it does have its limitations. Fortunately, there are numerous alternative TTS apps available that can offer comparable or even superior performance. Here are some of the top alternatives to consider:
iMyFone VoxBox is an AI-powered voice generator that quickly transforms your text into lifelike speech. With a vast collection of 3200+ AI voices, including 100+ accents in 46+ languages and 100+ object types, VoxBox caters to various applications such as eLearning, podcasts, marketing, audiobooks, IVR, and more. Experience the convenience of natural-sounding voiceovers in minutes with VoxBox's extensive library of voices.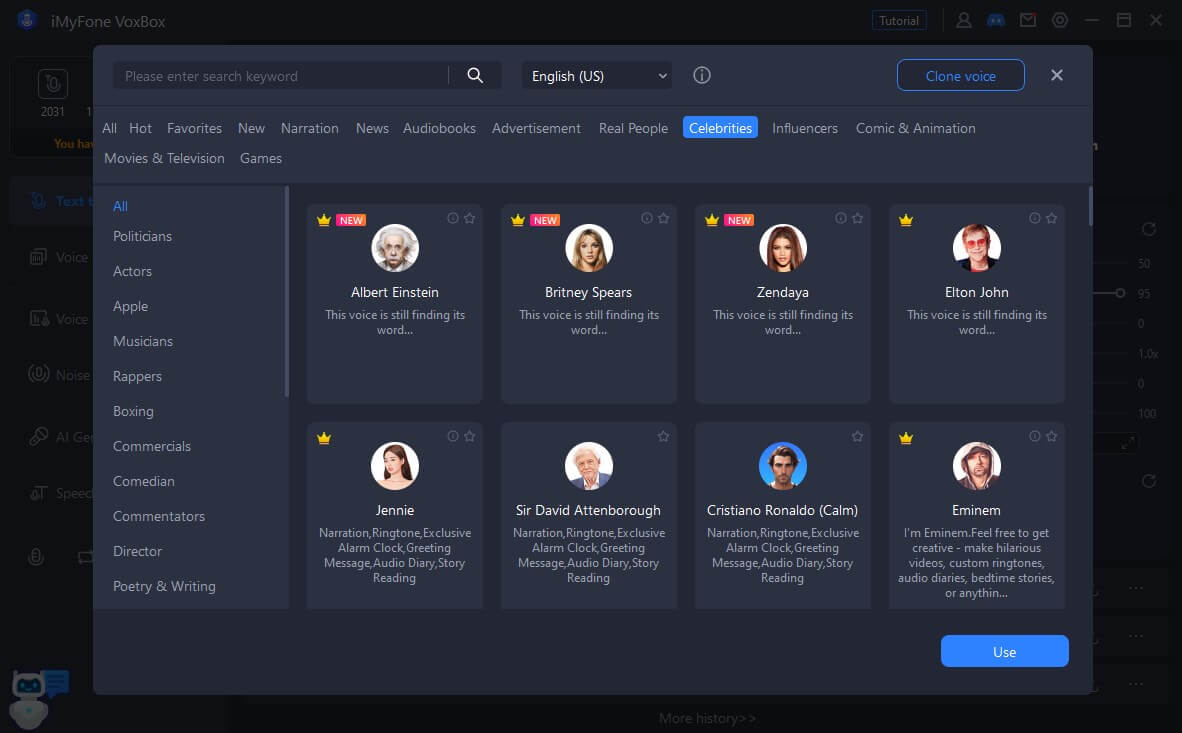 Key Features:
Access to over 3200+ voices, including lots of realistic voices.

Support for 77+ languages and 100+ accents to replace Google Text to Speech.

Versatile functions for voice recording, generation, voice cloning, conversion, and editing.

You can export the file in different audio formats, like MP3, WAV, etc.

Easy-to-use tools for cutting, trimming, clipping, and deleting audio files.

The powerful speech-to-text feature is also a great choice to instead of Google speech to text.
User Rating:
VoxBox has a better user rating than Google Cloud Text To Speech. It is 4.9/5.
Price:
| Plan | Price |
| --- | --- |
| 1-month Plan | $14.95 |
| 1-year Plan | $44.95 |
| Lifetime Plan | $89.95 |
How to Use Alternative of Google Text-To-Speech?
Step 1: Download VoxBox first. Then, open it and take a good look at its interface.
Step 2: On the left side, click on "text-to-speech" and add the text there. You can also choose language and voice there.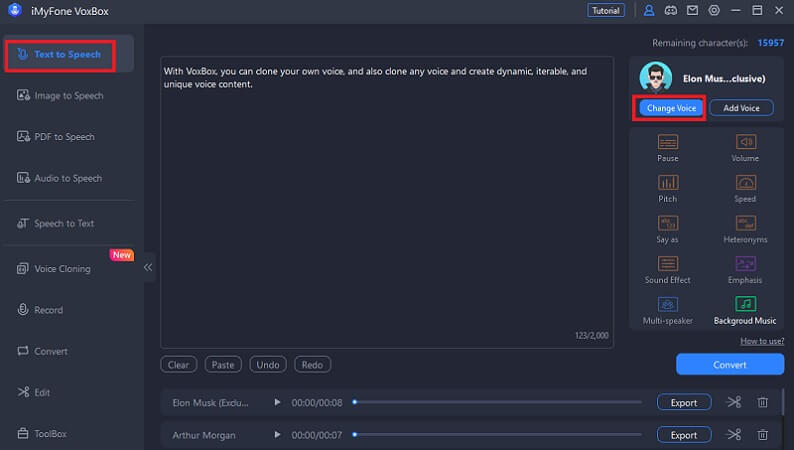 Step 3: Click on Convert to generate the audio. You can also edit it by clicking on the edit icon at the right side of the "Export" option.
Bonus Tips: How About Google Speech to Text?
Google Speech-to-Text is a powerful and widely used cloud-based service provided by Google that converts spoken language into written text. It utilizes advanced machine learning technologies to accurately transcribe audio files into text, making it an invaluable tool for various applications, such as transcription services, voice-controlled applications, and real-time speech recognition.
With support for multiple languages and dialects, Google Speech-to-Text offers a reliable and efficient solution for converting speech to text in different scenarios. Its high accuracy and ease of integration make it a popular choice among developers, businesses, and individuals seeking a robust speech recognition solution.
How To Do a Google Speech to Text?
Step 1: Set up a Google Cloud account
Step 2: Access the Speech-to-Text API and obtain the necessary API key or credentials.
Step 3: Next you can upload or stream audio.
Step 4: Make a simple API request to initiate the speech-to-text transcription process.
Part 3: Hot FAQs of Google Text-to-Speech?
1.How do I use Google Text-to-Speech?
Google Text-to-Speech is an API that can be integrated into various devices. It allows you to convert text into speech or have text read out loud. By integrating the API, you can utilize its capabilities for multiple languages and voice styles.
2.Can free use Google Text-to-Speech?
No, Google Text-to-Speech is not available for free. The service follows a pricing model based on the number of characters synthesized into audio per month.
3.Does Google have a text-to-speech feature?
Yes, Google provides a text-to-speech service that offers natural-sounding speech in over 220 voices across more than 40 languages and variants. This feature allows users to convert written text into spoken words using the provided voices.
Conclusion
All in all, Google Cloud text-to-speech is definitely a good text to speech generator, but it offers limited voice collection and is slightly complicated to use as well. That is why people look for alternatives, and there is no better voice generator to use than iMyFone VoxBox

It is an easy-to-use TTS generator that offers more than 3200 real and human-like voices. But that's not it.
So, download iMyFone VoxBox without any hesitation and use it to create the best quality voices.