A deep voice for any presentation, project, or ad is more effective than any other voice effect. However, you might need a professional deep voice generator to convert your text to speech into deep voice, irrespective of the language. We will tell you how to make deep text to speech voice with the best AI-powered tool and other alternatives as well. So let's get into it.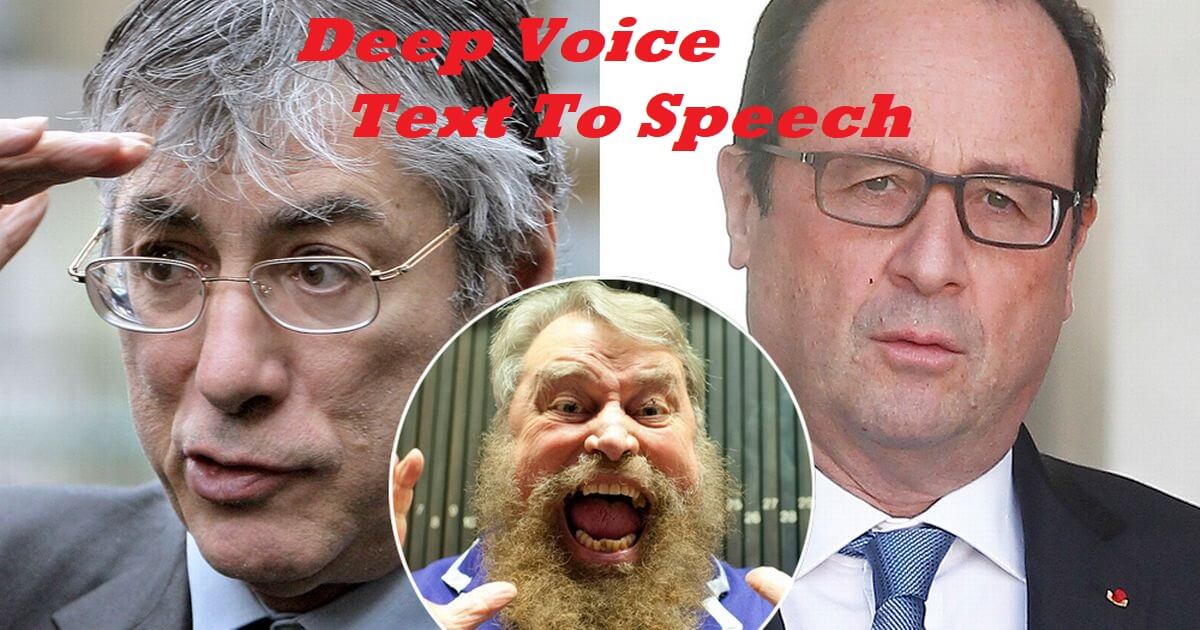 Try it Free
Part 1: How to Do Deep Voice Text to Speech With VoxBox?
Let's start with the best deep voice text to speech generator available for desktop users.
iMyFone VoxBox is the best tool for generating deep voices in multiple languages with the most realistic accent. You can download and install VoxBox on your Windows devices and enjoy excellent functionalities, including text to speech deep voice generation.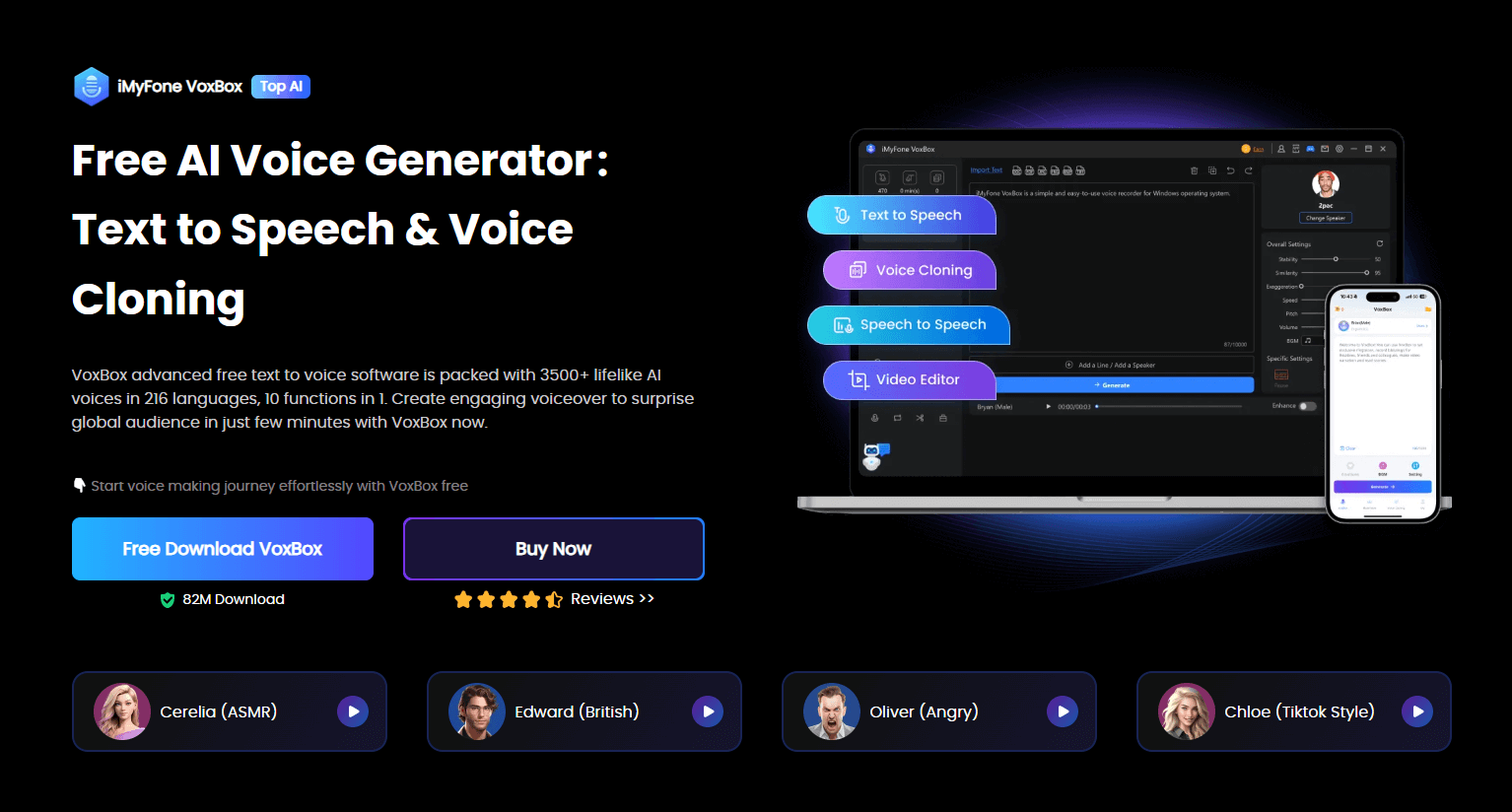 Tips
No voice artists are needed, and no recording equipment is needed. You can easily convert your text to speech and voice using
iMyFone VoxBox
, the best
deep voice generator
! Download it and try it out for free now!
Try it Free
Key Features:
Over 3200+ voice effects and filters like news reporter, cartoon character, president.

Choose from 46+ languages for voice generation.

More than 100+ global accents like Italian accent you can use for text to speech conversatons.

Realistic and native deep voice generator with AI-technology.

All-in-one tool for TTS, STT, Voice Recording, Audio Editing, Voice Clone, etc.

VoxBox encourges you to Pause, Pitch, Emphasis, Add BGM, Sound Effects and so on.

Save the converted voices in different formats, such as wav.
How can you leverage VoxBox to do text to speech deep AI voice generation?
Here is a simple guide for you to get started:
Step #1. Launch the software.
Step #2. Tap on Text To Speech, and you will see different options. Select input and output language.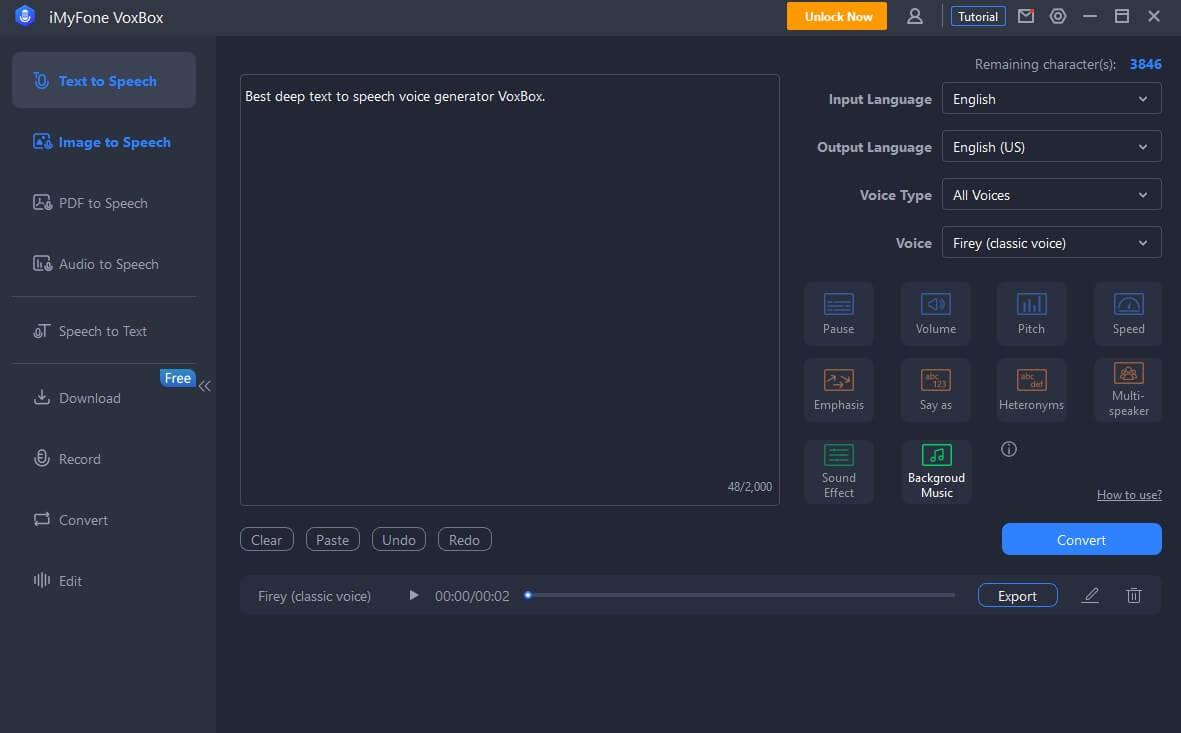 Step #3. Paste the text to convert text into speech.
Step #4. Once the processing completes, you will preview the voice, and it's time to add depth to the output.
Pros:

There are thousands of natural voices to choose from.

Realistic Deep voice text-to-speech conversion.

Results are quickly generated.
Cons:

Need to install it.
Watch this video to learn more about the Best Deep Voice Generator iMyFone VoxBox:
Try it Free
Part 2: Excellent Deep Voice Text to Speech Tools For Reference
1. Speechify
Speechify is also a deep voice generator for professional users. You can enjoy voice conversions with Speechify on your mobile devices. However, PC users must rely on the tool's web version for text-to-speech deep voice generation.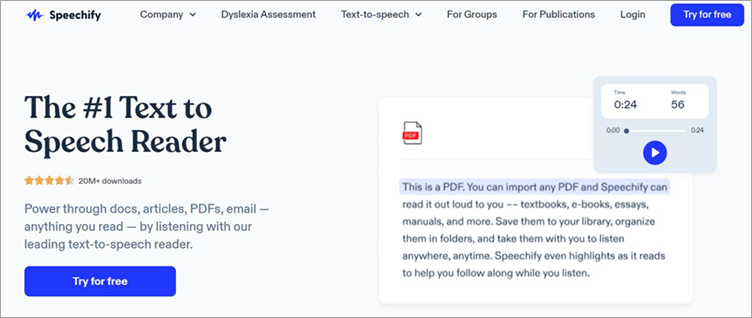 Key Features:
You get the support of 15+ languages against 30+ voice filters.

Scan documents and create a deep voice on the go with OCR technology.

Audio editing features are available.

You can download and use the converted audio for professional and personal use.
Pros:

Speech management, editing, and OCR technology.

RComparatively powerful free subscription perks.

Available for multiple operating systems.
Cons:

Regular updates are necessary to keep the app working.

Premium subscriptions are expensive.
2. Typecast.ai
When you are looking for an online yet AI-powered text-to-speech deep voice generator, Typecast.ai is also a good choice. You get enough functionalities if you want to convert text to speech with anime voice, deep voice, or hip hop. Besides, you can also create sales videos, presentations, education content, audiobooks, or whatnot.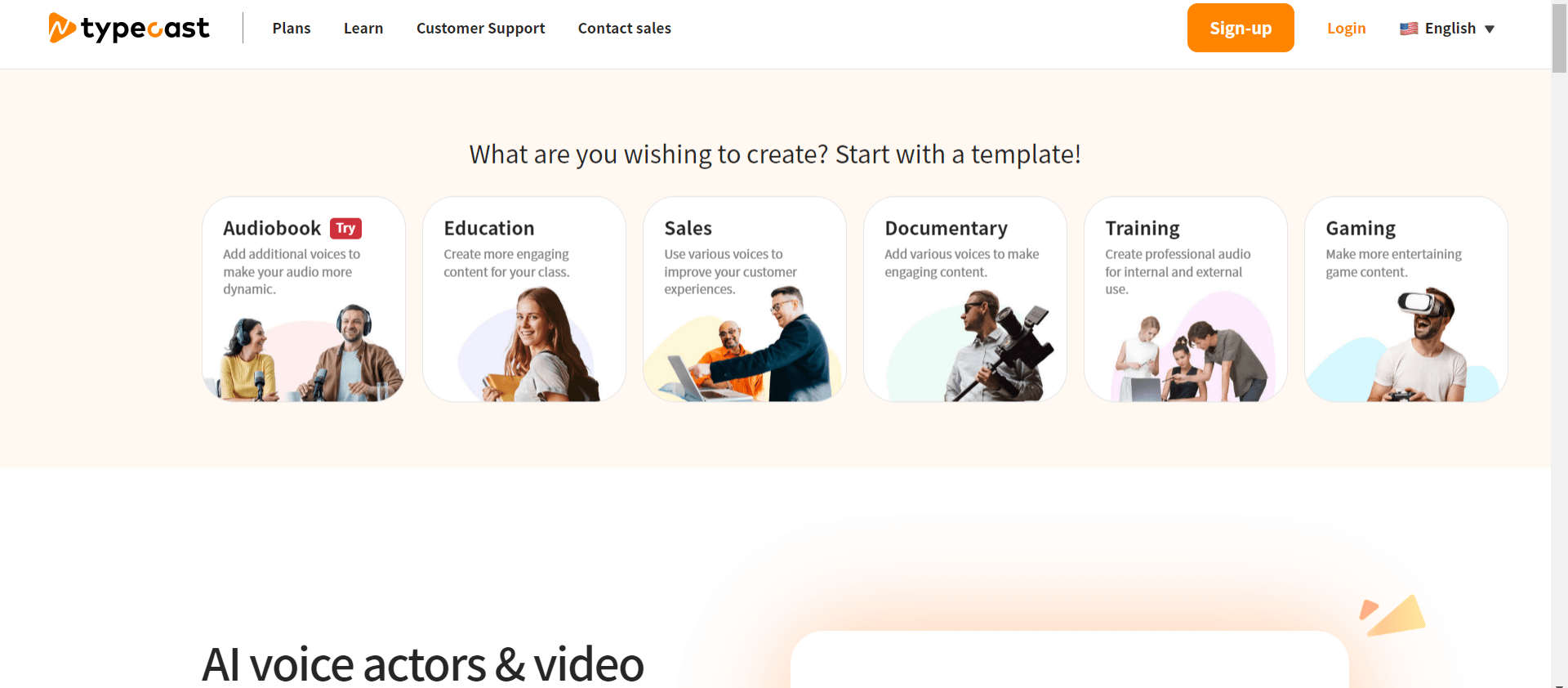 The main features of Typecast AI are as follows:
Key Features:
120+ voice effects with realistic tone and accent.

AI Technology is used for text-to-voice in a deep voice.

Multiple language support for creating rapper text to speech with freedom.

Customized solutions for enterprise users.
Pros:

Free tool for occasional users.

No learning curve or technical knowledge needed.

Multiple platform compatibility.
Cons:

Voices can be generic and unrealistic sometimes.

Not as many voices as available in other text-to-speech generators.
3. Fakeyou.com
Lastly, when it comes to deep voices, FakeYou is one of the best tools.with the online open-source deep voice text to speech generator, you create a lot of voice. You have the freedom to choose from several voices, filters, dialects, and languages.
You can also use voice cloning, converting voice into speech, and text-to-speech generation. The free platform doesn't require you to pay anything to convert text into Darth Vader's voice or any other voice tone.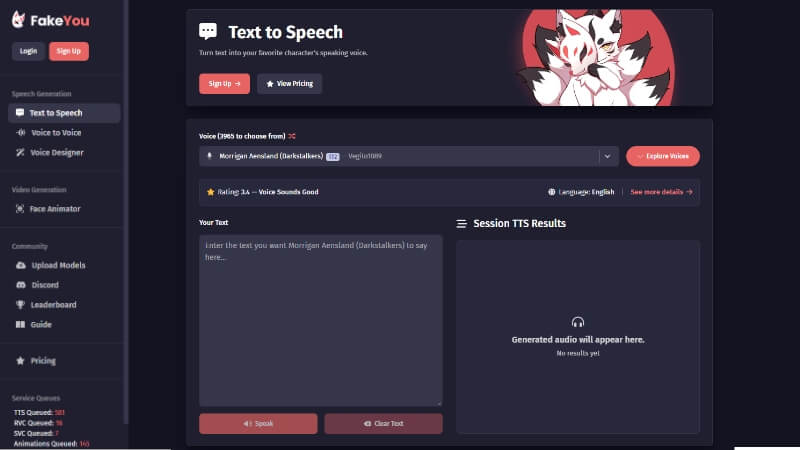 Key Features:
Wide range of languages, dialects, voice effects, filters, etc.

AI-powered open-source platform.

Uses deep fake and AI technology to generate native and realistic voices

You can choose from different voices ranging from robotic to games, cartoons to anime characters, and announcers.
Pros:

Perfect for both personal and professional uses.

User-friendly interface with excellent user experience.

The online platform doesn't require downloading or installations.
Cons:

Deep fake technology might get banned in certain regions of the world.

Sign-in required for regular users.
Part 3: FAQs About Deep Voice Text to Speech
1. How to make text to speech in deep AI voice on PC?
You can use VoxBox by iMyFone to do text-to-speech deep voice generation on your Windows PC or laptop.
2. How do I make my deep voice?
You can adjust the pitch, tone, and emphasis of the generated voice to add deep voice effects to any voice in any language. VoxBox lets you adjust the voice effects and get the desired results in no time.
3. How do I get the deep voice text to speech on TikTok?
You can do text-to-speech on TikTok , by uploading the video > Text option > Type Text > Select Text To Speech > Choose voice type, and you are good to go.
Conclusion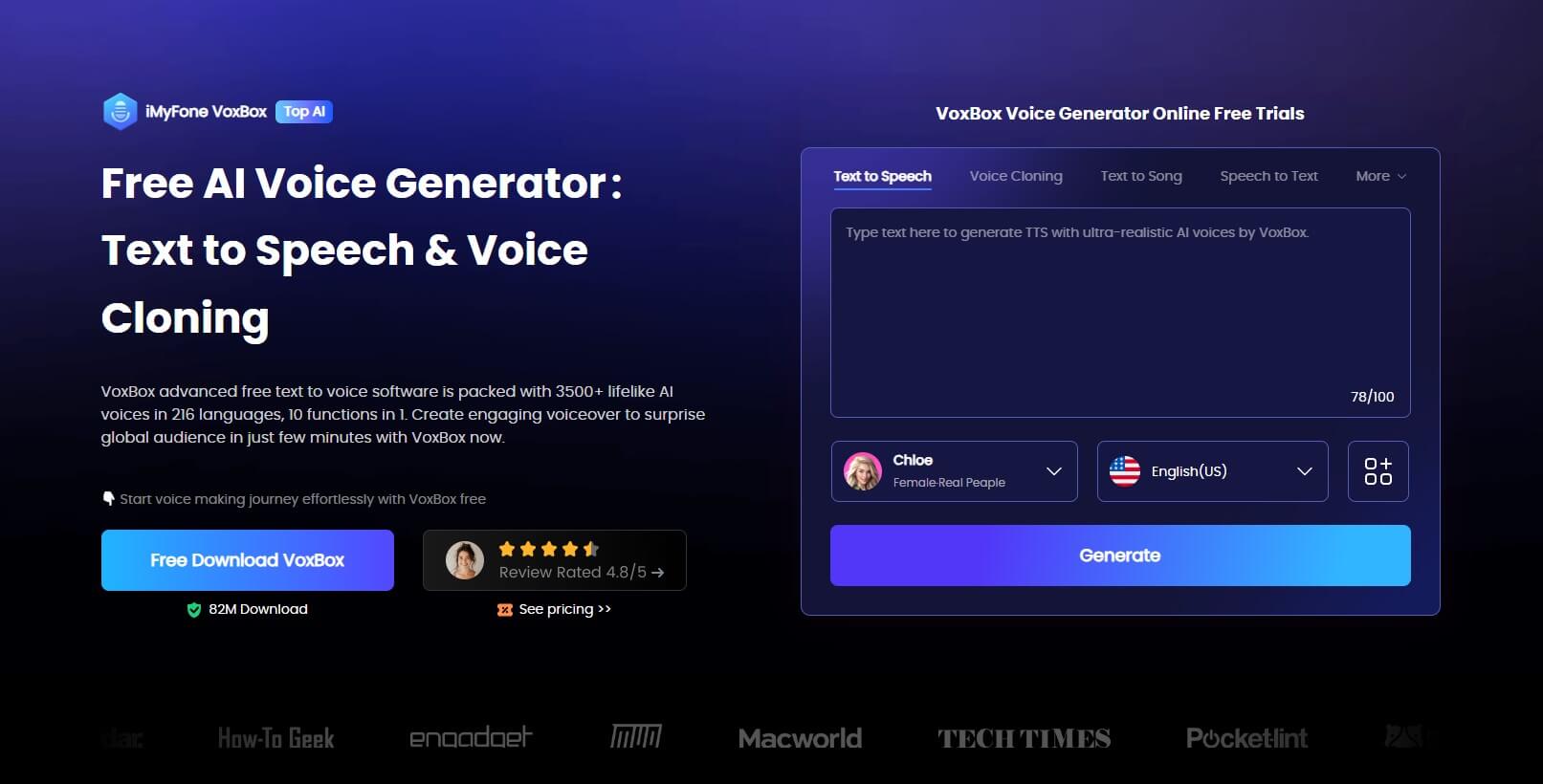 We have shared different tools you can use for deep voice generation. However, if we have to pick the best deep voice text to speech generator, iMyFone VoxBox will be a powerful tool with free functions and the freedom to adjust generated voices.
Try it Free