AI voice generators employ deep learning algorithms and neural networks to generate highly realistic and natural-sounding speech. can be used to create voiceovers for a wide range of content, including videos, podcasts, and even phone systems or chatbots. and which is provided more voices & languages that could reduce costs for businesses and individuals.
In this post, we'll review the best AI voice generator tools based on performance, usability, and features.
Part 1: What are AI Voice Generators?
Want to get the best AI voice generators requires understanding their capabilities and functions.AI voice generators are advanced software systems that utilize artificial intelligence algorithms to convert text into realistic human-like speech. These systems analyze the input text, understand its context, and generate corresponding audio output with natural intonations, tones, and emotions. They have applications in various fields such as voice assistants, audiobook narration, language learning, and entertainment. AI voice generators have significantly improved over time, producing high-quality and indistinguishable voices that can mimic different accents, languages, and even specific personalities.
Part 1: List of Best 5 Ai Voice Generators
iMyFone VoxBox is a text-to-speech (TTS) AI voice generator that offers a wide range of voices and languages. character's voices like SpongeBob, Garfield, Goku, Trump, etc, and languages like British, Japanese, Hindi, etc.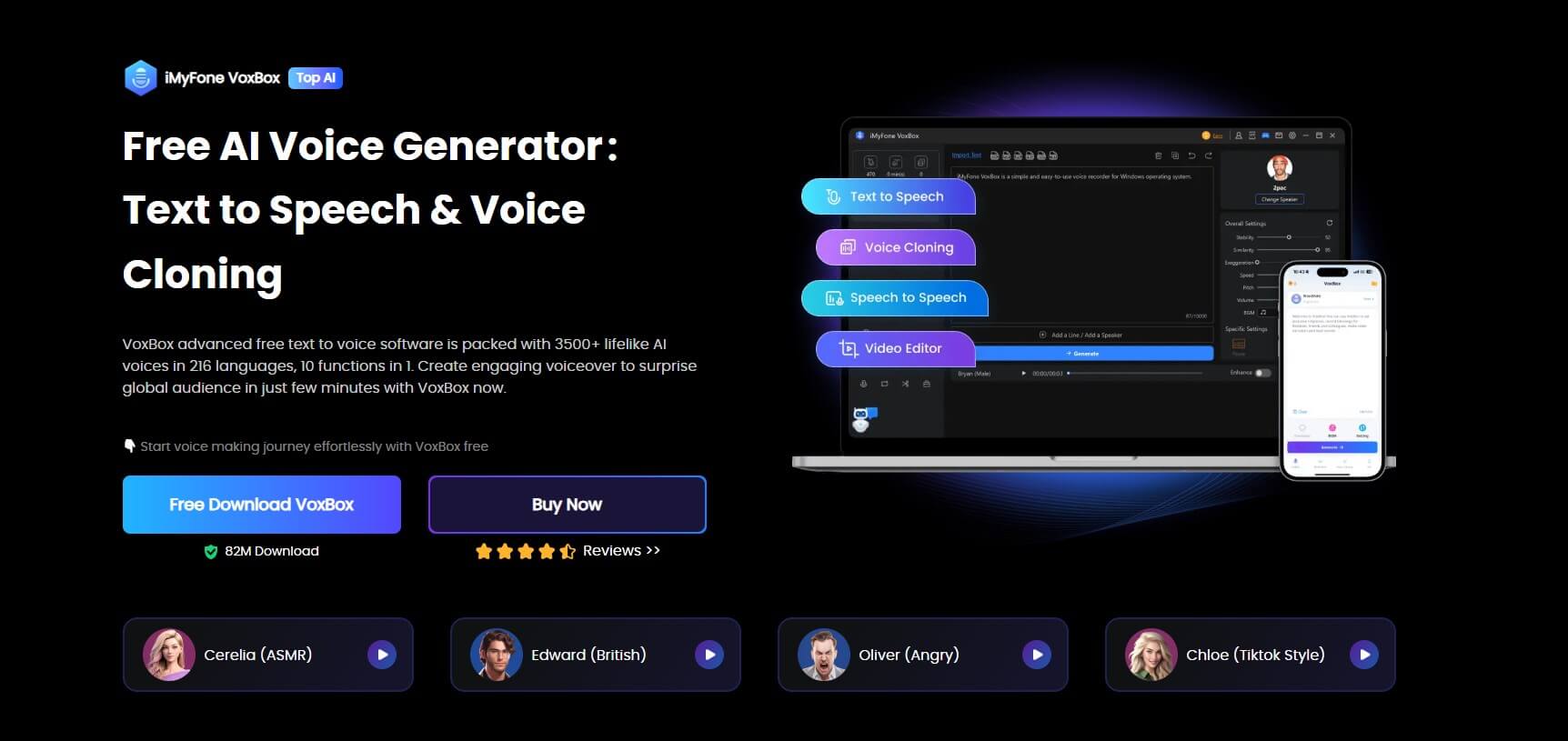 Key Features:
AI voice generators offer a wide range of options with 3200+ voices, 46+ languages, and 100+ accents to choose from.

Additional functions such as speech-to-text, text-to-speech, voice recording, video conversion, audio editing, and voice cloning.

Enhanced capabilities like background music (BGM), sound effects, and multi-speaker support.

Compatibility with various audio formats such as WAV, MP3, OGG, etc.

Support for file formats like PDF and Word documents.
Speechify is a top AI voice generator that produces high-quality, natural-sounding audio from text, offering adjustable voice speed, multiple voices and accents, visual text highlighting, and support for various document sources like PDFs, emails, and photos with text.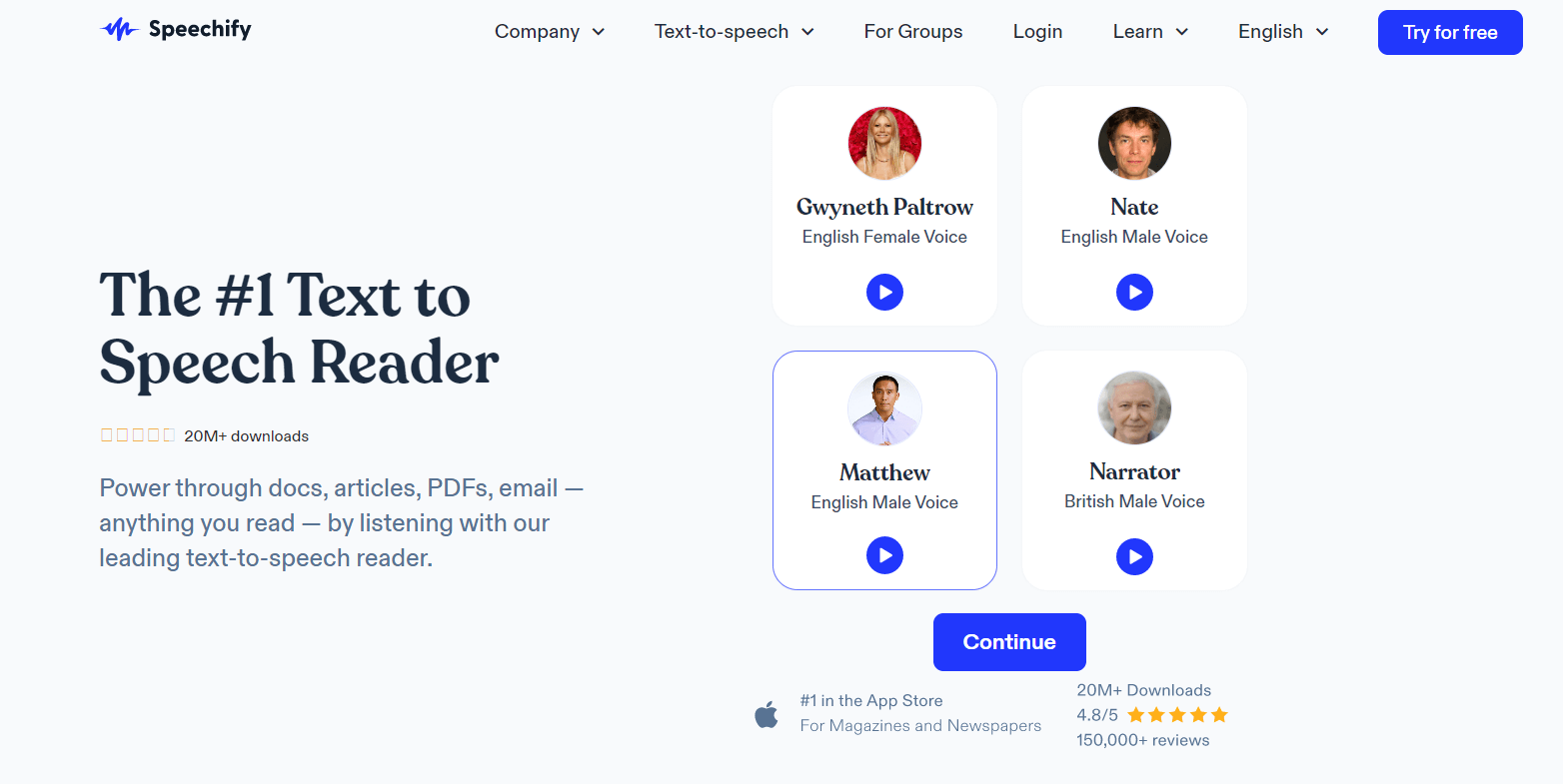 Key Features:
Access to 50+ premium voices.

A sophisticated user interface.

Compatibility with Chrome, Apple, and Android devices.

Advanced tools for highlighting, note-taking, and importing.

Compatible with Chrome, Windows, Android, and iOS platforms.

Ability to adjust listening and playback speeds for increased productivity..

Conversion of text in screenshot images to audio.
Typecast is a voice generator with a strong AI-based algorithm. It converts text into speech and also creates videos with several characters and customizations for designing an audiobook.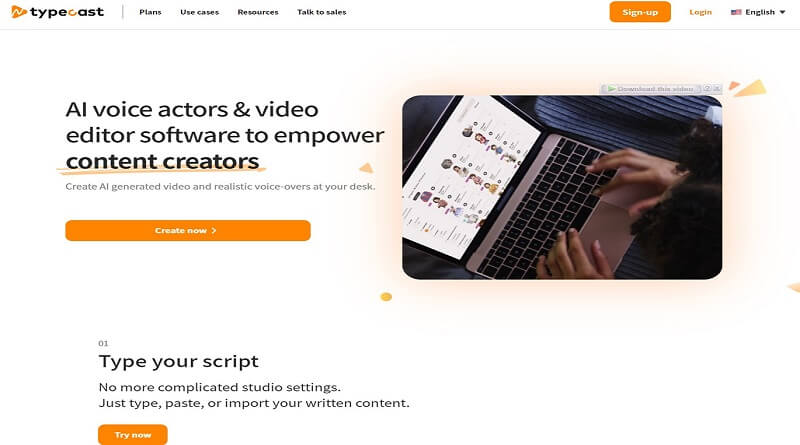 Key Features:
290+ voice actors.

Convert text into speech within a few seconds.

Powerful AI-based algorithm.

Super easy and fantastic tool.

Realistic and original voice AI voice actors.

Synchronize video and audio files nicely.

Compatible with all platforms.

Weekly updates.
Play.ht is a leading AI voice generator that offers professional-quality audio conversion from text. With a wide range of synthetic voices and an intuitive online editor, you can easily customize speech styles and pronunciations. It supports real-time text-to-speech synthesis, secure storage of audio files, and export in MP3 and WAV formats. Play.ht also provides podcasting capabilities and is a highly regarded text-to-speech plugin for WordPress, enhancing website accessibility and engagement for improved SEO.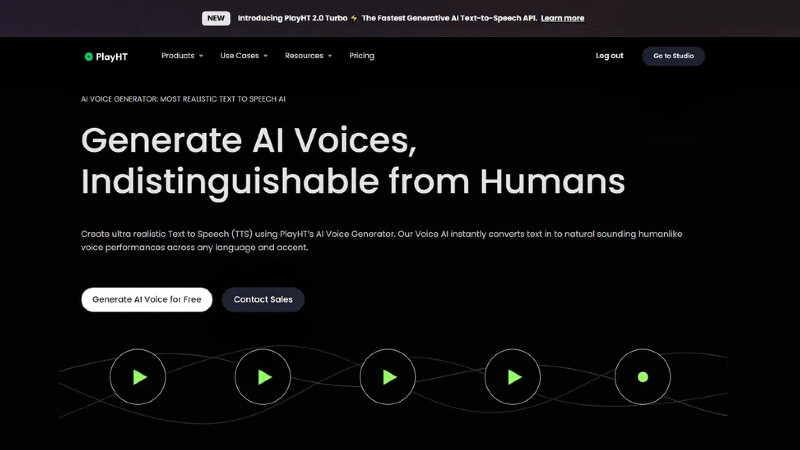 Key Features:
Simple and easy to use

Compatible with all platforms

Allows video creation.

Powerful TTS conversion.

Provides different languages for TTS conversion.
Murf.AI is a versatile and powerful AI speech generator offering a wide selection of natural-sounding voices in various languages and accents. The platform allows users to edit voices with pitch, speed, and tone tools, making it suitable for videos, podcasts, audiobooks, virtual assistants, and chatbots. With an easy-to-use online interface, users can generate and download voice recordings, preview audio, and customize settings. Additionally, Murf.AI provides Murf Studio, a comprehensive tool for creating enhanced video content with voiceovers, background music, and more.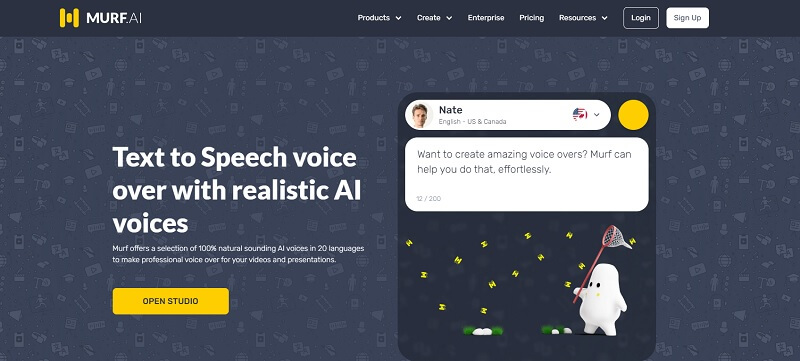 Key Features:
A clean and uncluttered interface.

A collection of 120+ text-to-speech voices available in 20+ languages.

Voice filtering options based on the use case, tone, gender, age, and more.

Ability to import scripts, articles, and large documents.

Access to a library of templates for project initiation.

Integration with Google Slides for seamless voiceover integration.
Part 3: Comparison of the Best AI Voice Generators:
| Product Name | Free Option | Languages | Voices | User rating | Starting Price |
| --- | --- | --- | --- | --- | --- |
| iMyFone VoxBox | | 77 | 3200+ voices | 4.8 | $15.95/mo |
| Speechify | | 20+ | 30+ Voices | 4.8 | $11.58/mo |
| Typecast | | 20+ | 800+ Voices | 4.6 | $8.99/mo |
| Play.ht | | 132 | 832 | 4.9 | $39/mo |
| Murf.ai | | 20 | 120+ | 4.8 | $19/mo |
What the Best AI Voice Generator
When it comes to AI voice generators, the best choice depends on your project. For reliable performance and quality, Play.ht is recommended. If you frequently work with Google Slides, Murf.ai offers seamless integration and efficient annotation creation.
To wrap it up, for those interested in getting voiceovers especially to make deepfake voices for fun, iMyFone VoxBoxis the best AI voice generator to suitable for you, cause it includes a realistic voice from entertaining to professional. Were there any tools that you think we missed? Who would you say is the best AI voice generator tool? Let us know down below in the comments!