Adobe, a leading name in the software industry, has provided users with a comprehensive and innovative text to speech solution that caters to a wide range of applications. From aiding individuals with reading difficulties to enhancing the accessibility of content for diverse audiences, Adobe text to speech has proven to be an invaluable asset in various fields.
In this essay, we will explore the features of Adobe text to speech and introduce the best alternative - another text to speech software to it.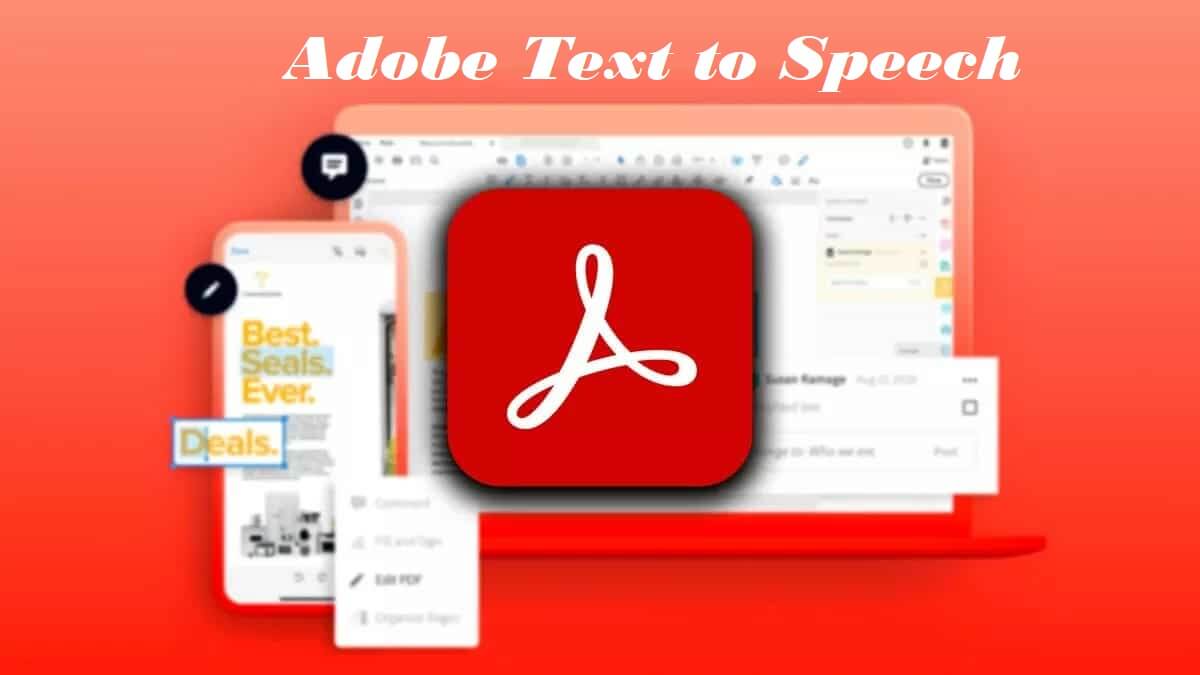 Part 1: What is Adobe Reader & Adobe Text to Speech?
Adobe Reader
Adobe Reader is a popular software application developed by Adobe Inc. It is a free and widely used program that allows users to view, print, and interact with Portable Document Format (PDF) files. Adobe Reader provides essential functionalities like viewing and navigating through PDF documents, searching for text, adding comments, and digitally signing PDF files. It is available for various operating systems, making it a convenient and accessible tool for reading and managing PDF files.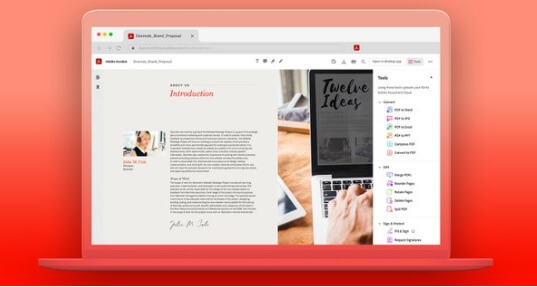 Adobe Text to Speech
Adobe does offer a feature called "Read Out Loud" in Adobe Acrobat Reader, which is a PDF viewer and editor. "Read Out Loud" is a built-in Adobe text-to-speech feature that allows the software to read the text content of a PDF document aloud.
Features:
Allows you to change PDF files, including adding or deleting text, images, and pages.

With a range of collaborative tools that make it easy for teams to work together on a document

Various security features like password protection, digital signatures, and redaction tools.

Listen to documents rather than read them.
Part 2: How to Use Adobe Text to Speech?
Adobe offers a text-to-speech feature "Read Out Loud" allows the software to read the text content of a PDF document aloud. Here's how you can use "Read Out Loud" in Adobe Acrobat Reader:
#step 1: Launch Adobe Acrobat Reader on your computer.
#step 2: Open the PDF document that you want to have read aloud by clicking on "File" in the menu bar and then selecting "Open."
#step 3: Once the PDF document is open, go to the "View" menu in the top menu bar. From the drop-down menu, select "Read Out Loud."
#step 4: Choose Read Options according to your preference.
Part 3: Best TTS Alternative to Adobe Text to Speech - VoxBox
VoxBox is a high-quality Adobe Text-to-Speech software that can be used as an alternative to Adobe Reader. It has advanced features that make it easy to convert written text into natural-sounding speech, providing more voices and a seamless experience for users.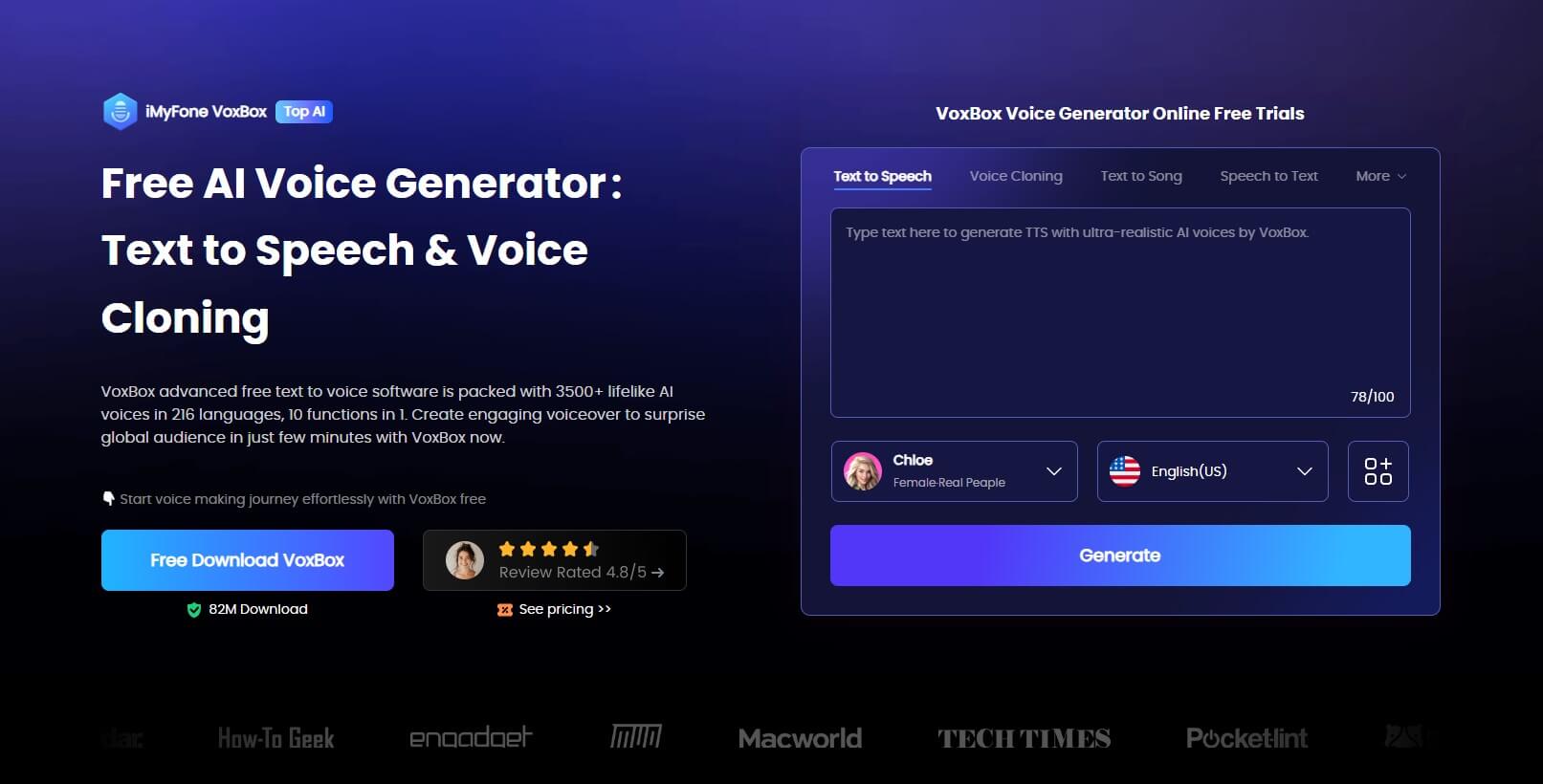 How To Use VoxBox AI Text to Speech:
Step 1: You need to download and install VoxBox.

Step 2: Choose the Text-to-Speech from the left side bar, select voice you prefer and input the PDF text.

Step 3: Click on "Convert" , and then you can export the speech for the format you need.
Features:
With VoxBox, you can choose 3200+ Voices such as cartoon characters, singers, news reporters, etc

Provides 77+ global languages like Spanish, Japanese, French for your book reading.

Over 100 accents like Italian accent, Aussie accent, etc.

Encourage you to pause, pitch, emphasis, adjust speed, add BGM and sound effects during the process.

Besides Text-to-Speech, it also has possibilities of Speech-to-Text, Voice Record, Voice cloning, Video Converter and Audio Edit.

Various application secens like audiobooks, broadcast and others.

Friendly interface to beginners.
Part 4: Comparison form between Adobe Reader and VoxBox
Adobe Reader is a well-known PDF viewer with accessibility features such as Text-to-Speech. However, As a professional Adobe text to speech spftware, VoxBox provides a unique Text-to-Speech functionality that makes it an excellent option for people who want to listen to long documents or books.
A quick comparison between Adobe Reader and Voxbox is given below.
| Feature | Adobe Reader | Voxbox |
| --- | --- | --- |
| PDF Editing | | |
| Collaborative Tools | | |
| Security | | |
| Text-to-speech | | |
| Customization Voice | | |
| Multi-language support | | |
| Offline mode | | |
Part 5: FAQs about Adobe Text to Speech
1. Does Adobe have text to speech feature?
Yes, Adobe Acrobat Reader, the PDF reading software from Adobe, includes a built-in text-to-speech feature called "Read Out Loud." This feature allows the software to read the text content of a PDF document aloud, making it accessible for users who may have visual impairments or prefer to listen to the content.
2. Is Adobe AI voice free?
Adobe does not offer a standalone AI voice service for free. Adobe provides various software products and services, including Adobe Acrobat Reader with its "Read Out Loud" text-to-speech feature, but these are part of the larger software packages and may require a subscription or one-time purchase.
Adobe offers different pricing plans and subscription options for its various products, and access to AI voice technology may be included in certain premium plans or add-ons. However, Adobe AI voice technology is typically part of its Creative Cloud suite, which is a paid subscription service.
3. What languages does Adobe speech to text support?
At present, speech to text boasts an impressive array of supported languages, with more on the horizon. Currently available languages include English, English (UK), Simplified Chinese (Mandarin), Traditional Chinese (Mandarin), Spanish, German, French, Japanese, Portuguese, Korean, Italian, Russian, and Hindi.
Conclusion
While Adobe Reader is a reliable tool for viewing and editing PDF files, if you're specifically looking for a seamless text-to-speech experience, VoxBox emerges as a superior alternative.
VoxBox, a free and user-friendly app, goes beyond basic functionalities, offering a plethora of customizable features to enhance your text-to-speech experience. With its advanced capabilities and user-friendly interface, VoxBox has become a preferred choice for many. If you're seeking a top-notch text-to-speech solution, we highly recommend downloading VoxBox and experiencing its remarkable performance firsthand.