text to speech Roblox offers an exciting way to elevate the gaming experience by enabling players to give voice to their characters and enhance interactions within the virtual realm. As Roblox enthusiasts venture into new horizons of creativity, the demand for a dependable Roblox AI voice generator or a straightforward text-to-speech solution has become more pronounced.
Whether you're seeking to enrich storytelling, immerse yourself in role-playing, or infuse a distinctive flavor into your gaming environment, the journey to find the ideal Roblox AI voice begins right here.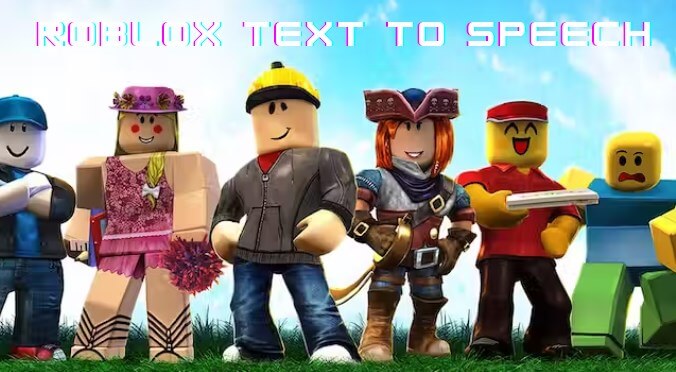 Part 1: What is the "Roblox" or "Roblox Story"?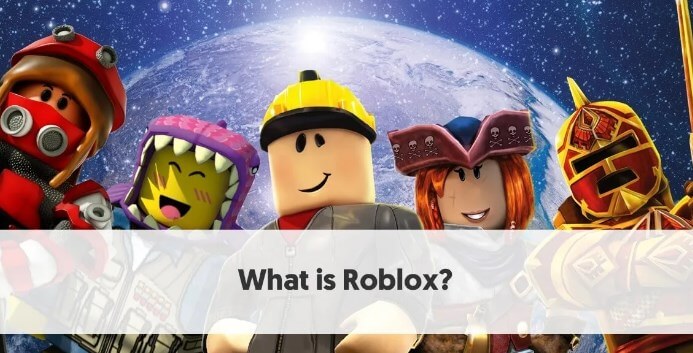 Roblox is an app that has a variety of games that you can enjoy. Besides playing games, you can also create games on this platform and talk to other gamers without any stuttering, which brings together Gaming and social media. On Roblox, you can generate and spend your own virtual money and socialize.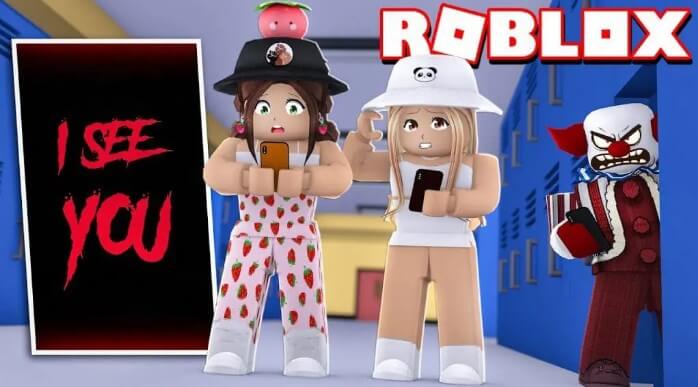 Although Roblox includes popular games, there are more virtual hangouts on this app. It is a Gen Z version of Club Penguin. The thing that makes Roblox different from other gaming platforms like Steam is that all the games on Roblox are created by its users. A survey published that there are over 20 million games on Roblox created by its users. It is free to download, and all the games are free as well. However, there are in-game purchases of upgrades.
Part 2: Why Is Roblox Text to Speech So Popular?
When you are playing games on Roblox, text-to-speech can be beneficial for you. It is because you can use TTS to talk to other players in the games.
The wide usage of TTS on Roblox is because some children cannot read, so they can understand the game properly. Roblox Text-to-speech is compatible with different apps, like TikTok, Among Us, Minecraft, and more.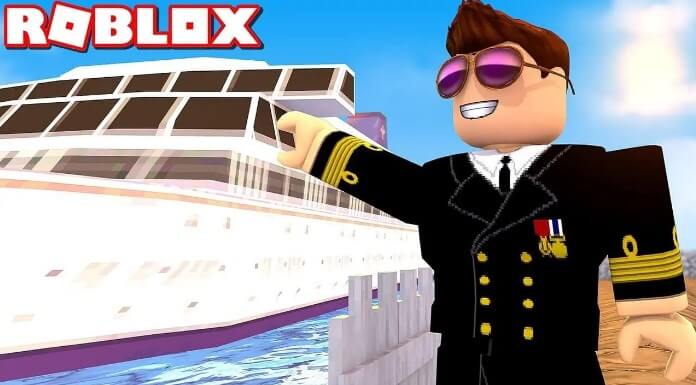 Some children might need help with text-to-speech to understand and learn. This is where text-to-speech Roblox comes to use. It helps you and the children to learn different things, and gaming is not always about entertainment and fun. It can also be used as a learning platform.
Part 3: Best & Free 4 Text-to-Speech Roblox AI Voice Generator
iMyFone VoxBox can transform Roblox text to speech for your games. With its extensive sound library and the inclusion of 2,000 free characters for narration, it offers a wealth of options for generating in-game voices. VoxBox is user-friendly, boastingto a large user base, and is known for its safety and reliability, setting it apart as a trustworthy tool compared to many others in the market.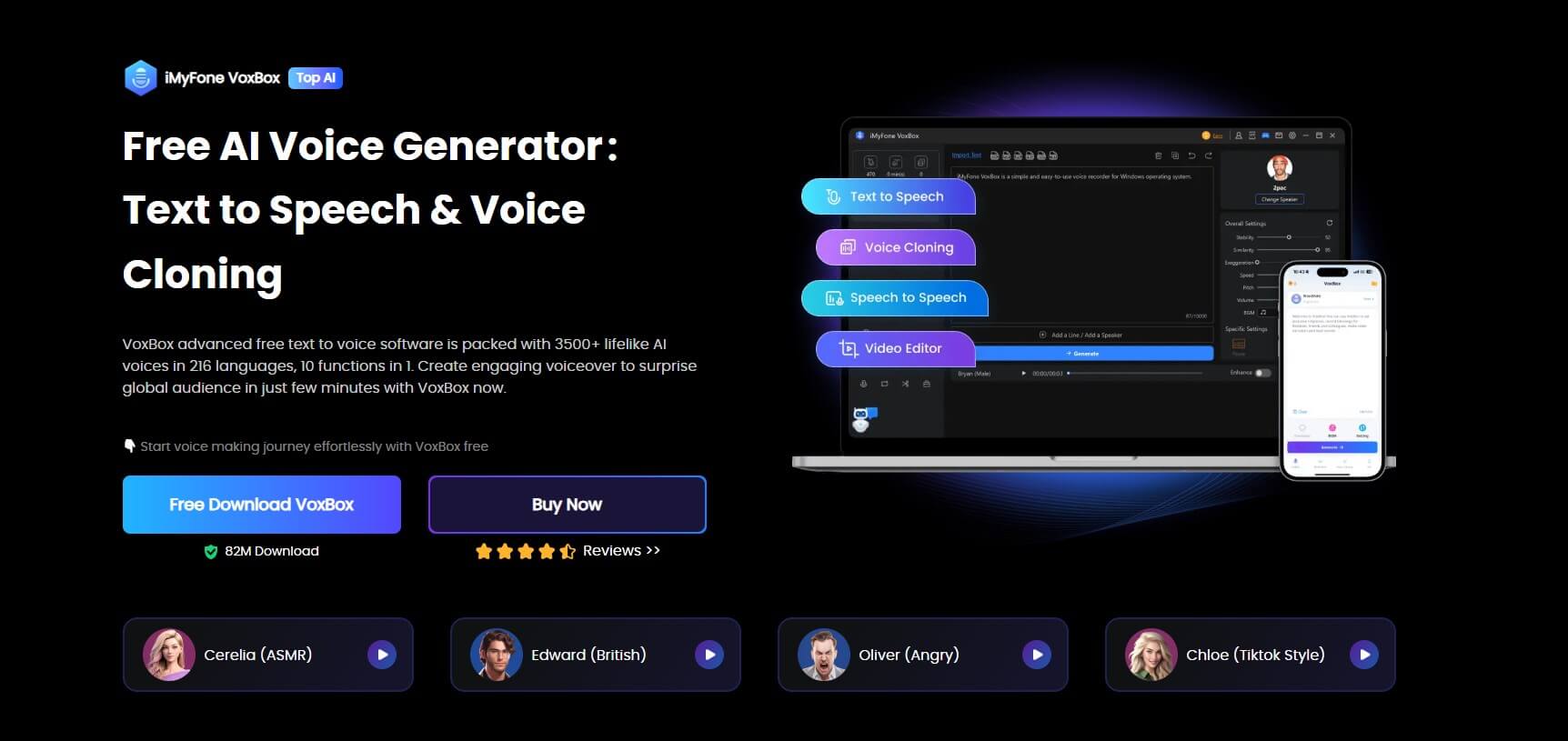 How To Make Roblox Text to Speech:
#Step 1: Download and install VoxBox.
#Step 2: Navigate to the "Text to Speech" section on the left and select "change voice" to pick your desired voice.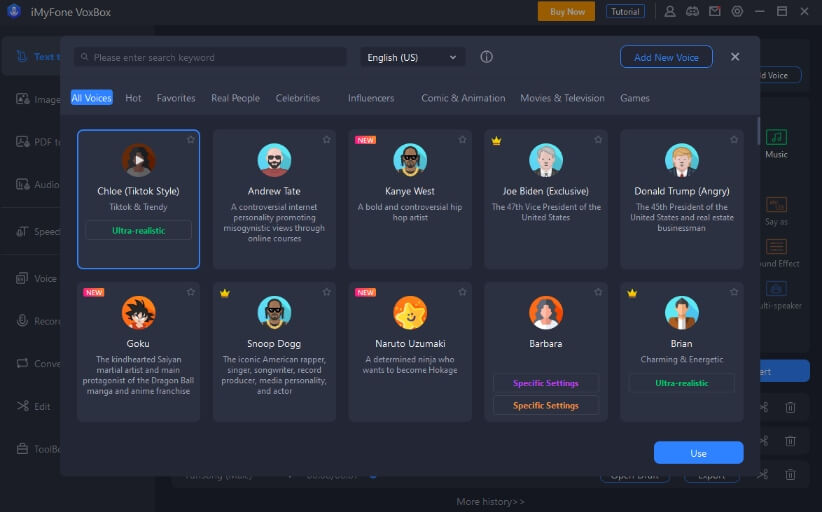 #Step 3: Input your text, convert it, and preview the voiceover.
Key Features:
3200+ voices and 77+ languages to do text-to-speech in Roblox.

ALso allows to take advantage of the software on other platforms like Wattpad, Twitch, and so on.

Multifunctional tool to make and custom Roblox AI voice.

You can export the file in different audio formats, like MP3, WAV, etc.

Use for enhancing gaming experience, dubbing in game videos, IVR and more.

It has an intuitive and straightforward interface.
Review:
People have reviewed this app for being user-friendly and simple to use. The variety of languages and voices helps them to bring entertainment to their lives. Moreover, VoxBox voice recording and editing features that no other TTS tool provides.
Price:
| Plan | Price |
| --- | --- |
| 1-month Plan | $14.95 |
| 1-year Plan | $44.95 |
| Lifetime Plan | $89.95 |
2. Resemble.Ai
Another Roblox text to speech tool is Resemble.Ai. It is a very engaging tool that allows you to generate voices in different languages and voices with just one click. It only takes three steps to generate the Roblox AI voice. The most important thing about this tool is that it creates human-like voices, and there is a minimal trace of text-to-speech conversion.
Key Features:
With Resemble.Ai, you can convert any text into speech.

It has the unique feature of adding emotions to the voice.

Resemble.Ai allows you to control inflection and intonation.

With this tool, you can blend real and synthetic voices together.

It also offers APIs for developers.
Reviews:
People have reviewed this tool as easy to use and highly efficient. It offers realistic voices that sound like human voices. The generated voice can be used for almost any purpose. However, the voices can be better.
Price:
| Plan | Price |
| --- | --- |
| Basic Plan | $0.006/second |
| Pro Plan | Contact them |
3. NoteVibes
If you are looking for an online text-to-speech Roblox, then NoteVibes is an exceptional tool. It allows you to convert up to 300 words in a single go. You can also listen to your voice output and edit it accordingly. It has over 25,000 worldwide users with big names like Pepsi, Johnson & Johnson, Rolls Royce, etc.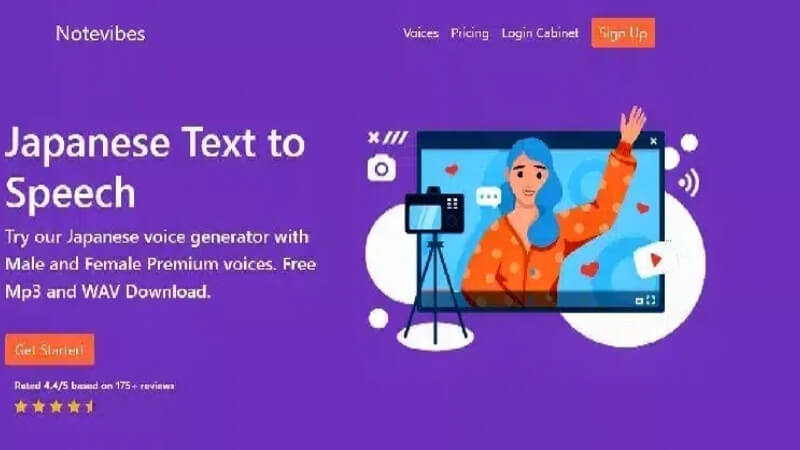 Key Features:
It is an ultra-fast processing tool and can convert your text to speech instantly.

NoteVibes provide you the option to choose from more than 221 male voice and distinctive female voice.

It supports 25 different languages.

For US voices, it has 7 female, 5 male, and 2 children voices.

Not only it saves your time, but also your money as it is very affordable.
Reviews
Users have reviewed this tool as a safe and reliable tool. It allows users to add pauses, change speed and pitch, and control the volume. All in all, it gives the user freedom to create their voices with different options.
Price:
| Plan | Price |
| --- | --- |
| Personal Plan | $8/month |
| Commercial Plan | $90/month |
| Corporate pack Plan | $4000/yearly |
4. Synthesys
Synthesys is the final text-to-speech Roblox tool that has gained popularity over the years. It is mostly used commercially and provides tutorials to understand it more correctly. The voice of this tool is clear and natural that attracts people towards it and makes it trustworthy.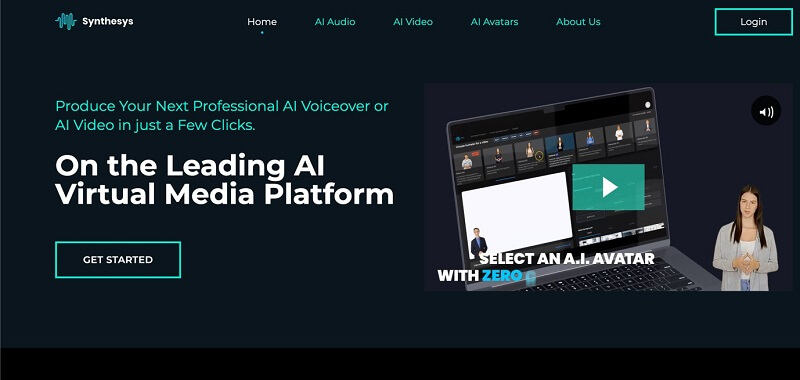 Key Features:
As Synthesys is a cloud-based application, it can be accessed from anywhere in the world.

People also use its video version, which allows them to create commercial sales videos, including animations and podcasts.

It has a wide library of voices from which you can choose 35 female and 30 male voices specifically.

Users can take advantage of this tool and create unlimited voiceovers and sell them to earn money.
Reviews:
People are happy to see this tool and refer to it as a revolutionary tool. With this app out, all other tools have become obsolete. The quality of the voice and its feature to sound naturally human is what makes it stand out from others.
Price:
| Plan | Price |
| --- | --- |
| Human Studio Plan | $39/month |
| Audio Plan | $29/month |
| Audio & Human Studio Plan | $59/month |
Part 4: FAQs about Text to Speech Roblox
1. How do I enable text-to-speech in Roblox?
Text-to-speech in Roblox is generally enabled by default. Players can use the chat to type messages, and the TTS system will read them out loud for others to hear.
2. Is text-to-speech available on all Roblox games?
Roblox text-to-speech availability may vary depending on the game and the preferences of the game developer. Some games may disable TTS to maintain a particular gaming experience.
3. Is Roblox text-to-speech safe?
Roblox takes safety and moderation seriously. Inappropriate or abusive content, including TTS messages, can be reported, and the platform enforces community guidelines.
Conclusion
In this article, we have discussed different text-to-speech Roblox tools. Roblox being a gaming platform allows users to play games as well as create them. Gamers can also talk to one another, and children can take help from the TTS tool to understand what they can't read.
Among all the tools, iMyFone VoxBox is the most efficient and reliable. It has a trial version as well. Go to the iMyFone website and download the trial version of VoxBox to check its credibility by yourself.