The awe-inspiring voice of Darth Vader has left an indelible mark on popular culture. Its deep, commanding tone has become synonymous with authority and power.
Now, with the advancements in AI technology, it is possible to recreate and harness the force of Darth Vader's voice using AI-powered voice generators with text-to-speech. In this guide, we will recommend the top 5 voice generators and walk you through the steps of creating your own rendition of Darth Vader's iconic voice.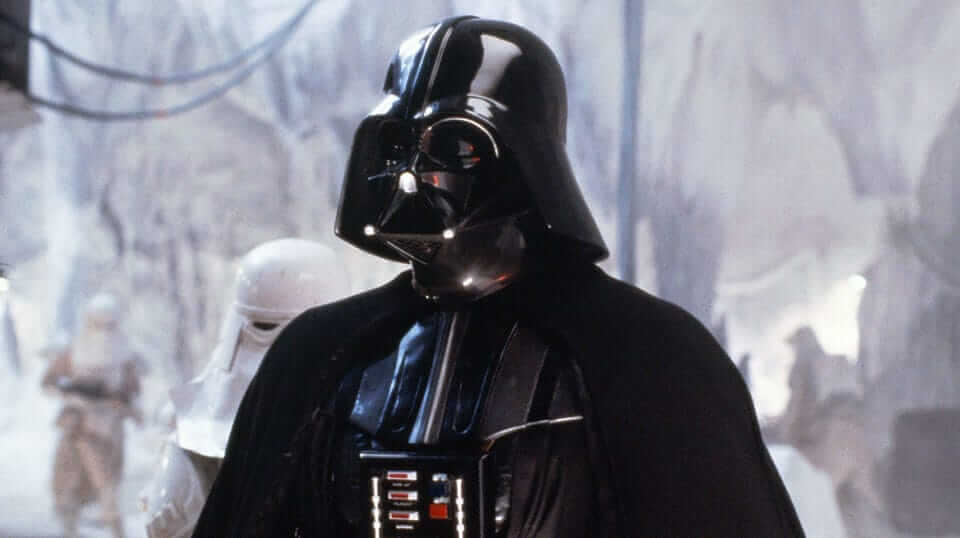 Part 1: Who is Darth Vader?
If you are a Star Wars fan, Darth Vader is not possible to be an alien character for you. The character was a cybernetically-augmented Human Sith Lord and military commander. If we talk about the meaning of Darth Vader, Vader is a Dutch word that means Father. Darth, on the other hand, is called Dark.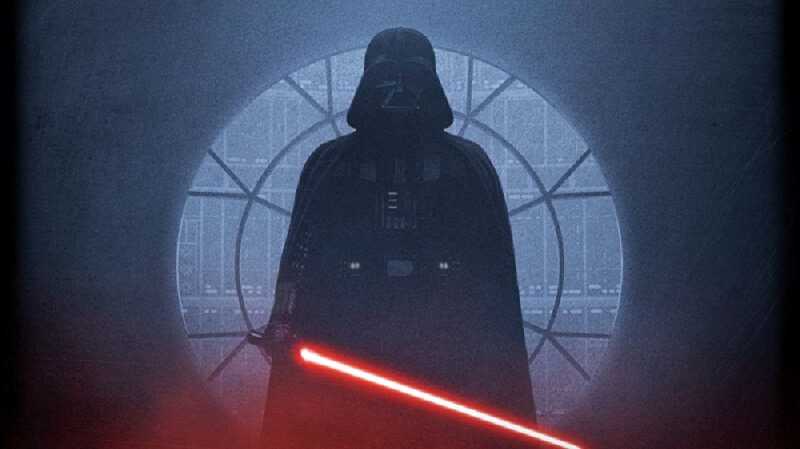 If we talk about the nature of the character, he is a lead villain in Star Wars science fiction. The character first appeared in 1977; since then, it's a name that almost everyone knows about. Darth Vader's voice has become one of the biggest identities, and many gamers love to use that voice in online gaming.
If you are also one of Darth Vader's fans, we have come up with the best Darth Vader voice generator text-to-speech available.
Part 2: How About Darth Vader's Voice?
Darth Vader's voice is renowned for its distinctiveness and impact. The deep, resonant tone combined with James Earl Jones' commanding delivery creates a sense of authority, intimidation, and power. The voice has a commanding presence that demands attention and leaves a lasting impression on listeners. Its iconic status has made it a cultural phenomenon, attracting fans and enthusiasts who admire its unique qualities. Whether it's for entertainment purposes, cosplay, or creative projects, many people are captivated by the allure and appeal of Darth Vader's voice.
Discover the compelling AI-generated voice of Darth Vader through iMyFone VoxBox! Plus, you can even replicate and clone Darth Vader's distinctive voice with its support.

Part 3: Top 2 Darth Vader Text-to-Speech Generators with AI Tech
iMyFone VoxBox offers cutting-edge AI technology for generating voices, including the iconic voice of Darth Vader. With its user-friendly interface and advanced text-to-speech capabilities, VoxBox allows you to effortlessly convert your written text into a realistic rendition of Darth Vader's voice. Experience the convenience and authenticity of VoxBox as you bring your words to life with the powerful and distinctive sound of Darth Vader.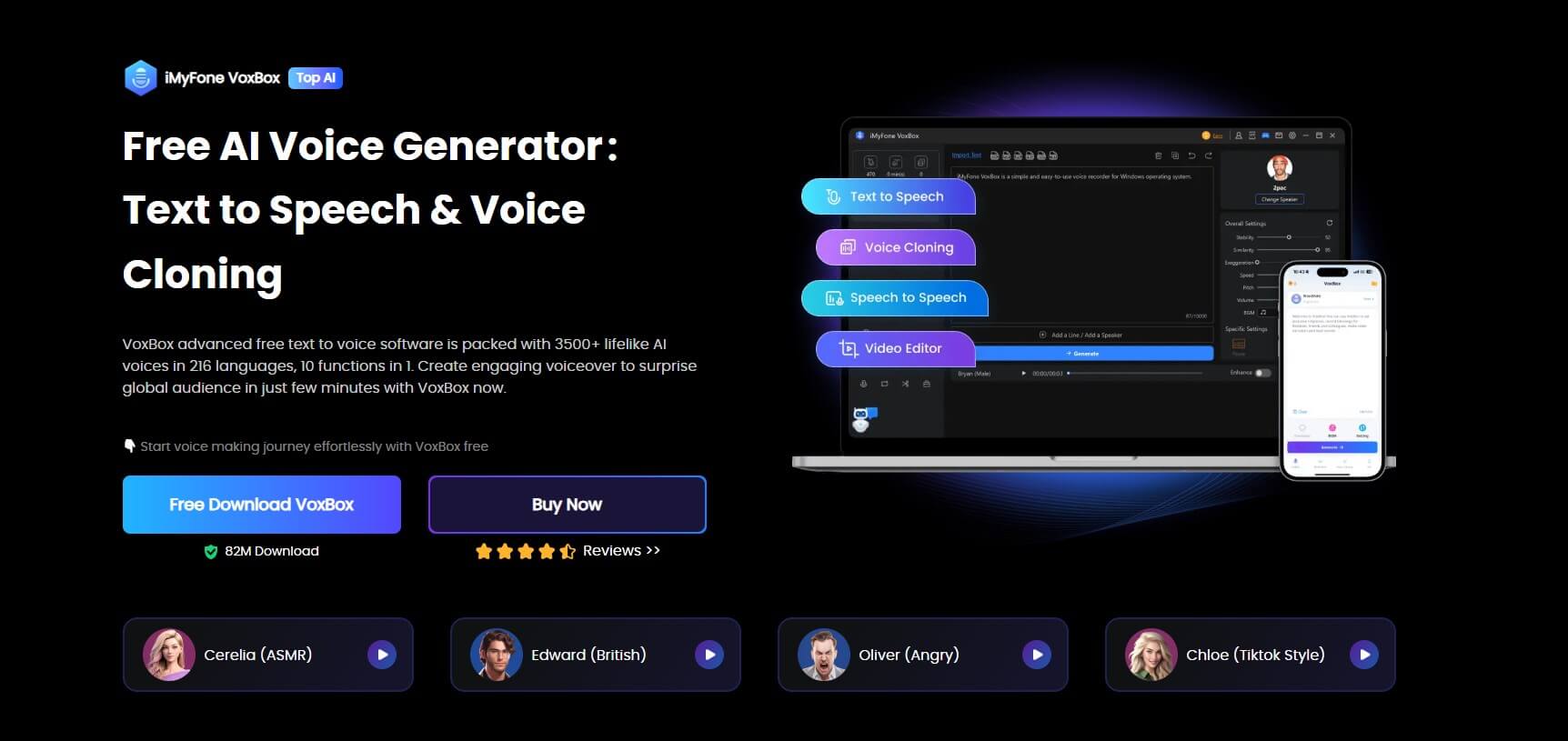 Here are the main features of iMyFone VoxBox you must know:
Key Features:
Realistic and native voices on the go.

Over 3200+ voices with realistic expressions and accents.

You can convert, edit, trim, and import the converted Mp3 audio.

Multiple output formats. E.g., MP3, Wav, Aac.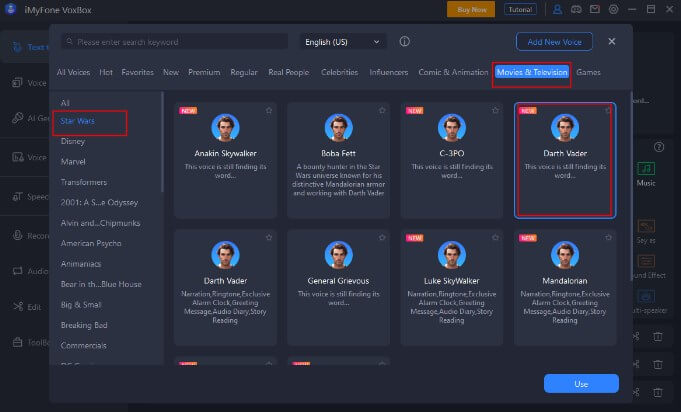 Pros:

A lot of voice options, including Darth Vader text-to-speech conversion.

Voice editing and cloning options make it an all-in-one solution.

Free and paid versions are available.

Multiple language support.

User-friendly interface.
Cons:

Download the software and sign up to use it with full capabilities.

Not all languages are supported.
Watch this video to learn more about the Best Darth Vader Voice Generator VoxBox:
Last but not least, Speechify is a text-to-speech generator that supports uploading text, documents, PDFs, emails, etc. The AI-powered tool has the capability to clone any voice dialect and gives you a realistic result in no time.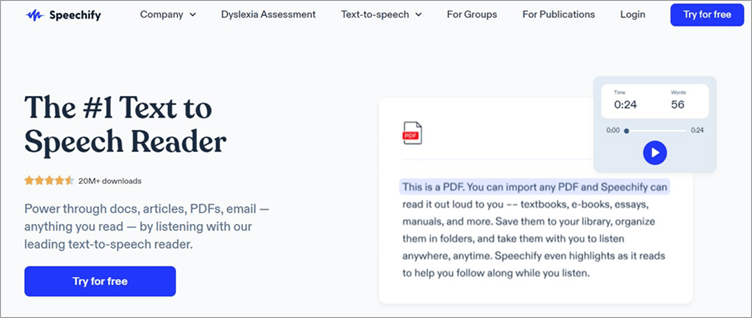 You can use different editing features like reading speed and adding a play button to your website or app. Therefore, Speechify is not only for personal use but for business users as well.
The main features of Speechify are as follows:
Key Features:
Realistic voices with high-quality AI capabilities.

Reading speed adjustment up to 5x faster.

Download the converted MP3 files on the device.

30+ voice dialects with 15+ languages support.

OCR technology works well to scan images and printed text.
Pros:

Advanced reading tools with OCR technology are also available

15+ languages and 30+ dialects support.

User-friendly interface.

Voice adjustment features add to its convenience.
Cons:

Too many updates are annoying, as the software only works well when updated.

Speechify premium is a bit expensive.

The voice generated might not be the most realistic one.
Part 4: Online AI Voice Generator with TTS Free Get Darth Vader's Voice
Woord is an online platform where you can convert text to speech and choose the voice as well. We mean that when converting text to audio, you can choose what voice comes out.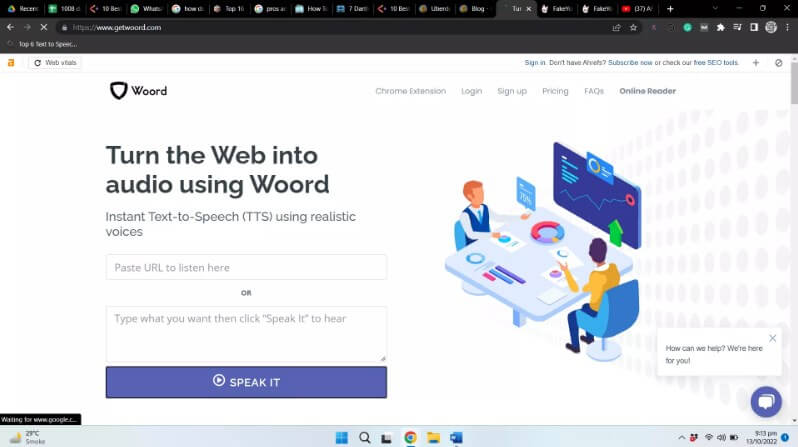 The online platform has several voices to choose from, and Darth Vader is one of them. The good thing about Woord is the simple method of TTS and high-quality audio that is audible.
The main features of Woord Darth Vader text to speech generator are as follows:
Key Features:
Option to select from 50 languages.

You can choose dialect and voice types like masculine, feminine, character-based, etc.

Free text-to-speech converter with realistic voice.

Convert up to 20,000 characters per month with the free edition.

Paid subscription option for advanced capabilities.

Save the Darth Vader-converted mp3 files.
Pros:

Support of 50 languages and multiple voices, including Darth Vader.

Realistic human voice.

Free platform work as Darth Vader text to speech converter.

Paid and free versions available according to your needs.
Cons:

Character limitation for text-to-speech conversion.

Online connectivity is necessary.

The free edition doesn't give a demo of all features.
Fakeyou is an online AI voice generator equipped with TTS (Text-to-Speech) capabilities that allow you to transform the text into the iconic speech of Darth Vader. Additionally, it offers a wide range of voice options and tones for you to select from, providing flexibility and customization to suit your preferences.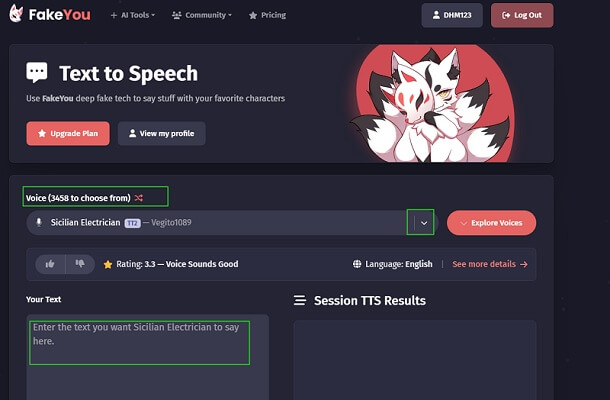 The main features of FakeYou.com are as follows:
Key Features:
Choose from several languages, dialects, and voice tones to convert.

Text-to-speech conversion with the additional capability of real-time voice-to-voice conversion.

Clone your voice with Deep fake technology and convert it into Darth Vader's voice.

You can choose from different voices ranging from robotic to games, cartoons to anime characters, and announcers.

Free and online deep fake technology powered Darth Vader text to voice generator.
Pros:

A wide range of dialects, languages, characters, and voices.

User-friendly interface with a very simplified method of conversion.

No need to download any software.
Cons:

Deep fake technology might get banned in certain regions of the world.

Sign-in required for regular users.
UberDuck.ai stands out as an advanced AI-powered text-to-voice converter that includes the impressive ability to generate the voice of Darth Vader. Alongside this capability, UberDuck.ai offers a plethora of features, such as reference audio for precise voice generation and even AI-generated rap.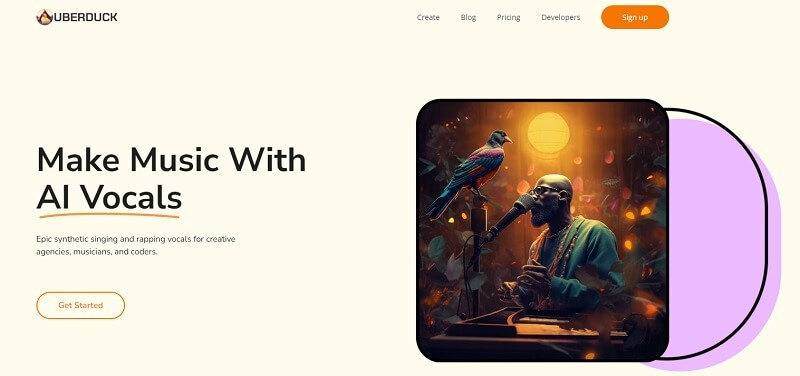 The main features of UberDuck.ai around the Darth Vader voice generator are as follows:
Key Features:
Open-source platform with Darth Vader voice generator text to speech.

There are over 5000+ expressive voices in different languages, dialects, characters, etc.

Custom voice clone by synthesizing with Clone Your Voice feature.

AI research tools and features to experience the power of AI.

Quick and simple voice conversion.
Pros:

Online platform with no need to download software.

User-friendly interface and additional features.
Cons:

Limited functionality in the free version.

Sign-up required to do Darth Vader text to speech.
Part 5: FAQs About Darth Vader Text to Speech
1. How To Make Darth Vader Voice Using Text To Speech?
There are many online and offline Darth Vader voice generator text to speech. However, if we talk about all-in-one software, iMyFone VoxBox is the most powerful one.
With online tools, you can convert text into speech with Darth Vader's voice with a single click.
2. Can I Get Darth Vader AI Voice Online For Free?
UberDuck.ai and FakeYou.com are two free tts AI voice generator platforms that can generate Darth Vader speech.
Conclusion
In conclusion, Darth Vader's voice is an iconic and powerful symbol, known for its deep, commanding tone and the authoritative delivery by James Earl Jones. It evokes nostalgia, represents authority, and captivates audiences with its distinctive qualities. The appeal of Darth Vader's voice has led to a demand for voice generators that can replicate and utilize this iconic sound.
If you want to experience the thrill of using Darth Vader's voice in your projects or personal endeavors, look no further than iMyFone VoxBox. With its AI-powered voice generation technology, VoxBox offers an easy-to-use platform to convert your text into the legendary voice of Darth Vader. Don't miss the opportunity to unleash the force of this remarkable voice and bring your creations to life. Try iMyFone VoxBox today and embrace the power of Darth Vader's voice.