French is the language of love and music, making it very difficult to learn and speak, but you may have your reasons to learn or use it. Whether you are interested in learning it for your sweetheart, or using it for podcast, voiceovers, or brand promotion, you can free get French AI voice to do French text to speech effortlessly using TTS voice generator.
Today's article discusses 6 of the best text to speech French tools to easily get lifelike French AI voice for TTS in French. Let's dive right in!
Tips
Listen to the ultra-realistic French AI Voice for TTS on VoxBox.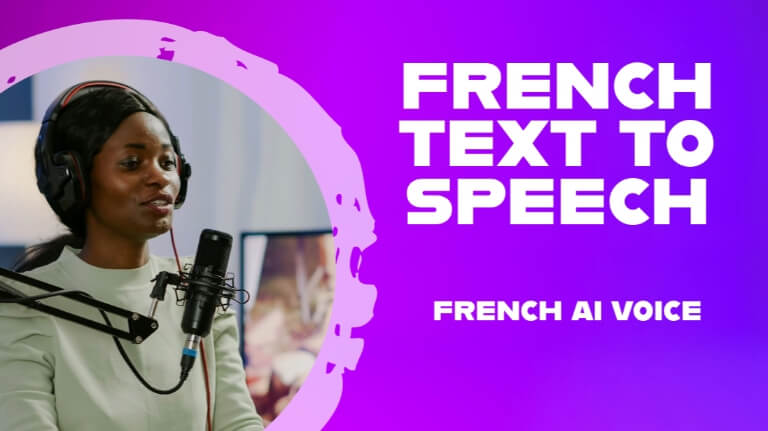 Part 1: 6 Best French Text to Speech Accent Voice Generators to Get French AI Voice
Part 1 has 6 of the best French text to speech generators and apps, and you don't have to search through tons and tons of apps online.
If you are looking for a professional and great French text to speech tool through which you can learn and practice your French, use it while dubbing, then there is no better option than VoxBox.
With over 3,200 voiceover options, 46+ languages, and many audio TTS/STT features, there isn't much you can go wrong with. A PC software to boot, VoxBox will be your one-stop shop for all things text to speech French tasks and projects.
Tips
No voice artists are needed, and no recording equipment is needed. You can easily convert your text to speech and voice using the
best TTS Tool For French
iMyFone VoxBox
! Download it and try it out for free now!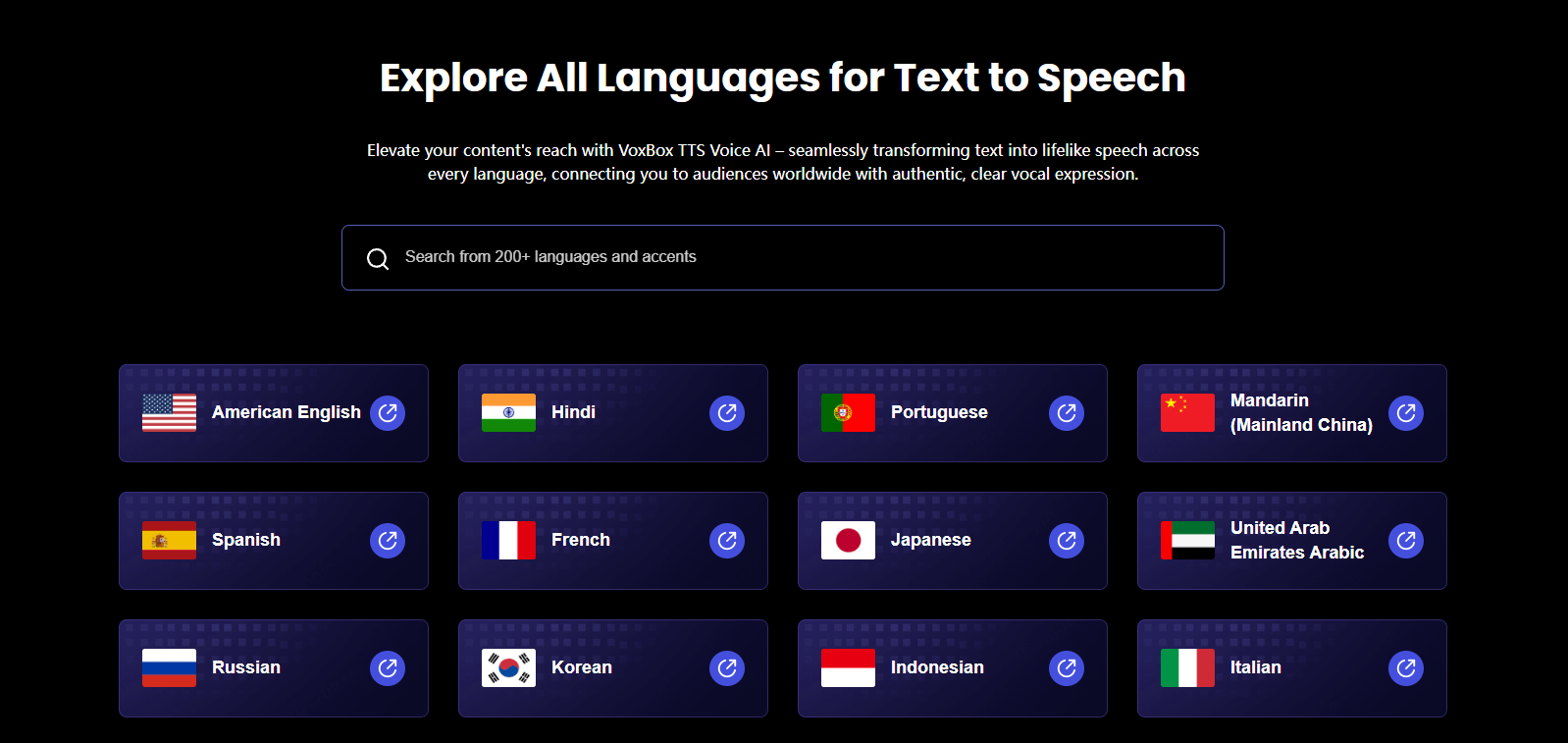 How To Convert Text to Speech in French
Step 1: Download & Installation
Step 2: Click "Text to Speech" to type/import text, and select "Change Voice".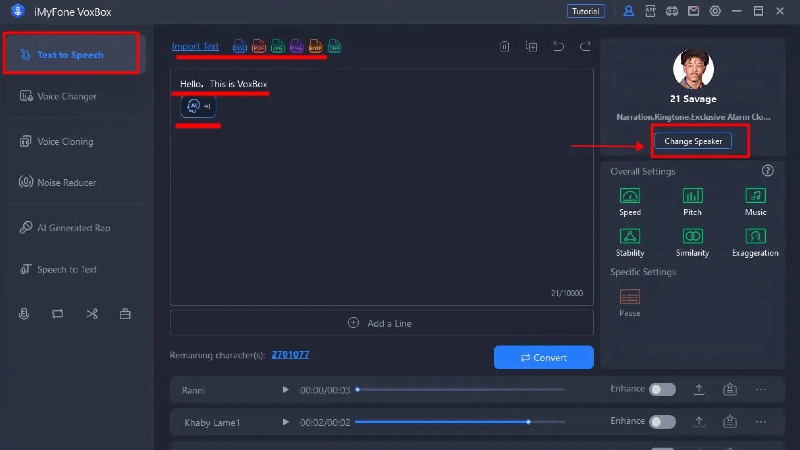 Step 3: Search for "French" under Language, choose the voice you like, and click "use".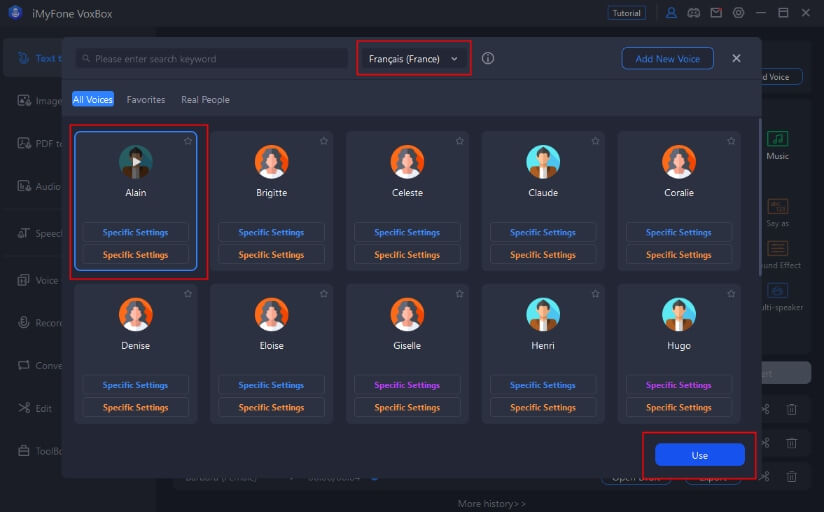 Step 4: Click on "Convert", then you can get the voiceover, and you can choose to directly export it or further edit it.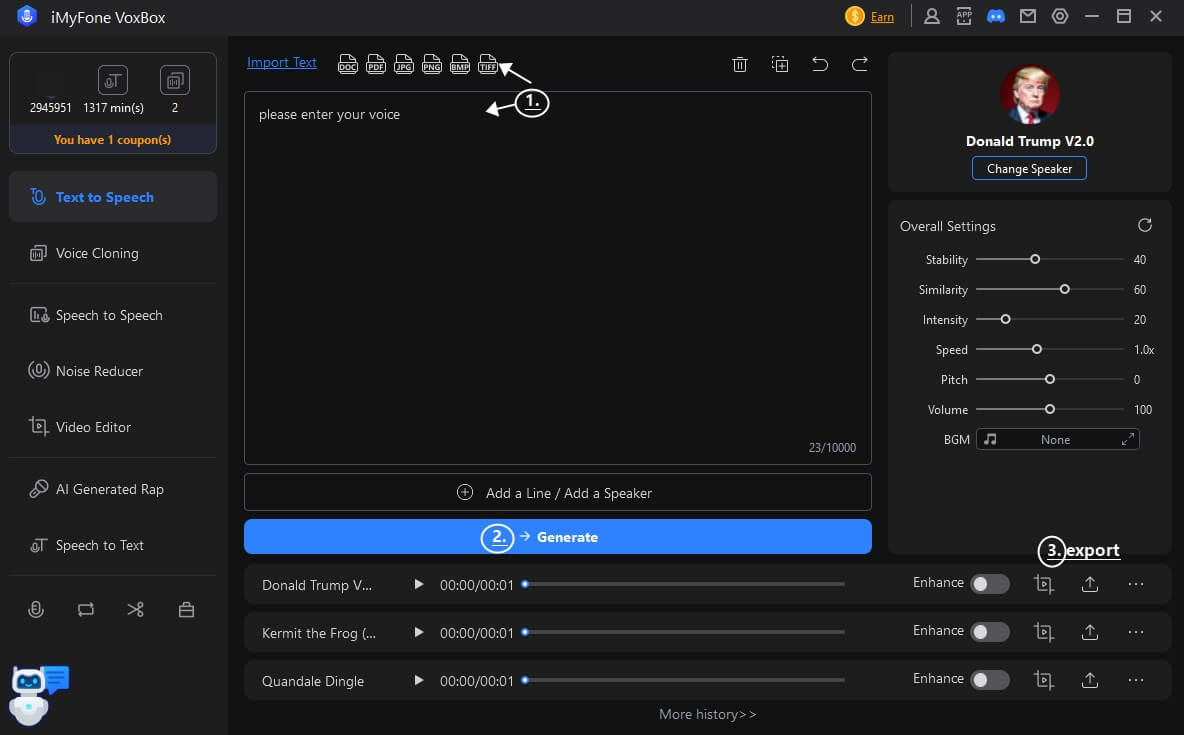 Key Features:
You can use VoxBox for your French text to speech needs with precise translation and native accents.

Apart from French text to speech, you can also do professional text to speech in 46+ major languages with their lifelike AI voice, including indian , scottish accent, spanish, and more.

It has the highest number of voiceover options than any other software, app, or tool up to 3,200 rich and fun selection.

Except for professional ai voices for you to make voiceovers, the app has customary fun voiceovers like Trump, Obama, etc.

TTS, STT, recording, voice cloning, audio editing all in one.
Pros:

If you are a regular content creator, 3,200 voices are a lot to keep your content varied and fun.

A robust text to speech French language tool.

You can use the tool to practice any of the 46+ languages or communicate with others around the world.
Cons:

It has impressive features, but most of which aren't available in the free version.
Our following recommendation Narakeet is a web-based, inexpensive tool that can generate text to speech French clips online that you can use for your YouTube or Instagram content or their TTS function to voiceover your recordings.
Key Features:
Design for a multicultural user base supporting 80 languages.

500+ voiceover options.

Easily convert your audio clips into popular formats such as MP3, M4A, WAV, etc.

Fantastic support for Spanish up to 8 unique male/female narrator.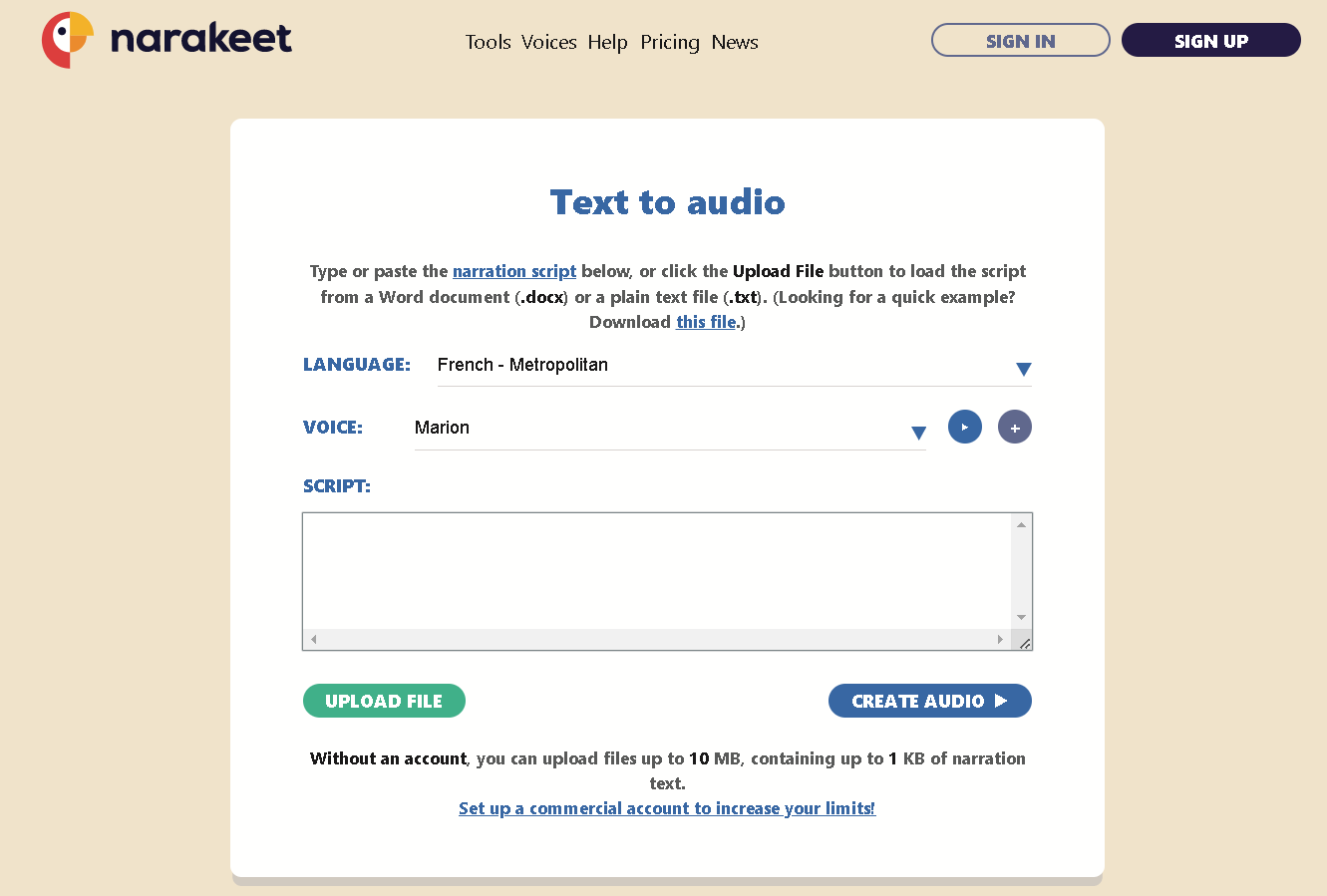 Pros:

The web tool lets you save all your converted French text to speech clips to your device, which you can use as you like or for listening to them later.

There are many regional accents for major languages, with some variants.

No need for registration to use or download your files.
Cons:

You can process up to 10MB audio file or 1kb text file at one time.

Need a strong internet connection to use this tool actively.
Another great web-based tool in this list for text to speech French language is that you must try because of its unique features like OCR integration and 15+ languages. You always have the option of many languages in Speechify , both from commercial and learning perspectives.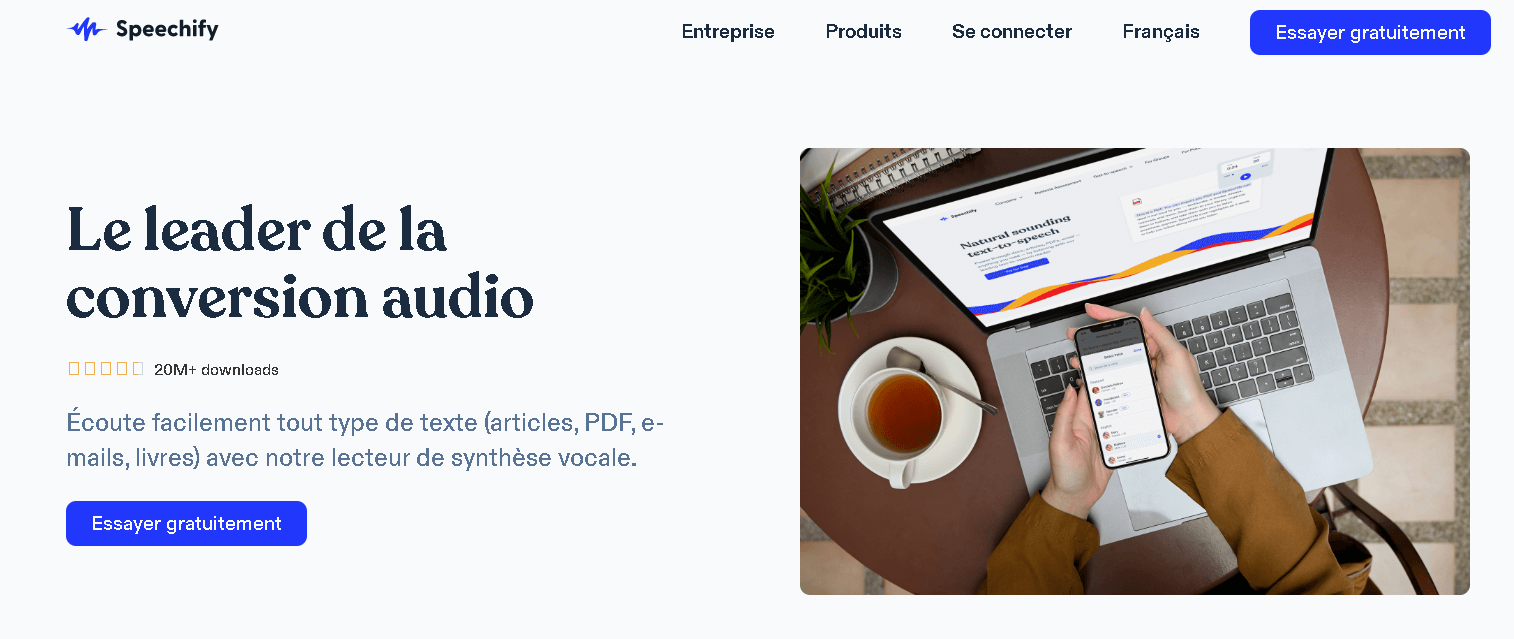 Key Features:
A good variety with 30 voiceovers done by unique voice artists in 15+ languages.

All voices are crystal clear and have a superb lifelike quality.

A fully functional chrome extension, so you don't have to visit the website every time you need to use French text to speech generator; all the functions on any page when browsing.

Read pdf articles and books with the latest addition of the OCR feature.
Pros:

An excellent way to learn new languages, especially if you are in a new country.

Good quality of life features for visually impaired individuals.

Advanced web API allows full functionality on any device that has a browser.
Cons:

The free version doesn't have many features.
TTSMP3 is another online French text to speech that will help you learn French with professional features. You can also use this tool for your presentations or content if you are teaching new languages. Let's look at some of the features of this inspirational online tool.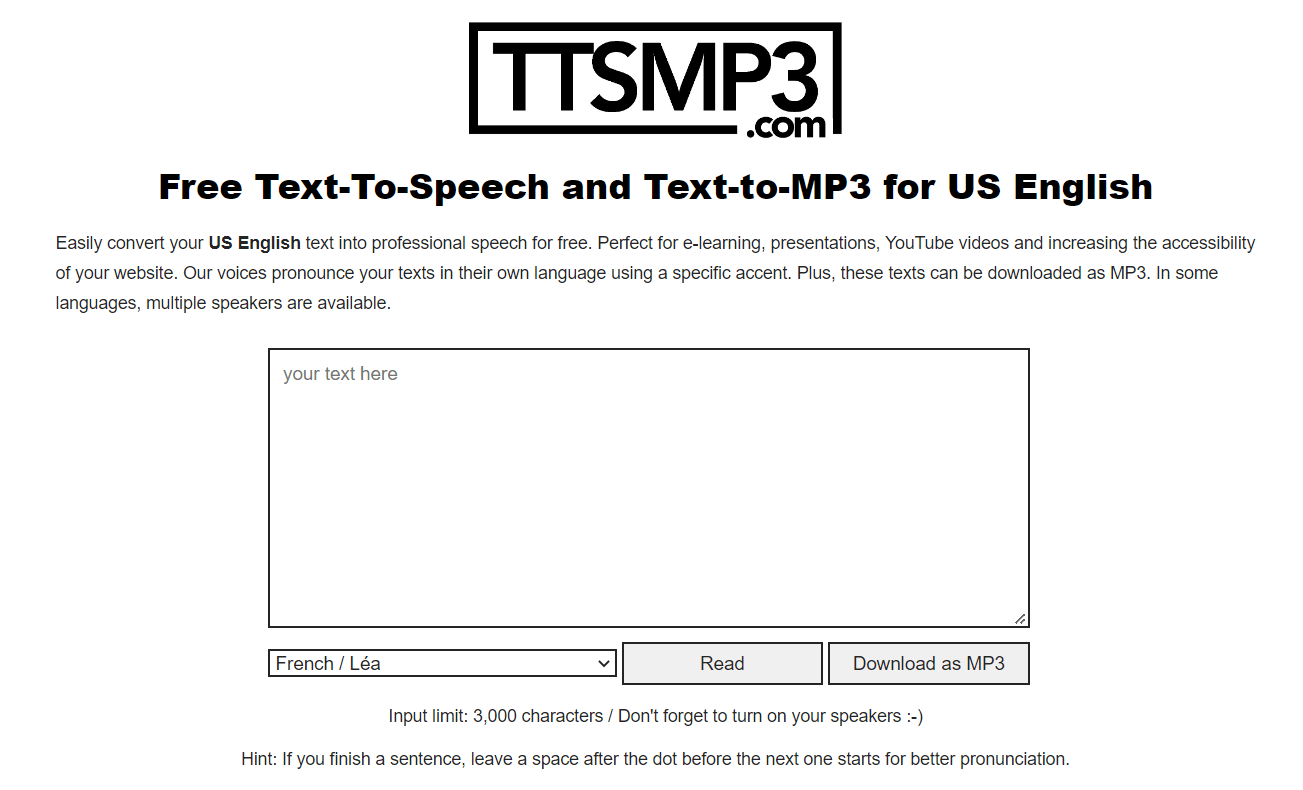 Key Features:
Multiple valuable features like adding pauses, emphasizing words, and conversations enhance content creation and, as an e-learning tool.

Almost 20 languages are supported to generate text to speech French.

Add Amazon Polly through SSML for enhanced customization.

Change the speed and pitch of your converted voiceovers with ease.
Pros:

You can use 3,000 characters each time you generate.

Download your TTS audio output in MP3 to use later as you need.

The integration with Amazon Polly enhances the functionality and output quality of this generator.
Cons:

Purely web-based tool.
imTranslator is a fantastic translation that compares different language translations tool combined with dictionaries of significant languages. It is perfect for language students and those who regularly communicate in their non-native languages.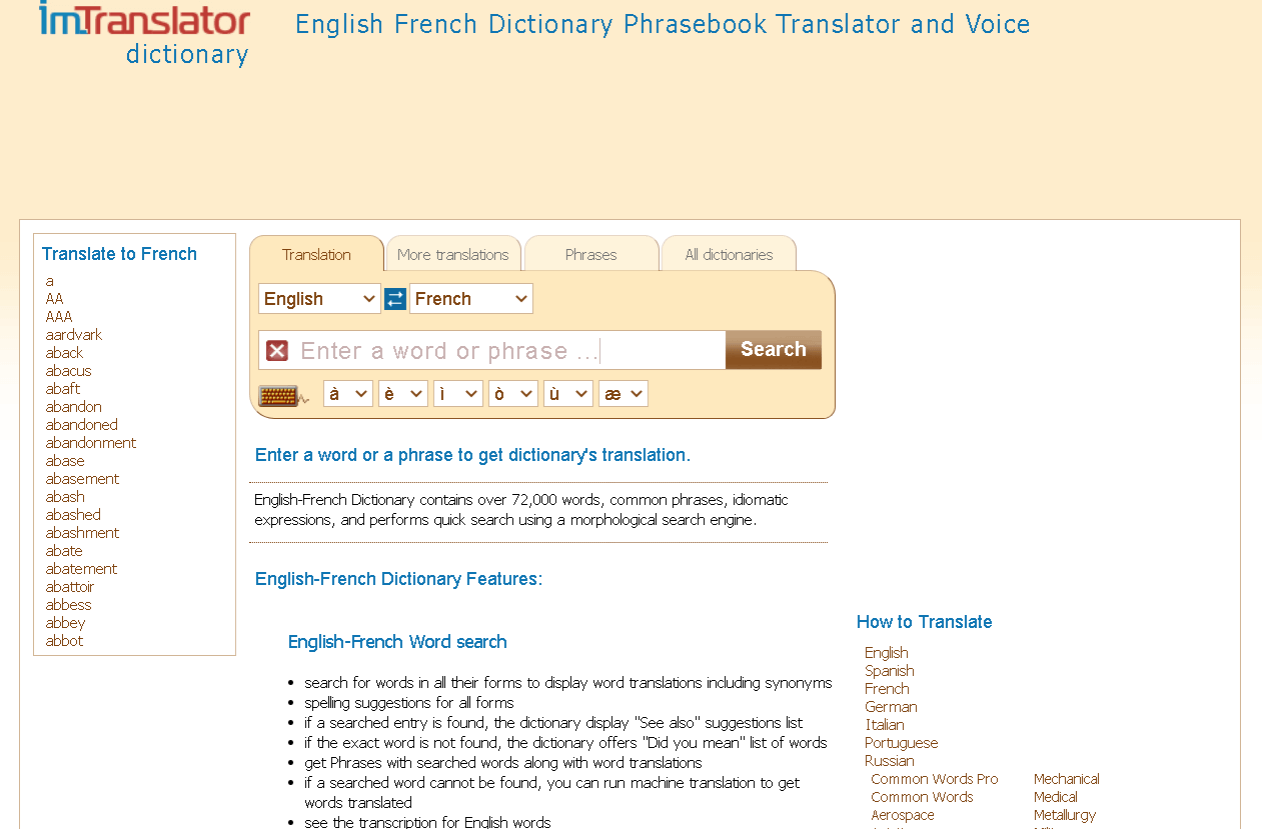 Key Features:
Dictionaries in 7 significant languages with integration with Webmaster.

Support for widgets to add to your websites or social media pages.

Widgets include iFrame, floating button, link, and voice banner.

Realistic voices in French female generator.

Multiple options like changing speed, adding pauses, and many more.
Pros:

If TTS wasn't enough for this French text to speech tool, they gave us so many translation and dictionary services.

They also provide specialized services for translation and phrasebooks integration.

Up to 50 languages supported for their translation services.

You can also compare multiple online translators and choose the best.
Cons:

Though a potent online tool, it would've been amazing if there was a PC and mobile app.
Play.ht is an online AI-powered French text to speech voice generator that converts text to real-time voices in 142 languages powered by machine learning tools supporting AI voice generation, reading audio articles, and TTS API.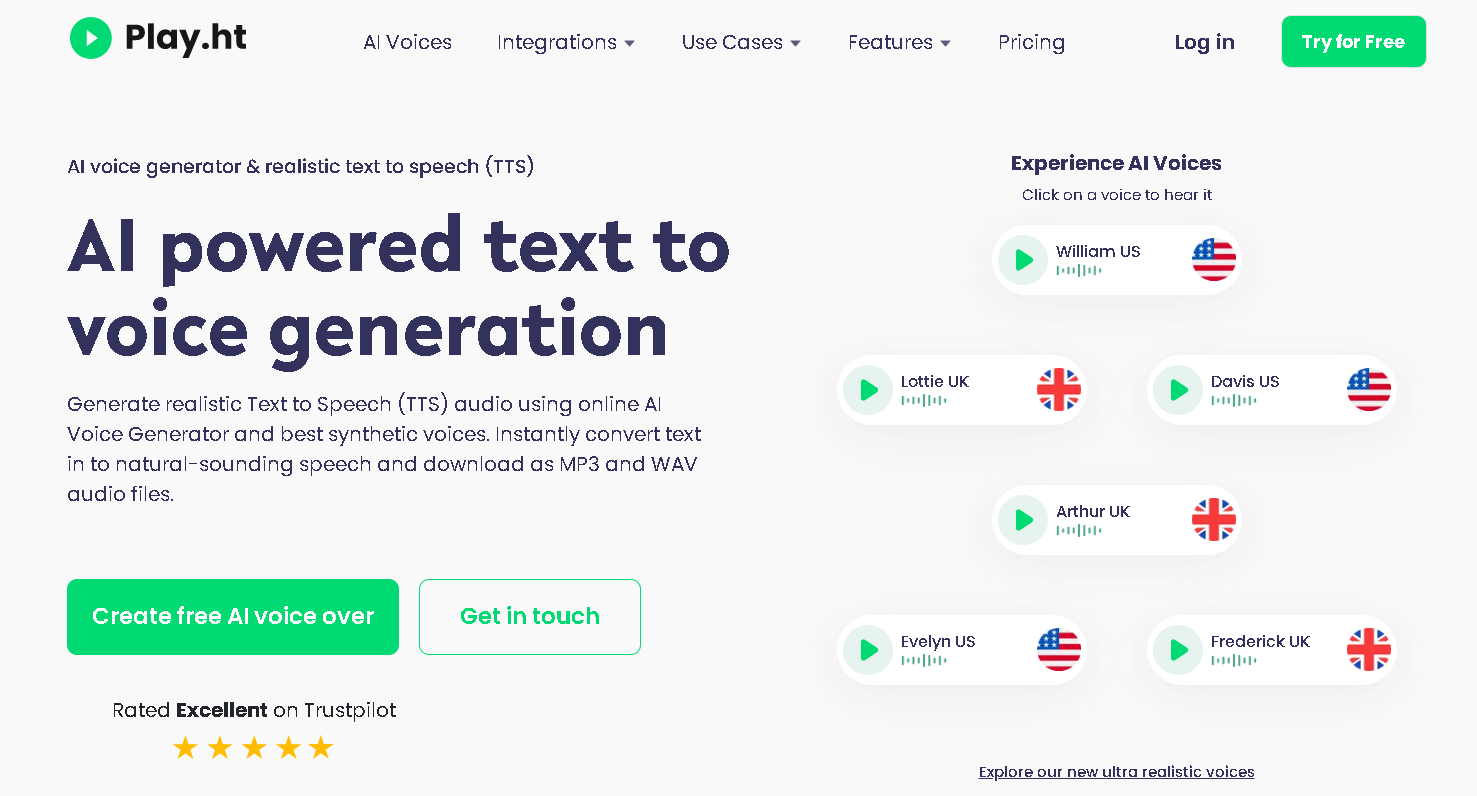 Key Features:
Proud to be trusted by 7,000+ users and all-size teams.

Multiple use cases such as using TTS APIs to add in your code, converting blogs to audio, best voice generation AI.

Over 907 voices and 142 languages, all are natural and lifelike and can be used in many cases, such as marketing, videos, narratives, and training.
Pros:

The online tool not just has a massive library of voices but a fantastic catalog of different accents and languages.

The online tool not just has a massive library of voices but a fantastic catalog of different accents and languages.

Great tool support for developers of TTS apps and tools.

Supports feedback from users and implements in their roadmap regularly.
Cons:

It is a pity such a powerful API AI-based online text to speech French doesn't have a desktop app.
Part 2:Price Comparison of French Text to Speech Tools
Let's compare all items in our list for text to speech French tools based on their support for different operating systems. Are they free or not? And their user ratings.
French Text to Speech Tools
Operating System
Pricing
User Ratings
iMyFone Voxbox

· Windows

· Quarterly $14.95

· Yearly $44.95

· Lifetime $89.95

4.9/5
Narakeet

· Web-based Online Tool

· Multiple Pricing that changes per minute Pricing

4.6/5
Speechify

· Mac and iOS

· Windows

· Android

· Free gives basic features

· The premium is $139/year.

4.6/5
TTSMP3

· Online tool

· Free

· Contact the team for tailored Pricing

4.6*
imTranslator

· Web-based tool

Free and works on donations

4.5*
Play.ht

· Web-based tool

· Personal $14.25/mo.

· Professional $29.25/mo.

· Premium $74.25/mo.

4.5/5
Part 3: Bonus Tip: How to do French Speech to Text
You can convert French speech to text easily with Voxbox, since it also provides you with the feature of speech to text. All you need to do is to upload your audio file, and then choose the output language, and then, click "convert".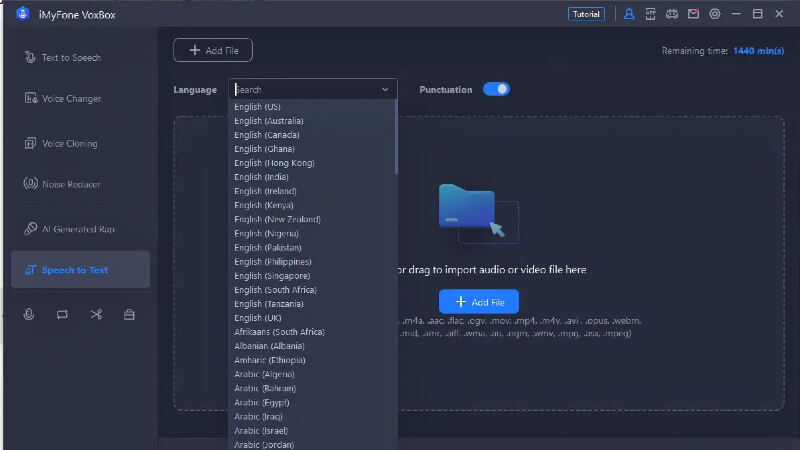 Part 4: FAQs about French Text to Speech and French AI Voice
1. How do You Sound a French Accent?
The most straightforward answer to this question is to use a French text to speech tool like Voxbox and convert whatever you write into perfect French. You can use this on your content, presentation, and communication.
2. Which is the Best French Accent Voice Generator?
In our opinion and experience, VoxBox is the best French text to speech voice generator because of the sheer volume of voiceover options that you get, which are up to 3,000, which you can use to convert TTS in 11 languages.
Other than this, multiple features set it apart, and for that, read above in this article.
3. Can I make a French Male Text to Speech Voice?
Yes, you definitely can with the help of French text to speech generators, even if you are a female or a child. These tools have the best options to help you with it.
4. What is a French AI voice?
A French AI voice refers to an artificial intelligence-generated voice that emulates the French language's distinct accent, pronunciation, and intonation. It enables machines and devices to read written text aloud in a manner that sounds natural and human-like.
5. How does a French AI voice work?
French AI voices are developed using advanced neural network-based text-to-speech (TTS) models. These models are trained on extensive datasets of French speech samples, allowing them to understand the nuances of the language and produce expressive and fluent speech.
6. Can a French AI voice be used for multiple French dialects?
Yes, some French AI voice generators, like Voxbox are designed to accommodate different French dialects and accents. They aim to cover variations found in Metropolitan French, Quebec French, Belgian French, and more.
7. Is the French AI voice available for commercial use?
Yes, many French AI voice solutions are available for commercial use. Businesses and developers can integrate these voices into their products, services, or applications, subject to licensing agreements.
8. Can I do Text to Speech in other languages other than French?
Sure, you can convert your text to any languages with the powerful Text to Speech voice generator - Voxbox, including spanish, scottish accent, indian, and more.
Conclusion
Today we discussed 6 of the best French text to speech tools and tools that can help you with many essential tasks and features so you can choose one of them.
If you ask us, we highly recommend
iMyFone VoxBox
as VoxBox is the
best French text to speech voice generator
because of the sheer volume of
voiceover options
you get, which are up to 3,200 you can use to convert TTS in
77+ languages
. In addition, it offers the feature of voice cloning, satisfying all your needs.
Now download Voxbox, use it either for learning, dubbing, marketing, or jsut for fun. Make yourself immerse in the world of French!