Persian Text to Speech voice generator is useful when you need Persian for video dubbing or doing business with Persian speaking people. In addition, Persian speech to text transcription also has many benefits. It can save your time. You don't have to type everything, just speak and you can quickly get the text you want.
In this article, we introduce both Persian speech-to-text and Farsi text-to-speech for you to get Farsi and learn it.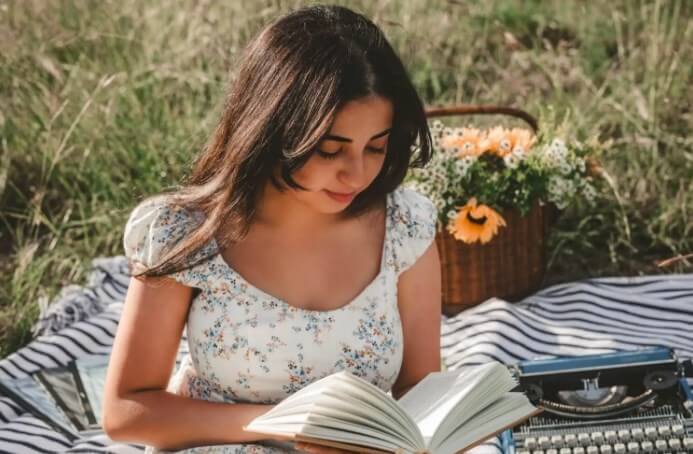 Part 1: Best 4 Persian Text to Speech Generators Recommended
In this section, we will discuss how to transform English to Persian text to speech with VoxBox tts voice generator.
1. iMyFone VoxBox - Persian Farsi Text to Speech
While VoxBox already provides Persian text to speech capability, it also convert text in other major languages, its functionality to provide users English to Persian text to speech among other languages is really excellent. Following are some of its features.
Key Features:
All kinds of languages to export like Spanish, British, Janpanese, Lao, etc.

languages conversion is fast and accurate.

You just type in English, and AI will convert the voiceover that is speaking into native language.

Over 100 country accents such as Russian accent you can access.

Real people voice of both male and female included.
Steps for Persian Text to Speech:
Step #1:Open the software and go to the TTS section.
Step #2: Chose Persian as the output language and select your favorite voice from the voice option box.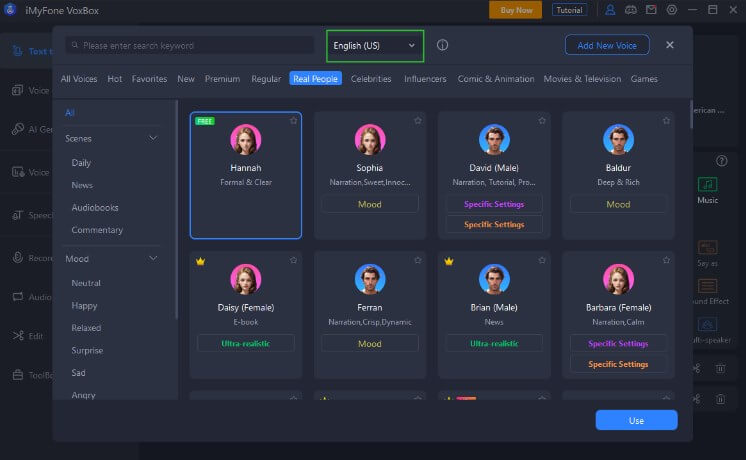 Step #3: Enter text and press convert, after converting text to speech Persian, you can edit the audio as you like and export to save.
Murf.ai stands as a prominent online Persian text-to-speech (TTS) solution for the Farsi language. Renowned for its ability to generate natural and authentic voices across various languages, Murf is a favored choice among TTS enthusiasts. What's more, Murf offers the convenience of installation on both Android and iOS devices, making it a versatile and accessible tool for voice generation.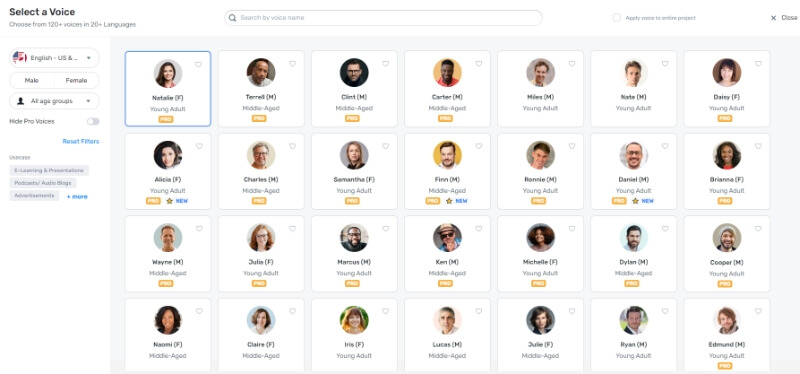 Key Features:
An array of voice filters and effects within the Persian text-to-speech generator

Multilingual support encompassing over 15 languages.

Integrate with productivity tools like Google Slides.

Prioritize data security and privacy.

Precisely synchronize voiceovers with visual elements.
Pros:

You can refine your script using grammar and editing tools.

Voice editing capabilities, including phasing, chorusing, and reverberation.

Wide-reaching language compatibility.
Cons:

Premium users gain access to advanced voice editing features.
GetListen2it offers a free online platform for Farsi text-to-speech conversion. It ranks among the leading TTS generators, particularly known for its ability to produce lifelike Persian individual voices, suitable for both personal and professional applications. These authentic voices can be effectively utilized in advertisements, presentations, voiceovers, or any context where natural speech is desired.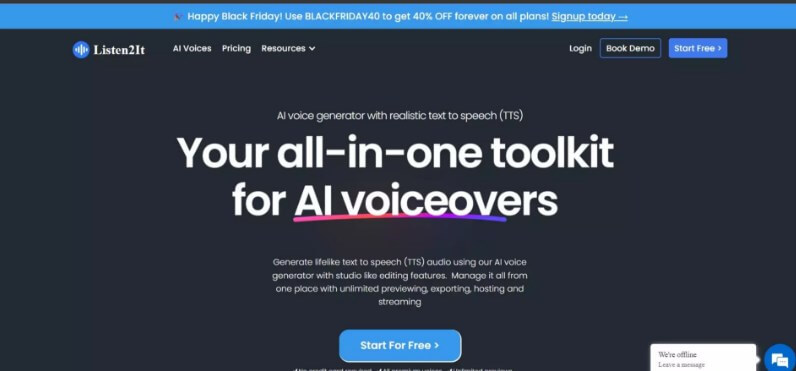 Key Features:
Access a free online TTS converter for convenient voice generation.

Benefit from multilingual support, encompassing over 70 languages.

Persian male and female voices, spanning all regional accents within China.

Achieve natural voice generation with precise accents.
Pros:

Natural online Persian text-to-speech generator.

Affordable price.
Cons:

Limited characters for Farsi text-to-speech generation.
Narakeet is an online or web-based tool that utilizes Persian text to speech and most major languages without any cost, which is perfect for many content creators or those who are learning a language. Unfortunately, it doesn't support Persian Farsi speech to text and can only utilize English to Persian text to speech now.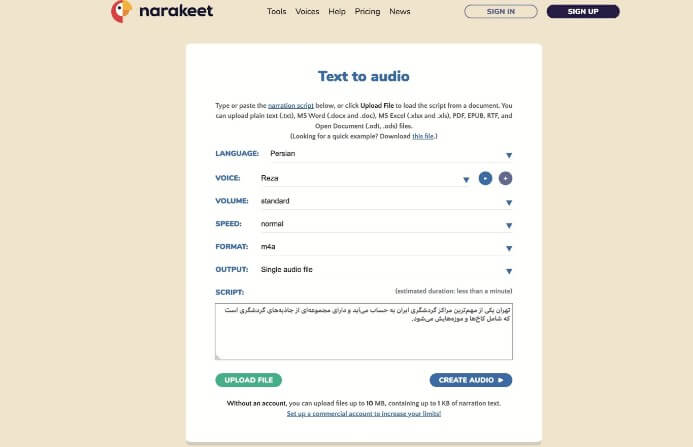 Key Features:
Create audio and video files using Persian text to speech easily.

Two speakers of the Persian language.

Many tools for outstanding audio quality and tweaking.
Pros:

Change the volume, speed, speaker, and even the tone of the output audio.

Multiple languages supported not just Persian such as French, Hindi, Urdu, and many more.
Part 2: Persian Farsi Speech to Text Voice Generator
In this section, we share the most renowned tools for Persian Farsi speech to text equirements. Let's look at 2 of the best.
Here is the top speech-to-text Persian converters. iMyFone VoxBox, available for all systems of Windows, macOS, Android, and iOS, is a professional software. With a simple click, you can transform your Persian speech into text using this AI-powered tool. VoxBox produces realistic and natural various accents, making it ideal for all your dubbing requirements.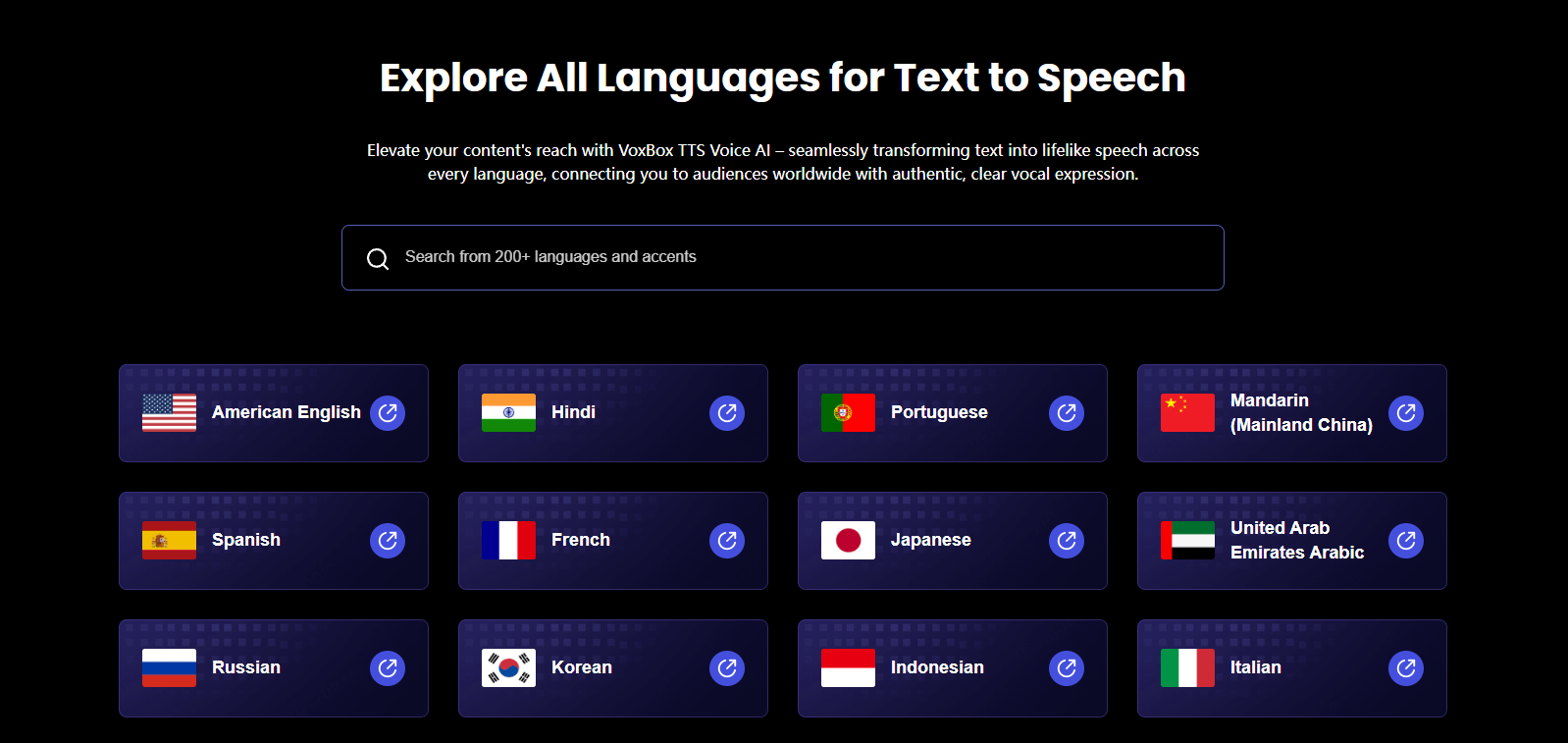 Key Features:
Users can now use Persian Farsi speech to text and Persian text to speech with ease.

Furthermore, images, PDFs and audio to speech is supported.

3,200+ voiceovers.

You can use the tool for business to communicate with multiple clients, in class to teach students languages, or use it for content creation.
How to Transform Persian Speech to Text:
Step #1: After you have installed VoxBox, open the app.
Step #2: Tab on the "Speech to Text" and click or drag your audio/video files as instructed.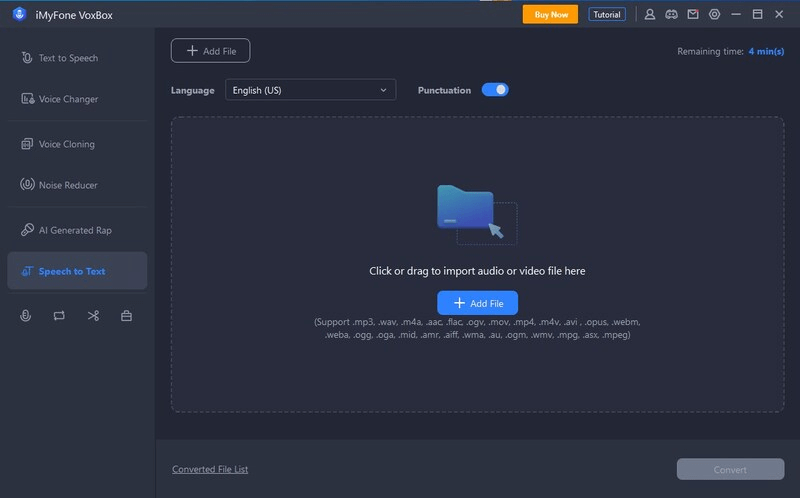 Step #3: Toggle the Punctuation button on top and press convert!Then you can now convert a Persian Farsi speech to text file as needed.
Pros:

Great Persian stt tool for any streamer or content creator.

If you have multiple audiences, you can tailor your content to their demographic.

Compatible with Windows and Mac.

A lot cheaper than similar tools.
Cons:

Need to be installed by yourself.
EaseText Audio to Text Converter is the solution for anyone who needs to transcribe Persian Farsi speech. Gone are the days of typing out word for word, now you can use EaseText Audio to Text Converter where you can record and batch process multiple audio files in real time, making your life easier.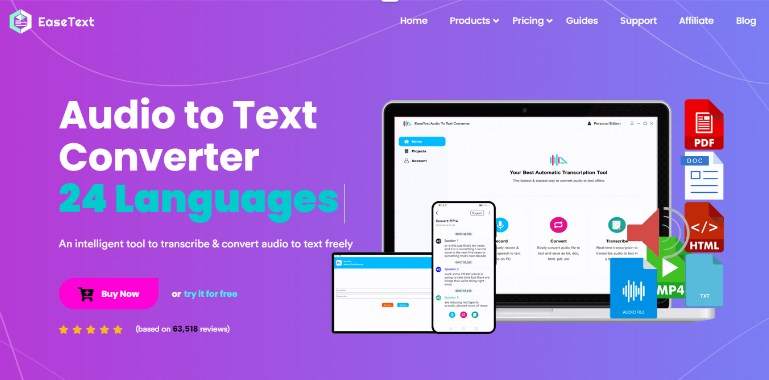 Key Features:
Transcribe speech in real time.

Save the transcript file as TXT, DOC, HTML, PDF, etc.

It is more accurate than human transcription.

Work offline on your computer.
Pros:

Handle batch transcription easily.

Compatible with multiple systems
Cons:

The speed of conversion is a little slow.
Part 3: What Can Persian Text to Speech Generator Use For?
A Persian text to speech generator can be used for a variety of purposes, including:
Accessibility: It can assist individuals with visual impairments by converting text content into spoken words, making digital content more accessible.
Language Learning: Language learners can improve their pronunciation and listening skills by listening to correct Persian pronunciations.
Voice Assistants: Persian-speaking voice assistants can be developed using TTS technology to help users with tasks, answer questions, and provide information.
Content Creation: Content creators can use it to generate voiceovers for videos, podcasts, or audiobooks in the Persian language, enhancing the quality of their content.
Part 4: FAQs About Persian(Farsi)Text to Speech
1. Which is the Best Persian Speech to Text voice Generator?
If you are looking for a great professional-level Persian Farsi speech to text tool, then the best is VoxBox from iMyFone. While many Speech to Text tools are available online, either web-based or full-fledged apps, some aspects make VoxBox better.
First of all, the staggering number of voiceovers (3,000+), supported languages (46), and many valuable tools is a big feat. Secondly, from the price point, it is very competitive, and with the options it supplies, the price is much lower than the competition.
You can learn more about these features and what they can do by reading the above in this article or going to their official website iMyFone VoxBox, Persian Farsi speech to text converter.
2. How Can I Convert English to Persian Text to Speech?
You need to find a tool that can convert what you write in their text box into Persian audio, where a Persian speaks in their native language, not just accent, and reads it aloud.
While many functional tools can do this Persian text to speech conversion, you must realize which suits your needs. We have compiled a list of English to Persian text to speech tools that you can read about and utilize better tools instead of generic ones.
3. How to Make Text to Speech Persian?
In the explanation above for VoxBox, you need to select the input and output voices, enter the text in the text box and simply press convert. Whatever you write in that text box and whatever language you will select, the generator will easily translate and convert into Persian native voiceover. It is as simple as that.
Conclusion
In this article, we shared two essential tools you can utilize for two crucial aspects. The first is to use it for English to Persian text to speech conversion, and the second important task is to utilize its Persian Farsi speech to text functionality. With elementary steps, you can embed the Persian language in your content.
Now the simplicity that iMyFone VoxBox provides is unmatched by other tools, as you can see in the explanation of this article.