Are you struggling with how to add subtitles or readjust transcripts to your Youtube videos? Using YouTube video-to-text tools can efficiently solve this problem. Whether you are a YouTube anchor who is worried about subtitles or a student who needs YouTube lecture notes, you can use these AI tools to achieve efficient work.
In this article, we will introduce you the features and prices of best 6 YouTube video to text converters for you to choose. Besides, you can also learn how to use the YouTube audio to text converter.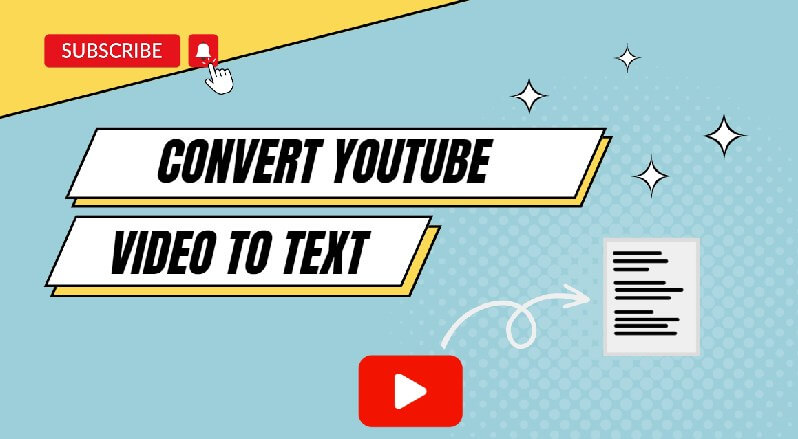 Part 1: Why Need to Convert Youtube Video to Text?
Converting YouTube videos to text offers a range of benefits. Firstly, it allows for easy transcription, making the content accessible to those with hearing impairments or language barriers. Additionally, converting videos to text enables improved search engine optimization (SEO) as search engines can index the text for better discoverability. Text-based content also allows for quick skimming and reference, enhancing user engagement. Moreover, having a written transcript is valuable for repurposing content, creating subtitles, or repackaging it for various platforms. Overall, converting YouTube videos to text significantly expands the reach and utility of the content.
Part 2: Top 6 YouTube Video to Text Converter Online Recommended [Review]
Following are the six best YouTube video to text converters online that you can use for your transcription needs. Let's see what's good about them and whether they are worth your time.
Flixier is a great tool that makes YouTube video-to-text is no more a hassle, with which you can convert YouTube audio to text online in your browser, plus use the functionality to add subtitles to your content.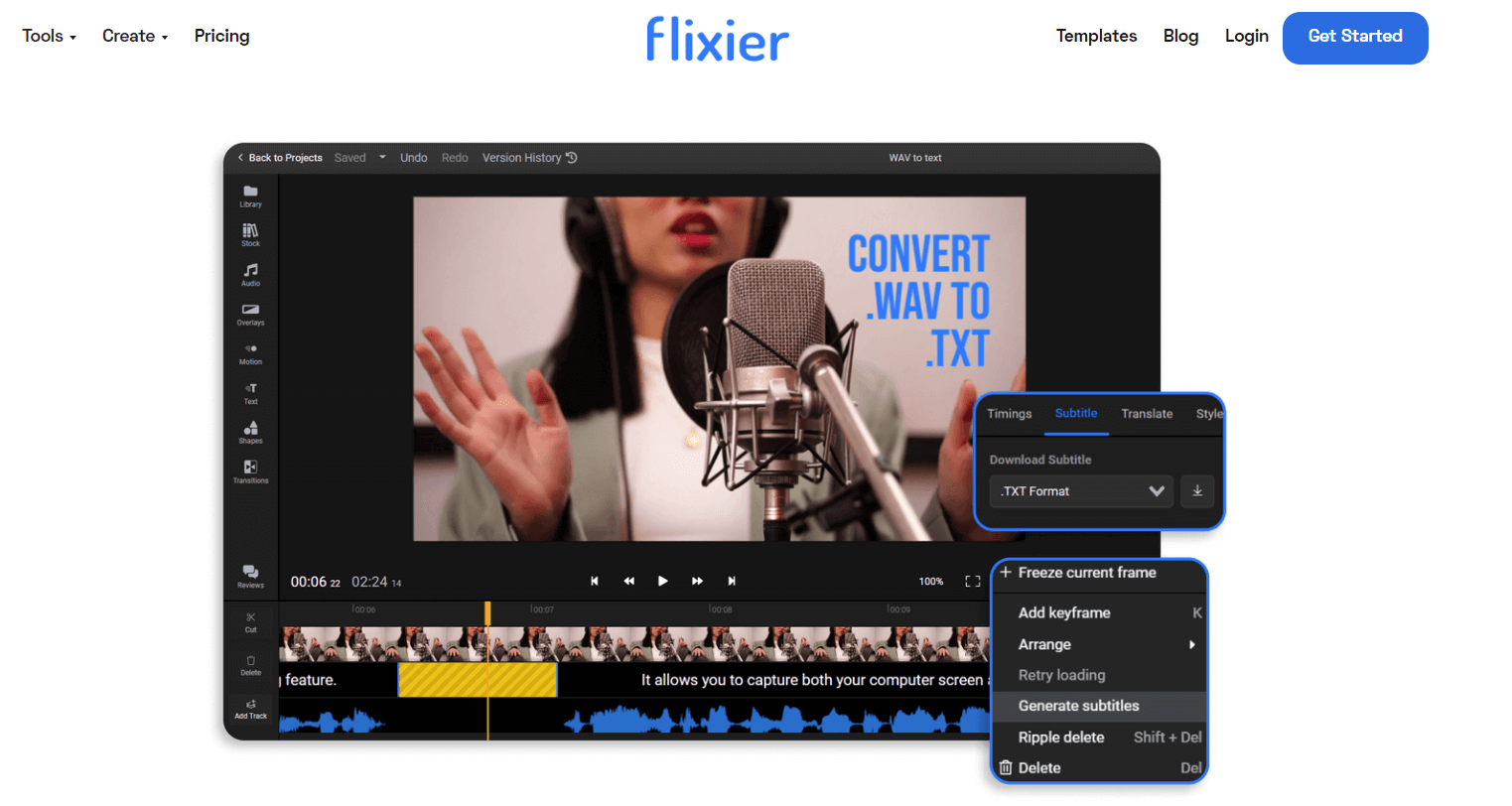 Key Features:
No account is required; upload and convert in easy steps.

Transcription done within minutes.

Share the transcribed text with friends and family or even your students who watch your videos.

Even transcribes YouTube video to text online by sharing the YouTube video link.

Other features include adding subtitles, audio to video, and full of powerful editing tools.

10x faster than any YouTube video to text online tool or app.
Pricing:
Go Free – Free version allows up to 10 min of video.

Go Pro – $14 per month for each editor with over 300 minutes of videos.

Go Business – $30 per month for each editor with over 600 minutes of video per month editing.

Go Enterprise – Contact them for better deals.
No more searching for the answer to "how to convert YouTube video to text" because you have360converter.com as your one solution. It can provide video, speech, audio, and voice, all to text in a matter of quick minutes. Try out this fantastic YouTube audio to text online tool now.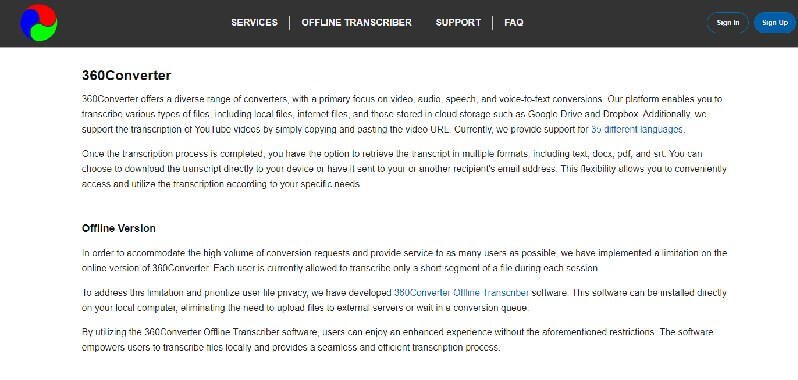 Key Features:
Can easily convert any video and audio file to text.

You can also upload your file to get it converted.

Supports YouTube audio to text online for over 13 languages.

Multiple download documents options are available.

Offline support is available and can serve a large user base.

Transcribing and video-to-text conversion.
Pricing:
Standard – $69.9 per year.

Premium – $99.9.

Enterprise – $169.9.
Veed.io is an easy yet highly effective YouTube video to text converter online. This software was designed with the intention that even novice users would find it simple to use thanks to its sophisticated technology and improved video processing features, including cut, clip, and export resolution.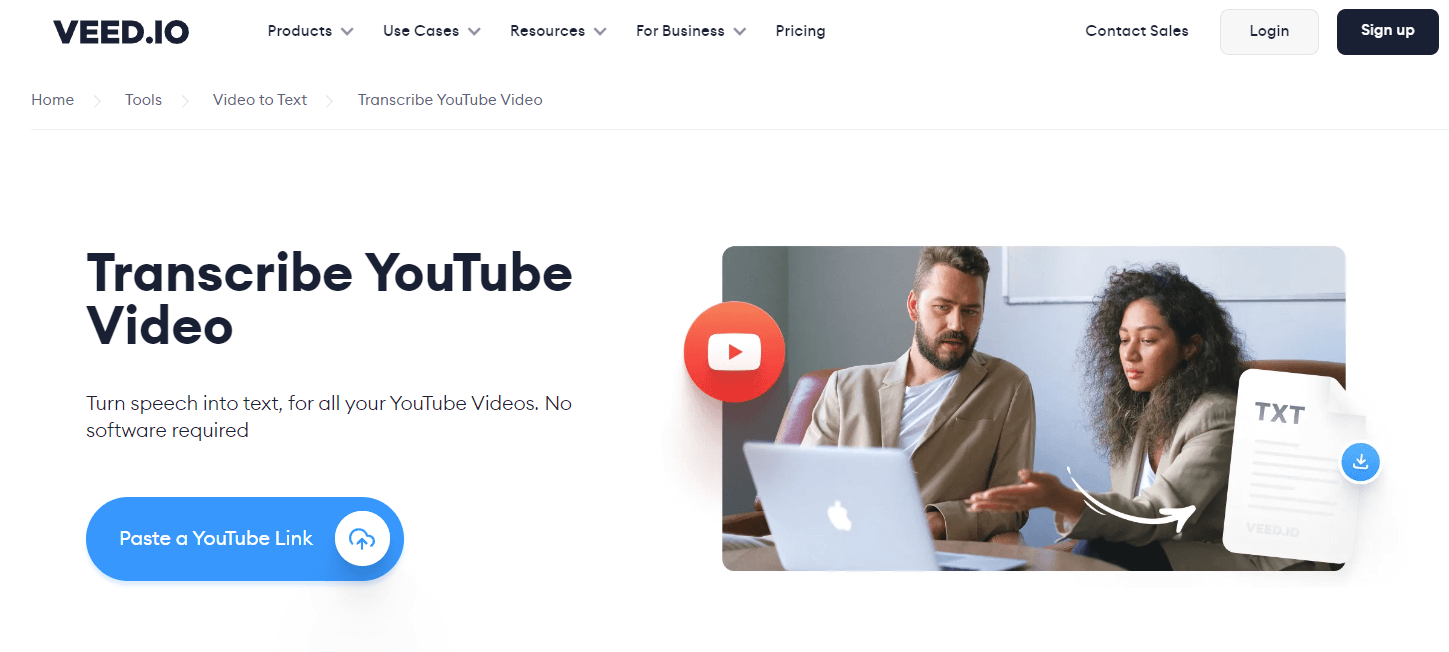 Key Features:
Free online editor.

Add manual or automatic subtitles to your videos.

Great selection of adding caption tools.

Great tool for adding subtitles in multiple languages.

Automatic transcription in a few clicks online.

It supports many great features and downloads file options.
Pricing:
Free – Watermarked and auto subtitles for 30 minutes.

Basic – Total 30 minutes and other features for $12 per month for each editor.

Pro – Most famous for $24 and much more feature listing.
Typito presents a good way for converting YouTube video into text across modern web browsers. This no-cost platform leverages sophisticated AI technology to swiftly and precisely transcribe videos to text effectively.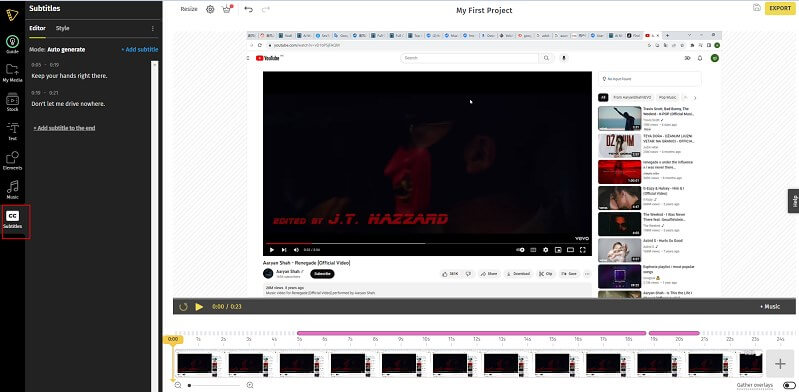 Key Features:
It provides diverse video export choices for everyone.

Proficient in recognizing various languages for translation.

Offers customization options for text styles and appearances.

Select your brand's colors, fonts, and style to establish a unique brand identity within your videos.

Supports manual subtitle addition.

Sluggish subtitle processing pace.
Pricing:
Free - $0 for 5 mins product duration and 205MB storage.

Solo - $15 for 10 mins product duration and 5GB storage.

Pro – $29 for unlimited product duration and 25 GB per seat.
Media.io offers a fast and free YouTube video to text transcription tool compatible with over 90 languages. Its advanced AI technology enables accurate conversion of YouTube audio or video content into text.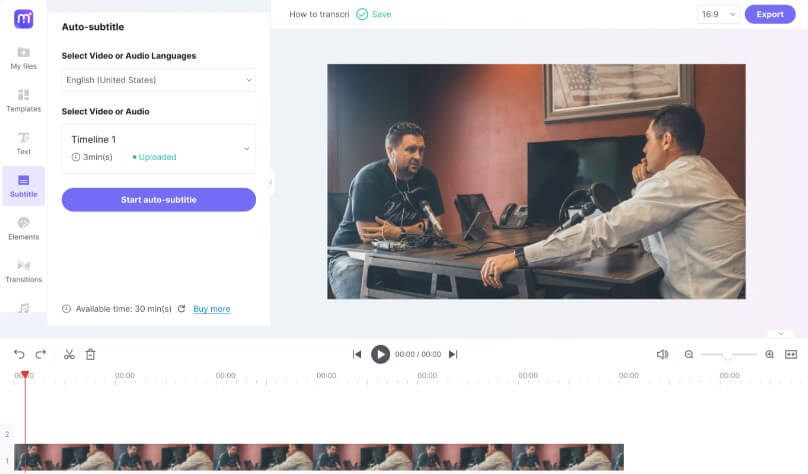 Key Features:
A transcription service with an high accuracy rate of 95%.

You can download the transcribed text in .txt or .srt formats.

The platform is designed for efficiency, boasting a quick load-up and processing time.

Media.io understands that content creators cater to global audiences with various language preferences.

Available editing options to edit and beautify the video and text.
Pricing:
Free - 3 Free AI tools and 12 AI tools with limits

Monthly Plan - $19.99: access to all AI tools and 60 mins of video duration.

Yearly Plan – $99.95: access to all AI tools and 300 mins of video duration.
Happy Scribe provides you the convenience of converting YouTube videos to text into multiple languages, catering to a diverse global audience. Alongside commonly spoken languages, this platform extends its support to unique languages of minority countries and ethnic groups.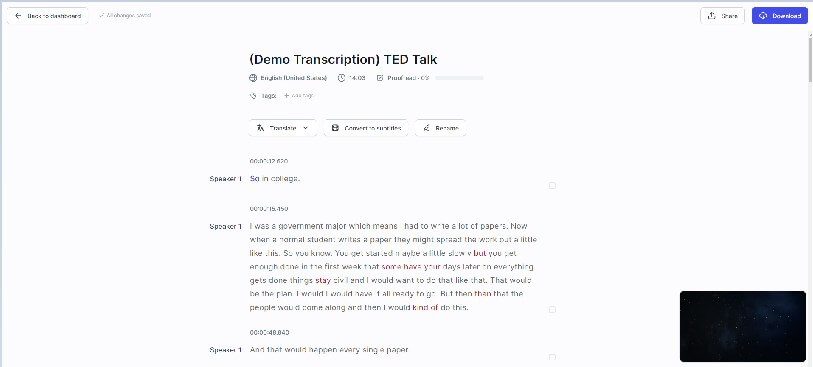 Key Features:
Support more than 120 languages, dialects, and accents.

Endorsed by over 100,000 satisfied users and diverse teams across varying scales.

It has a flexible transcription service.

The platform is easy and strightforward to convert YouTube videos to text.

Also can export in multiple formats.
Pricing:
Free - Just some free minutes per month.

Basic - $10: 120 minutes per month and supports 3 formats.

Pro – $17: 300 minutes and supports 10+ formats.

Business – $29: 600 minutes and 3 users included to collaborate.
Bonus: Best YouTube Audio to Text Converter Free
This section concerns the PC version of the YouTube audio to text tool that can do all the STT tasks.
The most extraordinary YouTube audio to text software is none other than VoxBox. You can quickly turn your speech into text.
Although there are several YouTube audios to text online tools and tools available, VoxBox is one of the better programs with support for numerous other languages . It allows users to store and modify their texts in real-time instantly.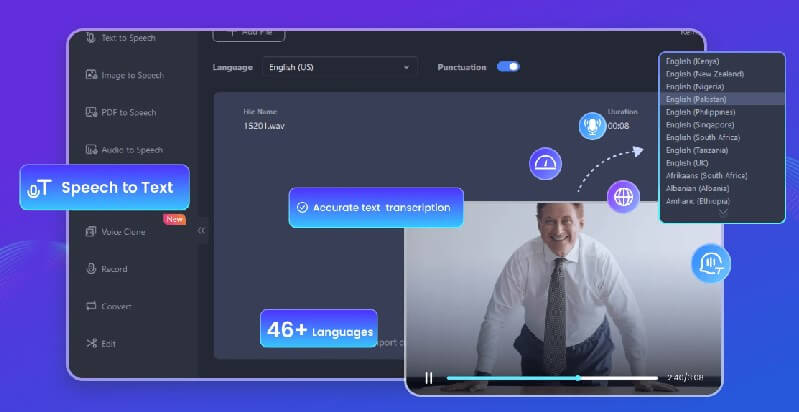 Key Features:
You can upload pre-recorded sound, and you can make a new file.

Supported by the most recent version of Windows.

You can utilize well over 3,200 voiceover works as the background for your audio files.

VoxBox can convert the audio of YouTube video into text, and 77+ languages supported.

Multiple functions: STT, TTS, voice recording, conversion, cloning and editing.

Customer care is always available to assist you.

Being able to import and export HD-quality video for YouTube to text online.
How To Transcribe YouTube Audio to Text:
#Step 1: Download and install VoxBox software.
#Step 2: Navigate to "Speech to Text", upload the YouTube audio and choose the language you want to convert.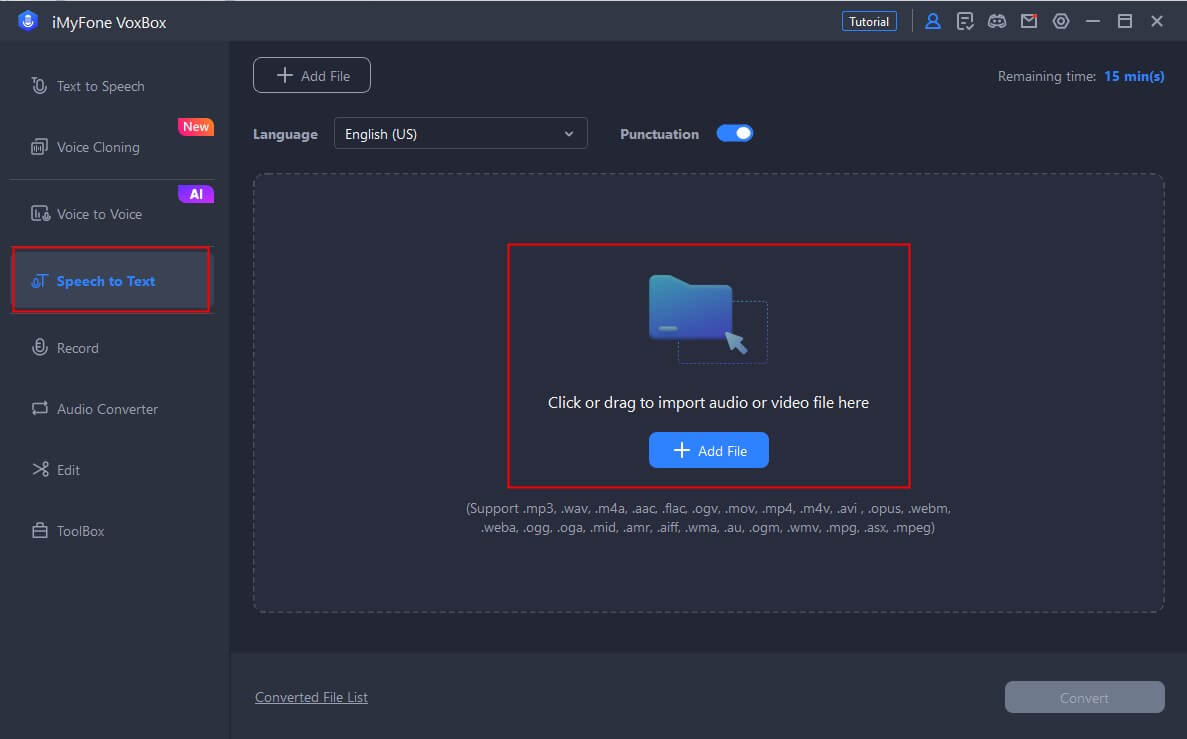 #Step 3: After that, you can copy or export the text.
Pricing:
Quarterly $14.95.

Yearly $44.95.

Lifetime $89.95.
Part 4: FAQs about YouTube Video to Text 2023
1. How do I transcribe video from my YouTube video?
The process is simple, you can share the link with many online YouTube audio to text online tools, and they will do it for you with time limitations. You can also download any YouTube video and upload it to do the same process. You can see which apps in this article can help you with YouTube audio to text online conversion.
2. Can I download other people's YouTube videos for transcription?
First, you don't need to download videos from YouTube video to text online and can share the link with the best online tools mentioned in this article. Secondly, Why would you need to download it when you can do it most efficiently?
3. How can I convert YouTube audio to text Online?
We have curated this list specifically for the question of "how to convert youtube audio to text" and mentioned the three best online tools for youtube audio to text online tools.
4. Is there an app that converts YouTube video to text for free?
Yes, there are several apps and online tools available that offer free conversion of YouTube videos into text. These tools utilize advanced AI technology to transcribe the audio from the videos and provide you with accurate text transcripts. Some popular options include Typito, Media.io, and Happy Scribe.
Conclusion
Your life is now so much easier that you can easily convert YouTube video to text online with simple steps and excellent tools. In addtion, if you just need to add subtitles, you also can use AI tool that transcribes YouTube audio to text to do that, so why not take it a step further and use VoxBox AI tool with great features to make speech to text more quickly?