Imagine how many followers if you use Obama AI voice as your video content voiceovers, and there is a powerful Obama AI voice text to speeh generator that can help you do that.
In this article, we will give you the tips about how to make Obama AI voice for text to speech.
Listen to Obama AI Voice for free using iMyFone Voxbox down below!
Obama
Part 1: Facts about Obama & Obama's Voice
Barack Obama is an American politician and attorney who served as the 44th President of the United States from 2009 to 2017. Obama is a member of the Democratic Party and made history as the first African American to be elected as President of the United States.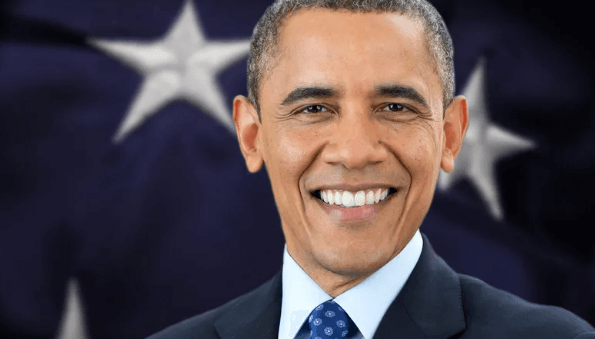 After he stepped down as president, he gave speeches often. In March 2023, former President Barack Obama embarked on a speaking tour of Australia. Throughout the trip, he engaged in meetings with Australian Prime Minister Anthony Albanese first time. It was reported that Obama received over $1 million for delivery two speeches, underscoring his popularity and demand as a speaker. During his time in Australia, Obama also expressed his opposition to expanding the Supreme Court beyond its current nine Justices, sharing his stance on a crucial issue.
His calming demeanor, friendly interviews, and perfectly timed jokes made him probably the most famous President of all time and popular enough to make audiences connect with the his funny speech, that is the power of influence and voice.
You could also promote and connect with your audience using Barack Obama text to speech voice generator or simply send funny clips of his voice. We are sure whomever you would send this generate Obama voice will love it.
Part 2: 4 Best Obama AI Voice Text to Speech Generators 2023
This section presents 4 easy to use Obama AI TTS generators that you can generate his voice.
If there is a voice generator that can do the most accurate Obama AI voice, then iMyFone VoxBox is the best due to the sheer number of languages you can generate Obama voice in quickly.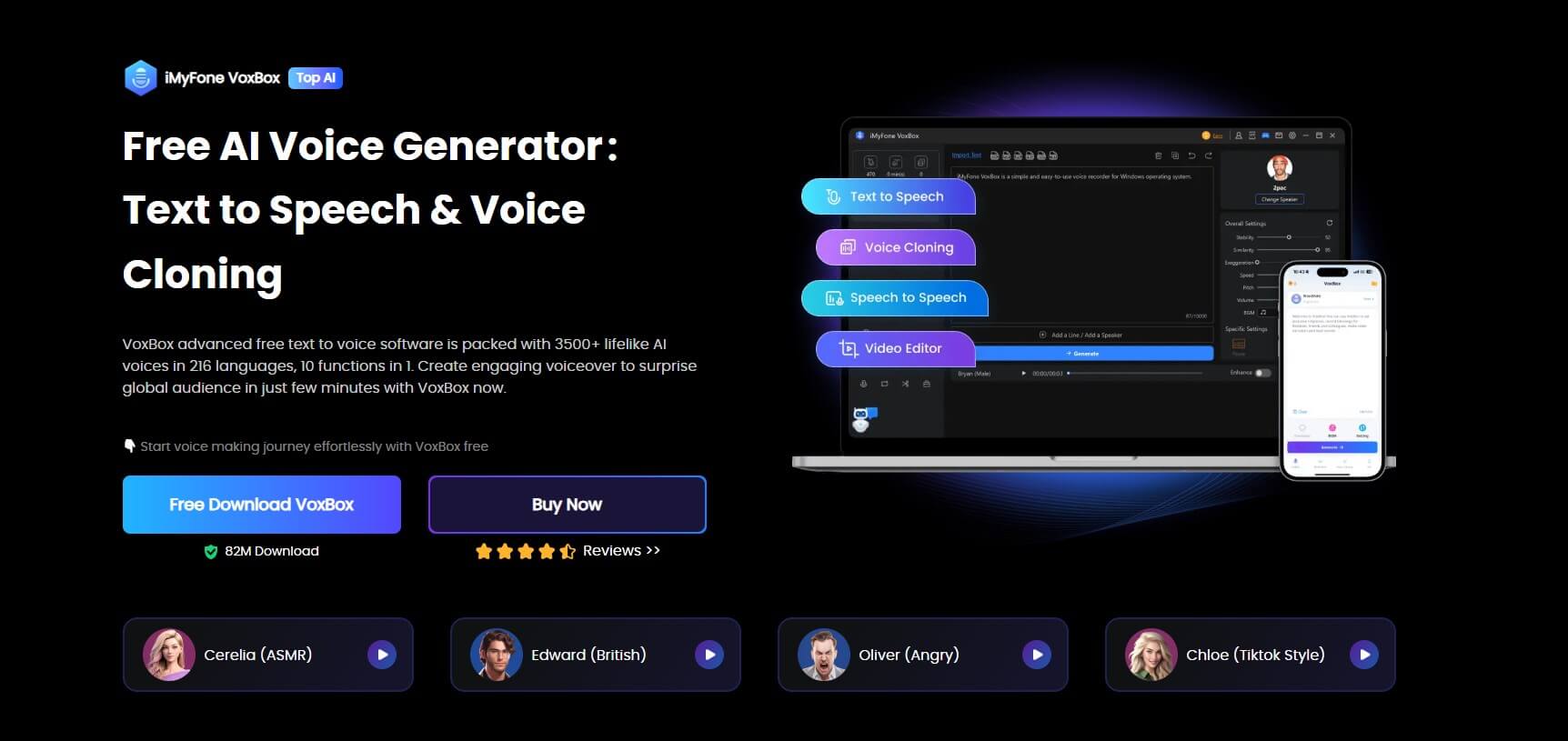 You can read your testimonial, a book, or some jokes with VoxBox Barack Obama voice generator. Let's discuss some of the critical features of VoxBox Obama text to speech options.
Tips
No voice artists are needed, and no recording equipment is needed. You can easily convert your text to speech and voice using the
best Obama TTS Voice Generator
iMyFone VoxBox
! Download it and try it out for free now!
Free to Get Obama AI Voice Easily:
#Step 1: Download and install iMyFone VoxBox.
#Step 2: Enter "Text to Speech", choose celebrities and then click on the second line - Politicians, and select "Barack Obama".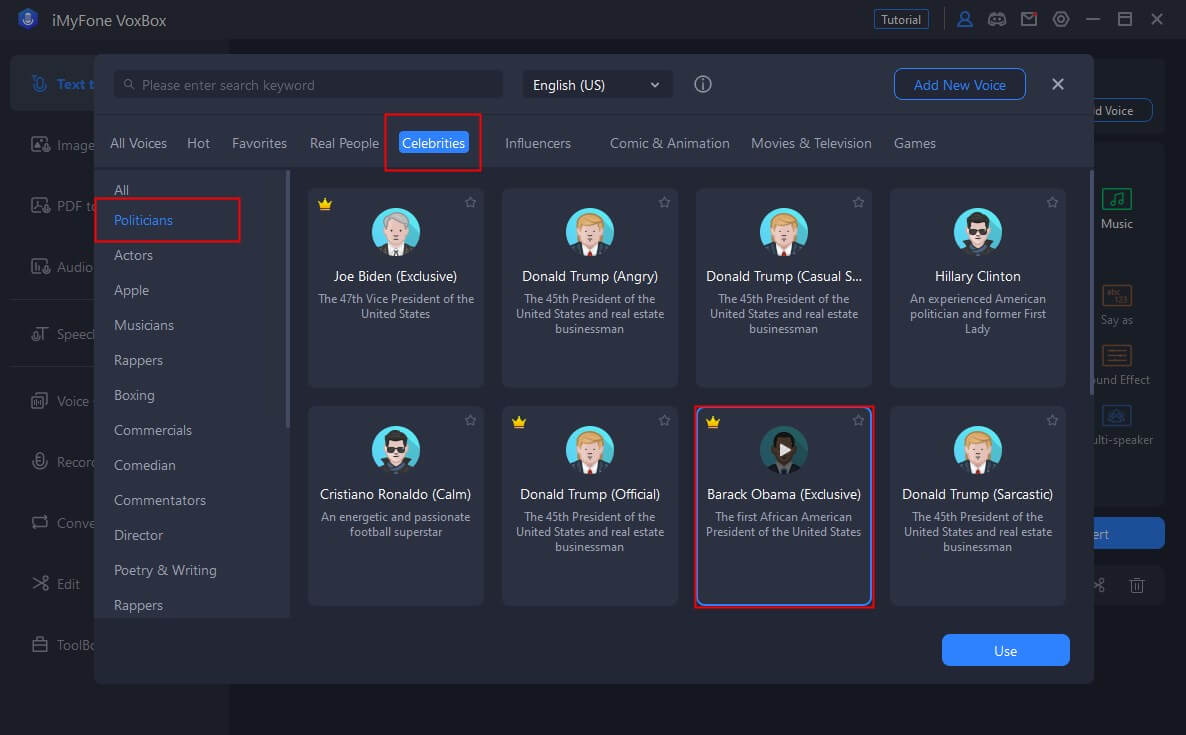 #Step 3: Convert the input text in to Obama speech and listen to the voiceover.
Key Features:
VoxBox Obama text to speech is simple enough that you need only to add text, and it will do it for you.

Save, and export generate Obama AI voice in multiple formats for easy sharing and editing.

Other president voices worldwide are also stored.

You get Speech-to-text, voice clone(once cloned, use forever), voice record, editing, and much more in a single VoxBox package.

You can use Barack Obama voice generator to generate his voice in 77+ languages.

VoxBox has 3,200+ voices of natural-sounding individuals,celebrities, cartoons, etc., if you don't want only to use the Obama voice generator. There are just so many options

All generated voices are crystal clear and sound natural.
Pros:

Very safe and completely dependable.

As a content creator, it helps you create fantastic and valuable content, especially for ambitious streamers.

No ads whatsoever, especially with their PC app.
Cons:

The trial version not supportedvoice clone free use
Watch this video to learn more about the Best Obama TTS Voice Generator VoxBox:
Talk Obama to me is an Obama text to speech online tool that synthesizes chopped clips from Obama's videos and automatically turns them into a video saying words you write in the text box. Enjoy this fantastic yet limited Obama voice generator that generates a video output making it more funny.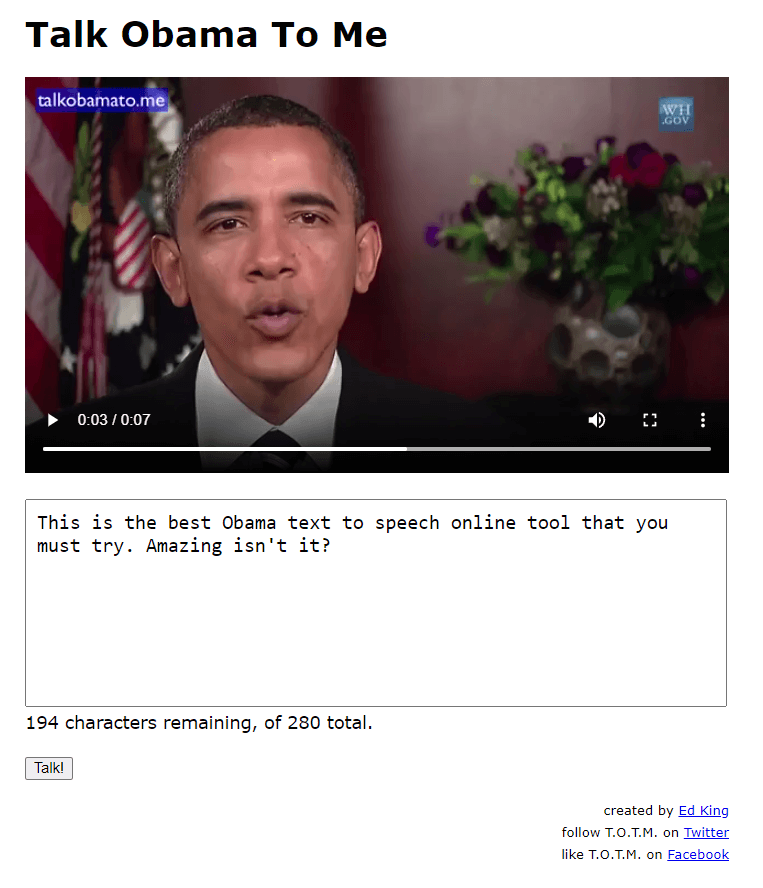 Key Features:
Simple yet effective Obama AI voice generator TTS tool.

Enter the text you want to be generated, and the Barack Obama voice generator will make a video out of chopped clips from his available videos.
Pros:

No complicated options, just a simple text box, and Talk! Button.

Makes a complete video out of the text you wrote and generate Obama AI voice.

You can download the file in MP4 and share it with friends.

A delightful way to experience Obama text to speech.
Cons:

You can only write text up to 280 characters in total.

Some words that the tool can't find videos from are patched together from multiple clips giving it a choppy feel.

No systems or mobile app.

No editing option whatsoever.
Another Obama AI voice generator is a great TTS reader via advanced text-to-speech tech, you could choose a similar voice to Barack Obama to get a natural sounding, which other voices you also can try.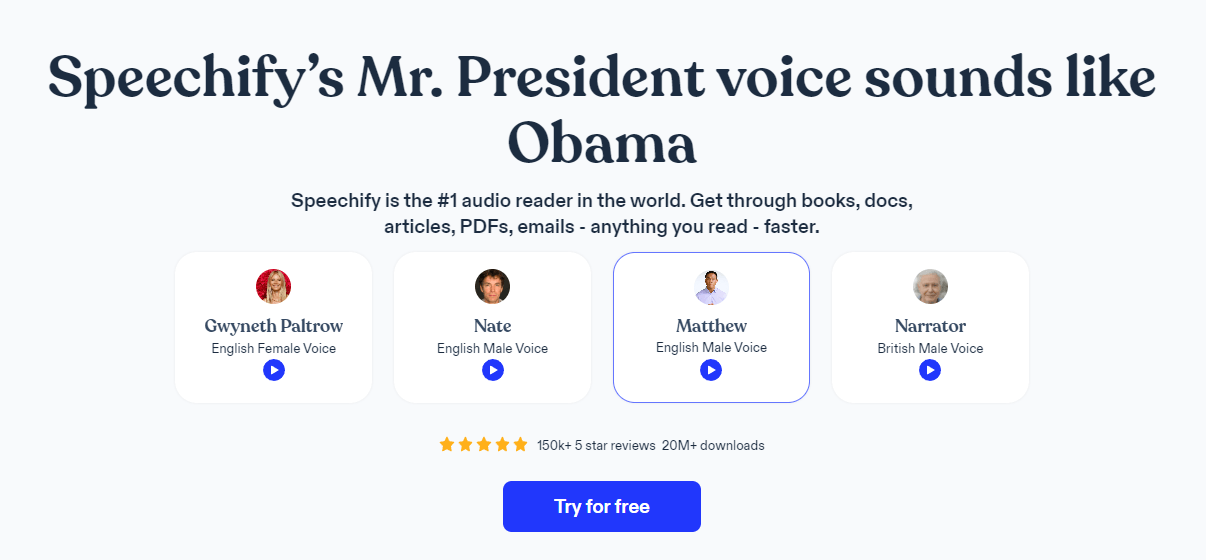 Key Features:
Your content will always be unique as Speechify has over 30 different and unique natural voices that can do TTS for you

You can enhance and generate Obama text to speech voice with high or low pitch, how fast he speaks, and the tone.

Amazing tool for learning new languages as it supports TTS in 15+ languages.

It has a fully functional Chrome extension.

Speechify recently added an OCR function, so now you can read PDFs in more detail.
Pros:

If you are learning a new language, then it is a fantastic app that generates clear voices helping you practice the new language.

Great features for visually impaired individuals.

Really love the web API feature allowing to use on any device and is not limited to PC.

Never miss an opportunity to test out the OCR function on images to translate in an instant.
Cons:

Limited features are available in the free version.

The trial is only three days which is not much to test out the app thoroughly.
Fakeyou is an excellent online-only Obama AI voice generator via TTS tech that has over 30 voices, also supported you to make your content in Obama's voice or reply to others as personal funny voicemail greeting.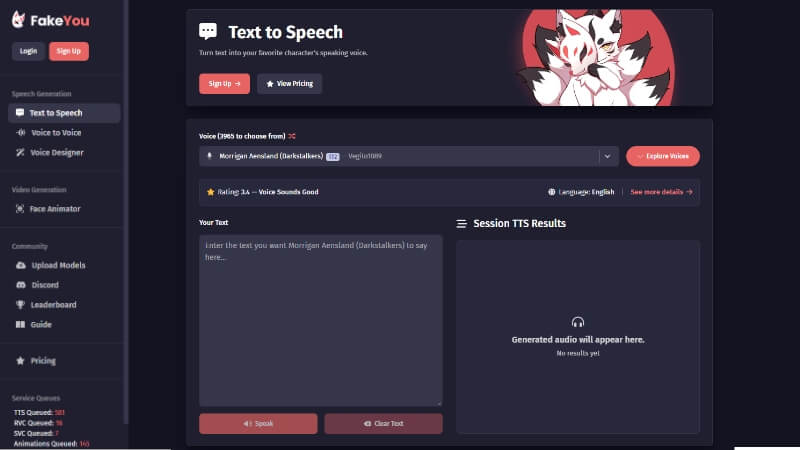 Key Features:
FakeYou can help you mimic any voice out there that is as popular as an Obama voice generator.

Our tool allows you to tweak every generated voice before you need to download.

It has a straightforward interface but incredible Barack Obama voice generator quality.
Pros:

Extremely simple and easy-to-use online tool to generate Obama AI voice.

FakeYou allows you to clone your voice and tweak it to sound however you want it to be.

The best thing is that the FakeYou Obama text to speech tool is an online web-based, so you don't need to download any app to use it.

The FakeYou Barack Obama voice generator tool is entirely free due to users supporting it and millions of users and followers each day.
Cons:

The Obama voice generator TTS makes it take more time if your internet is slow.
Part 3: FAQs about Obama AI Voice
1. Is there any Online Obama Voice Generator?
Yes, in this list, a few generate Obama voice online tools to generate an iconic Obama voice. These tools are FakeYou, Speechify and Talk Obama to Me. You can Google the Obama voice generator and find tons of them online, but the best are in this list already.
2. Which is the best Obama TTS Voice Generator software?
The best Obama text to speech generator is, without a doubt, VoxBox from iMyFone, which can generate Obama voice in 46+ different languages with crystal clear output that you can tweak how much you like till it's perfect.
3. How has the use of AI-generated Obama voices changed over time?
The use of AI-generated Obama voices has expanded beyond novelty or entertainment purposes to include applications in fields such as education, accessibility, and marketing.
4. How do Obama AI voices compare to other speech synthesis technologies in 2023?
Obama AI voices may be comparable to other speech synthesis technologies in terms of naturalness and realism but may have unique features or limitations depending on the specific implementation and application.
Conclusion
Generating Obama AI text to speech voices is so much fun that your friends and family will love it, and you can now sound like the fantastic comedians that do it every day. If you are looking for a thoroughly professional option, iMyFone VoxBox is your answer.

We recommend VoxBox because, other than being an Barack Obama AI voice generator, the amount of voices, languages, and features it provides is unparalleled.
Bonus Tips
Watch this video to learn more about using
Ai voice generators
to make realistic natural voice.