Why is the market flooded with numerous Windows text-to-speech software options? Perhaps it's worth contemplating whether TTS technology genuinely alters our lifestyles. Increasingly, individuals are turning to free text-to-speech websites and software as a means to conserve both time and energy. By transforming most of the information into spoken audio or video voiceovers, these tools not only captivate your attention but also optimize your time utilization.
In this article, we will list best and free 8 text to speech software of their key feature, OS, price, they are sutible for both entertaiment and business.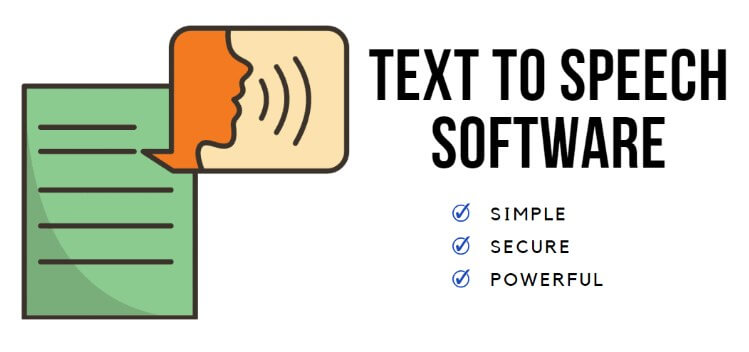 Part 1: Best 8 Text to Speech Software Voice Generators For Free
Let's see what free text-to-speech software with natural voice options we have in store for us.
1. iMyFone VoxBox - Top AI Text to Speech Software
Definitely, one of the best and free text to speech software in the market, as iMyFone VoxBox boasts over 3,200 voice types that can read text from any supported file in 77+ languages. This extensive option platter is incredible for all kinds of users.
Tips
No voice artists are needed, and no recording equipment is needed. You can easily convert your text to speech and voice usingthe best software
iMyFone VoxBox
! Download it and try it out for free now!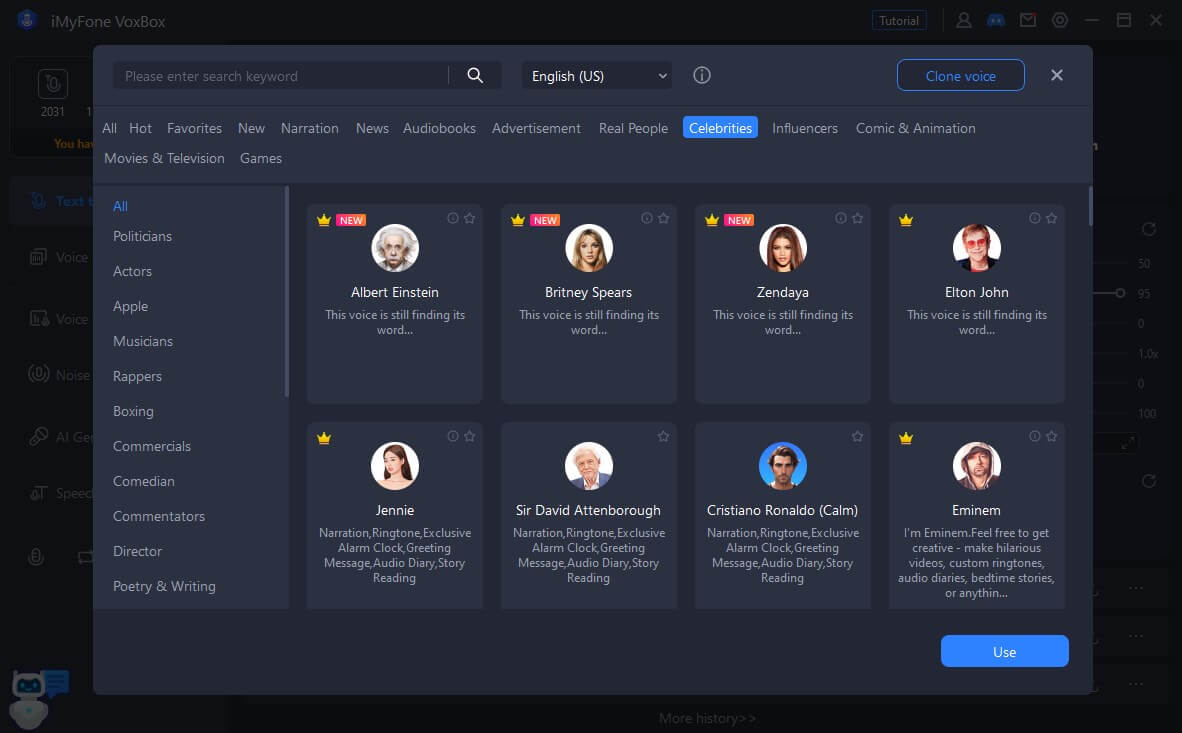 Key Features:
3200+ voice selections including celebrities, actors, YouTubers to dub in various videos.

77+ global languages provided for who need native expressions.

100+ country accents for worldwide users.

2000 free characters for tts to apply most applications like audiobooks, podcasts, IVR, gaming and more.

An all-in-one text-to-speech software also supports voice clone, record, generate, convert, and edit.

Custom everyone's voice with great convenience.

It allows you to export different audio files in multiple formats all at once.
Obama
Pros:

Realistic voiceovers in real people sounds.

VoxBox doesn't read or listen to your files and documents, plus no ads.

An expanding voice library will offer more voices for tts.
Cons:

As this is a relatively new module from iMyFone, the android app is in development, and the PC version is available now.
Speechelo is another the best text to speech software for pc because Speechelo can instantly do your TTS. The tool uses AI to generate any text to speech requirement, but it is near human voice.
The fun part about this tool is selecting normal, joyful, and serious tones when generating the voiceovers.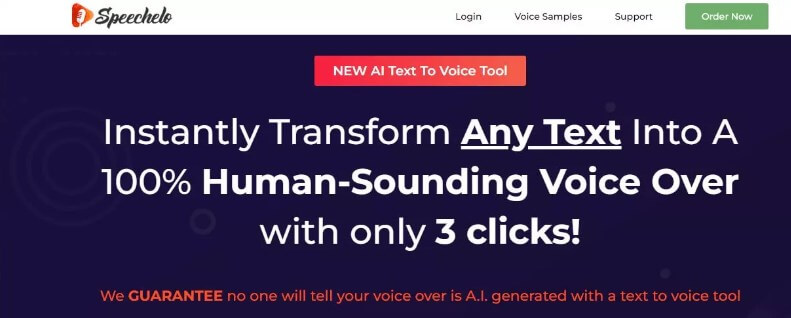 Key Features:
Speechelo is not just a free text to speech software with natural voices but also can help you improve your text with punctuation marks.

The tool can add breath pauses and breathe in the generated voices to make it more lifelike.

The online tool supports up to 23 languages making this text to speech software a great addition.

With it, you get a 60-day money back guarantee.

You can change the pitch and speed of the generated voice.
Nuance Dragonfree top text to speech software is best known for its speedy voice generation on your pc. It is also an AI-powered speech recognition software. It is professional-grade software that can also be used on the cloud and help many impaired students use this fantastic tool.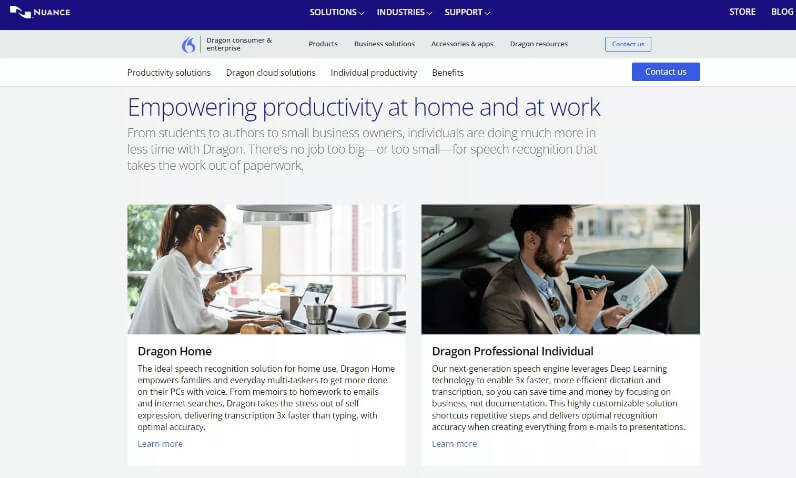 Key Features:
Nuance Dragon is a fantastic tool and one of the best AI text to speech software in the market; completely HIPAA certified.

It is an essential tool if you are concerned about your data privacy.

It integrates well with other major software like Office 365 to provide the best solutions in different scenarios.

The software has terrific speech recognition and transcription technology, helping you write anything while on the go.

The software is more focused on professional solutions.

Enhances your institution's productivity by leaps and bounds.
As one of the best free text to speech software, Speechify comes with amazing natural voices that utilizes AI power technology to speechify any document with high quality.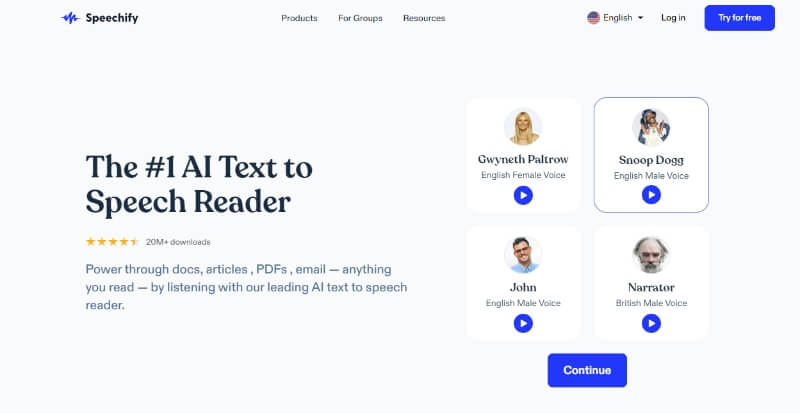 Key Features:
All of their AI voices sound natural, giving the best results.

You can easily adjust speeds while listening.

Convert all the text and save the voices to your devices. This allows you to listen to the generated voices at any time or present them to others.

With their free plan, you are allowed to convert only two voices per month.
While you can use Azure TTS as text to speech software, it got more popularity in the tech circles due to its application by adding cognitive learning methods for the best TTS features.
While regular users can use its top-quality TTS features, developers and software engineers utilize Azure TTS to add TTS in their apps and software.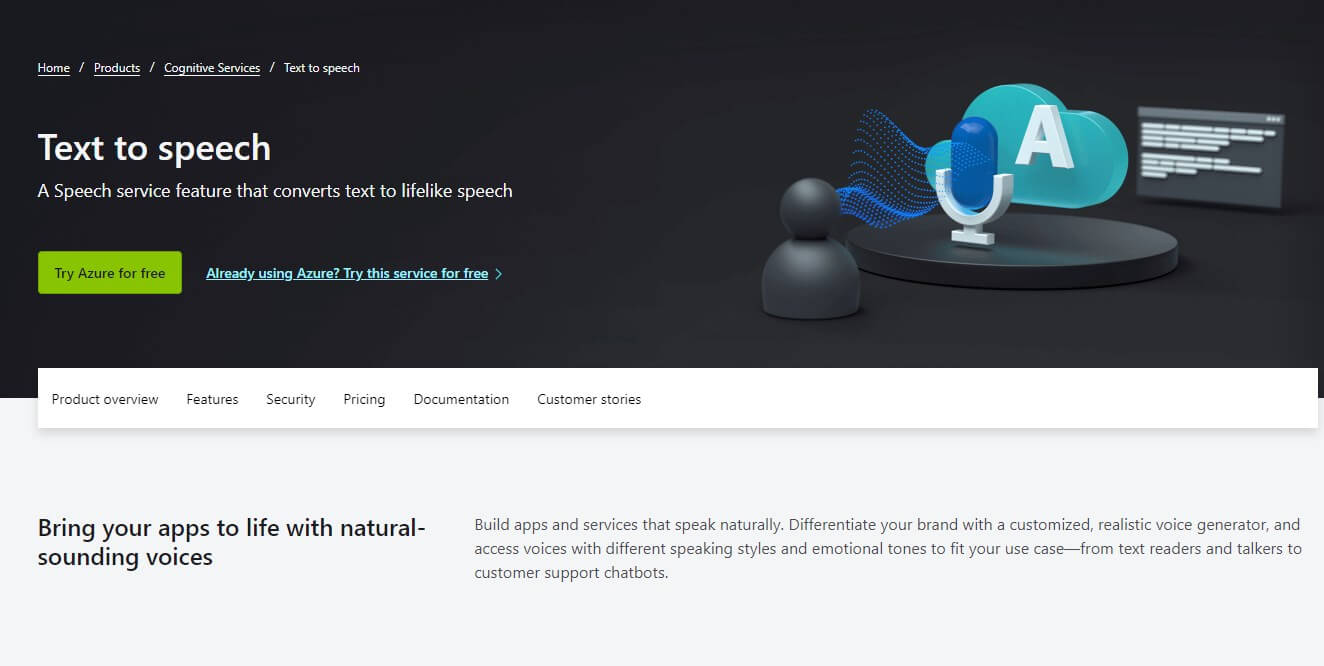 Key Features:
Intelligent TTS features are available from Azure text to speech software that you can easily incorporate in new tools and apps.

All voiceovers are realistic and talk just like a native speaker.

Due to its AI technology, you can fully customize the voices per your requirement.

Most professionals use this software for building apps and services for their organizations.

Microsoft Azure allows flexible deployment of TTS from anywhere, such as cloud, on-prem, and even in the containers for Edge.
If you are still looking for the best free text to speech software for your projects, then Murf is your go-to, as it includes powerful features for eLearning voiceover options.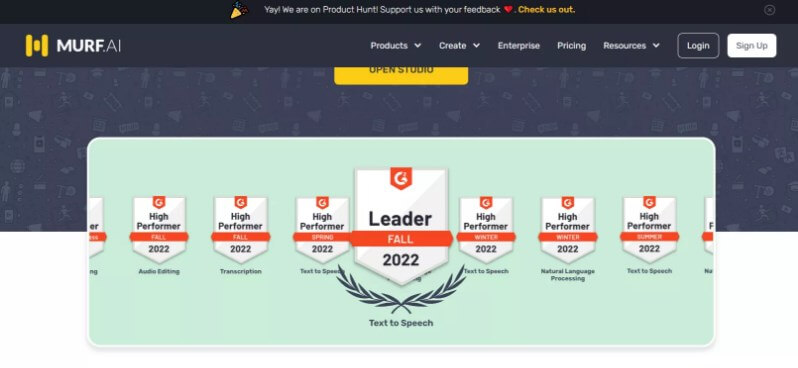 Key Features:
The best text to speech software for making video content and presentations.

The tools available in the software allow you to convert to hyper-real voice recordings.

All voices in the software are initially trained by professional voiceover artists to ensure each type is as realistic as possible.

The tool can also convert voice back into the editable text to make new presentations and voice logs.
This free text to speech software with natural voices is more for personal use for students who want to learn and practice a new language or are non-native speakers.
Though it doesn't mean YouTubers or other broadcasters can't use it, Notevibes has some great features for aspiring business individuals too.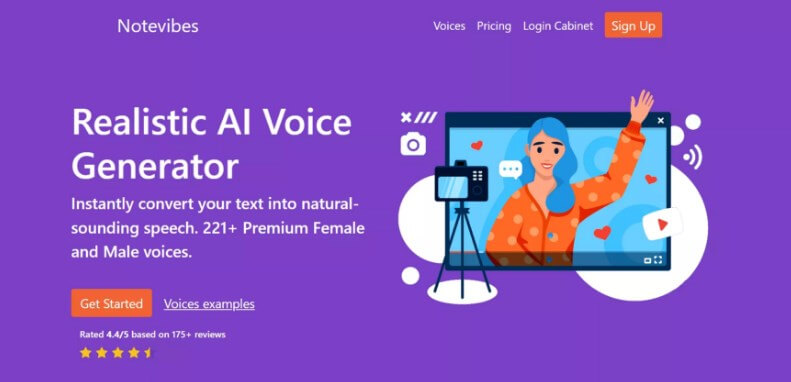 Key Features:
Users can use their free version for generating voices for up to 500 characters

The professional or paid version has more features.

Notevibes allows its users to choose from 18 different languages and gives the option to select from 177 unique voices.

A plethora of options allow the user to pick, choose and tweak however they like.

You can save all your generated voices in MP3 format.
Wideo is also the best text to speech software primarily for those video editors and content creators who prefer using a completely free TTS solution.
The tool is actually an online video editing tool, but the Devs were kind enough to provide TTS facilities for free to all users across the globe.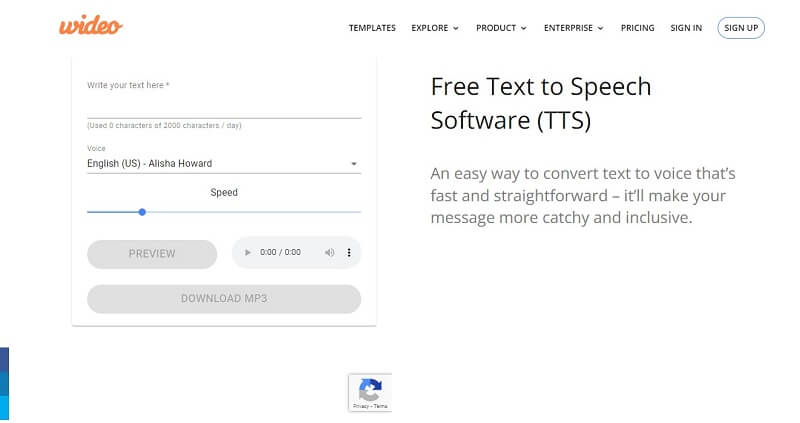 Key Features:
Download all your generated voices in MP3 format.

Powerful video editing tool also included.

Easy to use TTS feature allows the user to listen to any text for their learning or professional use.

While you can use this software for free, there are paid options to further enhance your work with three options, Basic, Pro, and Pro+.

Simple yet powerful voice narration tool.
Part 2: Comparison Among Best Text to Speech Softwares 2023
Text to Speech Solutions
Operating System
Price
Best Features
iMyFone VoxBox

· Windows

· Quarterly $14.95

· Yearly $44.95

· Lifetime $89.95

· 3,200+ voices and 22+ languages

· Full privacy

Speechelo

All Platforms

One-time payment of $47.

· 23 languages change

· Speed & pitch

· Breathing & pauses

Nuance Dragon

· Windows & Mobile

· Professional $500

· Home $200

· AES 256-bit encryption

· 99% accuracy with typing

Speechify

· Mac and iOS

· Windows

· Android

· Free gives basic features

· The premium is $139/year.

· 30+ lifelike voices

· 15+ languages can be chosen

· Can easily convert TTS from scanned docs.

Azure Text to Speech

· Windows

· Mac

The cost varies depending on the amount of work done

· More than 100 languages and around 45 languages

Murf.ai

· Web-based tool

· Personal $14.25/m

· Professional $29.25/m

· Premium $74.25/m

· Customizing voiceover

· Adding pause, editing voiceover, etc.

Notevibes

· Web-based tool

· Limited Online Usage for freemium

· Personal $9 each mo. | $84 each yr. ($7 each mo.)

· Voice generator is quite realistic

· Read aloud TTS

· Save as MP3

· 47 Natural Voices

Wideo

· Web-based tool

· Basic $19/mo.; $228 billed annually

· Pro $39/mo.; $468 billed annually

· Pro+ $79/mo.; $948 billed annually

· You can download generated voiceovers in MP3
Part 3: What Benefits to Get Using Text to Speech Software?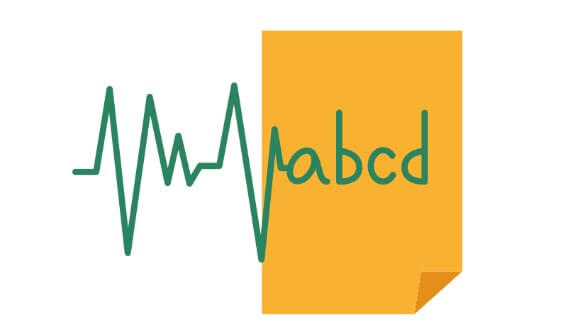 Accessibility for All: Text-to-speech software plays a crucial role in making digital content accessible to individuals with visual impairments or reading difficulties. It ensures that written information is available to a broader audience, promoting inclusivity.
Enhanced Learning: In educational settings, tts can aid students in comprehending complex texts, improving reading skills, and offering assistance to those with learning disabilities. It provides an alternative method for consuming educational materials.
Multitasking and Productivity: One of the standout benefits of text to speech is its capacity to convert written content into audio. This enables users to absorb information while performing other tasks, significantly boosting multitasking capabilities and overall productivity.
Pronunciation and Language Learning: Language learners benefit from TTS software as it assists in correct pronunciation and comprehension of words and phrases in foreign languages. It's a valuable tool for improving language skills.
Part 4: FAQs about AI Text to Speech Software
1. How Does Text-to-Speech Work?
TTS works on the principle of Sam technology, where it takes two steps for the AI or app to read the text and then generate a phenome or voice generation.
2. What is Text-to-Speech Software?
TTS software is a tool that can convert input text into generated voiceover with predefined parameters.
3. Which is the Best Text to Speech Device?
The best text to speech software is VoxBox because of its staggering number of voiceover options, plus 11 languages to speak in for the same voiceover.
4. How Can I Access Free Text to Speech Software?
For a comprehensive, versatile, and free text-to-speech solution, VoxBox is highly recommended. It provides access to a vast library of over 3200 voices in 77+ languages, offers customization options, and supports various output formats, making it an excellent choice for accessibility, content creation, and more.
5. How To Choose Best Free Text to Speech Software?
To choose the best free text-to-speech (TTS) software, consider factors like voice quality, language support, customization options, compatibility, and additional features. VoxBox is a top recommendation thanks to its diverse voice library and user-friendly customization, making it a versatile choice for various applications.
Conclusion
What is the best text-to-speech software for you up to your requirement, As i mention TTS technology is changing our life. if you are confused looking for text-to-speech software, read this article would help you solve it.
In today's world, technology allows you to learn any language or communicate in different languages with the help of the best text to speech software available.
Free text to speech tool isn't limited to the sight impaired but can help you read books while you are working, exercising, or doing some chores.
Last, my choice is iMyFone VoxBox- for its powerful function. Trust me, Download and install it have a try.