Are you trilingual? Can you speak Japanese but cannot write it? Don't worry! Try online speech to text converter Japanese. It is a valuable tool to turn your speech into a flawless, punctuation error-free piece of Japanese text. For this purpose, you need to get a hand on the best tool that produces authentic output.
Indeed, it is surprising to make the text different while speaking a single language. Well, in this guide, we will let you know some Japanese voice to text generators that will help solve your problem. So, let's walk through it.
Part 1: What is Speech to Text?
Speech to text is a term that refers to the process of converting any audio or video into written text. It is software or a special program that can take your words in the form of speech and give them practical shapes on paper.
Special tools are designed to convert speech to text online. They take an audio or video file, analyze and transform it into the form of a transcript. It is also known as speech to text generator, voice to text translator, voice to text converter.
A speech to text converter converts the speech utilizing any of these two methods:
Streaming speech to text: It is the process followed in a real-time converter. It takes an audio or video file and changes it into words.
Automatic speech to text: This method audio or video file to an online speech or select the file from a locally installed program.
Part 2: Best Japanese Speech to Text Converter Software for PC
Speech to text conversion is not limited to online tools. You can also download the software to make it always available on your computer, which can perform tasks without high-speed internet.
If you are looking for offline software to convert speech into text in any language anytime, VoxBox is the right option. It is equipped with multiple features and a large number of language options to make the process easy.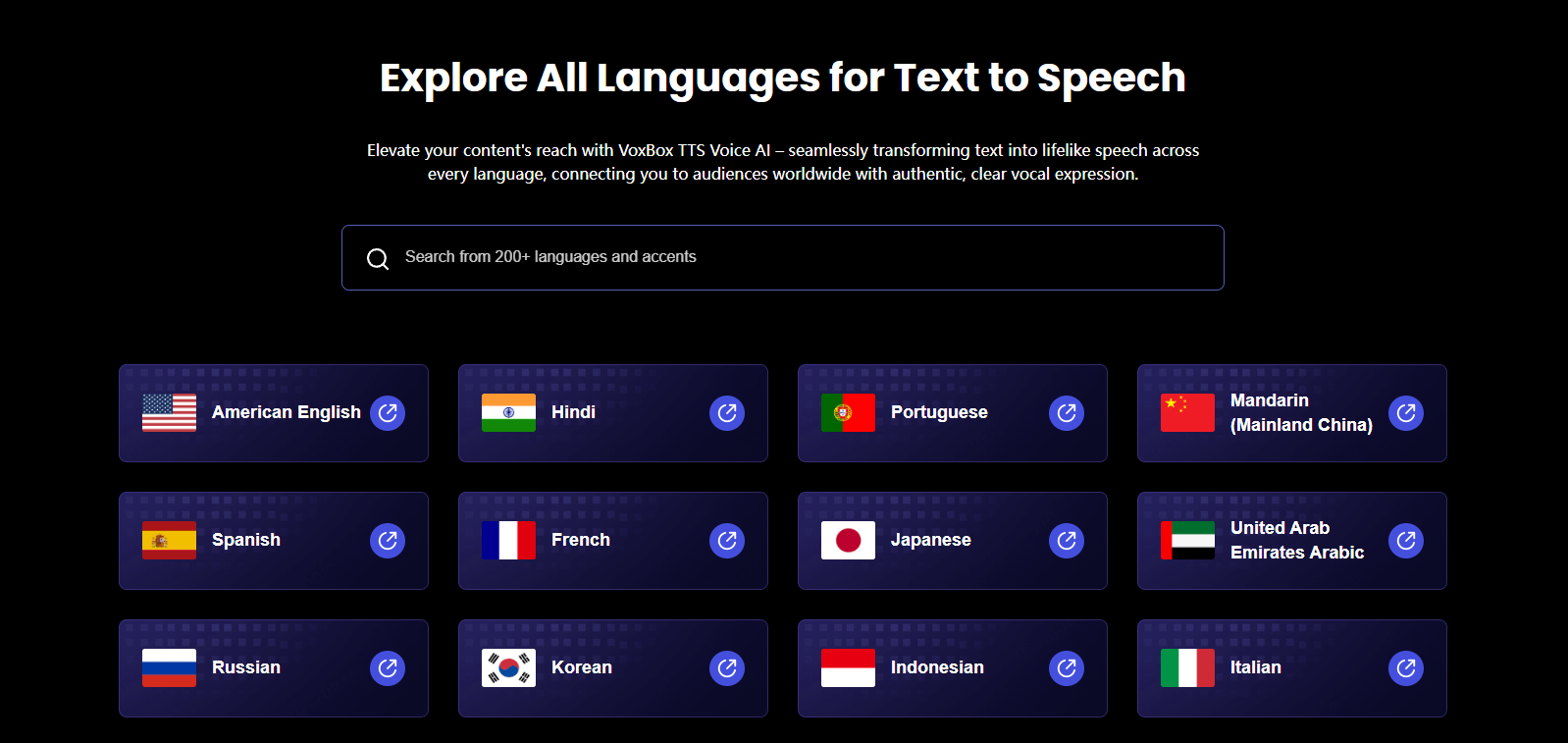 VoxBox is efficient software that is used for entertainment or professional purposes.
Tips
No voice artists are needed, and no recording equipment is needed. You can easily
convert japanese speech to text
and voice using the best Voice Generator
iMyFone VoxBox
! Download it and try it out for free now!

Here are some considerable features of VoxBox:
Key Features:
It includes more than 46+ global languages, such as Spanish, French, Japanese, etc.

It is versatile software that features a voice recorder, generator, converter, and editor.

VoxBox has an interactive interface which makes its operation quite easy.

The software ensures your privacy and security, which is rare in some software.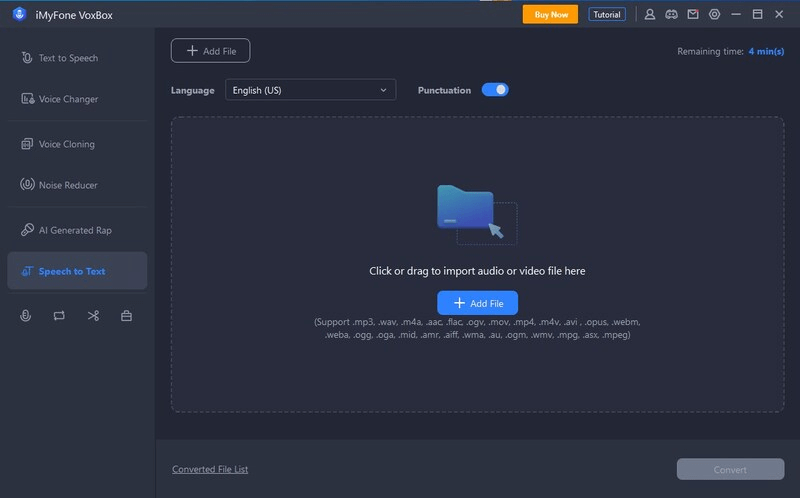 Pros:

User-friendly interface.

Converts speech into text in minutes.

Versatile software.
Cons:

Limited features are available in the free version.
User Review:
People appreciate this software for its easy installation and operation. The user-friendly interface makes it the best choice for beginners and professionals.
Watch this video to learn more about the Best Speech to Text Tool VoxBox:
Part 3: Best Online Japanese Speech to Text Converter Recommended
Here are some of the best online speech to text converter Japanese tools.
1. ConvertSpeech - Free Japanese language Voice to Text
It is one of the best online speeches to text converters in Japanese. It is known for its high-quality output. Convertspeech includes a wide range of voices available in 40+ languages. All you need to do is to upload a file, select languages, and wait for a while for processing. In a while, it will offer a transcript of your audio file.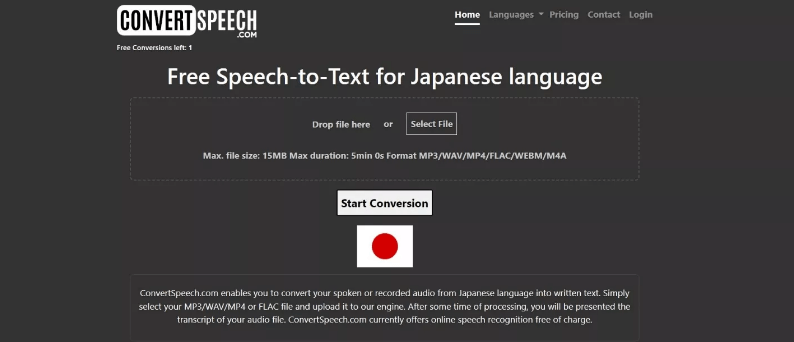 Here are some notable features of Convertspeech:
Key Features:
It gives you a wide range of options to upload a file. You can upload the audio file, video files, MP3, MP4, WAV, FLAC as well as M4A is supported.

Once you upload and select the language, your file will automatically convert to text.

It is a simple software without any mandatory registration, no contractual obligation, etc.

You get to enjoy the ads-free process.

You can also voice them before you select them.
Pros:

It is easy to use.

Features a user-friendly interface.

You can choose from more than 40 languages.
Cons:

Only limited features are available in the free version.
User Review:
According to the user, it is an ideal tool for simple or professional use. It has efficient AI technology that accurately converts speech into text without punctuation and grammatical error.
2. Sonic.ai - Transcribe Japanese Audio to Text
It is another online speech to a Japanese text converter. Sonic.ai is easy to use and gracefully transforms speech into Japanese text. The thoughtfully designed interface offers everything to make a professional speech.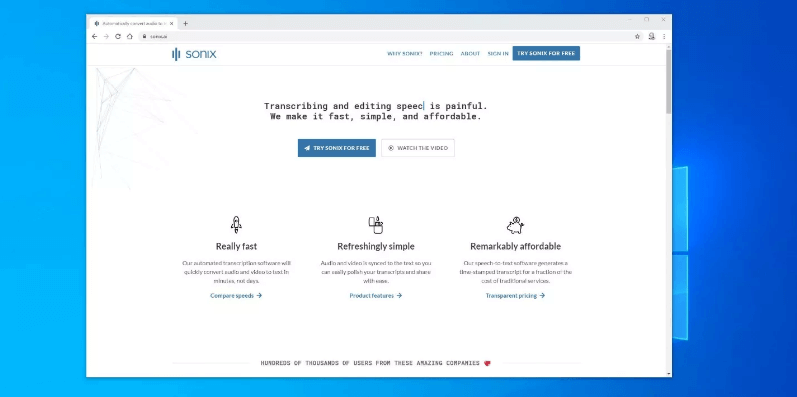 Following are some notable features of the Sonic.ai speech to text converter.
Key Features:
It has highly accurate results without grammar and punctuation errors.

Sonic.ai converts speech into text in more than 35 languages, such as Japanese, Chinese, Arabic, Hindi, etc.

It is an efficient voice converter that takes the speech as input and produces the written text in a matter of 5 minutes.

Conveniently search and analyze all your transcripts for qualitative analysis and coding.

The addition of multi-user permission makes it convenient to share transcripts among the team members.

It is a useful online platform that plays a crucial role in generating videos' subtitles and captions in minutes.
Pros:

It is easy to use.

Highly interactive interface.

Ideal for beginners.
Cons:

Some users find it a bit expensive.
User Review:
People consider it a good choice to get accurate text into any language. It is super accurate and makes our lives much easier.
unicodeconverter.info is a legit online speech to text converter Japanese which has gained a reputable ranking since its emergence. It is a valuable tool that offers over 30 languages at an affordable price. The best thing about this service is that they are constantly improving their services.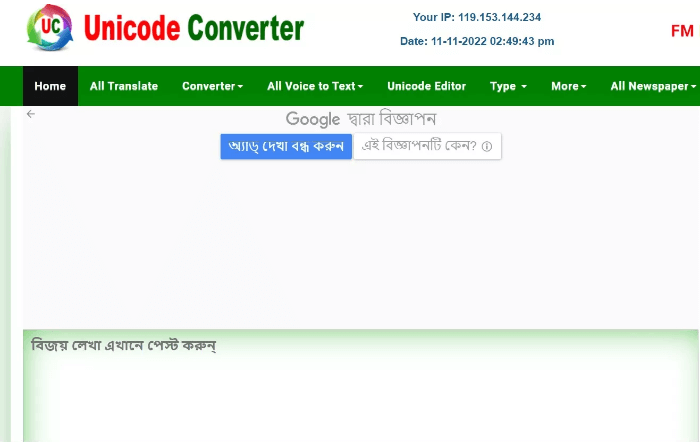 Key Features:
Here are considerable features of Unicodeconverter.ai, which makes it rank among the top online speech to text converter Japanese text to speech converters.

You can have great control over the pitch as well as the speed of the speech.

It also features a volume control button that helps increase or decrease volume according to your choice.

This online tool also facilitates you to download written speech in different fonts.

You are facilitated with the option to upload files in the form of audio or video.
Pros:

It is an easy-to-use online speech to text converter.

Produces high-quality output without errors.

Interactive interface.
Cons:

It requires high-speed internet for efficient response.
User Review:
Users consider this website one of its kind due to its wide range of options. It allows downloading the text in different languages as well as different fonts.
Part 4: FAQs about Japanese Speech to Text Converter
1. What is the best speech to text converter for Japanese?
There is many online speech to text converters Japanese always in the market, but they all require high-speed internet. Considering this fact, VoxBox is the best tool. You can download it on your PC and use it anytime you want without requiring the internet.
2. Is there any Japanese Audio to Text Converter?
Yes, there are many tools available such as VoxBox. It can detect speech in different languages and convert it into text.
3. Can I use any software to make a speech to text for the Japanese language?
No, you cannot use any software blindly because every software does not include the Japanese language. There is special software available for the purpose, including VoxBox.
Conclusion
As the world has become a global village due to digitalization, it has become inevitable to produce content or text in different languages. If you are dealing with language problems, try VoxBox.
It is the best software that helps convert japanese speech to text in a matter of minutes. You can also rely on an online speech to text converter Japanese, but VoxBox is a better option as it does not require high-speed internet.