Different voice actors admire people because of their attractive and catchy voices. Therefore, creators think of creating content in any actor's voice through a perfect Text-To-Speech generator.
In this article, we will guide you on converting the text to speech to Don Lafontaine's voice to get more engagement, so let's start.
Part 1: Who Is Don Lafontaine?
Donald Leroy Lafontaine was a well-known American voice actor and producer with an enormous fanbase. He has recorded a large number of advertisements and 5000+ film trailers. Thunder Throat was his well-known nickname. You can hear his voice in the popular television cartoon "Power Puff girls." He has also created the trailer for the famous movie "The Terminator" and "Terminator 2." There is a huge list of films and advertisements that are not enough to define the work of this talented actor. He lost this world in September 2008 because of a critical illness.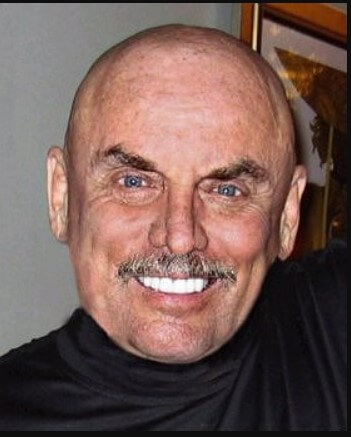 Part 2: The Story Of Don Lafontaine Voice-Thunder Throat
Donald Leroy Lafontaine started his career as a voice artist and became successful in the film and production industry. He was named "Thunder Throat," "The Voice Of God," and "The Kind Of Movie Trailers" by his fans. In 1976 he became the head of Kaleidoscope Films, a reputable movie trailer company.
After a few months, he was hired by Paramount and then promoted to vice president. The studios were willing to pay his high fee because he was earning millions. After his death, most of the trailers were converted to music, and voiceovers remain in the hearts of fans that cannot be forgotten.
Part 3: Use Voice Generator Make Movie Trailer Voice Sound Like Don Lafontaine
In this part, we will learn how to generate Don Lafontaine's voice through iMyFone VoxBox, and we will discuss a brief introduction to this amazing software.
How To Use:
Step 1: Download and install the iMyFone VoxBox

Step 2:From the left-hand menu panel, click "Text-To-Speech" then choose a voice similar with Don Lafontaine .

Step 3:Type your content or paste,then convert.
iMyFone Voxbox is a futuristic software that converts text to speech without difficulties. It has an advanced and accurate voice generator that works without any errors.
iMyFone VoxBox is easily accessible by new users, and they can also edit their text after the recording to trim it if needed. You can convert any script or subtitle to your favorite actor, cartoon character, or AI voice because it has a massive library of stored voice that you can apply to the text. It has all-natural sounding voices, making it more attractive to people.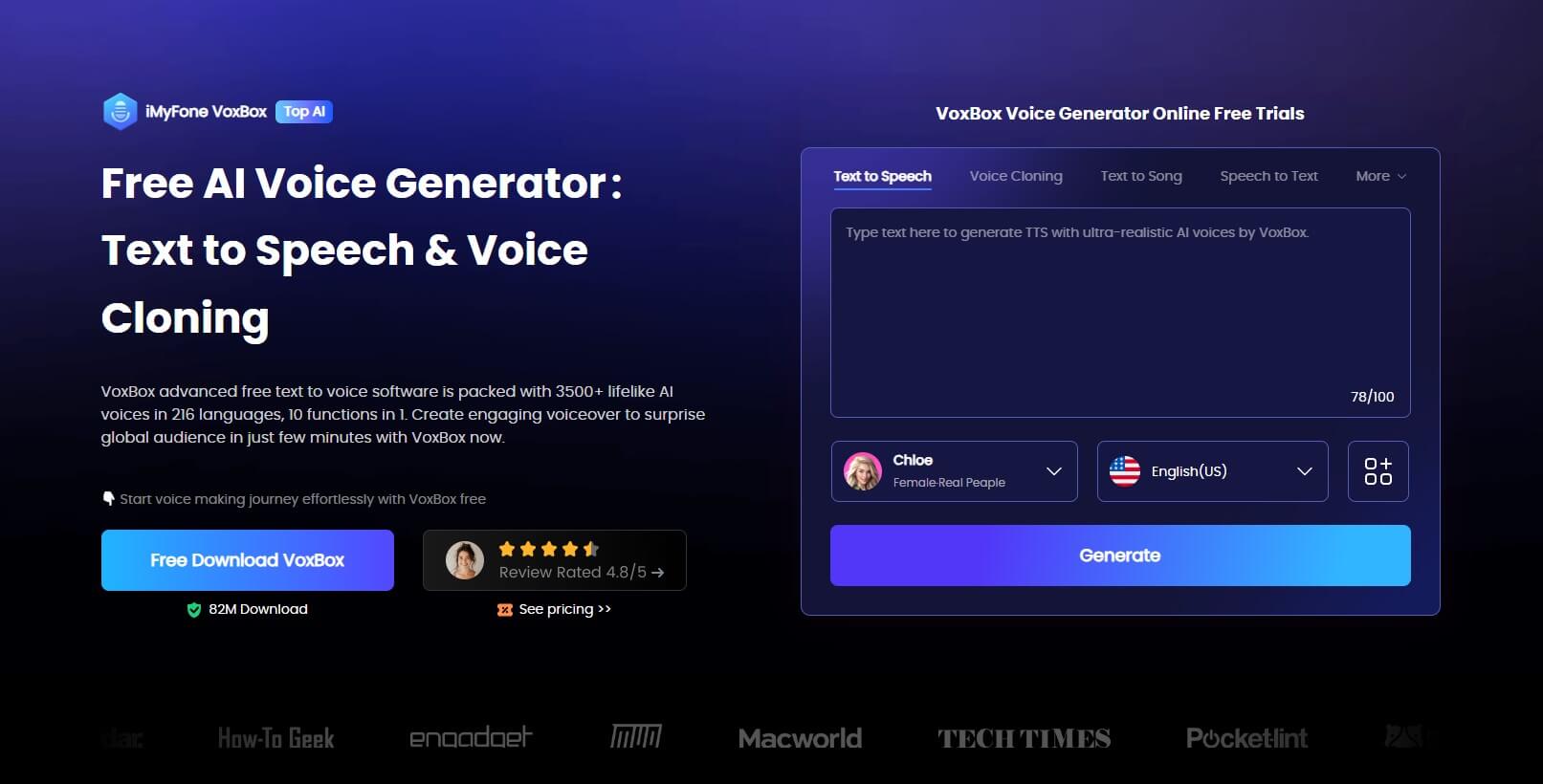 Features:
46 global languages like French, Japanese, and Hindi.

3200+ voices like Rappers, YouTubers, Characters, Celebrities, etc.

25+ Pro accents to choose like a British accent, Hindi accent.

Supported Text-to-speech, Voice record, audio edit,video convert.

It can control the Volume, Emphasis, Pitch, and speed of the voice before generation.
Pros:

Easy-to-use.

User-friendly interface.

Privacy and security are guaranteed.
Cons:

Only supported Win, Mac coming soon.
Reviews:
People love to use iMyFone VoxBox because it never downgrades voice quality; instead, it provides high-quality audio. People write news scripts and convert them into news reporters' voices in a professional way. The best thing is that it doesn't display any ads while using it.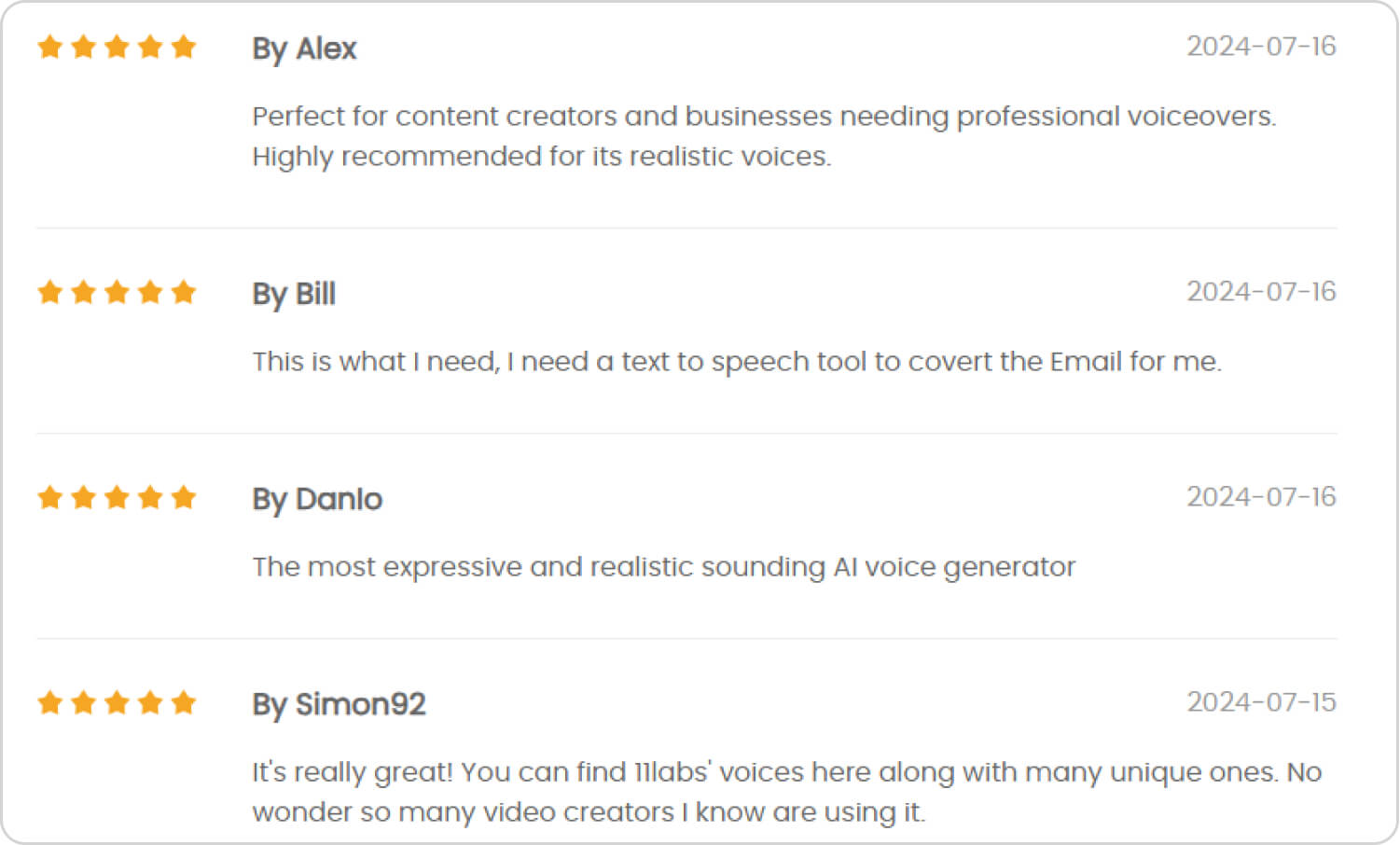 Price:
| Plan | Price |
| --- | --- |
| 1-month Plan | $14.95 |
| 1-year Plan | $39.95 |
| Lifetime Plan | $79.95 |
Conclusion
In conclusion, if you are a fan of legendary voice artists and they are no more, you can recreate their voice through a professional TTS software like iMyFone VoxBox. It is one of the fastest-responding software that precisely converts your voiceovers or texts without any hassle and offers natural voices.