Speech to text software and tools are becoming increasingly popular after the widespread use of text to speech tools. Speech to text allows visually impaired people to do voice typing and is a great way to save your time on the tedious job of typing text. Besides, the speech to text software also allows you to transcribe your videos and audio as a content creator.
In today's article, we will list the 6 best speech-to-text software for Windows and Mac you can try in 2022. So let's get into it.
Part 1: Top Speech to Text Software Available On Windows
Regarding speech-to-text conversion solutions on Windows devices, iMyFone VoxBox is the first name you should consider. The software can be downloaded and installed on your Windows device. You don't need any professional equipment, voice artists, or advanced setup when looking for speech-to-text or text-to-speech conversions in VoxBox.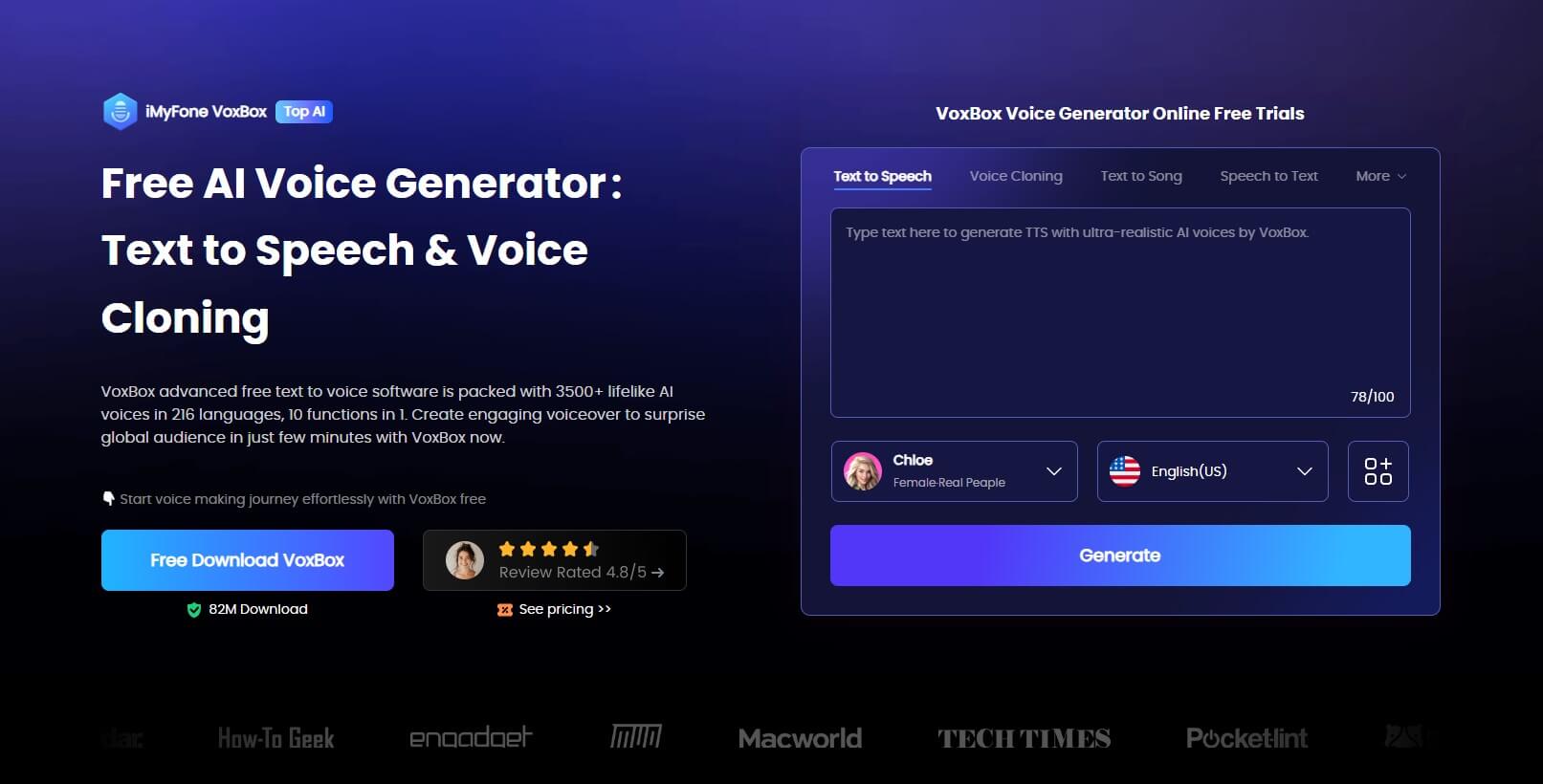 Key Features:
AI-powered software provides high accuracy of conversion from speech to text in different languages.

Export the transcribed documents to your device.

An all-in-one tool for STT and TTS conversions.

Either use real-time speech-to-text or upload audio for conversions.
46+ languages supported.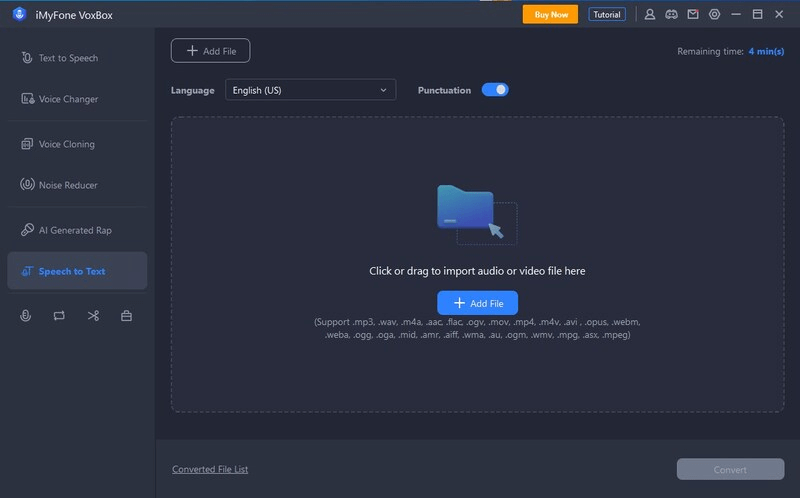 Pros:

Interface and user experience of the software.

All-in-one solution.

Very affordable pricing for personal and professional users alike.

The user-friendly interface provides a quick workflow.
Cons:

Not available for the mobile users.

The number of languages supported is comparatively low.
Watch this video to learn more about the Best Speech to Text Software iMyFone VoxBox:
Yet another powerful and accurate software for your Windows device is Microsoft Dictate. It is an accurate text-to-speech as well as speech-to-text software you can rely on. Developed by Microsoft Garage, Microsoft Dictate is a feature-rich software for Windows devices that uses advanced technology to recognize and transcribe speech in multiple languages.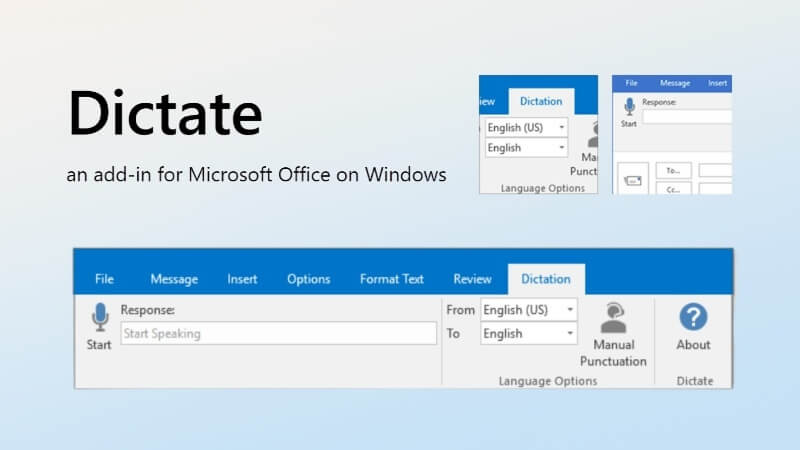 Key Features:
Accurate speech recognition and conversion into text.

Integrates with Microsoft tools like Word, Outlook, Powerpoint, etc.

Pre-installed with Microsoft 365.

Supports over 60 languages for TTS and STT conversions.
Pros:

Free speech-to-text software for accurate transcription.

Text editing and structuring for quick formatting after conversion.

Multiple language support.
Cons:

Only available for Windows devices.

Doesn't support the older versions of Microsoft Office or Windows.
Converse Smartly is also a Windows software that you can install on your Windows device as the best speech-to-text software. The software is for personal as well as professional use. Whether you want to transcribe a short video/audio, do voice typing, or want your meeting recordings & conferences to be transcribed, Converse Smartly is indeed a good choice on Windows devices.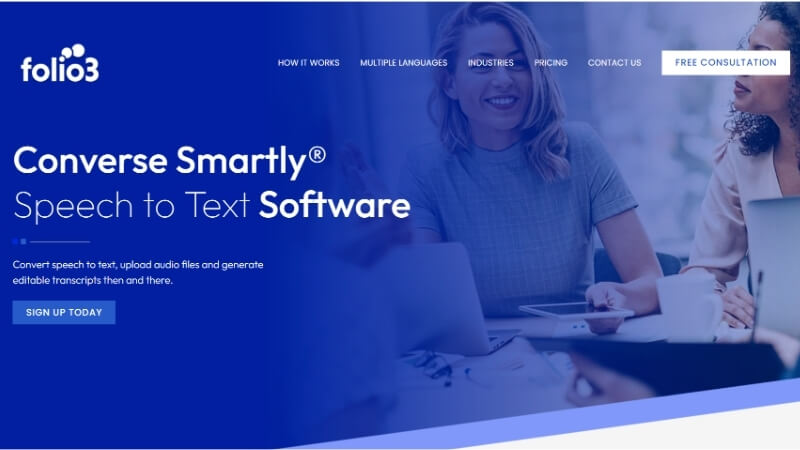 Key Features:
Powerful tool based on IBM Watson Speech API.

Uses Natural Language Processing toolkit.

Speech analysis and text analysis, along with summary generation.

Live audio transcription with capabilities to detect multiple speakers.
Pros:

High accuracy with the IBM Watson Speech and Natural Language Processing.

Multiple speaker detection.

Free trial version.

Transcribe in multiple languages.
Cons:

Internet connectivity is necessary for transcription.
Part 2: Speech To Text Solution For Mac
If you are a macOS user, here are a few speech-to-text solutions you can count on:
Since iMyFone VoxBox and Microsoft Dictate are not available for Mac users, we want to quote the best alternative of the powerful tools. Therefore, SpeechNotes, despite being an online speech-to-text converter, is the best speech-to-text for Mac users.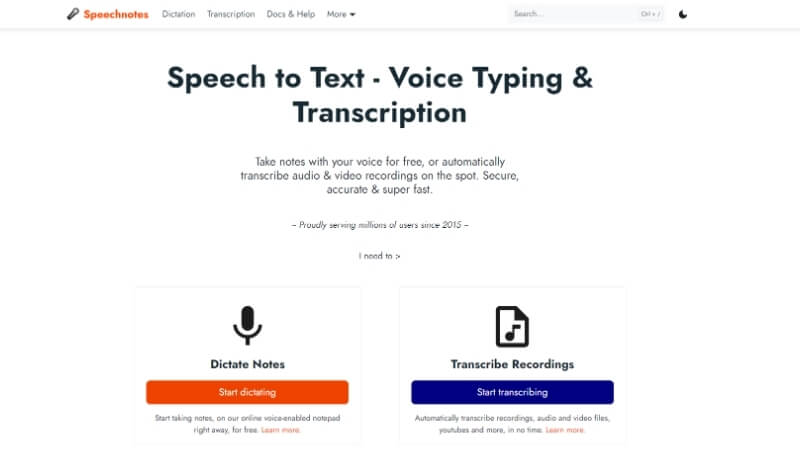 Key Features:
Voice typing to dictate the tool what to write.

Auto-save the documents, so you don't lose any data.

Export the converted files on Google Drive.

Smart capitalization and sentence structuring.
Pros:

User-friendly interface.

Automatic formatting and structuring of converted documents.

Multiple outputs and input formats.

No need for downloads and installations.
Cons:

Internet connectivity is necessary.

Not compatible with iOS and iPad devices.
Braina or Braina Pro is also a speech-to-text and text-to-speech tool that is based on artificial intelligence. Braina Pro is the dedicated tool for Windows devices, but Braina is the one you can install on Mac devices. However, the capabilities of both software are similar, and they provide users with a complete experience of a personal virtual assistant.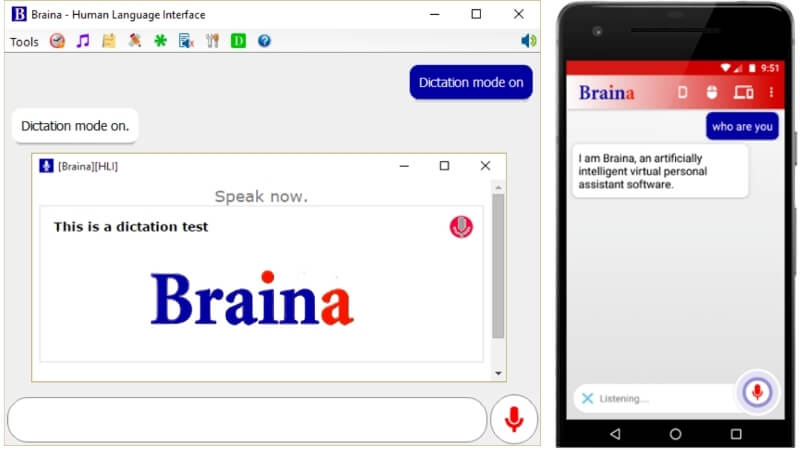 Key Features:
Accurate speech recognition with the flexibility to convert it to text.

Versatile capabilities for voice command and dictation.

Versatile capabilities for voice command and dictation.

Real-time transcription, as well as pre-recorded audio, can be used for transcription.
Pros:

Accuracy of around 100%.

Flexible tool for personal and professional use alike.

Integrate the tool with different software via plugins.
Cons:

The Mac version feels very outdated.

Pricing is high considering the functionalities and features.
Last but not least, Dragon Professional Individual is a premium speech recognition software that professionals often use. Dragon software is available for both Windows and Mac users. Besides, the tool has a web version that allows users to convert their audio into text via internet connectivity.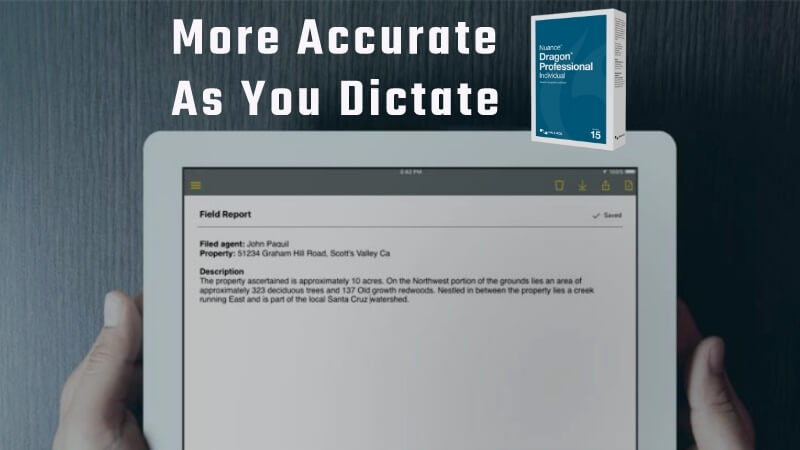 Key Features:
100% accuracy with powerful speech recognition and conversion technology.

Deep learning is used for accurate conversions in real-time.

Smart formatting for selecting how certain data will appear after conversion to text.

Import or export custom lists of acronyms, niche-specific phrases, words, etc.
Pros:

Flexibility accompanied by efficiency and high productivity.

Features for customization and automatic formatting of transcribed data.

Available for Windows, Mac, and Web users.
Cons:

Too complicated for personal users.

Pricing is very high.
Part 3: Comparison Of Top Speech To Text Solutions Above
Tool's Name
Pricing
Highlight Function
User Rating
iMyFone Voxbox
· Quarterly $14.95

· Yearly $39.95

· Lifetime $79.95

An all-in-one tool for speech-to-text and text-to-speech conversion

4.9/5.0
Microsoft Dictate

Free tool

Integration with popular tools like Word, Powerpoint, etc

4.8/5.0
Converse Smartly

Free trial version, and you can get a quote from the team for a professional subscription

Real-time voice recognition and conversion into different languages' text.

4.7/5.0
SpeechNotes

It is a free tool for Mac users.

A web-based tool available for Windows and Mac.

4.6/5.0
Braina

It can be $169 for a lifetime or $59 per year.

A complete virtual assistant for voice commands.

4.5/5.0
Dragon Professional Individual

Professional subscription to Dragon costs around $500 per year

Professional grade features for writers and entrepreneurs.

Limited score available
Part 4: FAQs About Best Speech-To-Text Software
1. How does speech-to-text work?
Speech-to-text technology works by converting the sound waves into digital language and applying analog algorithms to detect the speech phenomes and give you a text output in microseconds.
2. Which is the best speech-to-text software for Windows?
The best speech-to-text software for Windows devices is iMyFone VoxBox. The tool has multiple languages support, multi-function, and AI-powered speech-to-text conversions.
3. Is there any speech-to-text tool online for free?
SpeechNotes is a free online tool for speech-to-text conversion. The online platform is available to web users on Mac, Windows, and Android devices. However, iPad and iPhones are not compatible with SpeechNotes.
Conclusion
We have listed different solutions for desktop users. Irrespective of the operating system, you can choose the right tool for your device that gives excellent results when it comes to speech-to-text conversion. However, we highly recommend iMyFone Voxbox as a PC's go-to speech-to-text or text-to-speech conversion. The tool uses the advanced technology of artificial intelligence to give you a very high accuracy in output.