Who can forget Walter White's iconic lines from Breaking Bad, such as "Say My Name" and "The Danger Is Me!" Using the best Walter White AI voice generator to replicate his voice.
Whether you want to create content, dub, or add voice for Walter White memes, the voice generator can help you elevate your content and engage more audience.
Listen to Walter White AI Voice generated using voice generator - iMyFone Voxbox down below for free!

Tips
No voice artists are needed, and no recording equipment is needed. You can easily convert text to voice using the
best AI speech generator
-
iMyFone VoxBox
sound like Walter White ! watch this video and download it for free!
Part 1: Who is Walter White and Saul Goodman?
1. Who is Walter White?
Breaking bad is a thriller drama set in the present world US, New Mexico, and Albuquerque. It is the legend of a chemistry teacher who has an existential crisis after a cancer diagnosis.
His soul-searching leads him to start making Meth; he teams up with Jesse and grows from a small town dealing and distributing to a global phenomenon. The 8-season extravaganza portrays the story of Walter White, played by Brayan Cranston, of how a high school teacher becomes King Pin, The One Who Knocks.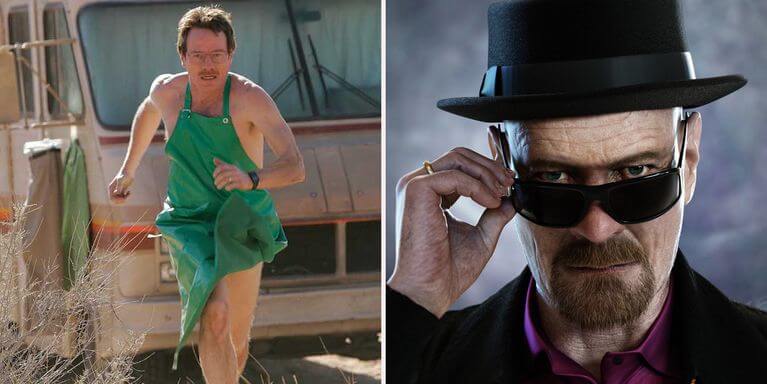 The motif of the earlier seasons shows Walter White as a timid, straightforward forward boring chemistry teacher with a lackluster home life. The way he dresses and acts is also representative of his life. But as the story continues, he gets tangled up with mob bosses due to the pristine 99% quality of Meth. This high-quality Meth means competition for other mobs for which he is highly sought after to partner.
Mob bosses are crazy, and Walt is pushed over the edge to do silly things until he kills one of them when pushed too far. His transformation in later seasons into Heisenberg was stark and more stylized in his attire. His most iconic look in the later seasons was his hat and sunglasses with a French beard, which got him all the fame.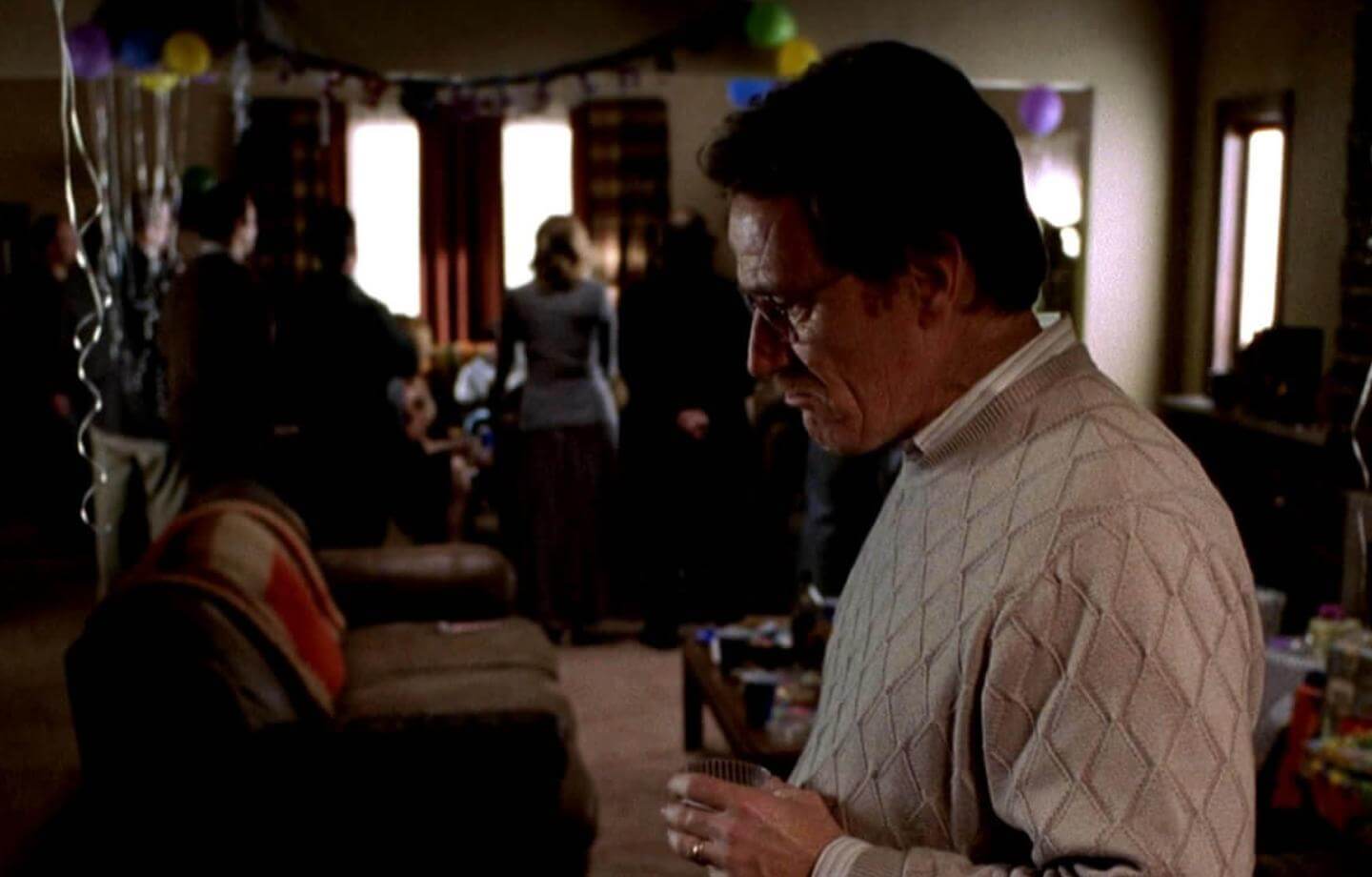 So, if you are a fan and want to sound like Walter White, there is nothing better than using a Walter White voice generator, a few of which you can read about below.
2. Who is Saul Goodman?
James Morgan "Jimmy" McGill, better known by his business name Saul Goodman, is a character created by Vince Gilligan and Peter Gould and portrayed by Bob Odenkirk in the television franchise Breaking Bad. He appears as a major character in Breaking Bad (2008–2013) and as the protagonist of its spin-off Better Call Saul (2015–2022).
Listen to Saul Goodman AI Voice for free using iMyFone Voxbox down below!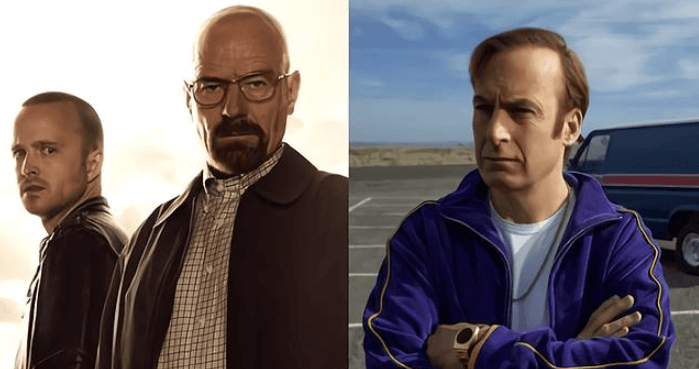 Part 2: How to Generate Walter White AI Voice Via Text to Speech
The best Walter White voice text to speech tool is VoxBox, which we will discuss in this section. Let's see some significant aspects about VoxBox that make this a good option.
VoxBox – The Ultimate Walter White AI Voice Generator
VoxBox from iMyFone is the best solution for generating Walter White voice AI for text to speech, content creation, your streams or having fun with others, as all you need is a text body, and VoxBox can convert it into Heisenberg, aka Walter White, in seconds.
Moreover, it also provides you with 3200+ voices and 77+ languages, speech to text, recording, audio editing, and more, serving as the best option to satisfy all your needs in audio making.
Key Features:
Dubbing using text-to-speech in 3200+ voices.

You can generate Walter White AI voice from whatever text you write and hear him speak his iconic lines in 77+ languages.

More Built-in features to choose from like Voice clone, text transcription, voice record, video conversion,etc.

Apply more Scenarios like Business, entertainment, education, voice studio, and multi-media platforms video.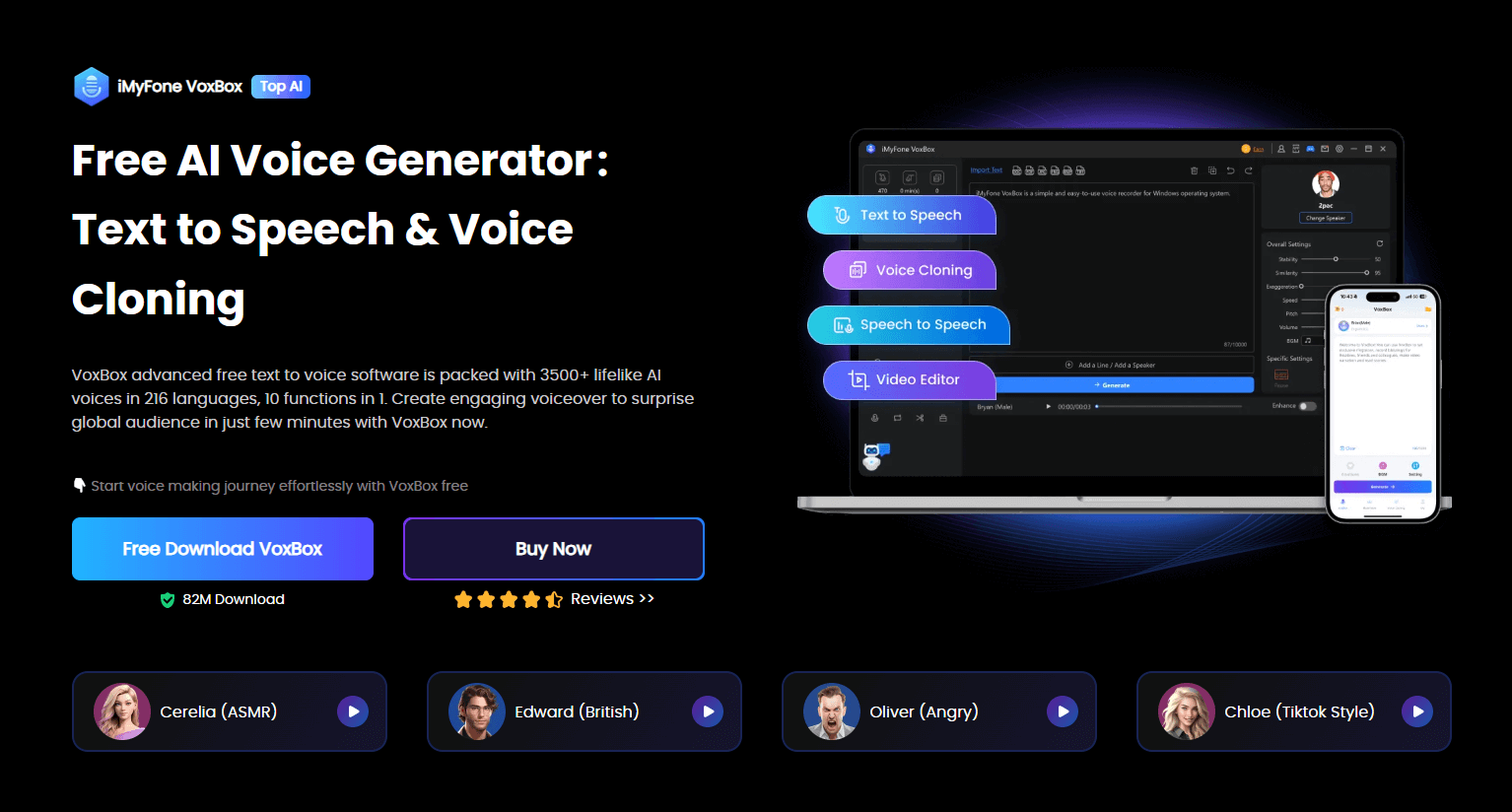 Free Get Walter White AI voice :
Step #1: Visit iMyFone and navigate to the VoxBox page.
Step #2: Download and Install.
Step #3: "Text to Speech" Menu you can see on the left pane.
Step #4: Select "Breaking Bad" from the "Voice Type" drop-down and Walter White from the "Voice" drop down.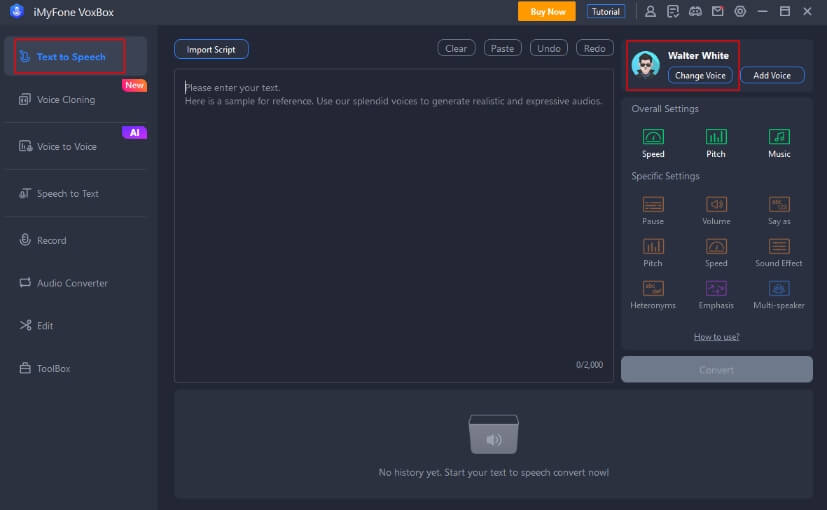 Step #5: Enter the text in the box 'Please enter your text' and press convert, and you can get the voiceover.
Pros:

TTS process faster.

Provide high-qulaity voiceover..

Professional tools with simple UI/UX.
Cons:

Need install it.
User Review:
Richard – I love the app without question. It is a solid app that outputs crisp quality and can be further modified.
Watch this video to learn more about best Walter White Text to Speech Voice Generator VoxBox:
Part 3: Other Walter White AI Voice Generator for Text to Speech
VoxBox isn't the only Walter White AI voice generator option, as we have two entertaining apps that you will enjoy.
One of the best Walter White text to speech tools, FakeYou boasts whopping 2,400 voices in its catalog that you can use to convert text to voice free of charge. You can convert as much text into speech as you want for Walter White voice text to speech generation as it is free and open source.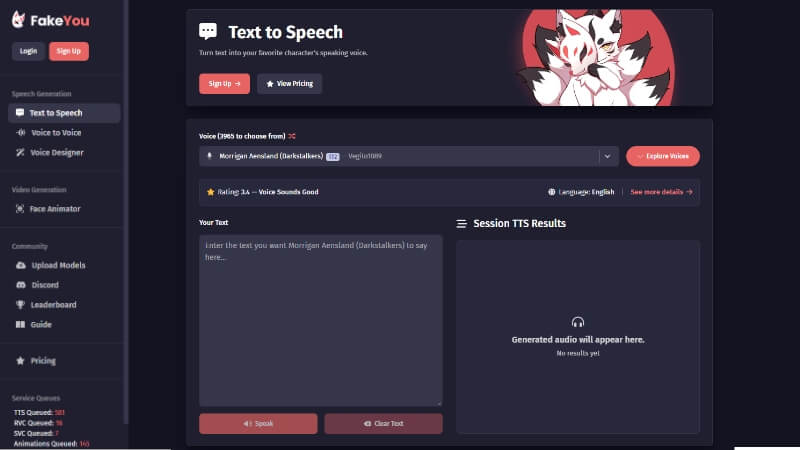 Key Features:
Add other voices to your background for Walter White text to speech to make your results more lifelike and natural.

Powerful AI API technology can generate the best voiceovers.

Massive library of more than 2,000 voices.
Pros:

A web-based tool that needs only a web browser and internet connection to convert.

You can even tweak any voiceover to your desire and get more unique results.

Community funds the project so it will always be free, and adding new voices regularly.
Cons:

It doesn't support uploading recordings, only TTS.

Celebrity Voice Changer – Walter White Voice Impression Parody.
Celebrity Voice Changer is an app that is powered by Voice.ai technology and uses its voice cloning feature to impersonate Walter White. You can download the app and use it as an AI voice generator anytime.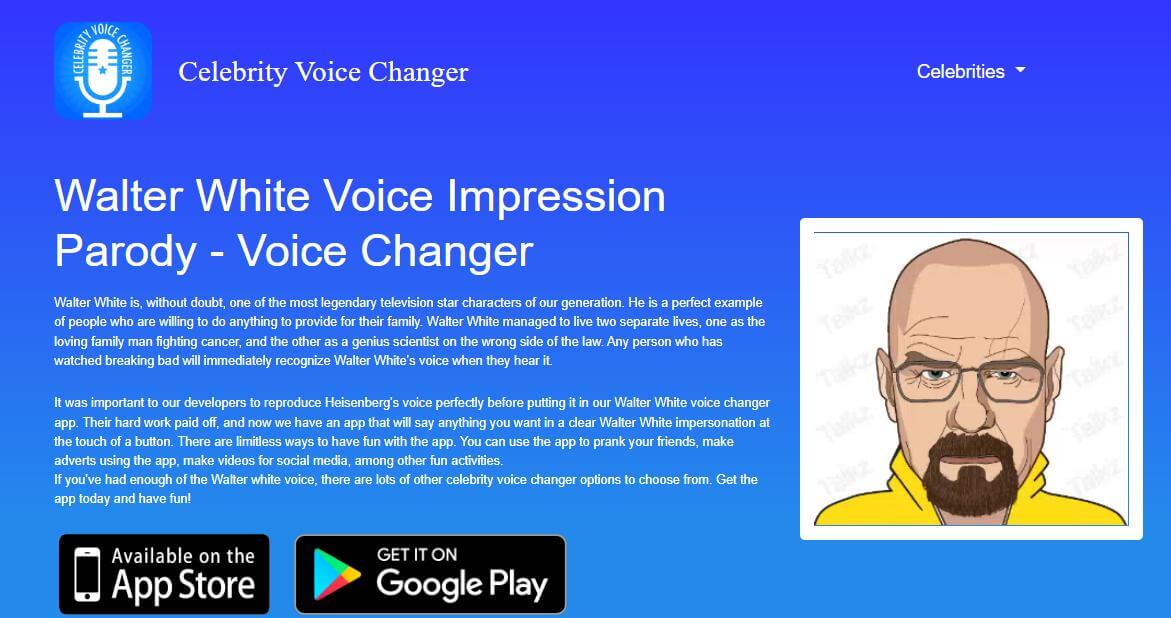 Key Features:
Real-time voice changing through the mic of your phone supported.

Powered by famous Voice.ai cloning technology.

Available for Android and iOS mobiles.

Deep Learning Technology at the core of the app.

You can bookmark your favorite voice options.

100% accurate to the celebrity's authentic voice.
Pros:

Voiceovers are getting better day by day as machine learning helps learn from users.

Anyone can master the app.

Separate Walter White voice text to speech app that you can download.

Have a lot more celebrity voices than a lot of other apps combined.
Cons:

Still clunky for real-time conversion and sounds robotic.
Part 4: FAQs about Walter White AI Voice 2023
1. Is there a text to speech or voice changer for Walter White I can use?
There are many Walters White text to speech available, some of which we have mentioned in this list, as you can see. Celebrity voice changer have made a standalone app for Walter White impersonation.
2. How can I sound like Walter White?
You can either listen to his seasons and practice, which might take months, or use one of two Walter White voice generator options. In this article, we have a few Walter White voice text to speech that utilizes TTS technology to generate his voice from text, or you can use a real-time voice conversion.
3.Is there any Walter White TTS software for free?
There are a few free Walter White text to speech generators like FakeYou that will stay free forever, while others have free versions with limitations. You can use most of them without charge and convert what you want from text to Walter White voice.
4. Where can I access the Walter White AI Voice?
You can easily access and utilize the Walter White AI Voice through Voxbox. Simply input your text, adjust settings if desired, and generate your unique AI voiceover.
5. What is the Walter White AI Voice?
The Walter White AI Voice is an advanced text-to-speech technology that leverages artificial intelligence to replicate the distinctive voice of Walter White, the complex protagonist from "Breaking Bad".
6. What can I use the Walter White AI Voice for?
The possibilities are vast! You can use the Walter White AI Voice for creating unique voiceovers, dubbing videos, narrating content, producing podcasts, and even adding a touch of Walter White's iconic presence to your creative projects.
Conclusion
Few celebrities have come near the fame of Walter White, aka Heisenberg and its popularity demands respect. This popularity increased when people wanted to imitate his voice for their content or fun.
Among many other great Walter White AI voice generator mentioned in this list, we recommend VoxBox to be the best due to its features and the staggering amount of languages and voiceover it entails with its app.