Just like users highly praise text-to-speech software for reading documents aloud, speech-to-text converters are equally useful. Speech-to-text functionality available in different software lets you transcribe video or audio content, do voice typing, and much more easily.
In today's article, we are going to talk about the 5 best speech-to-text converters online for free. So let's get into it.
Part 1: How Does A Speech-to-Text Converter Work?
Speech-to-text technology is similar to that audio-to-text conversion. The main difference between the two is that audio-to-text conversions take place on the pre-recorded audio files. However, the speech to text conversions takes place in real time. As soon as you speak something, it is converted into text with advanced algorithms.
Speech to text software works on the person's audio and converts it into an editable transcript. Here is how speech-to-text solutions actually work:
1. When an individual speaks words from his mouth, it creates a series of vibrations picked up by speech-to-text technology used in STT solutions. The algorithms work on the vibrations and convert them into digital language that is further decoded.
2. The analog-to-digital converter within the software picks the sounds of an audio file, measure the waves, analyzes them, and filters the relevant sounds into distinguished categories.
3. Each sound is matched with the phenomes of the English language or any other language you are conversing with. The next step is running the phenomes through mathematical models to translate them into known words, phrases, and sentences.
4. Everything is taking place in the thousandth part of a second, and you see the results on your screen in no time.
Part 2: Best Speech-to-Text Software For PC Recommend
If you are not into using online software to do the speech-to-text conversion, iMyFone VoxBox allows you to type without your hands and use your voice or other audio to create documents. you can copy text and Add subtitles to your content in real-time to your streaming content.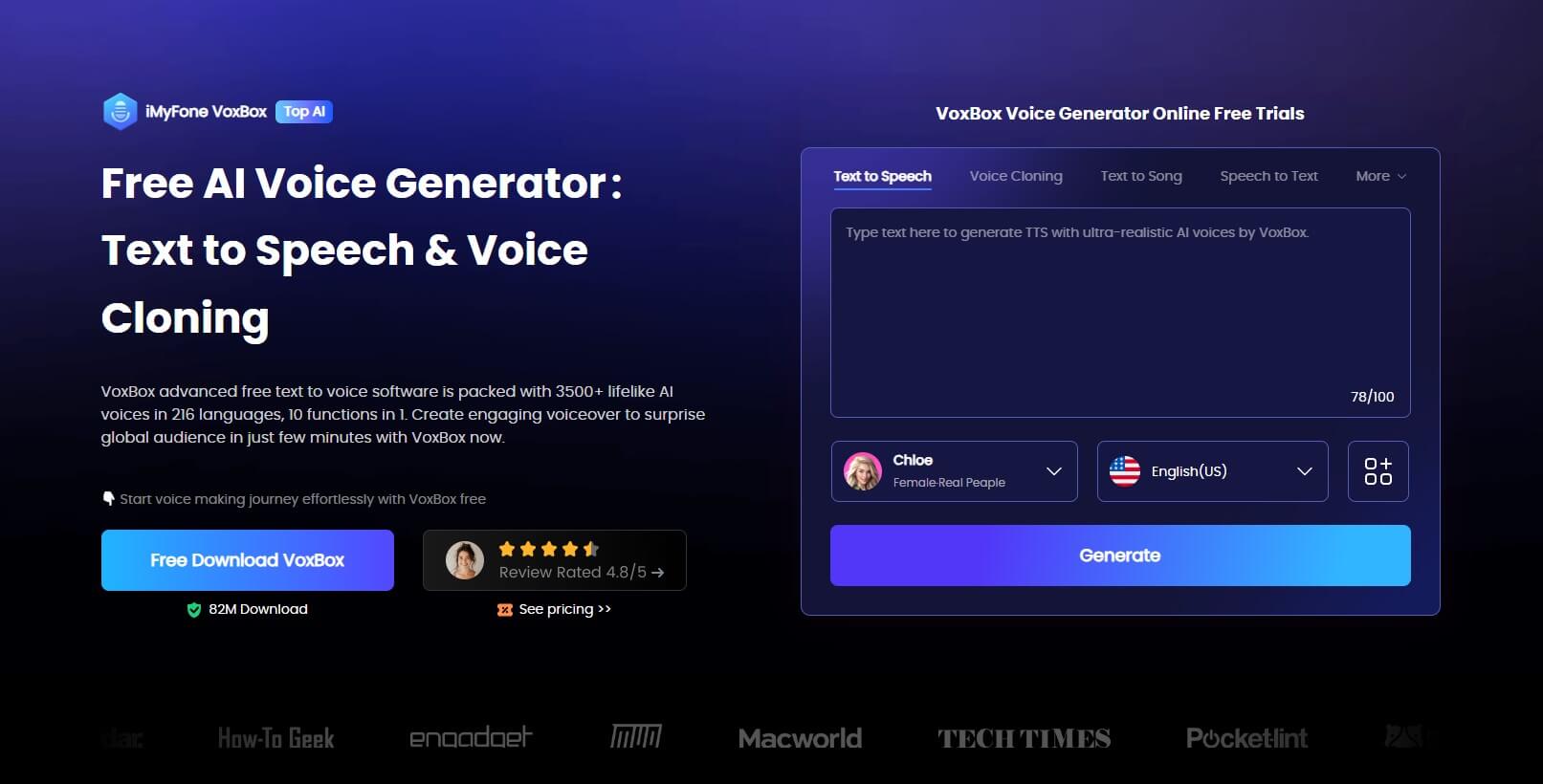 Key Features:
Accurate speech recognition for best output.

Export the transcribed documents to your device.

Complete audio transcription in minutes.

46+ languages support like Japanese, Italian, etc.

Multiple audio & video file formats support.

An all-in-one tool for STT and TTS conversions.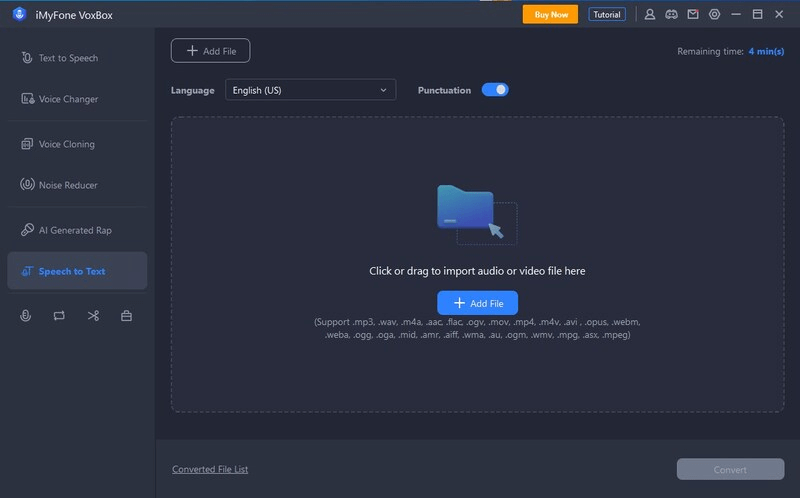 Pros:

The user-friendly interface provides a quick workflow.

You don't need internet connectivity for conversions.

High accuracy with AI technology and advanced algorithms.

Multiple output format.
Cons:

Not available for the mobile users.

The number of languages supported is comparatively low.
Pricing:
$14.95 Per Month.

$39.95 Per Year.

$79.95 for Lifetime.
Watch this video to learn more about the Best Speech to Text Generator Tool VoxBox:
Part 3: Best Online Speech-to-Text Converter Recommended In 2023
Let's have a look at the best online speech-to-text tools you can rely on in 2023.
SpeechNotes is a speech-to-text converter online that you can use for free. It is a powerful, user-friendly, and highly efficient text-to-speech and speech-to-text converter you can access from your web browser.
Irrespective of which device you are using, all you need is a web browser to run the free software and do voice typing, video transcribing, and much more. The most important highlight of the tool is its intelligent algorithms that also set the text structure, capitalization, and other grammatical aspects of conversions.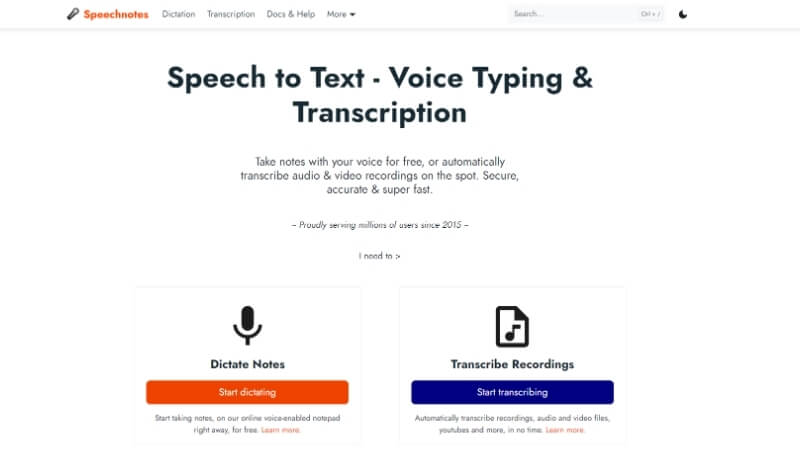 Key Features:
Voice typing to dictate the tool what to write.

Auto-save the documents, so you don't lose any data.

Export the converted files on Google Drive.

Smart capitalization and sentence structuring.
Pricing:
It is a speech-to-text online converter for Free
Dictation.io is an online speech-to-text converter developed by Indian software developers. It works similarly to SpeechNotes; you only need a Chrome Browser on your desktop or laptop to run the software with full capabilities. Although available on Android and iOS, Dictation.io is recommended to be used on the desktop. It will give a full experience of the online speech-to-text converter.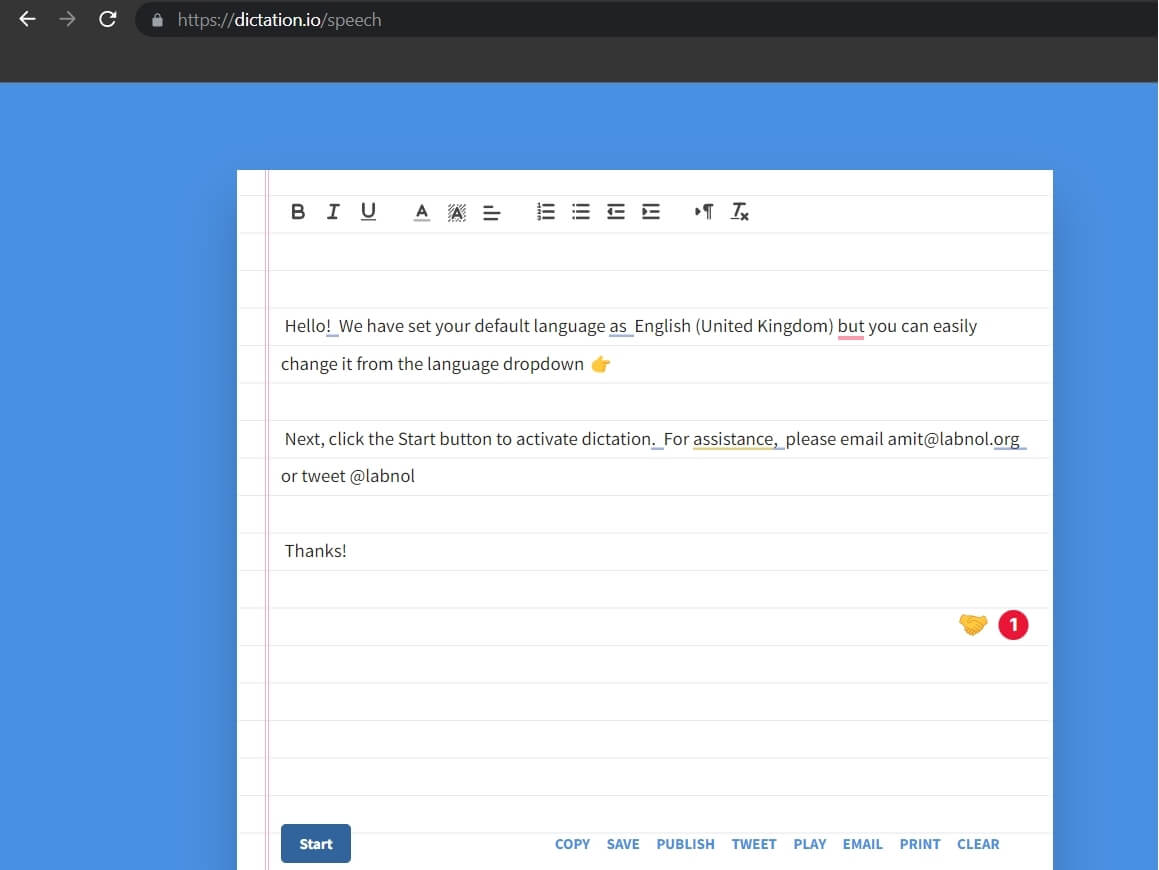 Just tap on the microphone icon and start speaking to let the algorithms and STT technology work on the sound waves and give you sorted text in your required language.
Key Features:
Multiple-language support, including English, Hindi, Italian, Francais, Espanol, Urdu, etc.

Online tool doesn't require download or installations.

Auto-save feature to give you a hassle-free experience.

High accuracy with AI-powered conversions.
Pricing:
It is a speech-to-text online converter for Free.
Yet another online speech-to-text converter that works very well on Chrome browsers is SpeechTexter. It is a free converter that is dedicated to the web-users on Android devices. You can also download the Android app of Speech Texter and enjoy voice typing with very high accuracy and fast conversions.
Whether you are using the browser-based STT or Android app, the software uses Google's server to convert your voice into text. All you have to do is speak by tapping on start. As soon as you stop speaking, the conversion takes place in a few seconds, and the final result is shown on the main window with Result Confidence Wheel.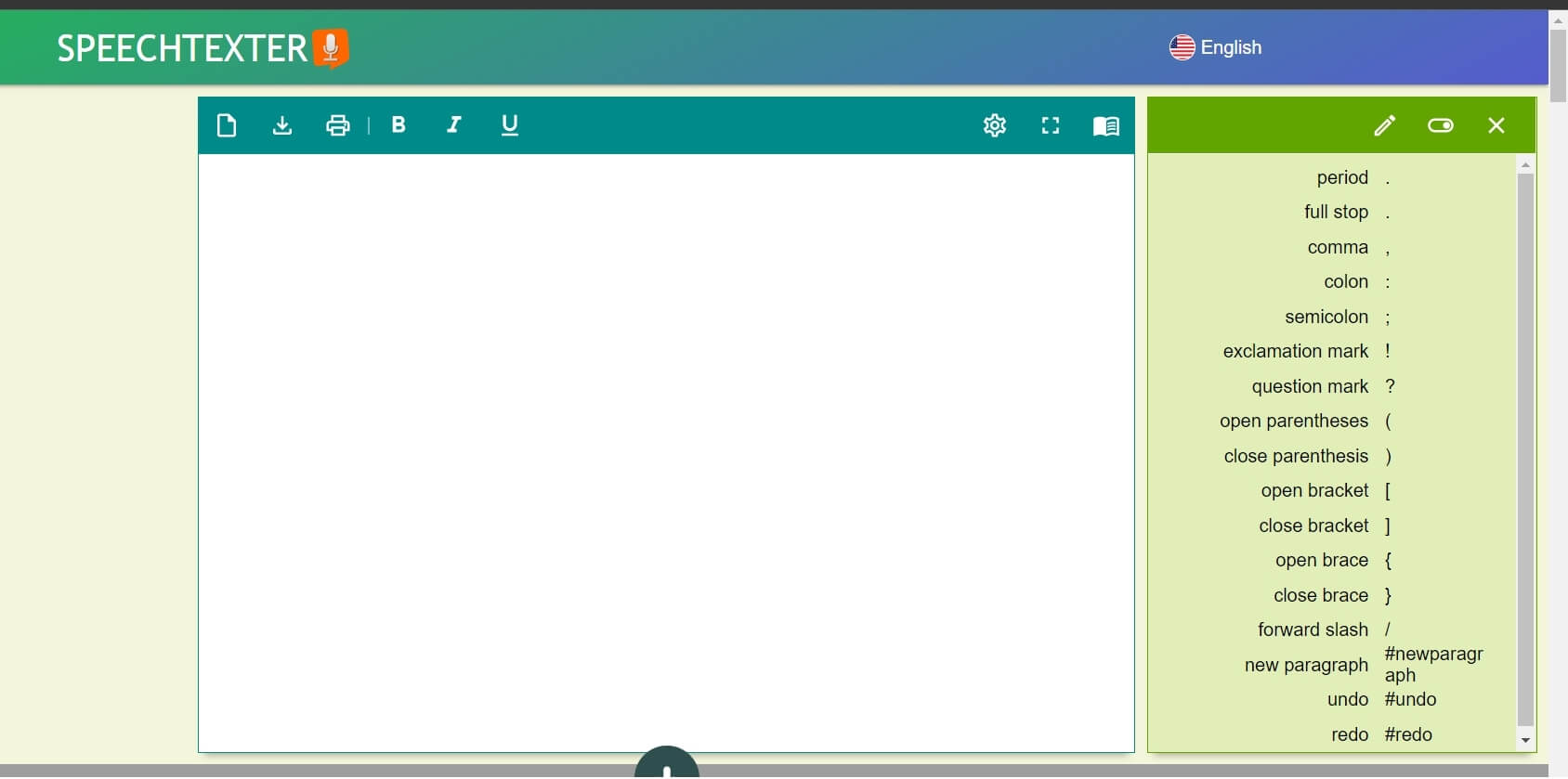 Key Features:
Result confidence wheel to tell you the estimated accuracy of transcribed words.

Dedicated app and online speech-to-text converter for Android users.

More than 70 languages to choose from.

Uses the trusted servers of Google for transcribing.

Foreign language pronunciation is improved.
Pricing:
It is a free speech-to-text converter that needs no download or installation.
When talking about online speech-to-text conversion, podcastle.ai is the name you cannot ignore. It is a voice-to-text converter that can convert pre-recorded audio and real-time speech into text.
The software is most popularly used by people who want to convert pre-recorded audio files in multiple formats to written documents. The tool is perfect for transcribing videos and converting audio files into a document.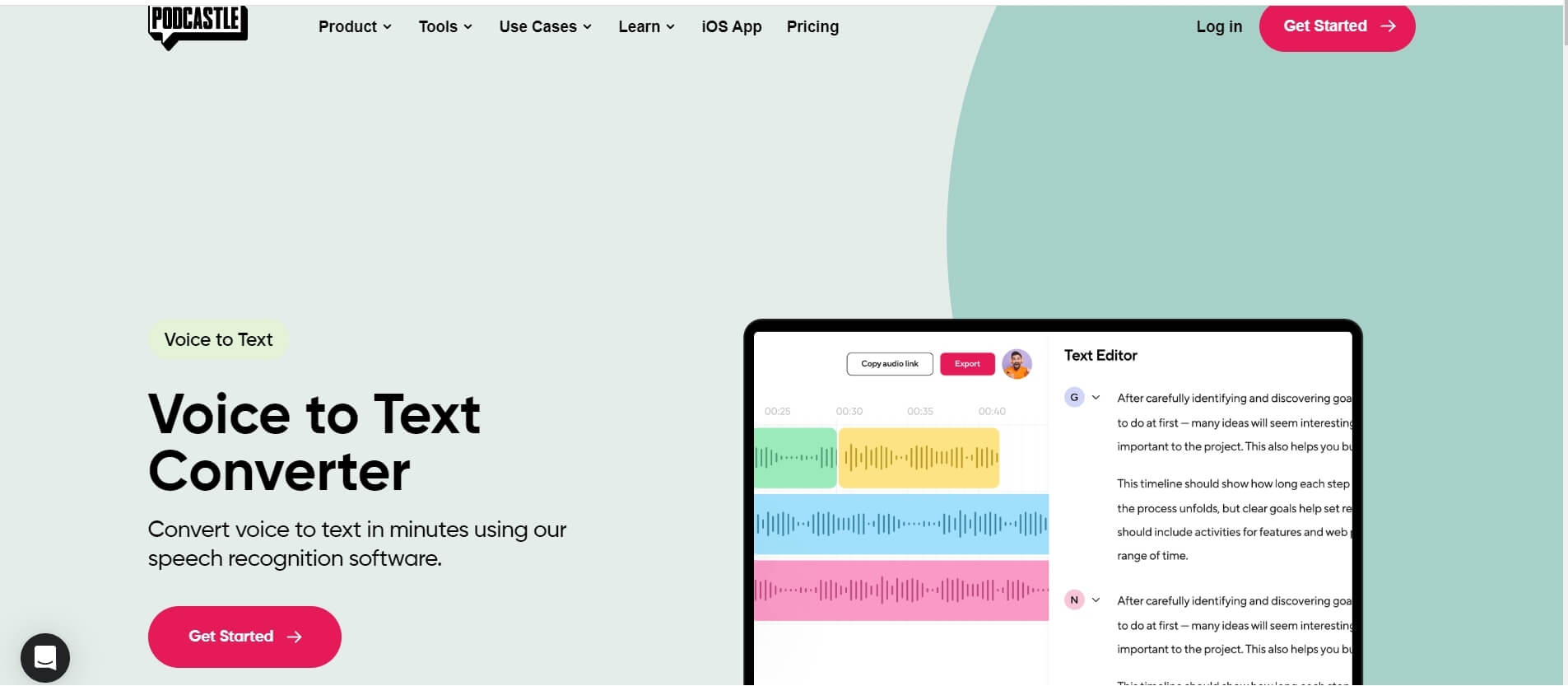 Key Features:
Convert your audio or speech into text within no time.

Supports different formats for downloading and uploading files.

Use text editors to correct the formatting and sentence structure of converted content.

Eliminates the need for time-consuming manual transcription.

Comes with affordable pricing.
Pricing:
You will pay $11.99/month for 10 hours of transcription. One hour of transcription per month is free.
Last but not least, Google Cloud speech to text is a free online STT converter you can leverage for accurate transcription in different languages. You can integrate the Google Cloud STT API with popular software and tools for a convenient conversion experience.

Key Features:
Speech adaption for better transcription and suggestions about domain-specific words and phrases.

A user-friendly interface speeds up the process of transcription from speech to text.

Speech-to-text on-prem leverages Google's speech recognition technology for private data centers.

Multi-lingual support.

Handle noisy audio and separates the actual content accurately.
Pricing:
It is a free tool for personal users, but you can also get a paid professional subscription.
Part 4: FAQs About Best Speech-To-Text Online
1. Which is the best online speech-to-text tool?
Google Cloud speech-to-text is the best online solution for conversions due to the powerful servers of Google, secure and encrypted ecosystem accompanied with high accuracy.
2. Is there any online speech-to-text converter for Japanese?
There are many Japanese text-to-speech converters. However, when it comes to Japanese speech-to-text converters, Sonic.ai is indeed the most accurate and affordable tool you can rely on.
3. Can I use speech-to-text software on a PC?
Yes, you can use speech-to-text software on a PC at a very affordable price. One prime example of STT software is iMyFone VoxBox, which can be installed and used on your Windows PC without hassle.
Conclusion
We have listed the best 6 speech to text transcribers for you to try and convert your audio into written text. You can leverage speech-to-text to speed up your work. However, I'd love to recommend VoxBox, which not only supported speech-to-text but also supported text-to-speech, speech-to-speech, etc. which makes you focus on an important issue.