Having to hire an expensive voice actor to make Russian voiceovers when you need that in business, teaching, presentations, and more? No worries, Russian accent generator is here to help! With its help, you can easily get lifelike Russian AI voice and do Russian text to speech.
Therefore, we are going to discuss 4 top Russian accent generators, including their features, reviews, and pricing details, which also helps people to convert text into speech in different languages and accents. So, let's start.
Tips
Listen to the Ultra-realistic Russian AI Voice on VoxBox.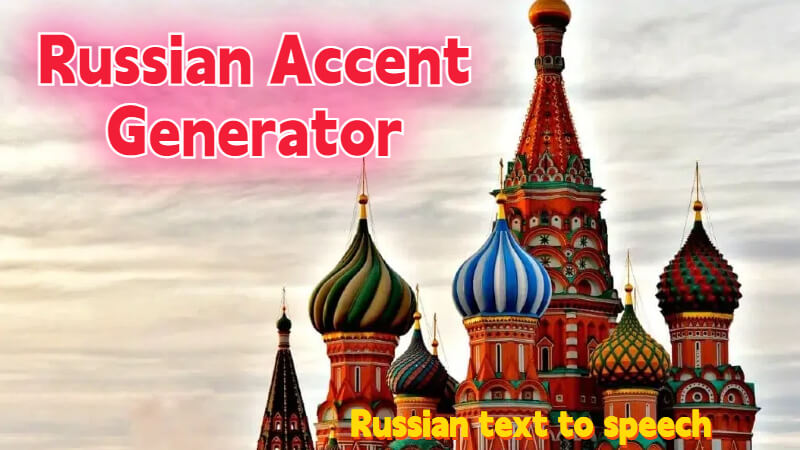 Part 1: Top 4 Russian Accent Generators for Russian Text to Speech Conversion
VoxBox is a wonderful 4-in-1 software for generating, converting, recording, and editing voices in different languages and accents. It helps users to create realistic and native sounds easily due to its clear and manageable user interface.
It not only provides you with natural-sounding Russian AI voice, but is available for 46+ languages for you to make AI voiceovers, satisfying all your needs. Apart from that, it also boasts 3200+ AI voices for you to make your dubbing more distinct or interesting.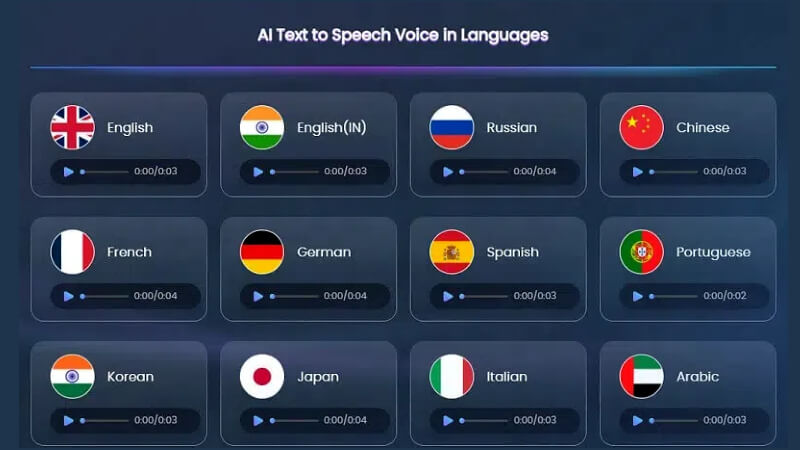 Step-by-Step Guide on Converting Text to Speech in Russian
Step 1: Download & Installation
Step 2: Choose "Text to Speech", enter your text, and select "Change Voice" to get Russian AI voice.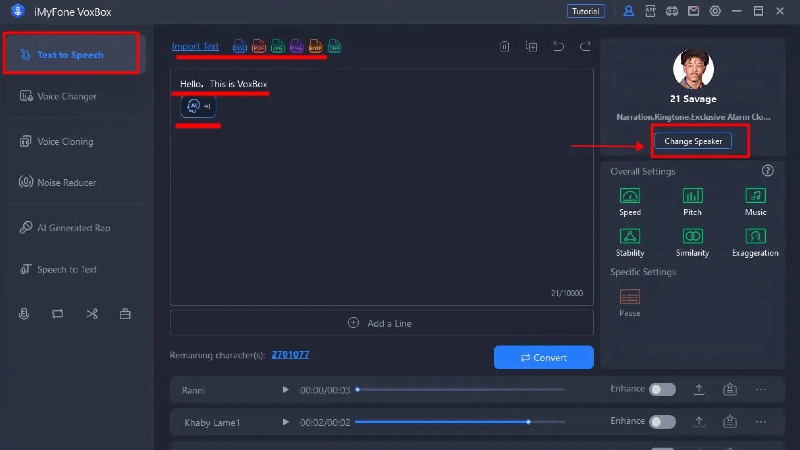 Step 3: Search "Russian" under Language, choose the voice you like, and click "use".
Step 4: Click on "Convert" to get the voiceover that perfectly replicates Russian accent.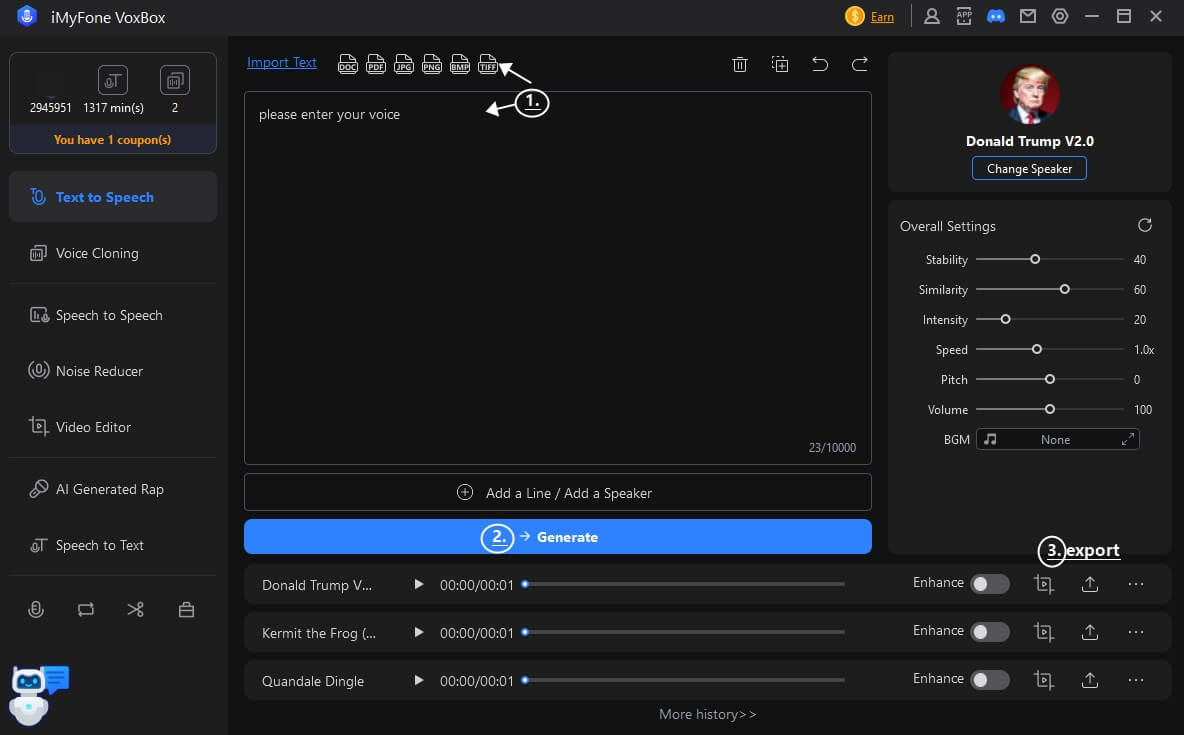 Features:
46+ global languages & 3200+ voices & 100+ accents

Multi-in-1 voice generator supported voice record, Speech-to-Text, convert, and edit.

Supported Pitch,Pauce,Speed, Emphasis,Volume.

Supported multiple output format like WAV,OGG,MP3.

Supported select, cut, trim.

User-friendly interface & Easy-to-use..
Reviews:
4.7 stars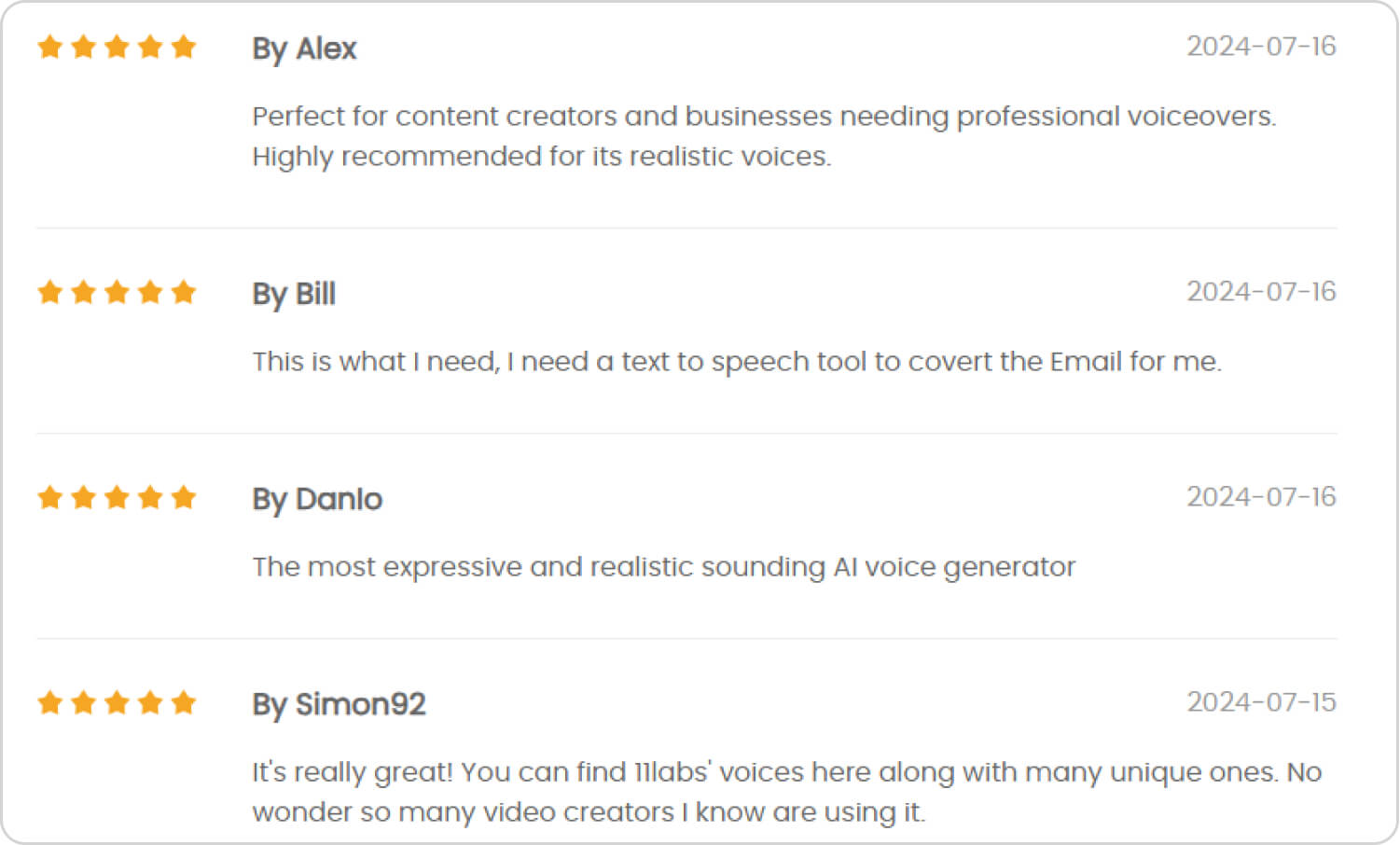 Price:
| Plan | Price |
| --- | --- |
| 1-month Plan | $14.95 |
| 1-year Plan | 44.95 |
| Lifetime Plan | $89.95 |
Notevibes is an online tool that offers easy and excellent services to support text-to-speech conversion in multiple languages. This tool has 225+ different premium male and female voices that can be used in the language of your choice.
This tool facilitates its users in many senses; it offers voice examples that users can observe before getting started with their task with Notevibes.
By doing this, Notevibes saves the user's time and effort. Moreover, it has a very simple and easy-to-understand user interface which is suitable for all kinds of users (beginners or professionals).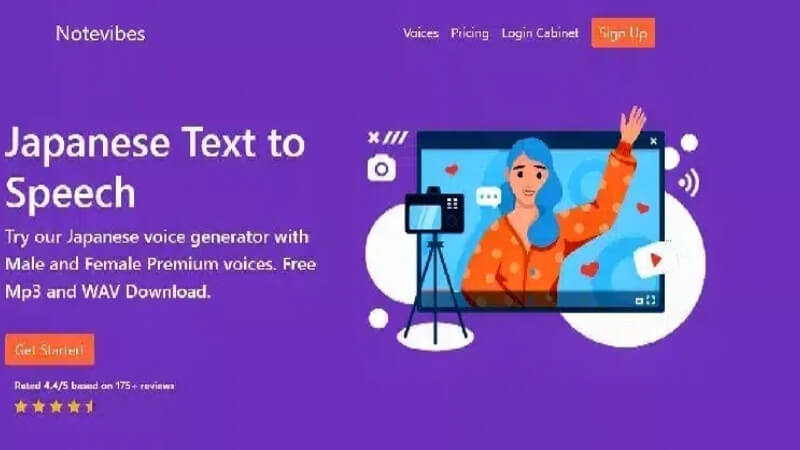 Features:
225+ different high-quality voices.

25+ different languages.

Supported Pause, Pitch, Emphasis,Rate,Volume.

100% secure and safe tool & simple to use..

Convert text into voice efficiently and clearly.

The free version is available.
Price:
| Plan | Price |
| --- | --- |
| Personal Plan | $8/monthly |
| Commercial Plan | $90/monthly |
| Cooperate Plan | $4000/yearly |
Azure is another famous, versatile, and flexible text-to-speech generator available as an online tool all around the world. It maintains its user's privacy as it demands the users to register themselves first before being engaged with this tool. It offers more than 400 different neutral and natural sounds that generate speech in different languages through powerful AI technology.
For new users, it offers a demo through which users can try the reliability, clearance, originality, and quality before registration. It is designed very simply with a clear user interface. All the features are displayed in a manageable way, from where you can quickly select the language, voice, speaking style, and pitch for the audio file.
Features:
400+ different Voices.

Powerful AI technology.

Easy download and share methods.

Supported customizable text-talker voices

26+ languages & 140+ accents are to choose from.

Neutral and clear output results.

Supported Real-time speech synthesis and Asynchronous synthesis of long audio.
Price:
Azure charges different text-to-speech prices according to consumed time and characters.
Amazon Polly is another Text-to-Speech converter that uses deep learning techniques to generate real human voices like audio speeches. This TTS converter supports customized and controlled speech with SSML tags and lexicons.
Amazon Polly also allows synchronized metadata that enhances the quality and enrichment of the audio clip. One of its best features is that it enables users to do real-time customization of bandwidth and audio quality. Besides it, users can adjust the audio pitch, speaking style, loudness, and many more features quickly and easily.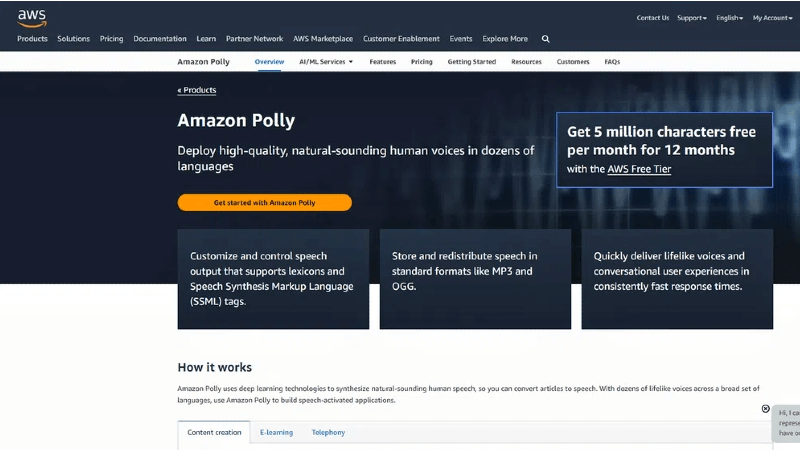 Features:
Flexible and high-end customizing options

Huge variety of different sounds and voices.

Supports different languages and accents.

Supports programming languages as well.

Can synthesize speech using the command line.
Price:
Amazon Polly charges differently according to used characters and duration time. You can use the Amazon Polly Calculator to get an estimated price for your customized plan.
Part 2: Comparison Top 4 Russian Accent Generator
| Product Name | Languages | Voices | Accent | User Rating |
| --- | --- | --- | --- | --- |
| iMyFone VoxBox | 46+ | 3200+ | 100+ | 4.7 |
| NoteVibes | 25 | 225+ | 4 | 4.6 |
| Azure | 26 | 400+ | 140+ | 4.6 |
| Amazon Polly | 15+ | 100 | 24+ | 4.6 |
Part 3: You May Be Interested in: Russian Speech to Text Converter
Russian speech-to-text converter, like Voxbox enables multilingual support, market research, and effective communication with Russian speakers, facilitating business expansion and higher revenues. Automated tools like Voxbox offer cost-effective solutions with near-human levels of accuracy and language flexibility in over 30 languages, making them invaluable for businesses.
Converting Russian speech to text using Voxbox is easy as a breeze, since you only need to upload the audio file and choose the export language, then with a single click on "Convert", you can get the text in any languages you want from Russian speech.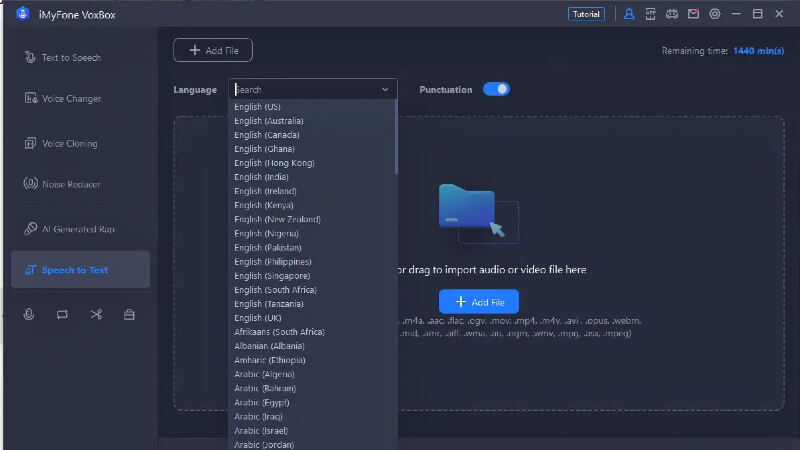 Part 4: Hot FAQs about Russian Accent Generator and Russian AI Voice
1. How do you sound like Russian?
You can make yourself sound like Russian easily using Russian Accent generator, like Voxbox, which provides you with lifelike Russian AI voice for you to do Russian AI voiceovers, and more.
2. What is the best text to speech for Russian?
iMyFone VoxBox is the best text to speech for Russian, since the Russian AI voice it offers is natural-sounding and can meet all your needs. Moreover, it is more than just a TTS tool for Russian, it also has 3200+ voices in 46+ languages, voice cloning features, speech to text, audio editing and more.
3. What is a Russian Accent Generator?
A Russian Accent Generator is an AI-powered tool that adds a Russian accent to text-to-speech (TTS) outputs. It allows users to customize speech to sound as if spoken by someone with a Russian accent, enhancing the authenticity and cultural context of audio content.
4. How do Russian AI Voice and Russian Accent Generator benefit businesses?
Russian AI Voice and Accent Generator tools enhance content localization, engage audiences, and add cultural relevance to multimedia projects. They empower businesses to deliver authentic and compelling audio experiences, catering to Russian-speaking audiences and beyond.
5. Can a Russian AI Voice speak other languages?
Some Russian AI Voice systems can be extended to support multiple languages. Users can switch between Russian and other languages to cater to diverse audiences.
Conclusion
In this article, we have shared the top 4 TTS tools/software through which you can easily get your speech in the Russian language and accent. Not only Russian, but these tools also support multiple languages with different voices and accents.
iMyFoneVoxBox is at the top of our list because it is multifunctional software that can generate, convert, edit, and record voice for various purposes. This software is available for the Windows platform, Mac, Android, and iOS at the official site of iMyFone VoxBox; anyone can easily download and install it. We hope this article will help you to get the best Russian accent generator for your task.