For gaming enthusiasts, Discord servers are an excellent platform to socialize and connect with teammates. Adding a soundboard for Discord on mobile can enhance the communication experience by providing unique and fun ways to chat.
Whether you're playing games or just chatting, a soundboard for Discord can make conversations more exciting. From memes to music clips, Discord soundboards offer a range of sound effects to express yourself. With the right soundboard for Discord, your conversations will never be the same!
So, if you want to have a good time on your Discord networks, here are the top 10 soundboards for Discord.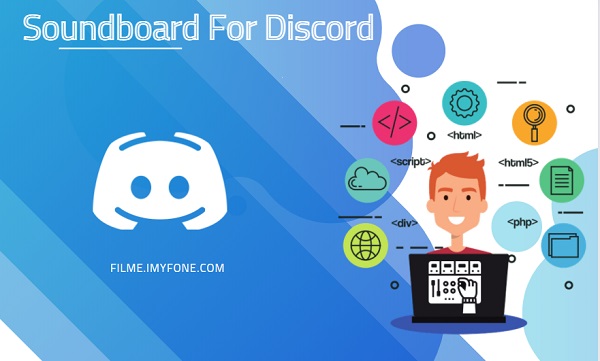 Part 1: 6 Best Discord Soundboard for PC
You can modify your audio in real-time using MagicMic soundboard for pc- it's that simple! No matter whether on Windows or Mac systems, with only a single click, you may modify your audio into many audio filters.
You may check any voice you choose with around popular audio effects. When gaming, talking, or video broadcasting, you may easily change your voice. I have to say, it is the best soundboard for discord.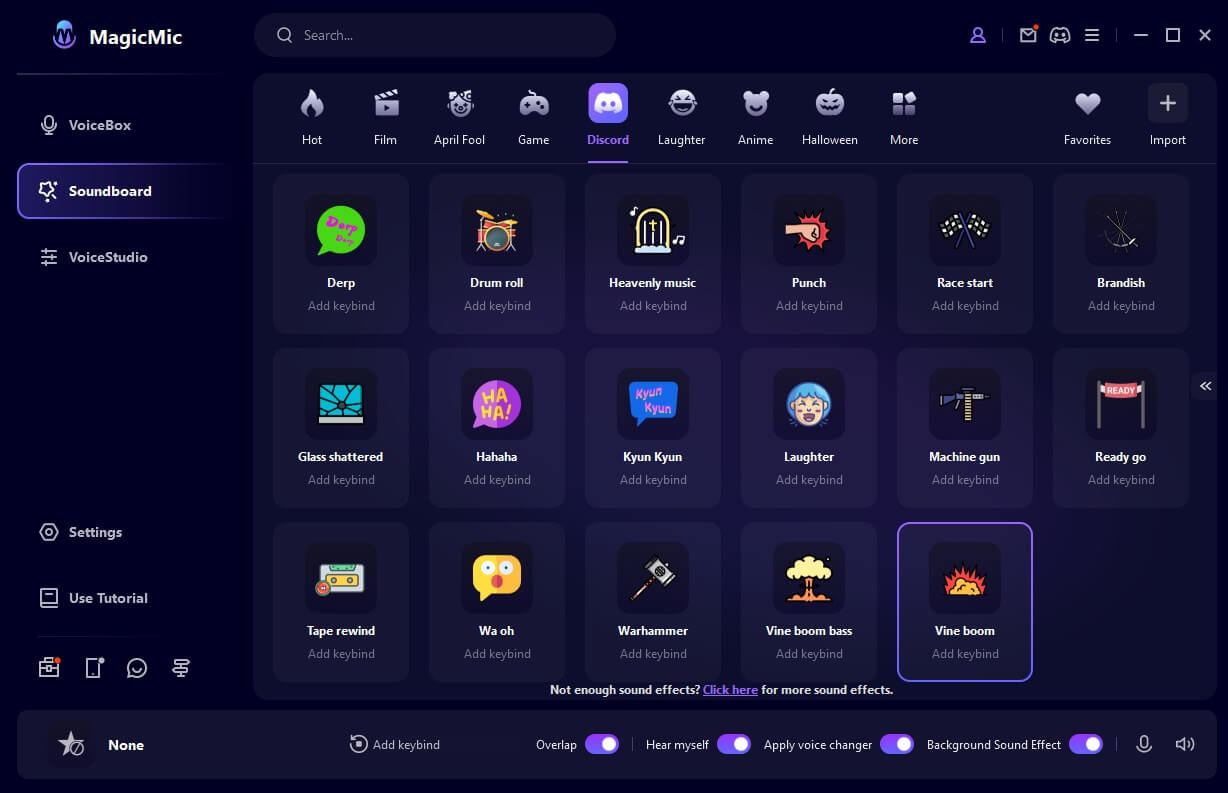 Key Features of MagicMic Soundboard For PC
Alter your sound in real-time using 600+ voice effects, and 150+ voice memes, 120+ voice filters which will be updated weekly.

Voice studio function allows you to customize your own voice filter, you can have the most special voice!

The newly added AI voice cloning function can better reproduce the president AI voices one by one, including Donald Trump or other celebrities.

This software not only has a large number of meme soundboard but also can change your voice in real-time in the popular game, which is impossible for many similar products on the market.

It allows you to set up hot keys so that you can apply sound effects or voice filters quickly.

The user interface is clean and easily understandable.

You can import any sound effects you like into this program.

With a light install pack and 3Ms space, in less than 1 minute, it will be downloaded and installed, and runs rapidly though with a low-end computer.

This software can be used on both PC and mobile.
Watch Video Guide About Best Soundboard for Discord
When it comes to online games, the application is pre-loaded with some of the widely played online games. It also integrates with popular chat platforms including Discord, Skype, and Twitch. The overall intensity can also be changed for each audio clip. If Granny Alice is a little too noisy, you may alter the volume level to make her become your perfect old woman.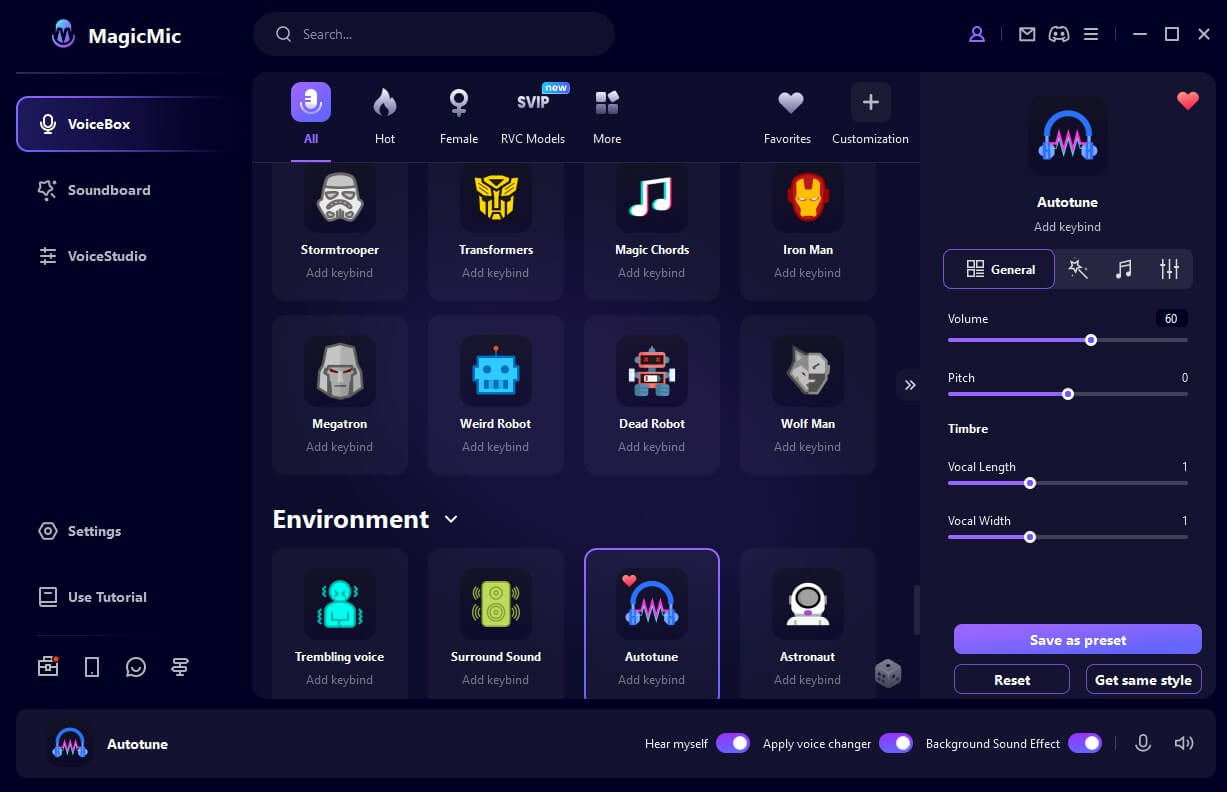 The most famous, simple-to-use, and free discord soundboard app is Resanance. It enables you to experiment with audio effects ranging from the most amusing to the most obnoxious, all for free. It was initially available on Discord, however, it was eventually made available on other platforms. Its flexible functionality, such as the hotkey, enables easy access to audio effects.
And the best part is that you may play it on numerous devices at the same time or in the game's voice call.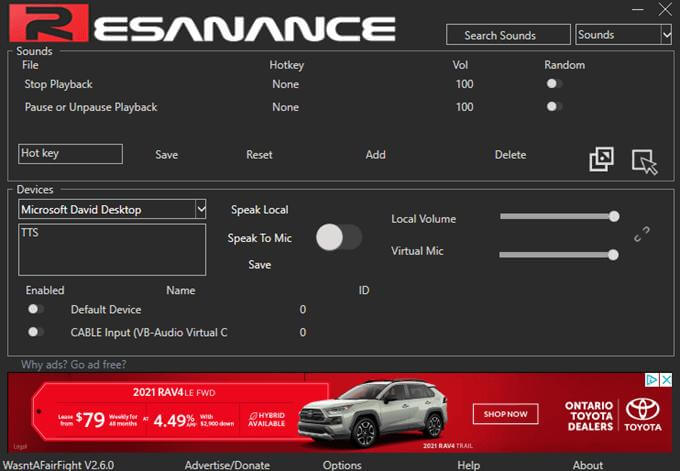 This Discord soundboard includes everything you need, including sound memes to prank noises and instrumental music. You may also use it to play MP3, WAV, and FLAC recordings that you have on your computer.
Features:
You may use as many noises and hotkeys as you would like.

Can also be played on several devices at the same time.

Soundboard for Text to Speech (TTS).

Manually control the level of ambient and microphone noises.
Voxal Voice Changer is one of the best tools that can be used to have fun with your Discord mates. it is indeed jam-packed with features. The amazing part about Voxal is that you could use this to add effects to both current files and your vocals instantaneously through the microphone.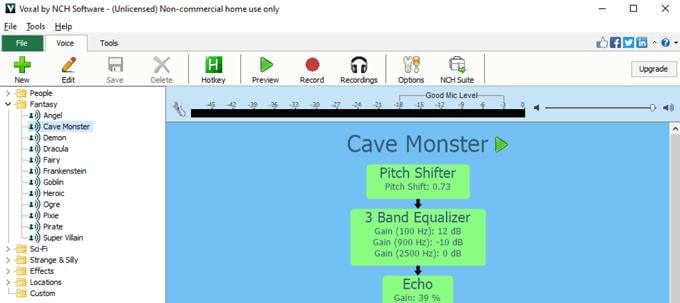 Voxal Voice Changer operates on a network level, therefore you could use it with almost any software on your machine. Furthermore, because of its minimal CPU utilization, Voxal creators believe that you will not experience any frame rate drops when playing, which would be a big benefit.
Features:
Existing files may have effects added to them.

With a mic or alternative sound input source, add changes in real time.

Make as many customized sound effects as you like.

Other active apps will not be impacted by low CPU consumption.
Voicemod is an excellent soundboard for Discord that includes a variety of audio effects. Enjoy famous video games like Minecraft, CS: GO, and Fortnite, as well as others with them. Other applications are also functional with this application. Voicemod will enable you to utilize and customize your favorite voices, whether you're a player or a streamer.
Select from Voicemod's extensive library of voices, effects, and music. You'll also have iconic selections every month since this collection gets updated. Voicemod is particularly useful for those who want a constantly updated audio library for their Discord services.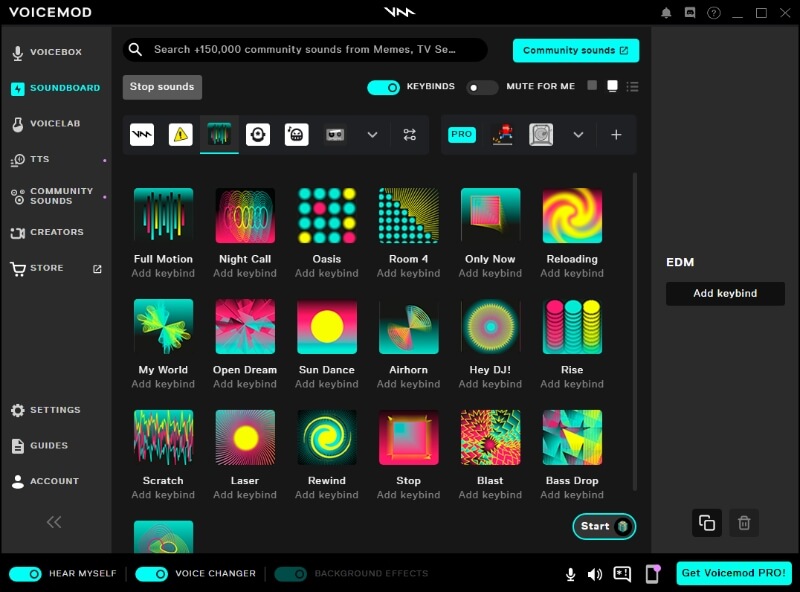 Features:
Skype, Minecraft, Rust, PUBG Fortnite, and Among Us all have unique audio effects available.

It is simple to get.

Soundboard function for playing various sound effects.

Compatible with all current apps and games.
MagicVox is one of the best tools that can be used on Discord. Comes with a nice interface, you can use it on various games, chatting, and live stream platforms.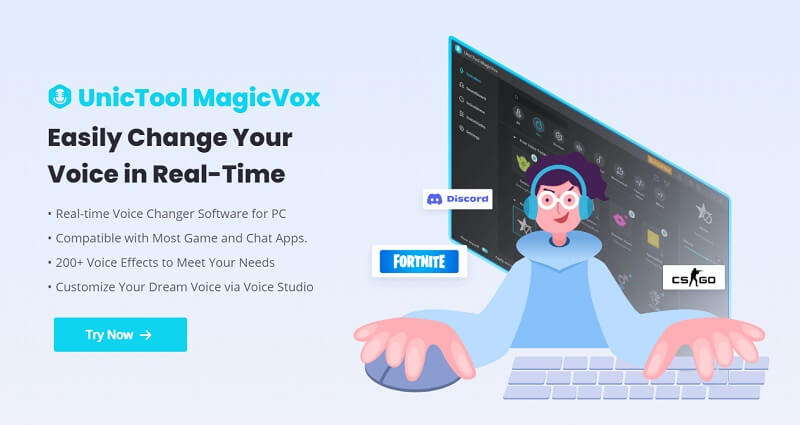 With supporting Mac and Windows operating systems, It has high compatibility. Moreover, it comes with many voice effects, sound effects and voice memes.
Key Features:
There is a free version and a pro version

It works on both Mac and Windows systems.

It has many in-build voice effects, sound effects, and voice memes.
Discover the ultimate solution for transforming your voice with exciting effects – Clownfish Voice Changer. This exceptional soundboard app operates at the system level, allowing you to modify your voice across various applications that employ microphone input. Whether you're a Discord enthusiast or seeking a versatile voice-altering experience, Clownfish Voice Changer is a must-try.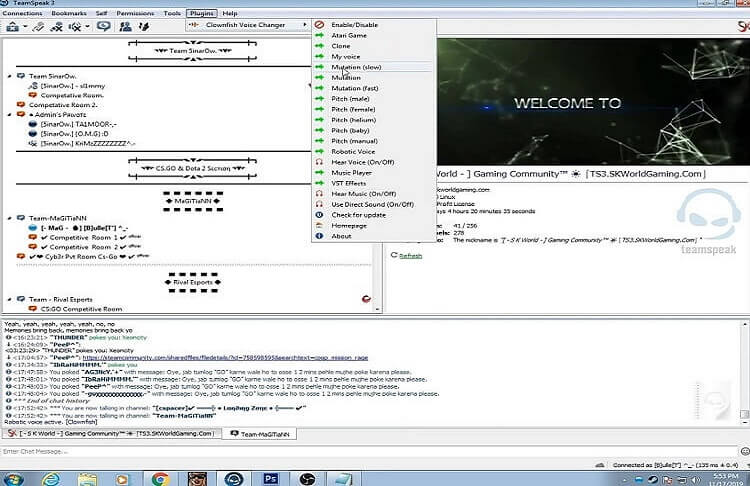 Key Features:
All major file types supported

Free
Part 2: Best Soundboard for Discord for IOS/Android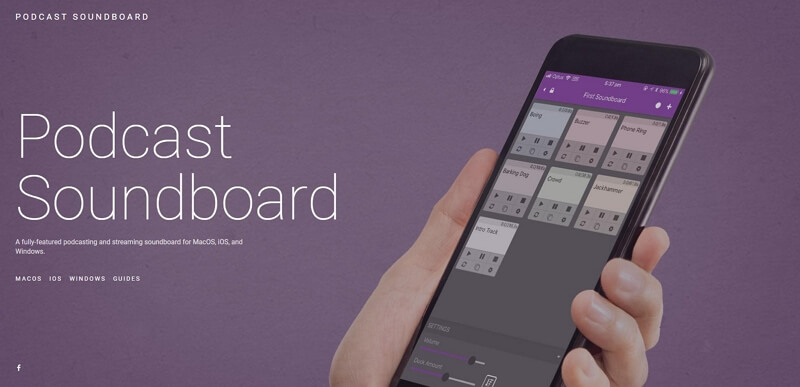 This software works as a soundboard for Discord, allowing you to quickly upload audio files to your library. You may import data straight from any cloud storage service. Furthermore, the application supports a broad number of file types, so you won't be worried about compatibility.
Key Features:
MP3, WAV, M4A, WEBM, OGG, and FLAC are all supported.

It's compatible with Pc, Mac OS X, and iOS.

It supports MIDI.

It also has a Duck Button.

Tools like multi-shot and looping are also available.

Controls for simple editing.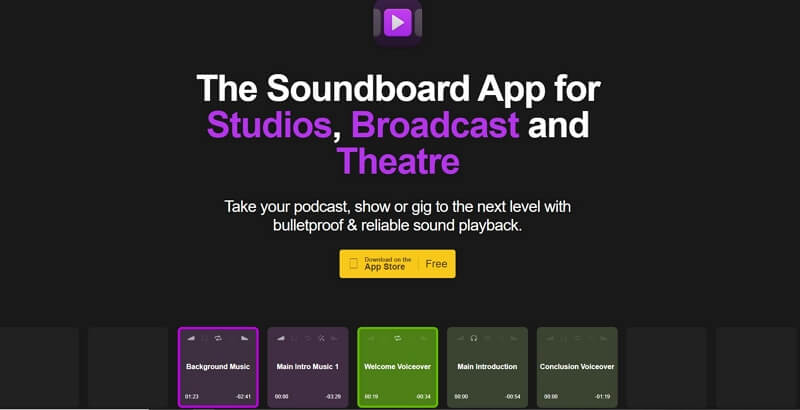 Soundboard Studio seems to be a unique iOS software that allows you to perform a variety of sounds or audio in any Discord network. It has features like the flexibility to play several files of audio at once, mix songs together, and adjust different volume settings for every song, cut the beginning and end of separate recordings, and so on.
You may adjust their settings separately, put them to repeat, and fade them in and out. You can build an infinite range of boards and import a bunch of songs if you subscribe to the pro edition.
Key Features:
There is a free version.

A paid option is available.

Automatically play, stop or change the volume of other tracks.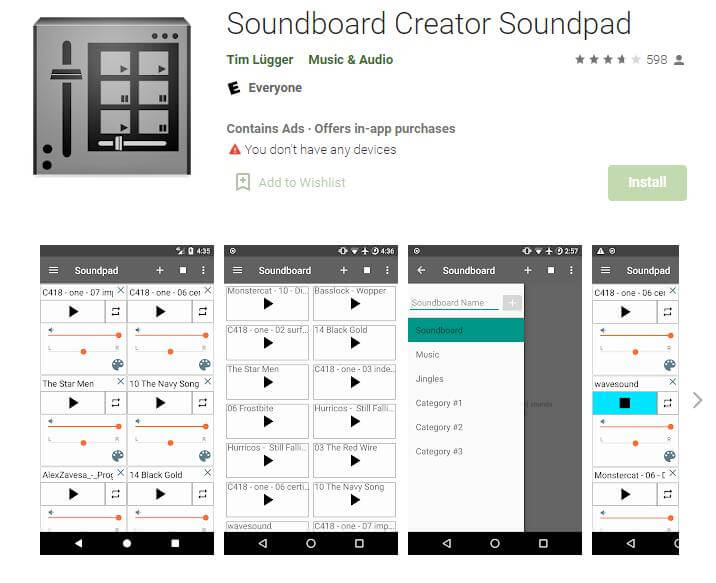 Soundboard Creator Soundpad has been one of the best Soundboard applications. The main attraction of this software is that it allows you to make your own personalized musical mix by combining all of the soundtracks on your iPhone. This implies you can combine tones to create the effect you want.
To remove advertisements, you must make an in-app payment, which is absolutely optional. If you would like to make your own personalized Discord audio mash-up, try the Soundboard Creator Soundpad.
Key Features:
The Soundboard mobile application is free.

Supports Discord.

Background playback.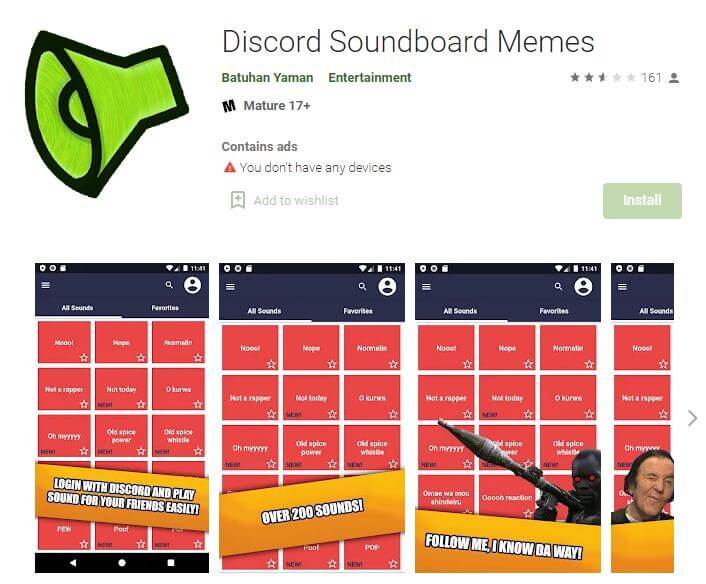 This is a Mobile application for the Discord Soundboard. If you are using Discord on your Smartphone, you should use Discord Soundboard Memes to enjoy the best features. This application allows you to play different meme audio files straight to Discord.
The application is available for free and includes over 200 tunes and audio effects. You may start using it right now by downloading the application and connecting it to Discord. After you've linked, you may start listening to any audio you like.
Key Features:
It can be downloaded for free.

Discord Soundboard for Android.

There are around 200+ sound effects to enjoy.

It can be integrated easily.
Part 3: Which Soundboard for Discord is the Best Choice for you?
If you think you need to work with a complex application to change your voice, you are incorrect. There are several easy-to-use software that can give you the required results instantly. MagicMic Soundboard for Discord is one of these applications that will handle these requirements in terms of controllers as well as other similar aspects.
You may use it for that as well, as well as when talking in-game. Moreover, it comes with free soundboard sounds website for discord soundboard free download.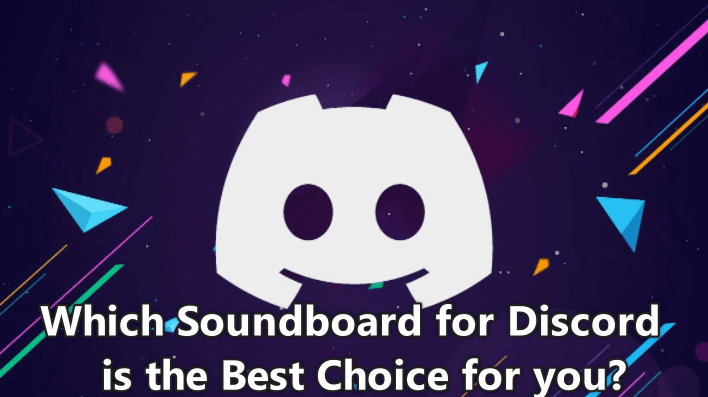 With only one click, you may modify your audio into many audio filters. You may try on whatever voice you choose with around 20 sound filters for discord. When gaming, talking, or live to stream, you may easily change your voice with MagicMic.
Part 4: FAQs about Discord Soundboard
1. What is a Discord soundboard?
A Discord soundboard is a tool that allows you to play audio clips or sound effects during a voice chat on Discord. It can add fun, humor, or emphasis to your conversations.
2. Can I use a soundboard on Discord mobile?
Yes, there are several soundboard apps that you can download on your mobile device and use during a voice chat on Discord. Just make sure to check if the app is compatible with Discord.
3. Are there any free soundboards for Discord?
Yes, there are free soundboards available for Discord, both as downloadable software and web-based tools. But i recommend magicmic.
4. Is it easy to set up and use a soundboard on Discord?
Yes, most soundboard tools have simple and user-friendly interfaces, making it easy to set up and use on Discord. Some soundboards may require additional configuration or setup, depending on the tool or platform.
5. Are there any rules or guidelines to follow when using a soundboard on Discord?
Yes, to avoid disrupting the conversation or causing any inconvenience, it is recommended to use soundboards appropriately and with consideration for others. Make sure to also follow the Discord community guidelines and terms of service.
Final words:
Soundboards for discord are fun and simple. While playing and talking with your pals, you may use these applications to play audio elements, background noises, sound memes, as well as other songs. They're simple to use and provide a variety of personalization choices. As a result, you can make just about any voice you choose.
All of the soundboards for discord that have been discussed are great. They're all compatible with Discord and other applications that support sound transmission, so you've got a fantastic feature for your system. MagicMic discord soundboard will be an excellent match for you. It's only a question of playing with the many choices and tailoring them to your own requirements!