Almost everyone loves to play online games, and why not? You'd find most of the online games fascinating and attractive.
When you play popular games like Fortnite, you'd always want to do something unique to make things exciting and memorable. You can use the game show soundboard option to stun your opponents and friends while playing online.
Using sound-changing tools has become a norm nowadays. Apart from gaming, people like to explore these tools using different online chatting platforms.
We'll show you some of the best Fortnite Soundboard options in this article.
Let us begin it.
Part 1: Best Fortnite Soundboard - iMyFone MagicMic
If you're searching for a Fortnite Soundboard, you need to look at iMyFone MagicMic. It is a terrific voice changer that has put some hard yards to make things happen for you.
It differentiates it from other voice changers because of its ability to add courageous and attractive filters to your voice. You can alter your voice in real-time while playing Fortnite using MagicMic.
Apart from fascinating filters, MagicMic has excellent voice-changing options that can surely make your day more beautiful and unique.
Using MagicMic, you can explore voice-changing options like Alien, Girl, Man, Minions, Monster, and more.
Above all aspects, the user interface you'll get with iMyFone MagicMic is pretty manageable and attractive. You don't have to do anything different to put things in order. Instead, the procedure to change the voice is far too easy.
You can check out the voice demo below!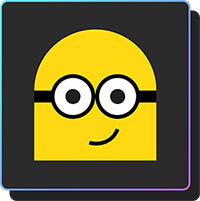 Key Features of MagicMic Voice Changer
Using MagicMic, you can change your character's voice in real-time while playing any online game.

Apart from Fortnite, you can use MagicMic on other popular platforms, including Streamlabs, Xsplit, Skype, Zoom, WOW, CF, LOL, PUBG, CSGO, etc.

You can explore various incredible voice-changing effects, including Alien, Minions, Chipmunks, Devil, and many more.

Surprisingly, it gives you immense happiness by offering over 200 appealing sound effects to use on various online platforms.

The most impressive thing about this tool is its ability to make your job a lot easier due to its easy and elegant user interface. Even the newcomers won't have to acquire prior knowledge of this program to use it.

It offers you a brilliant free trial version for some days. After having a close look at this, you can then acquire its Pro version at 4.95 dollars per month.
Part 2: How to Use Fortnite Soundboard
Using MagicMic, you can pretty easily add Soundboard for Fortnite. The process to connect MagicMic with your online gaming platform is pretty straightforward. Moreover, you'll not face compatibility issues using this extraordinary tool.
Here's the quick guide to adding soundboard Fortnite.
Step 1: Download iMyFone MagicMic
In the first gig, you'll need to visit MagicMic's official website and download the application from there. After downloading it, you can try installing it on your desktop or Windows computer quickly.
Step 2: Select Input and Output Device
After selecting the output and input device, you'll get the things done. Later, you need to launch Fortnite and start playing the game. Now, whenever you'd speak, your opponents will hear the voice of the Alien or other character' you've chosen using MagicMic.
Step 3: Select the Voice Changer or Sound Effects option.
Now, you can hit the Voice Changer or Sound Effects icon on your left side. After, you need to select the preferred voice or sound effect option you'd like. Luckily, you can set the voice-changing option for every clock or keypress for every action you perform playing the game.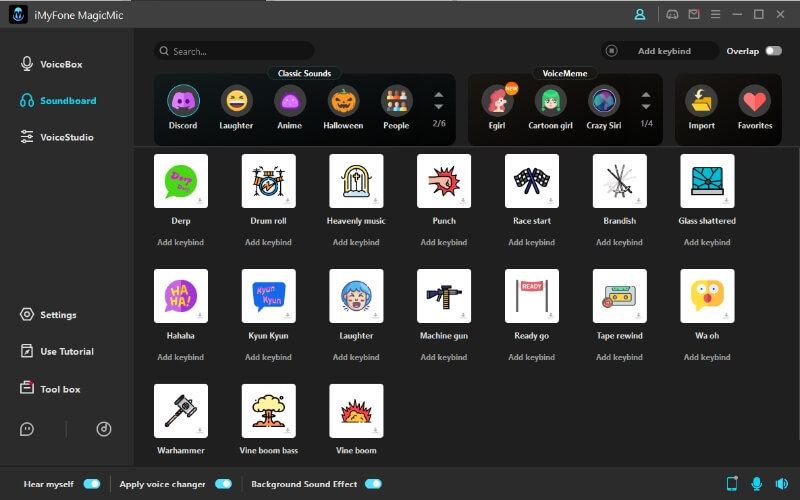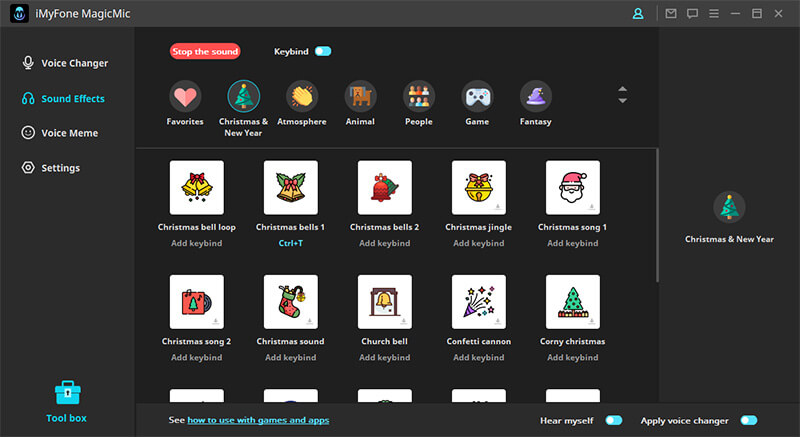 Part 3: Other Places That You Can Find Fortnite Soundboard
Myinstants
Apart from MagicMic, Myinstants is another place where you can find fascinating Soundboard options for Fortnite. Like MagicMic, Myinstants is also blessed with intriguing Soundboard options to choose from.
Using the services of Myinstants, you can surely enhance the experience of playing a Fortnite game.
Moreover, it offers over 30+ sound effects to pick from, and each option has its flavor and elegance. Another thing that might surprise you is its user-friendly interface.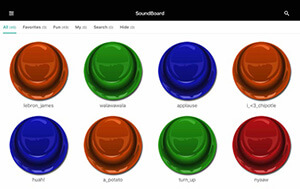 Key Features
Using Myinstants, you can explore some beautiful sounds effects with ease.

You can easily use Myinstants effects while playing the Fortnite game after registering with the Myinstants.

It allows you to use sound effects according to the situation. For instance, if you want to stop your opponent from doing something, you can use the Myinstants' sound effect to serve your purpose.
Voicy
Another Fortnite Soundboard that can excite you is Voicy. The best thing about it is that it isn't only a Soundboard.
 Instead, it is a multidimensional online tool that offers you the luxury to add sound effects to pre-recorded videos and audios.
For this purpose, you'll only need to upload the preferred file to its interface. If you're to use a soundboard for Fortnite, Voicy is probably the easiest method to do it. Apart from offering a handy interface, it also blesses its users with extraordinary sound effects.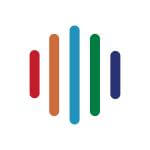 Key Features
Voicy offers you a magnificent opportunity to use prolific sound effects while playing a Fortnite online game with your friends.

Besides sound effects, Voicy has also introduced Sound GIFs to make your gaming experience even more wonderful and exciting.

It only asks you to log in with your ID after making it. You can also log in with your Google or Facebook account pretty quickly.

With this tool, you'll get 100 fascinating sound effects.
Soundboardguy
Last but not least, Soundboardguy is also a massive online tool for using magnificent sound effects while playing Fortnite.
To use the sound effects of this tool, you'll only need to log in with your ID. After logging in with your ID, you'll be able to explore countless stunning effects options.
Surprisingly, soundboard possesses several fascinating categories for sound effects, including DaBaby Soundboard, Egirl Soundboard, Meme Sound, Tiktok Soundboard, Anime Soundboard, Moan Soundboard, and Earrape Soundboard.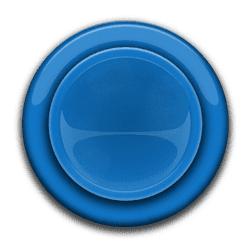 Key Features
Soundboardguy is a superb option to explore unbelievable sound effects.

It is a pretty popular Soundboard tool that offers multiple sound effect categories to explore with.

The interface that Soundboard guys possess is pretty effortless and user-friendly.

Using the sound effect options of the soundboard, you can surprise your opponents pretty quickly.
Conclusion
This article will inform you about the Fortnite soundboard you've got. All the tools we've discussed above are worth your attention and are super helpful. Of all the Soundboard tools we've explored above, iMyFone MagicMic is the best.
Apart from containing over 200 remarkable sound effects, it also allows you to explore these effects effortlessly.
The process to use these sound effect options is nothing less than straightforward. You'll only need to select an appropriate sound option and then select input and Output device to put everything in order. We highly recommend iMyFone MagicMic for a better experience.