Suppose you want to change your voice into a girl, then specific software can help you. The top of the line and most reliable software is iMyFone MagicMic. It does not matter whether you are a beginner or a pro; MagicMic is the only solution.
There is other softwares too that can change your voice into a girly voice. Just keep reading.
Part 1: Best Girl Soundboard Software for Desktop
Many software out in the market claims to change your voice. But the question is, these are software-only claims, but it seems most of them are unable to deliver the expected results!
Gamers and members were disappointed because they desperately needed effective software that could change their voices. Then iMyFone MagicMic is our best recommendation.
MagicMic is a fantastic software that can change your voice in real-time. It offers fantastic sound features. There are hundreds of sounds to choose from. You can select the sound of your choice by just clicking on it.
iMyFone MagicMic's Main Features:
MagicMic is the ultimate solution for voice change and sound effects. There are more than 100 voice-changing options. You can pick the sound you want your voice to change in. You can use this while streaming or playing your favorite video game.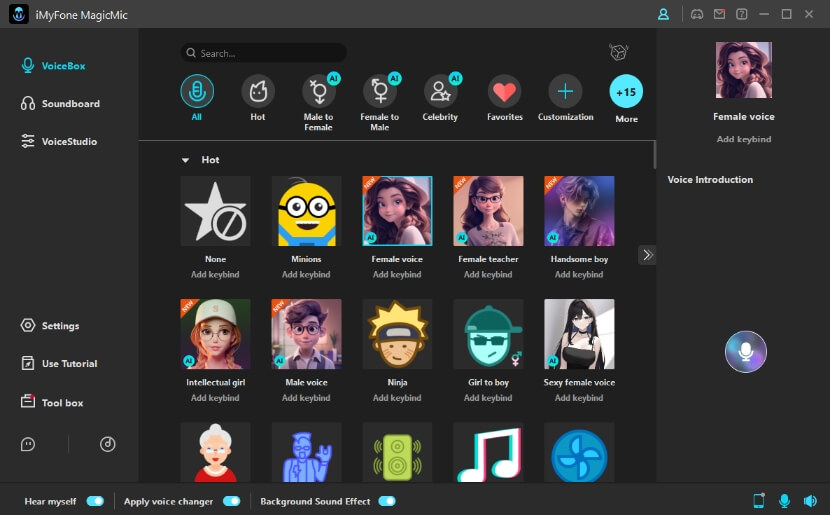 There are more than 500 sound effects to choose from. They all are build-in. All you need is to install the software. After installation, you can easily use your favorite sound effects for games and online streaming.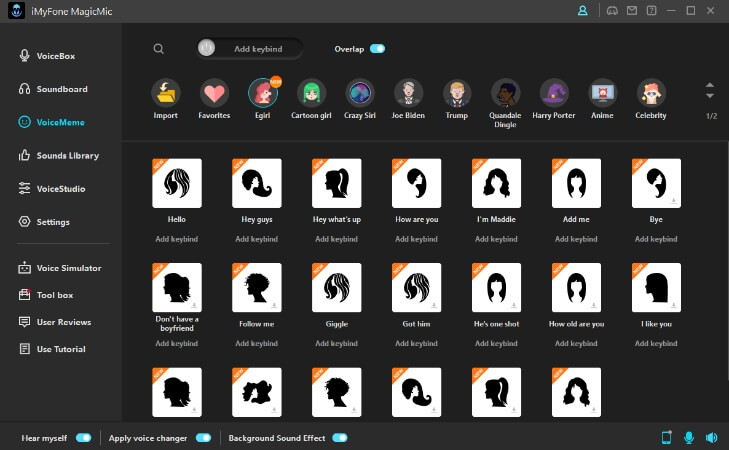 Due to the perfect sounds if offers, you can use it as a girl voice prank soundboard. The real-time voice changing feature produces a good voice as you listen to a person in real life. The reality and pitch of the voice are so accurate that no one will ever find out who was it.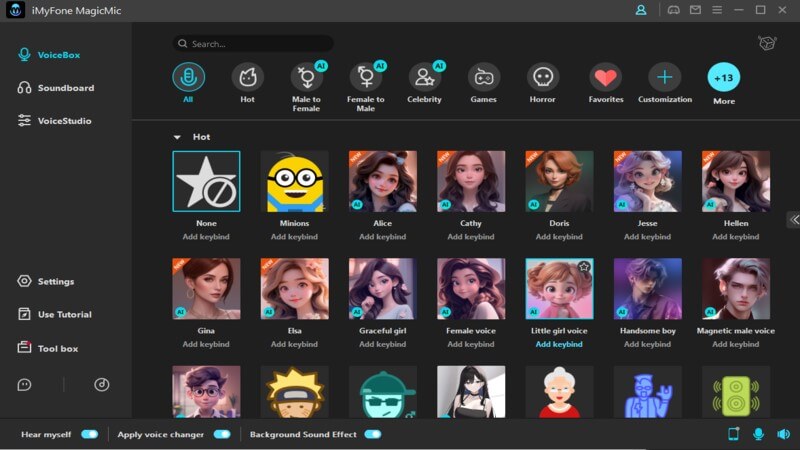 The settings of MagicMic are also so simple. There are no balky criteria and options available, but a straightforward interface.
When it comes to games, MagicMic is ready to take the leads. In the gaming industry, it is the girl soundboard. Gamers can use it as their gamer girl voice soundboard. There are numerous sound effects that you can add to your recorded video for more fun. If you are a live streamer, MagicMic enables you to change your voice in real-time.
How to Use MagicMic Voice Changer
As we said earlier, MagicMic is simple software. Here are the detailed steps to use it.
Step 1
After downloading and installing, all you need is to run the software by clicking on its icon.
Step 2
If you want to change your voice in real-time during live streaming, you need to click on the "Voice Changer" option. After that, you can select the sound you want your voice to be converted into. After that, go for live streaming with a changed voice.
Step 3
If you want to use special effects, you just need to follow this simple step. Open MagicMic and click on the "Sound Effects" option available on the top left corner below the "Voice Changer" option. Click on the desired sound, and you are good to go!
Part 2: Girl Soundboard App
Another fantastic software to add special sound effects to your video is girl soundboard. It is also known as a gamer girl soundboard because it is the best software for gamer girl sounds in the market. Click here to check the app out.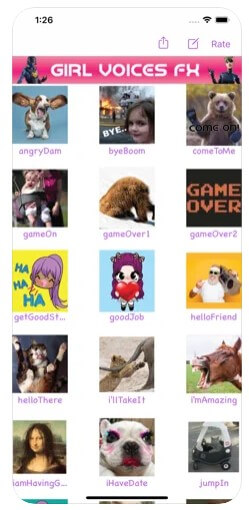 You can select the sound of your choice and share it with your friends!

If you like a particular sound available in the app, you can set it as your mobile ringing tone!

The sound quality is good. You can use these sounds for your videos as well. Select the sound and add the effect to your videos.
Part 3: Girl Soundboard Online
1. 101Soundboards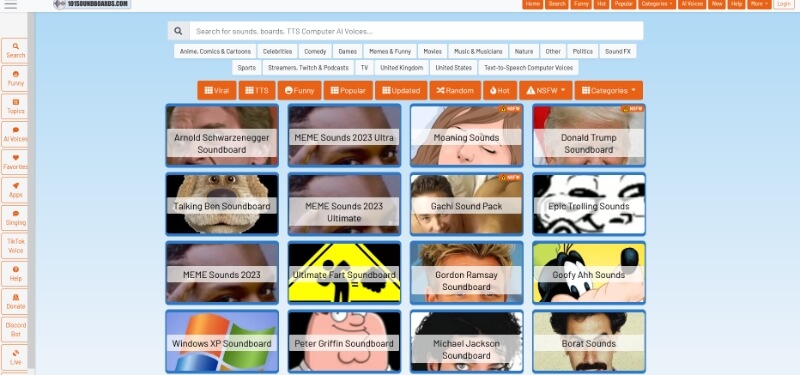 You can literarily listen to hundreds of different sound effects, download them and share them with your friends on other social media platforms.

It is a free website, and you need not even spend a penny on all those sound effects. Everything is free!

There are other popular sound effects available. For example, Donald Trump sound effects, Shrek soundboard, and dozens of different sound effects in the same category.

It is a complete gamer girl soundboard.
2. Peal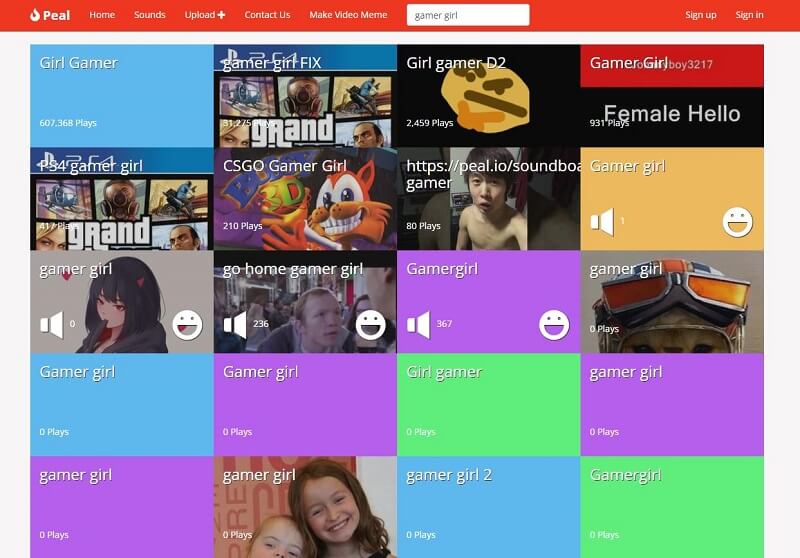 Bright colors, big and bold interface!

A website that offers you a complete range of sound effects. From Hey and Hello, all the way up to "Uh, I live in the US, and Uh, I said where are you from?" This website provides you with a complete list of introductory sound effects. The sounds are of high quality. A sweet girl is asking all these questions with a natural tone. What else do you want? Make an account and become a permanent member of Peal. It is free!

Peal is one of the best gamer girl voice soundboard available in the market at the moment. It offers you a wide range of girly sounds to add to your gaming and streaming experience.
Conclusion
If you want to transform your voice into a girl's, iMyfone MagicMic is there to help you because it is the best among all others. The downloading and installation process is simple and to the point. No lengthy steps involved!
The sound quality is up to the mark, and you can use these sounds with just a click! Just click below to enjoy the fantastic features of MagicMic.