If you haven't been living under the rock, you would know that memes are currently the backbone of social media platforms. To make your memes stand out from the crowd, you need to use the best meme soundboard application or website. Below, we will be talking about the best meme soundboard website and applications and explain how you can use it to make funny memes with sound quality at high levels.
Part 1: Excellent Meme Soundboard Websites
Below are some top-tier meme soundboard websites that you can use as your discord soundboard go-to meme-making sessions. Please go through them all to check their features and more.

The whole process of discord memes soundboard has been made easier with the 101 soundboards website. With an easy-to-use interface, all meme makers, be it a professional who has it for years or an individual who's just starting, can operate it easily. Furthermore, the website contains tons and tons of meme soundboard music that you can use. Using this soundboard for discord websites will remove the need for any other video editor.
If you wish to make the most out of your meme soundboard journey, ensure that you download the sound, you wish to use, and you'll be good to go. Overall, the 101 soundboards tool offers a multitude of avenues for the users to make their memes unique yet relatable for their audience.
Key Features:
You can take your pick for hundreds of different kinds of funny and dank sounds from their huge library.

All the sounds on the website are sharable if you want your friends to try out some.

You can also save your favorite sounds for memes in the library to avoid searching for them repeatedly.

The search engine is advanced.

The interface is extremely user-friendly.

Another tool you can use in your soundboard for discord journey is the soundboardguy. With the help of a soundboardguy, you can now make the most out of your family and friends' time as you make them laugh with the different sound effects, as well as meme, sounds that aren't found anywhere else.
The users can also pick from the unlimited sound library and opt for special effects. Users can play from a library of more than 100,000,000 sound effects. Furthermore, each sound on the website is open for sharing. Meaning, you can send it you your friends and family through different social media platforms, including Facebook and Twitter.
Key Features:
The website is easy to use and has a very simple layout.

The sound effects on the discord soundboard website are sharable and can be shared with people via social media platforms.

There is a huge sound library with more than 100,000,000 sound effects available.

Favorite sounds and trending effects can also be saved in your library for future use.

There are hundreds and hundreds of free sounds available on the website free for use.
Myinstants is a powerful free soundboard download website that offers unbelievable features. If you want to create your soundboard, this website can help your cause. It comes with a large collection of fascinating sound clips.
Moreover, you can make a soundboard with the assistance of the bytes which you'll find on the website.
To begin with, you'll only need to register with your credentials, and then you'll be able to download or create your soundboard.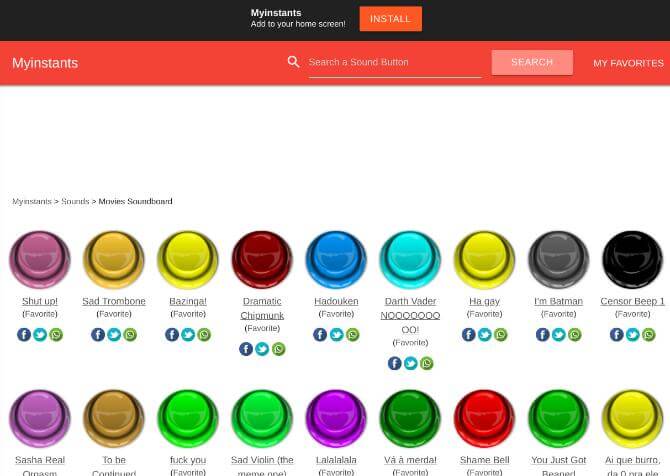 Another tool you can use as a meme soundboard is the Myinstants. Perfectly designed with a user-friendly interface for beginners and pros alike, the Myinstants tool lets you gather all the funny sounds in the world and create a trolling meme that gets everyone laughing. Hundreds of sounds are available on this website, easily accessible and completely free to use.
Furthermore, categorization is done to avoid sounds getting cramped here and there. Frequent updates are coming to help you get rid of any bugs or hindrances that may have occurred during the tool's usage previously.
Key Features:
There is a downloading option for all sounds

Users can save their favorite sounds in their library by bookmarking them, making them very easy to locate.

It comes with a very user-friendly interface with no complicating options, etc.

There are frequent updates available.

It has tons and tons of sounds available that go back to 2000 and even older ones.

The quality of the memes will be high in resolution, along with perfect sound alignment.
Part 2:How to Use Meme Soundboard for Discord?
Using a soundboard for discord can be confusing if you don't know your way around it. Fortunately, now you don't have to suffer from meme soundboard issues. Read on below to learn how you can use a soundboard for discord.
Using discord soundboard tools has been made a lot easier with the help of iMyFone MagicMic. The tool offers you a complete tour of the discord soundboard world.
You can change your voice easily through a software-MagicMic. The best part about using Magiclike as your meme soundboard enabler tool is that it is compatible with different areas such as Discord, Fortnite, Twitch, PUBG, and even Skype.
Step 1:Download Software
The first step in your discord soundboard journey is to launch the iMyFone MagicMic application. For this, you can easily head to their website and download the tool for free. Once the tool has been successfully downloaded, you can then set it up and get to work.
Step 2:Input and Output Device Selection
The second step is to pick the input and output device. The voice changer soundboard for discord can be used in the following way. First up, choose your mic as the major input device. Once done, you can set your headphones as the primary output device.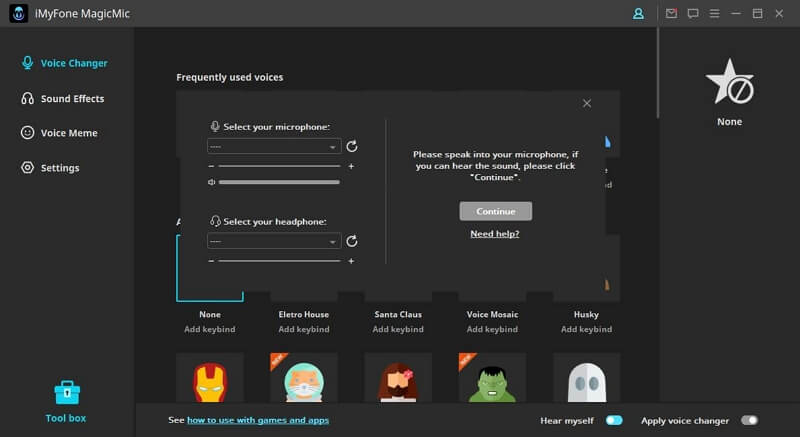 Alternative Method
The method says to turn on the "hear myself" setting and then head to settings. There, repeat step 2 mentioned above and then check if it works or not.
Method 1:
The method says to turn on the "hear myself" setting and then head to settings. There, repeat step 2 mentioned above and then check if it works or not.
Method 2:
The second method entails heading to Settings, pressing on the Detect option, and letting the tool find your devices. Different issues could be detected, such as the driver, not present for which you will have to install it. Another issue could be the mic, not present, for which you connect the mic and refresh the session. You might also see headphones not detected issues for which you connect them again and refresh. Lastly, your device for virtual audio might not be connected, and to deal with that, you head to the sound control panel, enable it, and refresh.
Method 3:
The last method is to head to your Window. Visit the search bar and write down "Sound Settings." Open the first option that comes up. In the right-hand corner, there is a Control panel and sound option. Press on that. Another popup video will appear. Press on the Recording panel and choose your headphones as the major output and mic as the default setting.
Step 3:Check Effect
The next step is where you start working with the voice-changing effect. This effect lets you select any voices that are present. Once you select onto it, you can easily talk in your mic and gauge how well your voice has been altered.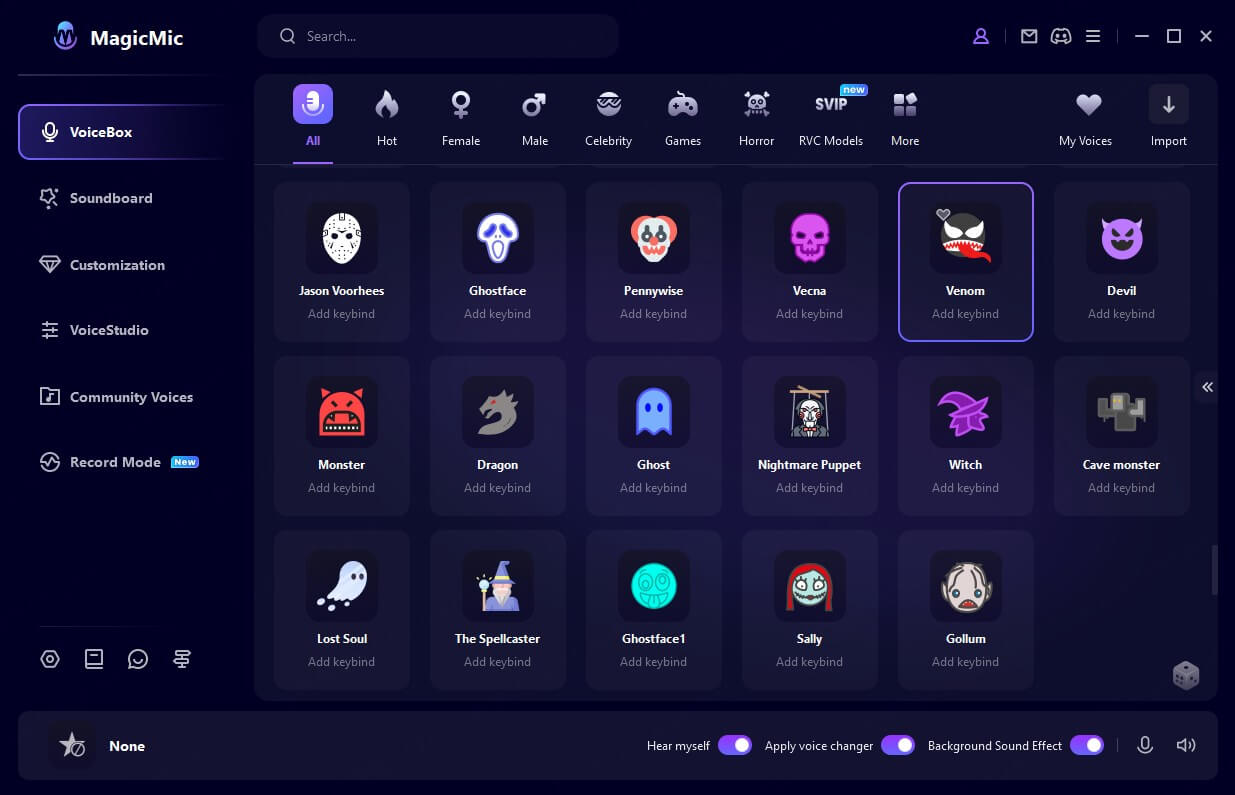 Conclusion
There is the end to your discord soundboard journey. Each of the tools mentioned here is perfect for meme soundboard usage and comes with many features. You have also learned how to enable soundboard for discord through the guide above. MagicMic is the best option out there with its high compatibility and ease of usage.
Play Discord and Experience the Charm Meme Soundboard through Magicmic now!