You have ever download Discord and take part in Discord with your friends. Discord is a popular voice chat apps for gamers out there. it is support to create own funny Discord soundboard.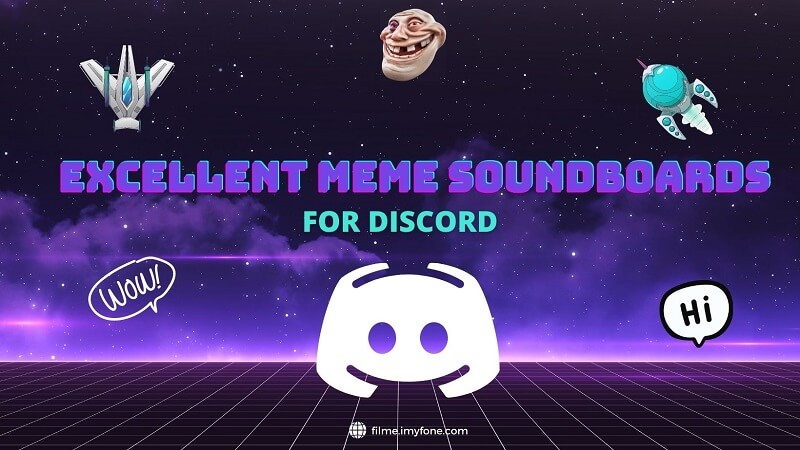 So, if you are looking for soundboard for Discord, here are about the best meme soundboard website and applications for meme soundboard for Discord and explain how you can use it to make funny memes with sound quality at high levels.
Part 1: Best Meme Soundboard App for Discord
Using a soundboard for discord can be confusing if you don't know your way around it. Fortunately, now you don't have to suffer from meme soundboard issues. Read on below to learn how you can use a soundboard for discord.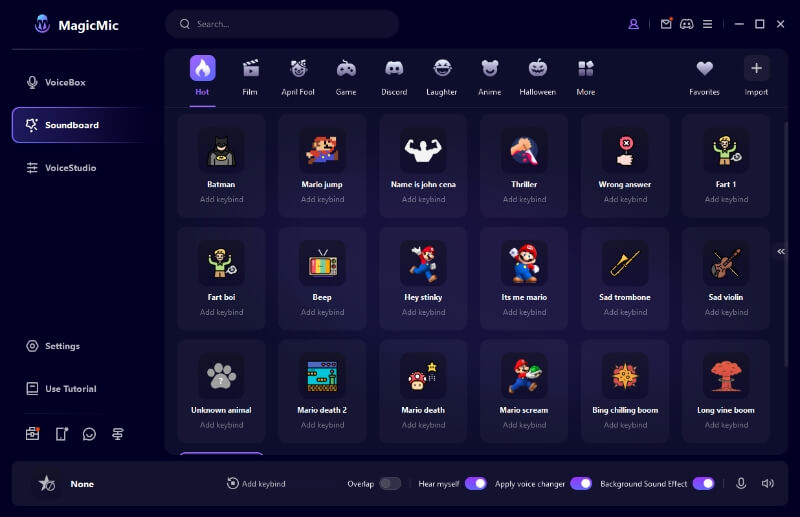 You can change your voice easily through a software-iMyFone MagicMic. The best part about using Magiclike as your meme soundboard enabler tool is that it is compatible with different areas such as Discord, Fortnite, Twitch, PUBG, and even Skype.
Soundboad library:
225+ voice changing effects,600+ sound effects and 200+ voice memes.
Operate System:
Mac and Windows
Software Size:
2.7 MBs.
Key Features:
It is a voice changer and soundboard sounds app.
You can control voices and sounds via keybinds, you can quickly switch between different voice effects using hotkeys or a simple interface
You can import any MP3/MAV audio files on this software to play on other platforms.
It allows you custom your own soundboard to use in Discord and other apps with voice recording and audio file voice changing effects and sounds.
It is compatible with a wide range of apps and platforms, including games, streaming software, and video conferencing tools.
Watch the Video Below To Know More About MagicMic Meme Soundboard for Discord
Part 2: Other Top 3 Soundboard Websites for Discord
Below are some top-tier meme soundboard websites that you can use as your discord soundboard go-to meme-making sessions. Please go through them all to check their features and more.
The whole process of discord meme soundbord has been made easier with the 101 soundboards website. With an easy-to-use interface, all meme makers, be it a professional who has it for years or an individual who's just starting, can operate it easily. Furthermore, the website contains tons and tons of meme soundboard music that you can use. Using this soundboard for discord websites will remove the need for any other video editor.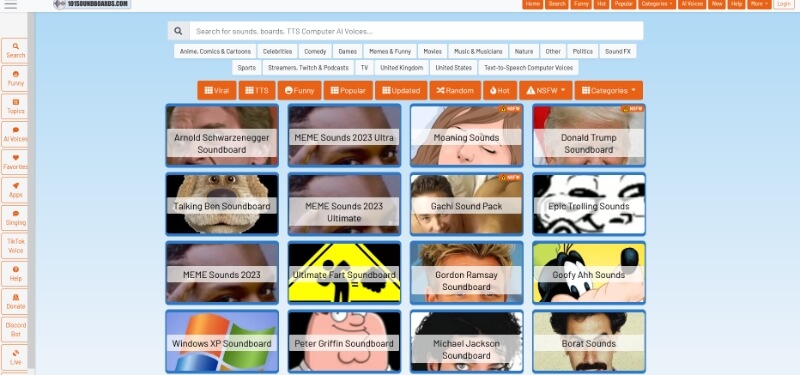 Soundboad library:
Over 1,199,174 sounds and counting
Key Features:
There is a search bar to quickly find the soundboard you want by keywords
There are different classifications, and the classification is very clear.
There is a huge sound library with more than 100,000,000 sound effects available.
Weekly updates with popular, new soundboards.
Use Experience:
If you wish to make the most out of your meme soundboard journey, ensure that you download the sound, you wish to use, and you'll be good to go. The categories on this website are very clear, and you can quickly find the soundboard you want. But there are also disadvantages, that is, the quality of some sound effects of the website is not very high.
Another tool you can use in your soundboard for discord journey is the soundboardguy. With the help of a soundboardguy, you can now make the most out of your family and friends' time as you make them laugh with thedifferent sound effects, as well as a meme, sounds that aren't found anywhere else.

Soundboad library:
Over 150,000+ soundboards
Key Features:
The website will show you trend of sound buttons.
It allows you to create your soundboard on this platform.
You can favorite and download the soundboards.
All sound buttons can be shared to platforms like Facebook,Whatsapp,Discord and so on.
Use Experience:
The users can also pick from the unlimited sound library and opt for special effects. Users can play from a library of more than 100,000,000 sound effects.But there is limitation of this web that there is no research bar to find sound effects quickly.
Another tool you can use as a meme soundboard is the Myinstants. Perfectly designed with a user-friendly interface for beginners and pros alike, the Myinstants tool lets you gather all the funny sounds in the world and create a trolling meme that gets everyone laughing. Hundreds of sounds are available on this voice changer for discord mac pc online website, easily accessible and completely free to use.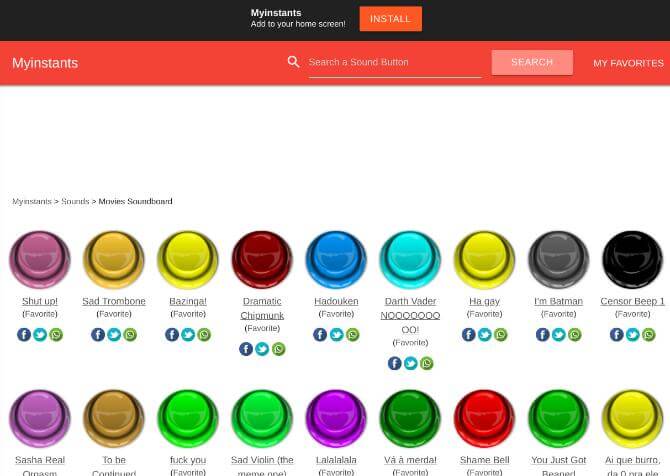 Soundboad library:
Over 10,000 sounds and counting
Key Features:
There is a downloading option for all sounds
Provides the hot and trending soundboards
There is a search function, allowing you to quickly find the soundboard you want.
There are frequent updates available.
You can upload your own sound effects.
Use Experience:
Categorization is done to avoid sounds getting cramped here and there. This platform has less sound effects than other platforms. But the advantage is that his functions are relatively complete.
Part 3: How to Apply Meme Soundboard for Discord
Step 1:Download Meme Soundboard Player
The first step in your discord soundboard journey is to launch a soundboad player application which works with Discord. You can try iMyFone MagicMic or others. Once the tool has been successfully downloaded, you can then set it up and get to work.
Step 2:Input and Output Device Selection
The second step is to pick the input and output device. The voice changer soundboard for discord can be used in the following way. First up, choose your mic as the major input device. Once done, you can set your headphones as the primary output device.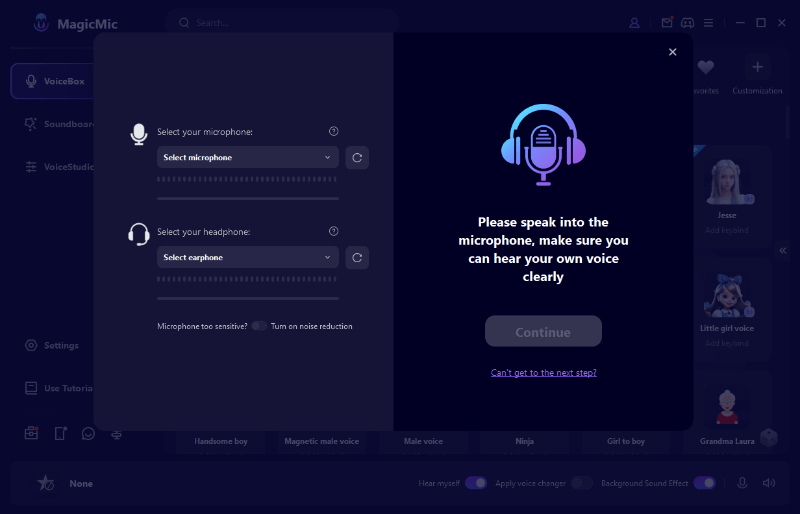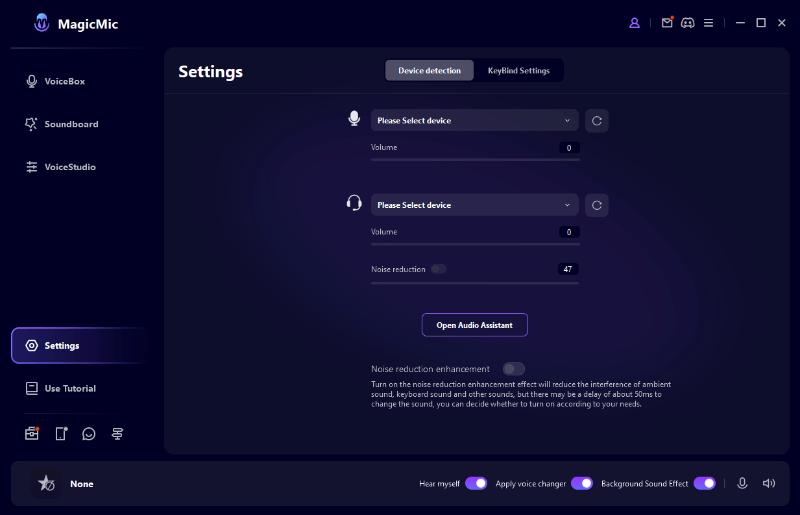 Step 3: Check Effect
The next step is where you start working with the voice-changing effect. This effect lets you select any voices that are present. Once you select onto it, you can easily talk in your mic and gauge how well your voice has been altered.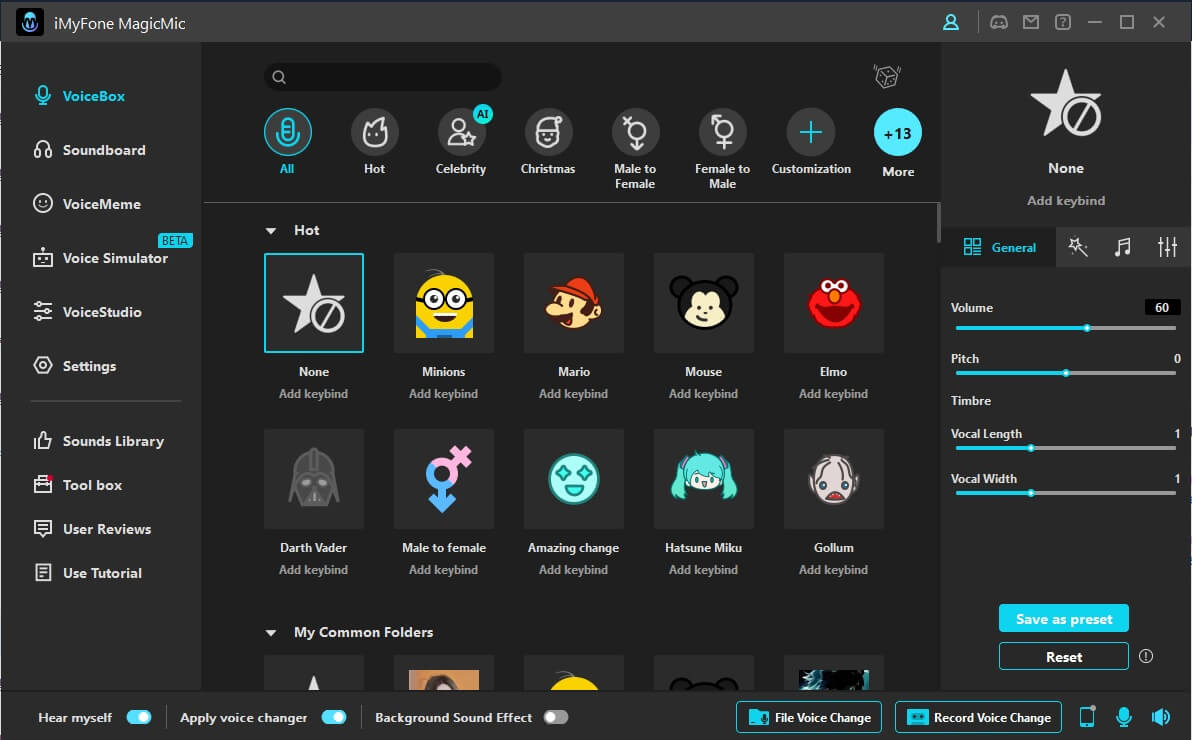 Step 4: Select or Import More Memes
If you are not happy with the in-build memes,you can also click "Import" on meme section,and them import any memes that download from websites.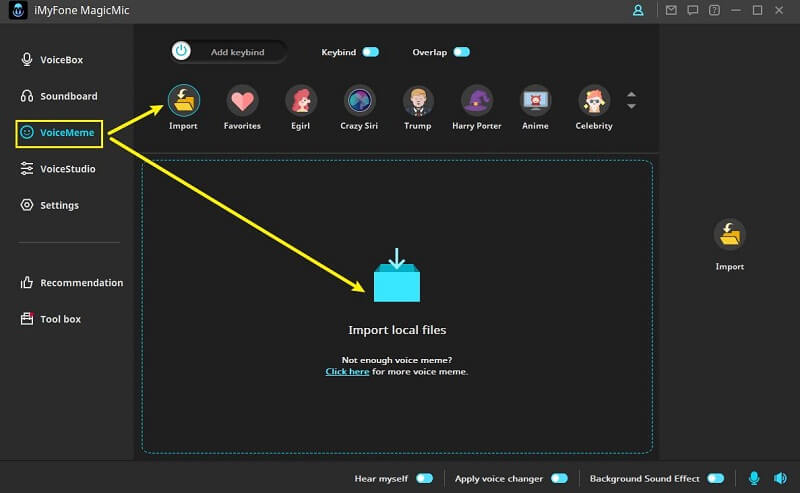 Step 5: Go to Discord and Finish Settings
After all settings are complete on MagicMic,then you can go to Discord User Settings,and select the device as the picture we show below.

Part 4: FAQs about Meme Soundboard
1. What is a meme soundboard?
A meme soundboard is an online platform or mobile app that allows users to play various sounds and audio clips, often taken from popular memes and internet culture. Users can use these soundboards to create funny and entertaining content, such as remixes, pranks, and jokes.
2. How do meme soundboards work?
Meme soundboards work by compiling a library of audio clips and sound effects that are associated with specific memes or internet trends. Users can then select and play these sounds, often by pressing buttons or using a keyboard or mouse, to create their own content.
3.What are some popular memes that are often used in soundboards?
There are many popular memes that have spawned audio clips and sound effects used in soundboards. Some examples include the "Sad Violin" meme, the "Yakety Sax" meme (also known as the Benny Hill theme), the "Airhorn" meme, and the "Dramatic Chipmunk" meme.
4. How to Use a Soundboard on Discord?
To Get discord soundboard sounds:
Join a voice channel.
Open the soundboard.
Choose and play sound effects.
Enjoy and engage with others.
5. Where can I find meme soundboards?
There are many websites and mobile apps that offer meme soundboards. Some popular options include MagicMic,101 soundboard and Myinstants. You can also search for soundboards based on specific memes or interests to find ones that suit your needs.
Conclusion
There is the end to your Discord soundboard journey. Each of the tools mentioned here is make own funny soundboard for Discord and comes with many features. you can choose meet your requirement meme soundboard for Discord.
Play Discord and Experience the Charm MagicMic Meme Soundboard and Discord soundboard sounds download now!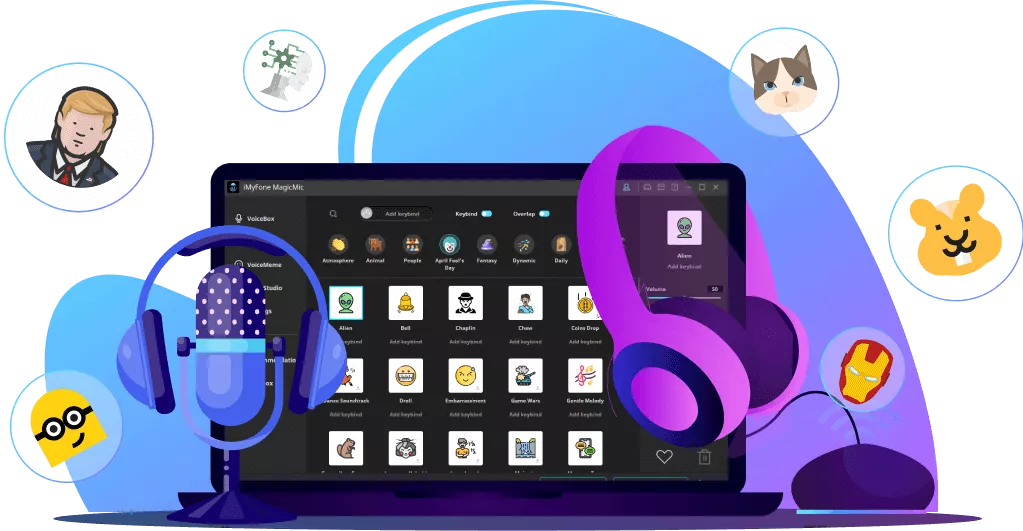 225+ Voice effects for one-click voice changing in real-time.
Huge library with 600+ Voice Effects and 200+ Voice Memes.
Sound emulator in games, live, chatting, online classes, and more.
Voice recording and audio voice changing is supported.
Voice studio lets you create any voice you like.