To double the fun on Discord and to modulate their voices, users, especially streamers, prefer a discord soundboard. Using a soundboard for Discord allows you to mask your voice or add special effects when giving commentary. This makes streaming and chatting more fun and engaging.
But which soundboard for Discord is best suited for your overall needs and is fully compatible with the Discord app? Let's discover some fantastic soundboards for Discord and explore how to make a soundboard for Discord.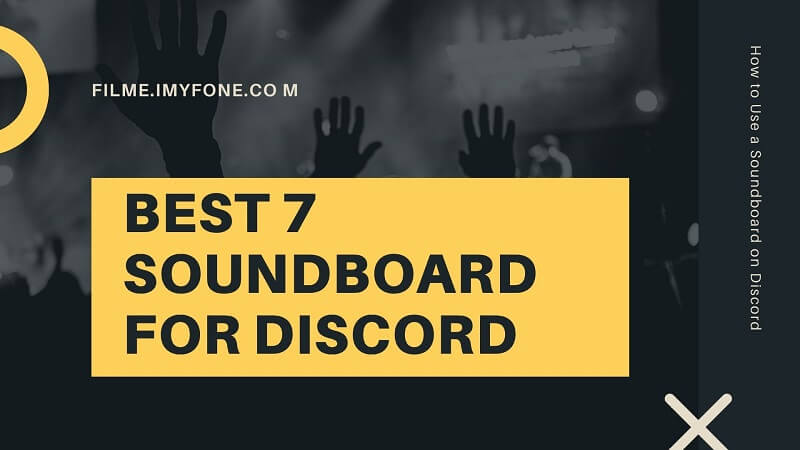 Part 1: 7 Best Soundboard for Discord
To make your gaming or podcasting sessions more fun and exciting, we bring you the 7 best soundboard for Discord.
Experience the ultimate voice-changing tool with MagicMic soundboard, offering the best Discord soundboard sounds for both Windows and Mac. This powerful software boasts an extensive collection of over 200 sound effects, ensuring you'll find the perfect audio enhancement for your gaming, chatting, and streaming needs. Whether you desire the mischievous tones of a minion or the futuristic allure of a robotic voice, MagicMic delivers impeccable voice disguise while preserving audio quality. Its user-friendly interface and comprehensive features make it the top choice for a seamless voice-changing experience.
Moreover, MagicMic extends its compatibility beyond Discord, supporting popular platforms like PUBG, Twitch, Zoom, and Skype. Unleash your creativity and transform your voice like never before with the unrivaled capabilities of MagicMic and its array of the best Discord soundboard sounds.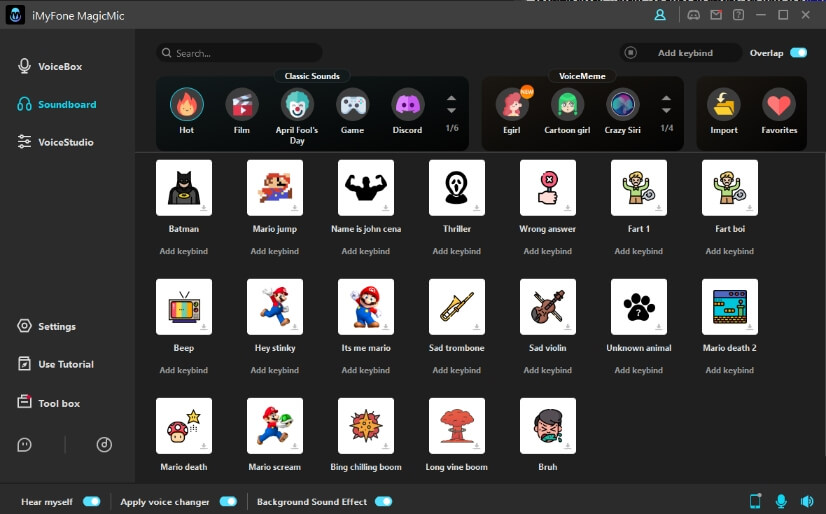 Here are the key advantages of MagicMic, offering the best soundboard sounds for Discord:
Pros:

It comes with 600+ sound effects and 200+ voice memes to improve your gaming, streaming or online chatting experience.

A large number of voice filters give more and better choices. Quantity up to 200.

It allows you to record voice and then do voice change. Also, voice changing for audio files is supported while you can change voice in real time.

You can control voice changing and soundboard sound effects with keybinds.

It is compatible with both Windows and Mac.

You can create fake environment sounds with in-build background sounds.

You can use it in real time while playing games, chatting, live streaming.
Cons:

It is not so famous in the market.
Clownfish Voice Changer is popular as it works well and is also free, and it can also serve as a soundboard for Discord. The voice changer supports any system that uses a microphone as an audio input device. This makes it compatible with nearly all apps, including Hangouts, Steam, Skype, Viber, Mumble, TeamSpeak, and more.
You want a grim male voice or a high-pitched female effect for your game. Clownfish has all the different voice effects to keep things spiced up. Famous sound effects within the Clownfish app include Optimus Prime, alien, Atari, Helium pitch, and more. The advanced media player and built-in audio tools are other fantastic features of this voice changer.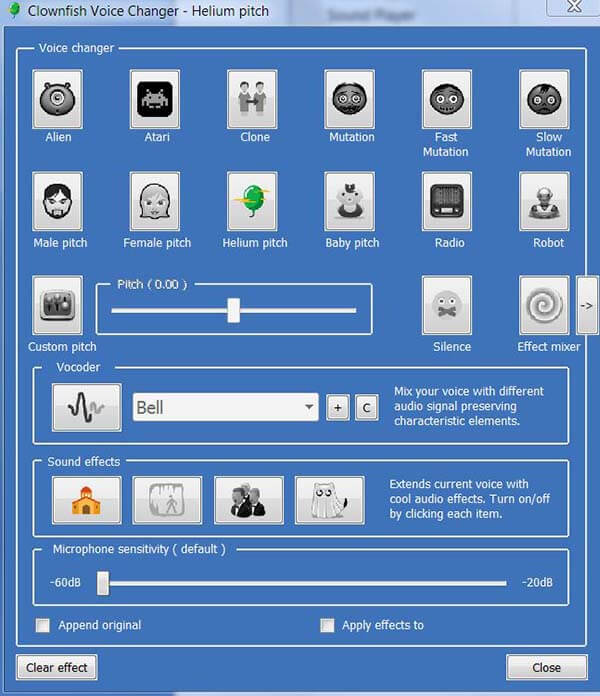 Pros:

It has a TTS (Text To Speech) feature that allows you to record your voice without speaking.

Enable you to create a customized pitch.

Integrated support for Virtual Studio Technology (VST) plugin.
Cons:

It only supports OGG, WAV, and Mp3 media formats.

The app is not ideal when it comes to privacy.

The app won't work without a microphone connection.
3. Soundboard Discord: Soundpad
Soundpad is an effective voice recorder and an editor. It has a free trial version that lets users experience the app's basic features. Soundpad works effectively for both gaming and chatting apps.
The voice normalization feature is another benefit of using the app. This ensures the sound level on the system remains consistent. The built-in editor also helps edit the recorded voice right on the spot. This feature is particularly helpful if you need a meme soundboard for Discord. Mic toggling and device toggling are also some attractive features of this software.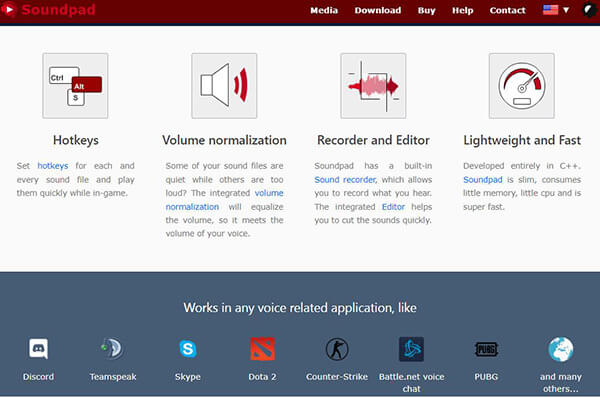 Pros:

Lightweight software.

Supports a wide range of audio file formats.

Hotkeys for quick access.
Cons:

Not available for free.

Has a limited selection of sound effects.

Remembering hotkeys for all the sound effects can be difficult for users.
4. Soundboard for Discord: Resanance
If you are looking for a free soundboard for Discord, Resanance can be your top pick! It is free, easy to use, and the oldest software in the market. Initially, the software was designed to be used with Discord only. But later on, it was upgraded, and now it supports a range of platforms, including Zoom, Skype, Curse, TeamSpeak, Twitch, and more. Currently, the app supports Windows 7, 8.1, 10, and 11.
The software supports multiple audio formats, including Mp3, OGG, FLAC, and WAV. It also allows you to set hotkeys, enabling you to instantly change sound and voices simply with a click of a button. Moreover, you can easily use it with numerous devices. This makes it possible to send audio files to multiple input devices connected to your computer at the same time.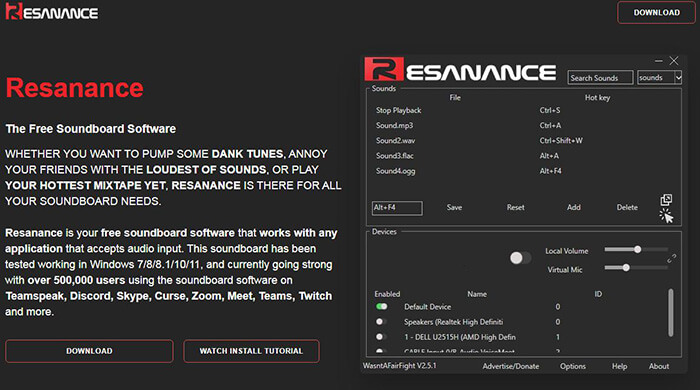 Pros:

It allows you to create a button deck for better functionality.

Supports volume adjustment on different devices.

Highly suitable for gaming.

Option to customize sound settings.
Cons:

Many users find the software incompatible with their system.
5. Discord Notification Soundboard: Morphvox Pro
Morphvox is another powerful Discord soundboard app compatible with both Windows and Mac. Mp3, OGG, WAV, and WMA are popular file formats supported by Morphvox. Users can significantly benefit from all the sound effects and free voices during gaming or communicating through Discord. These sounds and effects can also serve as background noises while you talk, allowing you to easily trick your friends during a prank call.
Moreover, the highly developed voice cancellation feature lets users experiment with different voice-changing algorithms. The pro version has two digital modes, including Studio Mode and Skinned mode. Studio mode has preset voices, whereas Skinned mode allows you to set your own voice pitch.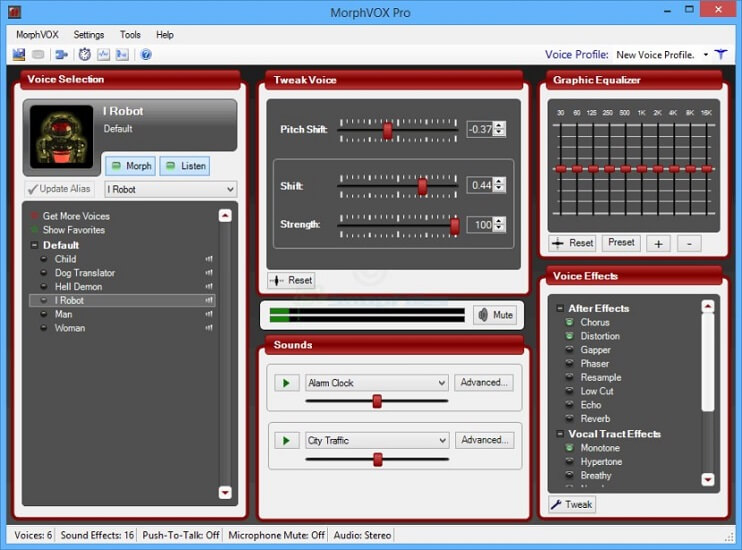 Pros:

It is available for Twitch, Fortnite, Valorant, and Skype.

The digital modes are perfect for noise reduction.

Many free voices are available.

Has voice tuning and voice comparison analysis features for more accuracy.
Cons:

The free version grants access to limited voice effects.

A bit complex for first-time users.
Tips
Compared with Magicmic, it has fewer sound effects and is more expensive, so Magicmic is more recommended
JN soundboard for Discord is more of open-source software designed with the simplest of C# language. It supports all famous file formats, including mp3, WAV, WMA, M4A, and AC3. The hotkey setup within the software makes it highly adaptive. You can set, edit or remove hotkeys, export/import hotkeys with XML files, or assign various sound effects to a single hotkey.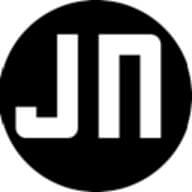 Pros:

Looping mix sound.
Cons:

Text-to-speech feature is only available through a virtual audio cable.
Mixere was originally designed for live performances, but due to its complex mixing capacity, the software became a preferred choice by professional Discord users. The software interface looks quite outdated, but it has some amazing features, making it interesting as a soundboard.
It gives users more control over individual songs. You can adjust each track's volume, pitch, pan, and position. Dynamic looping, auto-triggering, and automated sliders are features that will make live DJing more fun and exciting.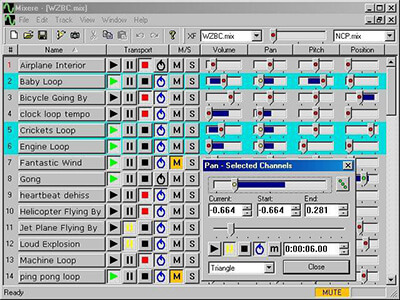 Pros:

Lightweight software.

Perfect for live DJing on Discord.
Cons:

Not suitable for beginners.

No hotkeys.

You will need a virtual audio device for sending audio output to Discord.
Part 2: How to Use a Soundboard on Discord?
Now we know some of the best options for setting up a soundboard for Discord. The next question is how to set up a soundboard for Discord.
First, download soundboard software depending on your needs. For instance, let's take the powerful and advanced iMyFone MagicMic as our choice of soundboard for Discord. Now, to set up a soundboard for Discord using MagicMic, go through the following simple steps:
Step 1: Download MagicMic and configure it with your PC.
Step 2: Now, open Discord and go to the Settings icon in the bottom left corner.
Step 3: Then, click on the "Voice and Video" option in the Setting menu.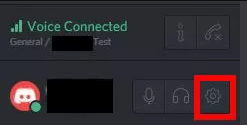 Step 4: Click on the Input Device option. A run-down menu will appear, and you have to choose Microphone (Voice Changer Virtual Audio Device).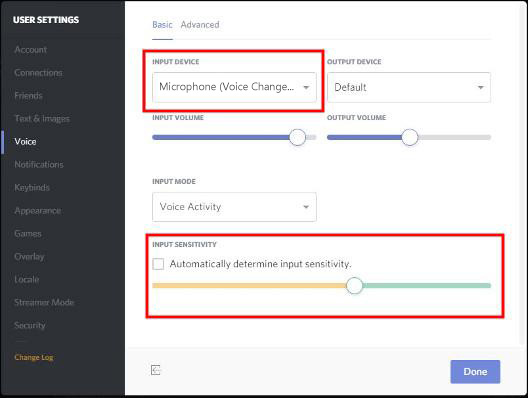 Step 5: Make sure to uncheck the Input Sensitivity option that is mentioned just under the Input Mode option.
Step 6: Use your microphone to check the voice sensitivity and make adjustments accordingly.
Step 7: Press "Done" and explore the vast voice-changing effects available within the software to mask your voice on Discord.
Conclusion
Masking voice online is fun but only when you have the right soundboard. With a perfect soundboard for discord, you can have more fun on Discord without disclosing your true identity. The soundboards mentioned above are used by Discord users all across the world. With this many options available to you, there is no need to wonder how to get a discord soundboard.
But for best results, we recommend you MagicMic soundboard. Its high demand is due to its incredible features and top-notch quality. Not to forget, it is free to use and is super beginner-friendly.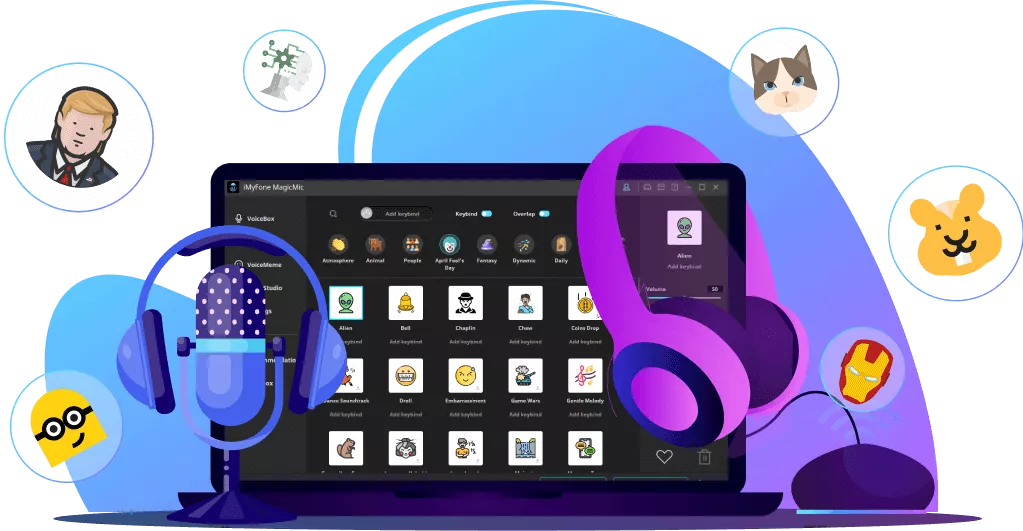 300+ Voice effects for one-click voice changing in real-time.
Huge library with 600+ Voice Effects and 250+ Voice Memes.
Sound emulator in games, live, chatting, online classes, and more.
Voice recording and audio voice changing is supported.
Voice studio lets you create any voice you like.