Do you have meetings, lectures, or any important conversations every now and then? Do you want to make a voice record when you listen to other music live?
if yes, you would need an MP3 recorder. There are a lot of voice recorders available, and people have no idea which one they should download. Most of them are full of problems like complicated interfaces, taking up more space, charging a lot, making the mobile slower and etc.
In this article, I have reviews of the top 8 MP3 recorders, which you can use to easily record anything you want without facing any trouble. I have also made their comparison at the end.
Part 1:Top 8 MP3 Recorders- What Are They?
Using the best MP3 recorder is critical if you want to capture an important conversation or lecture. But since they are very few, it is hard for people to find out. But I have done the work for them.
1)Professional MP3 Recorder for Windows- VoxBox
Voxbox is a popular voice recording and editing tool that is known for its valuable features and stronger security system. But most people know it because it has made voice recording fun. It includes everything there must be in any top-quality MP3 recorder. You can record, edit, merge, and import MP3 files easily.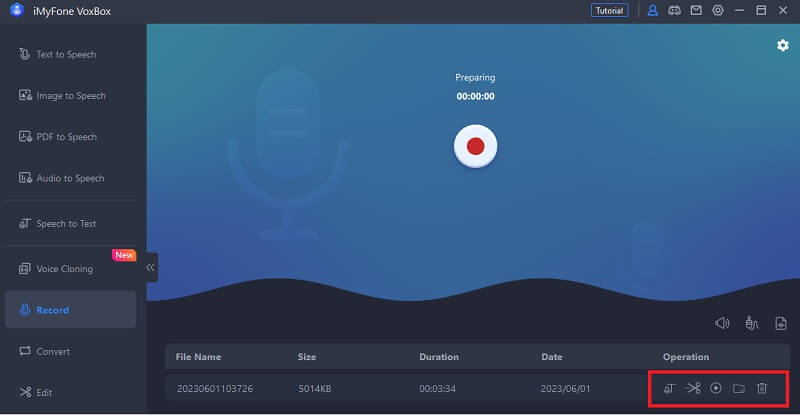 Features:
The user interface is straightforward and easy to understand.

Trimming, merging, and other editing features will make you feel like a Pro.

VoxBox uses advanced output technology, which allows the recording to be clearer.

It guarantees your recordings are secure from any outside attack.

You can save the file in many formats like WAV using VoxBox.
Pros:

You can use the trial version for free.

Advanced technology allows high-quality recording.

Can enjoy multiple editing features.

You can export MP3 recordings in several formats.

It can serve as music recorder.
Cons:

It's not free.
2) Professional MP3 Recorder for Windows RecExperts
Another good MP3 recorder that is best for Windows is RecExperts. It is an All-in-One tool that can do multiple things at once. It has received over 7000 TrustPilot reviews, and almost every one of them is 5-star.

Features:
You can record zoom meetings, videos, tutorials, and anything you want with RecExperts.

No matter whether you record from a computer or microphone, the audio quality will be clear.

You can also set a timer to start and start the recording.

Another feature RecExperts have is AutoSplit. You can record multiple audio files and then merge them together later on.

It also records screens and videos.
Pros:

It's an all-in-one tool.

It is fast.

You can record audio live or from any platform you want.

30-day money-back guarantee.
Cons:

It is compatible with only Windows 7 and above operating systems.

24/7 technical support is available only if you buy the pro version.
WonderShare or Streaming Audio recorder also made into the top MP3 voice recorder list because of hundreds of satisfied Mac users. Those who own iOS devices (especially Mac) love how diverse options this tool provides.

Features:
It supports call recordings.

You can also record radio and podcasts using WonderShare.

It supports split audio.

WonderShare also filters out irritating ads.

It is Secure.
Pros:

Supports multiple programs (including Zoom, YouTube, etc.)

It is safe.

24/7 technical support.

30-day money-back guarantee.
Cons:

Takes time to start up.
4)MP3 Recorder for Mac Audacity
It is a multi-track audio editor that can record MP3 in high quality and then edit it however you want. The best part about this MP3 voice recorder is that it keeps on updating. It is not stuck like other recording Apps and keeps on changing itself to provide a better user experience.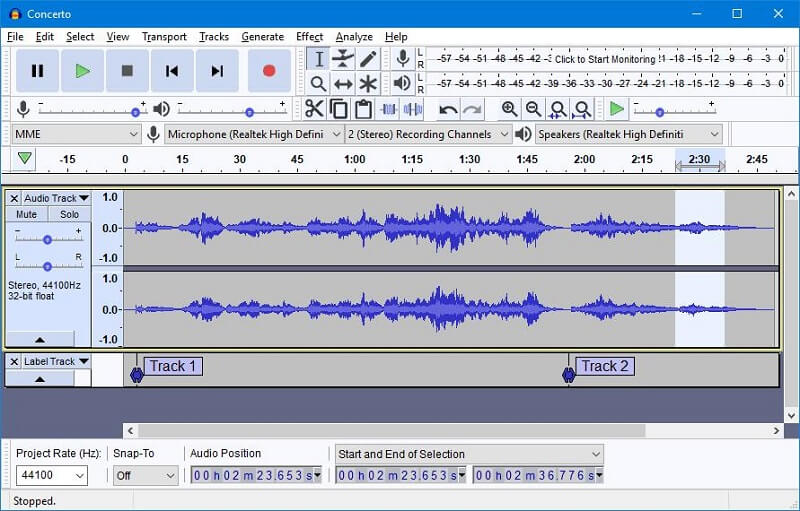 Features:
Whether you record live or get the help of a microphone, Audacity will work fine.

You can merge files to make a single audio file.

If you have already recorded audio in MP3 format, Audacity can edit it to make it more interesting.

Audacity also offers Undo and Redo options which are absent in many recorders and editors.

It supports LADSPA, VST, and many other plugins.
Pros:

It is free.

Records sound in top-quality.

Works for both Android and iOS.

Supports multiple plugins.

Freely Export/ Import files.
Cons:

Ads are annoying.
Hi-Q is another voice recorder you can use, which is also liked by thousands of people. Why? Because it is packed with useful features that make it more than just a recording App. You can cut, speed up the audio, merge, and do some more modifications using this App. That's why it has been downloaded over a million times.

Features:
You can enjoy lots of customization options when you use the Hi-Q voice recorder.

The audio sampling feature is also there.

It provides lots of editing options when you are done recording.

It provides lots of editing options when you are done recording.

It is perfect for recording seminars or any place where there might be lots of people.

The data privacy system is also top-notch.
Pros:

User-friendly interface.

Ads do not cause trouble.

Customization options make the experience pleasant.

Shares the file instantly.
Cons:

The auto-upload function stops working out of the blue.
6)MP3 Recorder for Android LectureNotes
If you are a student and want to record lectures, then go for the LectureNotes App. It has been specifically designed for students to record the audio sitting in class, seminars, and anywhere they want.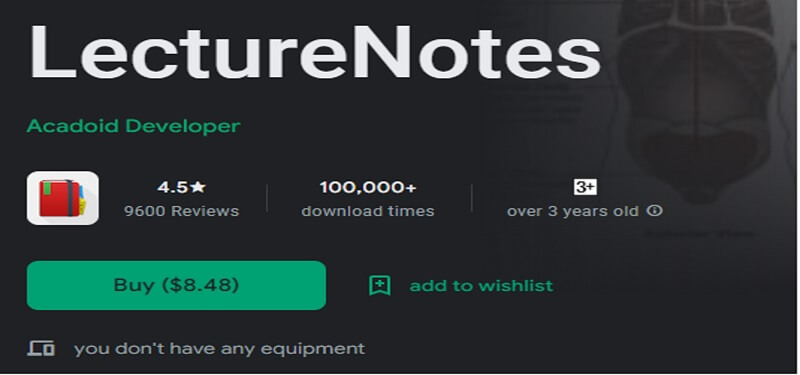 Features:
It can record audio clearly even in a crowded place.

It is developed using advanced technology, which allows every voice to be captured easily.

You can also cut, copy, and paste using this app.

You can also cut, copy, and paste using this app

It has searchable settings.
Pros:

Perfect for students.

Can record voices in high quality.

Suitable for every crowded environment.

The privacy system is strong.
Cons:

Editing options do not have variety.
7)MP3 Recorder for iPhone- Voice Memos
If you are an Apple user, then finding the best MP3 recorder can be difficult. But this ends here. If you have to record audio frequently, then use Voice Memos App.
But why is this app one of the best audio recorders? Because of the valuable features!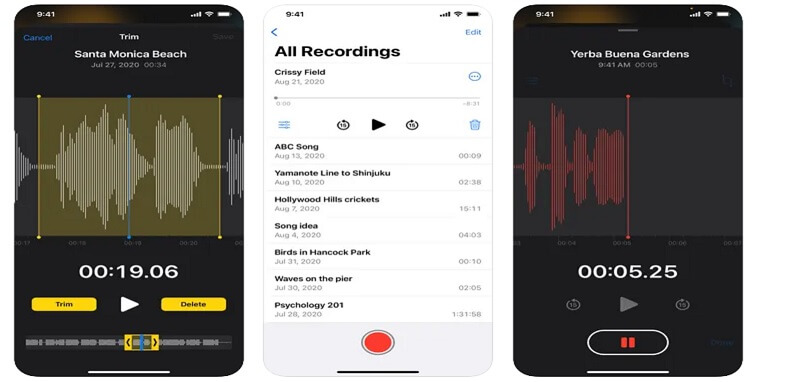 Features:
You can capture voices at any moment easily because of the in-built microphone.

It has a simple interface, so no one faces difficulty using it.

Advanced technology does not record most of the background noises.

It is iCloud supported.

You can trim, merge, speed up, slow down, or do anything you want with the recorded file.

You can ao listen to your recording using your Apple Watch.
Pros:

Does not record most of the background noises.

iCloud supported

Supports multiple languages

It is free.
Cons:

Require iOS 10.0 or above.

Sometimes it can take the freezer up and don't record.
8)MP3 Recorder for iPhone- AudioShare
AudioShare is the last MP3 recorder I shortlisted. It is also for iPhone users who frequently have to do recordings. But it has some additional features which are not there in other iOS-supported MP3 recorders.

Features:
You can easily organize your recordings in folders as you want.

It also supports Inter-App audio nodes.

It can record files in different bites (16, 24, 32)

It is DropBox supported. You can also share the recordings on SoundCloud.
Pros:

User-friendly interface.

Can easily manage your recordings.

Import/Export feature is there.

Does not take much space on mobile (less than 22 MB)
Cons:

Require iOS 10.0 or above.

Supports only one language- English.

It is not free.
Part 2:Full Comparison of Top 8 MP3
| Product Name | OS | Supported Formats | User Rating |
| --- | --- | --- | --- |
| iMyFone VoxBox | Windows | MP3, WAV, AAC. | 4.9 |
| RecExperts | Win &Mac | MP4, MOV, FLV, MKV, AVI,MP3, AAC, WAV, OGG, WMA, FLAC, GIF, PNG. | 4.8 |
| Streaming Audio recorder | Windows 10/8/7/Vista/XP | MP3, M4A, AAC | 4.5 |
| Audacity | Windows, macOS, GNU/Linux | MP3, WAV, FLAC, OGG, M4A, AIFF | 4.5 |
| Hi-Q | Android | MP3, WAV, FLAC, OGG, M4A, | 4.5 |
| LectureNotes | Android | MP3 | 4.5 |
| VoiceMemos | iOS | MP3 | 4.5 |
| AudioShare | iOS | MP3 | 4.5 |
Conclusion
Here we have discussed the top 8 MP3 recorder software for all platforms with their Key features, and you can pick one for your MP3 recording now. If you are still confused, we sincerely recommend VoxBox. It not only helps you capture audio but also record audio from your desktop or other music software with ease. Why not try such a versatile voice recorder?