Text-to-speech generators are now being used widely for machine learning and AI purposes. These tools are used to create instructions and guides for people.
Moreover, a TTS can also be used for entertainment purposes. If you want, you can integrate it with other apps and use it normally to have fun. Besides entertainment, a TTS can also be used in professional ways.
In this article, we will give you a complete review of Oddcast TTS, which is a famous tool. We will discuss its features, pros & cons, and pricing in detail. Plus, we will also share an excellent alternative that you can try.
Part 1:Do you Know Oddcast Text-to-Speech?
Oddcast bulid in 1999, and focus on new technologies in the character-creation and vocalware fields. it provide a wide feature like Character, voice and audio, sharing and distribution, Mini Customization and Widgets, 3Dworlds, Head tracking, voice recognition, etc to help their consumers create personable content to share with others.
But today, we just discuss oddcast text-to-speech.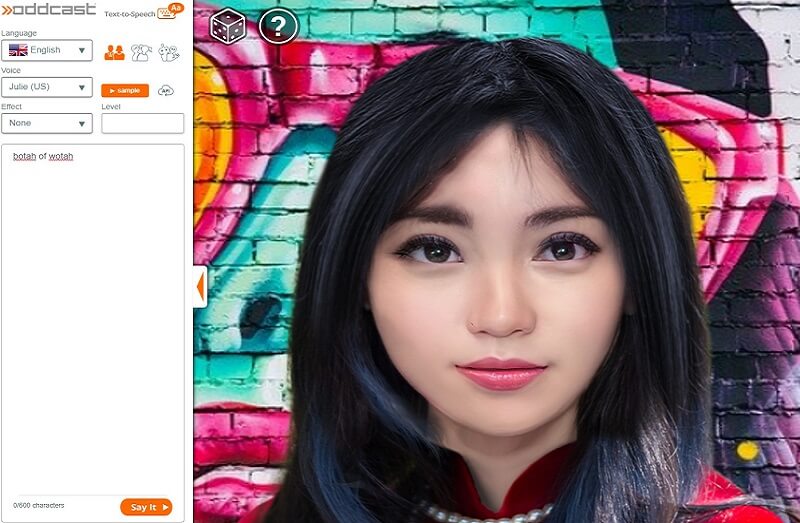 Features:
Has 185+ voices, including male and female.

Supported 30+ languages.

You can use the TTS Translator feature and translate the text (English or any other language) and speak into other languages.

You can adjust the speed, tone, pitch, and effects of the voice.

Developers can obtain API from Oddcast TTS.

It has emotive cues allowing the user to customize and adjust the delivery of the text.

It has emotive cues allowing the user to customize and adjust the delivery of the text.
Pros:

Oddcast provides a demo that you can try.

It has a simple user interface.

The emotive cue makes the speech more engaging.

You can convert up to 600 characters from text to speech.

It has different and unique voice effects that you can adjust.

You can change the character by clicking on the dice logo.
Cons:

The accent is quite robotic, and you don't get the feeling of a real human voice.
Price:
It doesn't have a price mentioned on the website, but if you are looking to buy this tool, you can contact sales@oddcast.com.
Part 2: Oddcast TTS Alternative-VoxBox
Even though we have know more about oddcast, but in fact oddcast tts can not reach every needs, and the price is also trouble cause you need to contact them.
So, I would recommend a best oddcast text-to-speech alternative-VoxBox. It is simpler and easier to use. It has more voices and languages from which you can choose the output for your text. It also works offline as it is a desktop application. Moreover, you can also record your voice with VoxBox. It provides you an opportunity to edit, trim, cut, convert and combine your audio files. With just three simple steps, you can convert any text to speech with VoxBox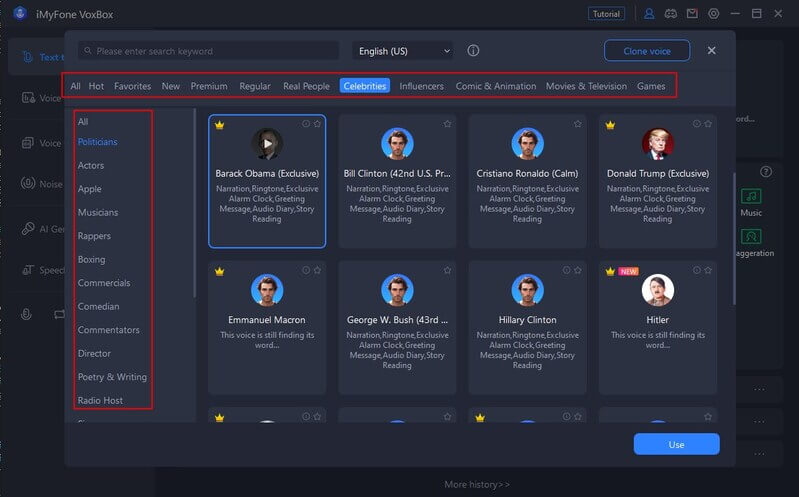 Features:
VoxBox has 11 different languages from which you can choose.

It has multiple output formats like MP4, WAV, and AAC.

User-friendly interface.

More than 3000 voices to generate realistic audio.

You can import, convert, edit,record.
Pros:

User-friendly interface.

Easy to use.

The safety and privacy of the user are promised.

No Ads
Cons:

Not available on macOS.
Price:
iMyFone VoxBox has different price plans. It has a monthly plan that costs around $19.94, a yearly plan that costs around $24.95, and a lifetime plan for $59.95.
Part 3: Hot FAQ about Text-to-Speech?
1. What is the TTS?
A TTS is a text-to-speech voice generator. It allows you to transform your text into an actual human voice. There are different TTS tools that you can use and try out different voices. If the tool is capable enough, you can also translate your text and then convert it to speak in any language that you want.
2. Why do people need TTS?
TTS has wide usage. You can use it to read aloud text to improve your child's word recognition. It can also help blind people to hear what they cannot see. TTS is used in AI assistants like Siri and Google Assistant. Moreover, you can use it for entertainment purposes as well.
Conclusion
This article gives a detailed review of Oddcast TTS and its alternative iMyFone VoxBox. Both are effective and simple text-to-speech tools. They have a variety of voices from which you can choose. However, both have different features. If you have a big needs about TTS , I recommend VoxBox is a better alternative. Download it to help you make voiceover, or broadcast book, and so on.