Anime girl voice changer is the way to go if at all you are looking for a way to change your voice. Whether you wish to pull a prank on your friends who you are playing games with or live streaming with by the use of funny sound effects as well as voices, or you want to find the perfect anime voice to make your group chat laugh, you cannot go wrong with these voice changers.
Part 1: 3 Classic Anime Girl Voice Changer [Real-time]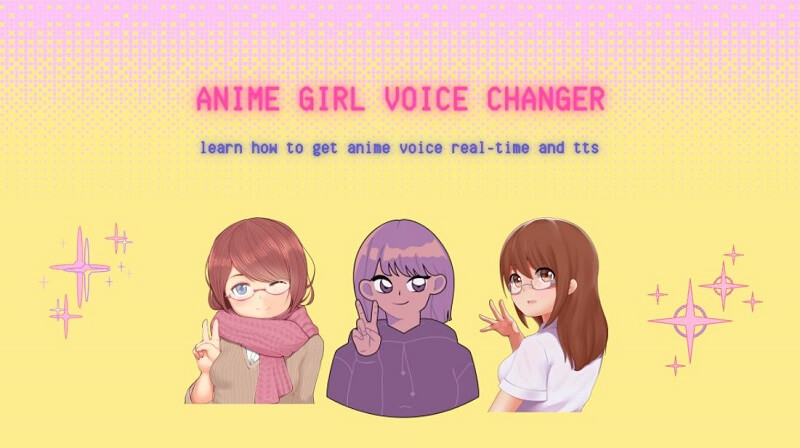 iMyFone MagicMic is the good alternative in the tools for real-time voice changing. This is because it is highly compatible with a vast number of chatting as well as streaming platforms which make it nothing short of being the perfect tool for one to use when having fun with your loved ones.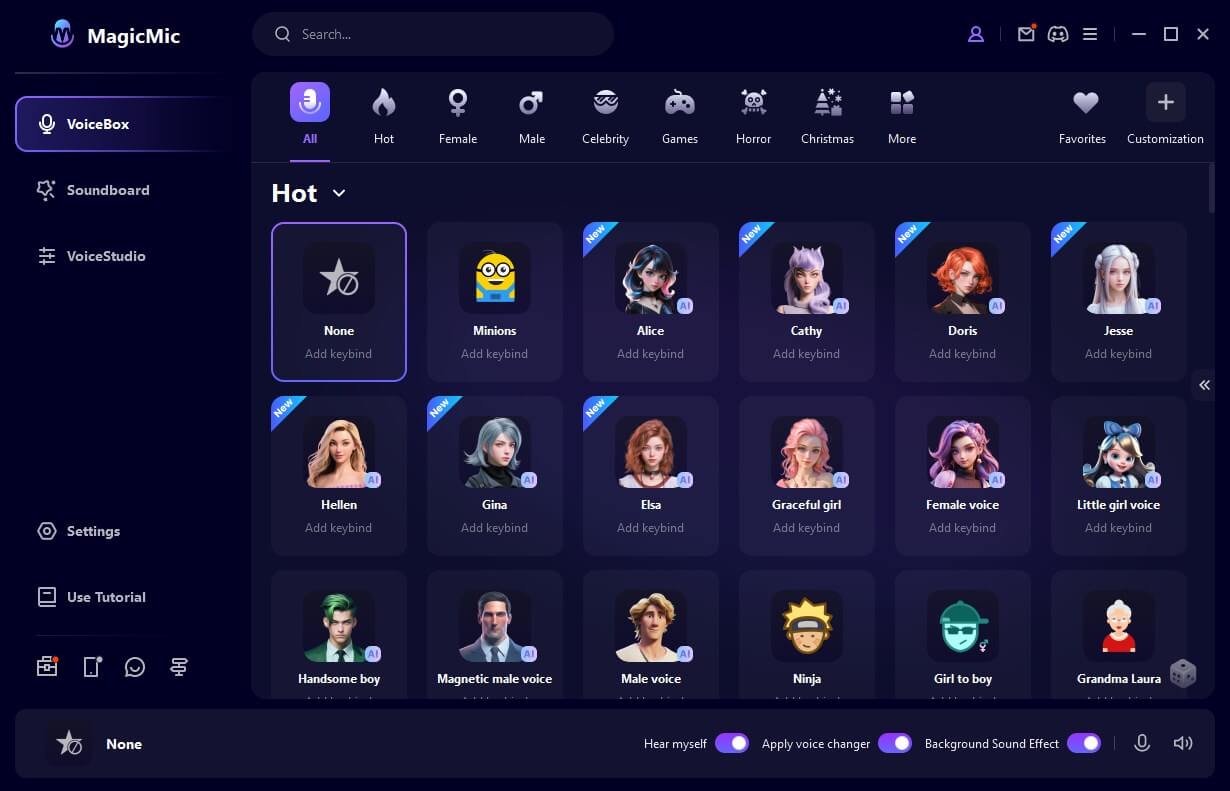 The key functions of the iMyfone MagicMic Voice changer as the perfect soundboard for both the Windows and Mac operating systems are:
Key Features:
iMyfone MagicMic offers real-time sound effects, voice changers, voice memes for gaming, discord, or even live streaming.
This tool offers a variety of voices such as dragon, walkie-alkie, devil, robot, chipmunk, and male to female as well. There are also more than three hundred effects available which include environment, people, atmosphere, animals, and much more.
Noise reduction technology is working with the program.You can enjoy high quality voice output.
iMyfone MagicMic allows you to assign your choice of keybinds for voices as well as sounds and thereby use them the instant you would wish to do so without having to interrupt or even worry about jarring your audio.
iMyfone MagicMic allows you to import your desired WAV audios or MP3 files without struggle. Not only is it the best voice changer option, but it also allows you to customize your soundboard to your liking.
It comes with noise reduction technology so that you won't be annoyed with noise and echo problems.
Price:
You can try this product for free and if it satisfies your needs, continue to pay a small fee of 9.95$/quarter, less than 0.2$/day.
User Rate: 4.7
Customer Reviews: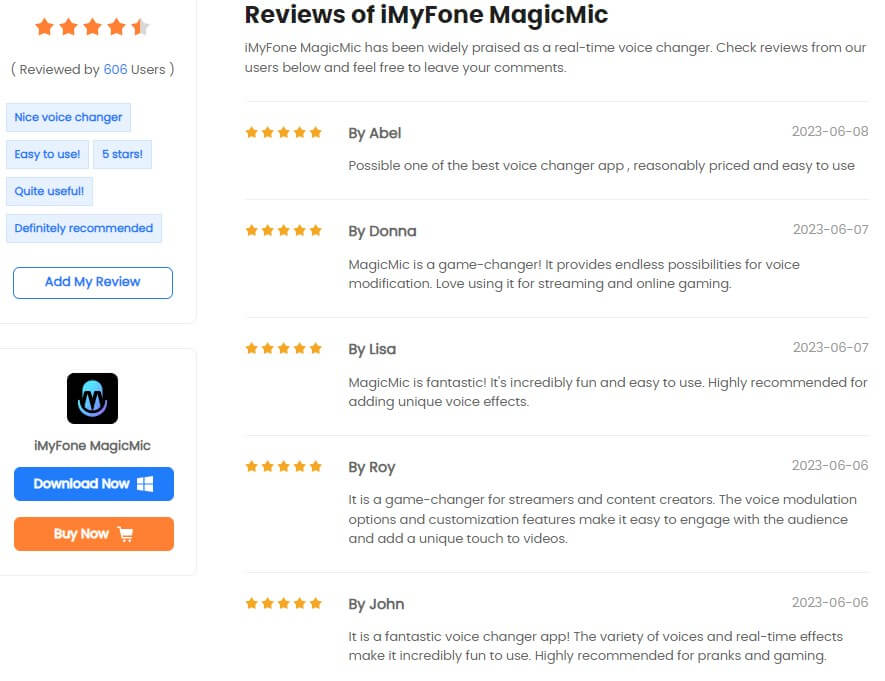 If at all you need an app on your iOS device that is a real-time voice changer, then this app is for you. You can now prank your friends with phone calls. In addition to this, you can use this powerful tool to get audio recordings.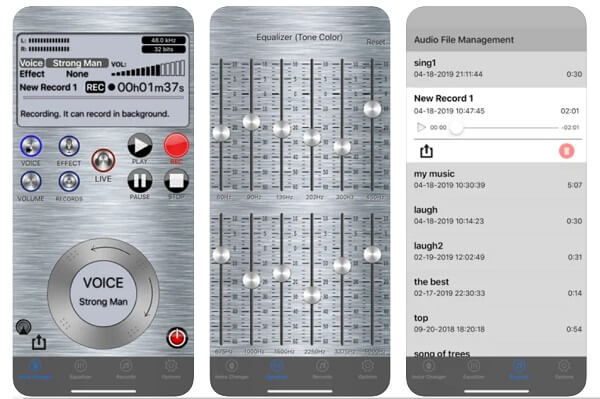 This live voice changer is known to be suitable for all your iOS devices as it has specific features to it that make it ahead of all the rest. These features include:
Key Features:
The Live Voice Changer works in real-time. This means that it changes your voice as you use it, quite literally in real-time. As you speak into your iOS device's microphone, the sync output that is in your speaker is automatically a changed voice.
This Live Voice Changer allows you to make use of a false gender voice. You change from a male to a female voice and vice versa.
By using a twelve-band equalizer that has been specially designed to make sure the voices sound more natural.
The live microphone of this app also has a total of fifteen reverb effects. These effects allow your voice to get more polished so that it is heard as more beautiful.
This Live Voice Changer is also a voice recorder that is said to be professional. Because it has a reverb effect function as well as the voice changing function, you can record audio files of your liking and even share these files via social apps.
The Live Voice Changer supports airplay output devices as well as Bluetooth.
Price:
free to download but it has in-app purchases
User Rate: 4.5
Customer Reviews: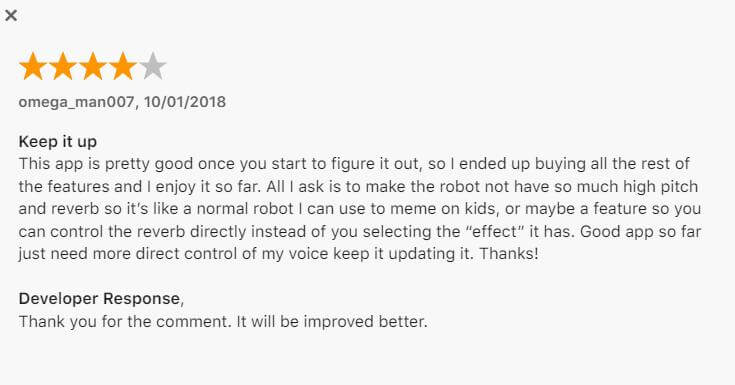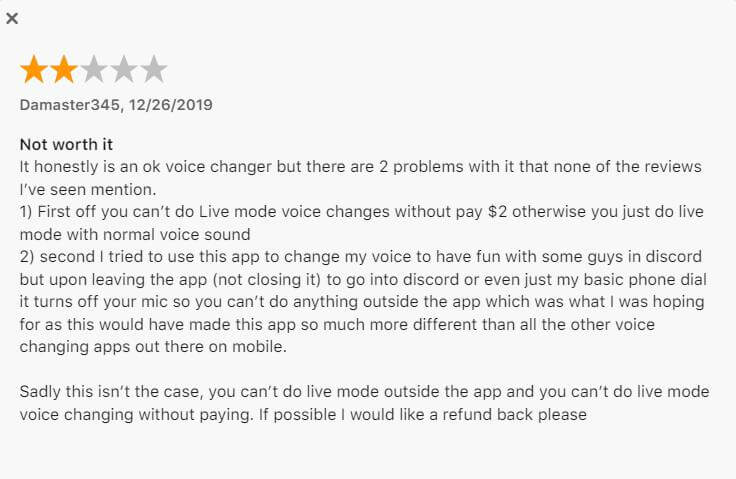 Voice FX is the most recommended girl voice changer as well as a voice recorder app for Android users. This app not only allows you to playback your voice live with various voice effects, but you can also hear people talk while their voices get transformed in real-time. It even allows you to live to stream your voice that is getting changed to different web browsers and media players.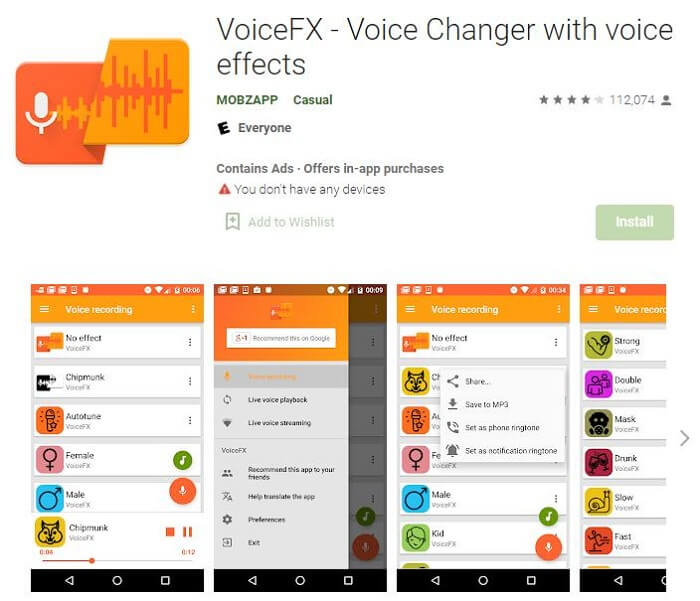 The features of the VoiceFX include:
Key Features:
The VoiceFX allows you to record your voice and then change it by application of audio effects.
The VoiceFX allows you to not only save but also share your recordings as MP3. You can also set the voice that has been changed as your ringtone.
This app also allows you to playback your microphone and change your voice live.
The app has a number of audio effects that you can use while changing your voice such as female, strong, chipmunk, robot, autotune, kid, male, double, slow, drunk, sheep, alien, space, cave, sheep and so much more.
This app allows you to load audio files and then apply your choice of effects to them.
The app has been rated four stars out of five on the Google Play Store and has more than a hundred thousand downloads.
Price:
This app is free with in-app purchases
User Rate: 4.2
Customer Reviews: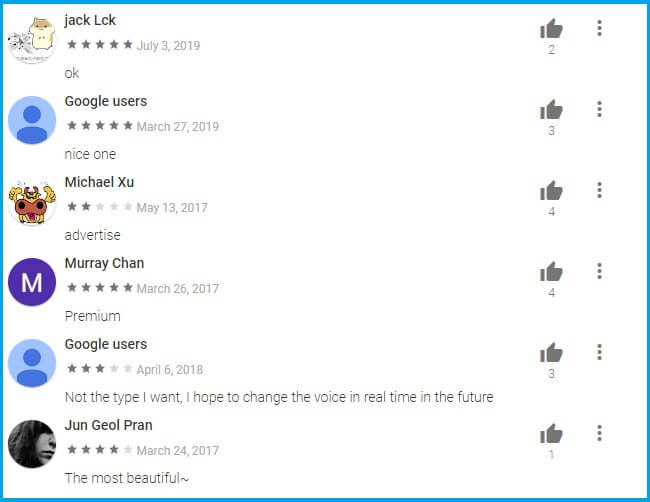 Part 2: 3 Popular Anime Girl Voice Changer [Text to Speech]
Woord is software that allows you to convert text to audio.Why would one need to convert text to audio? The simple answer is that audios generally offer better and richer experiences. Audios subconsciously engage the listeners continuously.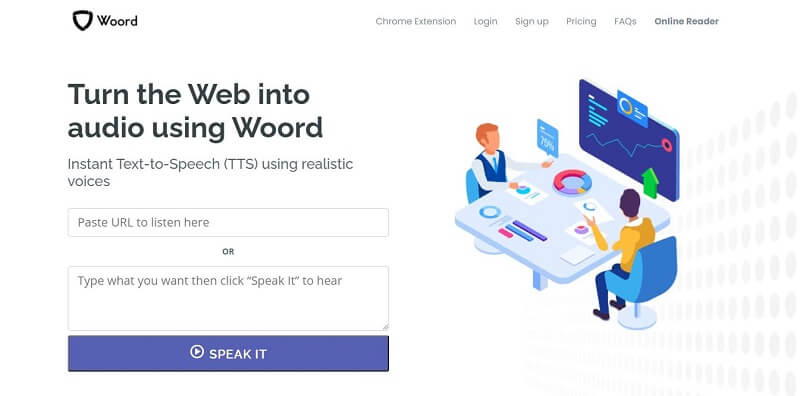 The features of Woord as a text to audio converter include:
Key Features:
It has a vast acceptance of languages. There are regional variations so that whatever language you speak, you will be covered. There are a total of twenty-one available languages with fifty voices. These languages include Brazilian, Portuguese, French, Canadian and so much more.
There are unlimited audios. Woord gives you the freedom to convert the text of your choice, whether it is a research paper or even a blog post.
You will also be able to create as well as redistribute your work.
You will be sure that what you are getting is the best quality as it uses Artificial Intelligent technology to ensure the speech is natural sounding.
Price:
Text to audio is totally free,but other function need to paid for.
Animaker is a platform that allows you to create not only live-action videos but also animation videos for your convenience and entertainment. Animaker is known to be loved by more than ten million all over the world. Reputable brands such as Philips and Hp even vouch for how good this platform is.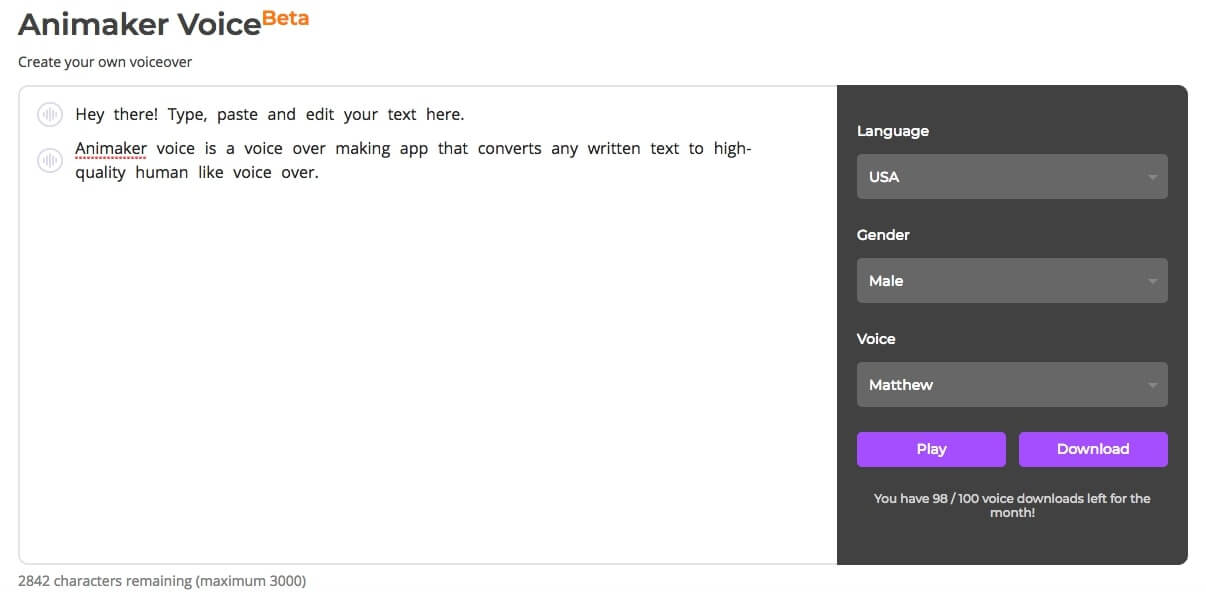 The features of Animaker include:
Key Features:
It is powered by a powerful engine. The platform has HTML5 as the engine running it and this means that the performance is completely seamless.
The platform has templates that have been crafted professionally. These templates are ready to use and can be customized to your liking in less than ten minutes.
The platform has a large library of the video asset. Everything one may need in the process of making a video is provided. Be it icons, animated characters, BGs, images, and much more.
Price:
The platform also offers paid purchases that can be paid monthly or yearly.
Narakeet is an online service that helps people to make narrated videos with ease. It uses Artificial Intelligence in the creation of these narrations that are life-like from speaker notes. The service was created to be used all over the world as it has more than three hundred and fifty voices and supports more than sixty languages. The users are able to edit videos as they would edit a said text, therefore saving them hours and they, therefore, do not need to record more audios to synchronize with pictures.

The features of Narakeet include:
Key Features:
It facilitates the conversion of a PowerPoint presentation to a video complete with a voice-over. It also facilitates the conversion of PPTX into MP4. You can even add music to your videos for the background music effect. Finally, you can also get videos from turning slides and use this for your social networks and even YouTube.
It facilitates the conversion of text and word documents into audio.
It facilitates the making of video presentations with music, and pictures, complete with a voice-over by the use of the markdown to video tool.
Narakeet has automated video production.
Price:
Narakeet can be accessed for free but there are also commercial accounts with different subscriptions.
Conclusion
Pulling pranks on your friends and family should not only be left for April. An easy way is to use iMyFone MagicMic Voice Changer for all its amazing features and different voice effects. Using the effect for anime girl voice changer will give you and your family a good laugh.
All of these anime girl voice changers help users navigate how to get anime girl voice. You need to make clear your need: audio edit or real-time voice change,device compatibility and then according to your using frequency choose a free but basic or not free but powerful one.