Changing voice and adding filters has become a new trend. Whether you are an online gamer or a content creator, this feature could be useful. There are numerous voice changers available, but not every fortnite voice changer available on the internet will suit your needs. In this article, we will help you get the top 3 voice changer for Fortnite.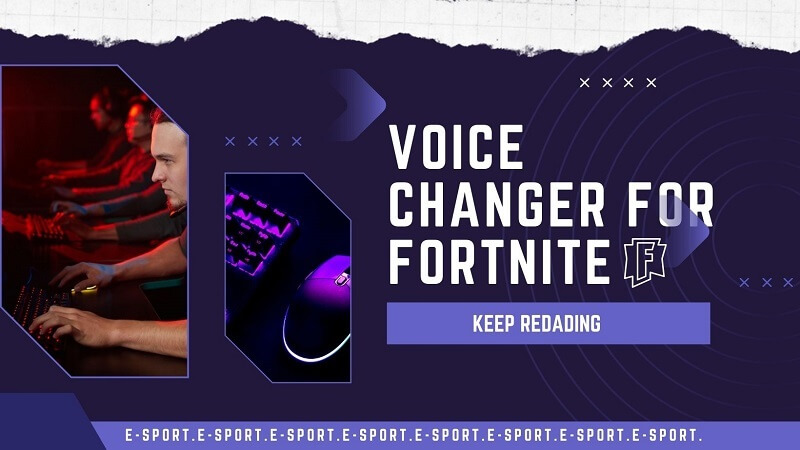 Bonus Tips
How To Use a Male to Female Voice Changer in Fortnite
Top 3 Voice Changers for Fortnite
Many applications are available on the internet. Some of the top Fortnite voice changer are listed below:
1) MagicMic Voice Changer for Fortnite
iMyFone MagicMic is a comprehensive voice changers for Fortnite available on the internet. It has many filters that you can use to transform your voice. Moreover, you can unlock all the filters, but you will have to purchase the pro-version. iMyFone MagicMic is powerful real-time voice changers. Not only for games, but it is also compatible with Fortnite, Discord, and other platforms.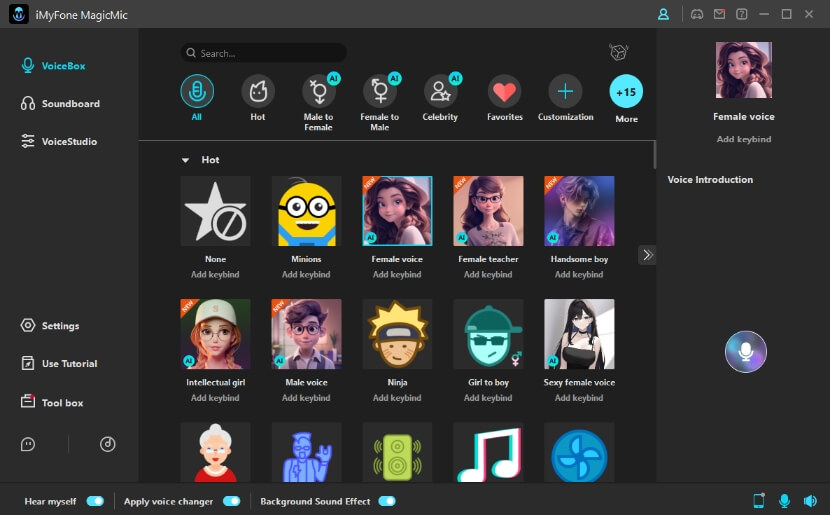 Key Features of MagicMic
It can really change your voice in real-time. Just set the keybind and switch your voice with 1 click.

It offers 600+ voice-changing effects for you to choose from, such as: Monster, Devil, Male to female, Robot, Minions, Alien and more.

You can change your voice while recording and audio files.

It allows you to customize your own fortnite soundboard, set hotkeys,and import sound effects.

It is available for Windows and Mac devices, Android and iOS.

You can control your voice and sound effect playback by keybinds.

In addition to Fortnite, MagicMic can also change your voice in real-time on many gaming platforms, such as Valorant, PUBG, and so on. You can transform your voice into Darth Vader, Space Marine, Stormtrooper, and more while playing games.
Watch This Video To Know More About MagicMic Voice Changer Fortnite
Tips
MagicMic comes with the most voice changing effects than other voice changer.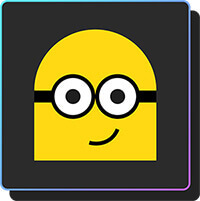 How to Change Your Voice in Fortnite Using iMyFone MagicMic:
Step 1: First, download MagicMic on your PC. Open your browser and go to the official website. Click on Get MagicMic Free. Log in to your account or create a new one. The exe file will start to download.
Step 2: You will need to select the input and output that you will be using. Select the microphone that you will use as input, and you can also test your voice while configuring it.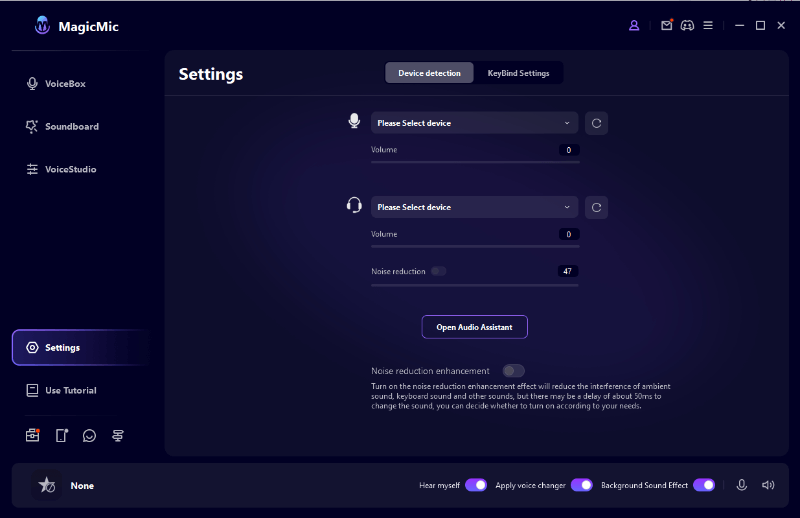 Step 3: Now, open the MagicMic application. You will see the voice changer in the taskbar. The voice changer should be turned on to change the audio.
Step 4: Open Fortnite or download first if you don't have it already. Open Settings. Go to Audio and click on Voice Chat.Under Voice Chat Input Device, select MagicMic Virtual Audio Device. After doing this, click on Apply.
Step 5: Now, you can choose any voice on MagicMic, and it will be used in Fortnite.
2) MorphVOX Fortnite Voice Changer
MorphVOX is a software application that is typically used to intensify your online experience, whether it is related to gaming or content creation. It specifically intensifies and alters the pitch and tone of your voice quality to a smoother and moderate level. It is a voice changer for games, you can transform your voice into any aspect you want, ranging from Dwarf to a Giant.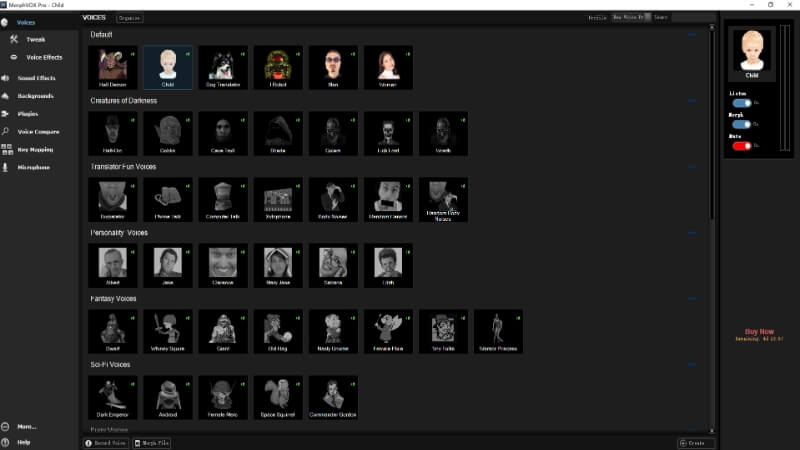 Tips
MorphVox Junior version is free with 3 voice filters and MorphVox pro charged 39.95$ which is quite expensive for a voice changer.
How to Change Your Voice Using MorphVOX Voice Changer:
Step 1: Download MorphVOX by following an easy installation setup.
Step 2: After the MorphVOX is downloaded and installed, open and run Fortnite first. Then go to settings and under the Audio section, change the microphone setting to "Screaming Bee Audio".
Step 3: Now, just apply the settings by pressing OK and then close the settings dialogue box.
Step 4: Your configuration for MorphVOX voice changer with Fortnite has been completed now. Just make sure to run MorphVOX first and then run Fortnite to experience the voice changes that you intend to apply.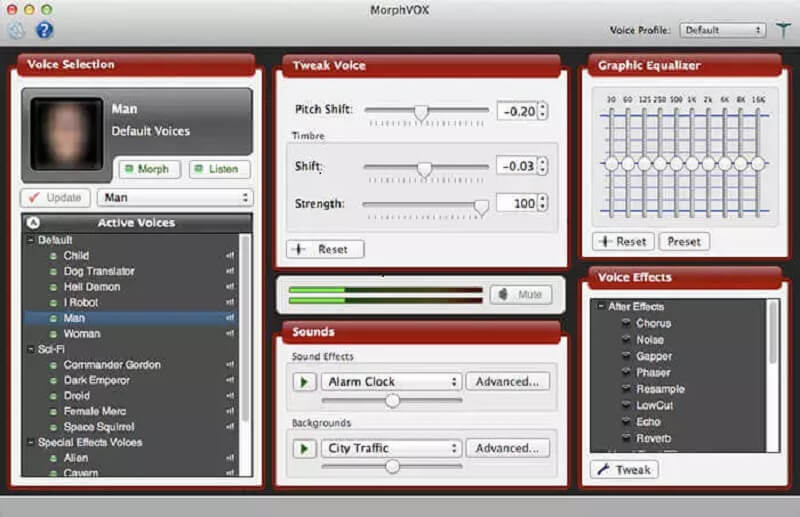 Step 5: To achieve the highest quality of sound on MorphVOX, make sure to set the sound quality to "highest" by accessing the sound settings in the MorphVOX Preferences menu. You should also reduce your real microphone volume if you are facing any sort of distortion in your voice or any delay.
Step 6: By following all of the steps mentioned above, you will experience one of the finest outcomes of the voice changer.
3) Free Voice Changer for Fortnite: Clownfish
Another application that has got a good reputation is Clownfish Voice Changer. This software has high-end results for applications like Steam, Skype, Hangouts, Viber, TeamSpeak, Mumble, Discord, and many more. It has multiple voice effects, including the alien, clone, male, silence, baby, robot, female, custom pitch, helium pitch, and radio. Windows doesn't see Clownfish as a separate device, and all your audio input is routed through Clownfish; this makes things pretty much easier. But the problem is that Clownfish has a more restricted library compared to Voicemod.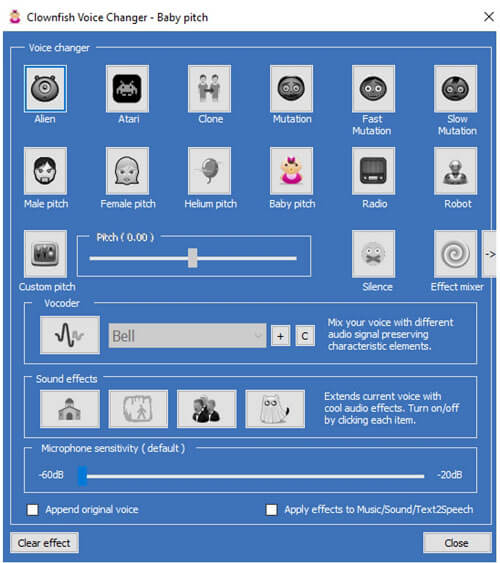 Tips
It is a
free voice changer
which only offers you 14 voice changing, it can't give you an interesting experience.
How to Change Your Voice Using Clownfish Voice Changer:
Step 1: Install the Clownfish Voice Changer application, which is a very easy task. Just keep pressing the Next button.
Step 2: Now, launch the application. When the application runs, a logo of the application will appear on the Windows system tray. By right-clicking on this, the control menu will appear. Double-click will turn the application On and Off.
Step 3: Click on "set voice changer" in the system tray icon. You can choose any effect from the list available. You can also add multiple effects to have a combined effect.
Step 4: That's it. There is no need to configure anything else on Fortnite. As Clownfish needs to be configured only once and then all the applications that depend on the microphone will be routed through Clownfish. If you want, you can check your default input device in Fortnite settings, and it will be already set on Clownfish-mic.
Final Words
We have discussed some great fortnite voice changers for desktop available on the internet. Every application has its advantages and drawbacks. It solely depends on your needs and choice.
We recommend iMyFone MagicMic as it is one of the best due to its multiple features in terms of voice changer for fortnite. And it is easy to get start! Come and try it out below.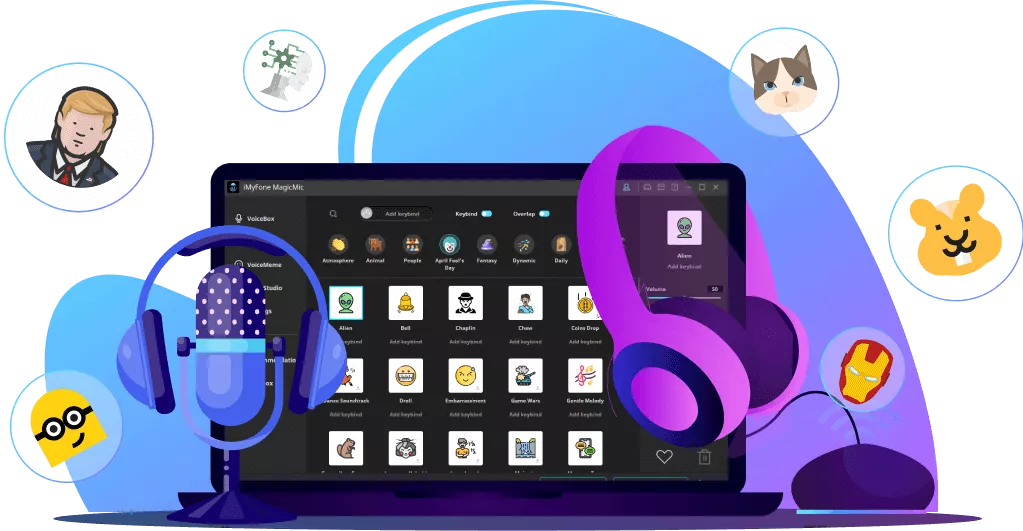 125+ Voice effects for one-click voice changing in real-time.
Huge library with 400+ Voice Effects and 150+ Voice Memes.
Sound emulator in games, live, chatting, online classes, and more.
Voice recording and audio voice changing is supported.
Voice studio lets you create any voice you like.