If you want to learn how to use voice changer for discord on mobile and Mac discord, you may have encountered some trouble. First of all, there are many discord voice changers. Which one should you use?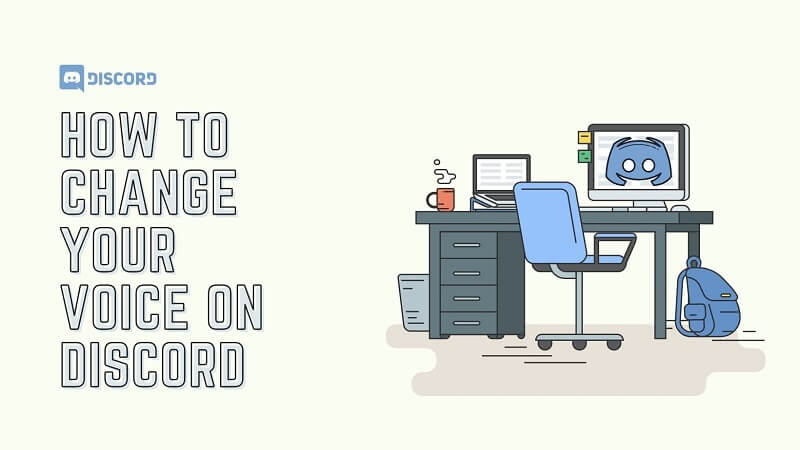 We prepared a complete guide that will instruct you on how to use a voice changer on discord from different Mac, Windows, and Mobile devices.
How to Change Your Voice on Discord (PC)
Nowadays,Discord is becoming more and more popular among young people because of its low latency and entertainment. Do you know how to double the fun in Discord? The secret is to use software that mutates and plays sound effects. While other users are still waiting for the soundboard function of discord to go live, you can be one step ahead.

If you want to use the voice changer on Discord from your computer, you get to use better tools and voice changers than the versions of the mobile device. These voiceover programs can modify your voice as you speak. Therefore, these alternatives work best if you want to disguise your voice on a discord call.
We will share two alternatives depending on your operating system:
1. MagicMic Voice Changer for Discord [Mac/Windows]
You can use MagicMic if you want a real-time Discord voice changer. This is perfect for your Discord voice chatting and streaming broadcasts. It is compatible with multiple platforms with Games (PUBG, LOL, CF, WOW, Second Life, Fortnite, CSGO, Overwatch); Chat (Discord, Skype, Zoom); Live Streaming (Twitch, Xsplit, Streamlabs).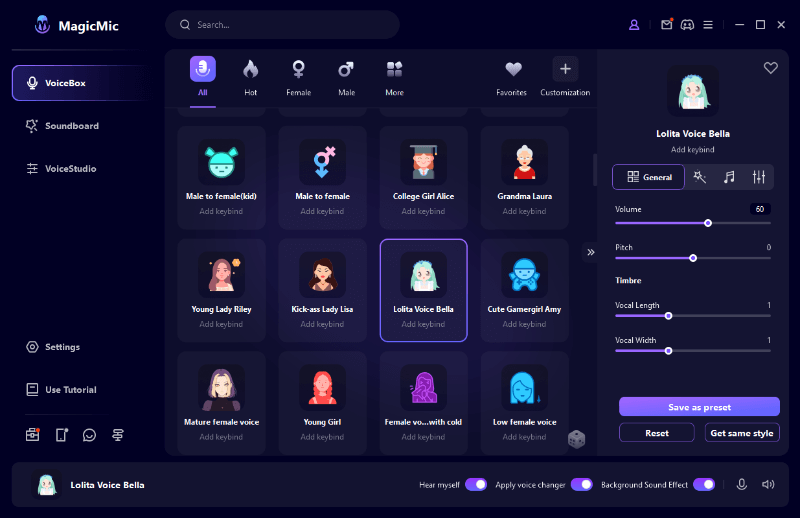 The interface of this voice changer is good-designed and easy to use. System crash seldom happened to me on both Mac and Windows. But for Mac version, voice filters are less than on Windows, about 60+, while there is 125+ on Windows & Mac on Discord.
Key Features of MagicMic
Change your choice in real-time, you can also set the keybind and switch your voice with 1 click.
A huge collection of 125+ voice-changing effects, such as Woman to Man, Monster, Minions, Devil, Chipmunks, Robot, Alien, etc.
600+ sound effects and voice memes imitating people, animals, the environment, raps, and so on.
Some voice filters come with background sounds to let you change your environment and make your voice change more vivid.
You can also create your own voice with ease using its "Voice Studio" features.
Not only you can change your voice on Discord, but you can add sound effects with the other soundboards. Here is a step-by-step guide on how to use iMyFone MagicMic on your desktop pc:
Step 1: Download MagicMic and configure what your main microphone will be as the input device.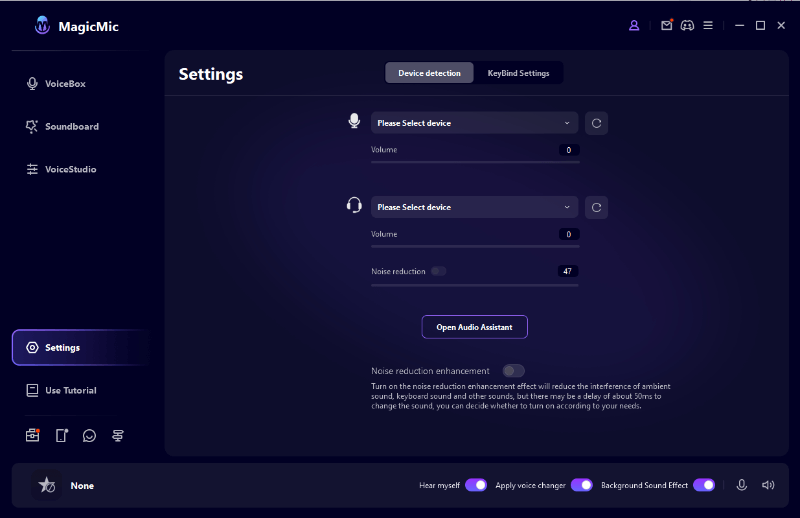 Step 2: On the bottom of the MagicMic window, make sure that the "Voice Changer" option is turned on.
Step 3: Browse among all the voice effects available and choose the one you want for your Discord voice call.
Step 4: Turn on the option "Hear Myself" located at the bottom of the windows to hear your voice with the new sound effect. You can also turn on the noise filter by turning on the "Background Effects".When all are correct, turn off the "Hear myself" option.
Step 5: Go to Discord User Settings. Click Voice& Video, and choose the same microphone input as what you selected on MagicMic. Now you are ready to go. Join your Discord call and fool everyone with your new voice.

Watch Video Guide About Discord Voice Changer for Mac
2. MorphVox Voice Changer [Windows]
If you want to adjust and change your voice on a Discord call, this alternative is suitable for Mac users. MorphVox is a premium voice charger that offers you 35+ voice options.It does excellent on noise reduction. Moreover, it allows you to choose sounds and voices by pack so that you can keep them in low memory.
Though it works with both Mac and Windows devices, but it does much better on Mac than on Windows. You can read Morphvox voice changer full review to get more information if you are interested. Here is a guide on how to use this tool: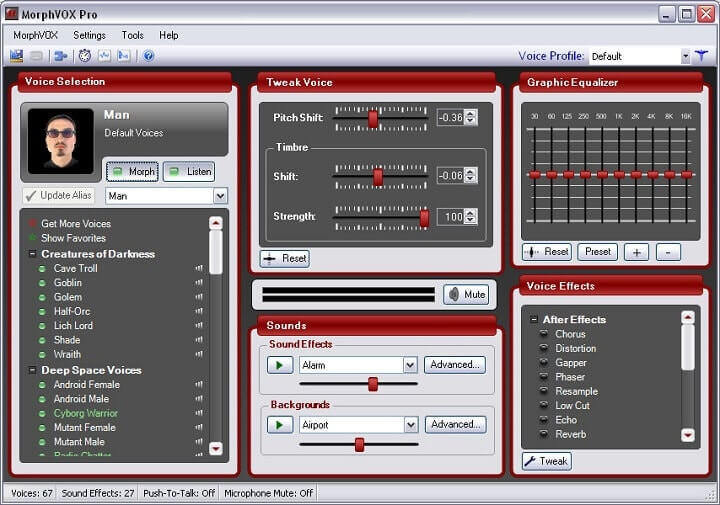 Key Features of MorphVox Pro
As a real-time voice changer, MorphVox Pro provides a chance to alter your voice with various voice parameters.
Fully customizable voice packs for download so that you can only download the voices you need.
Good noise reduction.
It allows you to add background sounds.
It comes with audio file voice change too.
Step 1: Download and open MorphVOX Pro.
Step 2: Set your microphone to "Screaming Bee Audio" before opening Discord.
Step 3: Now, open discord and click on the voice settings option button at the bottom left corner.
Step 4: A menu of options will unfold. Go to the "Voice tab."
Step 5: On the input device, select "Screaming Bee Audio" in the drop menu.
Step 6: Turn off the function "Automatically determine input sensitivity"
Step 7: Make a microphone test to make sure your voice is being changed by MorphVOX Pro and being received on Discord.
Step 8: Press Escape to exit this menu. Now you are ready to go using your new false voice.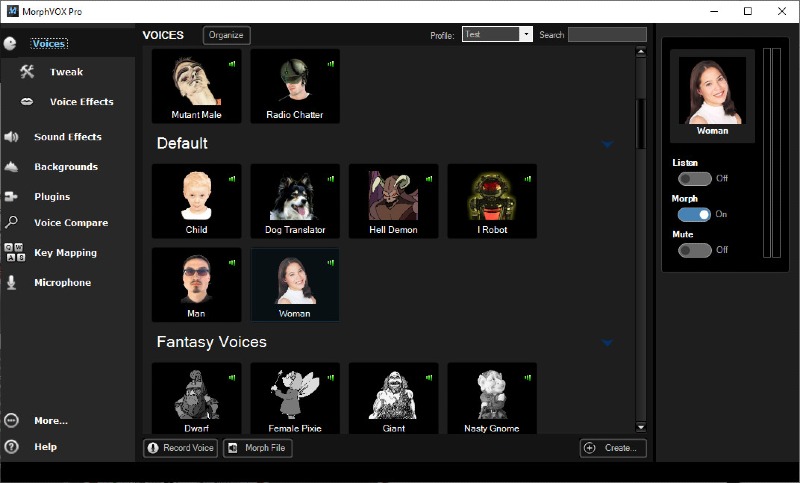 How to Change Your Voice for Discord on Mobile
If you want to modify your voice directly from your mobile device, there are some alternatives you can use. Although the mobile applications are a bit limited, they should be able to give you a voice change on discord.
We will give you two applications alternative that will work if you are using iPhone or Android. One of the main limitations of these applications is that they can't transform simultaneously your voice as you speak. Instead, you need to record yourself or write the text you want the voice-over.
1. On Android
On Android devices, you can download a Voice Changer with effects from the Google App Store. This application has over 40 voice effects and modifications you can use to change your voice on discord.
You can share your voice recording with effects directly on social media such as WhatsApp. Or you can set your voice recording as a ringtone or alarm sound. Here is a guide on how it works:
Step 1: First, download and open the Voice Changer with effects application
Step 2: Then, you can directly record your own voice.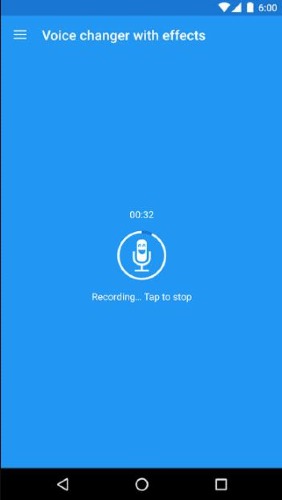 Step 3: Once your recording is done, you can choose among the over 40 voice effects available.
Step 4: If you choose an effect, a menu will unfold. You can save your recording or share it.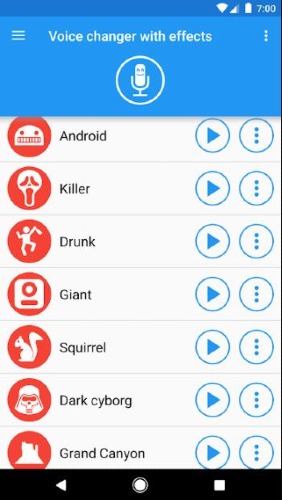 Step 5: You can also choose the menu on the left upper corner and choose to write the text you want to voice over.
2. On iPhone
For iOS devices, you can download the Voice Changer Plus from the App Store. This application allows you to change your voice recordings and audio into more than 55 voice effects and backgrounds. You can even play your voice backward.
You can also write a text and the application will do a full voiceover of all the text. Once your recording is ready, you can play it on your discord call to change your voice. However, it is not a real-time voice changer, but a tool for audio editing and sound playing. Here is a small guide on how to change your voice and play that on Discord with this app:
Step 1: First, download the application from the App Store.
Step 2: Open the application and choose to create a new recording.
Step 3: Record what you want to say in your discord call.
Step 4: Once your recording is ready, you can choose among the over 50 voice effects.
Step 5: Choose the voice effect you want and play the recording modified. You can save the recording or share it on social media.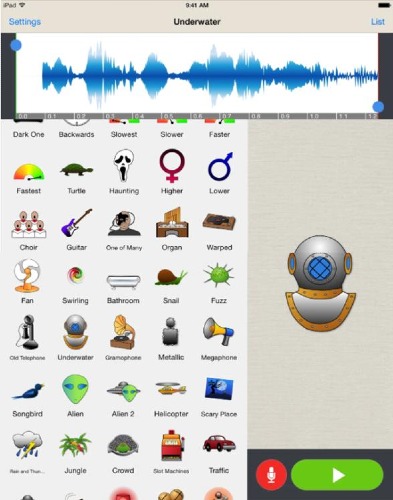 Voice Changer for Discord Mac PC Online >>
FAQs about Changing Your Voice on Discord
1. How to fix my microphone or headphones that can't be detected by the voice changer?
1. Go to your computer,search " Control Panel" > Hardware and Sound >Sound.
Then check whether your Microphone (on the Recording option) and Headphones (on the Playback option) are available. If your device is disabled, pls Enable it.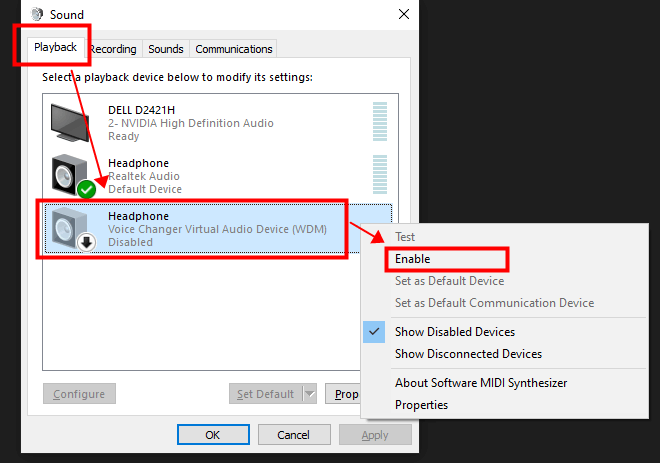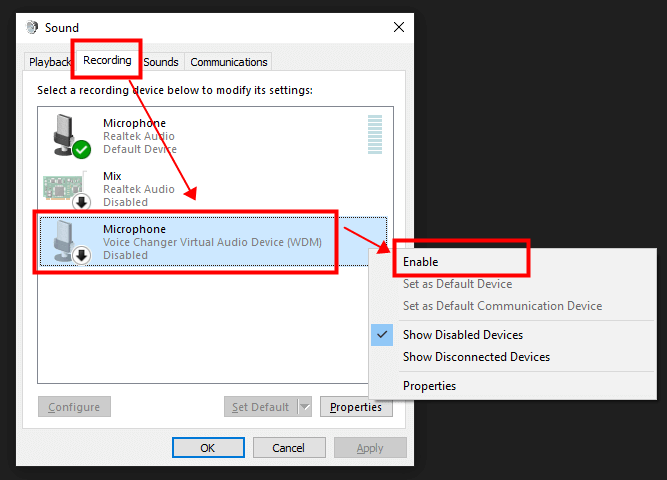 2. If your device is unavailable, please select your output device as Headset.
If your device is connected, but it can't be detected by Windows or Mac system, please please download software "MaxxAudio" online for free (If you are a Dell computer user, you can type "MaxxAudio" on Windows Search Bar).
Then choose "Headset" when you are asked "which device did you plug in".(This problem is caused by the detection of Windows/Mac system, not caused by MagicMic.)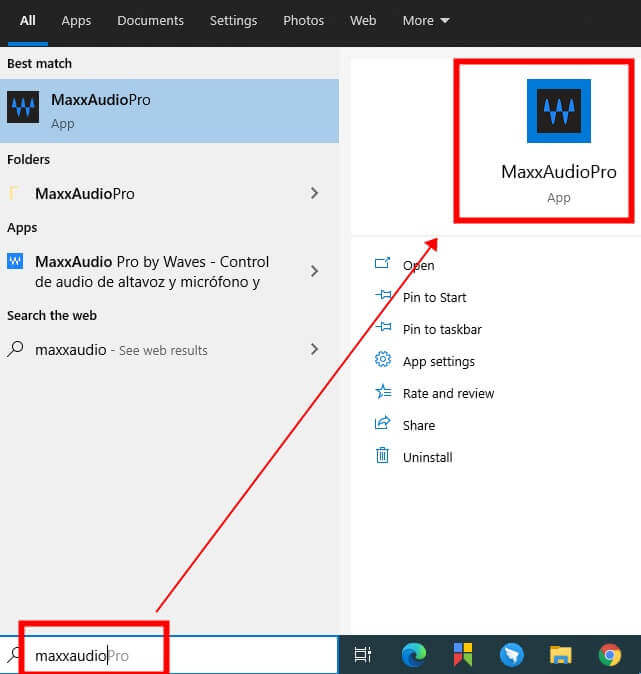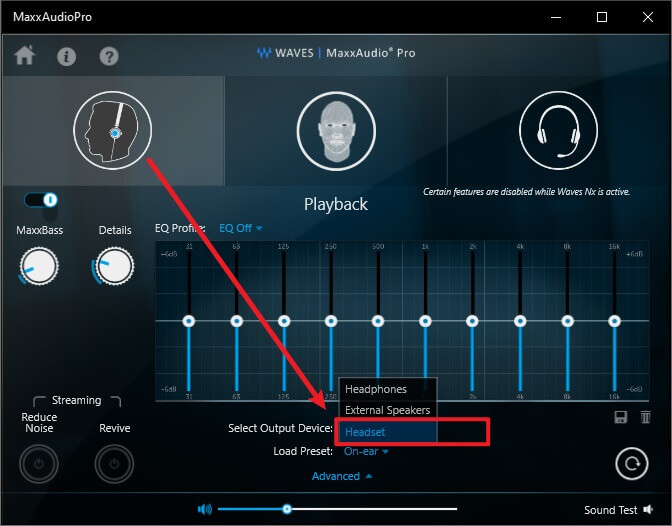 Then click on the Refresh button.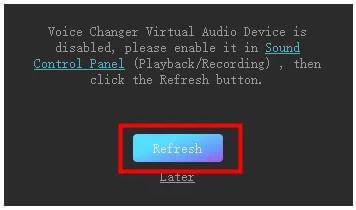 2. Which should I choose? A real-time voice changer or an audio edit voice changer?
It depends on what's your need. If you want to change your voice on live, gaming, or instant voice chatting, then a real-time voice changer would be the best choice. But if you want to make a video or sound effects, then a audio edit voice changer would be a better choice.
3. How to fix Discord works normally but the voice sounds stuttered or blurred with a voice changer.
1. Turn off "Noise Suppression" on Voice&Video (Discord -User Settings).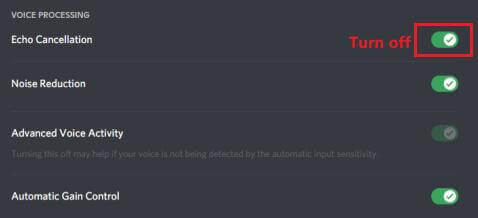 It isn't to imply that the voice-changing sound of the MagicMic program is noise, but Discord Noise Suppression will suppress all non-human voices with the purpose is to keep the human voice sounds clear in meetings or calls, which will prevent users from using some interesting voice-changing effects in entertainment scenarios.
2. Turn off "Echo Cancellation" on Voice&Video (Discord -User Settings).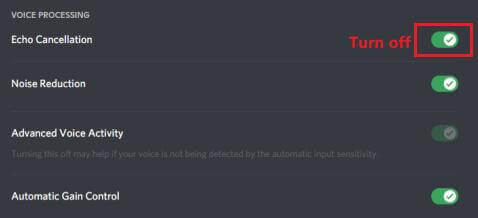 In general, it is recommended to turn off the echo cancellation. This function has little impact on Discord use, but because the user's real environment is different, you can choose whether to open it or not.
3. Other settings can be kept as default. If there are other problems, please leave feedback for us for further testing.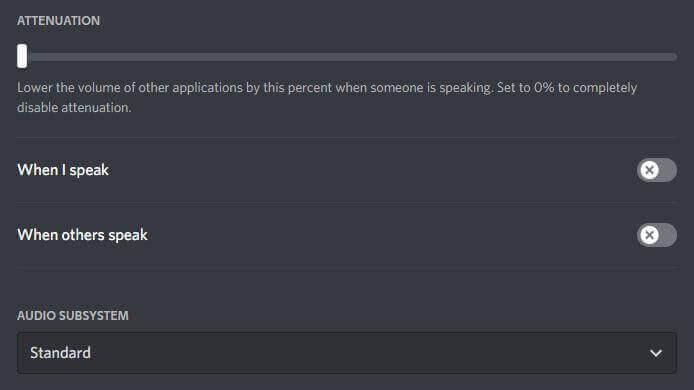 Conclusion
Learning how to change your voice on Discord can bring you a lot of fun with your friends. It is also a great tool for game streaming sessions and storytelling. That is why we hope that all the options we mentioned helped you to find the right tool to adjust your voice.
Remember that not all the discord voice changer alternatives are a real-time function. So make sure to read all the specifications and adjust well your input hardware to ensure the fun of changing your voice on discord mobile or pc.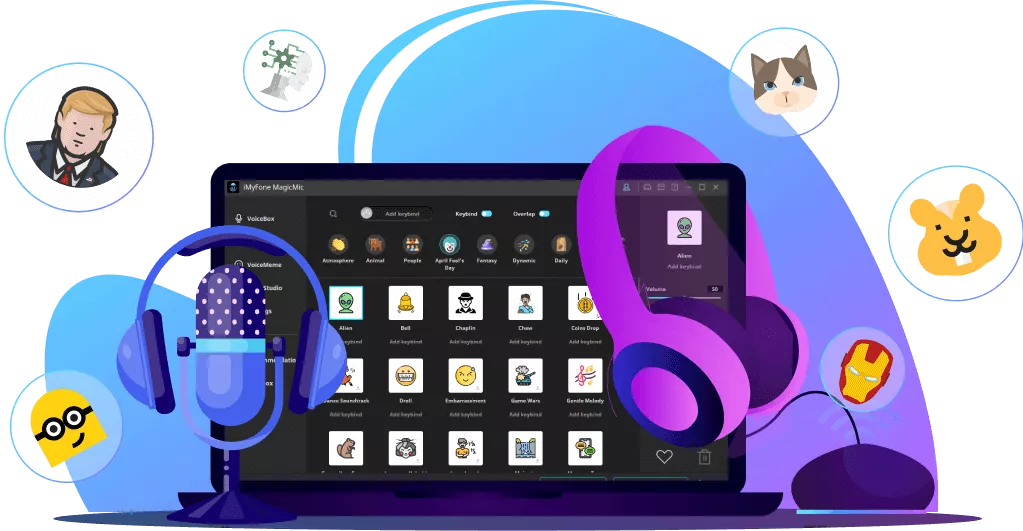 125+ Voice effects for one-click voice changing in real-time.
Huge library with 400+ Voice Effects and 150+ Voice Memes.
Sound emulator in games, live, chatting, online classes, and more.
Voice recording and audio voice changing is supported.
Voice studio lets you create any voice you like.