Communicating over a voice chatting application is very common these days. Tools like Google Hangouts, Duo, TeamSpeak, Discord, and many more are commonly used to talk to each other while gaming or live streaming. 
Soundboards are additional applications that allow the user to transform their voice into something new. Today, we will talk about different anime girl voice changers and how you can use them to transform your voice into an anime girl voice. After reading this article, you will know how to sound like an anime girl using easy tools.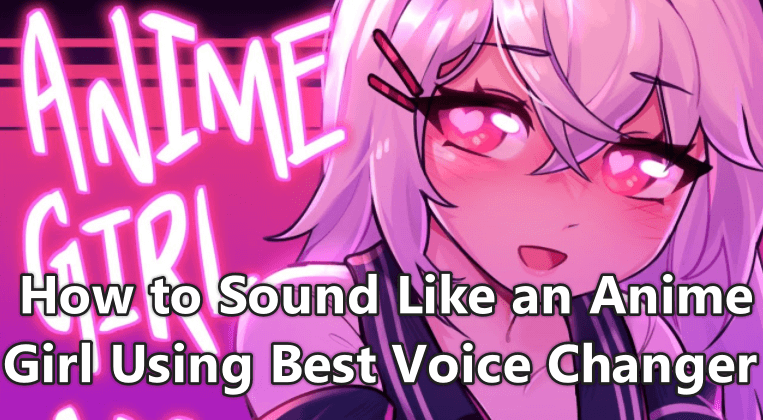 Part 1: How to Change Your Voice into Anime Girl Voice?- iMyFone MagicMic
iMyFone MagicMic is a magical tool that you can use to change or transform your voice into any voice you want. It has a list of voices from which you can choose and transform your voice into. But the sad part is that you only get a few voice changers with the free version.
If you want to enjoy multiple voices, then you need to get your hands on the paid version. There is a monthly, yearly, and life plan that you can choose, whichever suits you the best. It is just like any soundboard application that works on every platform that uses a microphone. Let us look at the features of MagicMic.
Advantages of iMyFone MagicMic:
Friendly user interface that makes it easy to use.

Does not take much CPU usage.

Consists of more than 20 voice effects.

Works great in real-time, perfect for live streams and chatting.

Above 190 sound effects to add background sound to your voice.

Compatible with multiple Windows, including Windows 7/8/10 and 11 (64 bit).

Compatible with various applications (Fortnite, PUBG, Discord, Skype, Twitch and more).

Comes with a free trial.
Let us see how you can change your voice using iMyFone MagicMic.
How to use MagicMic Anime Girl vocie changer:
Step 1: MagicMic is currently available on Windows, so people with Mac have to wait for a while. You can simply go to the website and download the trial version of MagicMic easily. It is small in file size and does not take up much space in your disk. Install the tool and open it.
Step 2: As you open the tool, you will see different voice changer options. You can simply click on any of the voices to transform your voice into a specific selection. As mentioned earlier, the free version does not have many options, so you have to buy the pro version to be able to enjoy it. The premium version allows you to change your voice into more than 20 effects.
You can check out the voice-changing demo below!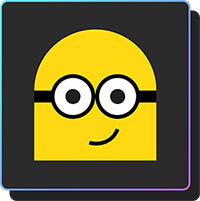 Step 3: Moreover, you can also add sound effects to your voice if you like. There are multiple sound effects, more than 190, that you can add according to your preference. It is very easy as you just need to click on the sound effect, and it will be added.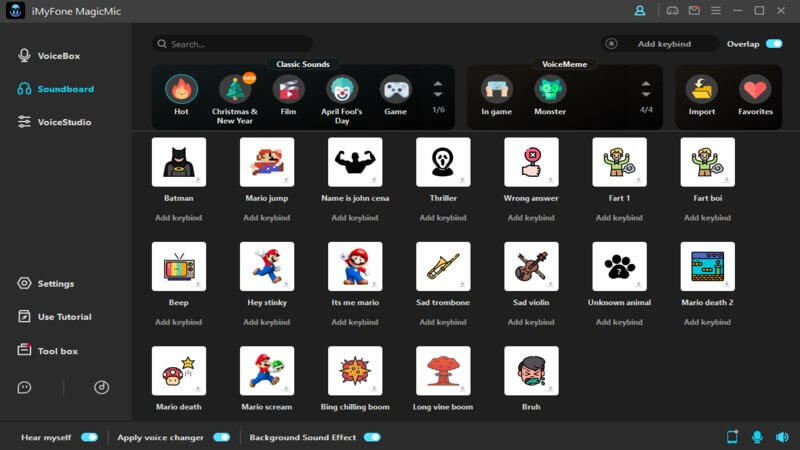 Part2: Change Your Voice with Anime Voice Changer & Anime Girl Soundboard Software
Here, we will talk about how one can transform his or her voice into an anime character using different tools. So, let us get straight into it and see how you can transform your voice into an anime girl or guy.
Voicemod is voice-changing software that you can download on your PC easily. It has different sounds and effects that you can add to your voice in real-time. It makes interaction with people entertaining.
To transform your voice into an Anime character, you can simply go to the option of Soundboard. Below the option of Pro, you will find a section of Anime. Now, you can select any kind of meme sound available in the Anime category to add an Anime effect to your voice. Or you can also adjust the settings to transform your voice to an Anime girl or guy.
Pitch Adjustment: Mix = 100%, Pitch = 80% and turn off Humanizer.
Or you can set Mix to 100%, Pitch to 70% and turn on Humanizer.
These settings will allow you to talk like an Anime boy or a girl. Voicemod is famous for its Anime Soundboard and Anime meme sound.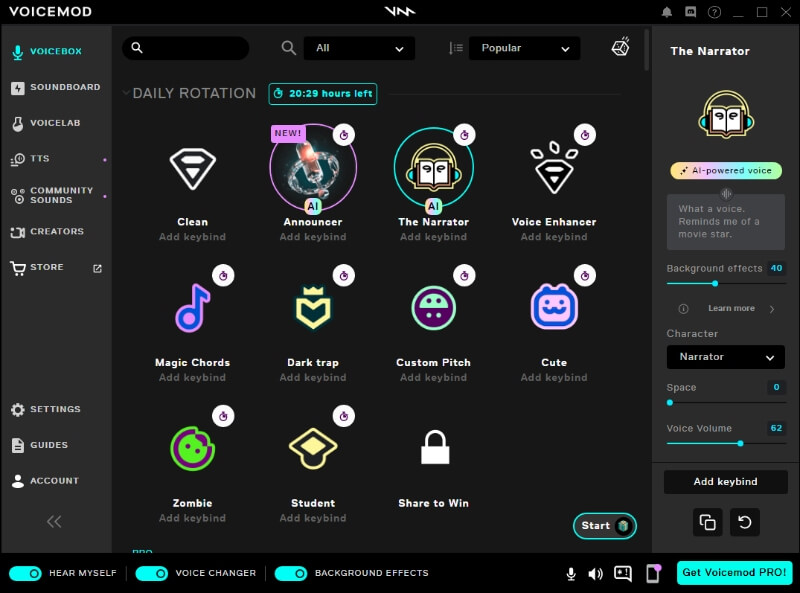 2 - Adobe Audition
Adobe Audition is another tool from Adobe that you can use to edit the voice of any kind. It allows the user to transform or manipulate the voice in real-time. You can also edit recorded voice or clip with it. 
To edit the voice and sound like an Anime character, you just need to adjust and play with a few settings in Adobe Audition. Once you upload the soundtrack or sound clip to the timeline, go to the left side, where you input the effect and left-click on it. It will display you a list of options out of which you need to select;Time and Pitch; and then click on Pitch Shifter.
It will open up a window where you can drag and adjust; Semi-tones; and; Cents. Just drag these settings and your track, and you will feel the difference. You will hear the difference by adjusting these settings. Your voice will sound like an Anime without any issue.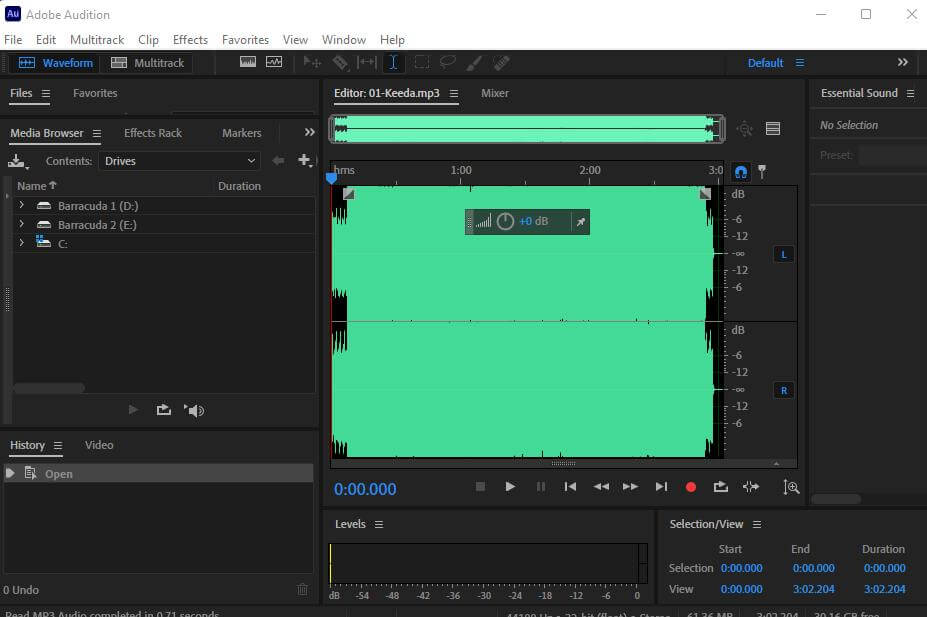 3- Voxal Voice Changer
Voxal Voice Changer is one of the easiest tools that you can find online. It is free and has a small file size.
You can simply open the application. Just below the option of "Voice", you will see different categories of voices listed under their sections. For example, it has categories like people, fantasy, Sci-fi, and many more. You can simply click on any voice that you want your voice to transform into.
Moreover, you can also add custom effects to your voice. It has universal settings through which you can add precision to your voice by adjusting settings. All these effects easily work in real-time and with all applications.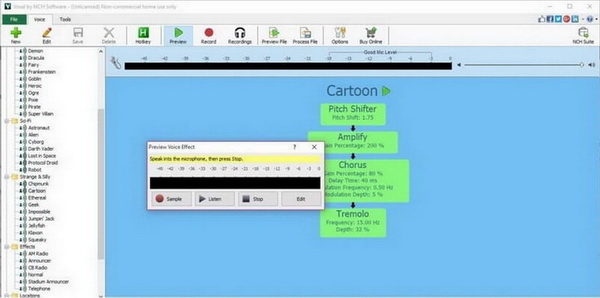 You May Also Interested in:
Top 7 Real-Time Voice Changers for Changing Your Voice from Male to Female >>
Top 3 Voice Changers for Fortnite [2021 Recommended] >>
Part3: Prepare Your Voice Like an Anime
Besides getting help from soundboard tools and voice changer software, you can practice and learn to sound like an Anime girl. It is not that difficult. You just need some practice and good advice that will help you learn easily.
1 - Raise the Pitch
Girls have a higher pitch in their voice than a guy's voice. Therefore, Anime girl characters have a little more pitch to their voices. You can try and practice speaking with a higher pitch. Try to talk or speak with the highest pitch so that you can sound like an Anime girl. The best tip to speak with a high pitch is to speak from the upper face rather than speaking from the throat. The more you speak from the face, the more pitch will be added to your voice.
2 - Articulate More Softly
Anime characters, mostly girls, talk in a soft tone. With a higher pitch and a soft tone, you will start to sound like an Anime girl. You can try to soften your way of speaking. Try to speak softly with a cute tone to be able to sound more like an Anime girl. To obtain the Anime girl desired effect, you can even try to include the lisping effect. It will add more originality to your Anime voice.
3 - Add Breathiness
Besides increasing your pitch and talking softly, you also need to add air or breathiness to your voice. If you watch Anime, then you should know that Anime girls put a lot of breath in their talking. You can try to push out as much air as you can from your lungs while talking. This is one of the hardest parts of speaking like an Anime character.
Conclusion
Transforming and manipulating voice with the use of different tools is very simple. You can use the above-mentioned tools like Voxal Voice Changer, Voicemod, and Adobe Audition to transform your voice into Anime girl voice. However, if you want a variety of voice-changing options, then you can opt for iMyFone MagicMic. It has plenty of options, and it is very easy to use. You can try the free version, and if you like, then you can buy its premium plan.