Ever wanted to fool your friends and make a prank call? Or just use a voice changing app for audio effects? Real time voice changers Android are used for several reasons, including adding voiceovers to animations or voice chats for games and other social media applications.
Luckily, in this article, we will talk about 10 live voice changer with detail discuss. Hope you can choose a suitable real time voice changer with this article.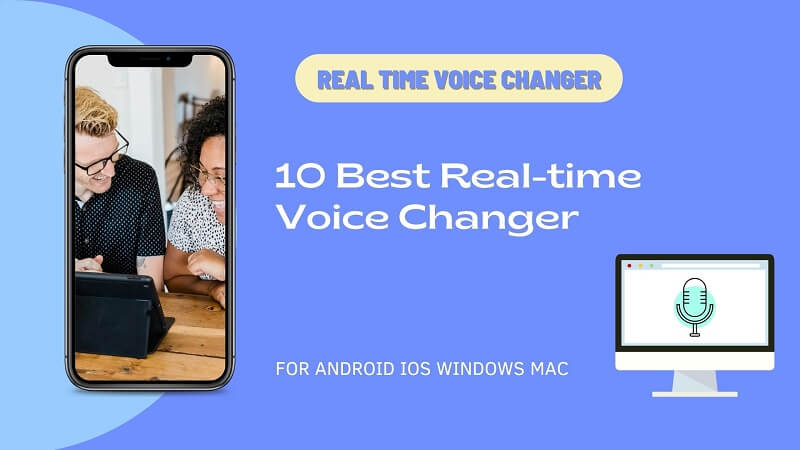 10 Best Live Voice Changer for PC|Android|iOS
This live voice changer is perfect for changing your voice on the go! It not only allows you to change your voice with 300+ voice filters and 600+ sound effects and voice memes instantly but also enables you to add sound effects with hotkeys to enhance your content when gaming, chatting, or live streaming. Moreover, voice customization is supported so that you can have unique voices and names for it by yourself!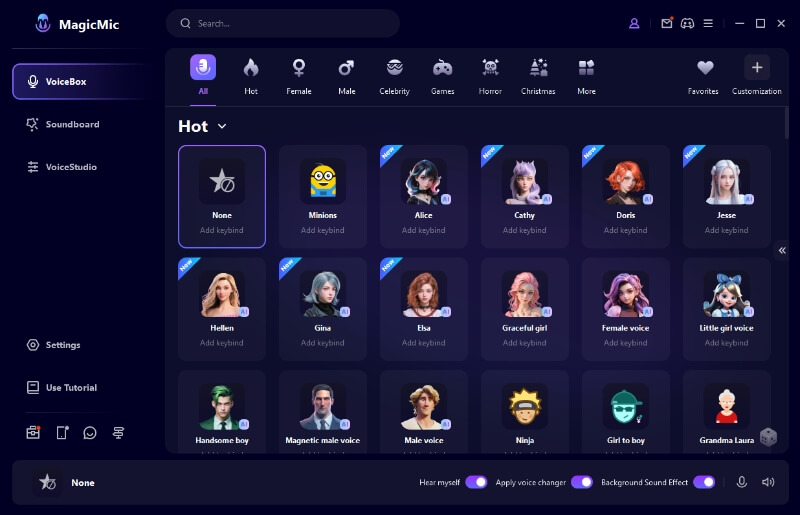 Tips
Change into female AI voice from male using MagicMic - best live voice changer!
Change Voice
Supported: Both Mac,Windows,iOS and Android.
Price: This real time voice changer app for pc and mobile, there are free version and pro version. It can be used on both PC and Mobile. It can be used for online games and chattings, like Fortnite, Discord and so on; For mobile version for recording and audio edit, it is 100% free without any in-app payment.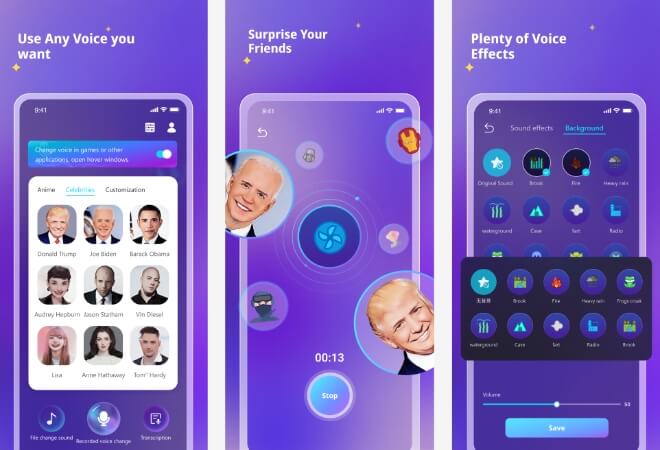 2. Live Voice Changer – Prankcall
The Live Voice Changer application allows you to change your voice in real-time. You can now have fun fooling and pranking your friends while talking to them. You have the choice of using the opposite gender's voice and eleven other live voices that you can use. You can be Tom Cat and even Darth Vader using the Live Voice Changer application. The plus point of this application is that it is not only a voice changer but a professional voice recorder as well.
Supported: iOS 10.0 or later, Android 4.0.3 and up
Price: The application is free for download but offers in-app purchases.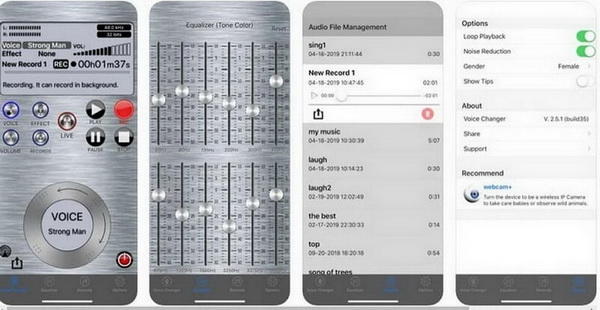 3. MagicCall
This fun application Android allows you to trick your friends by calling them and changing the voice in real-time. You can be a man, woman, child, or even a cartoon! If you want to further mess with them, you can even use the voice-changing feature mid-call. The MagicCall Voice Changer application allows you to add sound emoticons, giving you options to add claps, smooches, and many more sounds during your call. You can "up" your call game by adding various background sounds such as the rain, traffic, and even a music concert.
Supported: iOS 9.0 or later, Android 5.0 and up
Price: The application is free to download but offers in-app purchases.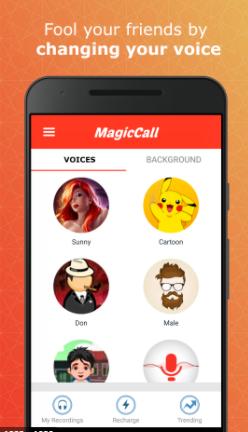 4. Funcall-Voice Changer and Recording
This application has multiple uses, offering the facility to make international phone calls, and record these phone calls as well as the option to add funny and exciting voice effects. Funcall can be used if you want to prank a friend or relative and just to have a little harmless fun! The application offers many background sounds that can make your calls entertaining. The clean and minimalist design helps to make the application user-friendly.
Supported: iOS 9.0 or later, Android 4.1 and up
Price: The live call voice changer for android is free of charge but offers various promotions from time to time for in-app purchases as well as some low-cost packages which are primarily related to the international calling feature of the application.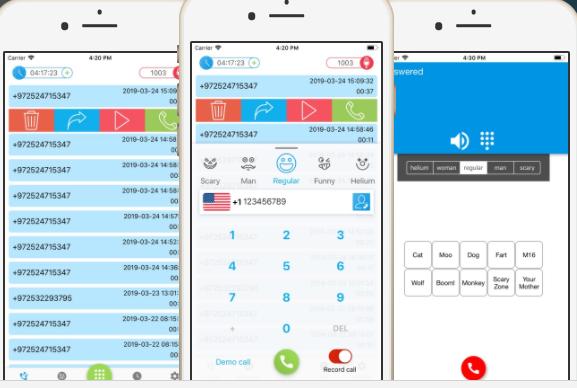 5. PrankDial
PrankDial allows you to prank call your friends and loved ones and is meant to bring lots of laughter. The special feature of this application is that it has prank calls saved, offering users more than 150 prank calls to use from. The application automates a call and speaks to the person like a real person. You do not have to even record your own voice; PrankDial will create the content for you! You choose hilarious prank calls, as some of the classics, and trick your friends.
Supported: iOS 12.0 or later, Android 4.4 and up
Price: You can download the application for free, and you get 3 free calls per day and various in-app purchase options.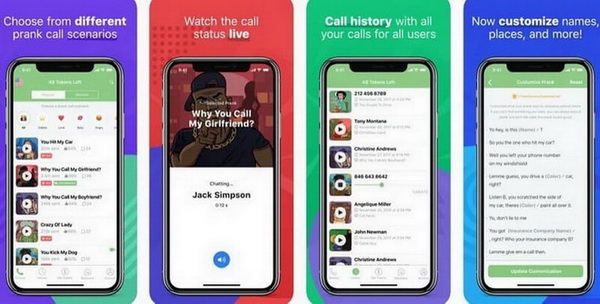 Above, we've discussed 10 real-time voice changers. Do you have any decision to get a choice? Besides, we prepare the guide and list to change your voice to Anime,female and scary voice real-time. Hope it can be helpful for you to choose a suitable real-time voice changer.
6. Voice Changer Plus
The Voice Changer Plus application will make recording and sharing fun and entertaining, and it is not only for talking. You can even sing, and that too using the voice effects from your favorite bands! The Voice Changer Plus gives you a choice of 55 different voice effects and background sounds. You can save and share your voice recordings with your friends. It even lets you layer different voices on previously saved recordings. The application is not only fun but also easy to use and can be a great source of entertainment for you and your friends.
Supported: iOS 11.0 or later, Android 4.0 and up
Price: It is absolutely free to download! However, like all applications, there are in-app purchases available for those you want to pay for and get premium features.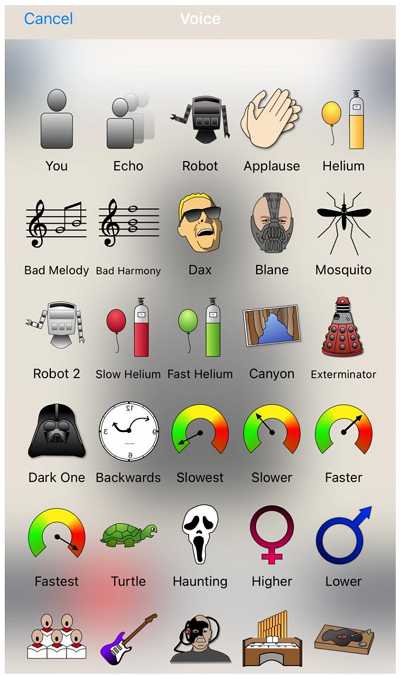 7. Real-Time Voice Changer Lite
The Real-Time Voice Changer Lite application for Android allows you to record your voice in different voices and listen to them in your earphones as the recording is taking place. The application gives you the option of three different voices. Now you can create and share content with your friends. You can use this easy and simple voice changer to add cool effects to your video or even audio.
Supported: Android 2.3 and up
Price: The application is free for downloading but offers various in-app purchases for as low as $0.99.
8. Call Voice Changer- IntCall
Call Voice Changer has been labeled the ultimate application for making funny calls giving you the ability to make your voice high, funny, deep, and even scary. All of this can be done with a single button! You can also add various sound effects to your call in between your call and add different background sound effects like cartoon characters, birthday songs, and even things in different languages. This is a perfect voice changer for prank calls, and you can now use it to fool your friends.
Supported: iOS 9.0 or later
Price: The app offers a free trial period for 3 days, after which there are two options available to users; a Pay As You Go plan and a Subscription Plan, with the subscription period being one week. The application also offers in-app purchases.
9. Change My Voice
This fun voice changer app helps you change your voice so much that your friends and family would not be able to recognize you! It is perfect for pranking someone. You can use tone control, adding various echo and chorus effects. This application gives you preset options. Hence it is perfect for those who are 't experts. All changes made to the voice are instant, so you get to know immediately what the impact of a tool is and if you want to change it or not.
Supported: Android 1.6 and up
Price: The application is free to download with in-app purchases.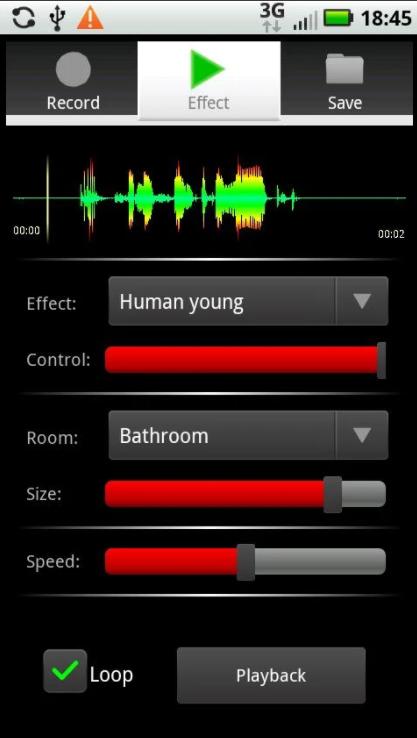 10. Squeak Voice Changer
This easy-to-use application is ideal for novices. It has lots of fun and cool features that would help make your video exciting. All voice filters available are based on fun characters, which can be applied in no more than four easy steps! Squeak Voice Changer not only allows you to enhance your audio and add various audio effects, but you can also share your content with your friends! This application allows you to share your audio files through SMS, WhatsApp as well as Facebook.
Supported: Android 4.3 and up
Price: The application is free for download. However, there are minor costs associated with in-app purchases. The average price for in-app purchases is $0.99 to $1.49 per item.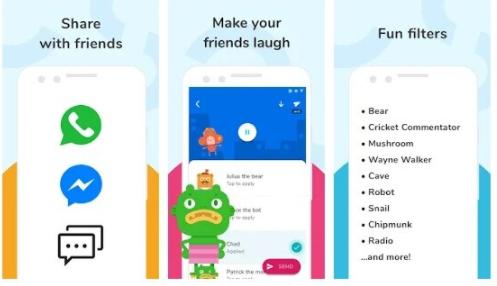 Final Words
In this article, you now know the top 10 real time voice changer Android that can be used. You can also know the pricing and where to download the applications from. Most of the applications are available for both Android and Apple and PC users. My choice is MagicMic live voice changer, which is the best live voice changer app offering the best features and easy-to-use platform. How about you?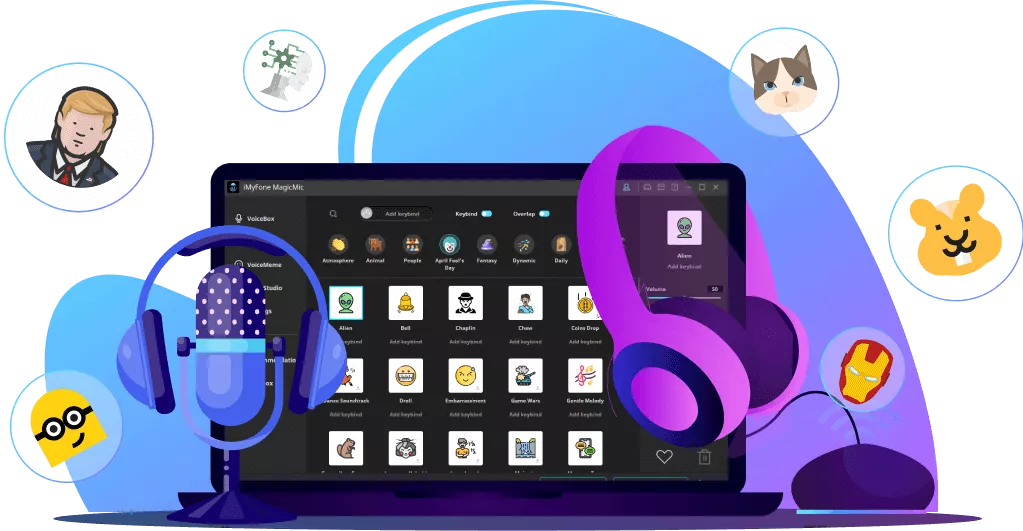 300+ Voice effects for one-click voice changing in real-time.
Huge library with 600+ Voice Effects and 200+ Voice Memes.
Sound emulator in games, live, chatting, online classes, and more.
Voice recording and audio voice changing is supported.
Voice studio lets you create any voice you like.