Are you looking for the most realistic Taylor Swift AI voice to make trendy AI cover songs, text to speech voiceovers or real-time voice change? If so, read on, you will find the best solution!
It is a global superstar with countless awards and a vast fan base. In recent years, popular video software such as TiKTok, live streaming, and YouTube have seen an influx in content creators trying to replicate Taylor Swift voice.
In this article, we will delve into the best Taylor Swift AI voice generator that enables to get the most realistic Taylor Swift voice.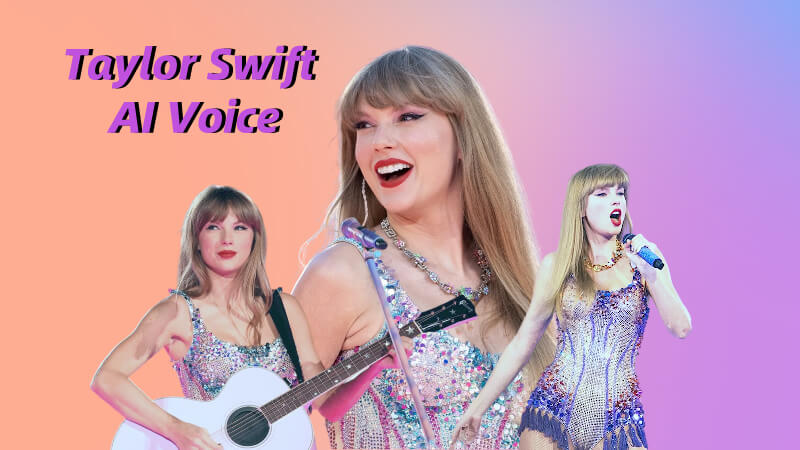 Tips
Listen to Taylor Swift AI voice generated free using MagicMic!

Part 1: Who is Taylor Swift?
Taylor Swift (born December 13, 1989) is an American singer-songwriter hailed for her genre-spanning discography, songwriting, and innovative reinventions. With more than 200 million records sold worldwide, she is one of the most successful musicians of all time.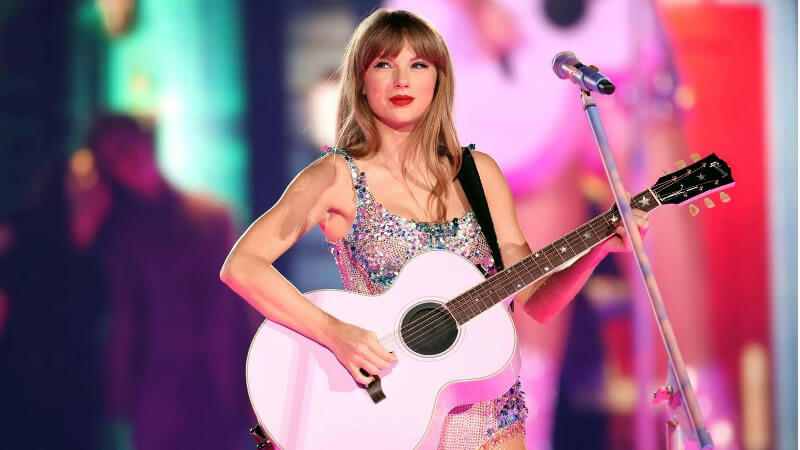 Swift is the only artist to open five albums in the US with over one million copies sold and has been awarded with 12 Grammys, an Emmy, 40 American Music Awards, 29 Billboard Music Awards, three IFPI Global Recording Artist of the Year honors, and 92 Guinness World Records.
Part 2: How to Generate Taylor Swift AI Voice for TTS and Voice Change
Get Taylor Swift AI Voice Easily -- Just Click the Button! Transform Your Voice into Taylor Swift's with MagicMic's AI Voice Generator & Changer in Real-Time.
1. MagicMic - Taylor Swift AI Voice Generator & Changer
iMyFone MagicMic is the best Taylor Swift AI voice generator that allows you to generate realistic Taylor Swift AI voice, for transforming your voice into her iconic voice in real time, best for real-time interactions, streaming and gaming.
Apart from the voice clone feature, it also provides 225+ AI voice filters, 600+ voice effects, and 200+ voice memes to transform your voice for content creation, gaming, and streaming.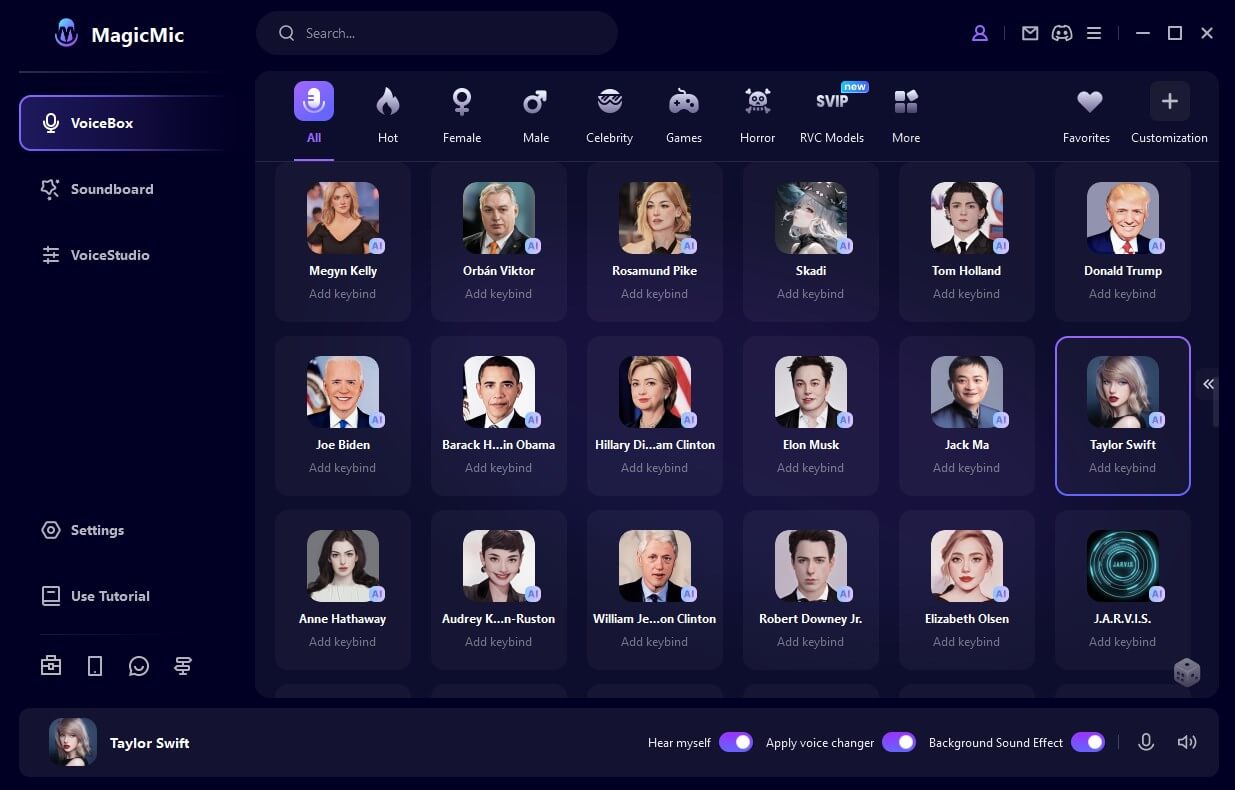 Key features of MagicMic Taylor Swift AI voice generator
Access 225+ voice effects, 600+ voice effects, and 200+ voice memes.

Enjoy real-time voice modulation for online calls and gaming, including AI-generated voices such as Taylor Swift's.

Choose from a wide range of voice effects and filters to customize your voice.

Transform your voice to emulate famous singers like Lana Del Rey, Ariana Grande, Michael Jackson, and more.

Its voice clone feature allows you to generate any voices as you want.

Integrate with various platforms ike Discord, Zoom and Twitch.
Free Get Taylor Swift AI Voice in MagicMic
Step 1: Download and Launch
Download and install MagicMic software, open the app, and log in with your email for a user-friendly experience.
Step 2: Configure Input and Program Settings
Customize program settings: Select your main microphone, enable "Apply Voice Changer," and activate "Hear Myself" for instant voice modification.
Step 3: Select the MagicMic Virtual Audio Device
Seamlessly integrate your altered voice by selecting Voice Changer Virtual Audio Device as the input in your preferred application.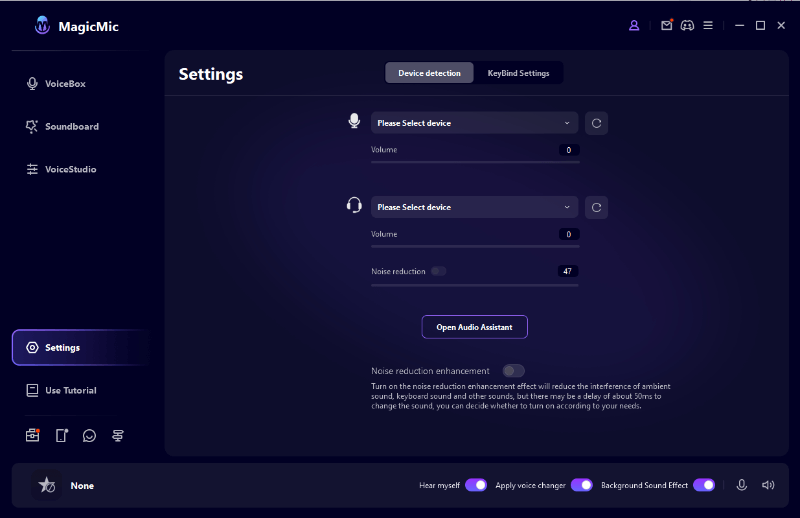 Step 4: Search for Taylor Swift AI voice
Explore a vast range of voice effects in MagicMic. Try different effects and assign them to keybinds for easy and convenient switching.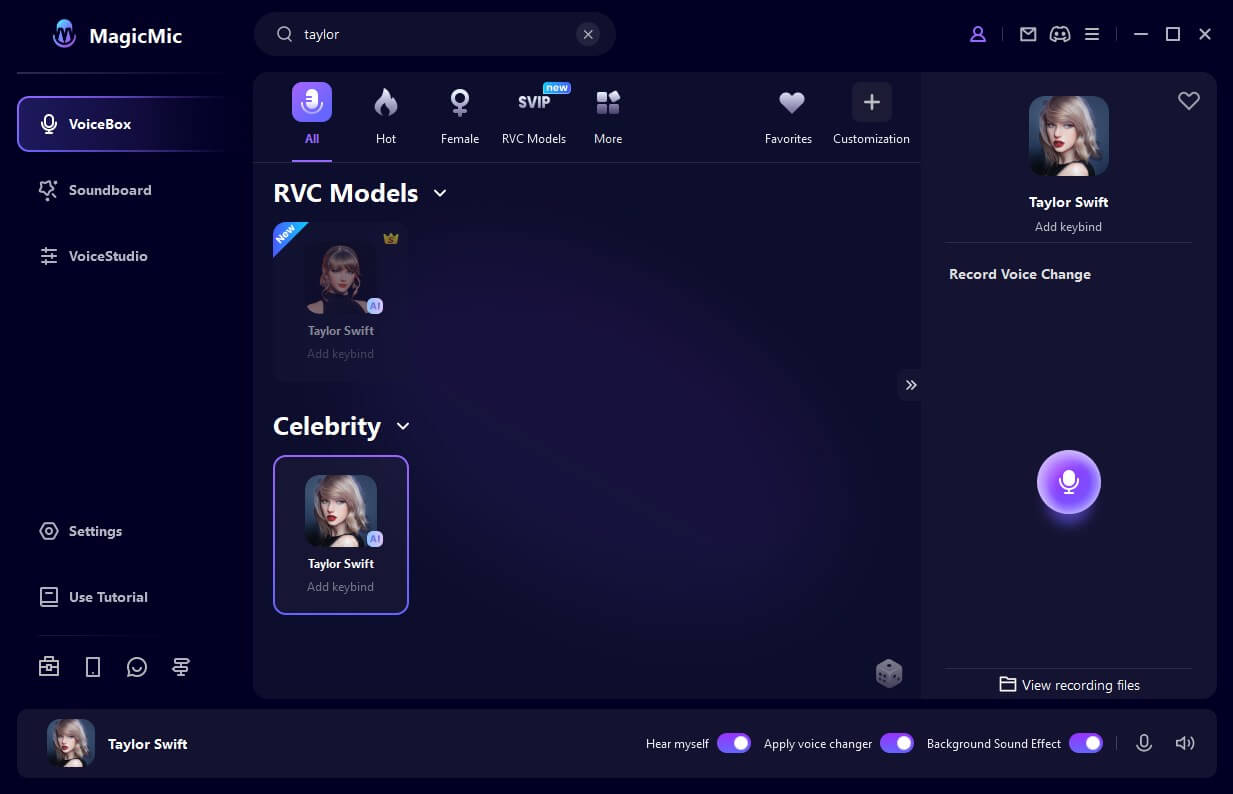 Special Offer: Get Official MagicMic with A Discount
35% off Coupon Code: MAGICMICYT
Video Guide About MagicMic Taylor Swift AI Voice Changer
2. VoxBox - Taylor Swift Text to Speech Generator
VoxBox is the Taylor Swift text to speech voice generator, with which you can create Taylor Swift AI voice for making tts voiceovers, best for dubbing, audiobooks, podcasts, and more.
Furthermore, VoxBox provides access to 3200+ voices for creating text-to-speech voiceovers, spanning celebrities, singers, fictional characters, real individuals, and more.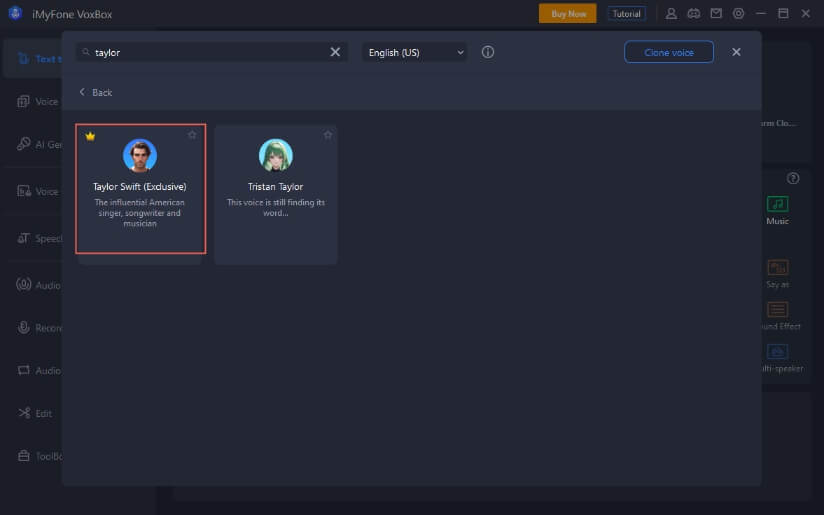 Key Features:
Advanced voice cloning for diverse voice generation, including Taylor Swift AI voice.

2000+ free character counts for making text to speech voiceovers.

Access to 3200+ voices, includingfictional characters, celebrities, singers and more.

Dubbing capabilities in 77+ languages for a global reach.

Additional features like speech-to-text, recording, audio editing, and conversion.

Export TTS voiceovers in various formats (MP3, WAV, Ogg, etc.).

Best option for making audiobooks, podcasts, and content creation.
Explore the excitement of Taylor Swift AI Voice transformation with Voice.ai - Taylor Swift voice changer! Effortlessly alter your voice or emulate celebrities, including Taylor Swift, effortlessly and freely!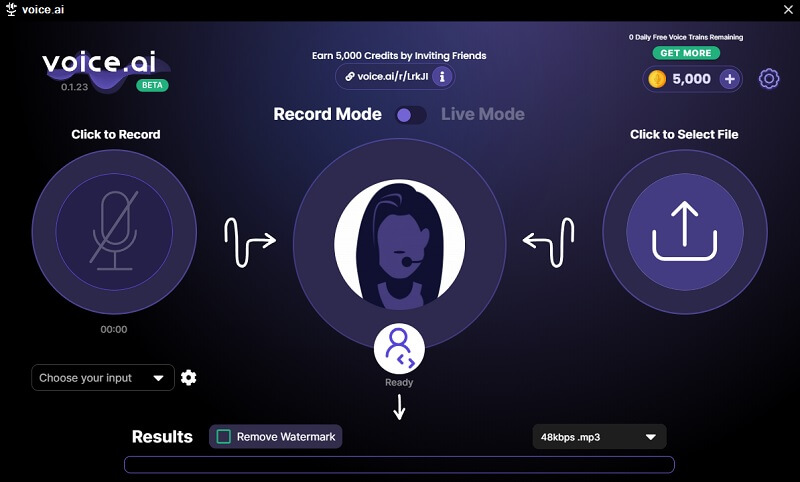 Key features of Voice.ai
Navigation Made Easy With Its User-Friendly Interface.

Voice Conversion For Added Voice Options.

Multi-Language Support In English, Spanish, French, and German and Unleash Your Creation with AI-Generated Vocal Effects.
You can effortlessly transform your voice into Taylor Swift Voice AI! Instantly transform your voice with a wide range of options, irrespective of your gender. Dive into seamless real-time gaming with this powerful and flexible tool, designed especially for gamers.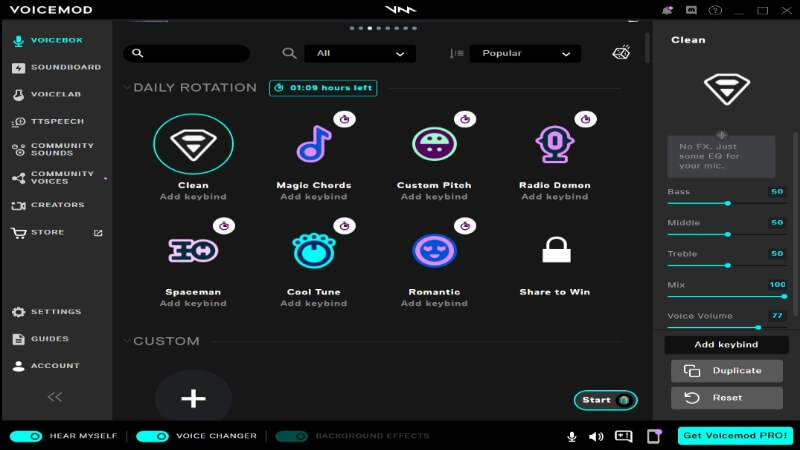 Key features of Voicemod
Get Access to a Free Trial Version with Limited Capabilities and Upgrade to the Pro Version For All Features.

Enjoy a User-Friendly Interface with Streamlined Control Over Your Voice Editing.

Tap into Its Array of Fun Editing Features Such as Chipmunk, Satanic Agents, Alien Voices, and Xbox Gamer Girl Voice Changer.

Get Creative With Its Range of AI-Generated Voices, Including the Ability to Replicate the Taylor Swift AI Voice.
Part 3: Bonus Tip to Make Taylor Swift AI Cover
1. MusicAI - Taylor Swift AI Cover Song Generator
Have you checked out the popular Taylor Swift AI cover songs generated using lifelike Taylor Swift voice AI? If you want to create your own Taylor Swift AI covers and elevate your content, consider MusicAI.
MusicAI uses AI and musical composition to create captivating covers inspired by different voice models. It streamlines music projects with text-to-music conversion and vocal separation, leveraging a variety of AI models.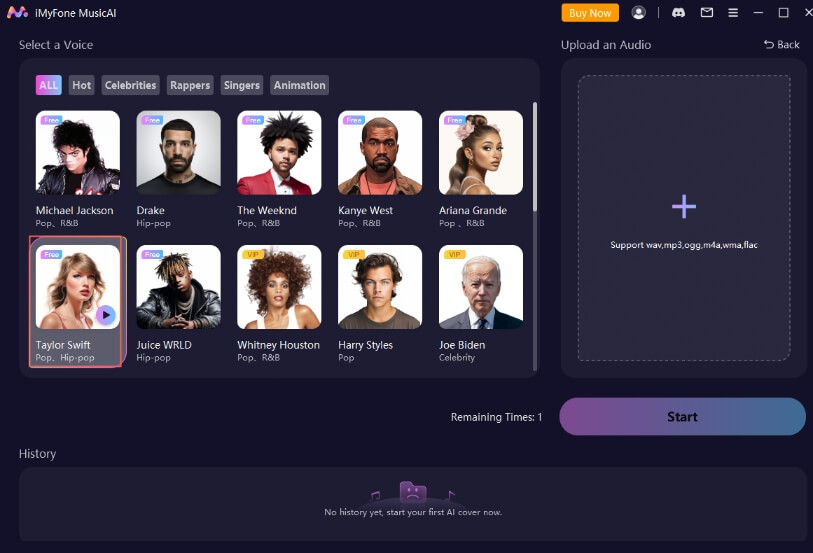 Key Features
Generate AI cover songs with a single click using diverse AI voice models.

Achieve precise separation of vocals, music, and instruments effortlessly.

Enhance audio quality effortlessly for exceptional results.

Export AI-generated cover songs in multiple formats, including WAV, MP3, and OGG.

Enjoy one-click support for text-to-music conversion.
Part 4: FAQs about Taylor Swift AI Voice
1. Is it legal to use an AI voice changer for my TikTok/Youtube videos?
Yes, it is legal to use an AI voice changer for your TikTok/Youtube videos, as long as you are not infringing on any copyright laws or using someone else's likeness without their permission.
2. Will using an AI voice changer improve my chances of going viral on TikTok/Youtube Video?
While using an AI voice changer can make your videos more entertaining and unique, it's ultimately up to your content and creativity to determine whether or not you go viral on TikTok.
3. Can I use a Taylor Swift AI voice changer for live performances?
Yes, we recommend you try MagicMic Real Time Voice Changer for creating perfect vocal effects in real-time.
4. What are the top 10 Taylor Swift's most popular songs?
The top 10 Taylor Swift's most popular songs are "Shake It Off," "Blank Space," "Bad Blood" ft. Kendrick Lamar, "You Belong With Me," "Look What You Made Me Do," "Wildest Dreams," "Style," "We Are Never Ever Getting Back Together," "Love Story," and "Anti-Hero."
5. What is Taylor Swift AI Voice?
Taylor Swift AI Voice is a voice replication generated using artificial intelligence that sounds like Taylor Swift. It can be used for various applications, including voiceovers, content creation, and more.
6. What can I use Taylor Swift AI Voice for?
You can use Taylor Swift AI Voice for a wide range of purposes, such as creating voiceovers for videos, podcasts, or audiobooks, adding Taylor Swift's voice to your content, or even for entertainment and personal projects, elevating your gaming and streaming experience, and making AI cover songs to gain more engagement on social media platforms.
Final words
In conclusion, generating a Taylor Swift AI voice can be a fun and creative way to spice up your TikTok videos.

Whether you're a die-hard Swiftie or just looking for a unique voice option, the best Taylor Swift AI voice generator - MagicMic, can help you to gain her distinctive voice.

So why not give it a try and see what kind of viral hit you can create?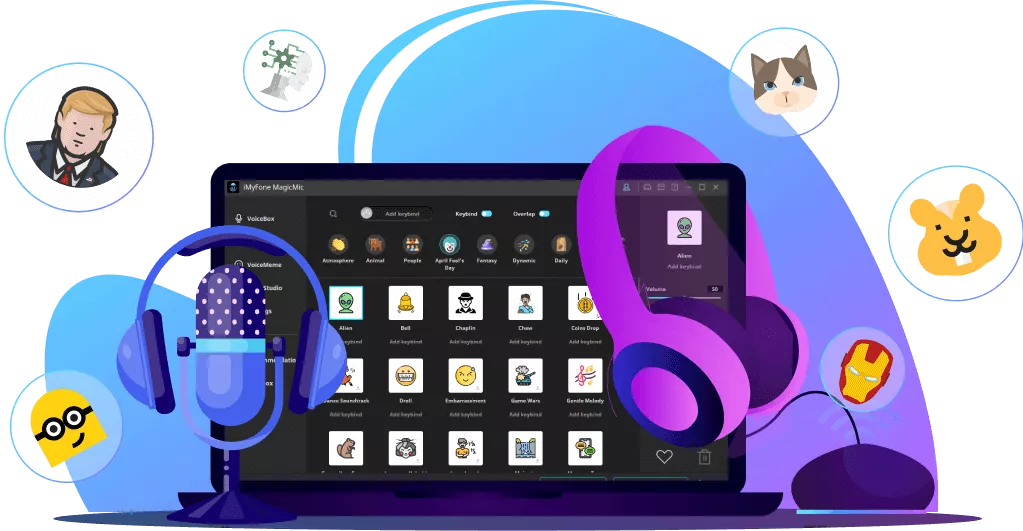 225+ Voice effects for one-click voice changing in real-time.
Huge library with 600+ Voice Effects and 200+ Voice Memes.
Sound emulator in games, live, chatting, online classes, and more.
Voice recording and audio voice changing is supported.
Voice studio lets you create any voice you like.