Want to know which is the best Morgan Freeman voice changer? Well, Morgan Freeman does have a very unique and deep voice, which is why most of the voice-changing apps available online cannot do justice to it.
That is why you will need a morgan freeman voice generator that you can also use easily.
Don't worry; In this article, we are discussing the best AI voice changer you can get Morgan Freeman AI voice without any hassle. So, stick to the end.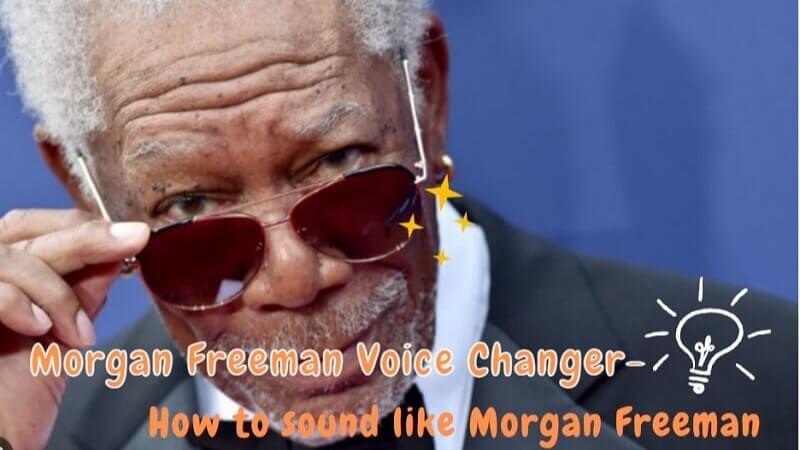 Part 1:Who is Morgan Freeman? How Old is He?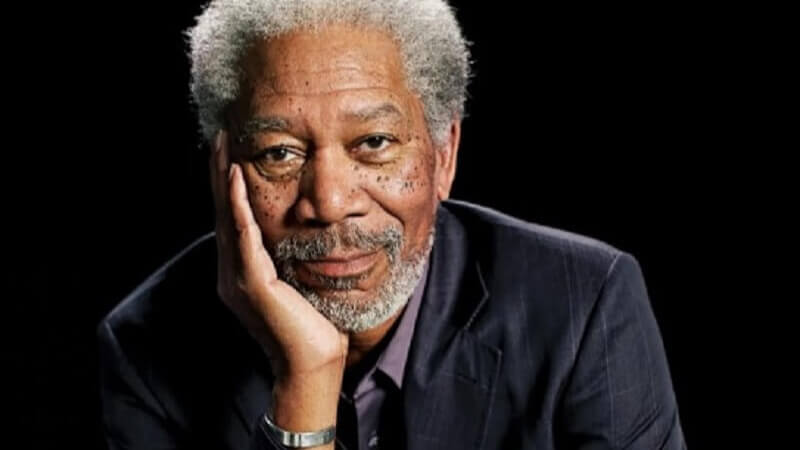 Morgan Freeman is a versatile performer known for acting, directing, and narration. Rising from a challenging upbringing, he made his Broadway debut at 30.Over six decades later, Freeman continues to captivate audiences with iconic roles, including "Shawshank Redemption" and "Bruce Almighty," garnering five Golden Globe nominations.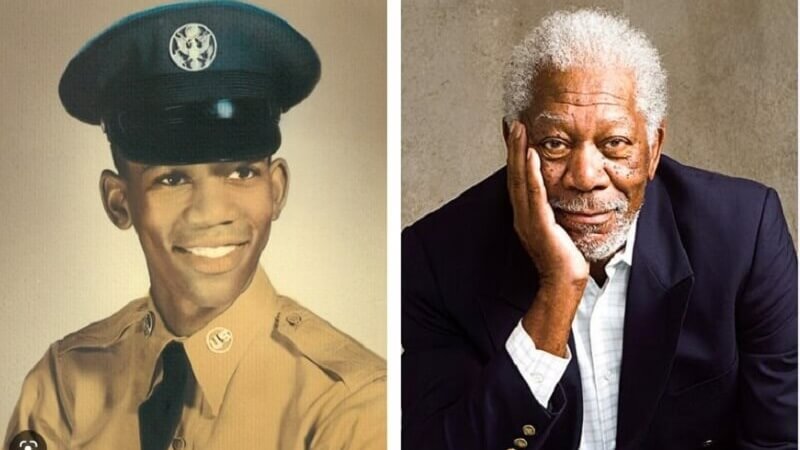 So, how old is Morgan Freeman now? Well, he is 85, and still, his fans are expecting more movies from him.
Part 2:Why Does Morgan Freeman Have Such a Good Voice?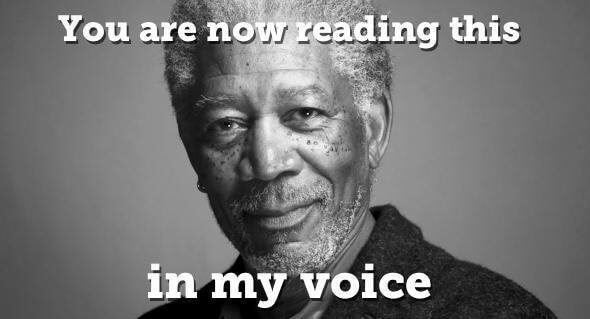 On "Late Night With Conan," Morgan Freeman surprised by revealing his captivating and deep-toned voice was not natural.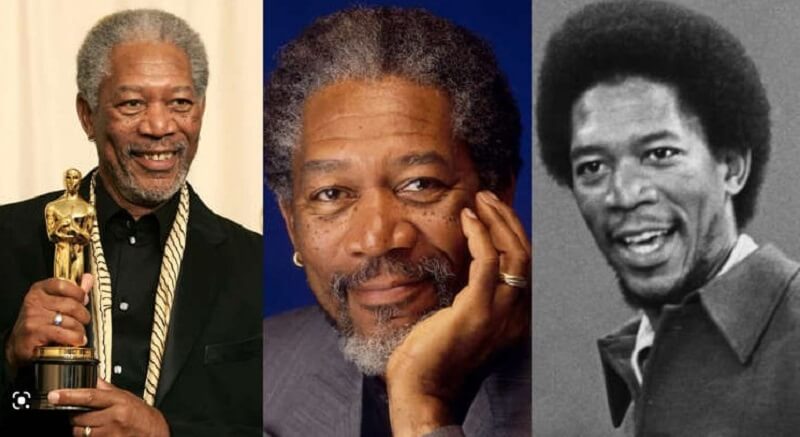 Through vocal training during Acting 101 at Los Angeles City College, he mastered voice development, dubbing himself a "Voice Thief" for emulating captivating performers. Now, you can easily achieve Morgan Freeman's voice with Morgan Freeman ai voice changer.
Part 3:The Easiest Way to Get Morgan Freeman Voice - Use MagicMic Morgan Freeman Voice Changer!
1) MagicMic Morgan Freeman Voice Changer
If you want to use the best Morgan Freeman AI voice changer, then there is no better choice than MagicMic. It is a top-of-the-line AI voice changer that can easily help you sound like any other person you want to.
The best part? All of these things will be done with just a few clicks or taps.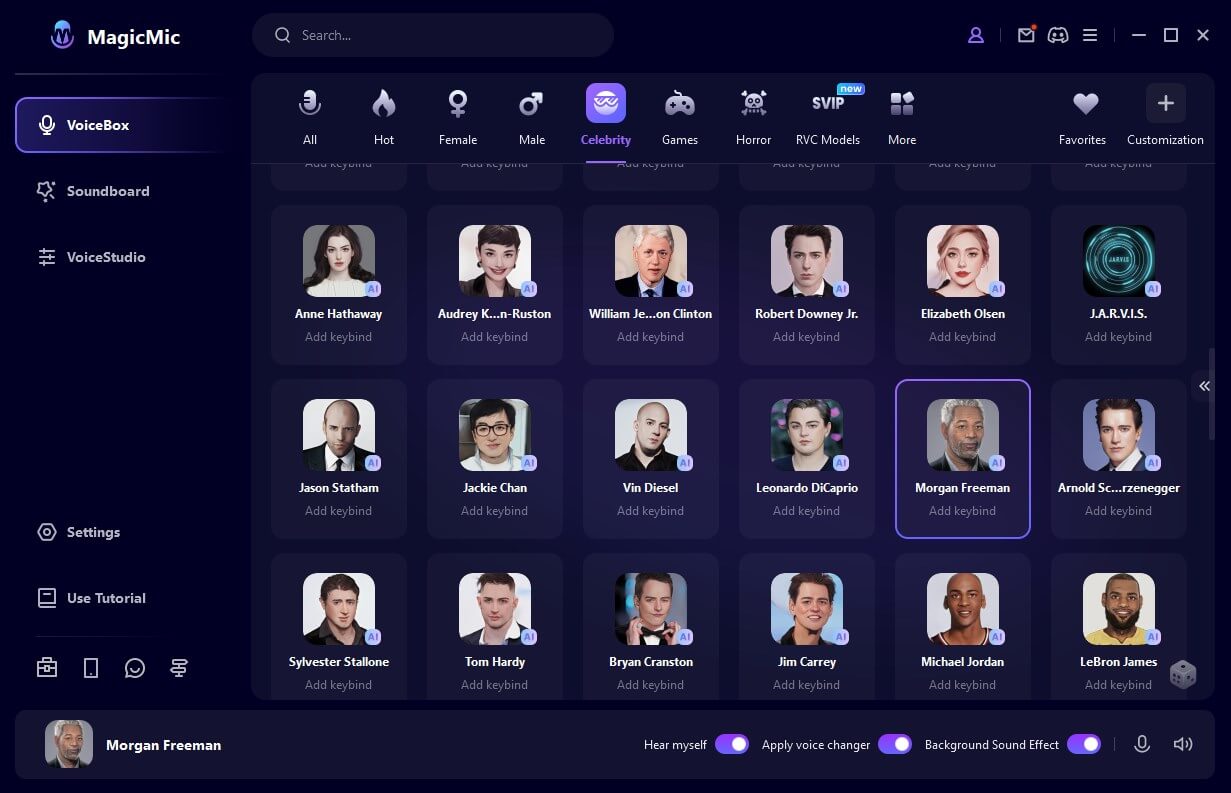 Key Features of MagicMic Morgan Freeman Voice Generator
There are more than 225 voice filters added to this voice-changing app for you to have a better experience.

In order to make you talk like Morgan Freeman, MagicMic offers 600+ sound effects and 200+ voice memes.

It's a real-time voice changer, if you want to prank others, you can also connect this voice-changing app with online games & chatting applications and change their voice live there.

By adjusting sound parameters, you can also create a new voice.

This AI voice changer supports record voice change and file voice change.

MagicMic AI voice changerprovides users with a range of options, including not only the Morgan Freeman AI voice but also those of Donald Trump, Joe Biden , Hillary, renowned basketball players like Michael Jordan , LeBron James, and other celebrity AI voices to select from.
How to use MagicMic Morgan Freeman AI Voice?
Step 1: Download and Launch
Install MagicMic software on your device. Log in using your email.
Step 2: Configure Input and Program Settings
Choose primary mic as input, enable "Apply Voice Changer" & "Hear myself" for real-time voice modification.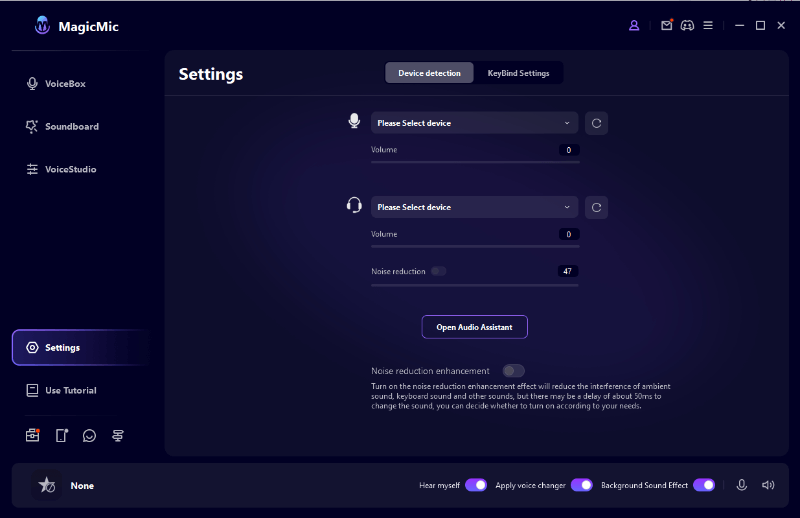 Step 3: Select the MagicMic Virtual Audio Device
Choose Voice Changer Virtual Audio Device as input in your application for seamless voice integration.
Step 4: Choose Voice and Sound Effects
Explore a vast collection of voice effects. Assign effects to keybinds for easy switching. Enjoy the transformation!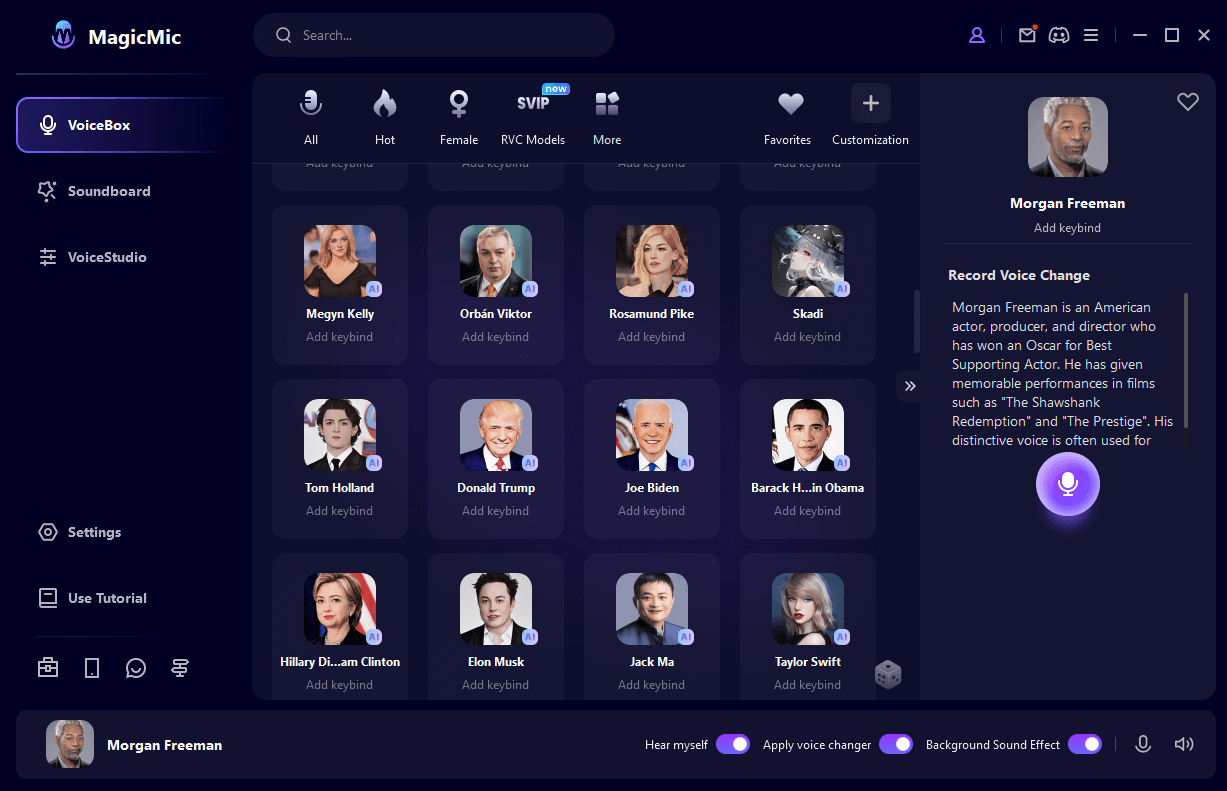 Video Guide About MagicMic Morgan Freeman Voice Changer
Part 4: How to Create Morgan Freeman AI Voice with Morgan Freeman Voice Generator?
VoxBox is the ultimate Morgan Freeman voice AI generator. Access over 3200 AI voices in 77 languages and 100 accents. Enjoy powerful text-to-speech, voice cloning, and transcription capabilities. Elevate your videos with the legendary Morgan Freeman voice effortlessly.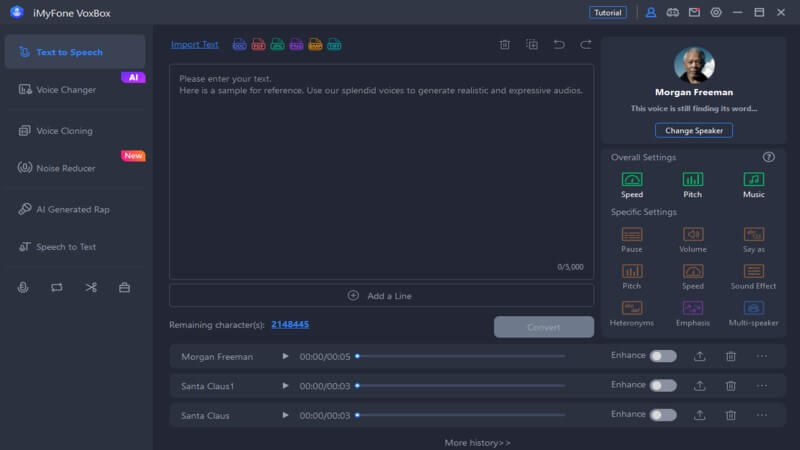 Key features of VoxBox Morgan Freeman Voice Generator
VoxBox offers 3200+ voices for diverse roles, from YouTubers to celebrities.

VoxBox covers 46+ languages, including Japanese and German.

Pick from 100+ accents like British, Indian, and Hindi.

VoxBox includes TTS, STT, recording, video conversion, and editing.
How to use VoxBox Morgan Freeman Voice Text to Speech ?
Step 1: Start by downloading and installing VoxBox software.
Step 2: Explore the "Text to Speech" lab to find your preferred voice, such as "Morgan Freeman."
Step 3: Input your text, click "Convert," and VoxBox will generate your voiceover.
Step 4: Save in high-quality formats (OGG, WAV, or MP3) for gaming, business, or social media purposes.
Murf.ai is the leading Morgan Freeman text to speech online platform, bringing realistic AI-powered voices to voiceovers. With diverse 100% natural-sounding AI voices in 20 languages, create professional-quality voiceovers for videos and presentations effortlessly. Elevate your audiovisual projects with Murf.ai.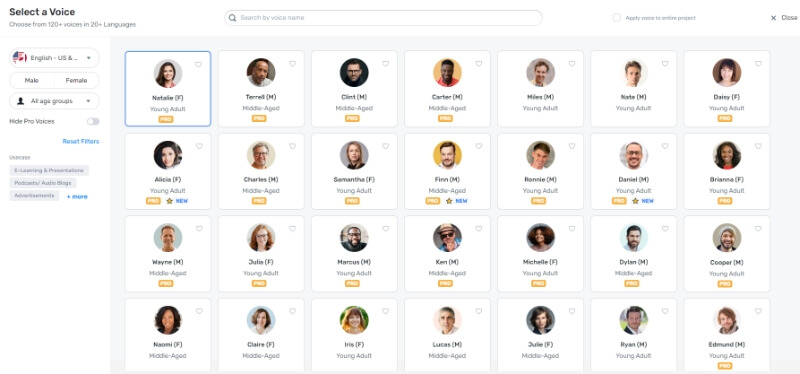 Key features of Murf.AI Morgan Freeman voice generator
Murf.ai delivers lifelike AI-generated voices for impeccable voiceovers.

With 100% natural sounding AI voices available in 20 languages, Murf offers versatility for professional video and presentation voiceovers.

Elevate the quality of your videos and presentations with Murf's authentic AI voices.

Murf.ai ensures effective communication by providing voiceover options in a wide range of languages, catering to global audiences.
How to use Murf.AI?
Step 1: Enter your script for the voiceover.
Step 2: Select voice and customization options.
Step 3: Click on the "Explore AI voices" tab to choose an AI voice for your video.
Part 5:FAQs about Morgan Freeman Voice Generator
1.What is the Morgan Freeman AI Voice Generator?
Leveraging artificial intelligence, the Morgan Freeman AI voice employs real-time voice changing technology to faithfully replicate the iconic voice of actor Morgan Freeman.
2.What are Some of Morgan Freeman's Best Movies?
Some of Morgan Freeman's notable movies include:
The Shawshank Redemption

Se7en

Glory

The Dark Knight

Street Smart
3.Which movie is considered the highest-rated among Morgan Freeman's films?
"The Shawshank Redemption" is often regarded as the highest-rated movie among Morgan Freeman's filmography.
Final words
Morgan Freeman is known for his distinctively deep voice and various roles in a wide variety of film genres. If you also want to have his AI voice, the easiest way is to use MagicMic Morgan Freeman AI Voice Changer, which can intelligently change into Morgan Freeman AI voice in real time.
So, download MagicMic and start sounding like Morgan Freeman straight away.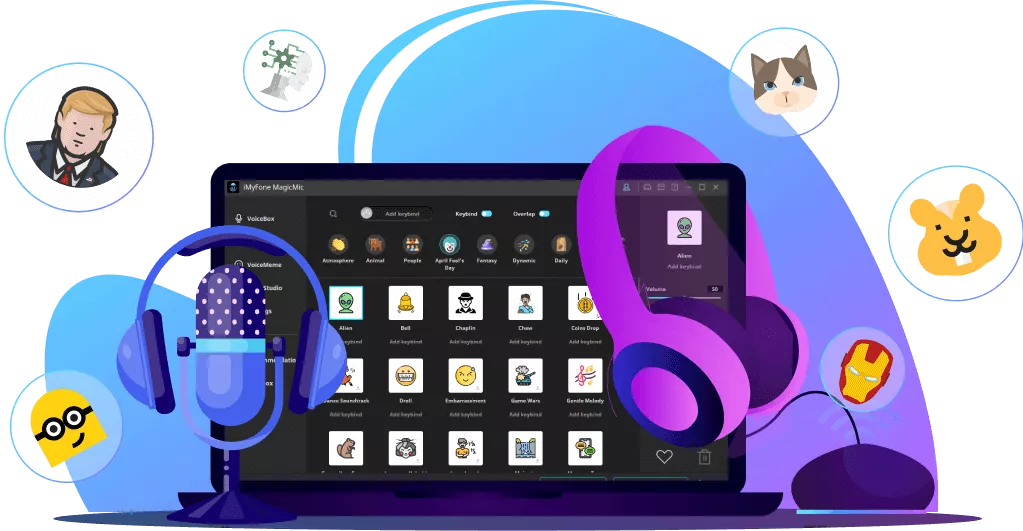 225+ Voice effects for one-click voice changing in real-time.
Huge library with 600+ Voice Effects and 200+ Voice Memes.
Sound emulator in games, live, chatting, online classes, and more.
Voice recording and audio voice changing is supported.
Voice studio lets you create any voice you like.