AI Voice Changer - Voice Cloning with 1 Click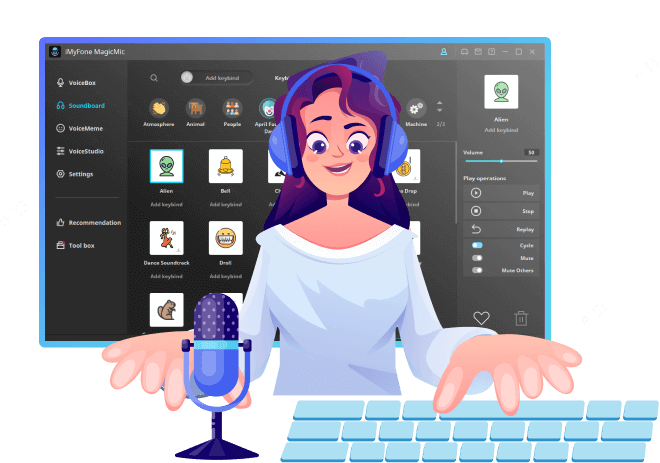 Click to

listen more voice demos

>>
What Make MagicMic Excellent Soundboard for PC?
More Voices, Higher Quality, More Stable,you will never regret to try!
Why Choose MagicMic Voice Changer?
40

Download Worldwide

90

Satisfied Customers

35

Countries Worldwide

200

Positive Media Tutorials

Amanda
If you're looking for voice chat on Discord with a different voice, this is the best for you.

Zach
Extremely satisfied and I have tried to use many. If your looking for a great voice changer, then look no further, this is the one and I guarantee it.

Lukas
I prank folks by putting speaker in house and then play creepy voice calling their name or fake whispering, lol
More Reviews
MagicMic Applications Senarios Make Your Online Tour Funnier
Gang up in games

When ganging up and chatting in games, you will have the coolest voice-changing effects and magical sound effects, along with BGM.

Live streaming

High-quality voice-changing effects and the latest sound effects make live streaming like Twitch, full of entertainment. You just got the secret to increase followers!

Real-time communication

Real-time voice changing filters and huge sound effects help you make video meetings, voice calls, and video chats more entertaining.

Entertaining prank

The most popular, funniest and scariest voice changing effects, sound effects and background sounds allow you to unlock new tricks for tricky pranks.

Online education

Say goodbye to the boring online classes! Various voice and sound effects allow you to play multiple roles and create a refreshing atmosphere whether you are teaching or studying online.

Sound customization

The professional yet easy-to-use voice studio allows you to DIY exclusive and unique voices, which makes you more mysterious if you are unwilling to show up, and more confident in the world of voices.

Voiceover

Audio and recording voice changing support make your dubbing work easier and more efficient.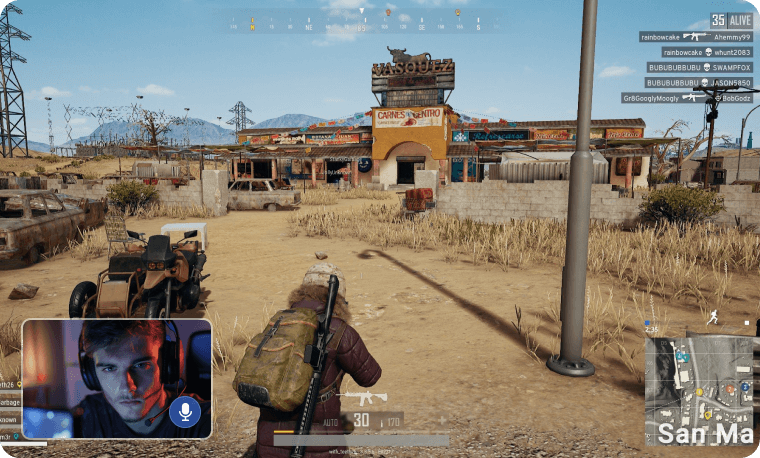 So Easy! 4 Steps to Apply Huge Voice Filters and Sounds Within 2 Minutes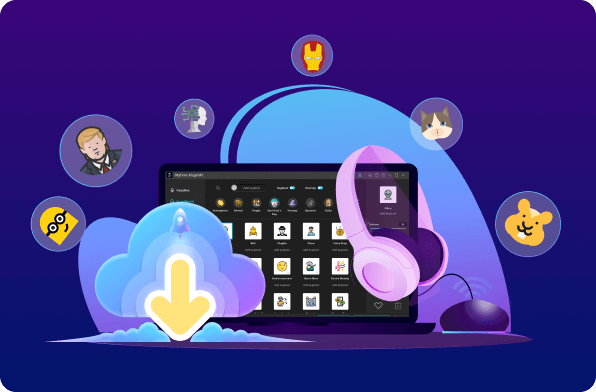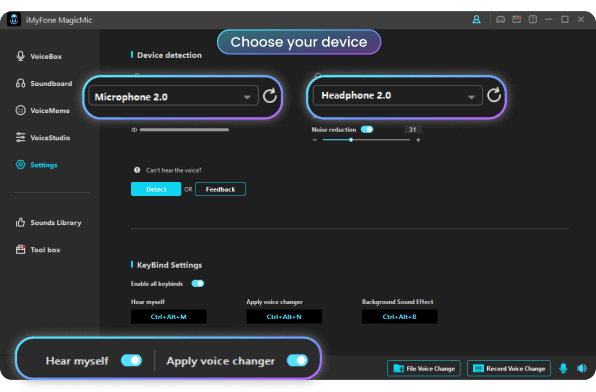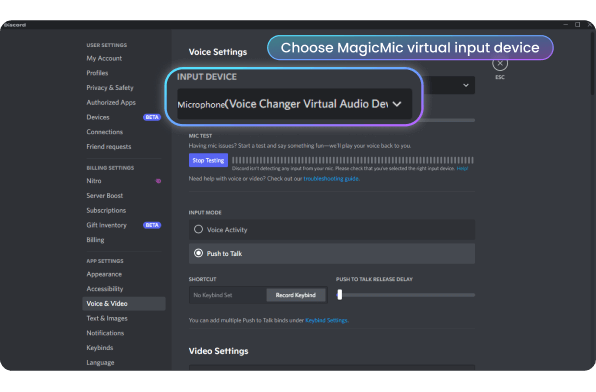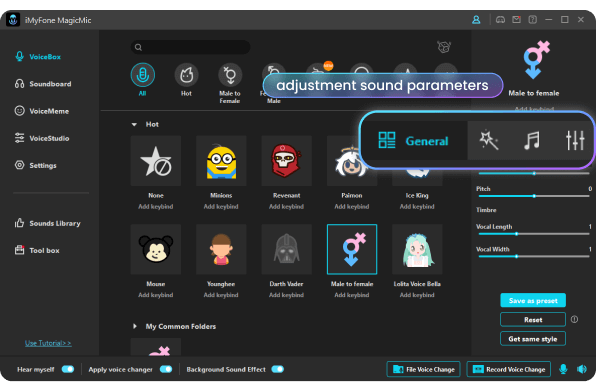 How to Configure MagicMic on Programs
Here are some step-by-step tutorials about how to setup MagicMic on games or other programs. Click and check it out!
Get Started with iMyFone MagicMic Now!
1001690 people have downloaded it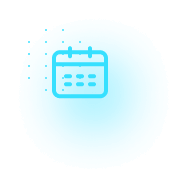 Refund within 30Days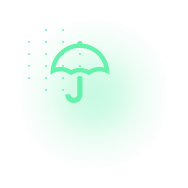 100% Secure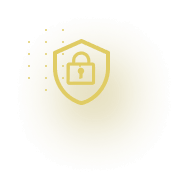 Transactions Protected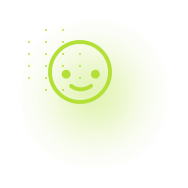 Serving Millions of Users
Compability&System Requirement
Windows : Windows 7/Windows 8.1/Windows 10 (64 bit OS)/Windows 11
Mac : macOS v12.1 , macOS v11.6 , macOS v10.15 , macOS v10.14 , macOS v10.13 , macOS v10.12 , OS X 10.11 , OS X 10.10
Android : Android 7.0+ and later
More Tech Specs

>>
Differences Between Free Version and Full Version of MagicMic
Free Version
Various Free real-time AI voices for streamers, gamers, online meeting and calls
Popular sound effects and add your soundboards for atmosphere creation
Voice recording and audio file voice change are supported
Noise reduction technology for clear and high-quality voice output
Lifetime free update
Pro Version
Unlock 700+ real-time voices & sounds for amazing voice changing experience
Unlimited soice effects import to play in games or other applications
Voice Custom for unique voice making in 1 click
7/24 technical support
30-Day money back guarantee
FAQs and Hot Topics About Voice Changing with MagicMic
FAQs
1.Does MagicMic support macOS?
Yes. MagicMic is already compatible with any version of macOS, and gets updates synchronously.
2.What's the difference between the mobile version and pc version?
The difference is that you can only change your voice while recording and audio files with 10+ voice filters on MagicMic voice changer app for
iOS
and
Android
. However, except the function of phone version is available, when using MagicMic Windows and Mac versions, you can change your voice in real-time with 100+ voice filters for gaming, and chatting. Moreover, voice customization is available on MagicMic voice changer for pc.
3. Is MagicMic Soundboard Free?
MagicMic voice changer for Discord (pc version) has free and paid version. Paid version at an affordable price with full features and free version offers several different free voices every day.
4. What can I do with MagicMic voice changer? Any funny ideas?
1.For MagicMic voice changer app for
iOS
and
Android
, you can use it to create funny audios for videos or ringtones, songs, and so on with various voice-changing effects and share them with your friends. 2. Except for the same function as the app, using
MagicMic voice changer for pc
, you can change your voice in real-time while gaming, live, chatting, and so on.
5. How to use MagicMic Voice Changer for Discord?
Easy,there are 4 steps. Download MagicMic>> MagicMic input settings>> Discord voice settings>> Select voice effects and soundboard
on Discord voice chat
. Also,we've prepared a concrete text tutorial, you can click
here
to learn more.
More FAQs
Enter your email and we will send you a download link