Are you wondering how to change voice on WhatsApp calls? If yes, you're not alone; many people opt to ask this question on numerous platforms.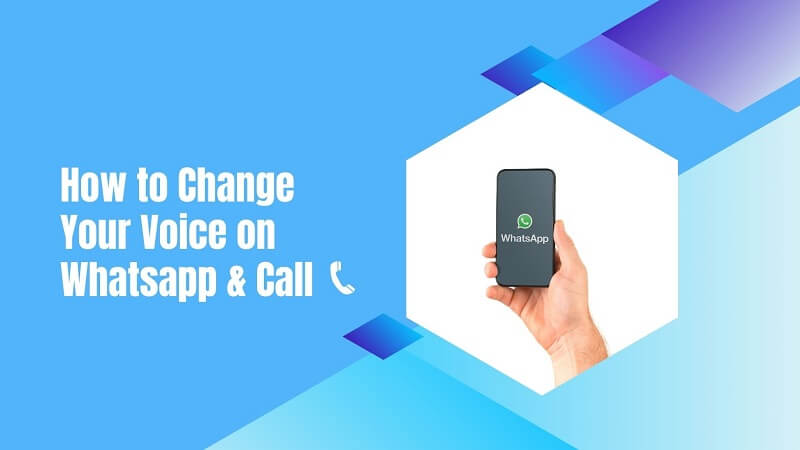 It is easy, you only need a whatsapp voice changer. That's why we are to show you how to change your voice on WhatsApp calls by using 7 best WhatsApp call voice changer applications and MagicMic voice changer for PC for you.
Change Your Voice on WhatsApp Call Using 7 Whatsapp Voice Changer Apps
Let's talk about the top 7 voice-changing apps for changing voice on WhatsApp calls.
1. MagicMic
Since the demand for voice-changing features is increasing, many companies have introduced their voice-changing applications. The PC version of iMyFone MagicMic is an excellent real-time voice changer for Mac and Windows devices. It's an easy-to-use interface, and mind-blowing features have impressed many people altogether.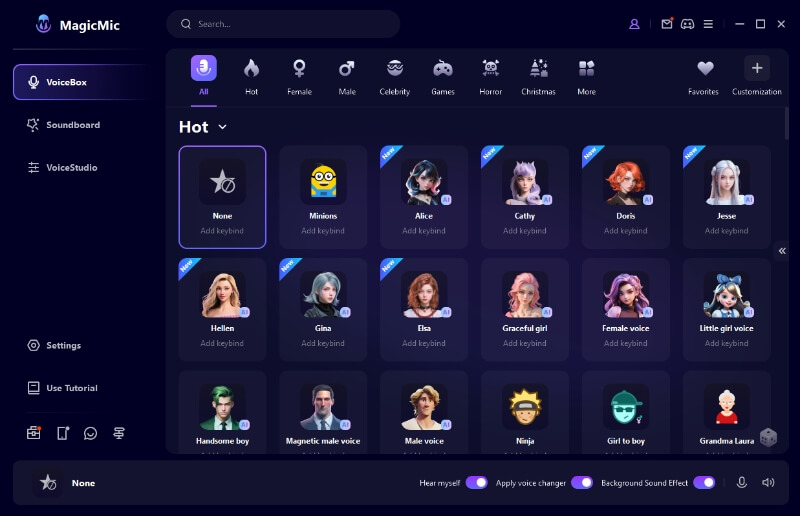 On pc version, you can use it to prank your friend on games, chats, or live streams since it is a real-time voice changer. However, its voice changer app for Android is a voice modulator for voice recorder and audio.

Manufacturer- iMyFone LTD
Version – 3.5.0
Size – 2.92 MB
Downloads – 3M
Fetures

Easy to use when changing your voice on Phone and PC
Changes your voice in real-time with 100+ voices and 500+ sound effects on PC
Various voice filters and background sound effects on the Phone app version.
Available for Windows and Mac, Android and iOS.
High-quality and stable voice-changing output
Voice customization is supported
Watch Video Guide About Change Your Voice on Whatsapp
2. FunCalls
If you are alone at home and want to have some fun by pranking your friend through a WhatsApp call, you can use the FunCalls application.
A user can use this application for both iOS and Android. Funcalls allow you to add multiple effects to your voice before calling a friend.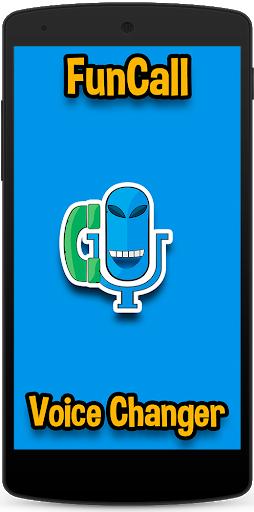 Manufacturer- BNG Mobile
Version – 5.1.10
Size – 36 MB
Downloads – 1M+
Features
It is a real-time voice changer during a WhatsApp call.

You can add animal sound effects during a call.

It possesses the ability to download the recorded voice that you can share with anyone.
How does it work?
You need to follow some instructions to know about the working of Fun Calls.
Step 1: Launch the App
Give them permission to access contacts, calls storage after launching the app.
Step 2: Go to the bottom.
Look at the bottom; a dialer will appear on your way. Press the dialer and enter your friend's number with your country code.
Step 3: Choose a voice effect
Before making a call, choose e voice effect by switching from the regular option to any other option.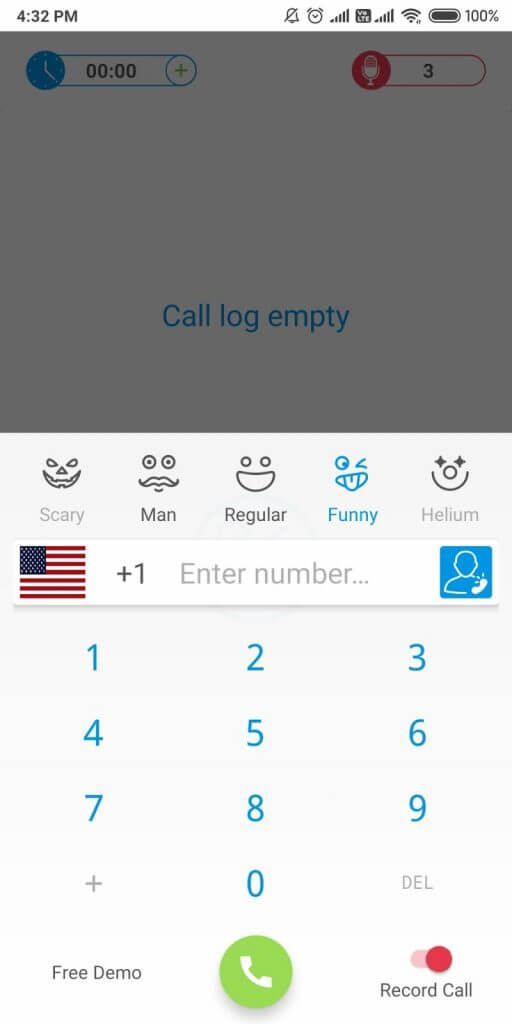 Step 4: Download the record
After calling your friend, you can download that record and share it with your friends.
3. Call Voice Changer-IntCall
You can download the call Voice Changer application on your iOS devices. It possesses several fantastic voice-changing effects that make your call exciting and memorable.
Manufacturer- Astra Communication LTD
Version – 15.0
Size – 32.9 MB
Downloads – 10M+
Features
It allows free minutes to make calls for new users

Several voice-changing effects

Easy to use
How does it work?
Step 1: Open the application
Add a phone number after opening the application. And permit the app for accessing the microphone.
Step 2: Select Voice Pitch
Choose a voice pitch from highest, High, Lowest, and Low.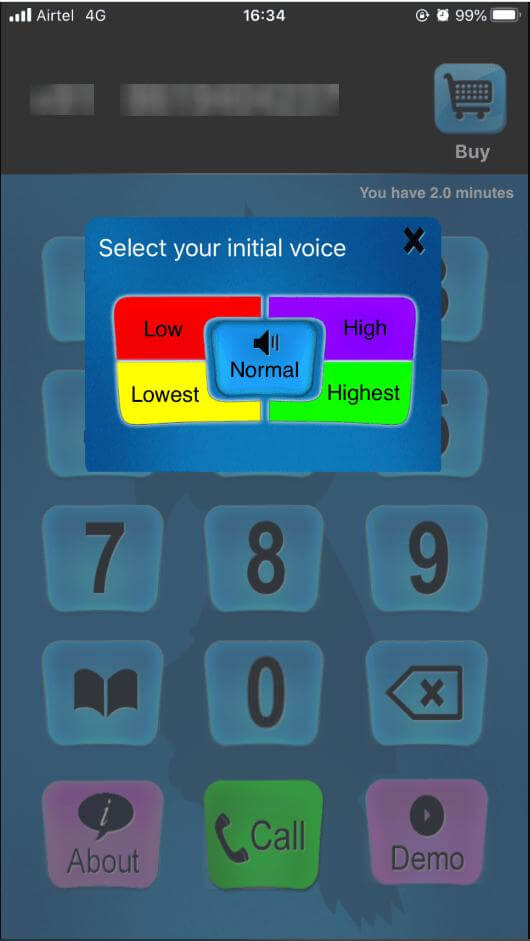 Step 3: Add sound effect
Add the sound effect, and then make your call. It'll make your call worth remembering.
4. Prank Dial
Prank Dial is probably the most trendy voice changer app during a WhatsApp call. Both Android and iOS users can avail themselves of this application. You can prank your friend using the effects of this application.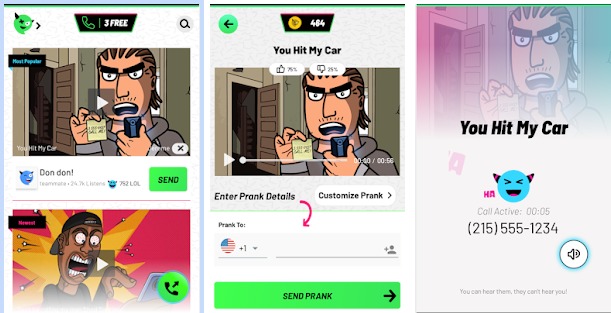 Manufacturer- Kickback Inc.
Version – 6.4.1
Size – 23 MB
Downloads – 1M+
Features
Save Recordings

Free calls every day

Keep on updating regularly
How does it work?
If you want to know how Prank Dial works, you can see the following simple steps.
Step: 1 Download App
Download the app and then permit the app for accessing calls, contact, and storage.
Step 2: Select a Prank
After going through all the prank scenarios, select the one which you like the most. Later on, look for a friend whom you want to call.
Step 3: Sit and enjoy
Now you can sit and enjoy the prank. And wait to see your friend's response to the prank.
5. Voice Changer Prank Call
Voice Changer Prank Call is another voice changer that can make your WhatsApp live call fascinating through its surprising features. It is a prank app that makes your friends keep on guessing things.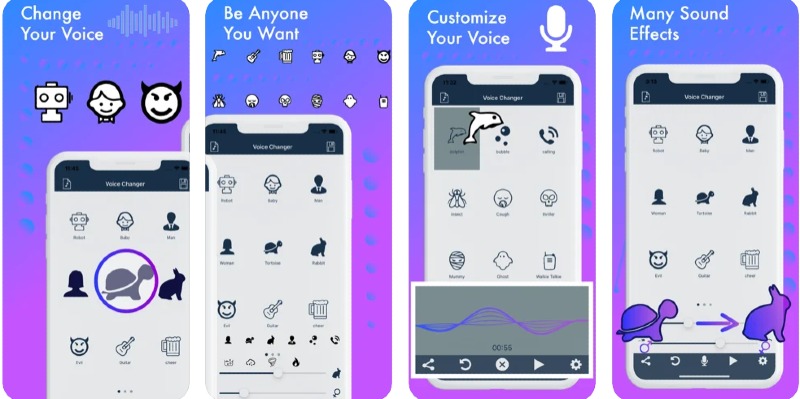 Manufacturer- ACETELECOM
Version – 2.9.5
Size – 13 MB
Downloads – 1M+
Features
Sound effects for background

Free credits are available during a call

You can change your voice anytime during a call
How does it work?
Let's talk about the steps of using this application.
Step 1: Provide the necessary permission
Launch the application and give vital access to information.
Step 2: Look for a Call button
Move onto the call button present at the bottom of the screen.
Step 3: Enter a number.
Enter a number there and top on the call with the voice option.
Step 4: Record a call
Now you can get a background sound through the options given there. Later on, turn the toggle button to record the call.
6. Voice Changer with effects
Voice Changer with effects is another useful app that adds interesting effects to your voice before to your friends. You can record your voice messages with several effects and send them to your friends on WhatsApp.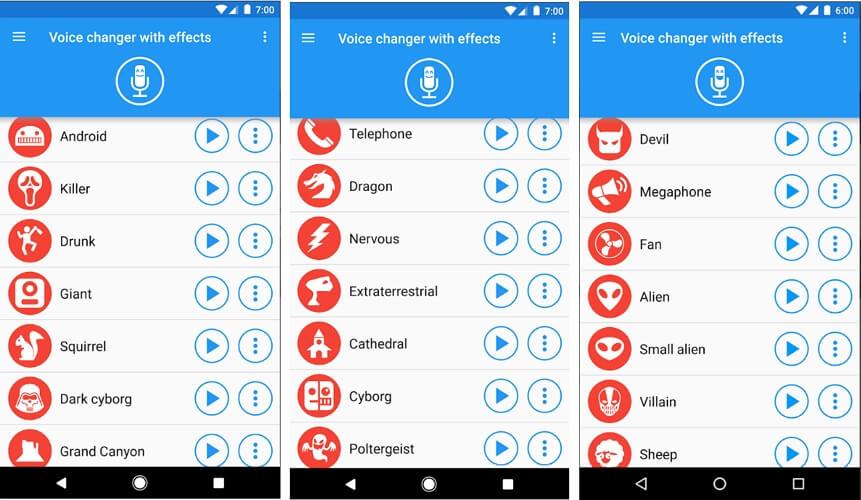 Size: 9.6 MBs
Downloads: 100M
Manufacturer: Baviux
Version: 3.7.7
Features
Create an image with sound

Create voice from text

Set as notification sound

Import pre-recorded sound

Set as ringtone

Save recording
How to use it?
Step 1: Give necessary permission
Give access to certain files after downloading this application.
Step 2: Speak on Microphone
After you got the necessary information, speak by tapping the microphone icon. Once you finished speaking, add voice effects to your voice.
Step 3: Share the file
After you have done all the editing, look for a share button.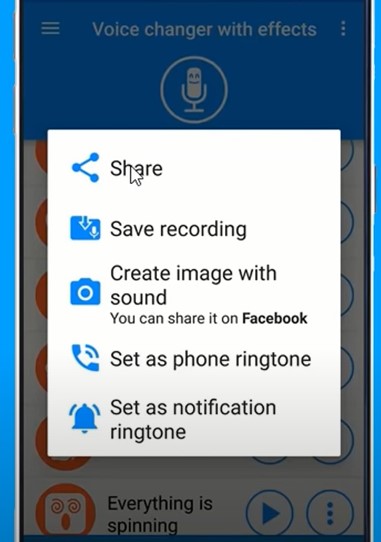 Step 4: Choose WhatsApp icon
Select the WhatsApp icon, and then you can use it on WhatsApp.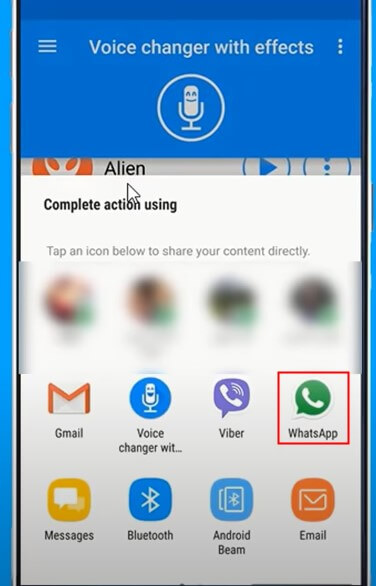 7. Narrator's Voice
With the narrator's voice app, you can change the voice you send to your friends on WhatsApp. It has come up with some of the extraordinary effects that make an experience wonderful.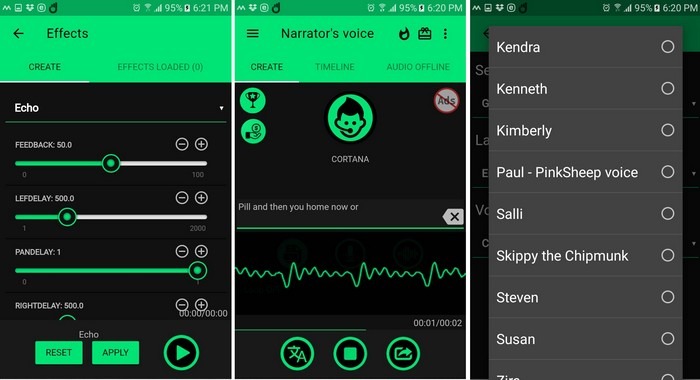 Size: 13 MB
Download: 10M+
Version: 9.5.11
Manufacturer: Escoliha
Features
Using this app, you can make your phone speak by typing anything.

Great for YouTube channels

Provides Natural and expressive sounding voices
How to use it?
Step 1: Download the application
Open the app after downloading it from Google play
Step 2: Grant necessary permission
Grant the necessary permission after touching the '' microphone'' icon. Now speak what you want to.
Step 3: Add Effects
Add effects after you record your voice on the microphone and click '' Apply.''
Step 4: Share with your friends.
After adding effects, you can share them with your friends.
8. Magic Call
The magic call is a great voice changer tool during WhatsApp calls for both iOS and Android. In addition, you can take this tool as a prank call app because it allows you to use multiple effects during a live call.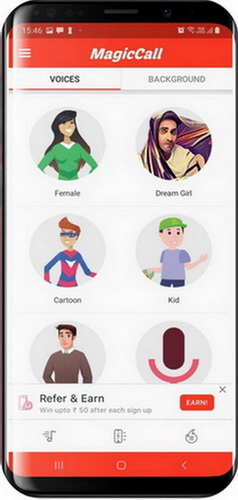 Manufacturer- BNG Mobile
Version – 1.5.6
Size – 35 MB
Downloads – 10M+
Features
It possesses multiple voice changer options

Many background sound effects-Traffic, Birthday, Rain

Simple interface and user-friendly
How does it work?
Here are some steps to add effects during a call using the Magic Call app.
Step 1: Register with the App
In the first gig, you need to register with the app and give the necessary permissions to this application.
Later on, select a contact after going into the home menu. Now, make a call and try to select the voice changer option that you want to use.
Step 2: Add background music
Now, you can easily add background music effects.
Step 3: Share with your friends.
Now your call is being recorded, you can share it with your friends.
Hot FAQs of Changing Voice on WhatsApp Calls
You can change your voice from male to female during a call or recording. You have to follow simple steps to serve your purpose. After you change your voice, you can enjoy pranking with your beloved ones.
Yes! You can change your voice during a call by downloading a voice changer application. After downloading the application, you need to test the features.
All the voice-changing apps possess embedded effects that help them change voice anytime you want.
Q3. How can I deepen my voice during the call?
No matter if you are an Android user or an iPhone user, you'll get that feature pretty quickly. All you need to download a worthy voice changer from your app store and open it. After opening the app, look for appropriate sound effects that suit your caliber and use them. If you want to know how to make your voice deeper on pc, please click and read.
Q4. How to add fake background sounds to WhatsApp voice messages?
Different voice-changing apps have introduced a feature that can change the background sound when sending a voice text message or WhatsApp message to your wife.
Let's explore it step by step.
Step 1: Select a background sound.
If you want to add a particular noise effect to your message through your smartphone or computer, you can use a background noise generator from any application. Later on, you should select a background sound.
Step 2: Adjust the speaker volume
Now, adjust the speaker volume in which you want to speak. Make sure it must be neither too high nor too low.
Step 3: Record the voice message
You need to record your voice on a smartphone staying close to the computer's speaker in this step.
Q5. How can I speed up my WhatsApp voice notes?
You need to open the WhatsApp and navigate the voice message section. Please tap on the voice message and start listening to it. Press on the '1x' option to change this option to '1.5.'
Ok, we've explored 7 voice changer for Whatsapp call and 1 real-time voice changer iMyFone MagicMic for you. Have you made up your mind to choose one? Just try and open a new world!
Conclusion:
Video for Changing Voice on Whatsapp