When hanging out with your friends, say playing video games, there is nothing more entertaining for everyone than making elaborate jokes? And one of the best ways to do that is by modulating voices, either during live streams shared on Twitch or on Skype and Discord when talking with your friends in real-time.
The thing is, there is nothing that excites video game enthusiasts than adding a dose of humor to the game live streams, as it helps grow your fan base. Having said that, here are the best Streamlabs obs voice changers that you can use to modulate your voice.
Part 1: Top Voice Changers for Streamlabs OBS
It is simple to use and comes with rich features that both beginners and amateurs will absolutely love! MagicMic is a dedicated voice changer and editor tool by iMyFone, giving you more than 24 different voices, including the ones related to the scariest festival on the planet.
Key Features of MagicMic
Change your voice in real-rime, you can also set the keybind and switch your voice with 1 click.

Can be used on Discord, Skype, Zoom,PUBG, LOL, CF, WOW, Second Life, Fortnite, CSGO, Overwatch,Twitch, Xsplit, Streamlabs and many other platforms.

A huge collection of voice-changing effects, such as: Woman to Man, Monster, Minions, Devil, Chipmunks,Robot, Alien, etc.

Hundreds of sound effects imitating people, animals, the environment, and so on.

Affordable price: This application is available for free! Pro version: $4.95/1 Month;$19.9/1 Year; $39.95/Life Time
Here are the steps to learn the edit step.
Step 1: Launch the Latest Version
First, you need to download and install the iMyFone MagicMic from the official website. Make sure to download the latest version to have all the functions available.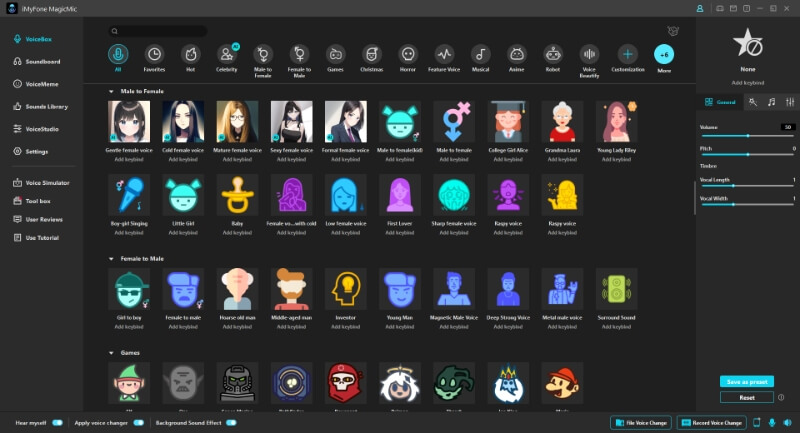 Step 2: Set the Input Device
Then select your real microphone as the input device. Select your headphones as the output device.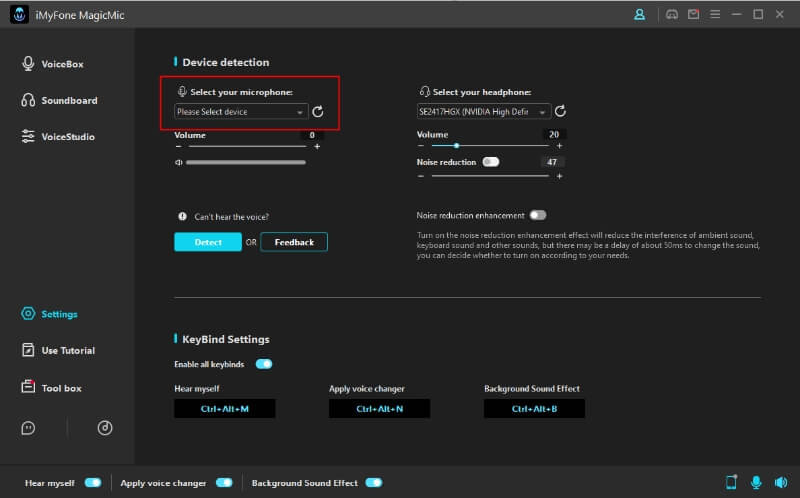 Step 3:Set the Output Device
Then select your real microphone as the input device. Select your headphones as the output device.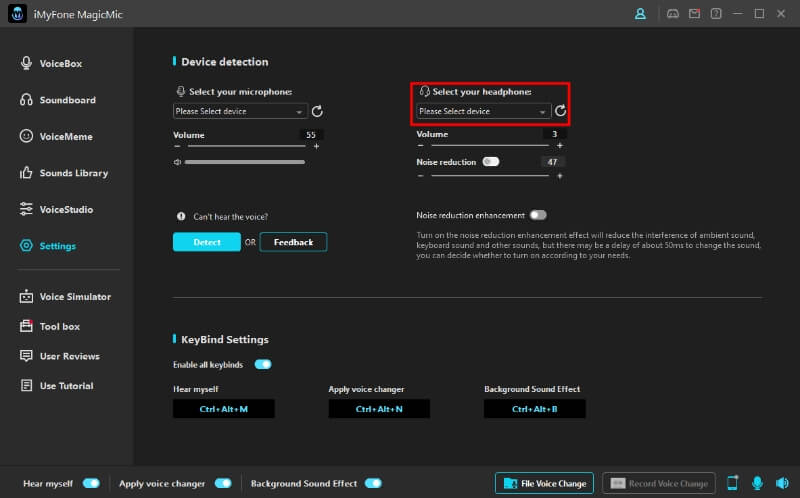 Step 4: Choose Voice Effect
Now you can click any voice effect in MagicMic and speak into your microphone to check if it really change your voice.
The very first voice changer application we are going to tell you about is iMyFone Filme. Now, this tool is relatively new in the market, but it's expected to revolutionize voice changing. Basically, the tool provides real-time voice changing and sound effects, and be compatible with a majority of the gaming platforms as well as online chatting pages.
How to Get Started on Filme
Step one - first and foremost, you will need to download iMyFone Filme on your device, and ensure that it is properly configured. Then open Streamlabs and go directly to Editor.
Step two - you will need to select Microphone as your New Audio Input Capture.
Step three - once everything is set, the mic signal will be processed by Filme in real time.
Step four - engage like a pro and have fun!
Note
But hold on for a second! Filme is quite good though, it is still on the way to be perfected.
While we are waiting for its launch day, let's check how to use Filme to change our voice:
Step 1 - open Filme on your device and select your File, then new project and lastly the ratio that you want to use.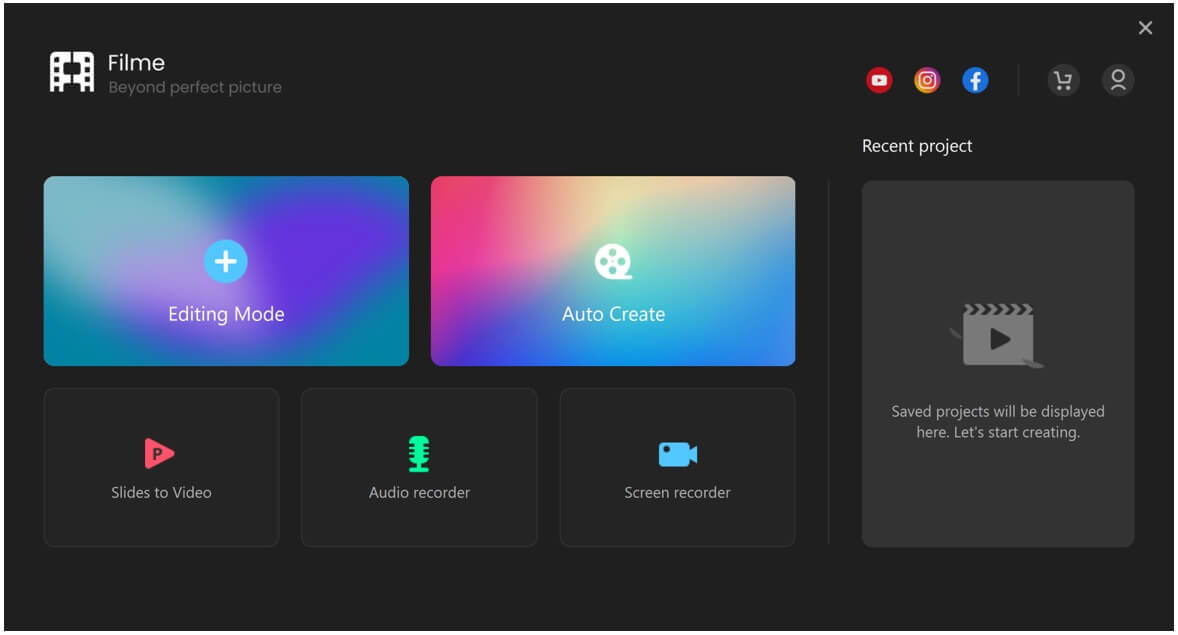 Step 2 - import the files that you want to edit, and then drag them to the timeline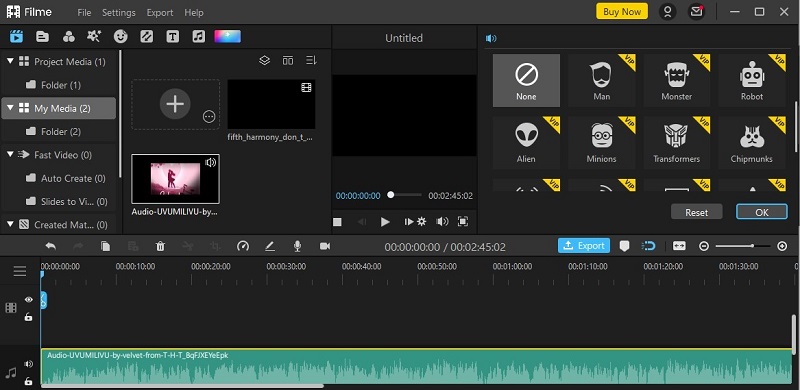 Step 3 - if you are changing the voice for a recorded audio, once on the timeline, double-click on it, and you will see the voice changer option. If you want to change the voice while recording, you just need to move the playhead to an empty section for voice recording, then click on the microphone icon. Click on the effect that you want and then start recording.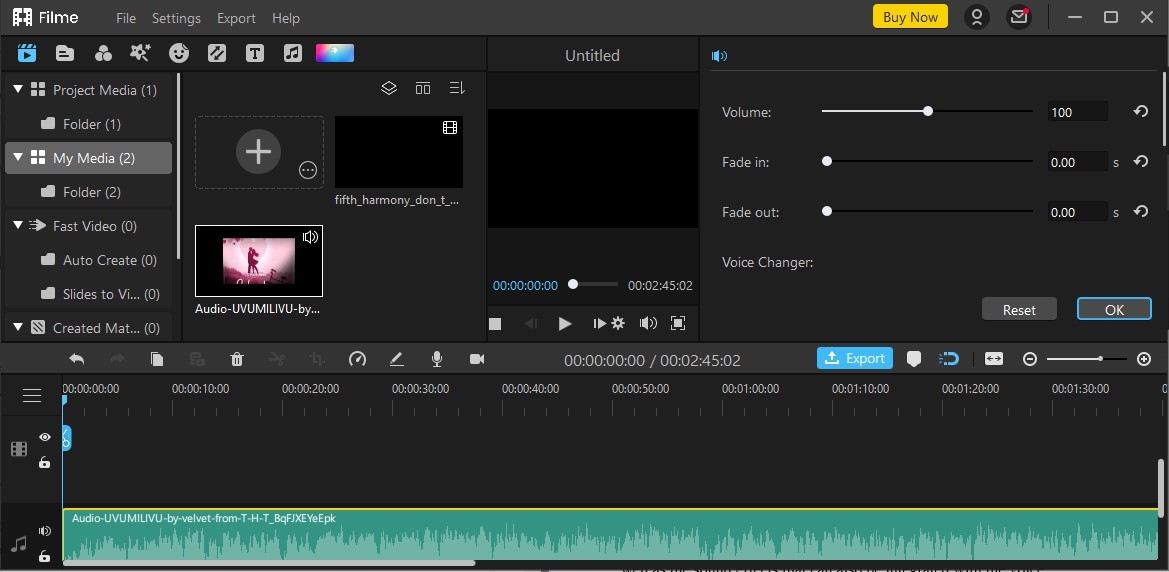 Step 4 - once you are done, you can save the file on to your device or share it online.
Features
14-plus voices available to choose from. You can as well apply the fade-in and out effects on these voices.

Enables you to edit the audio with precision, including the volume and duration as well as the sound effects that can also be integrated with the voice.

You can add some exciting effects to enhance the fun in your gaming sessions.
Pros:

Allows you to create as many sound effects as you would like

It is easy to use

With this tool, you can record and edit any type of voice or sound you want

The quality of the voice is always amazing and commendable
Verdict
iMyFone Filme is a fantastic tool to have if you are looking to change your voice or editing it in order to sound fantastical in your gaming sessions or chat applications.
This is a voice changing application that comes installed on the system level so as to ensure that every app that uses a microphone or any other audio device is affected, thereby enabling you to apply voice effects during your calls or live stream sessions. The voice changer is quite simple and effective, and it can be used with Steam, Hangouts, Discord, Streamlabs OBS, and several other gaming or chat apps. Even more interesting, the voice changer comes with music and sound players, which gives you the opportunity to organize and listen to music whenever you decide to. It also supports VST plugins thereby enabling users to create sounds or new audio effects.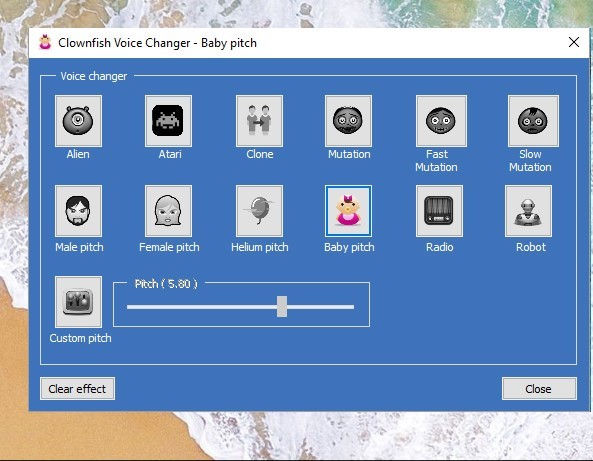 Key Features
It has a voice assistant that can convert text into speech

The sound player can play various sounds

Has a wide range of voice effects which you can choose from

Allows you to control any background music playing on your microphone.
One thing we can about Clownfish is that rather than going for a sophisticated voice changer, it opted for unbridled austerity. And if you are to add to the fact that using it is absolutely free, you would see why we are recommending it.
It is primarily designed to cater to advanced users primarily. This is basically those users who understand a thing or two about audio mixing - as a beginner, you might experience a few problems. If you are not satisfied with what Clownish software is offering, in terms of the voice effects, this is the perfect tool to add that special effect that suits you best. Basically, Voicemeeter is more of an audio mixer, even though you can also use it to adjust the pitch of your voice as well. The mixer is endowed with the Virtual Audio Device, which allows it to manage any audio sources to or from any audio device. This is the best tool for VOIP users, video gamers, broadcasters, musicians, podcasters, DJ's and many others.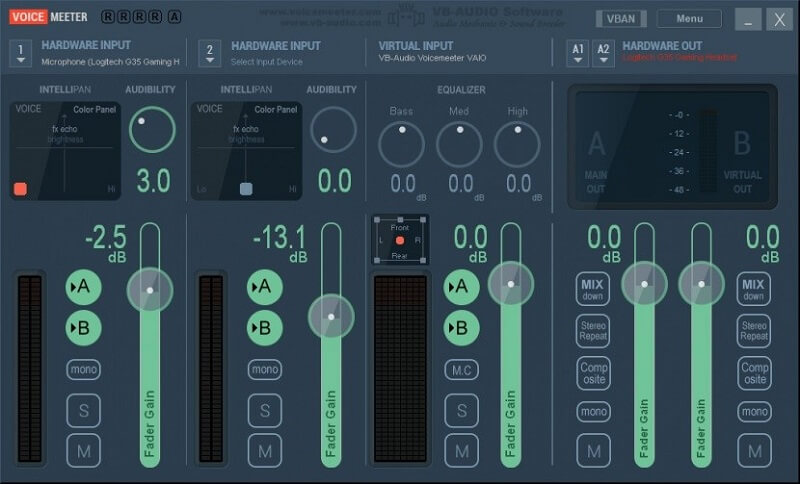 Features
Free to use

Super easy and fast to install

Support DX, KS, MME, WDM, ASIO interfaces
Pros:

You are able to mix your voice with your music

Facilitates a better gaming experience.
Cons:

It's a little complex to use, especially for beginners.
Voicemeeter is for sure one of the best voice changers software out there, and we highly recommend it to audio mixing professionals, and also individuals with a bit of technical knowledge on how to operate it. It is the best tool to create customized voice effects for discord. Using this tool is free.
Are you looking for a Streamlabs voice-changing application that's super clear and powerful? If so, we can tell you that MorphVox kind of aces all other voice-changing tools, all thanks to its ability to generate crisp quality audio output, while at the same time not burdening the CPU. Basically, this voice changer software will modify your specific voice to match your personality. It literary changes your voice to whatever you may want to sound like, thanks to its built-in sound effects and voices. Morphvox continues to evolve as it's now offering - other than its usual features - the tool is now offering MP3 reading, plug-in support, multiple user support, better list management, as well as restoration of files in the same folder.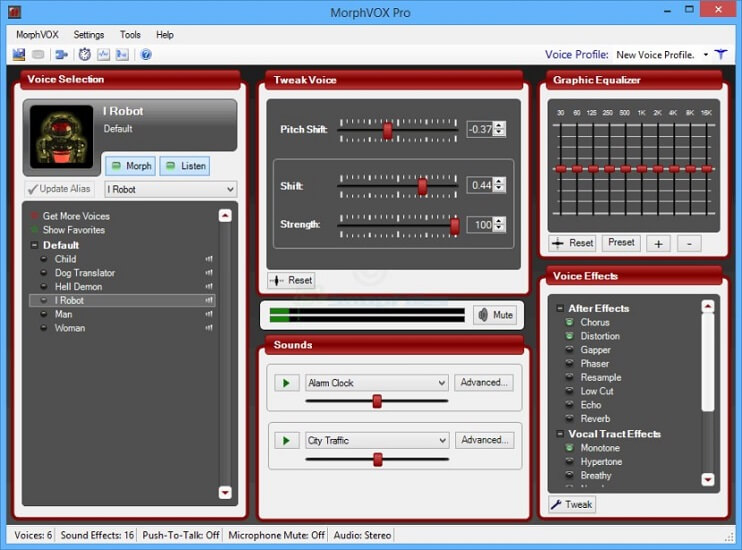 Features
Dispatch sound effects with quick keys

An array of top-quality audio effects

Ultra-quiet background cancellation

Optimized for streaming games online
Pros:

It allows you to disguise your voice, which increase the fun

Enhances online gaming

Has many sound effects that facilitate fun gameplay.
Cons:

You will need to pay to have access to the Pro version
To use this tool is free, but if you are to access the pro version, you will be needed to pay 40 USD, and thereabout for it.
This tool is best known for its ability to change and disguise your voice either for a chat or online gaming platforms. In fact, this tool is referred to as the go-to software and it can be used in almost all the online gaming platforms - and it actually does it pretty well. It offers countless number of options when it comes to sound effects. And other than being one of the greatest voice modulators ever, it actually works pretty well whenever it's paired with video games, podcasts, and online avatars. I mean, the voice created is so remarkable to the point that it allows users to maintain anonymity in their appearance on podcasts or on the radio.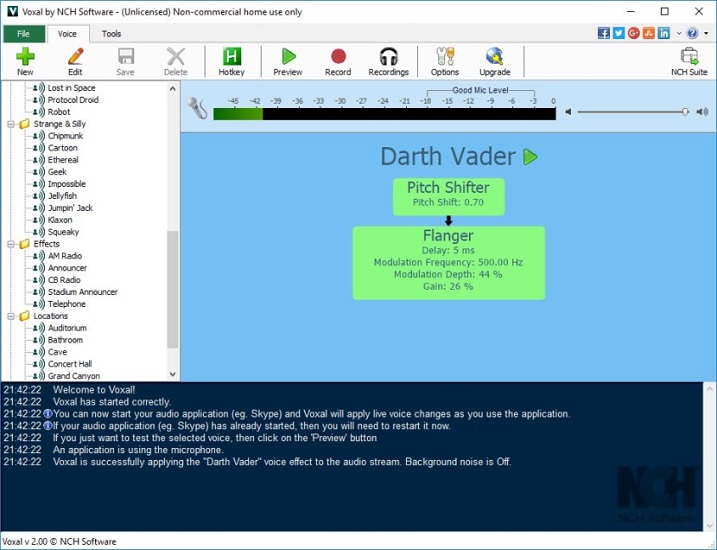 But do you know what the best part of this tool is? It is a fact that you don't need to adjust the settings or configurations in each application, as you can rely on the same settings used for the best results.
Features
Low CPU usage

Real-time application of effects

Universal application settings

There are a number of sound effects to choose from
Pros:

You are able to change your voice to whatever you want

Collaborates really well with other games and applications

There is a vocal effect library where you will find all kinds of effects
Looking for a basic voice-changing tool? Well, Voice Changer Diamond is as basic as it gets. Basically, the tool gives you three very basic options - you upload audio and use the tool to tweak it or use the microphone to disguise your voice, and thirdly, you can use it to generate speech from text. Once you open the app, it greets you with all kinds of voice effects on the first page, which ranges from a generic child to a girl's voice, or movie and cartoon voices, making it the best app to use while gaming online, or chatting with your friends online.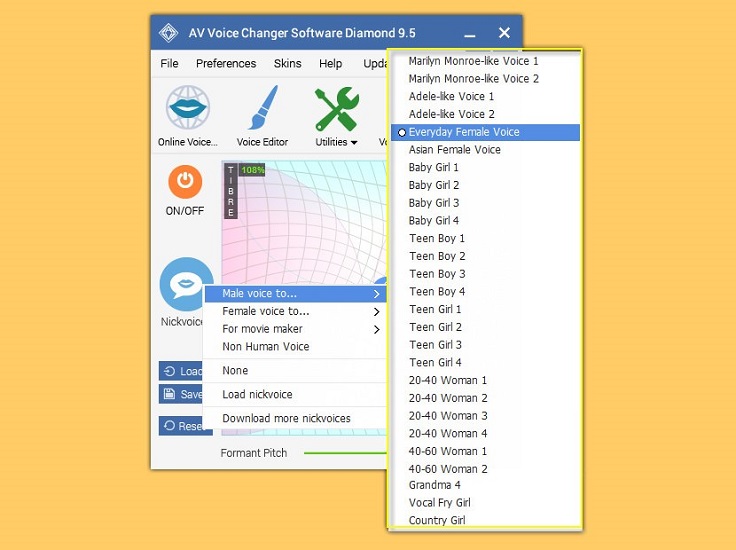 The app is very easy to use as you just need to adjust your voice preferences or apply any audio effects that you want in order to change your voice. You can integrate this app with Skype, Twitch, Streamlabs OBS, Discord, and Steam. With regards to the price, you will get a free trial at the beginning, but for you to enjoy its full benefits, it will cost you $50.
Pros:

It allows you to upload and tweak your audio however you want

It is a speech generator

Gives you a sneak peek at its voice effects through a demo

You can change and disguise your voice
FAQs
1. Are voice changers illegal?
No, they are not! Audio processors used to format your voice or modify the tone using effects are completely legal and can be used anywhere. Of course, this is with the exemption of using these apps to change your voice to commit a crime - this is illegal. But for the normal use, you know, to have fun, it's totally fine.
2. How do I make my voice sound better in Streamlabs?
It is pretty simple actually! First, ensure that the mic you are using is a professional gaming microphone and that it is properly placed. Secondly, you need to ensure that your microphone settings are rightly configured - and that includes the compressor and EQ equalizer. Thirdly, use effects to enhance your voice.
3. How to use a voice changer on Streamlabs OBS?
Let's say that you are using Voicemeeter app, so, first and foremost, you will need to download, install and configure Voicemeeter app on your device. Then, open Streamlabs and then go direct to Editor. After that, add a new audio input capture and then select microphone. The microphone signal will be processed in real time by Voicemeeter voice changer. Enjoy!
Final word
Voice changers for Streamlabs are fun to use, especially when playing games online or chatting with your friends.
As for our recommendation, we urge the readers to install iMyFone MagicMic. which is hands down the best voice changing software available in 2021. The tool is really powerful! Try it and you will bear me witness.