Imagine this scenario: You're engrossed in a thrilling game of Warzone, communicating with your squad through a Discord server. Suddenly, amidst the intensity, a fart or air horn sound resonates through the voice chat. The whole team erupts in laughter!
With Soundboard, you can now upload your desired sounds to your server's soundpack, enabling your fellow community members to use them during Voice calls. Additionally, Nitro subscribers can enjoy the freedom of using soundpacks across multiple servers, just like emojis and stickers. Read on to discover how to upload Soundboard to Discord.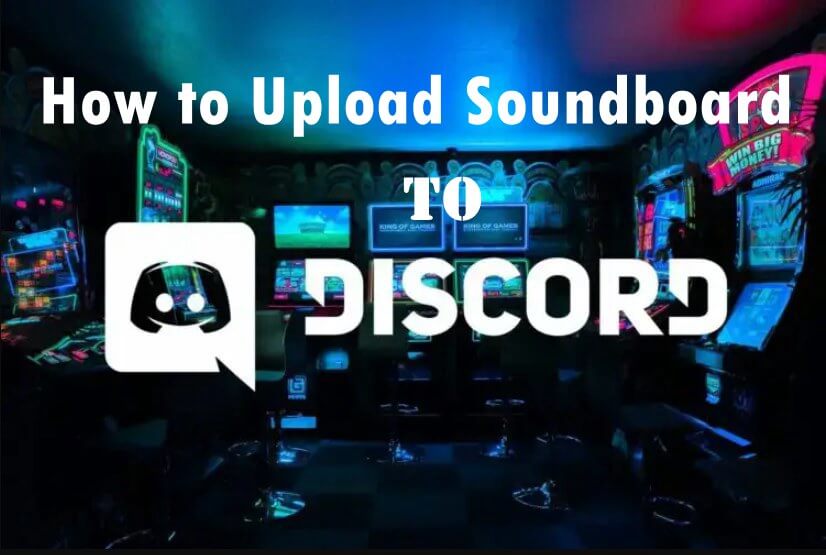 Part 1: How to Use Soundboard on Discord
Soundboard, like custom emojis and stickers, resides within Discord servers. It allows anyone in your community to use the sounds uploaded to your server's soundpack. Discord Nitro subscribers can utilize your community's sounds in any server. Simply join a Voice channel and click the music album button next to Activities to access the Soundboard panel.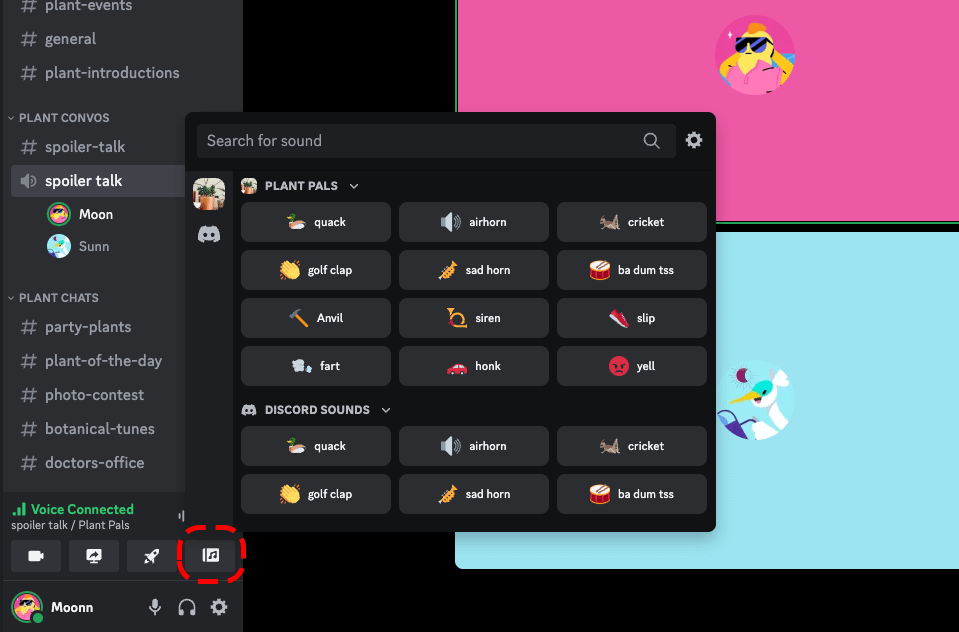 Discord provides preset sounds, including a golf clap, cricket, and sad horn. Moderators can control Soundboard usage with Role and Channel Permissions. Mimic the "sad horn" when they join the call if disabled.
Tips
Initially, Soundboard functionality is limited to desktop usage. Nevertheless, mobile users can still listen to any sounds played, ensuring they stay informed when a "HONKHONK" occurs.
Part 2: How To Upload More Sounds To Discord Soundboard?
Discord offers a selection of preloaded sounds within the default Soundboard, including a polite golf clap, a cricket, and a "wah waah" sound, readily available for use in voice channels. However, you also have the option to upload and include additional sounds to the Soundboard.
To add sounds to the Soundboard, make sure they meet the following requirements:
File type: MP3
File size: Up to 512kb
File length: Up to 5 seconds
Follow these simple steps to upload and add more sounds to the Discord Soundboard:
Open the Soundboard panel on Discord and click on the "Add Sound" button.
Choose the desired sound from your device and upload it.
Once uploaded, you can assign a name and set the default volume for everyone.
Optionally, you can also associate an emoji with the sound, which will appear whenever the voice is used.
That's all! Remember to adhere to the Terms of Service and Community Guidelines while uploading sounds to the Discord Soundboard.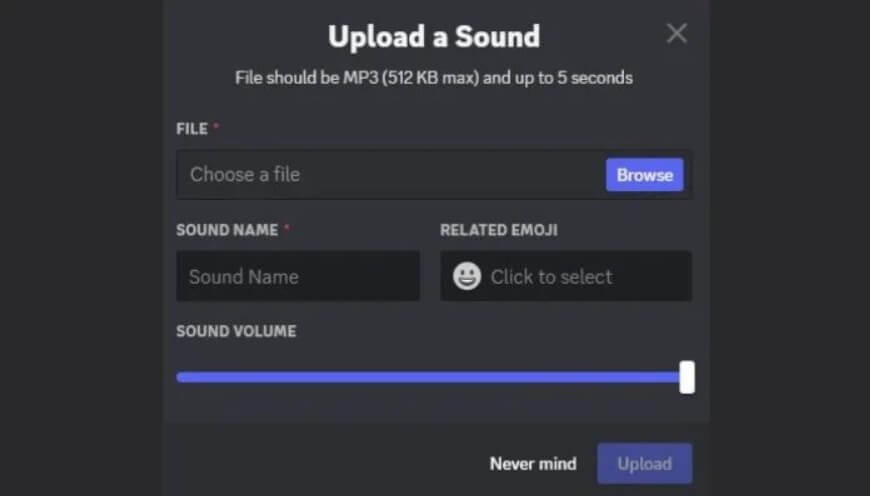 Part 3: The Best MagicMic Soundboard for Discord
Introducing the ultimate Discord soundboard, designed to enhance your gaming and podcasting sessions with maximum fun and excitement.
Unlock a world of voice-changing possibilities with MagicMic soundboard, featuring an exceptional selection of the best Discord soundboard sounds for Windows and Mac. Explore a vast library of over 200 sound effects, meticulously curated to elevate your gaming, chatting, and streaming endeavors. Immerse yourself in the mischievous tones of minions or embrace the futuristic charm of robotic voices. With MagicMic, experience flawless voice disguise while maintaining exceptional audio quality. Discover the user-friendly interface and comprehensive features that make MagicMic the ultimate choice for a seamless voice-changing experience.
Not limited to Discord, MagicMic extends its compatibility to popular platforms such as PUBG, Twitch, Zoom, and Skype. Unleash your creativity and redefine your voice with the unmatched capabilities of MagicMic, featuring the finest selection of Discord soundboard sounds.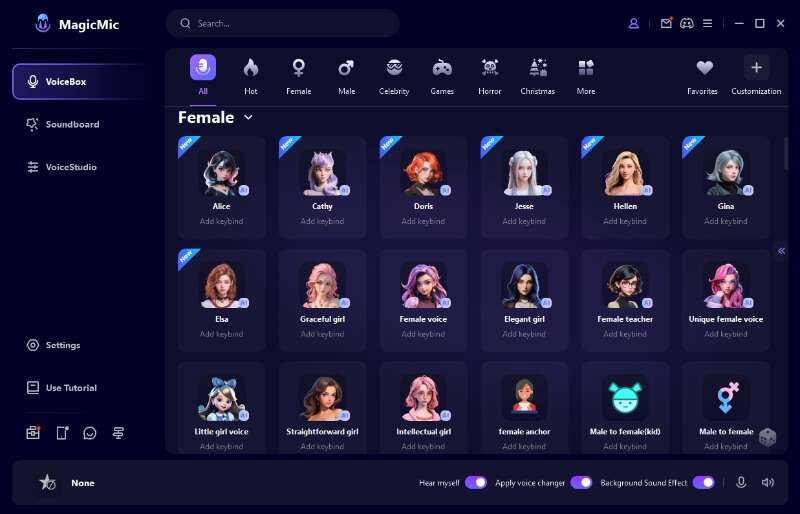 Here are the key advantages of MagicMic, offering the best soundboard sounds for Discord:
Pros:

Extensive variety of voice filters with over 200 options, providing a wide range of choices for voice modification.

Ability to record and alter your voice, as well as change the voice in real-time for audio files.

Convenient keybind controls for managing voice changing and soundboard sound effects.

Perfect for gaming, chatting, and live streaming.

Compatible with Windows and Mac.

In-built background sounds for creating realistic environments.
Cons:

It is relatively new in the market. Not so famous.
Steps to Use MagicMic
Discover the wonders of MagicMic in just a few simple steps:
Step 1: Install and launch MagicMic from the official website. Register by clicking the user icon and logging in with a licensed email and code.
Step 2: Set your Input and Output devices to ensure seamless audio. Choose real microphones for input and headphones for output.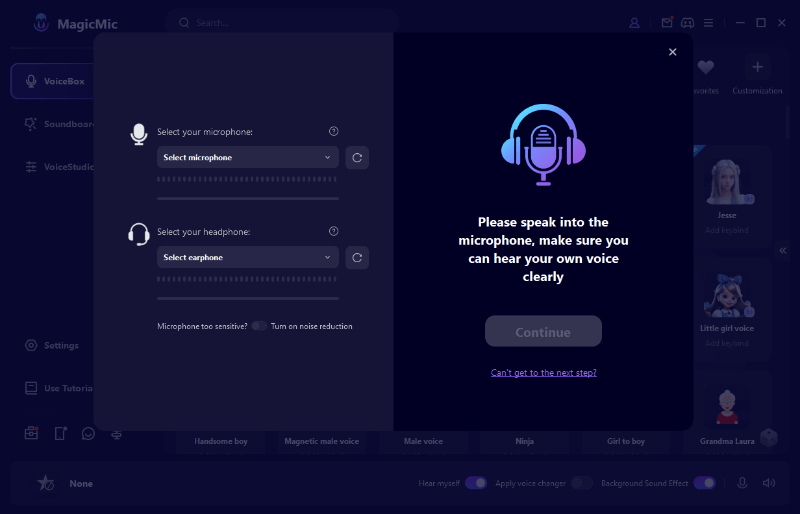 Step 3: Explore a variety of voice-changing effects, such as Monster, Man, Baby, Chipmunks, and more, and witness instant voice transformations.
Step 4: Fine-tune the sensitivity setting of your microphone for optimal clarity. Strike the right balance to avoid irritation or unclear audio.
Part 4: FAQs about Discord Soundboard
How can I get a Soundboard on Discord?
Discord now offers a built-in Soundboard feature for users to play sounds in Voice Channels. Currently, this feature is only available on the desktop app. Mobile users can still listen to sounds played on the servers but do not have direct access to the Soundboard yet.
How do I use the Soundboard on Discord?
To use the Soundboard on Discord, simply join a Voice Channel and click the "Music Album" icon located at the bottom left section of the screen.
How to Add Sound to Discord Soundboard?
To add sounds to Discord's Soundboard, navigate to Server Settings > Soundboard. From the right pane, click on the Upload button. Select the desired sound from your device's storage. Provide a name for the sound, add a relevant emoji if desired, and click the Upload button to complete the process.
Conclusion
Discord soundboards add an element of fun to voice chats on servers, and incorporating voice-changing effects can enhance your gaming content. Additionally, playing funny sounds during gaming sessions adds to the enjoyment.
In this article, I have provided a guide on how to upload more sounds to theDiscord Soundboard. However, for optimal results, we recommend using MagicMic soundboard. It is highly sought after for its outstanding features and excellent quality. Moreover, it is free to use and beginner-friendly. Have a great day!
Watch Video Guide About MagicMic Soundboard for Discord