You can easily get radio voice effect on your computer or phone with software that integrates smart features that allow users to cut, add effects, record directly, and filter noise simply. With a radio voice changer, we can get a deeper and more charming voice. What can we do with this voice?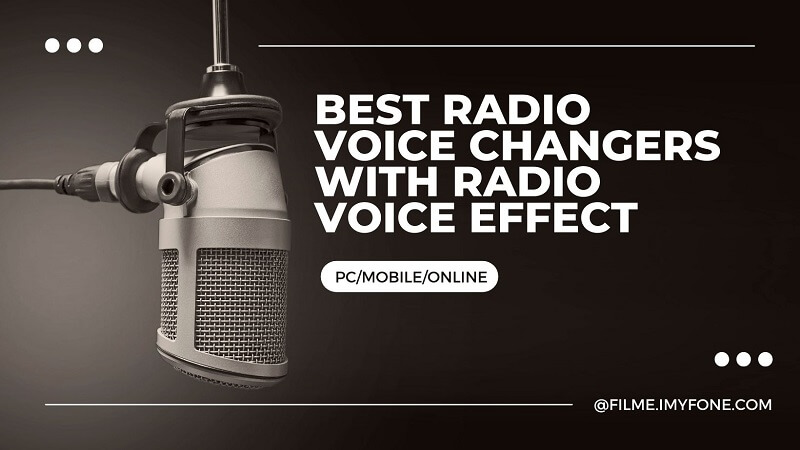 The answers are various. For example, you can pretend to be a radio announcer and conduct radio show interviews with friends. Secondly, you can fully show your voice charm in live broadcasts and games. Let's check out which is the best radio voice changer.
Part 1: 3 Best Radio Voice Changer for PC
There are many vintage radio voice changers and walkie talkie voice changers that you can find on the internet. However, which is the easiest and most convenient voice changer? Let's check out 3 radio voice changers for PC below:
1. MagicMic Radio Announcer Voice Generator
iMyFone MagicMic is a professional voice changer and voice editor that offers over 300 voices, of course including radio voice effects. Besides, it also has hundreds of sound effects. It's a simple tool with a powerful ability. If you want to make your voice become a vintage radio voice, with only a few clicks, you will easily make it.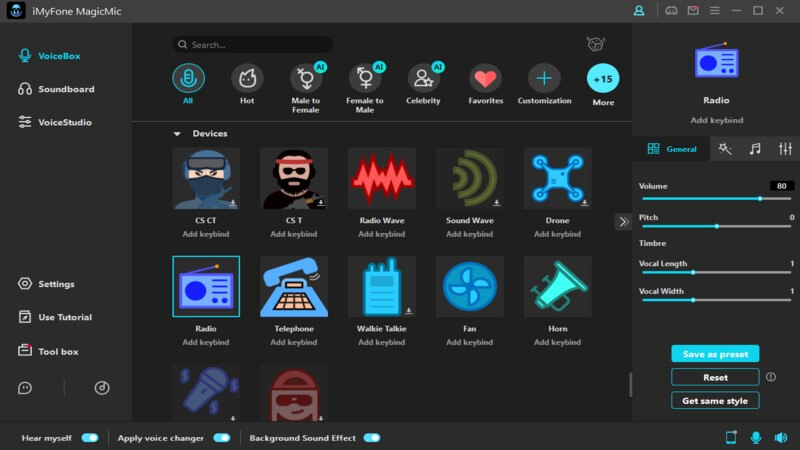 Tips
Change into Bill Cipher AI voice using MagicMic - best Bill Cipher voice changer!
Change Voice
Key Features of MagicMic Radio Voice Changer
Radio voice for you: Besides radio voice, there are more than 300 voices and other 600+ sound effects, like walkie talkie voice effects, a police radio voice changer.

Compatibility: MagicMic can be compatible with various games and streaming platforms like Discord, Twitch, Xsplit, Streamlabs, Zoom,...

Ease of use: With some simple steps, you will easily change your voice to a radio voice.

Voice filter background sounds: Partly voice filters with in-build background sounds. Your voice change can be more natural.

Voice customization: You can make adjustment to the voice you choose, or upload the voice effect you want with one click.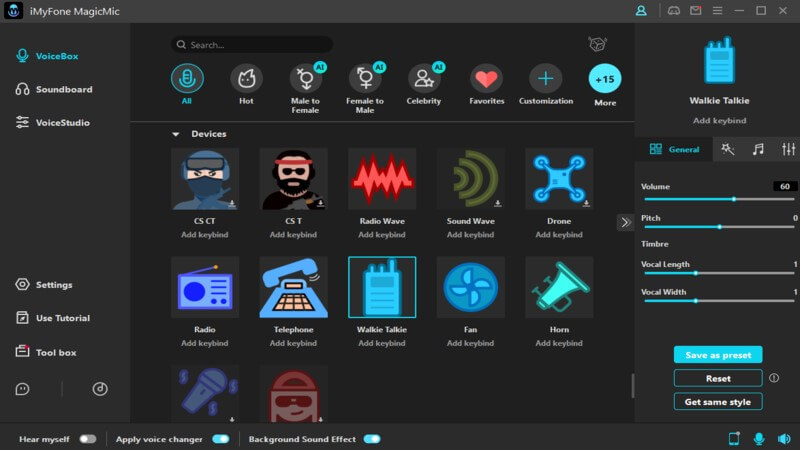 Tips
Change into Walkie Talkie voice using MagicMic - best Walkie Talkie voice changer!
Change Voice
How to change into Radio voice effect with MagicMic
Step 1: Download and Launch this Application
Step 2: Select your microphone and headphone to make sure you can hear your own voice clearly.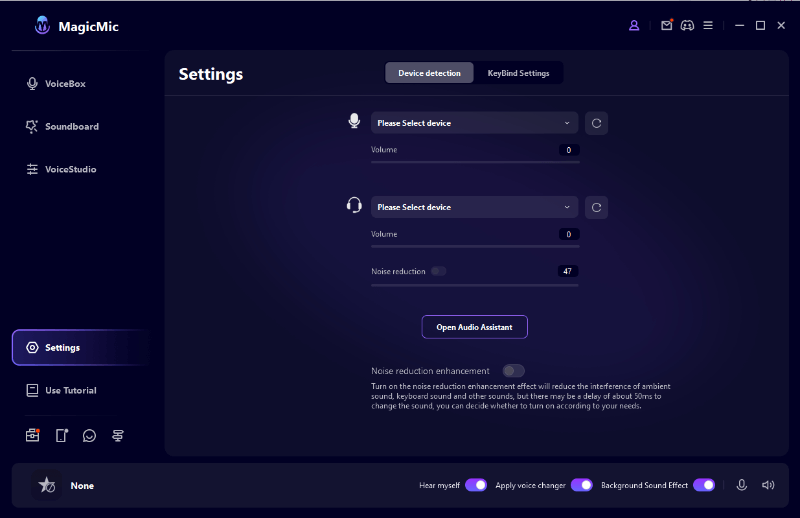 Step 3: Select Voice Changer Virtual Audio Device as input for seamless voice modification.
Step 4: Click "VoiceBox" - "More" - "Device" to select Radio voice effect or Walkie Talkie voice effect as you want.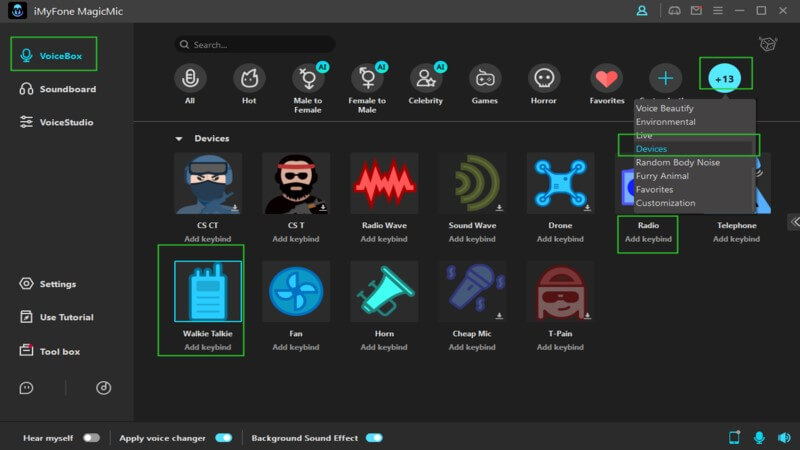 Step 5: Speak to your microphone to enjoy the voice transformation on various platforms like gaming, streaming or onlin talking.
Pros:

It offers you the most voice filters for voice change real-time on online games, chats, and live streams.

User-friendly interface on both Mac and Windows devices.

Keybind setting for voice and sound effects is supported.

Voice customization is available with voice studio function.
Cons:

It's a new product in the market.

Several voices sounds similar.
User Rate: 4.8
Customer Reviews: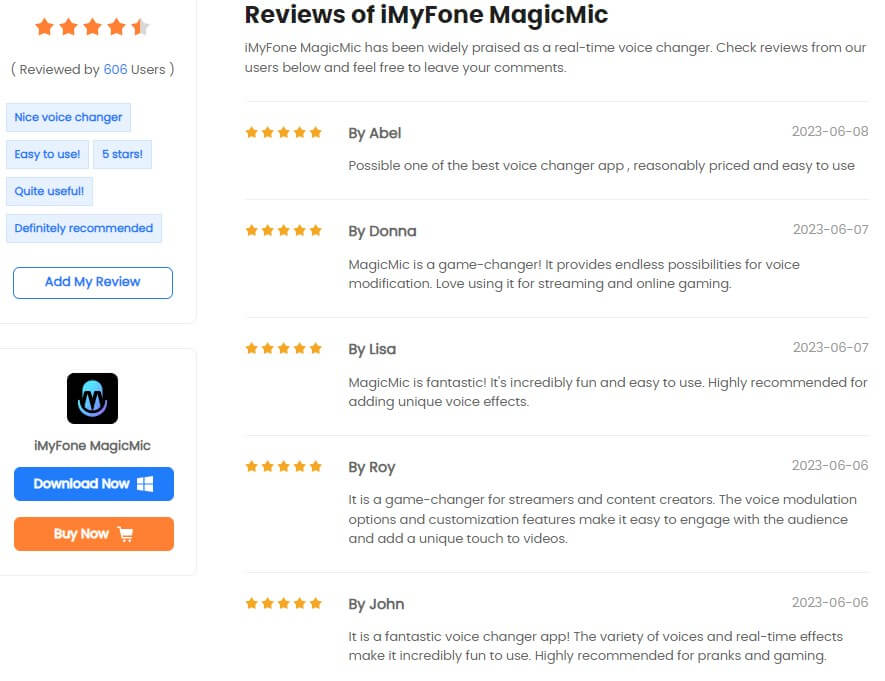 2. Voicemod Radio Voice Changer
Voicemod is one of the best radio voice changers for those using Windows. It is an online voice editing tool with effects capable of converting your voice into a radio voice and other effects like a robot, male, female...
Voicemod is compatible with most live stream and chat software such as Discord, Skype, Twitch, TeamSpeak, OBS, Hangouts, Zoom...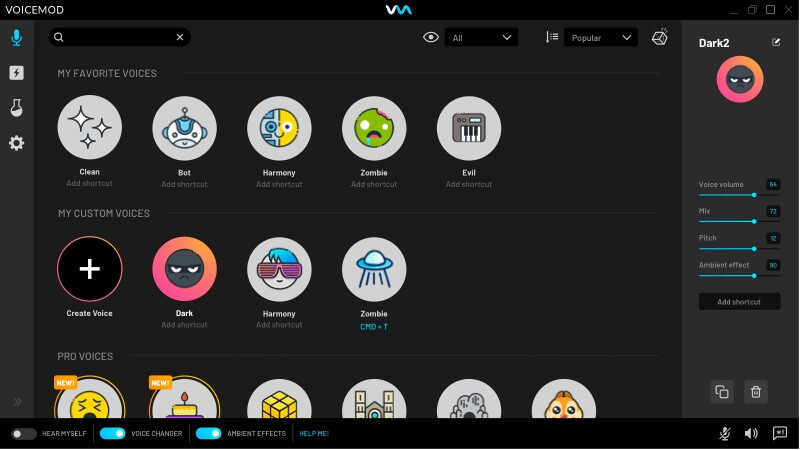 Key features of Voicemod:
Real-time voice changer, which means it supports audio changes when the user goes live.
The library provides many diverse sound effects on Zoom.
The interface of this software is very elegant.
It offers a voice lab for you to create your own voice.
Pros:

It comes with mobile controller.

Keybind setting for voice and sound effects is supported.

The sound effect resounrces are huge and popular.
Cons:

It only offers limited voices for free version users.

Some voices are in low-quality output

It will crash occasionally.
User Rate: 4.2
Customer Reviews: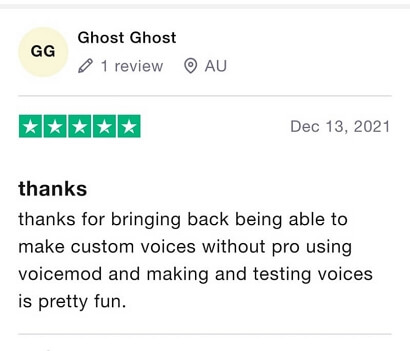 If you need full review of Voicemod,you can click and check.
3. MorphVOX Junior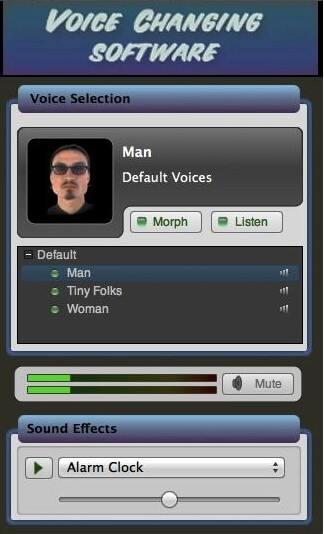 MorphVOX Junior is a free voice changer software with 3 voice filters. It can change voice to radio voice or man, woman, or baby voice on Live and gaming platforms. Voices and sound effects are built-in, users just need to select the appropriate sound sample and apply it.
Some key features include:
It supports both Mac and Windows operating systems.
Many unique sound adjustment effects.
It allows you to import audio to play on different platforms.
The quality of these 3 voices is clear and efficient.
Pros:

Though it only comes with 3 voices, the quality of the output is excellent.

It offers you professional voice adjustment parameters.

It is totally free.
Cons:

Voice options are too limited.

It works better on Mac than on Windows
User Rate: 4.0
no reviews are showing on MorphVox's official website, but there is a related article about full reviews of MorphVox, you can check if you like.full review of MorphVox.
Part 2: 3 Best Radio Voice Changer App for Mobile
If you are using a mobile, don't worry, you can still speak your radio voice. With the support of many radio changer apps on mobile, it will be easy for your to make your radio voice and many other effects as you want. Here are some of the best radio voice changer app for mobile that you can refer from:
1. Squeak Voice Changer
Squeak Voice Changer is a simple application to change voice to radio effect quickly. The app comes with several different voice options that you can modify or refer to before recording.
This app will convert your speech into any character you like. After conversion, you can download the result as an audio file or share it directly on social networks. However, to use the voices of other characters, you will have to pay.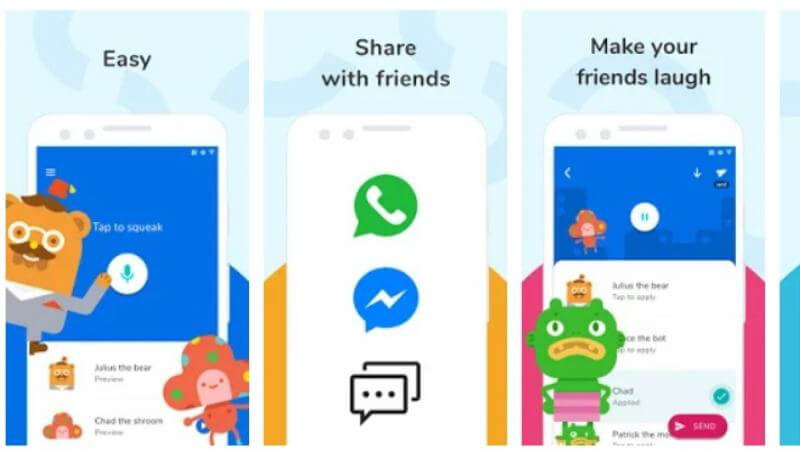 Main features of Squeak Voice Changer:
Change recorded voice with different voices.

Anime characters with funny voices in the app.

Share voice with friends via SMS, Whatsapp, Facebook...
Pros:

You can use it as a voice recorder.

Cartoon voices are available with this app.

The price is very cheap.
Cons:

You need to pay for voices.

Some voices work unefficient.
User Rate: 3.8
Customer Reviews: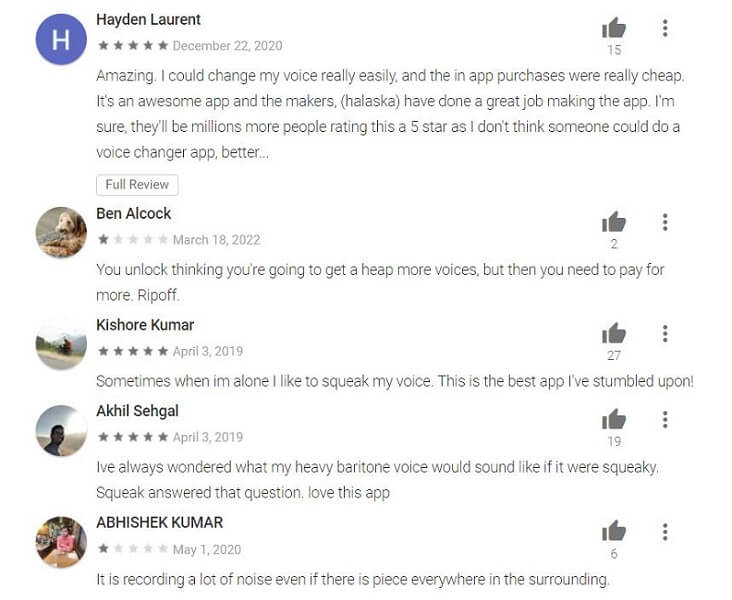 2. Voice Changer With Effects
Voice Changer With Effects is a voice changer application that provides a multitude of effects for recordings. Instead of using specific characters, the application will provide a radio voice effect and many other effects you feel familiar with like Helium, turning your voice like after breathing in air, Deep Voice for Batman, Drunk effect, and Zombies,... Like Squeak Voice Changer, you can output the output as an audio file or share it directly on social networks.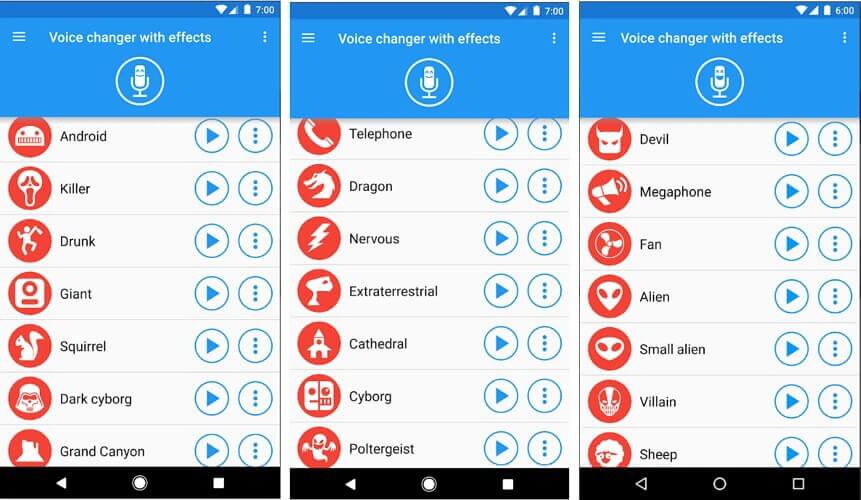 Main features of Voice Changer With Effects:
Voice editing on Android and iOS mobile devices

40+ voice options and funny effects

Record your voice, save it to listen, and share it via Whatsapp, email, etc...

You can create a voice from text

Set recorded voice as ringtone or alarm
Pros:

It is also a voice recorder,ringtone maker.

Voice Changer with Effects provides text to speech function.

It is a voice changer for video at the same time.
Cons:

The ads will pop up often.

The save file can't be opened by another app.
User Rate: 4.4
Customer Reviews: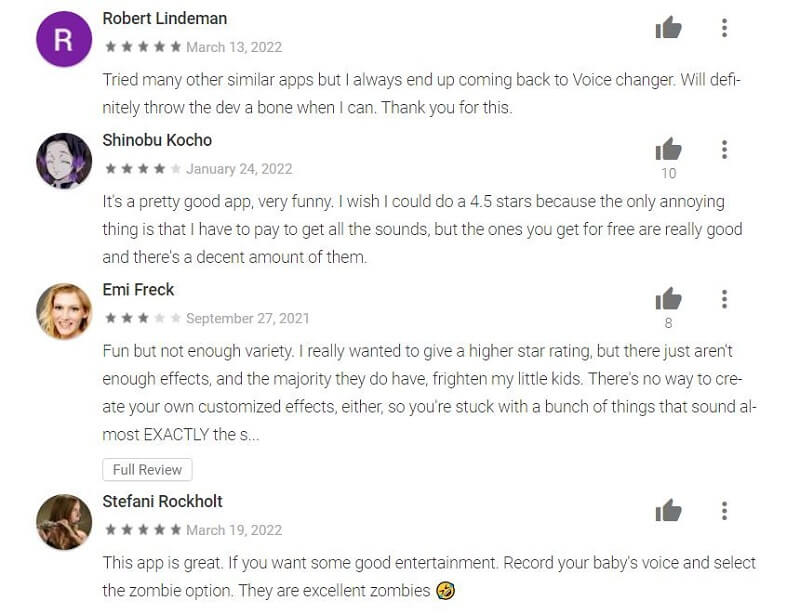 3. VoiceFX
VoiceFX is a professional voice and audio converter for mobile phones. The application provides sound effects that change your voice to a radio effect. You can also use it to imitate the voice of a robot, a child, a drunk, a sheep, or a monster, or customize the speed as you like. You can even stream with your converted voice to your music player or web browser.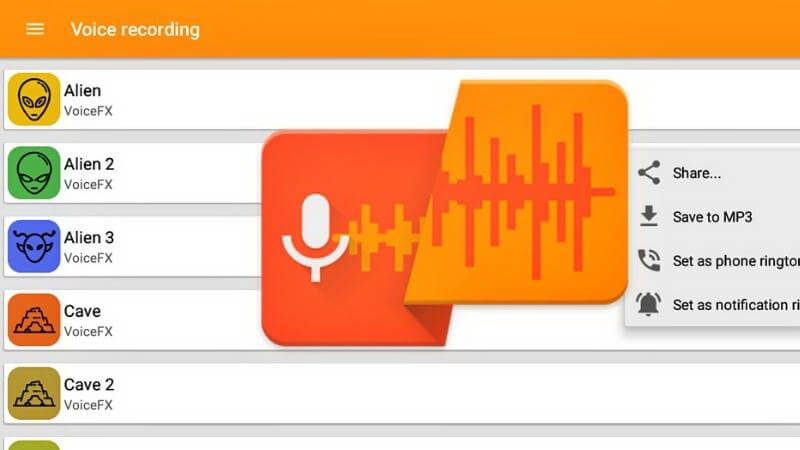 Main features of VoiceFX:
Record voice and change by applying sound effects.

Save and share as MP3 files.

Download music or audio files to change the voice.

Change voice with sound effects directly via microphone.
Pros:

It is not only a real-time voice changer but also a recording editor.

You can save your recording and share as MP3.

It comes with popular voice filters, like autotune, female, male, kid, and so on.
Cons:

There is no noise reduction when you are recording with the app.

It is not allowed to import sound effects.
User Rate: 4.1
Customer Reviews: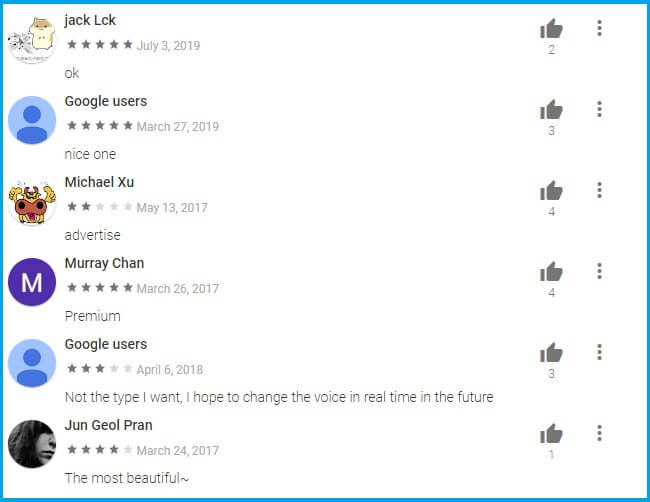 Part 3: FAQs about Radio Voice Changer
Here are some of the frequently asked questions about radio voice changer that you may need: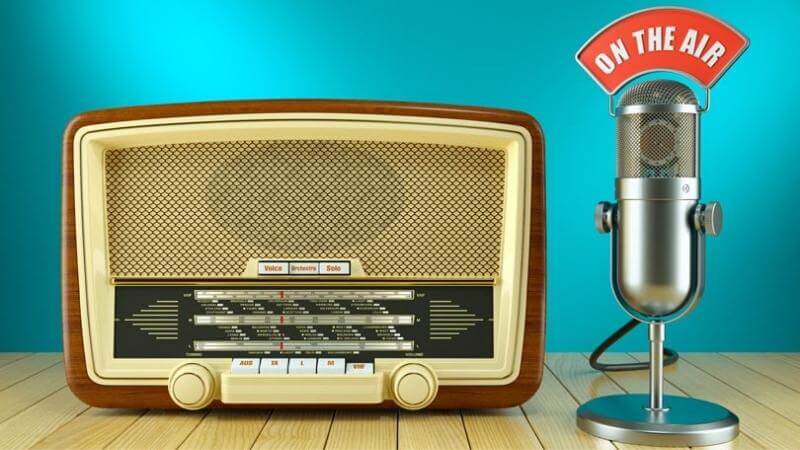 How to use radio real-time voice changer?
Here are the simple steps to change your voice to radio effect by radio voice changer:
Step 1: Head to your target voice changer's official website. Download and install it on your PC or mobile.
Step 2: Install and open the real-time radio voice changer, and finish voice input and output settings. You need to choose a microphone and headphones as your input and output devices.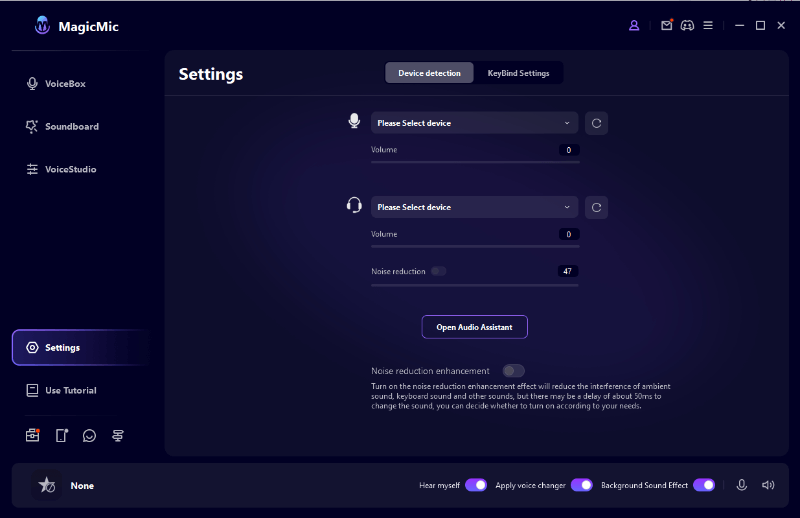 Step 3: Go to the platforms where you want to apply voice changer
Go to the platform's settings, and choose the same microphone as you selected on the voice changer. Here I use Discord to make an example.

Step 4: Check whether your voice has been changed or not. If you got any problem, you can easily find a solution on the FAQs of your target voice changer's website.
Step 5: After all settings are finished, then you can click Radio voice effect on voice changer and your voice will sound like a radio announcer.
Does the radio voice changer affect my PC's performance?
If you use heavy radio voice-changing software, it may affect your computer's performance. You should use light software so that it won't affect your gameplay or live stream.
What can I do if the radio voice changer is not compatible with my device?
You can try to find the solution on the guides of the radio voice changer you are using. If you try as the guide but it is not solved, you can send feedback to the developer of that app. For a better experience and an easy solution to software errors, try to use the other voice changers that we mentioned above.
Watch Video Guide About Radio Voice Changer
Conclusion
Though there are many radio voice changers with claiming that they can help you to get radio voice effect on the internet. However, each voice changer performs differently and offers various functions. You need to figure out your needs and choose suitable software so that you can get fun with radio announcer voice generator and walkie talkie voice changer.